17 Pros and Cons of Living in Toronto
Toronto is one of the most popular cities in the world. Living here has its advantages and disadvantages, be it in terms of the economical, cultural, and social aspects.
Read on to find out 17 pros and cons of living in Toronto. We categorised them to help you understand the city across various aspects.
1. Toronto as a big and growing city
The city of Toronto spans around 630 square kilometres, which is a big size for a city. It also has a growing and diverse population, making it one of the best places to experience city life.
Toronto is a city that provides a high standard of living. This is characterised by the high-rise buildings, green spaces, bodies of water, and even the good public services it offers.
However, what comes with experiencing high quality living in Toronto is having to pay a lot for almost everything. Taxes in this city are very high, with most having 15% of their salary dedicated to taxes.
Even everyday expenses are expensive. On an average, one would need about CAD 3,000 every month for home, utilities, food, and other basic expenses.
This excludes expenses for pleasure such as eating out, shopping, and others, so heavy budgeting is really needed.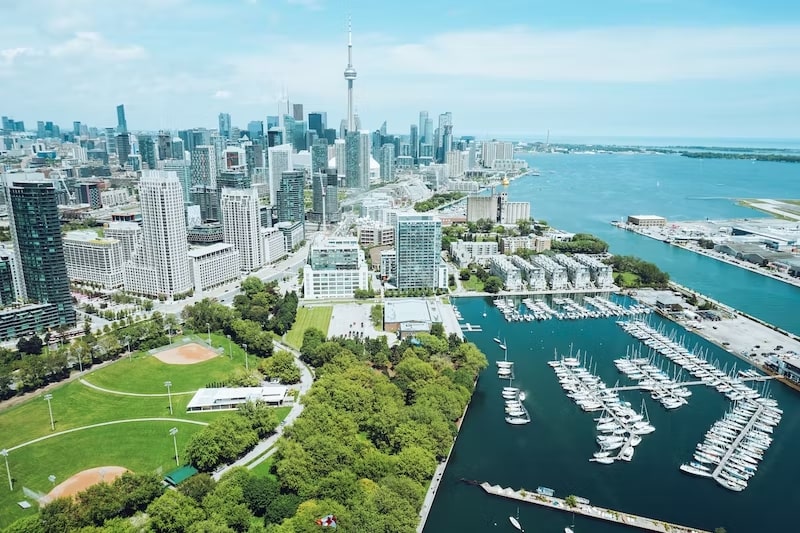 Toronto is great for high-quality city living.
The cost of living in Toronto can be quite high. 
2. Toronto as a multicultural city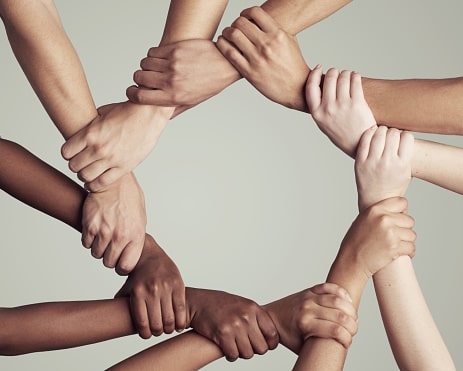 Toronto is one of the most ethnically diverse cities in the world. 
Toronto isn't free from racism and language barriers. 
Toronto is a multicultural city. In fact, both the United Nations and BBC recognises it as the most diverse city in the world.
Half of the entire Toronto population is made up of people who weren't actually born in Canada. This means that plenty of immigrants—from various parts of the world—have come to Toronto to reside there.
The diversity of Toronto is seen not only in the number of people from various races and countries one would come across everyday.
It's also reflected in the presence of diverse food businesses, different cultural festivals, and even cultural neighbourhoods or communities.
If you're someone who is planning to move to Toronto, best believe that you will encounter someone from your country of origin.
Still, it is important to note that while English is the primary language in Toronto and is recognised as a multicultural city, racism and stereotyping are still prevalent in the city.
Reports of racism, especially concerning African Americans, are received in schools, workplaces, and even neighbourhoods. It is a pressing concern that the city still very much tries to address, as this is a problem that other major cities also encounter.
Language barriers can also be a problem even in day-to-day situations as some immigrants do not have English as their primary language and can only speak or understand it to a certain extent.
This problem can lead to a lot of misunderstandings and miscommunications, and can sometimes even be the cause of discrimination or bullying.
3. Toronto as an infrastructure city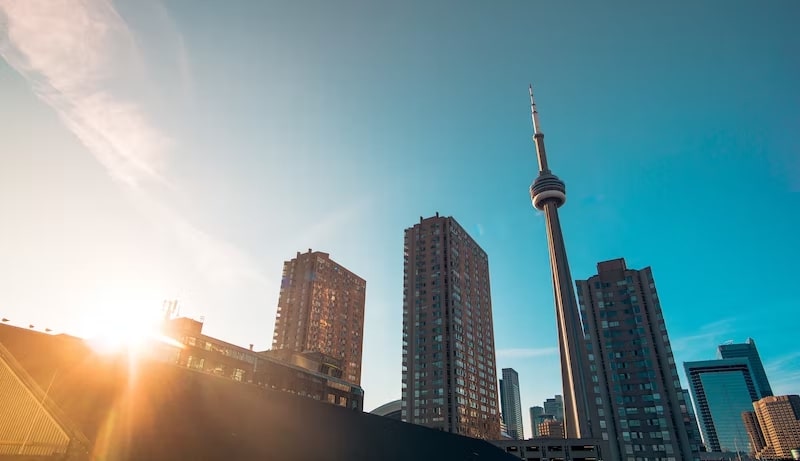 Toronto boasts of many buildings and skyscrapers. 
There is always construction happening in Toronto. 
What adds to Toronto's full-circle city atmosphere is the stretch of skyscrapers and crystal clear buildings that residents and tourists can catch a view of everyday.
Moreover, most of these buildings are not only for sight-seeing, they are also famous destinations or corporate hubs. Examples of these are the CN Tower, the Toronto Pearson Airport, and the First Canadian Place located in Toronto's Financial District.
While you can get great ground-level and skyline scenes due to Toronto's buildings, some views can be obstructed because there is always construction in the city. This can either be a big or small project, but there is always something in the works.
This means that whether you are at work, staying at home, or strolling the streets, you can chance upon construction noise, dust and dirt, and visual eyesore.
4. Places and spaces in Toronto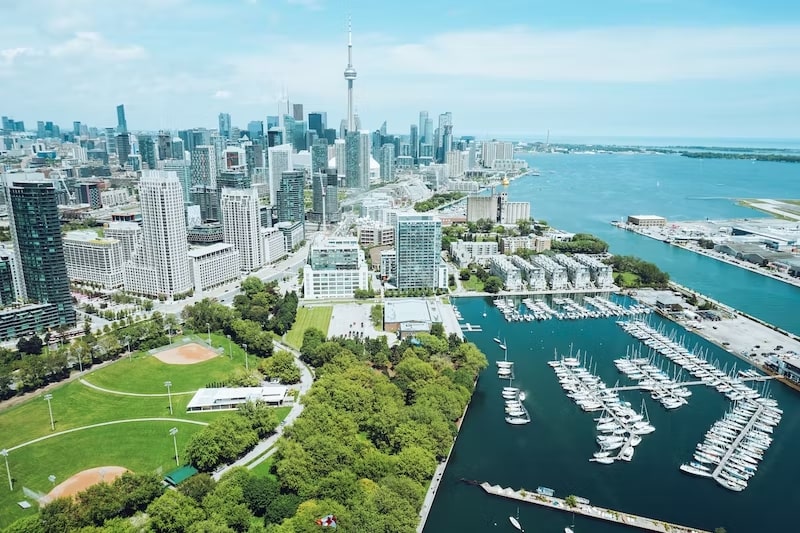 There are many historical and cultural spots in Toronto. 
Toronto lacks green spaces. 
Toronto can be a visual guide to learning about world history and local culture. The city is filled with heritage buildings and structures, including museums and cultural destinations.
Some of the most prominent historical and cultural destinations in Toronto are Casa Loma, The Bridle Path, and even the University of Toronto (1827).
Trust that you can learn many interesting facts about history and culture by going around the city. Some sightseeing tours in Toronto offer specific historical or cultural tour packages.
With all these structures, the downside is that only 13% of Toronto is made up of green space. This isn't exactly bad when you compare it among all cities in the world map, but other cities have almost-to-more than 50% green space in their areas.
If one were to evaluate the number, 13% itself is already alarming. Considering the city's population and activities, it can be said that it needs more trees, grass, and open spaces for better oxygen-carbon dioxide exchange and generally cleaner air.
5. Weather in Toronto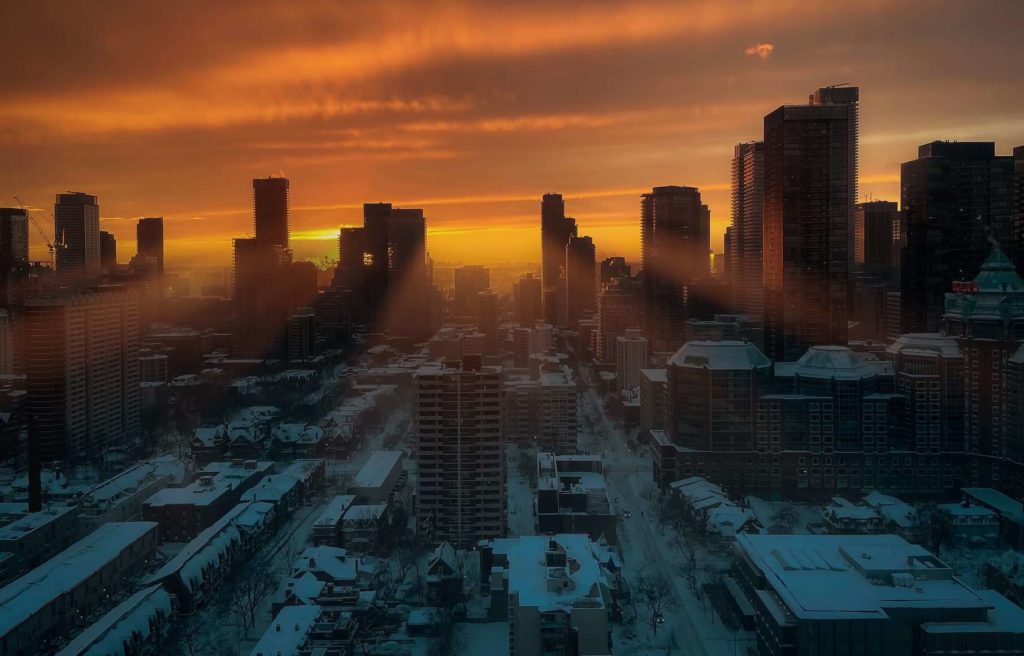 All four seasons can be experienced in Toronto. 
Toronto winter is unpredictable. 
Toronto being in Ontario means that it experiences all the four seasons: winter, spring, summer, and fall. Usually, January is the coldest month of the year and July is the warmest.
This makes Toronto a great place for almost anyone, as there isn't any permanent weather and that it helps individuals adjust to temperature changes. And honestly, Toronto is beautiful across all four seasons!
On the other hand, winter in Toronto can be long and severe. It's always definitely cold once snow hits the city's ground, but temperatures can drop to unexpected numbers.
Snow can also be twice to thrice as thick as foreseen, which sometimes leads to extended ice and snow activities.
6. Commuting in Toronto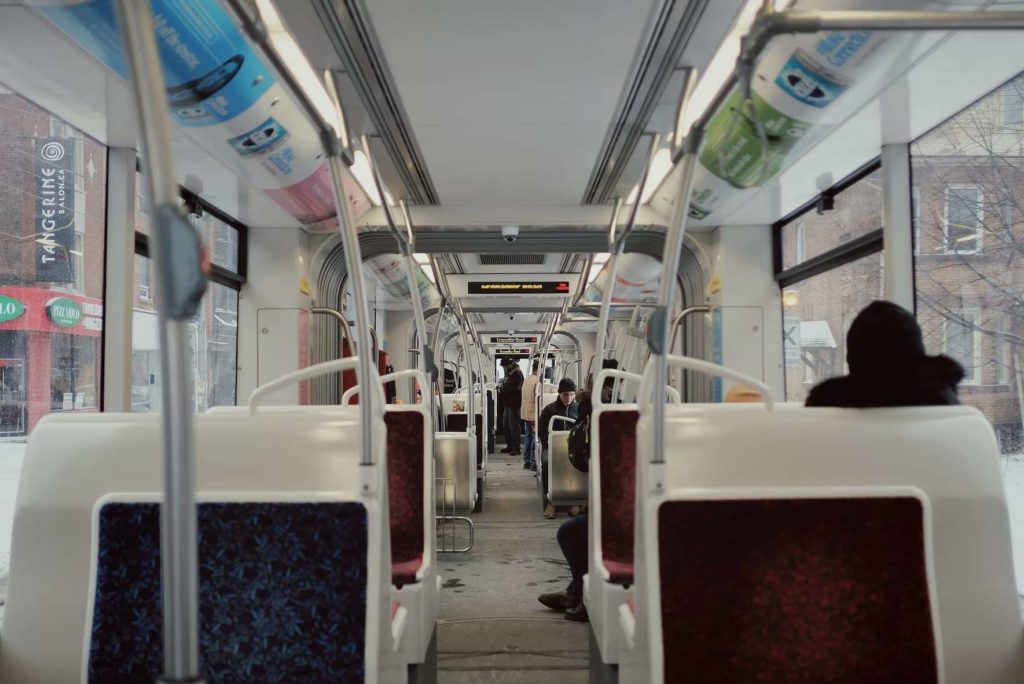 Commuting in Toronto is quite easy. 
Toronto traffic is pretty bad. 
Going around Toronto via public transport is cost-effective. Bus and train fares here are averagely priced and people are guaranteed seats almost every time.
What makes commuting in Toronto easy is the fact that the city's system is arranged. There are designated terminals for prominent stops and destinations, purchasing tickets is fast, and everything is properly labeled.
If you plan to just see the city and have no specific plans in mind, you can simply go to Union Station. Plenty of remarkable Toronto locations are accessible—and even walkable—from there.
The disadvantage of commuting in Toronto is that city traffic can be very stressful in certain situations. There are many private cars that are out in the city's main roads almost everyday, add to that the numerous taxis and cabs that are regularly available.
Buses and trains have their own lanes, but rush hours can still cause delays. This is something that comes with being in a big city.
7. Walking and biking in Toronto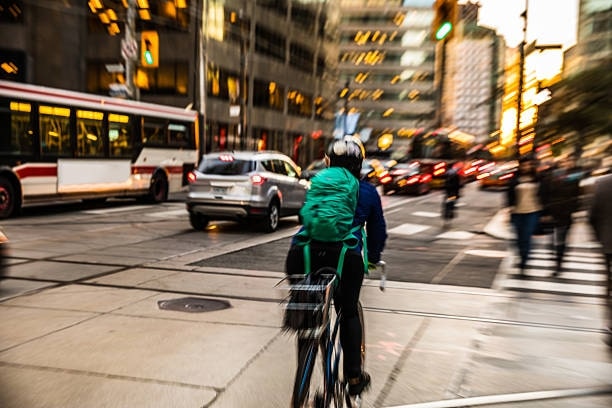 Toronto has generally walkable streets. 
Toronto has terrible bike lanes. 
Toronto is recognised as the second most walkable city in Canada. This is not only because of the good scenery, but because sidewalks and even main roads are generally well-planned.
Most of the prominent neighbourhoods such as Bay Street, Trinity Bellwoods, The Distillery District, Old Town, Dundas West, Kensington-Chinatown area, and more demonstrate how walkable Toronto is.
While some distances are way too far to walk, getting on and off at bus and train stops, walking to nearby stalls and shops, and even walking to a friend's home is possible and actually safe in Toronto.
On the other hand, a recent report showed that more than half of all the bike lanes in Toronto got a failing mark. It can be said that the city's bike lanes are not well-planned, with most of them rushed into existence or even randomly placed just for the sake of it.
Many of the bike lanes in Toronto have also caused physical accidents among cyclists in the city. This is mainly because they weren't strategically built, with some just being inserted beside sidewalks or even major roads.
8. Healthcare in Toronto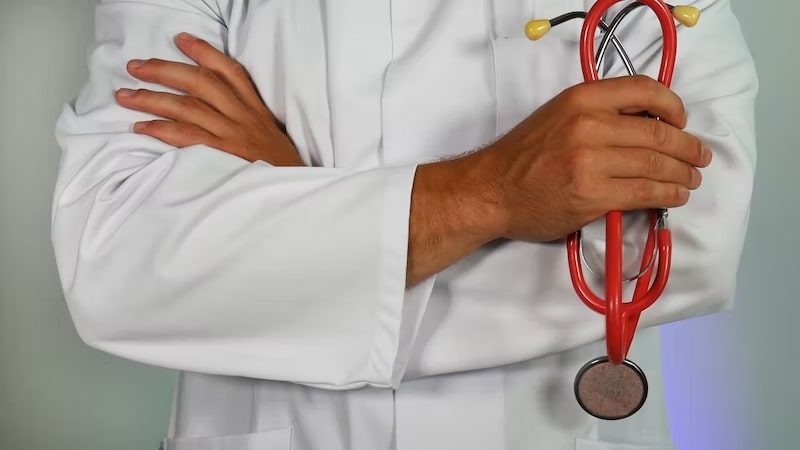 Healthcare is free in Toronto. 
Certain healthcare services come with heavy charges. 
Whether it's for checkups or consultation, the city of Toronto provides free basic healthcare for its residents. Some procedures such as x-rays and special tests can also come at no cost.
This setup is possible because the entire Ontario province basically covers its residents' healthcare needs. The Ontario Health Insurance Plan (OHIP) acts as residents' health card that guarantees zero charges when visiting hospitals or clinics.
Sadly, not all special services such as heavy dental procedures, surgeries, and others are covered by Toronto's free healthcare package. Some may have special discounts, but paying for them in full can be expensive.
A perfect example would be getting dental implants. Implants cost way more in Toronto and other major cities, as the maximum cost is around CAD 6,000—the same rate as New York's.
The Ontario Health Insurance Plan (OHIP) only covers residents as well, so expats in Toronto will have to pay necessary healthcare charges.
9. Housing in Toronto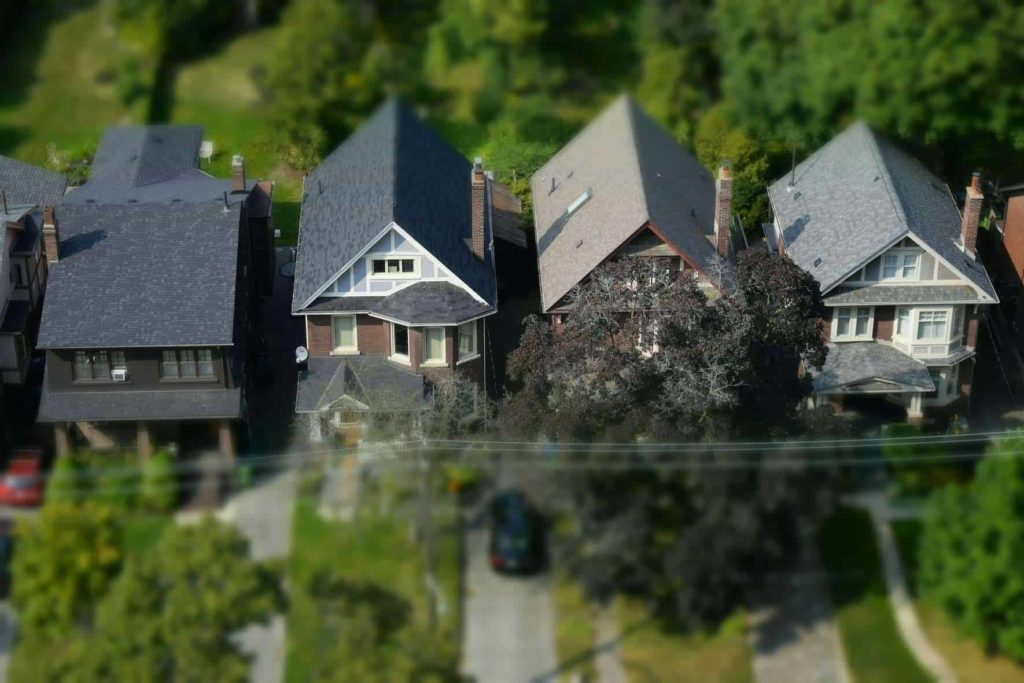 There are many residential options in Toronto.
Housing and home expenses are expensive in Toronto. 
From ready for occupancy homes to short and long term rentals, Toronto is a city that offers plenty of residential options. Even apartments in the city are great, coming both in fully furnished and empty options.
There are plenty of homes for rent in Toronto. These are practical options for those who cannot afford to buy any residential property in the city yet, moreso their own house and lot.
Condominium units are also popular as permanent and temporary dwellings, especially downtown.
As mentioned, the cost of living in Toronto is high. This means that securing and maintaining a home, no matter the size, could cost you a lot.
This situation is especially true for immigrants, particularly self-funded working students who do not have relatives in the area. One's entire salary can simply go to monthly rent, as the usual rent is at an average of CAD 1,000.00.
10. Working in Toronto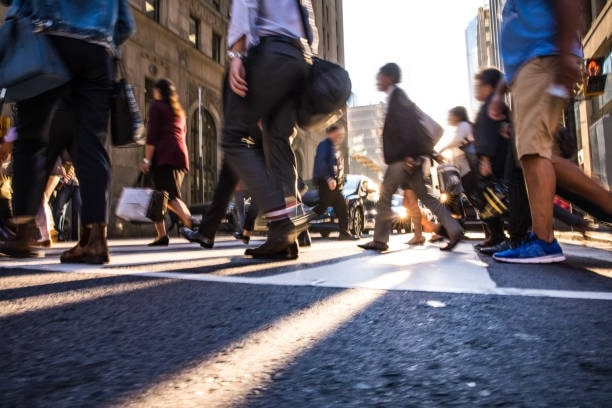 There are plenty of job opportunities in Toronto. 
Job seeking in Toronto is very competitive. 
Toronto has its own central business district, which is the Financial District downtown. This place is where most businesses in the city hold office and is a great spot for job hunters.
Aside from all the opportunities downtown, many small businesses in the city are also consistently or constantly hiring. There are even career coaching services in Toronto to help fresh graduates or job seekers find or shift to a role.
With the rise of the hustle culture and the growth of Toronto as a hub for career and business opportunities, job seeking in the city has grown to be very competitive.
Employers in the city are more meticulous, looking at academic and professional achievements more closely. There are also many promising residents and immigrants that prove to be good competitors for almost every job role.
The challenge is for someone to make sure that they stand out and look for as many potential opportunities as they can. There are plenty of jobs available, but landing on a role wouldn't be as easy as finding a job listing.
11. Studying in Toronto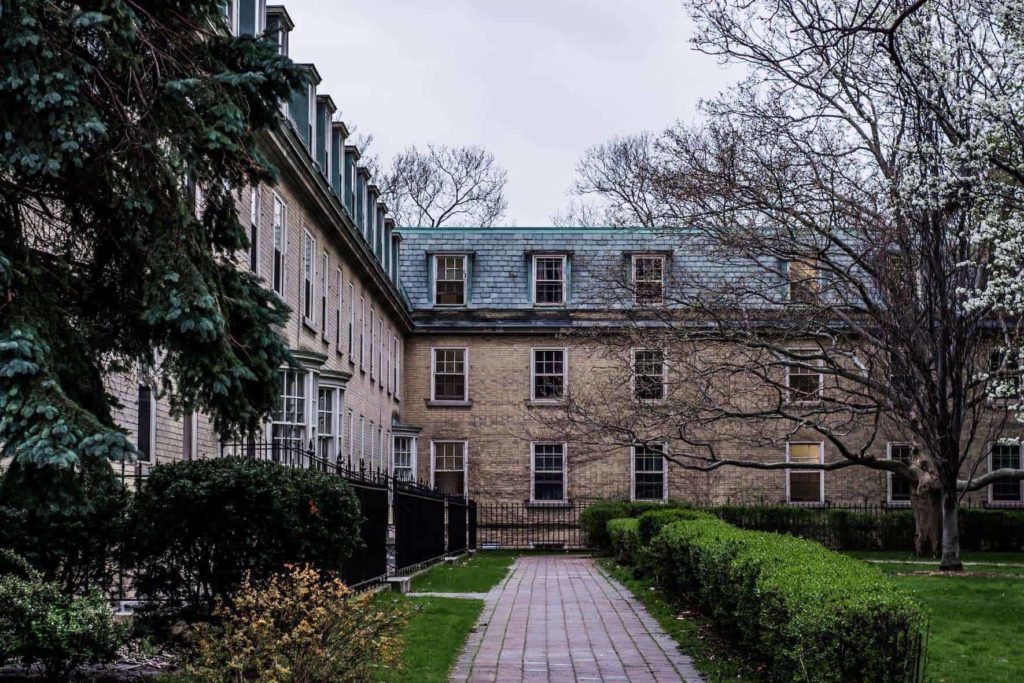 Toronto has great education opportunities. 
Studying in Toronto can be expensive.  
Toronto has a strong education system. From primary to collegiate levels, schools and institutions, both public and private, are genuinely focused on providing quality education.
Even preschools in Toronto have programs that are proven to be conducive and helpful to children as young as one to three years old. Moving forward, primary and secondary levels are also guaranteed safe and beneficial learning across more than 500 schools.
There are eight publicly funded universities and colleges in Toronto and most of them are world famous, including the University of Toronto, Toronto Metropolitan University, and Centennial College.
Many of these are also popular choices for immigrants, as they offer two-year courses.
Here's the sad news: tuition fees in Toronto can be costly. Immigrants who plan to go to college in the city usually save up a lot before their move, as college tuition and fees cost an average of CAD 10,000.00.
Even sending a kid to preschool in Toronto can cost as much as CAD 1,700.00 per month. This amount is quite more expensive when compared to other cities in the world.
12. The Toronto food scene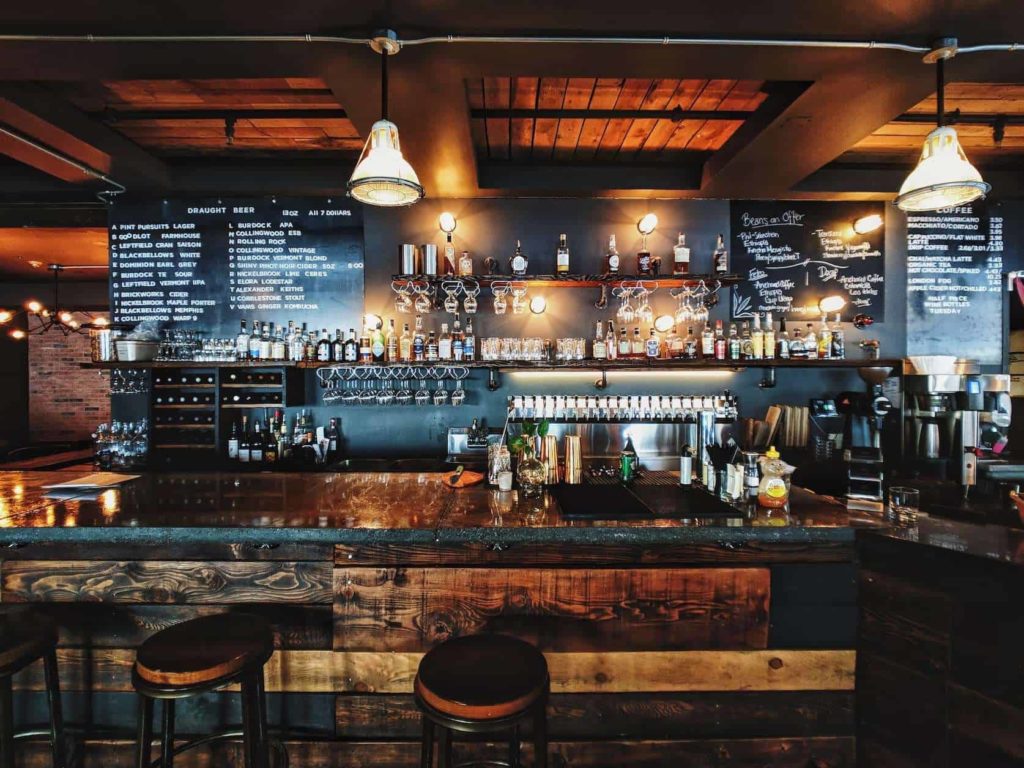 It is impossible to run out of food options in Toronto.
The food business competition in Toronto can be a little intense.  
Toronto is a great place to explore and learn about food. There are thousands of restaurants in the city and every cuisine in the world can be found here.
Certain streets and areas in the city are regarded as food havens as people can walk along them and find a stretch of restaurants, food stalls, and vendors. One of Toronto's famous landmarks, St. Lawrence Market, is a food and supply hub itself.
It could honestly take one person a number of years to go through all the small to large food businesses in Toronto. Finding a place to dine in alone or eat with your family in Toronto wouldn't be a problem.
Having said that, if you are planning to start or transfer a food business in Toronto, you may need to take the extra mile.
The number of established and up and coming food businesses in the city makes the food competition business a little intimidating for beginners.
While the competition can often be friendly, if your plan is to really make money, you will need something remarkable for your business to soar. There are enough existing options for people and you need to make sure that you can stand out from the rest.
13. Shopping in Toronto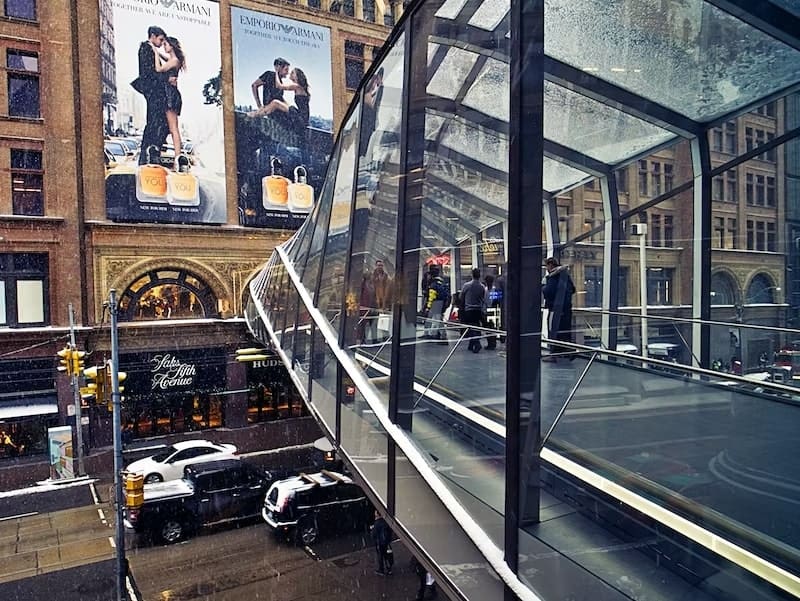 Toronto provides a great shopping experience. 
Luxury store and rare items are more expensive in Toronto.  
Part of the city life in Toronto is shopping. There are five major shopping centres in the city, with all of these having over a hundred retail and luxury stores.
A few pop-up stores and clothing stores are also scattered around Toronto. These are usually small or start-up businesses by residents and immigrants.
Premium factory outlets are also present, which are favorite shops to visit by business owners, resellers, or customers who want cheaper rates on bulk items.
Proportional to the high cost of living in Toronto is the cost of bags, shoes, accessories, and others from world-class luxury stores. People sometimes think that branded items cost the same, but prices can vary per city or location.
In Toronto, luxury items are definitely on the more expensive rates when compared to prices in other cities all over the world. Sometimes, the stores of famous luxury brands in Toronto even have higher item rates than stores in Paris.
Rare pieces across all industries are also sometimes more expensive in Toronto. You will find that items in gadget centers, furniture stores, and even sports and skate shops are priced a little higher in the city.
Shopping in Toronto is fun, but it's only for those who really have extra to spare.
14. Nightlife in Toronto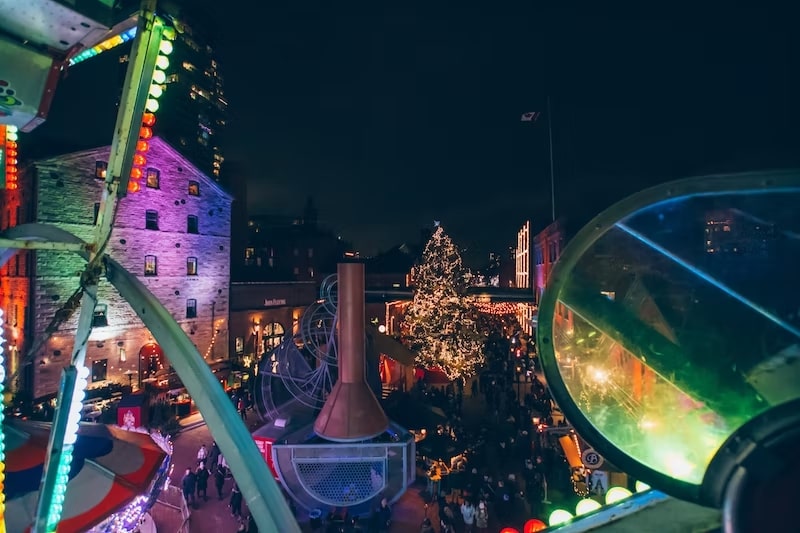 Toronto is very much alive at night. 
Toronto places can be crowded. 
Drinking in Toronto is fun, because there are just so many options for people to go to. There are plenty of bars in Toronto, along with clubs and pubs that are open until early in the morning.
Apart from partying, people can also celebrate nightlife in Toronto through open carnivals. Some people like to enjoy rides, games, and other fun activities while savoring the city lights.
A few sports games also sometimes happen in the city past 6:00 PM, which guarantees an activity for people who want a little more laid back nightlife experience.
Toronto is not exactly overpopulated, but it has a huge population. Arenas get filled during sports games, concerts are usually sold out, restaurants can be fully booked, and stepping into bars and pubs could mean you no longer have seats or space.
This is the main disadvantage of the fun Toronto nightlife. Everybody is likely out with you, so you'd have to be open to embracing the fact that you will be exposed to large and loud crowds.
15. Toronto as a film city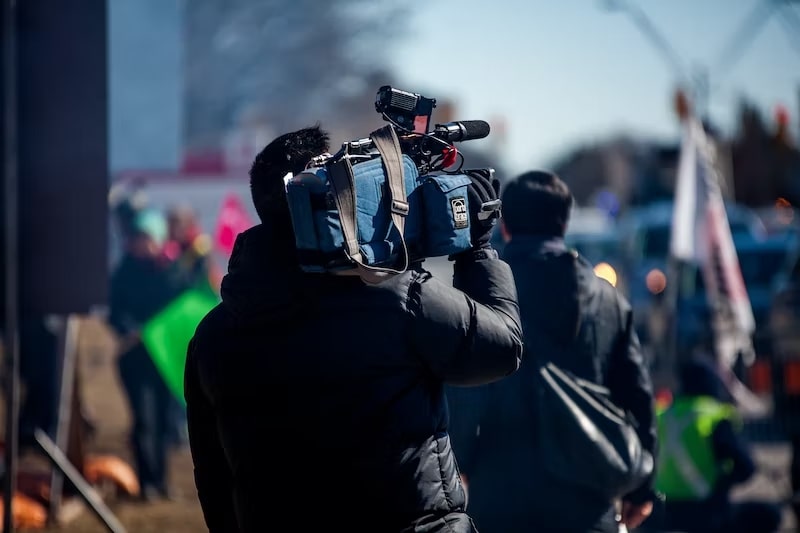 Toronto is home to various film locations and festivals. 
Toronto is a hub for movie sets as it is considered the "New York City" of Canada.
For a couple of times, the city's landmarks have played the role of famous locations in movies that are supposedly set in other countries. It is considered a film city because many movies were shot in the area, and the city itself has a great spending for film.
The city also hosts the famous Toronto International Film Festival, where people from the film industry gather to watch movies, celebrate awards in the industry, and recognise remarkable people. It is arguably one of the biggest film festivals in the world.
However, do remember that Toronto is noisy. This is not only because of the people and car traffic, but the city is literally alive with plenty of activities, including film and photo shoots.
There's always something happening in every corner of the city. Be it a small or large gathering, trust that you can't really have that peace and quiet in Toronto.
It lives up to the hustle and bustle city life atmosphere.
16. Toronto and Fitness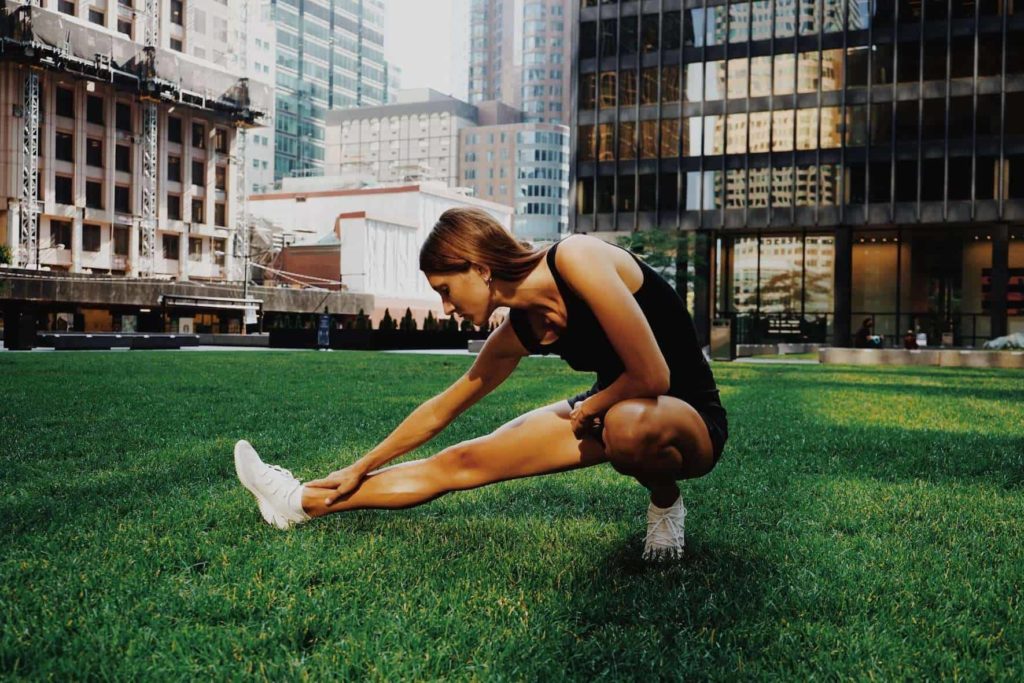 There are many fitness enthusiasts and activities in Toronto. 
Pollution is bad in Toronto. 
One wouldn't have trouble looking for gym memberships in Toronto. There's a lot of those and more—people going on runs around the city everyday, people stretching in parks, people walking for fitness, and so on.
The city offers its own set of fitness programmes and a number of drop-in fitness locations. Activities range from fitness workouts, pilates, yoga, cardio, and more.
If you're not interested or not willing to spend on a programme or even a fitness membership, trust that you can find a fitness buddy whether you decide to run around, walk, or just do a stretch within the city.
Contradicting the positive fitness environment and atmosphere in the city is the situation of pollution. Because of the number of cars and other vehicles roaming around every day, air pollution in Toronto can be bad.
Industrial activities also contribute to the particulate matter or particle pollution concentration in the city.
The city still has a lot to learn in terms of mitigating pollution causes and effects as this disrupts not only fitness activities, but also alarm the health and wellness of everyone.
17. Connectivity in Toronto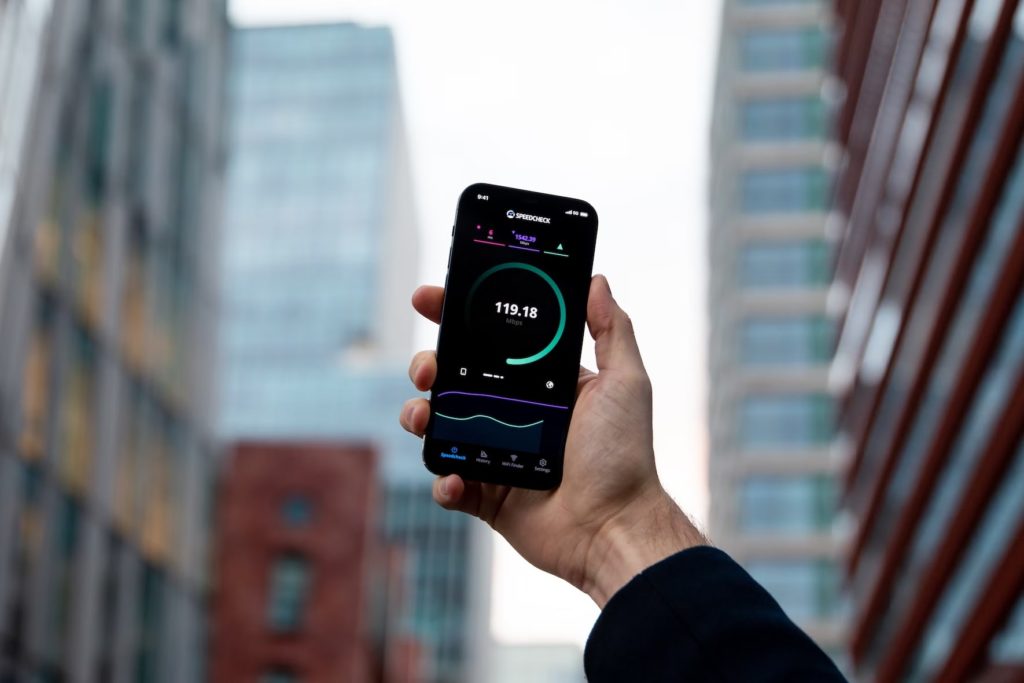 Toronto has generally good internet services. 
Phone plans are costly in Toronto. 
There are many options for internet services in Toronto—and most of them have great speed and promising performance. Take note that this is true if you compare the city's internet services to other providers in the world.
Public spaces in Toronto are also connected to the internet. You can have internet access not only when you visit shopping centres or neighbourhoods, as even select fast food chains, bakeries, coffee shops, and banks provide free WiFi.
Another thing that makes WiFi and the internet popular in Toronto is the fact that people don't go for mobile plans.
Why? Phone plans in Toronto prove to be expensive.
In fact, this is mostly true for the entirety of Canada, as the country has six to eight times more cost per data when compared to the rest of the world.
People in Toronto pay about CAD 50.00 per month for an average of 10 GB data, which many people would know isn't enough for regular consumption. While packages usually come with free texts and calls, the rates are still a little too much to spend on.
---
Hopefully, we've given you something to think about if you're considering making Toronto your home.
Torontonians, did we miss and pros and cons? Let us know in the comments below!