Top 5 Career Coaching Services in Toronto
In your professional career, you might find yourself uninspired, faced with new challenges, or simply considering a switch. When you are at these crossroads, a career coach is a big help.
A career coach can help you find your purpose and have an excellent work-life balance. You'll discover your strengths, learn new skills, and improve your strategies to reach your professional goals.
With the challenges in the work environment, there has been a steady increase in the demand for professional coaching services. Read on further to find out about the best career coaching services in Toronto.
The Best Career Coaching Services in Toronto
We followed these criteria to find the best career coaches in Toronto:
How much does it cost to hire a career coach in Toronto?
The rates for career coaching services will vary depending on the scope of work needed from the coach and their expertise. Some coaches offer programmes with varying approaches to best address the clients' concerns.
Here are the indicative prices for a career coaching service in Toronto. Actual costs will be determined by your chosen career coach during the initial consultation.
| Career Coaching | Rate |
| --- | --- |
| Average cost per hour | $17 |
| Minimum cost per hour | $125 |
| Maximum cost per hour | $250 |
1. Careers By Design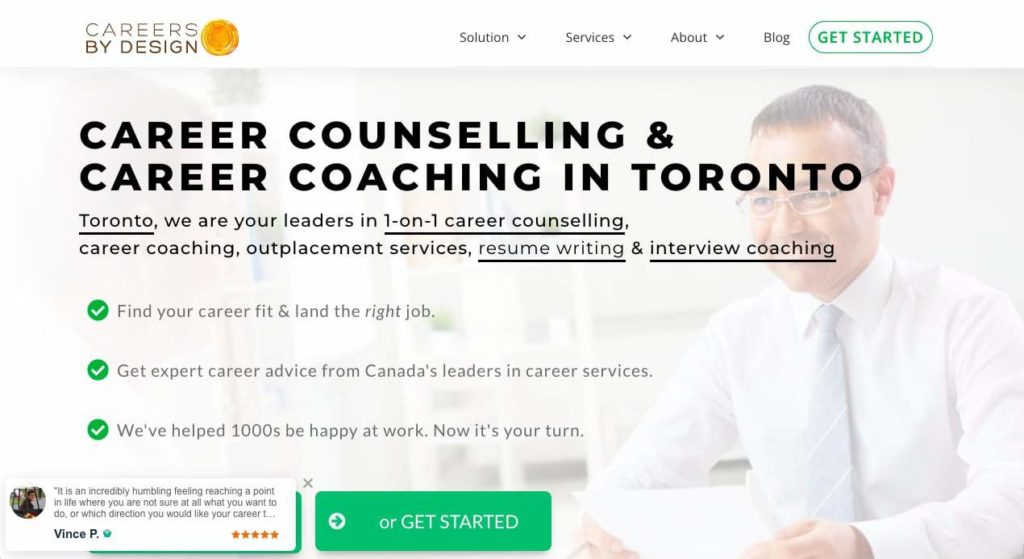 Test
Info
Services

Career Counselling & Job Search

Interview Coaching Service

Resume Writing & Branding

Outplacement

Website
https://www.careersbydesign.ca/
Address
65 Lillian St, Toronto, ON M4S 0A1
Contact Details
416-519-8408
Operating Hours
Monday - Saturday 9 am - 9 pm

Sunday: Closed
| | |
| --- | --- |
| Criteria | Rating |
| Virtual & Telephone Consultations | ★★★★☆ (4/5) |
| Customer Service | ★★★★☆ (4/5) |
| Expertise | ★★★★★ (5/5) |
| Coaching Programs | ★★★★★ (5/5) |
Careers by Design is a leader in the career development and personal leadership fields. Its passion is for helping people feel good about the work they do.
The company helps clients find a good work-life balance by helping assess values and goals in work and personal life. Doing this has enabled clients to discover the lifestyle they want and what job will help them achieve this.
The first 1-hour meeting with a coach is called a Turning Point session, where clients share their goals and challenges. We like that a customised report is given after the session with a recommended action plan, as well as most suitable coaching programmes for the client.
Clients can also take on the service of resume and personal branding specialists, who are trained to not just help in resume writing but also in identifying unique strengths.
We are big fans of their strengths-driven approach, which focuses on leveraging the client's strengths to put them on the path to success.
We also like that they've created a blog called "More Happy Mondays" where clients can get career-related information like tips on finding a job and strategies for staying happy at work and finding success.
However, they are currently only doing virtual coaching sessions via Zoom or phone. This may be a dealbreaker for clients who prefer face-to-face meetings with their coaches.
Despite this, we're hearing great things about their virtual meetings. Clients appreciate that these start with a guided meditation, which teaches them how to get into the proper headspace for challenging interviews or meetings.
We also wish that they would offer sessions on Sundays. This would open more slots to clients who are only available on weekends.
Turning Point session with customized strategy report
"More Happy Mondays" blog
Resume and personal branding specialists available
Virtual meetings offered
Structured sessions
Closed on Sundays
No face-to-face meetings currently offered
Customer Reviews
Pinpointed my passions
"My Turning Point session was with Pat – I talked about myself (education, experience life, wishes, job etc) and what I want to do. It was really nice to have someone pinpoint my passions (which I didn't know I had), and my strengths with things to work on. The conversation was fluid, peaceful and direct. Looking forward to continuing my sessions for the next few weeks." – Judi
Helped me get started in my new career
"Careers By Designed really helped me get started in my new career. My one-on-one session with one of their career coaches helped me identify areas in need of improvement for interviews, and how to better pitch my skills in that setting. After the coaching session, I walked away feeling more confident in my skills and myself and immediately noticed the results by landing a great new position. I would highly recommend Careers By Design for anyone looking for job/interview/resume advice." – Brandon
2. Mindful Career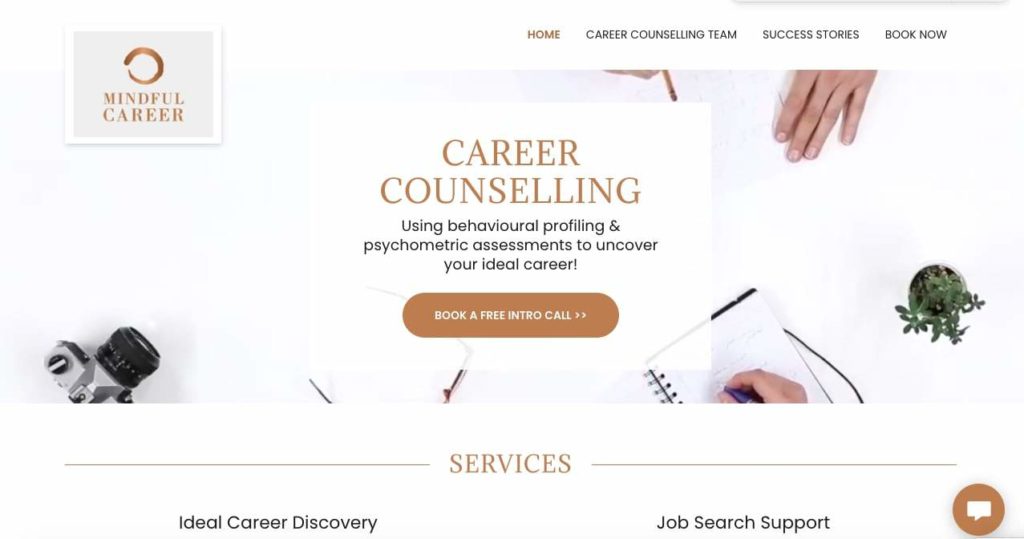 Test
Info
Services
Ideal Career Discovery & Career Pathing

Job Search Support & CV Cover Letter Drafting

Soft Skills Training & Leadership Development

Website
https://mindfulcareer.ca/
Address
151 Yonge St 11th floor, Toronto, ON M5C 2W7
Contact Details
647-692-4750
Operating Hours
Monday – Sunday: 9 am – 5 pm
| | |
| --- | --- |
| Criteria | Rating |
| Virtual & Telephone Consultations | ★★★★☆ (4/5) |
| Customer Service | ★★★★☆ (4/5) |
| Expertise | ★★★★★ (5/5) |
| Coaching Programs | ★★★★★ (5/5) |
Mindful Career focuses on behavioural profiling and personality assessments to help clients discover the career that fits their unique strength and abilities. We hear that this approach has helped clients live their lives with purpose, balance, and fulfillment.
This company offers a free 15- to 30 minute introduction call. They currently have 11 certified practitioners who have experience in not just career coaching but also in recruitment, career counselling, and private life coaching, and their team is still growing.
At Mindful Career, clients can choose from the two programmes to best suit their needs.
The Job Search Support programme is perfect for clients needing comprehensive training in CV re-marketing and skills development; while the 5-session Ideal Career Discovery programme is highly-recommended to clients who have yet to discover their most-suited job type and career.
What we like about Mindful Career is that these two programmes are flexible enough to address the specific goals and needs of clients.
They also do a state-of-the-art personality assessment, which confirms prominent individual traits.This is a great starting point for individuals who want to understand what makes them who they are and how this can be utilised to score a great career.
Furthermore, we hear that coaches are quick to understand the concerns, experiences, and challenges of a client.
Finally, we like that payments can be done on a per-session basis. This enables clients to continue their coaching sessions on their own accord, especially if they're on a limited budget.
Thorough behavioural profiling
State-of-the-art personality assessment
Flexible programme approach to meet clients' needs
Provide insurance receipts
Not all coaches see clients in person, most sessions are done virtually
Customer Reviews
Amazing tips
"I decided to work with Miriam Groom only a few minutes into our introductory call and it was the best decision. She immediately understood my situation and offered a comprehensive plan that ultimately met all my goals. I needed help with a career change, and Miriam did a great job helping me understand the best roles for my personality, experience and interests. She gave me amazing tips on how to revamp my CV, contact hiring managers and get interviews. Miriam is increadibly professional, relatable and really cares about her clients. I would highly recommend her services." – Katia
Incredibly helpful
"Lisa was incredibly helpful. She helped me distinguish the type of work environment in which I could thrive, and gave me the resources to get there. I would highly recommend Mindful Career if you're feeling stuck or unsatisfied with your current career situation." – Iskren
3. Career Cycles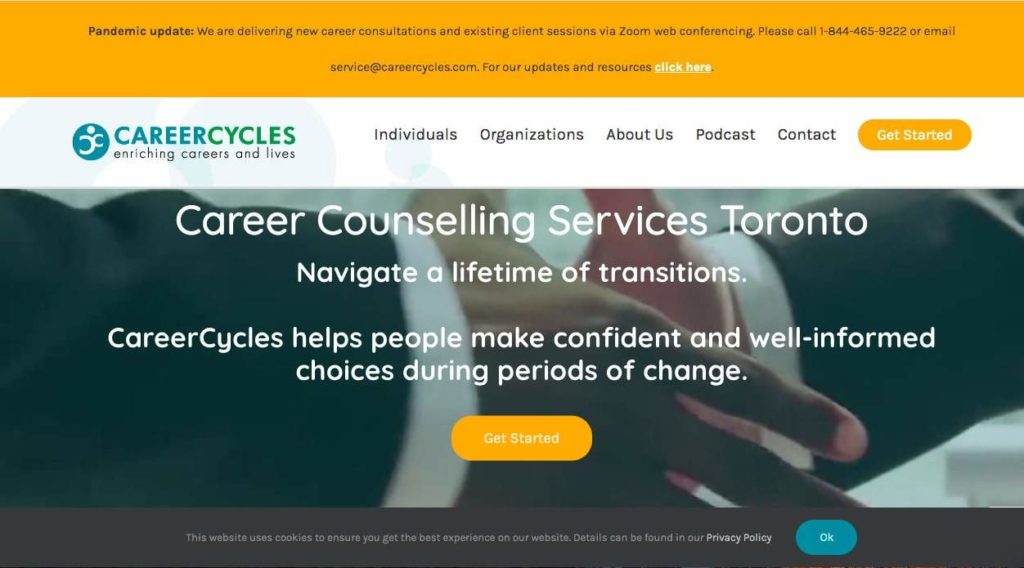 Test
Info
Services
Career Management Programs

Resume, Interviews & Job Search Help

Website
https://careercycles.com/
Address
873 Broadview Ave Suite 201, Toronto, ON M4K 2P9
Contact Details
416-465-9222
Operating Hours
Monday - Friday: 9 am - 5 pm

Saturday - Sunday: Closed
| | |
| --- | --- |
| Criteria | Rating |
| Virtual & Telephone Consultations | ★★★★★ (5/5) |
| Customer Service | ★★★★☆ (4/5) |
| Expertise | ★★★★★ (5/5) |
| Coaching Programs | ★★★★★ (5/5) |
Catering to both individuals and organisations, Career Cycles acknowledges that transitions are hard. So, it positions itself as a facilitator of sorts, helping clients successfully navigate through these seasons.
Coaching starts with a 60-minute initial consultation, where they listen to career concerns. We find this amount of time generous, as most discovery calls only last up to 30 minutes.
Currently, consultations and succeeding sessions are only done via Zoom – but from what we've heard, this has not made these meetings any less effective. We're glad to know that clients still feel that the coaches are very much present with the way they engage and encourage them.
The amazing team of associates helps people transition through changes in career or shifts in roles. We like their practical approach of offering concrete tips to improve resumes, make effective LinkedIn profiles, and improve confidence for job interviews
They also have a Clarification and Exploration programme, where they help clients gain clarity on the career path they want to take and generate possibilities that they can pursue from there.
We like that this program uses the Narrative Assessment System, which helps clients navigate past experiences and explore possibilities for growth.
In this way, clients are able to make clear decisions and become confident in career changes because they know their strengths and interests.
The only drawback to this coaching company is that they don't currently offer any face-to-face sessions.
60-minute initial career consultation
Well-facilitated virtual meetings
Customer Reviews
Patient workshop instructor
"It was a useful perspective on how to approach Experience Record writing. Mark Franklin is a patient workshop instructor and willing to help in any way he can. Their inputs are valuable guides and can only be useless if the attendee is not focused on his goal and the things that the attendee needs to be done next. It was VERY SATISFACTORY overall." – Reniel
Great experience
"Great experience with Jane at CareerCycles! I am thankful for the insight they provided and the confidence the built in me. I would recommend this to anyone who needs help moving onto the next step in their career, especially if you are not sure what that would be!
Thank you!" – Colin
4. Canada Career Counselling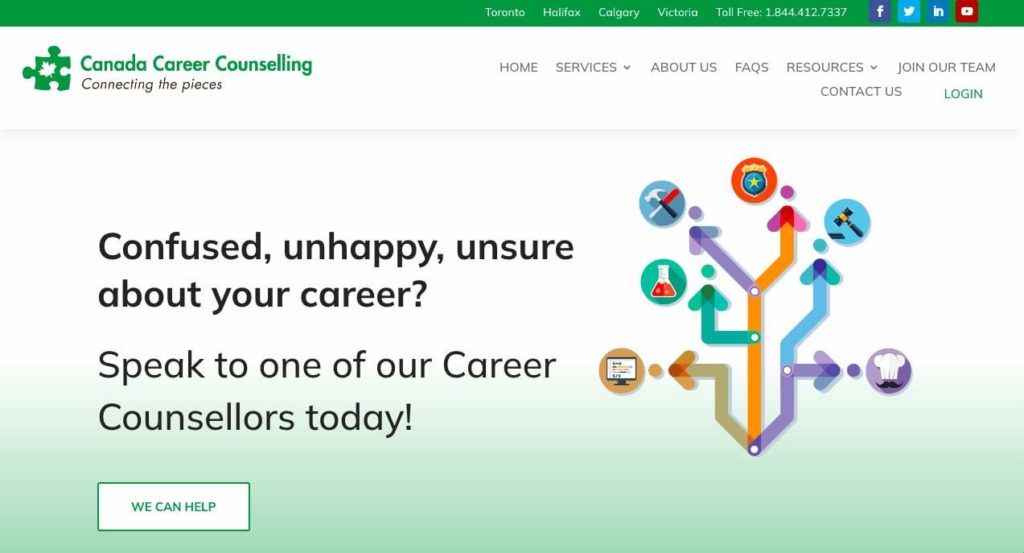 Test
Info
Services

Career Counselling and Coaching

Career Advising

Corporate Services and Outplacement

Website
https://canadacareercounselling.com/
Address
1200 Bay St. #902, Toronto, ON M5R 2A5
Contact Details
647-637-1579
Operating Hours
Monday - Friday: 8 am - 5 pm

Saturday - Sunday: Closed
| | |
| --- | --- |
| Criteria | Rating |
| Virtual & Telephone Consultations | ★★★★★ (5/5) |
| Customer Service | ★★★★☆ (4/5) |
| Expertise | ★★★★★ (5/5) |
| Coaching Programs | ★★★★★ (5/5) |
Canada Career Counselling's mission is to help develop career success and fulfillment. It offers one-on-one career counselling and career coaching services to address career transition, career-related challenges, or expand career possibilities.
Its team is composed of psychologists, psychotherapists, counselling therapists, and advisors, who are described by clients are warm, empathic, and trustworthy.
We found the sessions helpful in exploring career options as they assess skills, strengths, and interests to find the best fit. The team also helps in improving clients' confidence in changing career paths.
We also like that they stay in touch after sessions, following up with clients regarding their action points to keep them accountable.
They also conduct personality tests to increase self-awareness and align these to career options. We think this is a great starting point for those who are just beginning their careers.
What we like best about their approach is that it is both individualised and holistic. They focus on the uniqueness of the client and integrate different perspectives and disciplines to help facilitate his or her next steps.
Some clients may be iffy with the fact that all their sessions are fully online – but in our experience, we didn't feel that quality suffered because of the format. In fact, we enjoyed hearing the coaches' interesting insights on our personalities.
Individualised approach
Team of expert practitioners
Well-organised nline meetings
Conducts personality tests
Closed on weekends
No face-to-face meetings
Customer Reviews
Top-notch coach
"Working with Meghan has been an incredible experience for me. She is top notch at what she does – a phenomenal mentor, guide, counsellor, therapist, and most importantly, cheerleader. I recommend her wholeheartedly and feel very blessed and grateful that I was able to work with her. Administrative staff are also warm, kind, and easy to deal with. A++++++"- Devorah
Narrowed down what I wanted in life
"I would first like to start off by thanking Meghan who helped me get to where I am today. Canada Career Counselling offered me a solution to my problem. Like many of you reading this, I was lost in my career and I needed a change but didn't know where to turn. Working through the step by step process Canada Career Counselling developed, I was able to narrow down what I really wanted in life. Every time I left an appointment I felt inspired. I highly recommend their services to anyone looking for career advice. Thanks again!" – John
5. Career Joy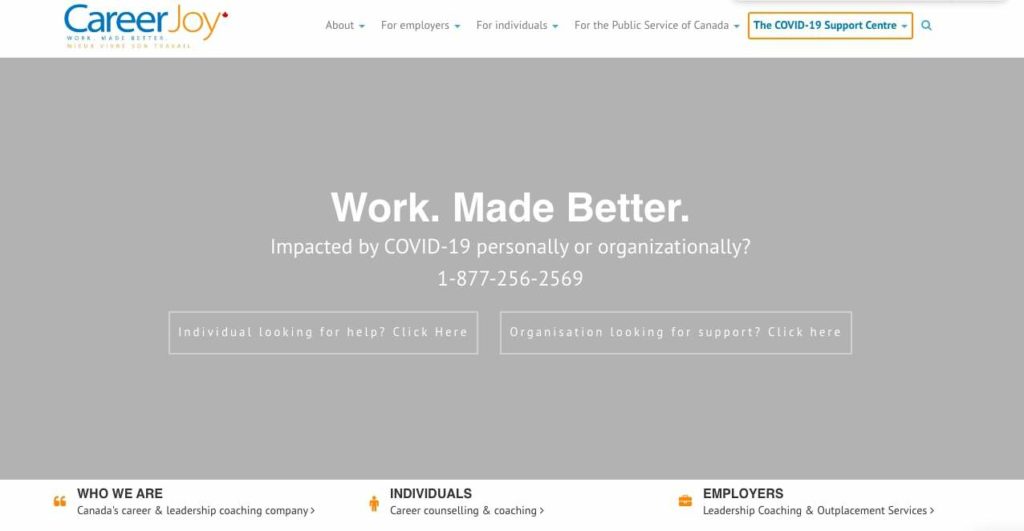 Test
Info
Services

Resume Services

Job Search Support

Assessment Tools

Career & Leadership Coaching

Website
https://www.careerjoy.com/
Address
330 Bay St. 14th Floor, Toronto, ON M5H 2S8
Contact Details
647-265-5824
Operating Hours
Monday - Friday: 8 am - 5 pm

Saturday - Sunday: Closed
| | |
| --- | --- |
| Criteria | Rating |
| Virtual & Telephone Consultations | ★★★★★ (5/5) |
| Customer Service | ★★★★☆ (4/5) |
| Expertise | ★★★★★ (5/5) |
| Coaching Programs | ★★★★★ (5/5) |
Career Joy's award-winning team has helped clients since 2002 to be in jobs that inspire and help them reach their full potential.
Its job search programme has helped clients get a clear perspective on how to position themselves in their resume and job interviews to fast track them landing a job.
We are mightily impressed that a whopping 94% of Career Joy's clients have expressed complete satisfaction in their services. This is quite a feat for a coaching company, as this exceeds the industry satisfaction rate of 74.7%.
We like that this coaching company takes matching coaches and clients seriously. Not every initial match will click, and they know this well – so when this happens, they are prepared to match the client with a different coach.
Clients also appreciate their 100% service guarantee, which means that Career Joy will continuously work with them until they are completely satisfied with their services.
We hear that the coaches wae patient and encouraging as they help clients come up with specific goals. They also make it a point to check in on their client's progress in between sessions, which is great.
We're just a bit disappointed that their initial consultation lasts for only 15 minutes. In our opinion, this may not be enough time for a potential client to gauge if they are a good fit for his or her goals and needs.
Award-winning team
Job search program helps clients position themselves better
Helped clients focus on their career goals 
Good rapport with coaches in the initial meeting
100% service guarantee
Customer Reviews
Great career advice
"As so many of us found ours selves contemplating the last 2 years, I also found my self un-employed for the first time in my 31 year career. I contacted George Muenz at Career joy. Not only did George create a killer resume for me, he also gave me great advise and perspective towards starting a new career that would be not only rewarding, but fulfilling as well. This is usually a very stress full time but George always had time to talk and gave me confidence you sometimes lose when given to much time to think. As I am now happily starting a new career, I thank George for all advice and encouragement and look forward all challenges ahead. Career Joy is a must if you want to move forward in these very fast paced times." – Fabio
Shared strategies
"George was very professional and encouraging. He took the time to understand my previous experience and organize my skills to explore new opportunities. He shared strategies for finding my next position and pushed to the edges of my comfort zone. I finally found a new position where I can bring my transferrable skills to a new industry." – Eric
FAQs on Career Coaching in Toronto
---
That wraps it up for our review of the best career coaching services in Toronto! Now, if you're ready to take your job search a step further or pursue further learning to better yourself, check out these useful articles on our website: