The 20 Best Personal Trainers in Toronto
If your workout isn't as effective as it used to be or you need special supervision, the best personal trainers in Toronto can guide your workouts and keep you accountable.
Personal trainers are qualified to create individualized programs based on your desired results. The ones we selected for this list come highly recommended and have strong track records of success.
Before we go to them, though, let's go over what you can expect to pay for their services.
The Best Personal Trainers in Toronto
Now that you know why some personal trainers' services cost more than others, let's look into the best trainers around and why they're at the top of their game.
1. Primal Breed Fit
The next entry on our list is Primal Breed Fit, a group of personal trainers whose location is found on Carlaw Avenue.
Primal Breed Fit specializes in fat loss, muscle building as well as body recomposition (lose fat while building lean tissue). Primal Breed Fit offers premium, effective personal training to clients that are serious about their fitness goals.
Their science-based training & nutrition protocols are time-tested and proven to provide worthwhile results regardless of your starting point. If you're looking for progress-driven, quality personal training to truly transform your physique, this is the place.
Now, one of the best things about working with Primal Breed Fit is the results that clients achieve.
Primal Breed Fit clients have an extremely high (95%+) success rate, where they achieved AND surpass their fitness goals. Best of all, their systems are sustainable and healthy, ensuring clients look and feel great.
Another reason why we recommend Primal Breed Fit is the trainers themselves.
Primal Breed Fit trainers are highly experienced, utilizing the most up-to-date and effective methods in the industry. Having been in the fitness industry for over 6 years, the systems they utilize on clients are continuously improving and refining to ensure all clients succeed.
In addition, clients that prefer to get online coaching be it for lack of time, location or preference, Primal Breed Fit offers online fitness coaching. Individualized training and nutrition program based on your specific goals, weekly video accountability check-ins as well as 24/7 access to a Primal Breed Fit coach via text for any assistance you may require along the way to ensure you stay on track and achieve results.
Lastly, Primal Breed Fit is open seven days a week, making it one of the most accessible personal trainer options in Toronto.
2. Your Future Fitness
Your Future Fitness is well known for its in-home personal fitness training. It has helped athletes and business people alike achieve their fitness goals.
This coaching company helps anyone in GTA achieve their fitness goals by providing personal training specialist services and online personal training materials.
To determine what each of its clients needs, Your Future Fitness provides a phone consultation and another in-person complimentary session. After these, you'll receive fitness assessments that will help your trainer design and tailor-fit a training program.
Aside from providing you with a fitness plan to follow, your personal in-home trainer will also help you acquire the necessary tools and equipment for your regime. More importantly, your trainer will be there to assess your progress through muscle quality checks.
All clients need to do is to schedule an appointment with them and choose among its three packages—the busy body, transformation pack, and online training.
We also appreciate that they provide a multitude of services ranging from personal training, kinesiology services, and now beginning shortly– even an in home massage therapist! Plus, they only hire university-educated trainers with backgrounds in health related fields in order to ensure the highest quality care in the industry.
All of these have access to Your Future Fitness's training app but differ in scheduling flexibilities and level of support. And for a truly holistic fitness plan, Your Future Fitness also includes nutritional counselling in all of its packages.
Customer Reviews
Read these reviews to know more about Your Future Fitness:
"Andrew is the man! Really helped me out when I needed it and super passionate about what he does. Highly highly recommend using him as your trainer if you want to enjoy your training and see results. He's also really easy to get along with and pleasant being around. Great energy!"—Anish Chopra
"Andrew cares about his clients. He's one of the few trainers I've worked with that felt like a friend who just want to see you succeed. His style is to educate as you train, so he equips with skills you can carry through your journey."—Eddie Hanson
3.   Arzadon Fitness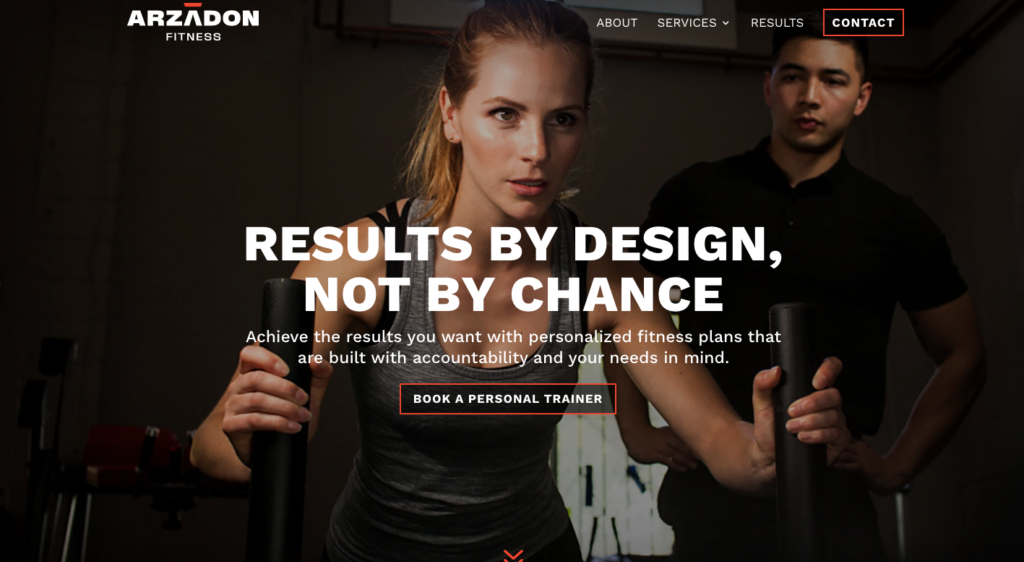 Arzadon Fitness is a company that offers a wide range of fitness training and coaching for any individual who has a specific goal in mind such as muscle building and fat loss training. Integrating accountability in all of their decisions, not only do they provide training regimes but also touch on nutritional diets for a holistic approach on fitness.
We find their programs to be highly flexible and very ideal for clients who have a busy schedule every week since not only do they offer gym training but also through online means to better monitor clients even at the comfort of their homes.
Another thing we think is notable of their services is their data-driven and evidence-based programs and regimens that is not only backed up by reliable software but professionals as well to ensure that clients get the best out of their sessions.
Case studies and testimonials are also readily accessible at their website so that clients can get a glimpse of how effective their approach is to past clients who have similar situations and concerns as them.
Furthermore, clients can book a consultation with them and expect to receive genuine care and attention from their end and make each fitness goal a reality and more attainable.
What caught our attention though was how their trainers' salaries are based on their clients' results. They do so to ensure that everyone who visits them gets the best return on their investment and efforts.
We can confidently say that they are also the only gym with this model and the only gym that monetarily invectives our clients to reach their goals.
Customer Reviews
Here are some reviews from their clients:
"It's more than just personal training here, they really do care about you and your health and that leads to a very rewarding experience! You can tell Jay loves what he does and it shows each and every day! Would recommend to friends and family in a heart beat!"
"Jay Arzadon is the best personal trainer and nutritionist I have ever worked with. I saw immediate results in terms of weight loss, strengthening, complete elimination of back pain, and significantly improved chronic injuries (ankle and arm). Jenny Arzadon runs operations and is extremely organized and efficient. Highly recommend Arzadon Fitness!"
4.   Dexterity Fitness
Another recommended personal trainer would be Charlene from Dexterity Fitness. She's an expert health care practitioner that has been in the industry for years.
With her skill, she can create an extensive plan specifically made for each client. Charlene's thorough assistance partnered with the company's programs would surely help improve fitness.
Dexterity Fitness has four main programs available: they include personal training, Fascial Stretch Therapy, an online nutrition challenge, and seminars for schools and companies. They promote "training smarter to be stronger."
Charlene caters to a variety of clients – from the "weekend warriors" who are looking to move pain-free, to seniors who want to improve their balance to prevent falls, pregnant clients, as well as those with neurological conditions like PD, MS and CP. In-person clients have the opportunity to get relaxing Fascial Stretch Therapy done on a massage table to prevent pain and improve posture, and online clients get the benefit of training with an expert from anywhere in the world.
You can book a consultation with them today if you want to check out how Dexterity Fitness can help with your situation or condition.
Customer Reviews
Here are some reviews left by satisfied clients:
"I have had a great experience training with Charlene Carroll. I reached out to her for post-natal training 3 months after giving birth. Even though it had to be online due to Covid, Charlene's professionalism and expertise helped me to regain my abdominal strength and to work out better then I did even pre-pregnancy. Her workouts did not seem difficult at first but they certainly were effective at building my body back up in a safe and efficient manner. I'm now 7 months post delivery and I'm feeling strong and content with how I look and feel."
"I am an active individual I enjoy fitness and in April of this year my activities were reduced significantly due to overwhelming shoulder arm and neck pain I tried many treatment modalities and was very close to turning to shock wave or one day close to a cortisone shot .I was referred by a work colleague to Charlene and her reassurance and positivity to my situation changed the course of my healing .Charlene is retraining how I use my upper body muscles and my pain has significantly reduced . Charlene has given me the confidence to move ,train properly and I am so happy about my continued progress thanks to Charlene .I completed a plank today pain free. Thank you Charlene and I am in for more challenges ahead"
5.   TO Kinesiology – Fitness Performance Rehab
TO Kinesiology provides professional personal training and kinesiology services specializing in working with individuals with injuries and medical conditions. This is an ideal option if you are looking to improve health, fitness and body composition, but need someone knowledgeable to manage and rehab the condition you are dealing with while doing personal training.

Whether you have joint pain or chronic condition like high blood pressure or diabetes, but also need to get stronger and build muscle/lose body fat, they can help.

You can come to their fitness studio/clinic located in downtown Toronto or they can come to you (in-home/mobile services). Online personal training is also available.

Working with their kinesiologists might make you eligible for a full or partial refund on their personal training services.

The company is founded by Nemanja Sambaher (Nem) who is a Kinesiologist and Personal Trainer with a Master of Science degree in Kinesiology. Nem has a strong science background with some of his work published in top scientific journals like Neuroscience and Sports Medicine.

Based on their reviews online, education and experience, it's safe to say you'll be in safe hands if you decide to go with TO Kinesiology.
Customer Reviews
TO Kinesiology – Fitness Performance Rehab never fails to provide top-notch services. Below are some of their reviews:
"I've been training with Nem for over 2 years now and I am so happy with the results. I've struggled with low back issues for a long time , but we managed to figure out a program and exercises that help my back get srtonger! Nem always comes prepared for our sessions and keeps track of my workouts to ensure I'm making progress. He is also flexible with our sessions and keep me motivated. I've recommanded Nem and TO Kinesiology to all of my friends and collegues without hesitation." – Hamdani Sentosa
"Best personal trainer in Toronto! Over the past month I've seen HUGE improvements in my mobility, strength and overall general health thanks to Nem. My constant back, neck and hip pain are now gone and I've gained some serious muscle thanks to working with him. Would HIGHLY recommend, especially for runners." – Louisa Bobyk
6. Build My Body Beautiful
Team BMBB has four certified team members of coaches and nutritionists led by founder and author Ana Plenter. They primarily offer Zoom personal training sessions, a great convenience for those who want to cut back on costs and stay safe at home.
We do have to mention that BMBB provides fitness solutions exclusively to women, so please skip to our next suggestion if you're a guy! BMBB's programs cater to the female body and its unique make-up.
They're pretty forthright about their rates, with eight online personal training sessions starting at $115, which is a good deal. Consultations are free too.
Team BMBB can create a personalized training regimen and diet designed to accomplish your fitness goals. Maybe you want to lose weight or tone up your body – they can make the blueprint for the results that you want, in either case.
Since its inception, BMBB has helped over 5,000 women achieve their fitness goals. You might want to check out Ana Plenter's Instagram page to see some of their clients' body transformations as a testament to their services.
Customer Reviews
Check out these reviews from Build My Body Beautiful clients:
"It's been a struggle to lose weight as I've gotten older. When the pandemic hit, losing weight got even harder because I was emotional eating all the time and I stopped working out. That was my rock bottom and after tons of research I found Build My Body Beautiful and reached out for training services online. During my initial consultation with Ana, I knew I found an AMAZING trainer. She is knowledgeable, honest and she genuinely cares about my health and fitness goals.
She has not only helped me lose 17 pounds since I've been working with her, but she's helped me get my life back. My results are noticeable (my entire family has commented on how I look way more toned) AND I feel healthier and happier, which is priceless! Thank you Build My Body Beautiful!"
– Yasemin Kamci
"Working with Ana has truly been a treat! She is always accessible and very educated and inspiring. Her programs are amazing and she was able to adjust home workouts / gym when the pandemic hit. The workouts are tough but doable and she gives a lot of tips to help you get through them. I love speaking with her for our check ins as she always pumps me up and reminds me that I have the strength to accomplish my goals. I would recommend BMBB to anyone interested in improving their health and obtaining their fitness goals."
– Alana Sired
7. Your House Fitness
Your House Fitness has 22 personal trainers in its Toronto branch, all with their unique qualifications. We suggest checking out all their profiles and look for a trainer who matches your needs.
A one-on-one virtual session will cost you $80+HST per session and of course, that fee gets lower the more sessions you book. Specialized services like kinesiology cost $75-$90 per session.
Kinesiology includes trigger point and postural therapy, so if you're recovering from an injury or you have a medical condition that requires special care, this is the type of program for you.
As for regular training, of course, you get to pick the fitness goals you want to work on – from weight loss to general wellness. You have the option to work out with a trainer online, in your home, or in YHF's studio.
We like that Your House Fitness is essentially a platform where you can connect with the trainers you want. It's not that easy to find one that will cater to unique needs, so any opportunity to make choices from one source is an added convenience.
Customer Reviews
Look at these two recent reviews from people who train with Your House Fitness:
"I contacted Sergio and Your House Fitness a few months into the pandemic hoping to connect with a trainer who could work with my own needs, preferences, and timetable. Sergio connected me with one of his trainers, Minh. The experience has been outstanding!
I've never worked with a trainer before and was a bit apprehensive about what to expect. Minh absolutely met me where I was, designed a great plan to suit my needs and work around what I already had at home. I've since purchased some bands from Your House to push my workouts even further.
I cannot recommend them highly enough!"
– Greg Ryerson
"I started using Your House Fitness because of COVID. We were lucky enough to get Jamie, who has helped us become stronger and more aware in the first month.The service is easy and everyone is very understanding. I would recommend Your House Fitness to everyone."
– Andrew Wiley
8.   Nielsen Fitness Premium Personal Training
If you want a straightforward personal training service that will adjust to your schedule, Nielsen Fitness is the one to beat in this area. NF is a no-frills company that launched back in 2006.
Led by Poul Nielsen, the NF team is extremely qualified to handle even the finickiest clients. To be an NF employee, one has to pass stringent criteria and a difficult practical exam, so you can be sure that all of them can take a medically backed approach to your fitness needs.
Nielsen Fitness's process was fine-tuned over 15 years, with Poul competing in the Ontario Strongman circuit and needing trainers himself. He also teaches at George Brown College because he's passionate about educating others on fitness.
As of now, there are 20 members in the NF team, including Poul, and they all have a deep understanding of exercise physiology, injury prevention, and biomechanics. Personal training is an unregulated industry, so you can't expect this kind of expertise from anyone who calls themselves a CPT.
So if you're the type who wants education on top of training, Nielsen Fitness is ready to answer all your questions. Plus, your first virtual training session with them is free, so we suggest trying them out to see if they're the right fit for you.
NF also has a money-back guarantee if you're unsatisfied with their services, yet another bonus that you'd be hard-pressed to find elsewhere.
Customer Reviews
Nielsen Fitness is a 5-star rated business. Why wouldn't it be with reviews like these?
"Love the team at Nielsen. I originally reached out for my mother who was recovering poorly from knee replacement surgery. Her 2x/week session has been a big fitness and confidence booster for her. Audrey has been outstanding in particular at navigating us to the right support.
I was so impressed with the workouts for my mother that I signed my wife and I up for 1x/week sessions with David for virtual personal training. David has hit a perfect balance of pushing us physically at the same time as creating a workout that is building our fitness momentum. My lower back is feeling stronger, and I feel my muscles and energy building over time. Thanks to a great team at Nielsen."
– Peter Meyers
" Virtual personal training with Nielsen Fitness has been such a great experience! Audrey and Poul are extremely caring and made the onboarding process so easy. They set me up with Matt, who is such a great motivator, he continually assesses my progress, and has taught me the importance of proper form in order to achieve the best results. He gives great cues and creates clear plans for both private and semi-private sessions. Matt is so much fun to work with – 10/10 would recommend!"
– Melissa Tan
9. Busy Bee Fitness Experts
Busy Bee Fitness Experts is your go-to premier fitness professional in Toronto for virtual and in-home personal training.
In the comfort of your own home, condo, or apartment, get in the best shape of your life with a skilled in-home personal trainer. The fitness experts at Busy Bee are dedicated to assisting you in living a healthy lifestyle. They don't simply show you how to work out; they also encourage you to do so.
Collaboratively, they will work with you one-on-one to develop a fitness regimen that is both effective and attainable. To provide the greatest possible results, they also give you extensive support outside of your training sessions. They will come to you at your house, condo gym, online, a partnered gym, an outdoor setting, or your business to coach you.
We are impressed by how passionate they are in making sure that they provide you with the best outcomes by using an individualized holistic strategy. One that covers a wide range of topics related to fitness, motivation, and nutrition.
Being with Busy Bee FItness, you don't have to sacrifice your health because you live a busy life.
Customer Reviews
Look at these reviews from people who train with Busy Bee Fitness Experts:
"My trainer is Katherine and she is AMAZING! She is very diligent, knowledgeable, accommodating, and brings thoughtfulness to our sessions. I am very happy that we connected and she's supporting my fitness and health journey!" – Subrina
"I've had such a great experience with Samantha. She's fun, motivating, and encouraging. She designs a tough workout! She's really easy to work with, I'd recommend her to anyone." – Alison Argent
"My trainer, Lily, was wonderful. As a senior with some health issues, she worked at my pace. Scott on the business side was responsive and considerate." – Nancy Miller
10.   Innovative Fitness
Innovative Fitness has been around since 1995. They have over 150 in-house personal trainers to accommodate thousands of clients all over North America.
What sets IF apart is its holistic approach to fitness. They don't follow trends, fad diets, and gimmicks to help clients achieve their body goals.
Instead, they have a unique focus on the social, emotional, and spiritual side of people's wellbeing. So if you want a more rounded service, IF trainers create personalized, well-developed fitness plans upon the initial consultation.
How are they able to do this? Their trainers have advanced degrees in movement therapy, behavior sciences, Kinesiology, among others.
Each personal training session lasts 50 minutes on average. Of course, your IF trainer will track your progress and optimize the plan even further as you follow the program.
Their brand is pretty intense. So if you intend to put the work in, we suggest going for Innovative Fitness because they can match your verve.
Innovate Fitness is also one of the only companies that offer fitness travel experiences. If scaling Peruvian mountains or surfing in Honolulu is appealing to you, this is your chance to do it in a safe and social way.
Customer Reviews
Here are some testimonials from transformed Innovative Fitness clients:
"Scott & the team at innovative fitness have been a pleasure to work with. I've tried a number of the 'top' personal training studios in Toronto and I have to say that the location, level of personalized service, and healthy approach that you get working with this team are unparalleled. They use gradual increases over time to keep you coming back without any injury or extreme tactics, which is a much better approach than the other trainers I have worked with. I always look forward to my workouts. Thanks Scott & IF!"
– Dan Kligman
"I have been training with Innovative Fitness for over a year and it has been a total lifesaver during the pandemic. Virtual workouts with Scott have kept me feeling healthy, energized and grounded in an otherwise stressful time. I have seen fantastic results in my strength, balance and endurance and continue to feel like I make progress each week. Would highly recommend it to anyone looking for a program that is customizable and focused on keeping your body strong and healthy in the long term."
– Kelly Hayden
11.   OBF Gyms
Most people seek personal training to lose weight and keep it off. Well, most of the time, endless hours of cardio are just not going to cut it.
If you're into lifting weights, that's OBF Gyms' forte. They have programs that are set up to maximize fat loss while increasing lean muscle mass.
Of course, you also have the option to have them create a 100% personalized program based on your specific needs. However, their standard programs seem to yield incredible results for most of their clients who put in the effort.
The best part about OBF's personal training services is that they're affordable. They understand that the most common hurdle one might have when it comes to personal training is the steep cost it usually entails.
OBF has stepped up and now offers $35-$65/week virtual training sessions. That includes diet advice and access to exclusive videos.
You also have the option to train semi-privately, which is cheaper than actual one-on-one sessions. We like that they cater to fitness enthusiasts on different budgets.
Customer Reviews
OBF Gyms has a near-perfect 5-star rating on Google Reviews, and it's because of reviews like these:
"I love the trainers and ownership at OBF Gyms! They are always so accommodating and their knowledge is second-to-none! During the pandemic, they shifted to offering online training so that I could continue on with my results and they worked closely with me during my entire journey! They have themselves a loyal fan for life! Great job OBF Gyms!"
– Paul Teixeira
"I have been with OBF for over 3 years now. Started with one-on-one training with Jon. Then group training. Now virtual training. Very professional! Really whipped me into the nest shape of my life and I am so grateful I went for it and invested in myself. Well worth it. Thank you for making me accountable and always checking in on me!"
– Melanie McGregor
12. Free Fitness and Health
Free Fitness and Health offers one of the most comprehensive training programs available not only in Toronto, but Internationally as well! They're known to have both in-person training, which is based in Toronto, and online ones which can be accessed by anyone from anywhere in the world.
The process in this company is seamless.
Consultation is done first, where a few questions are asked, including the client's possible health problems, goals, and capacity for a workout.
The next would be creating a personalized 8-week plan. This is made fit for the client and takes into consideration every information given in the initial consultation.
In addition, a phone app support is included here. Everything you need will be uploaded to the application which is design to be easy to use. So wherever you go, you can still access and utilize the plans made for you by Free Fitness and Health.
Free Fitness and Health is simply a one-stop solution to your road to fitness. Their experienced trainers ensure the best possible results and work to ensure that you'll learn to enjoy what you're doing too.
Customer Reviews
Here are some reviews left by satisfied clients:
"When the Covid shutdown hit I was overweight, out of shape and turning 50. I knew that if I was going to "get up" instead of "give up", it was time to make some big changes. John's online training system seemed like a great affordable option and I decided to try it out. Best decision ever! John designed an individualized plan to address my goals, work around some areas of injury and had me set up and ready to go. I love the online app! It keeps me accountable for doing the workouts and motivates me to improve on my previous performance. Plus, John monitors my workouts through the app, makes adjustments and gives feedback and lots of encouragement. Adding in-person training sessions with John has accelerated my progress even more. He continues to show me that I'm capable of much more than I think I am and has given me the confidence to push myself way harder at home. With John's coaching and encouragement, my home workouts have already advanced FAR beyond what I thought was possible for me. I'm thrilled to say that I've exceeded my weight loss goal (25lbs- yeah!) and can't believe how quickly I've gained strength, muscle definition and better mobility.
John's knowledge and expertise in health and fitness is invaluable. He'll teach you the concepts, work with you to get the results you want and celebrate your successes along the way. All with an easygoing style and a great sense of humour.
Training with John towards better fitness at 50 has been the best thing I've done for myself in years! Thanks John!" -Lianne Moroz
"John, thank you for 7 years! Always the consummate professional and gentleman, you continue to make our training sessions empowering and fun! Your knowledge and innovation have allowed my continued success, despite a chronic health condition. And your resistance band program during COVID-19 lockdown has kept me strong – 205 lb. dead-lift at 60+ years of age!" -Mary Seymour
13. In Home Personal Trainer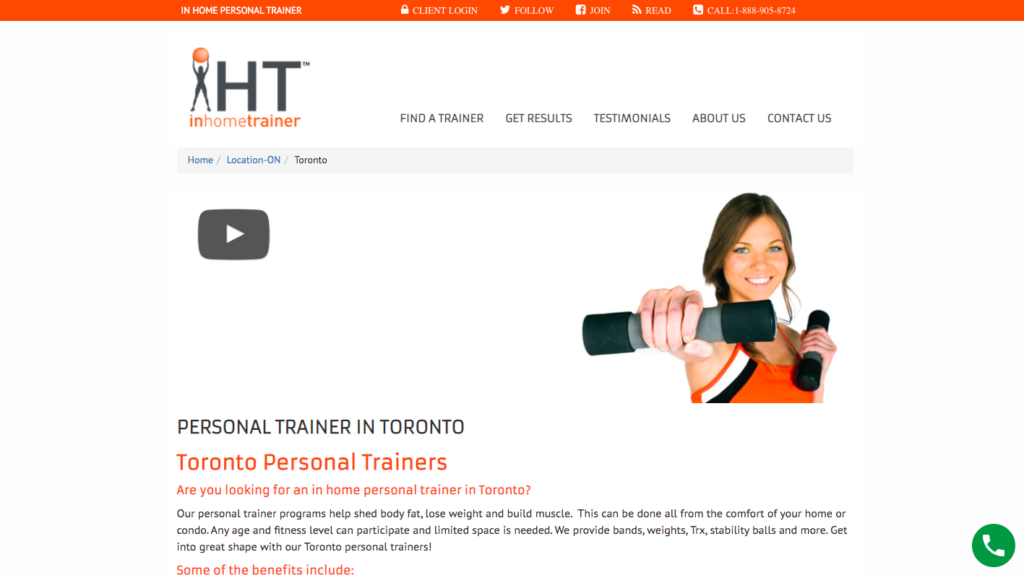 inhometrainer was founded in 1999 by Mike Tangreda, a certified personal home trainer with a passion for fitness, health and wellness . His mission was simple – to promote and teach living a healthy lifestyle through exercise in the comfort and privacy of your own home.
As one of the longest running in-home personal training services in Toronto, inhometrainer found lasting success. By providing the benefit of a gym in one's personal space, clients could achieve the same results while saving both time and money.
inhometrainer strives to strengthen the body first without the use of weights before incorporating weight lifting and resistance training.They offer three main "packs" or packages that offer up to 96 sessions, although you may purchase individual sessions as wel.
They offer a wide array of services that include TRX workouts, yoga, fat shredding workouts, weight lifting programs, pre and post rehab training, and more. So no matter where you are in your fitness journey, inhometrainer can create a personalized program for you.
Customer Reviews
Let's take a look at what their clients have to say:
"I have lived with multiple sclerosis for over 40 years and have type 1 diabetes. When I joined inhometrainer I was anxious because I didn't know whether I could do "the program". I learned very quickly that "the program" was about me and my abilities! My trainers Serge and Mike challenge me to move up a notch or two above my current abilities. They accept that I cannot, because of nerve damage due to MS, do certain exercises. They support and encourage me when I get discouraged and have promised to not give up on me…These trainers are awesome and I wholeheartedly recommend inhometrainer!" – Barbara. C
"My husband and I cannot say enough about the program! The hardest part was getting started. Once we made the decision to get back into shape, inhometrainer helped us achieve our goal weight. We could not have done it alone, and going to a gym was inconvenient and intimidating. Without the help of our amazing trainers, we could not have achieved our goals. My husband lost 30 pounds, and I've lost 14 pounds. We feel so good and we have continued the program on our own because we know what to do. inhometrainer showed us how to lose weight and keep it off. No gimmicks, no pills, no equipment! Just proper circuits, exercise, and good nutrition tips. I have recommended inhometrainer to all of our family and friends who have commented on our weight loss.Thanks again inhometrainer you transformed our lives!" – Sam & Angela
14. All Day Fit
All Day Fit was founded by Cassie Day, who has over a decade of experience helping people achieve their health and fitness goals. She has a long list of qualifications that include being a pain-free performance specialist certification, functional strength coach, pre and post-natal specialist, and more.
At All Day Fit, they take pride in providing a non-intimidating and feasible approach toward fitness. They do so by offering programs that specialize on both the internal and external aspects of fitness, and not just focusing on your appearance.
Their inclusive and intelligent fitness programs are designed to make fitness a consistent part of your life. Their programs focus on functional training and proper nourishment to provide long term results and a lifestyle change.
No matter where you are on your fitness journey, All Day Fit has a program to suit your needs, whether you're a beginner or already in good shape. If you want a customized program, they also offer personal trainer services to suit your needs.
Customer Reviews
Here's the feedback of some of All Day Fit's previous clients:

"All Day Athlete was the perfect program for a 35-year-old new dad looking to revive childhood dreams of being a pro athlete…but in all seriousness this program was amazing! No matter what sport you play or how competitive it can get, this program will help you be faster, more explosive, and reduce injuries!! The attention to detail and guidance you get from the coaches is the best. Can't wait to take this again!" – Jaffer Hussain
"I participated in the Strong Academy as I was looking for some community, accountability, and variety in my workouts (I usually do hit training). I can confidently say Strong Academy VASTLY exceeded my expectations! I was worried about not being able to receive personalized feedback with the online format, but my coach, Jacq, delivered exceptionally on this! I finished the month learning so much about my body, correcting idiosyncrasies in my form, and feeling SO strong and so much more educated about strength training! I loved it and would HIGHLY recommend. I will definitely be doing it again!!!!! THANK YOU!!!" – Lysh Damp
15. Fit Squad Training
Fit Squad Training is owned by Aldo Frixione, Gabriel Lee, and Jennifer Lau who all have at least a decade of experience each as a personal trainer. Although they have a long list of qualifications, Aldo specializes in strength training, Gabriel in rehabilitation, and Jennifer in holistic nutrition.
Their well-rounded background and experience in the field of fitness makes Fit Squad Training an excellent choice for those interested in pushing their personal limits. The programs here involve weight training, conditioning and movement-practices to increase personal strength.
Each new client will undergo a detailed assessment and measurement of overall physical ability such as strength, conditioning and joint mobility. These will help the trainers get a better idea for your body's capabilities so they can design a program that suits you.

They offer an online platform where you can access any of your tailor-made fitness workouts, regardless if you choose virtual or on-site training. They also offer quad training (small group workouts) if you're looking for a more affordable option or need the encouragement of other people to keep in step with your fitness plan.
Customer Reviews
Let's take a look at what some of Fit Squad's clients have to say:

"Fit Squad experience has been fantastic. It started with their ingenious pivot this past summer to do an outdoor gym to accommodate health and safety protocols. Based on this and their IG posts, we felt this was a great opportunity to kick start our fitness. We signed up for personal training with Pedro and our fitness regime has been terrific! He is very personable, knowledgeable, accommodating for both me and my wife, and motivating (are we really strong like bull?). We were sad that the outdoor gym closed and moved inside and we were not disappointed. Fit Squad has been very accommodating and adjusting to current safety protocols. We recommend you try it out and let them know your fitness goals and they will accommodate. We are seeing the results!" – Dave Quon

"I thought I was a fairly fit person, now thanks to Romain I'm the fittest I've been and significantly stronger. My workouts are so well tailored to my goals, he is so encouraging and very knowledgeable. I'm in medicine and the dude really knows his stuff. I've given up before because I thought I had a bad wrist and knee, turns out I don't, just needed my form corrected. I can easily say in the matter of 3 months I've actually achieved most my fitness goals, and no pain anywhere. The whole gym set up is excellent and fit squad team members are all wonderful, supportive and a really good time. That being said I'm very pumped to see what gains are to come working with him. Oh and he is excellent conversationalist Thanks Romain!!!" – Heerah Dar
16. Toronto Personal Trainer: Lauren Shuster
In recent years, the fad for women's health has been on the rise. Hence why Toronto Personal Trainers' Lauren Shuster has earned a spot on our list.
Shuster, a CANFITPRO Certified Personal Trainer, ELDOA 1 and 2 Certified, Yoga Instructor, Fitness Instructor and Presenter, has two decades worth of experience that she willingly shares with her clientele. While their services cater to all genders, they specialize in women's health, especially those who are expecting and are in pregnancy.
Not everyone has time to go to the gym or the drive to do it, but staying healthy is so important! Hence why we love how they also offer online appointments to their clientele.
Shuster's clients love her for her encouraging attitude and positive energy. Her training regimens, which are holistic and research-backed, are well-received by newcomers and regulars alike.
We would have appreciated it, though, if their calling hours extend to the weekends as it is most the most accessible for working ladies.
Overall, if you're looking for a fitness trainer who is skilled in working with clients who need to lose weight, who want to train for a sport or participate in a fitness competition, or simply need a bit more flexibility, then Toronto Personal Trainers' Lauren Shuster might be the one for you!
Customer Reviews
Positive vibes
"[Lauren] has all the moves, and a super positive energy. If you are ever in need of a personal trainer, contact Lauren Shuster!" – Robert McGee
Knows exactly what to do
"I have loved working with Lauren Shuster over the past 8 months. Before meeting Lauren I struggled with finding the right routine for myself. After an unfortunate accident, the injuries to my neck and shoulder made it difficult workout without re-injuring or aggravating the same weak areas. However, with Lauren, I have finally (after 4 years) been able to strengthen the areas of my body damaged in the accident. She knows exactly how to stretch me and give me the correct exercises to build muscle, tone, repair and prevent irritation. I have noticed huge improvements in my posture and strength just in the short time I have worked with her. Despite trying to strengthen my body and recover through massage, chiropractic care, and physiotherapy this is the first time I have felt this strong and healthy. In addition to her skills and knowledge, Lauren is a joy to spend time with. She is accommodating, flexible and always trying to make my workouts enjoyable. I have a way to go still but it is a pleasure knowing I will be continuing my progress with Lauren's support and help." – Anu

17. T Training: Chris Twerdun
One of the best things about signing up with Chris of T Training is benefiting from his multidisciplinary approach to fitness.
We think that it's due to his many years of experience as an athlete, his training and education (he holds a Master's degree in Human Performance Coaching!), and his love for holistic health.
We really like the fact that he offers a multi-faceted approach to fitness. While his expertise is in strength and conditioning, he also offers his knowledge in meal planning, acknowledging that exercise is only one part of the equation.
Training-wise, clients can opt to do personal or small group training, if they tend to do better doing it with friends. We appreciate that Chris also offers travel programs for those who are frequently on the go, which is quite a big market.
Clients love how results-oriented Chris is in designing programs. He conducts a one-on-one assessment and listens to the story of the client before deciding what the best plan of action is.
We think that clients who want to align their fitness and eating habits to live healthier lives would love to sign up with T Training. From identifying and setting practical goals to being mentored in a safe space, we'd say that their bodies (and spirits!) are in extremely capable hands.
Customer Reviews
Passionate and knowledgable
"I have had the pleasure of training with many personal trainers over the years and can confidently say that Chris Twerdun is the best trainer I have ever worked with! For the past 2 years I have been training with Chris and his passion, diverse skill set and in-depth knowledge has pushed my fitness level beyond what I thought previously possible." – Stephany M.
Easy to work with
"Chris has been my trainer for a number of years and I have benefited greatly from his expertise and guidance. He is very knowledgeable and takes the time to explain the benefits of the activity and ensures it is being executed correctly. Chris has a great personality, easy to work with and wants his clients to achieve their goals. He is a great mentor. I would highly recommend Chris to anyone looking to work with a personal trainer." – Michael B.
18. Personal Revolution
With coach Jay Quarmby's wealth of personal and professional experiences, we think that the best value you can get from Personal Revolution is learning under his tutelage.
Having immersed himself in fitness and lifestyle coaching over the past 15 years, Jay has done a variety of training for people from all walks of life. We love that he provides a variety of formats for clients to choose from, depending on their level of comfort.
We particularly like his reset experiences, which are private, full-day adventures that he himself curated. With the objective of complete detox, restoration, and recharging, this is a unique offering that weary and worn-out professionals will probably want to invest in.
In terms of regular fitness classes, clients love that he has pivoted to virtual and outdoor settings in line with current safety protocols. This provides added peace of mind to clients who want to work out outside their homes, and convenience to those who prefer to stay in.
As the author of the book Personal Revolution, we think that Jay integrates key principles from his writing into his coaching approach. This allows for a seamless and aligned experience for those who have also happened to read his book.
As a coach, Jay is a passionate, principled, and energetic individual. We think that he is generous with his insights and knowledge, which makes him one of our top picks.
19. Body Positive Fitness
We absolutely love Body Positive Fitness' vision for healthy living. This queer-led team pushes for body positivity and ending the "fat" stigma through a fun, friendly, inclusive, and comfortable environment.
Clients love the wide variety of training options offered. From the standard personal and studio training, Body Positive Fitness also features outdoor classes and BoPo run, which is a weekly running program.
What we like the most is that they also offer coaching, which goes beyond physical fitness and taps into mental stamina. Their 1-on1 coaching covers understanding health at every size, learning self-acceptance, and assistance with scheduling.
Body Positive Fitness regularly has an influx of new clients, thanks to their new client offers and gift cards, which allow people to try out their training before deciding to invest.
If ever there was a safe space in the fitness world, we think that this is truly it. We like that they've built up a culture that's accepting of people of all shapes, colors, and sizes, and that clients are invited to embrace their authentic selves.
Customer Reviews
Quality training
"LOVE this place! I've done 5 classes now and joining as a monthly member. It's the perfect place for people who get frustrated in other class environments (I was always annoyed at other places when the modifications were still too difficult!) At BoPo Fitness, you never feel like you can't participate! Many classes begin with a short mantra about appreciating our bodies, the classes are FUN, inclusive, and by the end I am a happy and sweaty! I am feeling stronger already, and I look forward to logging on each class. If I was feeling crummy at the start of class, I feel so much better at the end. So grateful I found this wonderful space! Highly recommend giving it a try." – Angie
Great workouts
"Great workouts where you can be yourself, wherever you are at that day. Online classes are excellent. Instructors are lovely. So glad I stumbled upon them." – Denise MacDonald
20. Fitness Solutions Plus
Fitness Solutions Plus, headed by Igor Klibanov. Igor Klibanov is the author of 8 books on exercise and nutrition, including the Amazon bestsellers, High Blood Pressure Reversal Secrets and Type 2 Diabetes Reversal Secrets.
Fitness Solutions Plus is one of the only companies to specialize in chronic conditions. They cover the "Big 4 + 1." The "Big 4", being hypertension, type 2 diabetes, osteoporosis and osteoarthritis. The "+1" is menopause.
Igor is one of Ontario's most sought-after wellness speakers, having delivered over 400 presentations to some of Canada's largest corporations, including RBC, CIBC, American Express, IBM, and others.
Fitness Solutions Plus focuses their methodology on what's scientifically valid, as opposed to what's trendy on Instagram and Youtube.
To grab a free copy of one of Igor's books, STOP EXERCISING! The Way You Are Doing it Now, click here.
Customer Reviews
Personalised Training
"I have worked with many personal trainers in the past and I have found that they just make it up as they go along and put me through a 'cookie cutter' program instead of developing something just for me! When I first met with him he really took the time to listen to what I wanted to accomplish and performed assessments so that he could tailor the program to my needs! I finally enjoy going to the gym!" – Debra Swartz
Effective Sessions
"Igor has helped me lose more than 22 pounds in about 8 weeks. I feel better, look better and ultimately feel healthier. If I can do it anyone can do it and I mean it." – Benjamin Mishaev
FAQs about Personal Trainers
---
We hope that this list of the best personal trainers in Toronto moves you further along your fitness journey. We certainly commend you for investing in your health.
If you have an underlying medical condition and want to get back on track, we suggest you check out the best physiotherapists in Toronto first.