The 9 Best Personal Trainers in Toronto
If your workout isn't as effective as it used to be or you need special supervision, the best personal trainers in Toronto can guide your workouts and keep you accountable.
Personal trainers are qualified to create individualized programs based on your desired results. The ones we selected for this list come highly recommended and have strong track records of success.
Before we go to them, though, let's go over what you can expect to pay for their services.
How Much Personal Trainers Cost in Toronto
In a nutshell, you can expect to pay a personal trainer anywhere from $30-$150 per hour. That's a pretty wide range, so here are the factors that will determine how much you'll have to pay:
Location
If there aren't many trainers in your area, chances are they'll charge higher rates. You should also expect to pay more if you want your trainer to go to your home gym instead of holding sessions at their studio.
Certification
Credentials always fetch more money. The upside of working with someone who has some type of certification or relevant education is that it's easier to trust and follow qualified people.

Trainers in this area will usually have Canadian Society for Exercise Physiology or National Strength and Conditioning Association certifications.
Length of sessions
The longer the workout, the higher the rates. The standard length of a session is around 30-60 minutes, but that might not cut it for you, so you will have to pay more for extensive workouts.
Years in the business
People with experience are always going to be more in-demand than newbies. Of course, you'd want to work with someone who has "seen it all" and has gained considerable wisdom for being in the business for a long time.
Number of sessions
Many personal trainers offer packages, allowing clients to book more sessions at lower prices. The cost of one session may not be too much at first, but those payments add up!

Booking multiple sessions at once is a practical thing to do, and it's great motivation because you have to show up for sessions that you've already paid for.
Unique services
A personal trainer's job is not just to tell you what to do and make sure you complete your sets. Some of them have unique qualifications in nutrition, post-rehabilitation, certain conditions, group training, etc. Of course, a specialized service is always going to cost extra.
Concerned about costs? Booking sessions in bulk, training with a group, and opting for virtual sessions are some things to consider to be in that lower pay range.
The Best Personal Trainers in Toronto
Now that you know why some personal trainers' services cost more than others, let's look into the best trainers around and why they're at the top of their game.
1. Build My Body Beautiful
SERVICES
Personal training, custom diet programs, boot camp classes, contest prep, dedicated app
WEBSITE
https://www.buildmybodybeautiful.com/
ADDRESS
Lower level – inside CardioGo 266 King St. W, Toronto ON M5V 1H8
CONTACT DETAILS
(416) 996-2664
OPERATING HOURS
Monday to Friday: 6:00am-9:00pm
Saturday to Sunday: 6:00am-4:00pm
Team BMBB has four certified team members of coaches and nutritionists led by founder and author Ana Plenter. They primarily offer Zoom personal training sessions, a great convenience for those who want to cut back on costs and stay safe at home.
They're pretty forthright about their rates, with eight online personal training sessions starting at $115, which is a good deal. Consultations are free too.
Team BMBB can create a personalized training regimen and diet designed to accomplish your fitness goals. Maybe you want to lose weight or tone up your body – they can make the blueprint for the results that you want, in either case.
We do have to mention that BMBB provides fitness solutions exclusively to women, so please skip to our next suggestion if you're a guy! BMBB's programs cater to the female body and its unique make-up.
Since its inception, BMBB has helped over 5,000 women achieve their fitness goals. You might want to check out Ana Plenter's Instagram page to see some of their clients' body transformations as a testament to their services.
Online classes
Reasonable rates
Includes diet plan from a certified nutritionist
Customer Reviews
Check out these reviews from Build My Body Beautiful clients:
"It's been a struggle to lose weight as I've gotten older. When the pandemic hit, losing weight got even harder because I was emotional eating all the time and I stopped working out. That was my rock bottom and after tons of research I found Build My Body Beautiful and reached out for training services online. During my initial consultation with Ana, I knew I found an AMAZING trainer. She is knowledgeable, honest and she genuinely cares about my health and fitness goals.
She has not only helped me lose 17 pounds since I've been working with her, but she's helped me get my life back. My results are noticeable (my entire family has commented on how I look way more toned) AND I feel healthier and happier, which is priceless! Thank you Build My Body Beautiful!"
– Yasemin Kamci
"Working with Ana has truly been a treat! She is always accessible and very educated and inspiring. Her programs are amazing and she was able to adjust home workouts / gym when the pandemic hit. The workouts are tough but doable and she gives a lot of tips to help you get through them. I love speaking with her for our check ins as she always pumps me up and reminds me that I have the strength to accomplish my goals. I would recommend BMBB to anyone interested in improving their health and obtaining their fitness goals."
– Alana Sired
2. Your House Fitness
SERVICES
Virtual personal trainer, in-home personal training, in-studio personal training, Isophit, fascial stretch therapy, nutrition & meal planning, Kinesiology, yoga & pilates, bootcamp
WEBSITE
https://www.yourhousefitness.com/
ADDRESS
250 Wellington St W #129, Toronto ON M5V 3P6
CONTACT DETAILS
(905) 808-6533


[email protected]

OPERATING HOURS
Monday to Sunday: 4:00am-12:00am
Your House Fitness has 22 personal trainers in its Toronto branch, all with their unique qualifications. We suggest checking out all their profiles and look for a trainer who matches your needs.
A one-on-one virtual session will cost you $80+HST per session and of course, that fee gets lower the more sessions you book. Specialized services like kinesiology cost $75-$90 per session.
Kinesiology includes trigger point and postural therapy, so if you're recovering from an injury or you have a medical condition that requires special care, this is the type of program for you.
As for regular training, of course, you get to pick the fitness goals you want to work on – from weight loss to general wellness. You have the option to work out with a trainer online, in your home, or in YHF's studio.
We like that Your House Fitness is essentially a platform where you can connect with the trainers you want. It's not that easy to find one that will cater to unique needs, so any opportunity to make choices from one source is an added convenience.
Many qualified trainers to choose from
Holistic approach
Has Isophit machines in studio
Almost 24/7 availability
Customer Reviews
Look at these two recent reviews from people who train with Your House Fitness:
"I contacted Sergio and Your House Fitness a few months into the pandemic hoping to connect with a trainer who could work with my own needs, preferences, and timetable. Sergio connected me with one of his trainers, Minh. The experience has been outstanding!
I've never worked with a trainer before and was a bit apprehensive about what to expect. Minh absolutely met me where I was, designed a great plan to suit my needs and work around what I already had at home. I've since purchased some bands from Your House to push my workouts even further.
I cannot recommend them highly enough!"
– Greg Ryerson
"I started using Your House Fitness because of COVID. We were lucky enough to get Jamie, who has helped us become stronger and more aware in the first month.The service is easy and everyone is very understanding. I would recommend Your House Fitness to everyone."
– Andrew Wiley
3. Nielsen Fitness Premium Personal Training
SERVICES
In-home personal training, virtual personal training, chiropractic
WEBSITE
https://nielsenfitness.com/
ADDRESS
20-209 Wicksteed Avenue, Toronto ON M4G 0B1
CONTACT DETAILS
1-855-432-1348


[email protected]

OPERATING HOURS
Monday to Friday: 5:00am-11:30pm
Saturday: 5:30am-11:00pm
Sunday: 6:30am-9:00pm
If you want a straightforward personal training service that will adjust to your schedule, Nielsen Fitness is the one to beat in this area. NF is a no-frills company that launched back in 2006.
Led by Poul Nielsen, the NF team is extremely qualified to handle even the finickiest clients. To be an NF employee, one has to pass stringent criteria and a difficult practical exam, so you can be sure that all of them can take a medically backed approach to your fitness needs.
Nielsen Fitness's process was fine-tuned over 15 years, with Poul competing in the Ontario Strongman circuit and needing trainers himself. He also teaches at George Brown College because he's passionate about educating others on fitness.
As of now, there are 20 members in the NF team, including Poul, and they all have a deep understanding of exercise physiology, injury prevention, and biomechanics. Personal training is an unregulated industry, so you can't expect this kind of expertise from anyone who calls themselves a CPT.
So if you're the type who wants education on top of training, Nielsen Fitness is ready to answer all your questions. Plus, your first virtual training session with them is free, so we suggest trying them out to see if they're the right fit for you.
NF also has a money-back guarantee if you're unsatisfied with their services, yet another bonus that you'd be hard-pressed to find elsewhere.
Large team
Affordable (virtual sessions start at $40)
Complimentary first session
Quarterly assessments
Customer Reviews
Nielsen Fitness is a 5-star rated business. Why wouldn't it be with reviews like these?
"Love the team at Nielsen. I originally reached out for my mother who was recovering poorly from knee replacement surgery. Her 2x/week session has been a big fitness and confidence booster for her. Audrey has been outstanding in particular at navigating us to the right support.
I was so impressed with the workouts for my mother that I signed my wife and I up for 1x/week sessions with David for virtual personal training. David has hit a perfect balance of pushing us physically at the same time as creating a workout that is building our fitness momentum. My lower back is feeling stronger, and I feel my muscles and energy building over time. Thanks to a great team at Nielsen."
– Peter Meyers
" Virtual personal training with Nielsen Fitness has been such a great experience! Audrey and Poul are extremely caring and made the onboarding process so easy. They set me up with Matt, who is such a great motivator, he continually assesses my progress, and has taught me the importance of proper form in order to achieve the best results. He gives great cues and creates clear plans for both private and semi-private sessions. Matt is so much fun to work with – 10/10 would recommend!"
– Melissa Tan
4. Innovative Fitness
SERVICES
Personal training, nutrition coaching, fascial stretch therapy, active rehabilitation, sport-specific training, executive health, team training, fitness travel and experiences
WEBSITE
https://www.innovativefitness.com/location/toronto-personal-training/
ADDRESS
181 Wellington St W, Toronto ON M5J 2H5 (Inside The Ritz-Carlton)
CONTACT DETAILS
(416) 572-8003


[email protected]

OPERATING HOURS
Monday to Friday: 6:00am-8:00pm
Saturday: 7:00am-3:00pm
Innovative Fitness has been around since 1995. They have over 150 in-house personal trainers to accommodate thousands of clients all over North America.
What sets IF apart is its holistic approach to fitness. They don't follow trends, fad diets, and gimmicks to help clients achieve their body goals.
Instead, they have a unique focus on the social, emotional, and spiritual side of people's wellbeing. So if you want a more rounded service, IF trainers create personalized, well-developed fitness plans upon the initial consultation.
How are they able to do this? Their trainers have advanced degrees in movement therapy, behavior sciences, Kinesiology, among others.
Each personal training session lasts 50 minutes on average. Of course, your IF trainer will track your progress and optimize the plan even further as you follow the program.
Their brand is pretty intense. So if you intend to put the work in, we suggest going for Innovative Fitness because they can match your verve.
Innovate Fitness is also one of the only companies that offer fitness travel experiences. If scaling Peruvian mountains or surfing in Honolulu is appealing to you, this is your chance to do it in a safe and social way.
Many extremely qualified in-house trainers
Travel option
10% off a 3-month package
Virtual sessions and studios all over Canada
Pricey
Not open on Sundays
Customer Reviews
Here are some testimonials from transformed Innovative Fitness clients:
"Scott & the team at innovative fitness have been a pleasure to work with. I've tried a number of the 'top' personal training studios in Toronto and I have to say that the location, level of personalized service, and healthy approach that you get working with this team are unparalleled. They use gradual increases over time to keep you coming back without any injury or extreme tactics, which is a much better approach than the other trainers I have worked with. I always look forward to my workouts. Thanks Scott & IF!"
– Dan Kligman
"I have been training with Innovative Fitness for over a year and it has been a total lifesaver during the pandemic. Virtual workouts with Scott have kept me feeling healthy, energized and grounded in an otherwise stressful time. I have seen fantastic results in my strength, balance and endurance and continue to feel like I make progress each week. Would highly recommend it to anyone looking for a program that is customizable and focused on keeping your body strong and healthy in the long term."
– Kelly Hayden
5. OBF Gyms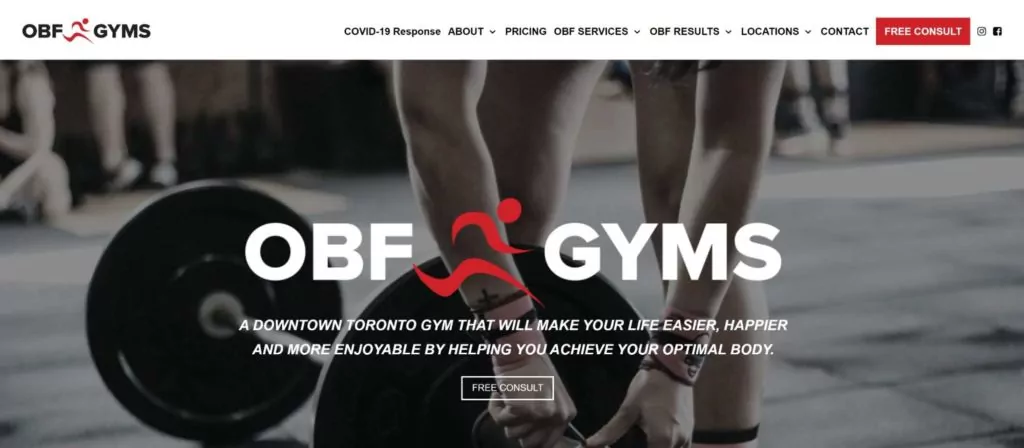 Most people seek personal training to lose weight and keep it off. Well, most of the time, endless hours of cardio are just not going to cut it.
If you're into lifting weights, that's OBF Gyms' forte. They have programs that are set up to maximize fat loss while increasing lean muscle mass.
Of course, you also have the option to have them create a 100% personalized program based on your specific needs. However, their standard programs seem to yield incredible results for most of their clients who put in the effort.
The best part about OBF's personal training services is that they're affordable. They understand that the most common hurdle one might have when it comes to personal training is the steep cost it usually entails.
OBF has stepped up and now offers $35-$65/week virtual training sessions. That includes diet advice and access to exclusive videos.
You also have the option to train semi-privately, which is cheaper than actual one-on-one sessions. We like that they cater to fitness enthusiasts on different budgets.
Affordable
Free assessment
Set tried-and-tested programs
Over 250 positive reviews
Not transparent about the number of PTs they have
Customer Reviews
OBF Gyms has a near-perfect 5-star rating on Google Reviews, and it's because of reviews like these:
"I love the trainers and ownership at OBF Gyms! They are always so accommodating and their knowledge is second-to-none! During the pandemic, they shifted to offering online training so that I could continue on with my results and they worked closely with me during my entire journey! They have themselves a loyal fan for life! Great job OBF Gyms!"
– Paul Teixeira
"I have been with OBF for over 3 years now. Started with one-on-one training with Jon. Then group training. Now virtual training. Very professional! Really whipped me into the nest shape of my life and I am so grateful I went for it and invested in myself. Well worth it. Thank you for making me accountable and always checking in on me!"
– Melanie McGregor
6. Dexterity Fitness
SERVICES
Online and In-Studio Personal Training, Fascial Stretch Therapy
Nutrition Challenge
Wellness Seminars
WEBSITE
http://www.dexterityfitness.com/
ADDRESS
Online and In-Studio (Toronto)
CONTACT DETAILS
(647) 890-2348
[email protected]
OPERATING HOURS
By Appointment
Another recommended personal trainer would be Charlene from Dexterity Fitness.
She's an expert health care practitioner that has been in the industry for years. With her skill, she can create an extensive plan specifically made for each client.
Charlene's thorough assistance partnered with the company's programs would surely help improve fitness.
Dexterity Fitness has four main programs available: they include personal training, Fascial Stretch Therapy, an online nutrition challenge, and a seminar for schools and companies. The first three can be done simultaneously by a single person, while the seminar can be a great activity for a group to know more about health and nutrition together.
To add to all these, Dexterity Fitness also offers in-home training aside from the in-studio and online ones they have.
This means that they can cater to clients who aren't able to go to their location but still want to see their trainers physically. This is also great for those who are elderly or have disabilities and have a hard time doing the exercises on their own.
You can book a consultation with them today if you want to check out how Dexterity Fitness can help with your situation or condition.
Online classes are available
Comprehensive fitness and health services
Expert trainer
5 Star Google Review rating
Operation is only by appointment
Customer Reviews
Here are some reviews left by satisfied clients:
"I have had a great experience training with Charlene Carroll. I reached out to her for post-natal training 3 months after giving birth. Even though it had to be online due to Covid, Charlene's professionalism and expertise helped me to regain my abdominal strength and to work out better then I did even pre-pregnancy. Her workouts did not seem difficult at first but they certainly were effective at building my body back up in a safe and efficient manner. I'm now 7 months post delivery and I'm feeling strong and content with how I look and feel."
"I am an active individual I enjoy fitness and in April of this year my activities were reduced significantly due to overwhelming shoulder arm and neck pain I tried many treatment modalities and was very close to turning to shock wave or one day close to a cortisone shot .I was referred by a work colleague to Charlene and her reassurance and positivity to my situation changed the course of my healing .Charlene is retraining how I use my upper body muscles and my pain has significantly reduced . Charlene has given me the confidence to move ,train properly and I am so happy about my continued progress thanks to Charlene .I completed a plank today pain free. Thank you Charlene and I am in for more challenges ahead"
7. Free Fitness and Health
SERVICES
Online Training
In-person training
Meal plan
WEBSITE
https://freefitnessandhealth.com/
ADDRESS
276 Carlaw Ave, Toronto, ON M4M 3L1, Canada
CONTACT DETAILS
+1 647-889-4124
OPERATING HOURS
By Appointment
Free Fitness and Health offers one of the most comprehensive training programs available not only in Toronto, but Internationally as well! They're known to have both in-person training, which is based in Toronto, and online ones which can be accessed by anyone from anywhere in the world.
The process in this company is seamless.
Consultation is done first, where a few questions are asked, including the client's possible health problems, goals, and capacity for a workout.
The next would be creating a personalized 8-week plan. This is made fit for the client and takes into consideration every information given in the initial consultation.
In addition, a phone app support is included here. Everything you need will be uploaded to the application which is design to be easy to use. So wherever you go, you can still access and utilize the plans made for you by Free Fitness and Health.
Free Fitness and Health is simply a one-stop solution to your road to fitness. Their experienced trainers ensure the best possible results and work to ensure that you'll learn to enjoy what you're doing too.
Professional health trainers
Invaluable knowledge and expertise
Concrete meal plans
Effective fitness programs
Rates increase the more service in the package
Customer Reviews
Here are some reviews left by satisfied clients:
"When the Covid shutdown hit I was overweight, out of shape and turning 50. I knew that if I was going to "get up" instead of "give up", it was time to make some big changes. John's online training system seemed like a great affordable option and I decided to try it out. Best decision ever! John designed an individualized plan to address my goals, work around some areas of injury and had me set up and ready to go. I love the online app! It keeps me accountable for doing the workouts and motivates me to improve on my previous performance. Plus, John monitors my workouts through the app, makes adjustments and gives feedback and lots of encouragement. Adding in-person training sessions with John has accelerated my progress even more. He continues to show me that I'm capable of much more than I think I am and has given me the confidence to push myself way harder at home. With John's coaching and encouragement, my home workouts have already advanced FAR beyond what I thought was possible for me. I'm thrilled to say that I've exceeded my weight loss goal (25lbs- yeah!) and can't believe how quickly I've gained strength, muscle definition and better mobility.
John's knowledge and expertise in health and fitness is invaluable. He'll teach you the concepts, work with you to get the results you want and celebrate your successes along the way. All with an easygoing style and a great sense of humour.
Training with John towards better fitness at 50 has been the best thing I've done for myself in years! Thanks John!" -Lianne Moroz
"John, thank you for 7 years! Always the consummate professional and gentleman, you continue to make our training sessions empowering and fun! Your knowledge and innovation have allowed my continued success, despite a chronic health condition. And your resistance band program during COVID-19 lockdown has kept me strong – 205 lb. dead-lift at 60+ years of age!" -Mary Seymour
8. Primal Breed Fit
| | |
| --- | --- |
| SERVICES | 1 on 1 Personal Training, Group Personal Training, Fat loss Specialists, Muscle Building Experts |
| WEBSITE | https://primalbreedfit.com |
| ADDRESS | 11 Carlaw Ave B, Toronto, ON M4M 2R6 |
| CONTACT DETAILS | [email protected] |
| OPERATING HOURS | Monday to Sunday: 6AM to 8PM |
The next entry on our list is Primal Breed Fit, a group of personal trainers whose location is found in Carlaw Avenue.
Primal Breed Fit specializes in fat loss, muscle building as well as body recomposition (lose fat while building lean tissue). Primal Breed Fit offers premium personal training to clients that are serious about their fitness goals.
Their science-based training & nutrition protocols are time-tested and proven to provide worthwhile results regardless of your starting point. If you're looking for progress-driven, quality personal training to truly transform your physique, this is the place.
Now, one of the best things about working with Primal Breed Fit is the freedom of choice that the personal trainers offer clients.
Clients are free to have their training at Carlaw Avenue or, if they are perhaps too busy to drop by, at home, where things are more private and comfortable to most.
Another reason why we recommend Primal Breed Fit is the trainers themselves.
All of the trainers have years of experience in the field of personal training, and are fitness enthusiasts themselves. The knowledge and passion they possess allow the trainers at Primal Breed Fit to easily and confidently curate training plans that suit their clients most.
Lastly, Primal Breed Fit is open seven days a week, making it one of the most accessible personal trainer options in Toronto.
Free consultation
On-site and off-site personal trainer services
Prompt and professional responses to inquiries
Customised workout plans
No information regarding the number of personal trainers
8. Your Future Fitness
| | |
| --- | --- |
| SERVICES | In-home personal fitness training |
| WEBSITE | https://www.yourfuturefitness.com/ |
| CONTACT DETAILS | (705) 606-0374 |
| OPERATING HOURS | Monday – Friday: 5:00 AM – 9:00 PMSaturday – Sunday: 7:00 AM – 9:00 PM |
Your Future Fitness is well known for its in-home personal fitness training. It has helped athletes and business people alike achieve their fitness goals.
This coaching company helps anyone in GTA achieve their fitness goals by providing personal training specialist services and online personal training materials.
To determine what each of its clients needs, Your Future Fitness provides a phone consultation and another in-person complimentary session. After these, you'll receive fitness assessments that will help your trainer design and tailor-fit a training program.
Aside from providing you with a fitness plan to follow, your personal in-home trainer will also help you acquire the necessary tools and equipment for your regime. More importantly, your trainer will be there to assess your progress through muscle quality checks.
All clients need to do is to schedule an appointment with them and choose among its three packages—the busy body, transformation pack, and online training.
All of these have access to Your Future Fitness's training app but differ in scheduling flexibilities and level of support. And for a truly holistic fitness plan, Your Future Fitness also includes nutritional counselling in all of its packages.
Tailor-fit in-home personal fitness training
Complimentary initial session
Detailed fitness assessments and progress checks
Nutritional counselling included in packages
Accepts numerous payment options
May not be the best for those in need of constant guidance
Package plan pricing varies according to location
Customer Reviews
Read these reviews to know more about Your Future Fitness:
"Andrew is the man! Really helped me out when I needed it and super passionate about what he does. Highly highly recommend using him as your trainer if you want to enjoy your training and see results. He's also really easy to get along with and pleasant being around. Great energy!"—Anish Chopra
"Andrew cares about his clients. He's one of the few trainers I've worked with that felt like a friend who just want to see you succeed. His style is to educate as you train, so he equips with skills you can carry through your journey."—Eddie Hanson
What to Expect When Working with the Right Personal Trainer
Now that we've listed the best personal trainers around, here's what you can expect when you choose to work with one.
1. They'll teach you proper technique.
Injuring yourself while exercising could set you back a couple of weeks, maybe even permanently restrict your movement. A personal trainer will teach you the right mechanics of each exercise and check that you are executing them correctly, allowing you to get the most out of your workouts.
2. They can keep you motivated.
Even the most physical people need extra motivation every once in a while. Having planned sessions with a trainer encourages you to be accountable and can help you establish long-term adherence to your regimen.
3. They can make workouts fun again.
Repetitive workouts not only dampen the spirit but also often leads to plateauing. A personal trainer can assist you in selecting activities that you love and incorporate them into your regimen, which will keep you challenged and on track to meet your fitness goals.
4. They create customized programs.
If you have specific limitations or requirements, following a free workout online can be either futile or even dangerous. When designing a program specifically for you, a trainer will take into account unique concerns such as an existing medical condition, pregnancy, post-rehabilitation, medications used, and so on.
FAQs about Personal Trainers
---
We hope that this list of the best personal trainers in Toronto moves you further along your fitness journey. We certainly commend you for investing in your health.
If you have an underlying medical condition and want to get back on track, we suggest you check out the best physiotherapists in Toronto first.