A Guide to the 11 Best Psychotherapists in Toronto
Do you ever feel too overwhelmed to deal with your own problems? Well, maybe now's the right time to consult with a psychotherapist who can help you identify the healthy and productive ways through which you can cope with everyday struggles.
Looking for the right psychotherapist is easier said than done, but worry no more because we're here to help. We made a list of the top psychotherapists based in Toronto, gathered through the references of friends and experts.
Before we start though, we thought it'd be best to share the expected cost of consulting with a psychotherapist in Toronto to give our readers an idea of how much they need to spend.
How Much Does it Cost to See a Psychotherapist in Toronto?
One thing you have to know about the prices of psychotherapy in Toronto is that they aren't fixed. How much a single session would cost would depend largely on the type of clinic, its location, and the type of therapy you're seeking.
On average, a 50-minute psychotherapy session in a private clinic in Toronto would cost anywhere from $60 to $200. It can easily reach the $300 mark, especially if it's an established and high-end privately owned clinic.
However, some psychotherapists use a sliding scale to make the sessions more budget-friendly to patients without insurance. This is where a psychotherapist offers different pricing based on a person's income level.
People who bring in less income per month will pay lower fees, while those who belong to the higher end of the income spectrum will have to pay a greater amount.
There's another way to dodge the often-expensive psychotherapy rates: checking charitable institutions that offer therapy free of charge.
Some psychotherapists are even members of volunteer organizations, which allows them to offer services at a lower price, sometimes even for free.
Is there a way to receive therapy with no charge?
You might be thinking that therapy isn't for you after knowing how expensive it is, but backing out just because of the costs won't help you in any way.
Some clinics offer free initial consultations to new patients who want to know if therapy is right for them. After all, you wouldn't know if it's right for you until you try.
Through these initial consultations, you will be able to determine which type of therapy would best suit your needs, so don't hesitate to ask multiple questions and take advantage of those free sessions.
You can even discuss possible payment schemes with the therapist during the initial consultations. If you're lucky, there are instances when medical insurance covers therapy sessions, but that's quite rare, honestly.
Meanwhile, high school and college students may be covered by insurance plans offered by their universities that come with limited free therapy sessions with either a private or public psychotherapist.
Some medical insurance plans provided by private companies to their employees even come with access to free physiotherapy sessions.
The bottom line is: you need to check all your options to see which of them can provide you with reduced or free therapy sessions, before making a decision on therapy.
Is there a cost-effective way to pay for therapy?
If free psychotherapy isn't an option, that doesn't mean you can't get it at reduced rates. During the free consultation, don't forget to ask the therapist about the best payment option for your income level.
There are different ways to get cheaper therapy, such as group sessions, but that isn't everyone's cup of tea.
Individual sessions, on the other hand, can be spread out over a longer period of time. This is to help patients have more time to earn money to pay for the sessions.
Another way to lessen the cost is to accomplish all the assignments given to you because doing so will reduce the sessions you need to attend.
The Clinics with the Best Psychotherapists in Toronto
Now it's time to move on to our picks!
Here's our list of the clinics that house the best psychotherapists in Toronto. Continue reading to see which one offers the type of services you might need.
Keep in mind that this list is in no particular order.
1. Toronto Psychotherapy Group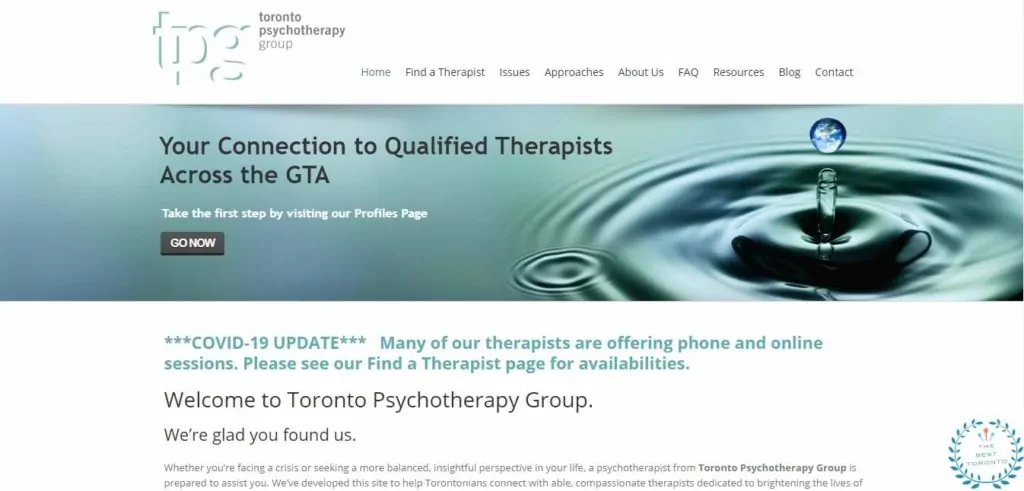 BEST FOR
Patients of all ages
SERVICES
Psychotherapy, relationship issues, addiction, anxiety, depression, intergenerational trauma, kinks and fetishes, loss and grief, LGBTQ issues, life crises, and obsessive-compulsive disorder
ADDRESS
120 Carlton St #413, Toronto, ON M5A 4K2, Canada
CONTACT NUMBER
647-794-6519


[email protected]

WEBSITE
https://www.torontopsychotherapygroup.com/
OPERATING HOURS
Monday – Friday: 9:00 AM – 5:00 PM
All right, so this is a bit of an odd-man-out in our list. Toronto Psychotherapy Group is an organization founded by professional psychotherapists who graduated from the Centre for Training in Psychotherapy.
It's not exactly a medical clinic, but it aims to connect patients looking for professional help with experienced psychotherapists. Its website lists down a total of 68 psychotherapists with offices scattered all over the Greater Toronto Area.
Toronto Psychotherapy Group's main deal is to recommend the closest psychotherapists, so patients don't need to waste their time looking for the best psychotherapists on Google. It already does that on their behalf.
There's no need to doubt its list of recommendations as it includes only the best psychotherapists in Toronto, each of whom have years of experience under their names. All of its therapists hold current liability insurance as well.
Some of the issues tackled by its psychotherapists are depression, anxiety, drug addiction, intergenerational trauma, obsessive-compulsive disorders, childhood trauma, low self-esteem, and life crisis, among others.
For teenagers and adults
Large team of psychotherapists
Treats all types of life and mental health issues
Not all psychotherapists accept insurance
Customer Reviews
Take a look at some of the comments shared by people who have used its services:
"If I cannot give someone a name and number directly, TPG is my go-to referral site for friends and family looking for a therapist. They are all fellows of the Centre for Training in Psychotherapy – a fantastic training institution!"
-Tommy D
"Toronto Psychotherapy Group is an excellent resource if you need to find well-trained, experienced, and personable therapists in Toronto. It's also a great resource for information about psychotherapy. I highly recommend this service."
-Natalie Riback
"Toronto Psychotherapy Group is a great, local, one-stop shop for qualified practitioners. Being able to narrow down your search by issue, approach or location saves a lot of time."
-Jena
2. Kimberly Moffit – KMA Therapy Toronto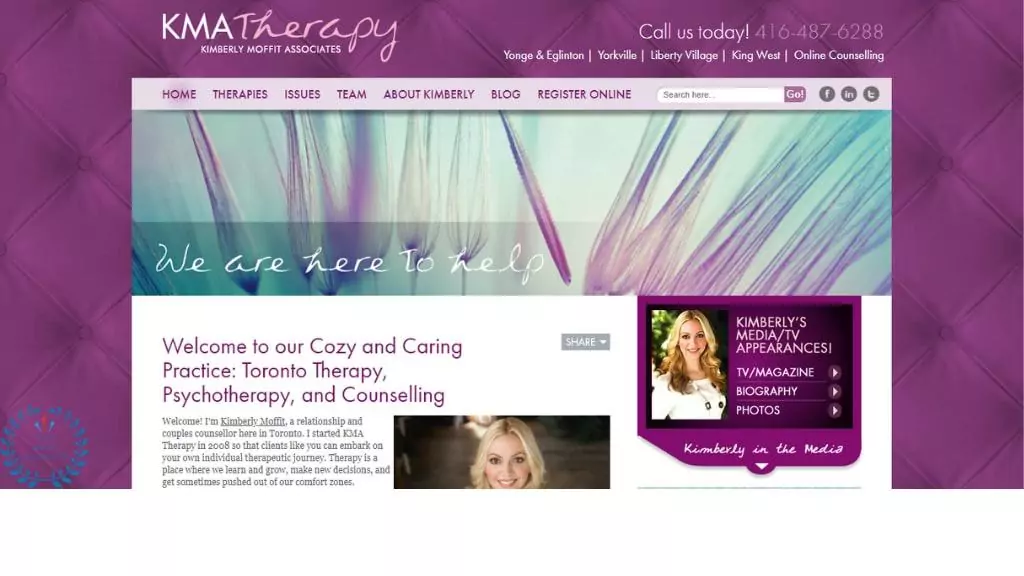 | | |
| --- | --- |
| BEST FOR | Relationship and couple problems |
| SERVICES | Psychotherapy, counselling, individual counselling, group therapy, corporate workshops, couples therapy, relationship counselling, and cognitive-behavioral therapy |
| ADDRESS | 120 Eglinton Ave E Suite 304, Toronto, ON M4P 1E2, Canada |
| CONTACT NUMBER | 416-487-6288 |
| WEBSITE | https://www.kmatherapy.com/ |
| OPERATING HOURS | Monday – Sunday: 10:00 AM – 9:00 PM |
If you've been having problems with your husband or wife recently, then we recommend consulting with Kimberly Moffit. She serves as the head psychotherapist at KMA Therapy, specializing in relationship and couple problems.
KMA Therapy is made up of a team of psychologists, psychotherapists, and counsellors, most of whom are leading experts in relationships and mental health.
Kimberly believes that the key to strengthening marriages, dealing with trust issues, and working through parental challenges is therapy, facilitated by an expert and objective psychotherapist – and that's exactly what she is.
Another thing worth noting about KMA Therapy is its clinic – it's been praised multiple times by current and previous patients for being cozy, enough to ease the nerves before a session. All patients are greeted with a warm cup of coffee tea.
Aside from solving issues between couples, KMA Therapy also offers counselling in depression, anxiety, drug addiction, stress, anger, eating disorders, phobia, weight management, divorce, and adoption, among others.
Cozy and comfortable clinic
Two branches in Toronto
Open from Monday to Sunday
Composed of psychologists, psychotherapists, and counsellors
Rates are mostly high, including assessment fees
Customer Reviews
Here's what patients had to say about their experience with KMA Therapy:
"I have been attending KMA for marriage counselling for almost a year and I would highly recommend their services. Our counsellor Jade has been a great fit for us and she has made a huge difference in our marriage. The administrative staff have been prompt and professional and the office space is warm and inviting. The only reason I gave it only 4 stars is that I do think their prices are on the high side but as I have said for us it has been life changing and I hope it is for you as well!"
-Michelle Brotherwood
"Friendly staff and helpful therapists. The intake meeting was quick and I started working with a therapist quickly, unlike other therapy offices that had wait times of six months. No complaints about the company, only that the building doors lock at 7:30, I feel bad making whoever is at the desk come down to let me in."
-Christopher Gyorffy
3. Psych Company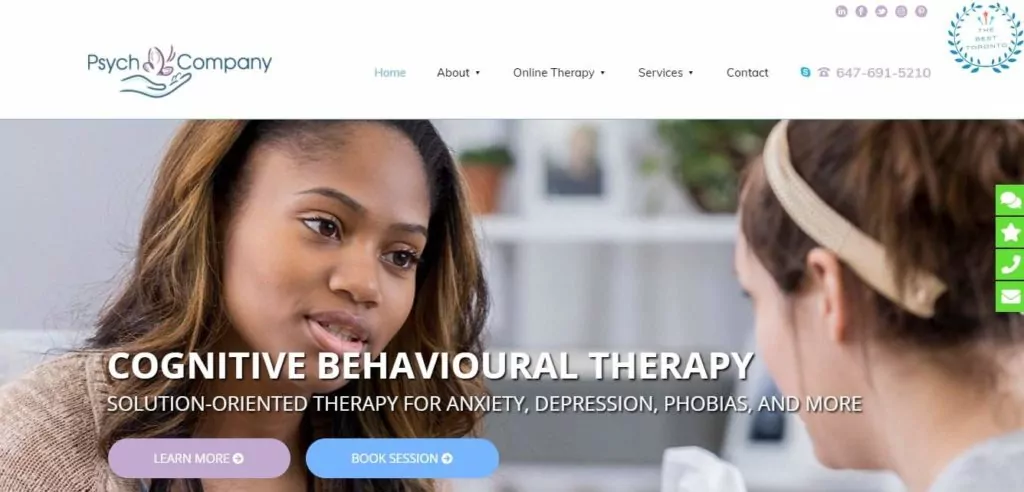 BEST FOR
Life and career coaching
SERVICES
Psychotherapy, anger management, anxiety therapy, career counselling, life coaching, bereavement counselling, couples counselling, dating coaching and counselling, and divorce counselling, corporate workshops, seminars and webinars, full range of psychological assessments, diagnoses and reporting
ADDRESS
150 King St W Suite 325, Toronto, ON M5H 3T9, Canada 20 Eglinton Ave East #490 Toronto, ON M4P 1A9 12 York Street, Toronto, ON M5J 0A9
CONTACT NUMBER
647-691-5210


[email protected]

WEBSITE
https://www.psychcompany.com/
OPERATING HOURS
Monday – Friday: 1:00 PM – 10:30 PM
Psych Company is known for housing some of the best psychotherapists in Toronto and the GTA, including Krista Roesler(co-founder and lead therapist at Psych Company). She's a registered psychotherapist and life coach who focuses on helping teenagers and adults overcome mental and emotional health issues while finding renewed purpose in life.
Psych Company, with its unique approach to integrating the depth of therapy with the hands-on practicality of life coaching, aims to motivate students and adults to help them reach their full potential in their personal and professional lives.
Having many dozens of years of collective company wide experience in providing premier therapy and coaching services, the team has earned the trust of hundreds of individuals and companies.
A very important aspect of the company widely favoured and often touted by many clients is the smooth and easy experience with bookings, billing, and informative and responsive follow ups.
Other services provided by Psych Company are marriage counselling, anger management, divorce counselling, anxiety therapy, life coaching, dating coaching and counselling, depression therapy, and couples therapy, among others.
Due to the pandemic, Psych Company has started offering virtual psychotherapy and coaching sessions. All online sessions are still covered by most extended health care benefit packages.
Online therapy and sessions
Competitively priced services
Accept insurance
Reliable customer service
Frequently booked (recommended to secure a session ASAP)
Customer Reviews
It has an average review of 5 out of 5 on Google Reviews, making it one of the best-reviewed psychotherapy clinics in Toronto. Here are some comments:
"Starting sessions with Psych Company is the best decision one can make. They have psychologists as well as psychotherapists. They are straight-forward supportive therapists who get to the heart of the issue, and provide insight to initiate helpful growth, strength and peace of mind going forward. Their kind administrative staff will work with all your needs. You feel a sense of relaxation when walking into their office because it is so nice and well-kept and modern. Highly recommend this place!"
-Janet Wood
"I think what I like most about Psych Company is how personable and understanding the psychologists are. You are a person, not just a diagnosis to be solved. They help you and your support network understand what and why your brain is doing whatever it is and create a safe place to build you back up. They are warm and caring. They don't get annoyed if you miss or need to reschedule an appointment and having the ability to have call in sessions is great for hectic days. The receptionists are so cool and efficient. If I need to reschedule, I'll usually get a confirmation email before I've hung up. I'm incredibly grateful for Psych Company and their up to date, normalizing take on psychology."
-Christina Matlock
4. Natasha Sharma, Psy. D – NKS Therapy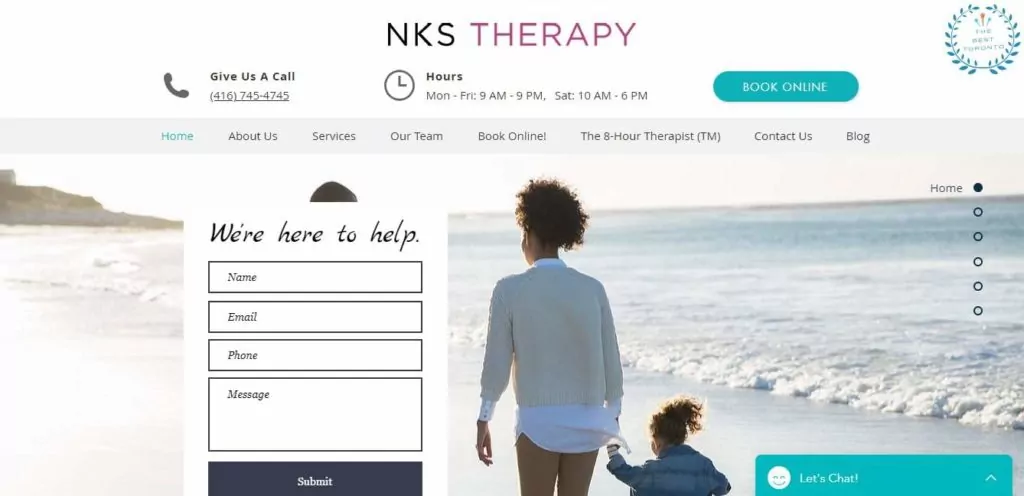 BEST FOR
Individual Counselling
SERVICES
Psychotherapy, individual counselling, marriage counselling, life coaching, psycho-education assessments, career counselling, and parent support and consultation
ADDRESS
10 Four Seasons Pl, Etobicoke, ON M9B 6H7, Canada
CONTACT NUMBER
416-745-4745


[email protected]

WEBSITE
https://www.nkstherapy.com/
OPERATING HOURS
Monday – Friday: 9:00 AM – 9:00 PM
Saturday – Sunday: 10:00 AM – 6:00 PM
Next on the list is NKS Therapy.
Natasha Sharma is the founder and director of NKS Therapy. She's an internationally recognized motivational speaker, therapist, and media expert, focusing on relationships, parenting, motivation, and overall happiness & personal development.
NKS Therapy is a team of psychotherapists, marriage & family therapists, clinical counsellors, and life coaches who specialize in mental health support and wellbeing for adults, couples, and teenagers.
All of their practitioners are highly trained mental health professionals registered with the College of Psychotherapists, and skilled in a broad array of treatment methods, including cognitive behavioural therapy (CBT), dialectic behavioural therapy (DBT), emotions-focused therapy (EFT), mindfulness therapy, and psycho-educational assessments.
Collectively as a team, NKS has counselled thousands of individuals and couples in the areas of anxiety, depression, relationships, anger management, grief, trauma, eating disorders, and cross-cultural issues. As a team they have over 75 years of combined experience.
NKS Therapy offers secure online therapy through video calls, remote therapy by telephone, and also in person sessions at their Etobicoke and Oakville offices.
Another thing we like about NKS Therapy is that its services are covered by many employer benefits and extended insurance plans, so patients don't need to worry about the high cost of therapy sessions.
Session fees range from $100 per session (1 hour) up to $225 per session, offering clients the opportunity to access affordable therapy if they do not have insurance benefits, or have a smaller budget for therapy.
In-person and virtual sessions
Large team of psychotherapists and psychologists
Covered by many employer benefits
Offered sliding scale payments
Three locations across the GTA
In-person sessions aren't always available
Customer Reviews
Here are some comments posted by previous patients on Google Reviews:
"I have nothing but good things to say about Natasha and Adina. They are both excellent, kind, skilled, and caring people. I had a tough time finding a care provider through my workplace, and NKS got back to me the same day. The ease of booking appointments and the treatment I received was nothing short of amazing. I was able to get to a more positive place in my life thanks to their support. I would not hesitate to recommend them and have already done so! Thank you, Natasha and Adina."
-D F
"I've been a client of Natasha's for over 4 years. She has greatly helped me to breakdown different issues and life experiences to help me uncover the true deep roots of my anxiety. Natasha is open-minded, understanding and kind; creating a safe and open environment for her clients. She made me feel incredibly at ease discussing my most private thoughts, including previous trauma in my life. Her patience, understanding and guidance have enabled me to educate myself on anxiety, learn and utilize tools/resources to assist me in coping, reflect on my own behaviours and develop positive coping mechanisms to better approach feelings of anxiety."
-Amy William
5. Laura Devlin and Rebecca Loucks – Beaches Therapy Group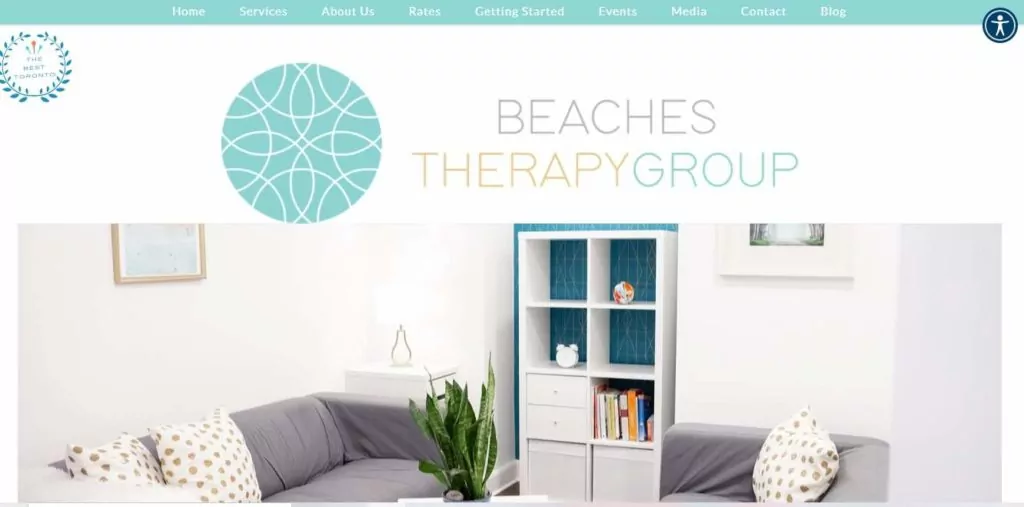 BEST FOR
Family and child therapy
SERVICES
Individual psychotherapy, family therapy, child therapy, and couples therapy
ADDRESS
1052 Kingston Rd, Toronto, ON M4E 1T4, Canada
CONTACT NUMBER
647-484-8622


[email protected]

WEBSITE
https://beachestherapy.ca
OPERATING HOURS
Monday – Sunday: 8:00 AM – 8:00 PM
Laura Devlin and Rebecca Loucks stand as the co-owners and co-managing directors of Beaches Therapy Group, considered one of the top psychotherapy clinics in the Greater Toronto Area.
Both are registered and trained professionals who specialize in managing trauma, depression, anxiety, stress, relationship and family issues, and interpersonal conflicts. Rebecca studied social work, while Laura focused on psychology.
Beaches Therapy Group is made up of a diverse team of therapists coming from all types of backgrounds, allowing them to work with people of all ages, faith, sexual orientations, and nationalities.
Most of its clients include children, working professionals, married couples, and families dealing with divorce, domestic and sexual violence, family strife, and substance abuse.
All of its clients are provided with take-home material, articles and practice activities to help them reach their goal.
Meanwhile, its therapists' fees are set in accordance with the guidelines provided by the College of Psychologists of Ontario and other institutions.
Those who want more affordable therapy sessions may opt for consultations with qualified interns, priced at 50% off.
Large team of psychotherapists
Comfortable and cozy clinic
Accepts clients on weekends
Longer operating hours, even on weekends
Customer Reviews
Beaches Therapy Group has a perfect rating of 5 out 5 on Google Review. Take a look at what some patients had to say about its services:
"I've been suffering from depression and anxiety for 10 years, and had bad experience going to psychiatrists. It took me 8 years to open myself to see a new psychiatrist. He took a different approach by including CBT in the therapy, he asked me to see a psychologist while seeing him. It took me 4 months searching. I found Beaches Therapy Group, all thanks to Dr. Robyn Klasner, she was patient with me. I took quite a long time to warm up to her, fearing failure. She was so patient with me and I started to feel secure and started opening up. I recommend this place to everyone who is going through rough times."
-Reham Mersal
"For anybody suffering from depression or anxiety, this is the place for you. Rebecca has the disposition for a great therapist. She's extremely welcoming and puts you at ease from the moment you meet her. The skills I learned from her I will use for the rest of my life."
-Matthew D'Hollander
6. Kat Kova Therapy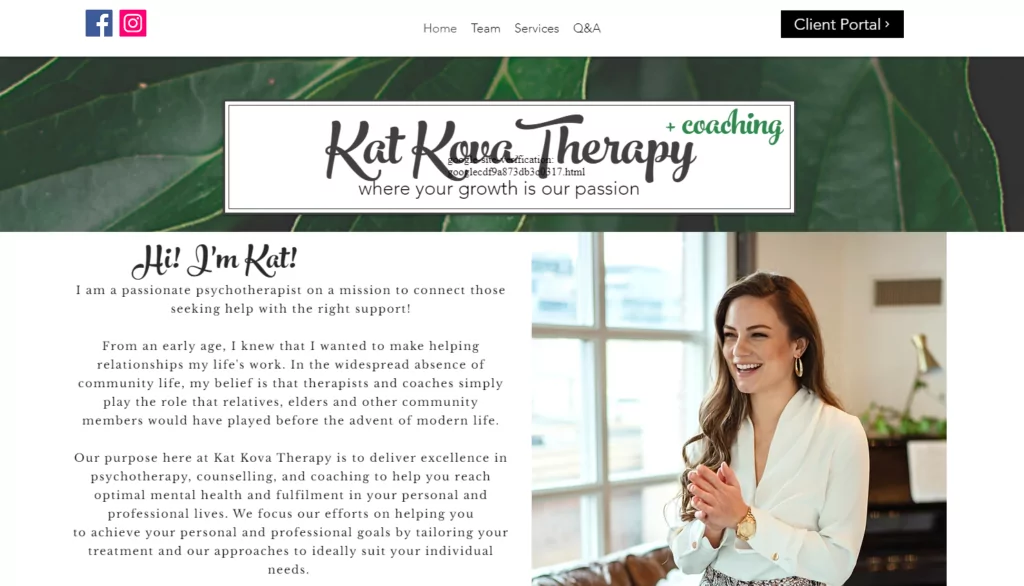 | | |
| --- | --- |
| BEST FOR | Tailored psychotherapy and coaching sessions |
| SERVICES | Psychotherapy, Sex Therapy, Couples Therapy, Dreamwork, Life Coaching, Leadership Coaching, Executive Coaching, Speaking Engagements |
| WEBSITE | https://www.katkovatherapy.com/ |
| ADDRESS | 320 Danforth Avenue, Suite 201, Toronto, ON M4K 1N8 |
| CONTACT NO. | [email protected] / Tel. 647-930-5704 |
| OPERATING HOURS | By appointment only |
Kat Kova Therapy endeavours to provide tailored quality psychotherapy, counselling, and coaching to help patients reach optimal mental health. Aside from that, these tailored services also work to help clients fulfill personal and professional goals through the aforementioned coaching options.
Another thing we absolutely adore about Kat Kova Therapy is that each and every member of the clinic's team is passionate about creating an inclusive community. Patients will find that the therapists and coaches at Kat Kova Therapy are attuned to issues of sexuality, race, gender, ability, status, and many more.
Lastly, the clinic also holds weekly Q&A sessions where patients and non-patients alike can submit questions regarding psychology, mental health, sexuality, and relationships and have them answered by the team.
Tailored treatments
Wide array of psychotherapy and coaching sessions
Inclusive and open-minded therapists and counsellors
7. Ann Schnurr – The Centre for Psychotherapy and Emotional Bodywork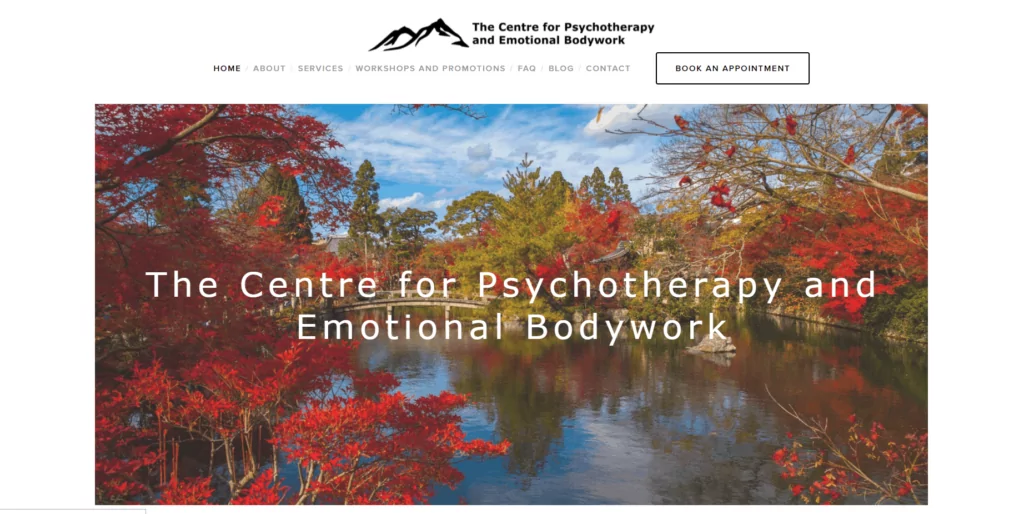 BEST FOR
Addressing emotional concerns through mind-body awareness
SERVICES
INDIVIDUAL THERAPY
COUPLES THERAPY
DEPRESSION
ANXIETY
CLINICAL SUPERVISION
SABBATICAL
CORPORATE TALKS
ONLINE PSYCHOTHERAPY
WEBSITE
https://www.cpebpsychotherapy.ca/
ADDRESS
344 Bloor St W #610
Toronto, ON
M5S 3A7
CONTACT NO.
phone: (416) 928-9570
email: [email protected]
OPERATING HOURS
By appointment
Ann Schnurr is the director of The Centre for Psychotherapy and Emotional Bodywork. She is a registered psychotherapist with 20+ years of experience.
Ann addresses concerns of depression, anxiety, anger issues, chronic illness (eating disorders, cancer, IBS, etc), and personal and work relationships.
Ann's approach is client-centered and emphatic. She specializes in a combination of psychotherapy, emotional bodywork, and guided exploration to aid clients in resolving their personal and emotional challenges.
Through Ann's work, clients discover a new awareness of their personal dynamic. They develop a more secure sense of Self that informs their responses and nurtures healthier relationships.
The goal of therapy is for clients to master these abilities so that, once formal therapy has ended, they can continue to make healthy life choices.
Ann also offers a free 30-minute consult to ensure a good client/therapist fit.
Accepts Green Shield and Blue Cross Insurance plans
Versatile and treats a range of concerns

Utilizes psychotherapy and Emotional Bodywork

Free 30-minute consultation
No information regarding rates
8. Shawna Akerman – Karma Cares

BEST FOR
Family and Couples
SERVICES
Psychotherapy
Neurodiverse focused ASD/ADHD/anxiety
Solution-focused Therapy
Exposure Therapy
Also offering Group therapy and social skills programs
WEBSITE
https://www.karmacares.ca/
ADDRESS
128 Avondale Ave., Toronto, Ontario
CONTACT NO.
647-300-1172
OPERATING HOURS
Monday – Thursday: 9am–8pm
Friday – Saturday: 9am–3pm
Karma Cares offers a wide range of services to help better life. This includes psychotherapy for mental health, which is handled by Shawna Akerman.
Ms. Akerman is a registered psychotherapist with many other expertise to offer. She is also a certified counselor, a brain-in-hand specialist, and even a certified teacher.
With her years of experience and proven competence, you can rest assured that you will be in great hands. What's more, she can handle both children and adults, so Ms. Akerman is someone you can refer to the family as well.
In case you're still unsure of your decisions, Karma Cares offers a free 30-minute consultation for the first appointment. This is for you to gauge whether they're the right fit for you.
With best intentions in mind, Karma Cares only wants what would benefit their clients the most.
Offers 20 minute consultations
Treats a wide range of issues and problems
Highly professional psychotherapist
Expert care and guidance
Appointments are needed, so no walk-ins are accepted
9. Pablo Munoz – Psychotherapist in Toronto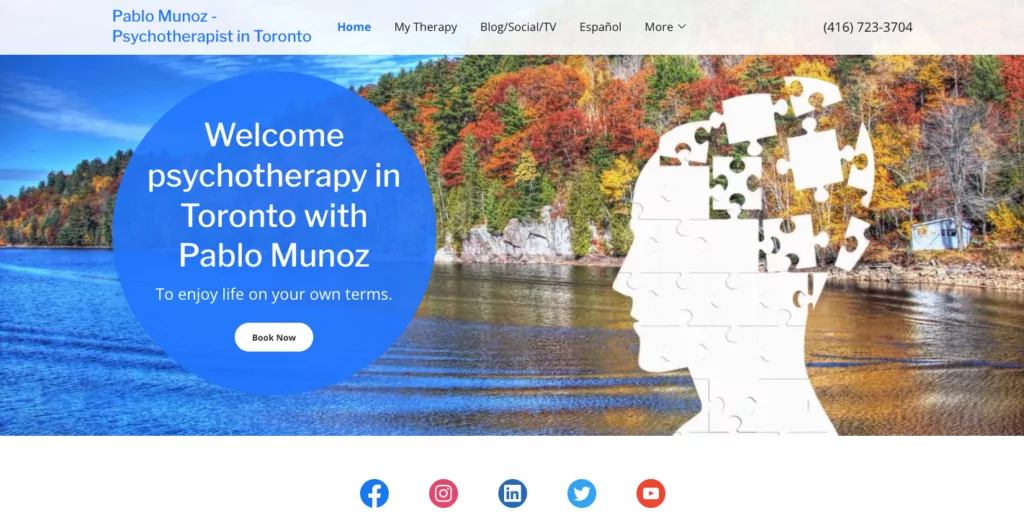 BEST FOR
Depression, Anxiety & Mental Issues, Cross Cultural Issues, Relationships and Marriage Counselling and Self-Esteem
SERVICES
Support to adults (those with depression, anxiety, anger management, self-esteem, stress, immigration stress, isolation, relationship issues)
Individual Therapy
Couples and Family Therapy
Anxiety Psychotherapist
WEBSITE
https://pablomunoz.ca/
ADDRESS
3080 Yonge St., Suite 5034, Toronto, ON M4N 3N1, CA
3075 Hospital Gate, Suite 109, Oakville
105 Consumers Dr, Whitby
CONTACT NUMBER
(416) 723-3704


[email protected]

OPERATING HOURS
Monday to Friday: 9:00 AM – 8:00 PM
Saturday: 8:00 AM – 2:00 PM
Sunday: CLOSED
Pre and post pandemic, there are just days where you, your partner or even your family may be in a situation where you need to talk to someone about your concerns in a private setting at some point in your life.
With Pablo Munoz, he is there to help you to be able to enjoy life in our own terms. Being a psychotherapist, counsellor and professor for more than 20 years, having a Bachelor's Degree in Philosophy, a Master's Degree in Psychoanalytical Psychotherapy and a Registered Psychotherapist in Ontario (CRPO), he provides a wide range of services in Toronto, Oakvlifille and Pickering.
We are amazed that Pablo provides a 50-minute session, with 10 minutes of it having to do his clinical notes, on his clients in order to understand fully the root cause of what's been happening with your life, assess it and provide help in order for you to achieve and enjoy life in your own terms.
The frequency of your sessions will depend on your concerns and will be discussed on your first meeting with him.
Although psychotherapy isn't covered by OHIP, most extended health insurance plans cover psychotherapeutic services. You can submit his invoice to get your refund if your plan includes the services of a psychotherapist.
Onilne booking available
Offers psychotherapy in English and Spanish
Offers psychotherapy face-to-face, over the phone or Skype
Treats a wide range of issues and problems
Highly professional psychotherapist
Expert care and guidance
Has offices in Toronto, Oakville, Pickering and Richmond Hill
No walk-ins, appointment only

Not covered by OHIP
10. Kristina Dragnea MC, RP – Mindful Maelstrom Wellness Clinic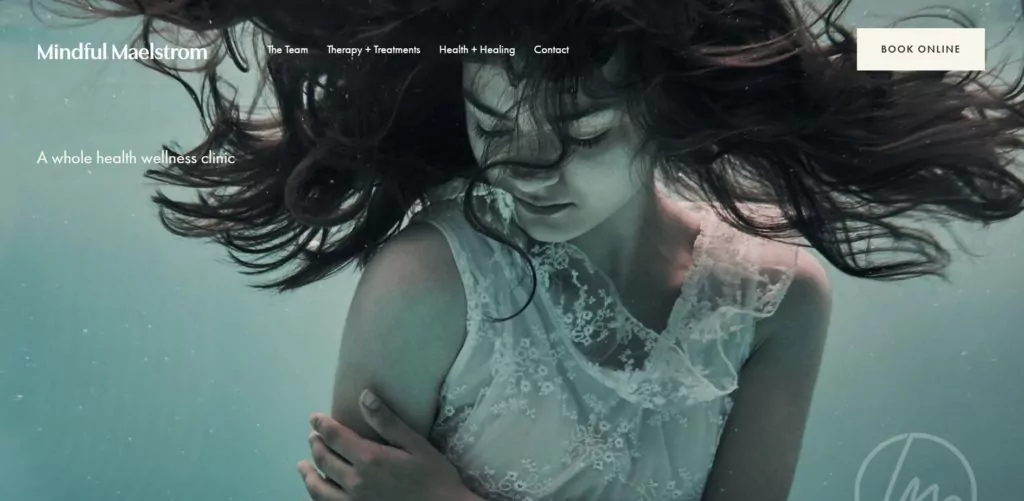 SERVICES
Psychotherapy, counselling, massage therapy, acupuncture, eastern medicine, naturopathic medicine, osteopathy
WEBSITE
http://www.mindfulmaelstrom.com/
ADDRESS
91 Ossington Ave, Toronto, ON M6J 2Z2, Canada
CONTACT NUMBER
+1 416 519 0989
OPERATING HOURS
Monday – Friday, 10 AM – 7 PM
Saturday, 10 AM – 3 PM
Sunday, 11 AM – 3 PM
Kristina Dragnea is the founder of Mindful Maelstrom, an oasis of calm and healing in the heart of Toronto.
As the clinic's creative director, Kristina employs a variety of therapeutic approaches. This includes Emotion-Focused Therapy, Analytical Acceptance and Commitment Therapy, and Mindfulness-Based Stress Reduction.
We highly recommend her if you're also suffering from anxiety, sleep and adjustment personality disorders, and existential issues.
The clinic also presents the perfect atmosphere for healing. Their personnel are warm and welcoming, and you can feel that you're really in a place where you can forget about your worries and focus on rejuvenating.
The only catch is that Mindful Maelstrom's rates are a bit expensive compared to other clinics. Booking a session on the weekends can be quite difficult as well due to the volume of their patients.
But if you have the budget for it, then we definitely recommend going for a session with their clinic. It's more than worth it and you're also getting one of the best services in the city.
In-person and online consultation available
Offers various therapeutic approaches
Friendly and comforting clinic atmosphere
Rates are a bit expensive

Booking can be quite difficult
11.   Alex Elias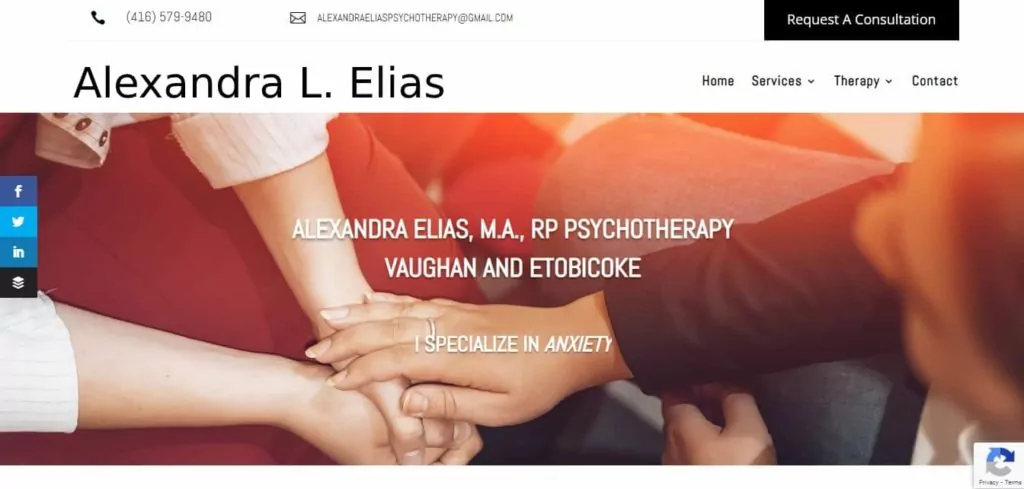 BEST FOR
Treatments for Overall Mental Health
SERVICES
Adolescents
Anger Management
Anxiety Disorder
Depression
Parent Support
Stress
ADDRESS
Vaughan, ON, Canada, Ontario
CONTACT NUMBER
(416) 579-9480
[email protected]
WEBSITE
https://aepsychotherapy.com/
OPERATING HOURS
Alex Elias is a psychotherapist who specializes in a wide range of fields such as adolescence, anger management, anxiety, and depression among many others. Having worked with both children and adults for over 18 years, she takes an eclectic approach in her therapies and treatments.
We like that she accommodates various counselling settings in accordance with what the client finds more comfortable and adequate since she is knowledgeable in individual, couple, and family counselling.
Furthermore, she has locations both in Vaughan and Etobicoke areas which is very ideal for clients living in that area should they need to commute going to her clinic.
However, due to COVID-19 restrictions, she is only able to hold sessions via online video platforms or by telephone.
Nonetheless, with her diverse expertise in approaching each mental health concern and comprehensive treatment strategies in dealing with different age groups and settings, we highly recommend her to clients in the area in need of professional counselling services.
Accommodates both individual and family counselling
Certified in various fields
Has locations in Vaughan and Etobicoke
Operating hours unavailable
Currently does not accommodate physical sessions
FAQs about Psychotherapists
---
And with that, we conclude our list of the best psychotherapists in Toronto. If you've consulted with any of these therapists in the past, share with us your experience with them.
If you believe we missed out other trusted psychotherapy clinics in Toronto, don't hesitate to drop their names! We'll then check if they're worthy of being added to our list!