Law Firms with the Best Immigration Lawyers in Toronto
Planning to move to a different country is a long and stressful process that requires dealing with endless paperwork for visa application and residency permits. One way to make the process more bearable is by asking for help from the best immigration lawyers in Toronto.
However, having no process experience with lawyers can be a problem. It's certainly harder if you're clueless about the entire process and whom to ask for legal help, but worry no more because we have you covered.
We scouted the entire city in search of law firms with the best immigration lawyers in Toronto who can help aspiring expats arrange visas, work and residency permits, and everything else in between.
Let's start off our list with one of the top-rated law firms in Toronto.
1. Bellissimo Law Group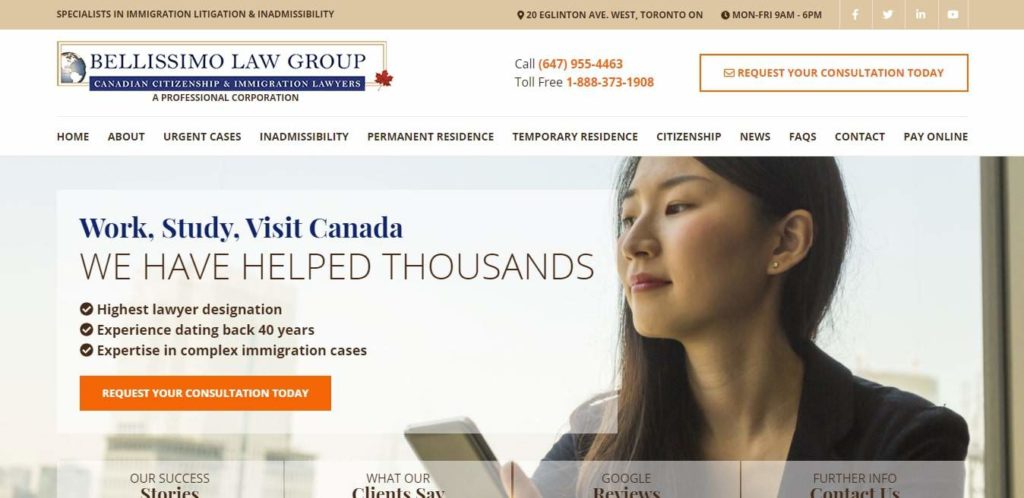 | | |
| --- | --- |
| BEST FOR | Canadian refugee and citizenship services |
| EXPERTISE | Citizenship, permanent residence, temporary residence, family class sponsorship, refugee protection, work permit, study permit, and business class immigration |
| WEBSITE | https://www.bellissimolawgroup.com/ |
| ADDRESS | 20 Eglinton Ave W #1402, Toronto, ON M4R 1K8, Canada |
| CONTACT DETAILS | 416-787-6505 |
| OPERATING HOURS | Monday – Friday: 9:00 AM – 6:00 PM |
If you're eligible to apply for citizenship in Canada, then you'd want to hire the services of Bellissimo Law Group. It's one of the leading law firms in Toronto that focus exclusively on Canadian immigration, citizenship, and refugee law.
As such, Bellissimo Law Group has helped thousands of people be reunited with their loved ones in Canada through its services. Everything is made possible by its multicultural team of the most experienced immigration lawyers, consultants and clerks in the country.
Some of the services provided by Bellissimo Law Group are express entry, temporary residency permit, permanent residency, passport application, citizenship resumption, and refugee protection.
As one of the law firms with the best immigration lawyers in Toronto, Bellissimo Law Group is guided by the principle of accessible justice, so it frequently works on low-income and pro-bono cases too.
Works with pro-bono cases
More than 40 years of experience
Offers a lot of immigration-related services
Selective when accepting cases
Client Reviews
Here are some comments shared by some clients on Google Reviews:
"My wife and I have been using the services of Bellissimo Law Group for only a short period of time but have been very impressed so far. Our initial contact was Ms. Simran Sra, and she was very friendly and helpful in finding the right resources in the organization for our needs. Ms. Natalia Borkowska, the Team Lead in Accounting and Administration was very thorough in explaining the services and associated costs, which were very reasonable. Mr. Justin Toh, the lawyer assigned to our case was very professional and reviewed the steps that needed to be taken by him and his team in researching the law as it applies to our situation. We look forward to continuing the process with this organization and feel confident in the successful conclusion."
"I would like to thank the Bellissimo team for working out our very difficult and complex case to a happy ending. We loved the human side of all the people that worked with us and how professional they are. There is no word that can express how we are satisfied with their services and on behalf of our entire family we say thank you very much, you have made our dream come true."
2. Mamann, Sandaluk & Kingwell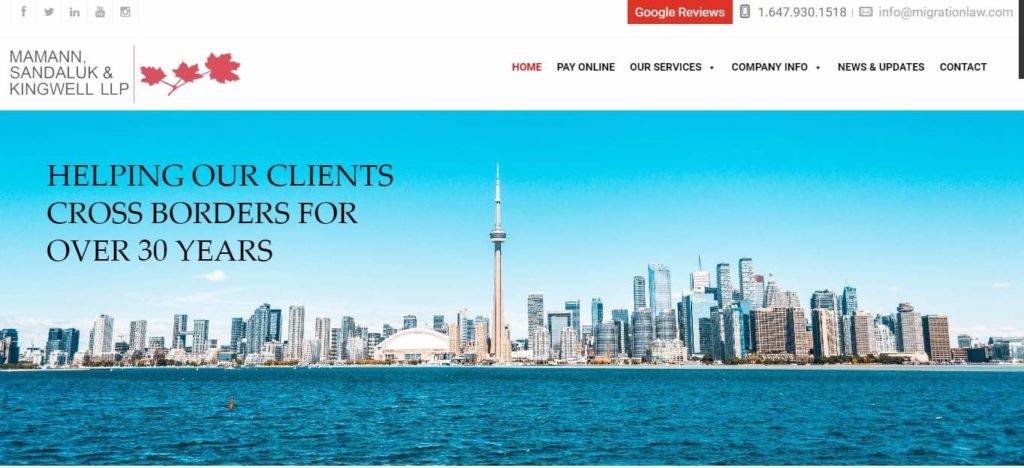 BEST FOR
Canadian and US visas
EXPERTISE
Canadian visa, US visa, immigration hearings, spousal sponsorship, parental sponsorship, work permits, student permits, and refugee claims
WEBSITE
https://www.migrationlaw.com/
ADDRESS
103 Church St #200, Toronto, ON M5C 2G3, Canada
CONTACT DETAILS
647-930-1518

[email protected]

OPERATING HOURS
Monday – Friday: 8:30 AM – 5:30 PM
If you're after the best immigration lawyers in Toronto to handle your temporary residency application in Canada, then you might want to check out Mamann, Sandaluk & Kingwell. It's been helping people all around the world cross borders without worries for over 30 years now.
It's an immigration-focused law firm that can help in all types of Canadian and US visa application, including visitor visas, permanent residency, citizenship, start-up visas, study permits, and work permits, among others.
Mamann, Sandaluk & Kingwell can handle a range of immigration-related disputes as well, should any of their clients find themselves in that situation. It has some of the best immigration lawyers in Toronto to help with refugee hearings, detention reviews, sponsorship appeals, and more.
Aside from handling immigration-related cases, Mamann, Sandaluk & Kingwell handles deals with civil litigation, employment litigation, estates litigation, and commercial litigation.
Accessible services
Friendly lawyers
Mainly for Canadian citizens
Client Reviews
As one of the top law firms in Toronto, Mamann, Sandaluk & Kingwell has a lot of positive feedback from clients. Here are some of them:
"I would like to express my sincere thanks to Joseph Granton, deeply from my heart! He is such a great lawyer helping my family in our PR application. Our case was a very complicated one which required knowledge of all kinds related to immigration status and legal support from all directions. We could not expect to get final approval if we were not supported by Joseph, my lawyer! Highly recommend Joseph Granton. He is the best immigration lawyer that you would expect, who is extremely professional, hard-working and always willing to help."
"I was lucky enough to meet Mamann, Sandaluk & Kingwell to apply for my study permit when others commenting "impossible to do". Would like to express my sincere thanks to Sandra Peters for making it happen and I highly recommend her service. Keep up the good work team! Much appreciated."
3. Маtthеw Jеffеrу Lаw Firm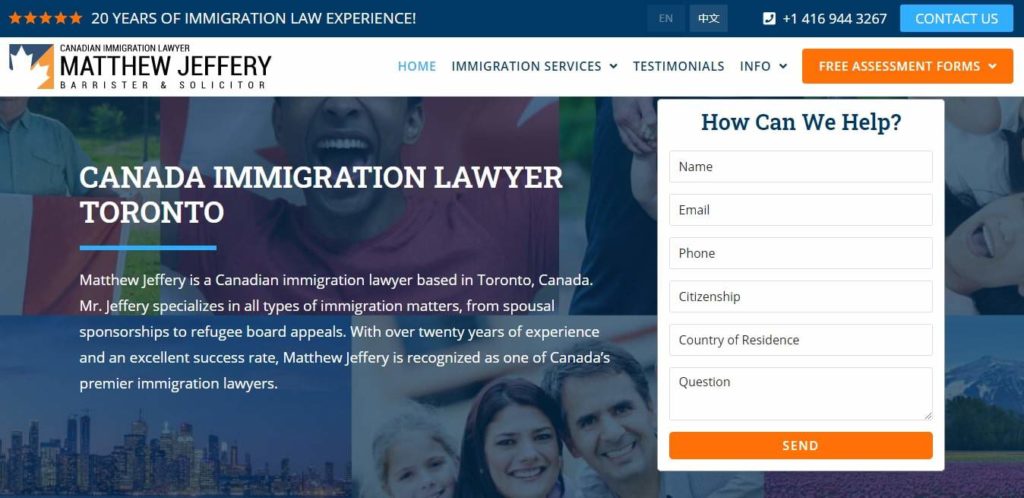 BEST FOR
General immigration and immigration appeals
EXPERTISE
Permanent residence, temporary residence, citizenship, US/UK/Canada immigration, immigration inadmissibility, and citizenship revocation
WEBSITE
https://www.matthewjeffery.com/
ADDRESS
59 Berkeley St, Toronto, ON M5A 2W5, Canada
CONTACT DETAILS
416-944-3267

[email protected]

OPERATING HOURS
Monday – Friday: 9:00 AM – 5:30 PM
Маtthеw Jеffеrу Lаw Firm is headed by its namesake Маtthеw Jеffеrу, an immigration lawyer who specializes in all sorts of immigration services, from basic matters such as visa application to complicated ones like immigration appeals.
Other services provided by Маtthеw Jеffеrу Lаw Firm are spousal sponsorship, common-law partner sponsorship, parental sponsorship, child sponsorship, and super visas, among others.
Маtthеw Jеffеrу Lаw Firm also offers free assessments to know whether clients are qualified to apply for any type of residency in Canada, US, and the UK. Clients are to choose a category to be assessed under and answer all fields in the given form.
Another reason it's called one of the top law firms with the best immigration lawyers in Toronto is its wide service area. Clients from areas outside Toronto such as Richmond Hill, Ajax, Waterloo, North Bay, Pickering, Newmarket, Oshawa, and Peterborough are eligible for its services.
Free assessment
Wide service area
Handles even UK immigration services
Selective when accepting cases
Client Reviews
Take a look at what some of its clients had to say about their experience with Маtthеw Jеffеrу Lаw Firm:
"I hired this law firm two years ago to handle my complicated spousal sponsorship application. The lawyer assigned to my file was John Laman. From day one, he was very responsive, patient, and handled the case with the most diligence. My file just got approved a few days ago, and it is all thanks to John and his firm. As I mentioned, my case was very complicated and I felt that no one would be able to convince immigration to approve it. It was approved and done in great time. I did get impatient throughout the process because it took a little while, but in the end everything was worth it. Thank you so much and I highly recommend Matthew Jeffery and John Laman."
"Thanks a lot to Matthew Jeffery . He helped me prepare all documents for applying for my PR. He's done a very professional job. My application is going very smooth without any problems. Reasonable price and professional work, that's why I chose him. Definitely will recommend it to my friends."
4. Abrams & Krochak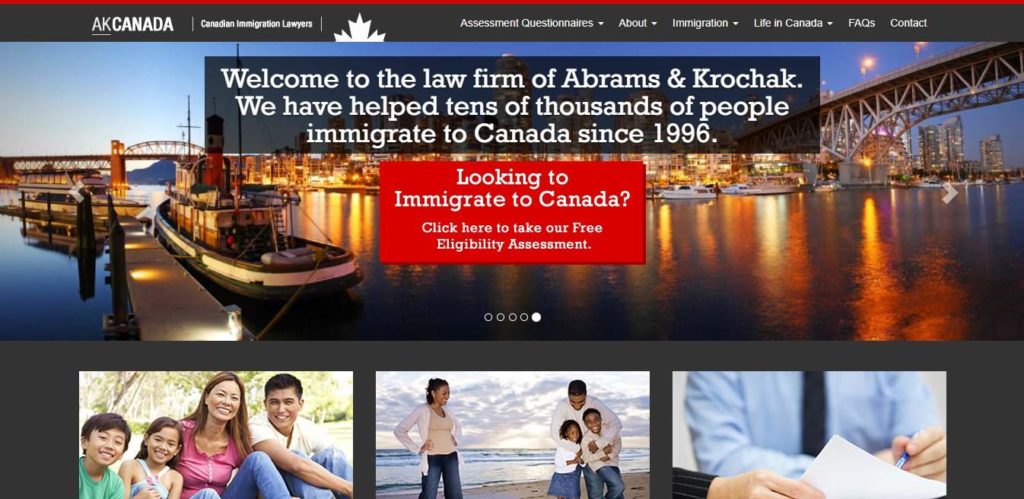 BEST FOR
Work permits for skilled professionals
EXPERTISE
Permanent residence and temporary residence
WEBSITE
https://www.akcanada.com/
ADDRESS
250 Merton St #402, Toronto, ON M4S 1B1, Canada
CONTACT DETAILS
416-482-3387

[email protected]

OPERATING HOURS
Monday – Friday: 9:00 AM – 5:00 PM
Equipped with 40 years of combined experience, Abrams & Krochak has become one of the most respected and in-demand immigration law firms in Toronto that help foreigners apply for residency in Canada.
Most of Abrams & Krochak's clients are foreigners who want to seek opportunities overseas. It's a law firm that specializes in bringing skilled professionals and their family members to Canada in pursuit of a better life for themselves and their loved ones.
As a testament to its success as an immigration law firm, Abrams & Krochak has a near-perfect record of converting Canadian immigrants into Canadian residents without attending any interview or going through any sort of legal dispute.
Abrams & Krochak also has the network to help clients find a stable and high-paying job that will help immigrants establish a new life in Canada. It explains why it's deemed to have the best immigration lawyers in Toronto.
Free assessment
Competitive rates
Near-perfect track record
Focuses on skilled immigrants
Client Reviews
Here are some comments proving that Abrams & Krochak has some of the best immigration lawyers in Toronto:
"I just wanted to write you a note to say how impressed I was to work with you and your company through this whole immigration situation I had found myself in. You filed all documentation and counseled me through the whole process in a very timely manner, you always got back to me within a few hours even if you had to do some research on my query. You answered and quelled any of my major concerns at the time, no matter how big, small or repetitious I may have been at the time. As I have mentioned to you before, you gave me far better service than any other attorney I saw locally. You kept the communication lines open and really understood the stress this kind of legal issue creates in one's life"
"I hired Abrams & Krochak to help me and some family members to come to Canada. I am so very happy with the firm. Their communications with me were clear and helpful. They would copy my questions/comments and provide direct answers, so that there would be no misunderstanding. They expressed any limits on what they could and could not do for me and my family. They were cost-effective, efficient and effective. And they helped me and my family with good results."
5. Matkowsky Immigration Law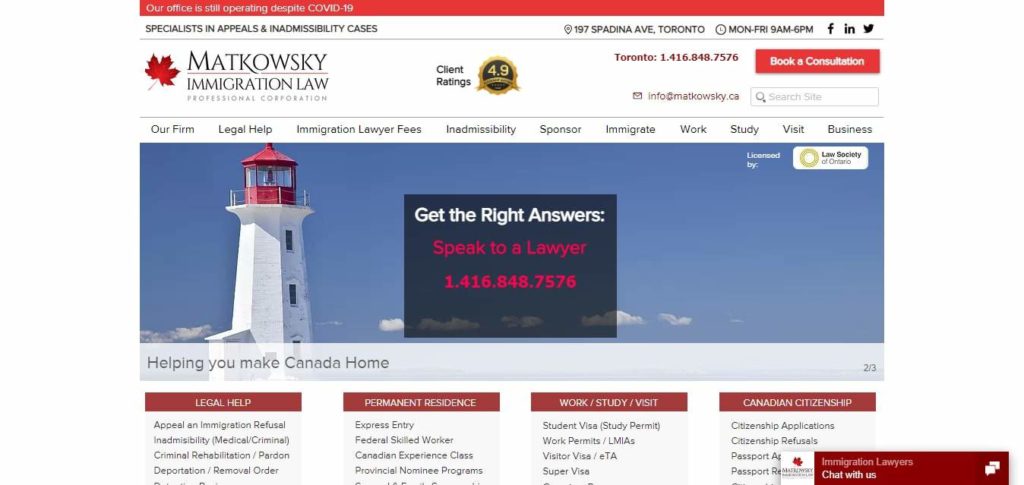 BEST FOR
Immigration disputes
EXPERTISE
Express entry, federal skilled worker, student visa, work permits, business visa, spousal and family sponsorship, live-in caregiver, temporary residence, permanent residence, and citizenship application
WEBSITE
https://www.matkowsky.ca/
ADDRESS
197 Spadina Ave suite 400, Toronto, ON M5T 2C8, Canada
CONTACT DETAILS
416-848-7576

[email protected]

OPERATING HOURS
Monday – Friday: 9:00 AM – 6:00 PM
Matkowsky Immigration Lawstands as one of the best-rated immigration law firms in Toronto, boasting an average rating of 4.9 out of 5 based on 232 reviews. It comes as no surprise, as it's known for employing a large team of experienced and licensed immigration lawyers and consultants.
It's based in Canada but accepts clients all around the world, so whether you're applying for a permanent residence permit or sponsoring family members, Matkowsky Immigration Law is here to help.
Matkowsky Immigration Law handles all sorts of immigration and citizenship disputes as well, including sponsorship appeals, inadmissibility issues, citizenship refusals, and citizenship revocation, among others.
Specializes in immigration disputes
Accepts clients from all over the world
Rates for clients outside Canada can be expensive
Client Reviews
Here's what an overseas client had to say about his experience in dealing with Matkowsky Immigration Law"
"Matkowsky handled our case with full experience and professionalism. While submitting supporting documents, Sonia & person who were handling our case were responsive to our comments and accommodated our requests(they did a good job, only added online up on our request). There was no process delay from the Matkowsky side and I hardly called them even though I am in a different time zone. Everything was done in email with point to point discussion. With two prior rejections, we thought it's gonna be tough and provided all the available info, supporting docs and within a short period of time Matkowsky did a good job in presenting a solid file. I will use their services going forward too."
6. AKM Law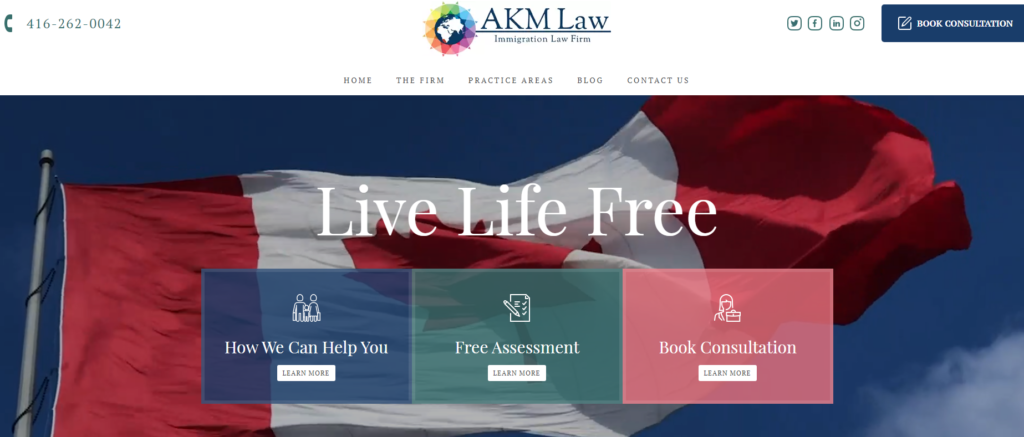 BEST FOR
Various immigration issues
EXPERTISE
Family Sponsorship, Temporary Visas, Refugee Claims and Humanitarian Applications, Express Entry, Citizenship Applications, Immigration Appeals and Federal Court Applications, Deportation, Inadmissibility
WEBSITE
https://www.akmlaw.ca/
ADDRESS
43 Front St East, Suite 400 Toronto, Ontario M5E1B3
CONTACT DETAILS
416-262-0042 | [email protected]
OPERATING HOURS
Monday – Friday, 9:00 AM to 7:00 PM
Saturday, 10:00 AM to 2:00 PM
AKM Law is a Toronto Immigration law firm focused on exceptional legal guidance, excellent client relations and customized service. They create a low-stress, results-oriented experience by taking an aggressive approach with the confidence obtained from years of legal Immigration experience.
This firm can provide you assistance in many immigration aspects. They can assist you with Family sponsorships, temporary visas like work and study permits, refugee claims and humanitarian applications, express entry, citizenship applications, deportation, inadmissibility and Immigration Appeals And Federal Court Applications.
Let their compassionate, knowledgeable, and confident legal professionals assist you in making decisions and understanding your immigration rights in a cost-effective and timely fashion. Don't be a victim of a disappearing act. Choose your immigration representative carefully with AKM Law.
Free Assessment
Assistance for Temporary Visas
Assistance for Family Sponsorships
Client Reviews
Here's what a few clients have to say about AKM Law:
"I would highly recommend AKM law for any and all of your immigration needs! When I called AKM law for the first time, Aminder answered my call and was incredibly thoughtful and patient. She answered all of the initial questions that I had about the sponsorship process. I knew then and there that my husband and I would be in great hands. Throughout the entire process Aminder was so supportive and knowledgable. Katrina was also so helpful and kept us informed throughout this entire sponsorship process. I am proud to say that my husband is now a PR of Canada! A huge thank you to AKM Law! We are so grateful for everything."
"I would definitely recommend AKM Law to people who need an immigration lawyer for assistance. Aminder and Yali are very professional, and they answer all your necessary questions very patiently and in a time manner. They also keep you in the loop throughout the whole process, and make you feel comfortable at all times."
7. Batista Smith Migration Law Group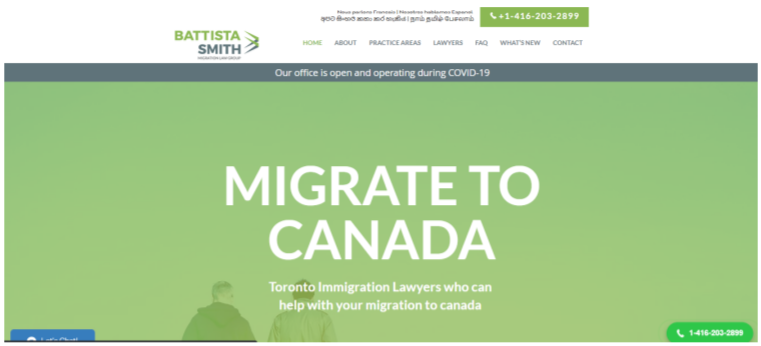 BEST FOR
Migrating to Canada
EXPERTISE
Family Sponsorship and Sponsorship Appeals
Corporate
Humanitarian and Compassionate Applications
Federal Court
Inadmissibility
Refugee and Asylum Claims
Students/Faculty
Economic Categories
WEBSITE
https://www.migrationlawgroup.com
ADDRESS
Battista Smith Migration Law Group
160 Bloor St. East, Suite 1000
Toronto, Ontario M4W 1B9
CONTACT DETAILS
Email: [email protected]
Tel: (416) 203-2899
Fax: (416) 203-7949
OPERATING HOURS
Contact for more details
Battista Smith Migration Law Group has been involved in changing Canadian immigration law. They have appeared before Parliamentary Standing Committees on immigration issues to advocate to remove medical inadmissibility from Canadian law.
Another amazing factor about them is that they regularly advocate for refugees and persons denied applications before the Immigration and Refugee Board.
What makes them stand out is that their office was the birthplace of Rainbow Railroad, an international LGBTQ refugee support organization. They can provide legal support to community-based organizations such as the 519 Church Street Community Centre, the Metropolitan Community Church of Toronto, the Committee for Accessible AIDS Treatment, EGALE Canada Human Rights Trust, and the Black Coalition for AIDS Prevention.
In comparison to others, they have a diverse staff who understand the immigrant experience. Their 13-member team allows them to accommodate numerous clients without compromising the quality of their service.
Over 26 years of experience
Recognised across Canada and internationally
Wide range of practice areas
Skilled team of lawyers
Operating hours not available on website
8. Border Law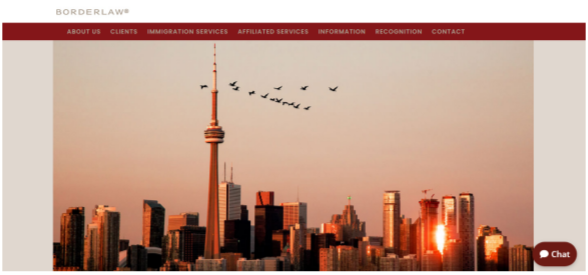 BEST FOR
Comprehensive Immigration Law Services
EXPERTISE
Immigration Law
WEBSITE
https://borderlaw.ca/
ADDRESS
Berezowski Business Immigration Law 980 Bathurst St., Suite 200, Toronto, Ontario, Canada M5R 3G6
CONTACT DETAILS
phone 416 850 5112
fax 1 866 403 7289
email [email protected]
OPERATING HOURS
Monday – Friday: 9:00 AM – 5:00 PM
Border Law is your go-to law firm when it comes to any concerns and issues regarding immigration law and cross-border travel. Initially established in 2016, their expertise on Canadian Immigration law makes them an excellent and reliable resource when it comes to providing you quick, quality services.
Regularly assisting both Canadian and US clients with their immigration needs, this firm makes it a priority to create solutions specifically tailored for you and your needs. They recognize the differences each client brings to the table and pay close attention to the details of your matter so that they can always ensure you're receiving the most appropriate advice.
We recommend this firm for your immigration needs due to their professional work ethics and transparent services; thus, ensuring that your immigration process will be hassle free and enjoyable.
Accommodating customer service
Highly professional lawyers
Helpful connections
9. Ronen Kurzfeld Immigration Lawyer

BEST FOR
Comprehensive Immigration Law Services
EXPERTISE
Immigration Law
WEBSITE
https://immigrationlawyertorontofirm.ca/
ADDRESS
110 Sheppard Ave E Suite #630, Toronto, ON M2N 6Y8, Canada
CONTACT DETAILS
Local – (647)-264-2019
Toll Free – 1(888) 539 – 1008
OPERATING HOURS
Monday – Friday: 9:00 AM – 5:00 PM
The Ronen Kuzfield Immigration Law office is known for its professionalism and extensive service. They aim to provide the best possible help and guide you through Canada's immigration process.
Their services include guiding you through the Canadian Temporary resident visas and application for permanent residencies. They also offer help with walking you through the different skilled workers and experience classes that you might need as well.
The Ronen Kuzfield Law office also offers to help and process documents about your work and study permit. If you have relatives in Canada, then you might be able to tap into their services because they also handle sponsorships.
Ronen Kuzfield responds fast, has great communication with his clients, and his services are flexible. What we like about him is that he maintains that his law office is paperless.
Another thing we like is that he and his team make sure that each client receives personal utmost attention. They are adamant about helping their clients achieve their immigration dreams.
Though their specialization is the usual immigration-related issues, you can also tap them for other aspects of the immigration law that are not much explored. They handle both humanitarian and business applications.
Accommodating customer service
Highly professional lawyers
Helpful connections
FAQS about Immigration Lawyers in Toronto
If you know nothing about immigration lawyers in Toronto, continue reading below! We answer some of the most pressing questions about them.
Here's a table of the common services of immigration lawyers and their estimated fees:
| | | |
| --- | --- | --- |
| Type of Service | Professional Fees | Government Fees |
| Spousal Sponsorship | $5,500 + $500/dependent | $1,050 for spouse and $150 per child |
| Parental Sponsorship | $4,000 – $6,000 | $1,050/person |
| Express Entry | $3,000 – $4,000 | $100/person |
| Student Visa | $3,000 – $4,000 | $150 |
| Citizenship Application | $1,000 – $3,000 | $630 |
| Caregiver PR + Work Permit | $12,500 – 15,000 | $1,050 for PR |
| Tourist Visa | $3,000 | $100 per person |
| Post Graduate Work Permit | $2,500 | $255 |
---
And with that, we conclude our list of the law firms with the best immigration lawyers in Toronto.
If you know other immigration law firms worth consulting with, share their names with us too and what makes them a dependable law firm when handling immigration-related cases!