8 Law Firms with the Best Family Lawyers in Toronto
If you're currently facing a contentious legal battle against a family member, there's no better way to move forward than to get the best family lawyers in Toronto to help you power through it as amicably as possible.
To help you with that, we're taking a look at the law firms with the best family lawyers in Toronto. These family lawyers are known for handling all types of family law cases, including matrimonial assets, annulment and divorce, domestic violence, and even child adoption.
If you have questions about family lawyers, we'll answer some of those too!
The Best Family Lawyers in Toronto
1. Baker and Baker Family Lawyers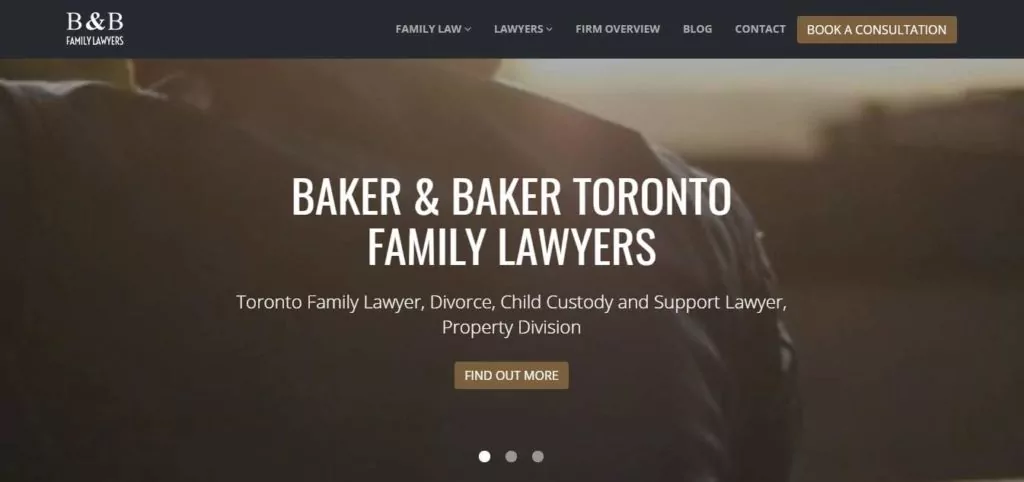 | | |
| --- | --- |
| BEST FOR | Divorce and child custody |
| EXPERTISE | Divorce, child custody, domestic violence and assault, child relocation, marital assets, separation agreement, same-sex divorce, mediation, prenuptial agreement, and property division |
| WEBSITE | https://www.bakerandbakerlaw.com/ |
| ADDRESS | 1251 Yonge St, Toronto, ON M4T 1W6, Canada |
| CONTACT DETAILS | 416-964-2215 |
| OPERATING HOURS | Monday – Friday: 9:00 AM – 6:00 PM |
Baker and Baker Family Lawyers is a law firm backed by more than 75 years of experience, mediating an extensive range of family law cases. Some of these cases include divorce, separation, domestic violence and assault, child custody, child adoption, and more.
Since most clients dealing with family disputes don't know the ideal way to go about their case, Baker and Baker Family Lawyers offers a free 30-minute consultation with its senior family lawyers.
It may not be the only law firm that provides free consultation, but Baker and Baker Family Lawyers promises no-obligation consultations with its experienced lawyers. If you aren't convinced by its lawyers, you're free to walk away.
In terms of service area, Baker and Baker Family Lawyers's services aren't limited to Toronto. It services families and individuals residing in North York, York, Mississauga, Markham and Vaughan too.
Free consultation with senior lawyers
Competitively priced services
Focuses mainly on divorce and child custody
Customer Reviews
Here's what some of its past clients had to say about it services:
"I don't know what I would've done without Don Baker when I was in the process of a divorce. Getting a divorce is difficult enough but Don Baker has a way to make those difficult days seem brighter. He is extremely knowledgeable and very experienced with the law. He is also kind and compassionate and above all, very loyal. I highly recommend Don and his team, without reservation."
"Baker & Baker have competently handled the legal particulars of several real estate transactions for my family. Donald and his team are very knowledgeable, responsive and oversee all details with the highest level of professionalism. We would not hesitate to recommend this firm to anyone."
2. Separy Law PC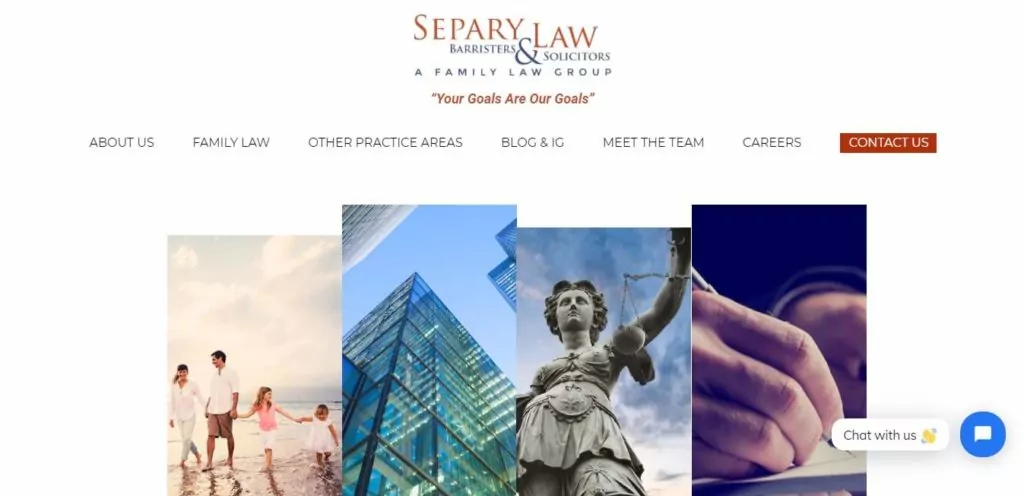 | | |
| --- | --- |
| BEST FOR | Separation and divorce |
| EXPERTISE | Divorce, separation agreements, custody and parenting, child support, spousal support, property division, child protection, litigation and debt recovery, and will and powers of attorney |
| WEBSITE | https://separylaw.com/ |
| ADDRESS | 4789 Yonge St unit 814, Toronto, ON M2N 0G3, Canada |
| CONTACT DETAILS | 647-352-4529 |
| OPERATING HOURS | Monday – Friday: 9:00 AM – 9:00 PM |
If you're looking for a law firm that can handle both basic and contentious legal family disputes, then we recommend taking a look at Separy Law PC. It specializes in separation agreements and divorce but accepts all types of family law cases
Separy Law PC aims to resolve family-related disputes as quickly and efficiently as possible, making sure that the case doesn't come close to escalating to the court. However, if that happens, its lawyers are more than prepared to fight for their clients.
Other family law cases handled by Separy Law PC are child custody, cohabitation agreements, premarital contacts, spousal support, child support, property division, family law business matters, and same-sex relationships, among others.
By the way, it may be more known for housing some of the best family lawyers in Toronto, but Separy Law PC handles debt recovery cases and helps in drafting last wills and testaments too.
We highly advise preparing a decent budget when working with them though, since their rates can get a little expensive.
You might think twice about hiring its services beyond family matters, but we've only heard positive comments about these services.
Another reason we like Separy Law PC is that its operating hours extend until 9pm, far later than most law firms' closing times.
Extended operating hours
Also handles debt recovery and wills cases
Rates can get a little expensive
Customer Reviews
Take a look at some comments posted by clients on Google Reviews:
"I was truly lucky to find a Lawyer like Ms. Separy. Very experienced lawyer in high conflict circumstances. Ms.Separy is brave, resilient, straightforward with authorities and especially with the opposition. I have not seen any lawyer like her yet, most of the attorneys seem to be extra lenient with narcissists/sociopaths/psychopaths, which is to me a distortion of justice. I recommend Ms. Separy Law as a lawyer, as a matter of fact I wouldn't think twice to have her as my lawyer again!"
"Miss Separy, and her team has been so helpful towards one of my family members in the family court. I will highly recommend family, friends and anyone I know who is looking for a family lawyer. The team always looks out for the best interests of the children. The team will always be on time with their responses. To overall my comment you can always count on Miss Separy and her team. May God continue to bless you throughout the years to come."
3. Simple Divorce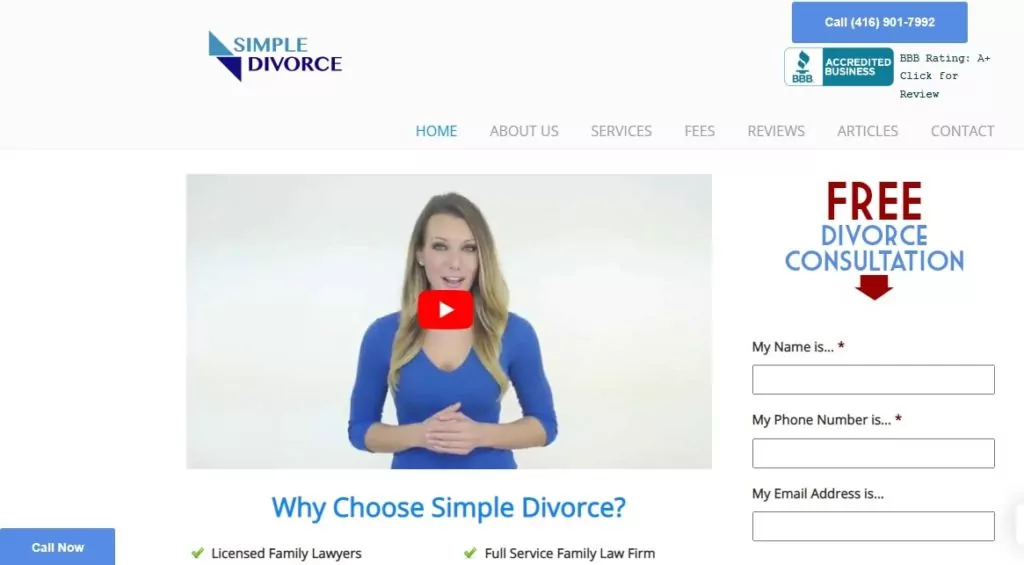 BEST FOR
Divorce and Family Law
EXPERTISE
Contested Divorce, Uncontested Divorce, Family Mediation, Separation Agreement, Foreign Divorce Opinion Letter, Grey Divorce, High-net Divorce
WEBSITE
https://www.simpledivorce.ca/
ADDRESS
1000 Finch Ave West #600b Toronto, ON, M3J 2V5
CONTACT DETAILS
Tel: 416 901 7992
Email: [email protected]
OPERATING HOURS
Monday – Friday 9:00AM – 7PM
Saturday 10AM – 4PM
Sunday CLOSED
Simple Divorce is a legal firm that specializes in all things and cases that involve the field of Family Law. Having served over 3000 clients already, their team and approach prove time and time again to be effective and equally flexible for a variety of cases and circumstances.
We find their lawyers to be exemplary since not only do they approach each case with attention to detail, professionalism, and unparalleled expertise but also a genuine concern for what their clients are going through.
They also offer clients flat fees and affordable payment plans so as to help their clients cope with their situation and have an easier time coping with the sudden shift in their financial needs and situations.
Another thing we see to be notable is that they offer free consultations so that clients can get a brief background and idea of what their concerns will cost and the necessary procedures they may need to take.
Overall, with their past clients commending them for their professionalism and hassle-free operations, we highly recommend them to clients in need of a lawyer who not only understands the situation but also enables them to cope with it in a better way.
Professional lawyers
Steadfast response
Free consultation available
Closed on Sundays
Services center on Family Law only
Customer Reviews
Here are some reviews from their clients:
"There aren't enough positive words to describe the level of professionalism, expertise, and quality of care given by the entire staff at Simple Divorce Family Lawyer. The team that assisted me was always very prompt in responding to any questions or concerns that I had. Once you work with them, you will understand why they are the most highly recognized family and divorce attorneys in Toronto. I would highly recommend this firm to anyone!" – Sho M.
"Salmon at Simple Divorce was fantastic. He called me back the same day and answered all my questions and explained exactly what I needed to do. I cannot thank him enough for his patience and understanding. I highly recommend Simple Divorce." – George Cook
4. Stanchieri Family Law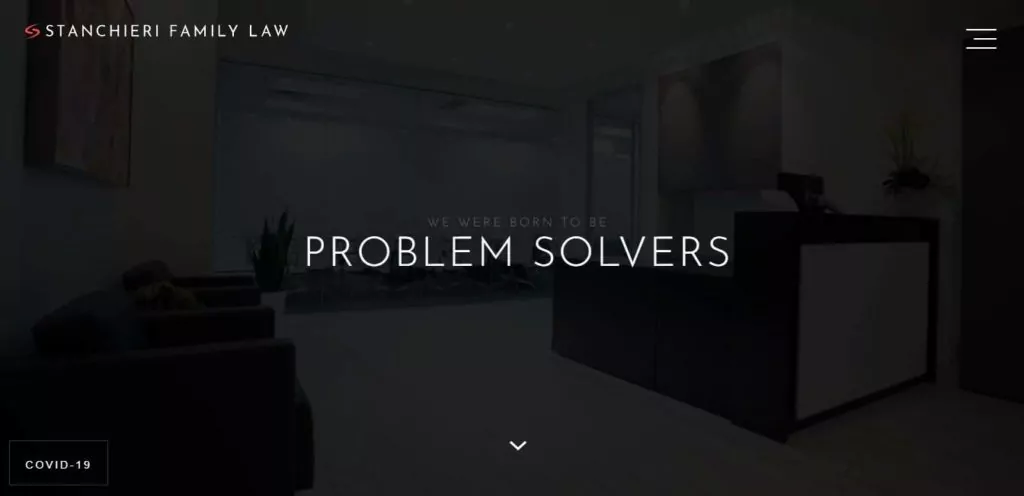 | | |
| --- | --- |
| BEST FOR | High-conflict family law cases |
| EXPERTISE | Divorce, child support, custody and access, family businesses, international matters, property division, child support, and spousal support |
| WEBSITE | https://www.stanchierifamilylaw.com/ |
| ADDRESS | 1375 University Ave Suite 900, Toronto, ON M5G 2J5, Canada |
| CONTACT DETAILS | 416-595-9995 416-595-5559 |
| OPERATING HOURS | Monday – Friday: 9:00 AM – 5:00 PM |
For people dealing with highly complex legal disputes against family members, Stanchieri Family Law stands as one of your top options.
As with most law firms, Stanchieri Family Law has a huge roster of lawyers who can handle an impressive range of family law cases, but each lawyer has been trained to deal with complex family legal issues with huge stakes on the line.
If you're fighting over the custody of your children, for instance, Stanchieri Family Law may employ all of these strategies on your behalf: arbitration, collaboration, litigation, mediation, negotiation, and trials and appeals.
Stanchieri Family Law also makes it easy for clients to keep track of their case by having a reliable customer service team that responds fast and sends regular updates.
When it comes to fees, Stanchieri Family Law works with budget estimates to ensure that no clients will have to shell out money beyond their means. Its fees are transparent and inclusive too, meaning it doesn't charge clients for scans, faxes, and photocopies.
Considering all these, it's no shock that Stanchieri Family Law ended up on our list of law firms with the best family lawyers in Toronto.
Ideal location
Online appointments
Transparent, inclusive fees
Large clientele means lawyers often have full caseloads
Difficult to get a booking on the desired date
Customer Reviews
As one of the best-reviewed law firms in Toronto, Stanchieri Family Law has received mostly positive comments from its clients. Here are some of them:
"Christine has been an excellent attorney through a tough time. She has consistently provided balanced advice and has always shown that she has a strong preference for finding outcomes that are in the best interest of the child. She has been empathetic and understanding but is clear on how she believes the law will be interpreted, even if it is counter to your opinion. Christine makes objective recommendations on how to proceed in a manner that she believes will yield the best outcomes."
"My experience with Stanchieri Family Law was excellent. Deborah was very understanding and responsive. She was able to explain and guide me through the process and was always available to answer my calls. Ashley was also very helpful and I would definitely recommend them to others who are dealing with family matters."
5. Benmor Family Law Group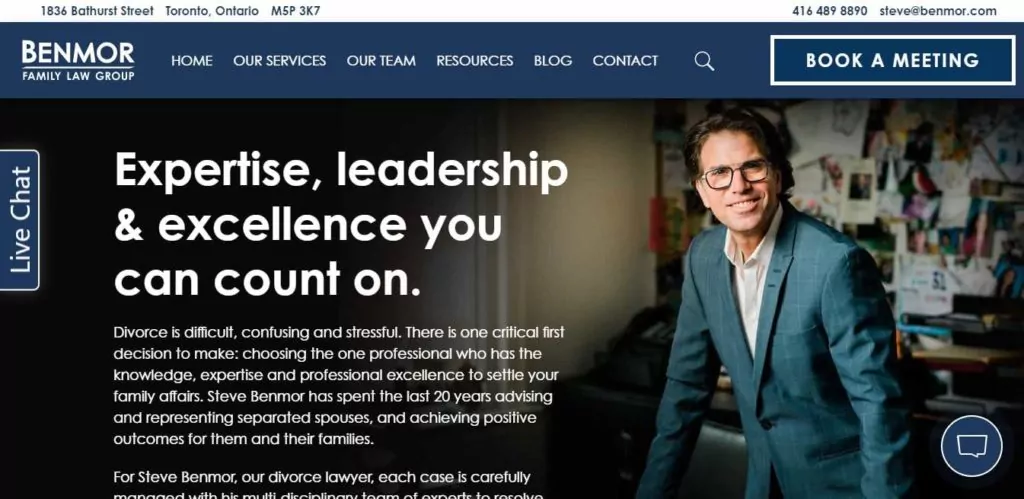 BEST FOR
Alternative Dispute Resolution
EXPERTISE
Divorce and separation, parenting plans, child support, spousal support, and property division
WEBSITE
https://benmor.com/
ADDRESS
1836 Bathurst St, York, ON M5P 3K7, Canada
CONTACT DETAILS
416-489-8890

[email protected]

OPERATING HOURS
Monday – Friday: 9:00 AM – 5:00 PM
Whether you're filing a divorce from your partner or seeking support from them, you need the best family lawyers in Toronto by your side. Benmor Family Law Group is a trusted and experienced law firm that can be one of your choices.
For one, Benmor Family Law Group has a positive track record in handling family law affairs such as separation, divorce, child custody, spousal support, and parenting plans. It's headed by Steve Benmor, a renowned divorced lawyer, supported by a multidisciplinary team of family law experts.
Another note about its family law team: everyone is experienced in negotiating the most favourable results for their clients. You won't have to worry about spending money on a lawyer but still end up receiving the short end of the stick.
Some of the cases usually handled by Benmor Family Law Group are divorce, separation, parenting agreements, child custody, and child and spousal support. If you want a more peaceful way of separating from your partner, you may opt for the Alternative Dispute Resolution (ADR).
It removes the need to escalate the case to the divorce court by using any of the following: mediation, arbitration, parenting coordination, or collaborative family law.
25 years of experience
Online appointment
Offers Alternative Dispute Resolution
Rates tend to be expensive
Customer Reviews
Here are some comments proving that Benmor Family Law Group has some of the best family lawyers in Toronto:
"My decision to hire Mr. Benmor and his team is one of the best things I have done since my separation. Mr. Benmor is a very effective lawyer and one of the best out there. He is more concerned about his clients and family then he is about billing hours. Since I have obtained Mr. Benmor I have gained a sense of relief. He has put an end to a lot of the opposing counsel's games and intimidation tactics. I have and I will continue to highly recommend Mr. Benmor to anyone involved in a family matter. It's truly a pleasure to deal with Mr. Benmor and his team."
"I could not be any happier that I chose Steve and his team to represent me in my divorce. It was a very complex and high conflict case. I found Steve to be respectful, knowledgeable, and patient when he had to educate me on realistic expectations under different circumstances. I really appreciate how he strategized my case by paying close attention to details that proved critical to the endurance of the court's decisions. Steve committed his talent and expertise to safeguard my future – I highly recommend him."
6. Frenkel Tobin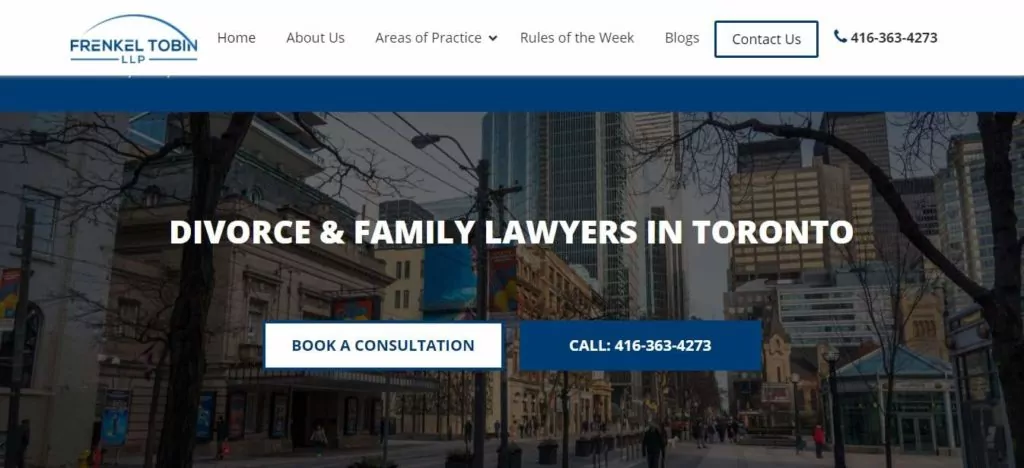 BEST FOR
Marriage contracts and prenups
EXPERTISE
Domestic contracts and agreements, marriage contracts and prenups, separation and divorce, spousal support, property and asset division, common law separation, independent legal advice, same-sex divorce, domestic violence, cohabitation agreement, child custody, child protection, and child adoption
WEBSITE
https://frenkeltobin.ca/
ADDRESS
317 Adelaide St W Suite 1001, Toronto, ON M5V 1P9, Canada
CONTACT DETAILS
416-363-4273

[email protected]

OPERATING HOURS
Monday – Friday: 8:00 AM – 6:00 PM
If you want to make sure that your individual rights and personal assets are protected before getting married, then you definitely want to consult with Frenkel Tobin. It's a family law firm that specializes in domestic agreements, prenuptial agreements, and marriage contracts.
Other cases typically handled by Frenkel Tobin are child custody, child adoption, child support, spousal support, same-sex divorce, domestic violence, property and asset division, and cohabitation agreement, among others.
Frenkel Tobin isn't as famous yet as other established law firms, but it's managed to earn the trust of a huge number of individuals and families. It promises to make the entire legal dispute as easy and stress-free as possible.
Most of its clients have praised its lawyers for being friendly and easy to get along with, on top of being dedicated to their job. As per our standards, these are traits that you should look for in a family lawyer.
Competitive rates
Online consultations
Covers most areas of family law
A small team of family lawyers
Customer Reviews
Frenkel Tobin has an average rating of 4.9 out of 5 on Google Reviews, making it one of the top-rated law firms in Toronto. Take a look at some of the comments:
"I had David Tobin as my lawyer during a very complex and stressful situation related to the family law field. I can say only good things about him and his firm ( all people who work there are very kind, compassionate professionals). If you need a family law expert to help you and your family, do not hesitate and hire him as your lawyer. David also is very delicate and compassionate as a human being. I'm aware and experienced myself that many people in this profession become insensitive and cold. But this is not the case with David and this law firm."
"Me and my ex-wife had a dispute over child custody, I was devastated after consulting with 3 other family lawyers in Toronto. Charlotte is amazing, right after the initial consultation I knew I was in good hands. She isn't only a true professional, but also has a kind heart"
7. ClearWay Law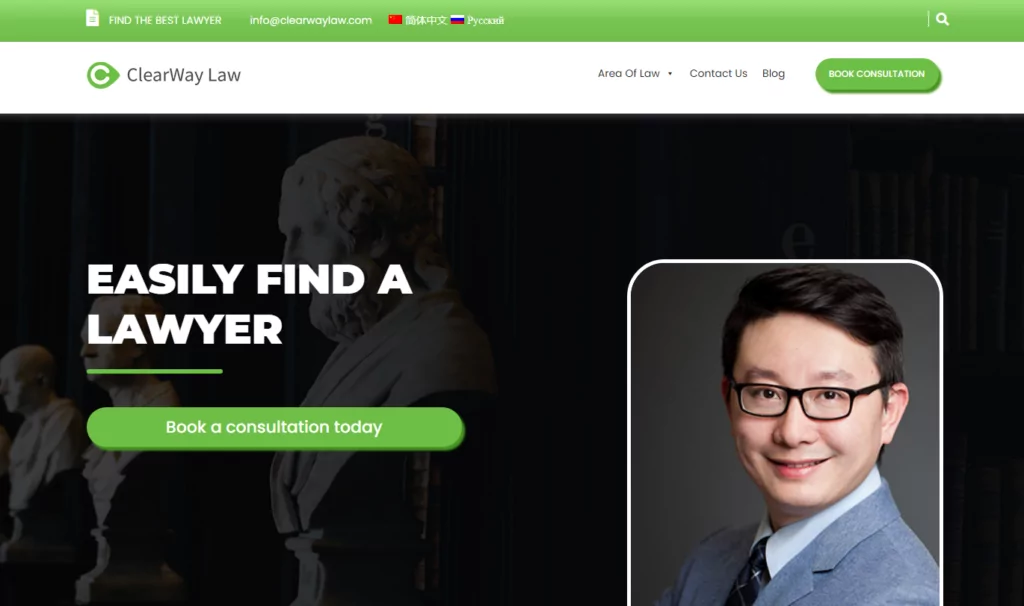 BEST FOR
Finding the right lawyer
EXPERTISE
Real estate law, Family law, Immigration law, Criminal law, Employment law, Lawyers in China
WEBSITE
https://clearwaylaw.com
ADDRESS
317 Adelaide St W Suite 1001, Toronto, ON M5V 1P9, Canada
CONTACT DETAILS
416-363-4273

[email protected]

OPERATING HOURS
Monday – Friday: 8:00 AM – 6:00 PM
Finding the right lawyer for a specific case often takes time and a lot of resources. With ClearWay Law, the process is cut short thanks to the firm's primary service: connecting clients with the lawyer that can cater to their needs (i.e., expertise, budget, and location).
ClearWay Law has connections with various lawyers with expertise in Real Estate Law, Family Law, Immigration Law, and many more. Not only that, but they can also link clients with lawyers from around the globe, from Canada all the way to China.
All it takes is a 60-minute no-obligation call with ClearWay Law's representatives, and you'll have access to a lawyer or firm that can assist with the legal matters you're currently facing. Most important of all is that their services are for free!
Free service

No-obligation consultation

Wide array of law of expertise
Customer Reviews
With an average rating of 4.6 stars on Google, ClearWay Law has cemented their spot on this list. A previous client wrote:
"Amazing resource for those looking for a lawyer to handle their legal matter. A lawyer contacted me within a day of me requesting one through ClearWay Law to handle my family matter. So grateful they were very pleasant to deal with!"
"They are actually not a law firm. They connect people with lawyers for free. It's a free service for the public. You contact them and they recommend a few lawyers to speak to. I've never seen anything like it in Toronto."
8. Kalra Family Law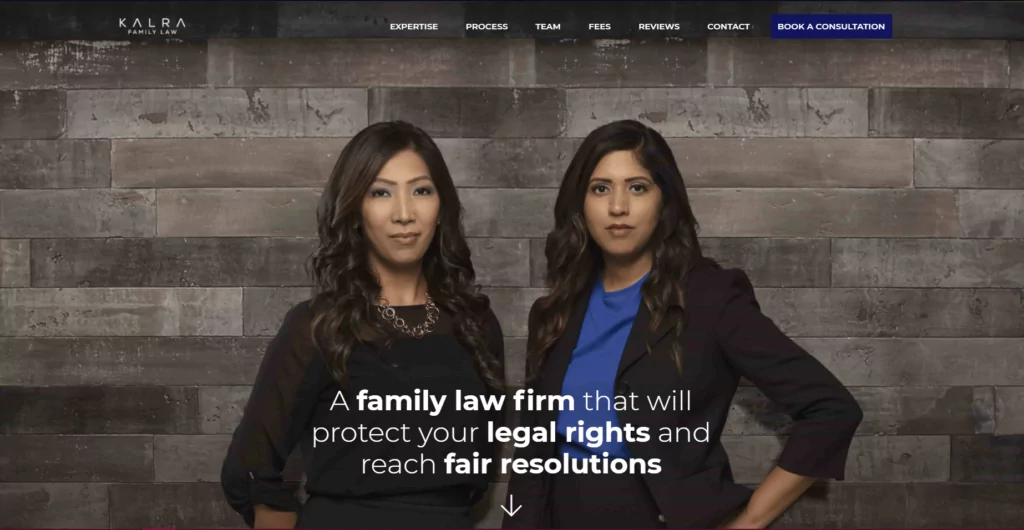 BEST FOR
Family Law
EXPERTISE
DIVORCE & SEPARATIONS
SPOUSAL & CHILD SUPPORT
CHILD CUSTODY & ACCESS
HOME & PROPERTY DIVISION
SELF-EMPLOYED & BUSINESS MATTERS
MARRIAGE CONTRACTS & COHABITATION AGREEMENTS
WEBSITE
https://kalrafamilylaw.com
ADDRESS
425 University Avenue, Suite 300
Toronto, Ontario
M5G 1T6
CONTACT DETAILS
T: 416-649-1339
F: 647-313-3006
[email protected]
OPERATING HOURS
Monday to Friday: 9:00AM-5:00PM
Kalra Family Law is a law firm that specialises in Family Law and Divorce Law. They strive to protect their client's legal rights by helping them arrive to the fairest resolution.
Their team of professional lawyers are well-versed in the various intricacies of the family law. Using this knowledge, they think of the most efficient and effective ways to resolve disputes.
They are strategic when it comes to approaching their client's case. They continuously re assess their option at any stage of the case in order to arrive at the best outcome.
Best of all, their straightforward, transparent rates come at competitive prices. You'll get what you paid for and then some if you decide to hire their services.
Strategic methods
Wide range of services
Client-first approach
Transparent and conservative fees
Not open during the weekends
FAQs about Family Lawyers in Toronto
Family lawyers in Toronto handle all types of family disputes, everything from separation down to child custody. However, divorce remains one of the top reasons people seek the services of family lawyers.
To give you an idea about the cost of hiring one and the process of getting a divorce in Canada, we answered some of the most common questions about them.
---
And with that, we conclude our list of the law firms with the best family lawyers in Toronto. If you've consulted with any of them in the past, share with us what your experience was like.
If you think other law firms deserve to be part of our list, don't hesitate to share their names with us! We'll make sure to check if they're worthy of being added to our list.