Top Day Trip Ideas Near Toronto
Toronto has loads of cool attractions, but at some point, you'll have visited them all. Luckily, there are attractions outside the city that stand toe to toe with the city's iconic landmarks!
If you're looking to discover new attractions or itching for an adventure, then read this amazing list about the best destinations for a daytrip within a 2 hour drive from Toronto!
1. Stop by Milton
Address: Milton, ON, Canada
Driving Time from Toronto: 40 minutes
Packed with unique attractions and beautiful hiking trails, Milton provides an easy escape from city life.
It's home to the Kelso Conservation Area, where you can go mountain biking, paddle boating, kayaking, and hiking. In the winter, this mountainous area transforms into a popular skiing and snowboarding resort!
Pro tip:

There are lots of hiking trails around Milton but we recommend the Lime Kiln trail for its unusual but captivating mossy forest and beautiful sceneries!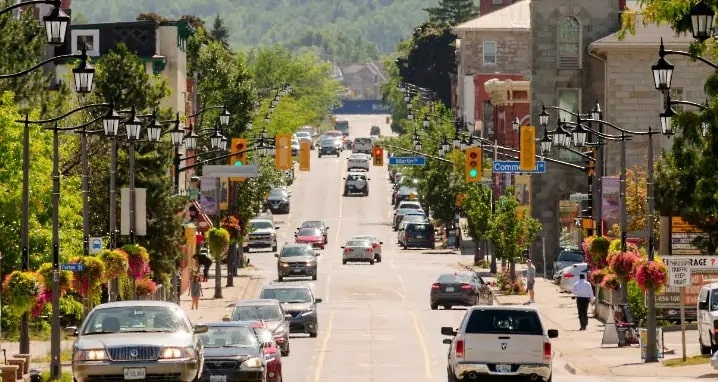 2. Explore waterfalls at Hamilton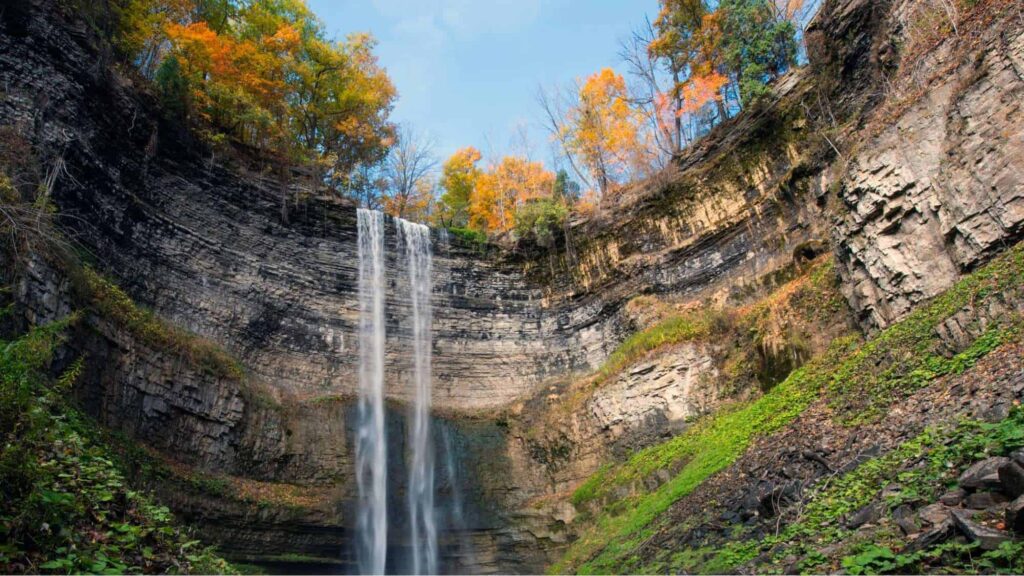 Address: Hamilton, ON, Canada
Driving Time from Toronto: 1 hour
Hamilton is teeming with stunning waterfalls with scenic views, making it one of the most popular destinations for day trips from Toronto.
There are 100 waterfalls around Hamilton so you'll never run out of places to have an adventure! We particularly recommend Webster Falls and Albion Falls because of their stunning rock formations and beautiful panoramas!
Pro tip:

Visit Tews Falls for one of the best views of Hamiton and Dundas. There's a side trail at Tews Falls that leads you to Dundas Peaks where you can experience this captivating view.
3. Check out scenic caves in Collingwood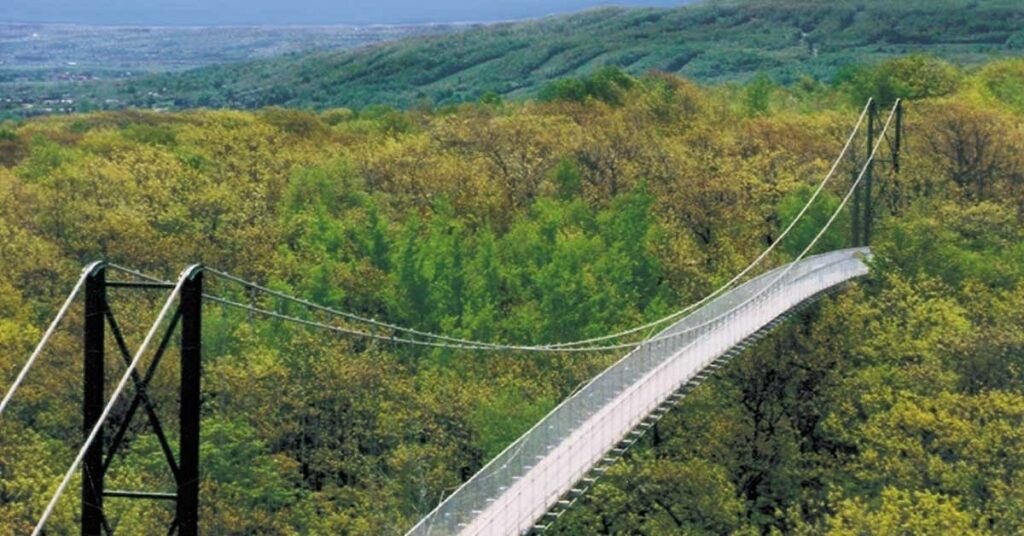 Address: Scenic Caves Road, The Blue Mountains, ON, Canada
Driving Time from Toronto: 2 hours
Collingwood's Scenic Caves are situated along the Niagara Escarpment. It's one of the best green spaces for anyone looking to explore the natural environment of Ontario.
Here, you can enjoy fun outdoor activities like hiking beautiful trails and walking on Southern Ontario's longest suspended bridge. There are also self-guided tours that take you on a journey through numerous caves and peaks!
Pro tip:

If it's your first time here, we recommend trying out Scenic Caves Eco Adventure. This guided tour provides a narrative journey across several historic caves, the suspended bridge, and ends with a 1000-foot zipline ride!
4. Travel to Stratford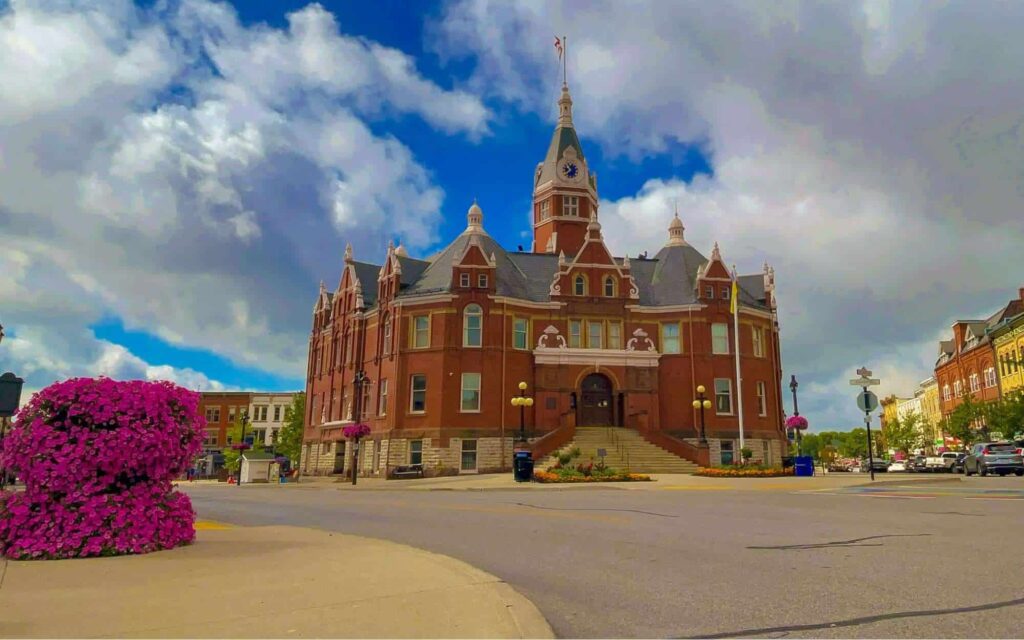 Address: Stratford, ON, Canada
Driving Time from Toronto: 1 hour and 40 minutes
Stratford is a city known for its rich theatre and arts scene. The city is also renowned for its Victorian architecture, with landmarks like the Stratford City Hall sporting these architectural styles.
The city is home to the annual Stratford Festival, where contemporary and Shakespearean plays take centre stage at local theatres. There are also lots of boutiques, shops, museums, and Victorian buildings to check out.
Pro tip:

Take a relaxing stroll by the Avon River. You'll find lots of ducks roaming around – and if you're lucky, you'll get to listen to live music on barges along the river.
5. Visit Niagara-on-the-Lake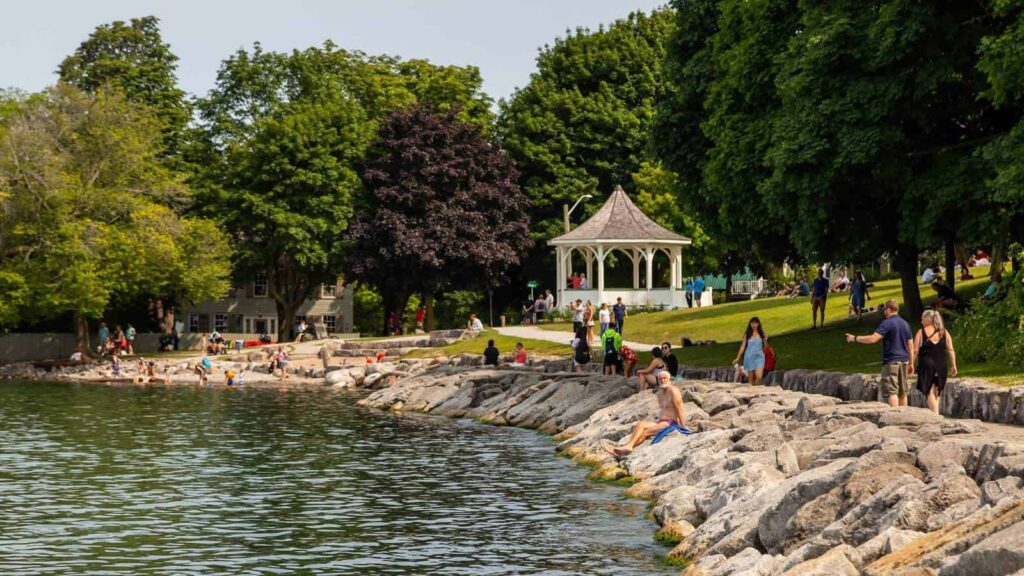 Address: Niagara-on-the-Lake, ON, Canada
Driving Time from Toronto: 1 hour
Niagara-on-the-Lake is the ideal location for a relaxing day-trip around a quaint town filled with Canada's iconic historical sites.
The town is bustling with activities like carriage rides and landmarks like the historic Prince of Wales Hotel. There's also a lovely main street decorated to match the season, along with numerous gift stores and shops.
Pro tip:

Drop by Fort George for a historical re-enactment of the 1812 battle of Fort George.
6. Pay a visit to Elora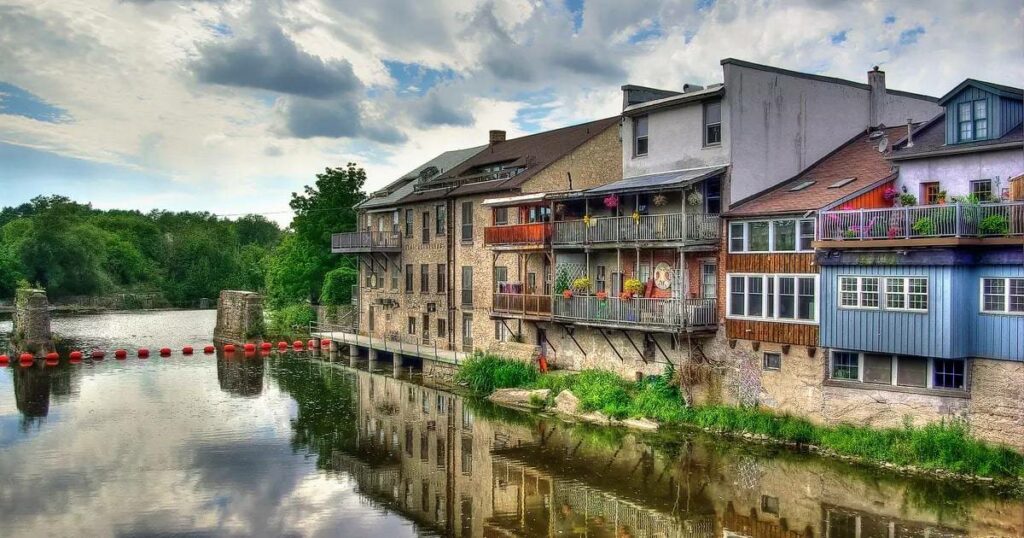 Address: Elora, ON, Canada
Driving Time from Toronto: 1 hour and 20 minutes
Elora is a quaint town with beautiful nature and charming architecture that will make you feel like you are in a fantasy world. The town's scenic rivers and gorges make it one of our favourite destinations for day trips.
The Elora Gorge boasts lovely trails and beautiful vistas of the Grand River where people often go kayaking. If you're a Stephen King fan, you'll probably want to take a photo by the Elora Quarry, which was featured in the cult classic horror film IT.
Pro tip:

Watch a movie at Gorge Cinema, an arthouse cinema established in 1974 and the nation's longest running repertory cinema.
7. Explore Paris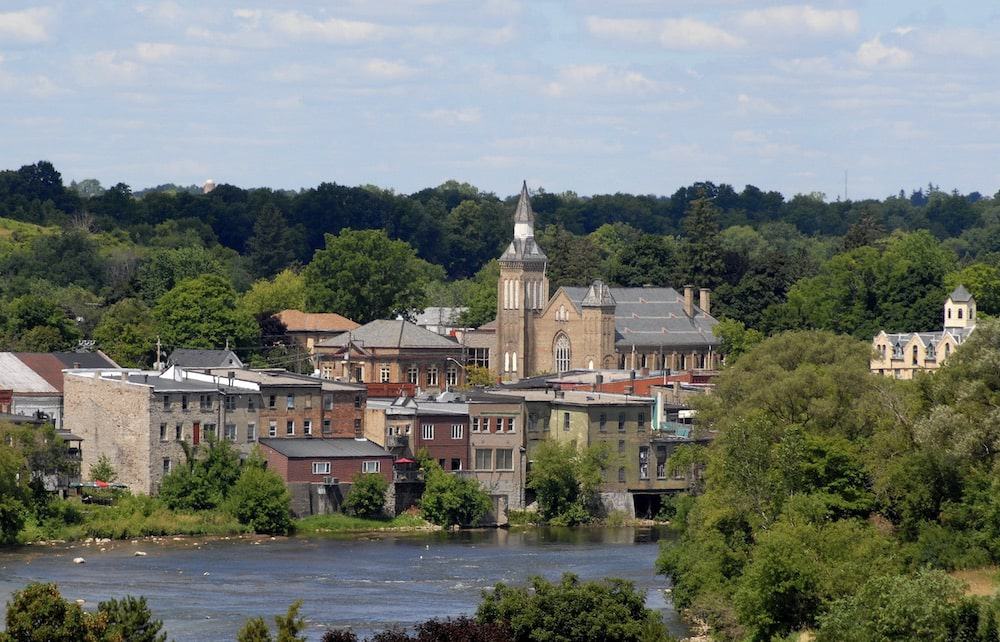 Address: Paris, Brant, ON, Canada
Driving Time from Toronto: 1 hour
Not to be confused with the city of lights, Paris, Ontario, is a quaint town flowing with outdoor adventure and an admirable food scene. It's known as the "cobblestone capital of Canada" for its unique buildings and roads made of cobblestone.
Besides cobblestone architecture, Paris is also rich with natural landmarks like the picturesque Penman's Dam. There's also the Grand River where you can paddleboard and kayak along its shores!
Pro tip:

Make sure to visit Lions Park, which has lots of picnic tables and even a swimming pool to soak in when the day gets quite hot. There is also an amphitheater where you can catch live performances.
8. Drop by Beaverton
Address: Beaverton, ON, Canada
Driving Time from Toronto: 1 hour
Beaverton is one of Toronto's underrated day trip spots. Located near Lake Simcoe, this town comes alive during the summer when vacationers arrive to explore the town's well preserved historic structures.
We recommend dropping by Cool Cow for their sweet vanilla ice cream while strolling down Simcoe Street and appreciating the preserved buildings. There's also a couple of cool trails nearby, which will take you to the scenic Lake Simcoe.
Pro tip:

Stop by the Old Stone Church, a historic site notable for its beautiful hand-made stonework. Inside, you can find the raised pulpit and box pews that have remained unchanged since the 1860s.
9. Go to Oakville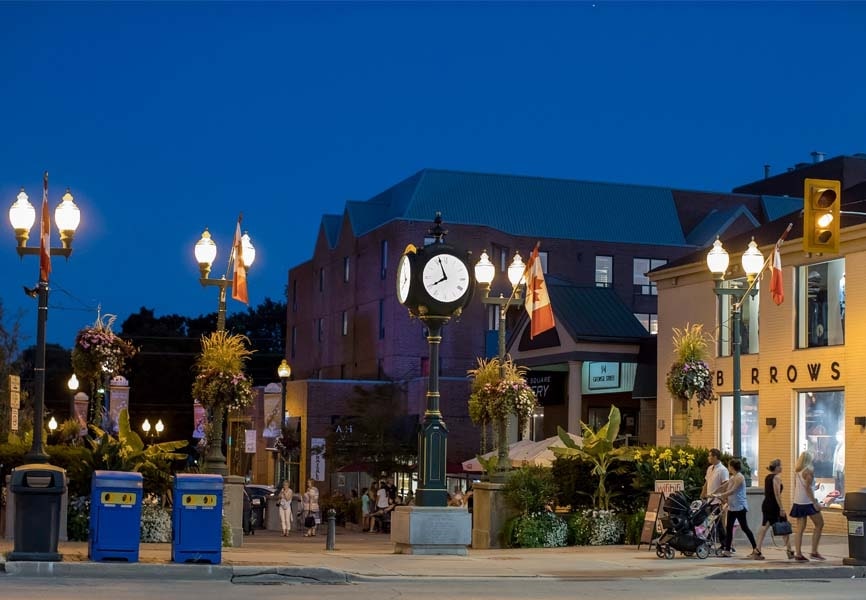 Address: Oakville, ON, Canada
Driving Time from Toronto: 30 minutes
If nature trips aren't your thing, consider a day trip to Oakville for a great shopping and dining experience. This upscale town is a great choice for anyone looking for trendy boutiques and eccentric galleries like the Trias Gallery.
Golf lovers will also be delighted to know that the sport is a huge deal in Oakville. We recommend a visit to the Glen Abbey Golf Course to practice your swings or dropping by the Canadian Golf Hall of Fame to gush over some great memorabilia.
Pro tip:

Visit Dingle Park for a short but peaceful walk. You can even get a really good view of the Toronto Skyline from here..
10. Wander around Midland and Penetanguishene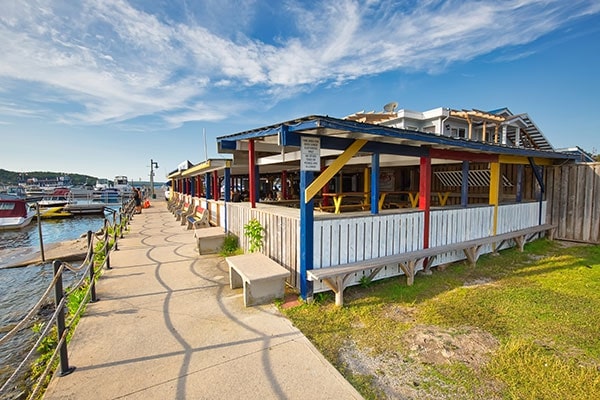 Address: 16164 ON-12, Midland, ON L4R 4K8, Canada
Driving Time from Toronto: 2 hours
Midland and Penetanguishene are sister cities influenced by native, French, and British cultures. History and nature lovers will enjoy the blend of well-preserved cultural landmarks and lush forests that define the two cities.
They're known for interesting landmarks like the Martyr's Shrine and the Midland Murals, where creative pieces of art are mounted on walls for public display. The historic Brébeuf Island Lighthouse is also worth a visit for its mesmerising view of Georgian Bay.
Pro tip:

Go to Midland Harbour for a stroll by the water. It offers gorgeous gardens, sculptures, and beautiful views of the Georgian Bay.
11. Stroll around Wasaga Beach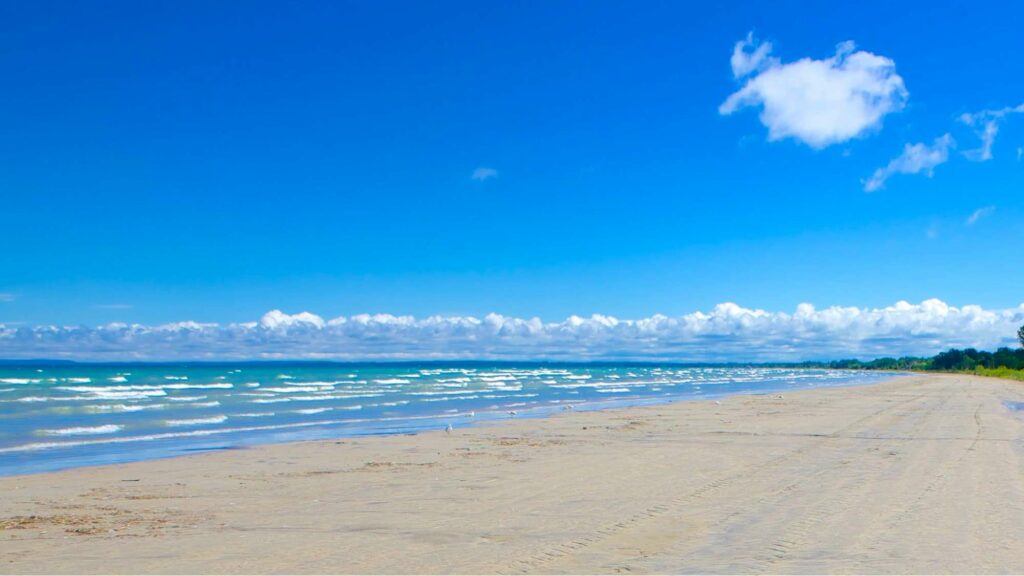 Address: Wasaga Beach, ON L9Z 2K5, Canada
Driving Time from Toronto: 1 hour and 40 minutes
Wasaga Beach is one of our favourite destinations for a sandy daytrip. The beach is loved for its shallow waters and long sandy shoreline from where you can see stunning sunsets.
Besides swimming on the beach, you can also go bird watching as birds soar through the skies and land on nearby trails. Also, there are tours and museums that focus on historical events like the War of 1812 .
Pro tip:

One of the best things to do in Wasaga Beach is to go fishing. There are numerous fishing stores that offer rentals all around town and by the beach.
12. Relax at Port Dover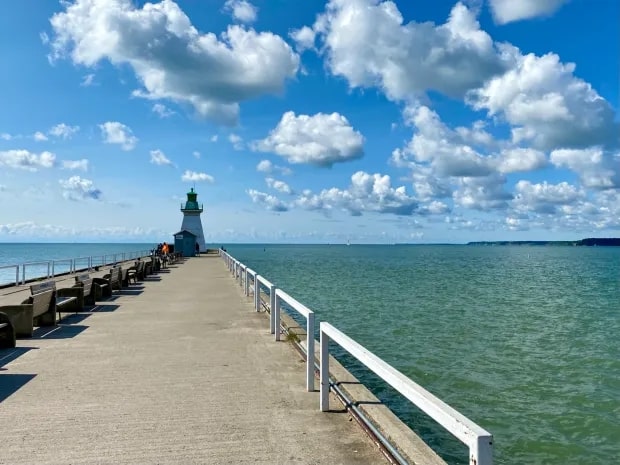 Address: St. Jacobs, ON, Canada
Driving Time from Toronto: 1 hour and 30 minutes
Port Dover is a small beach town situated along the shores of Lake Erie. This town makes for the perfect getaway, with its warm waters and rows of swaying palm trees that sit on the waterfront.
The beach isn't all Port Dover offers, as it's also home to Powell Park where live music and festivals usually take place. The town also celebrates Friday the 13th with an annual motorcycle rally where people drive through town in their best bikes!
Pro tip:

Visit the town's historic pier which sits above Lake Erie, giving you a great view of the waters. You can also find the iconic Port Dover Lighthouse at the end of the walkway, which still operates to this day!
13. Journey to Niagara Falls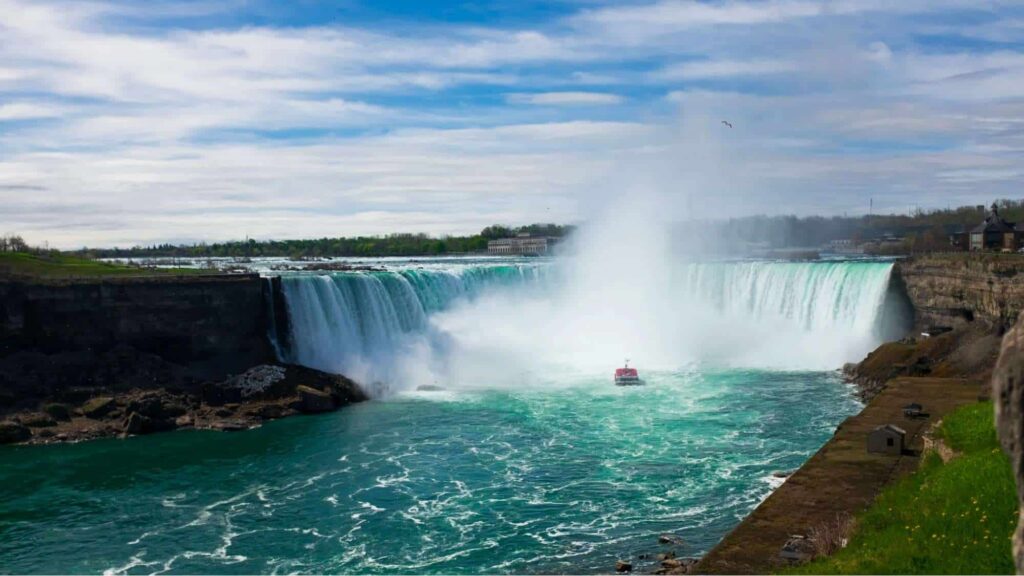 Address: Niagara Falls, Ontario
Driving Time from Toronto: 1 hour and 20 minutes
Niagara Falls is one of the most popular day trip destinations for obvious reasons. As one of the most beautiful waterfalls in the world, there are several iconic attractions in the area like the Hornblower and the Whitewater Walk.
One of our favourite things to do is to ride the Niagara Skywheel, which offers a mesmerising view of the falls and surrounding area. We also love watching the fireworks and light shows that happen every night during the summer time!
Pro tip:

Stop by the Rainbow Bridge, which acts as the link between Canada and the United States – and offers great views of the waterfall.
14. Have fun at Brantford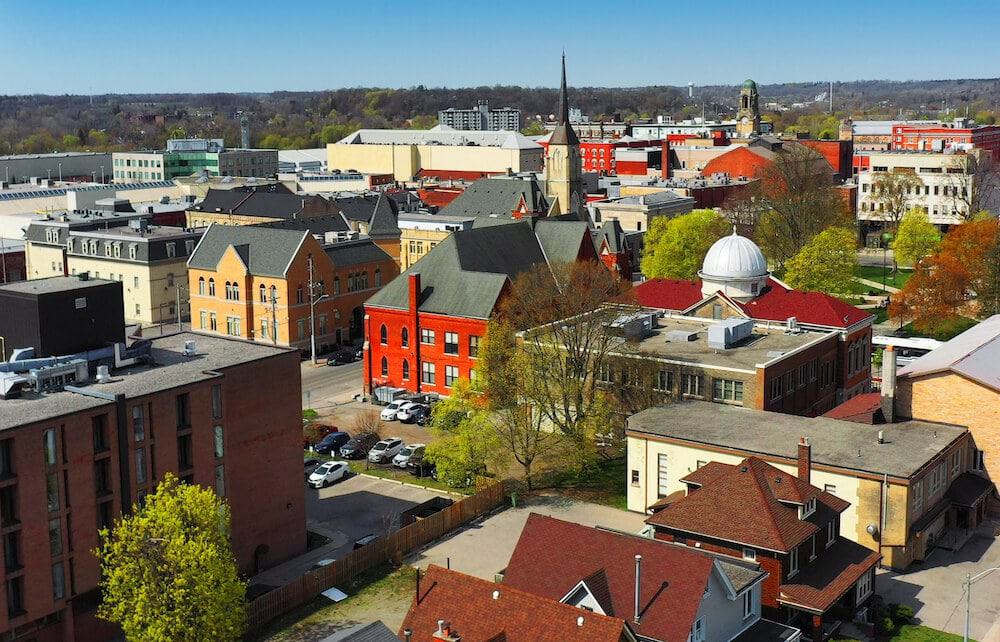 Address: Brantford, Ontario
Driving Time from Toronto: 1 hour and 10 minutes
Brantford is one of our favorite cities to visit because of its historical buildings and beautiful rivers. Situated by the picturesque Grand River, you can expect lots of fun activities like tubing and kayaking.
Known as "Telephone city", Brantford offers history lovers landmarks like the Bell Homestead where Alexander Graham Bell invented the telephone!
Also, drop by Her Majesty's Royal Chapel of the Mohawks, which is the first and oldest Protestant church in Upper Canada.
Pro tip:

Brantford has lots of public art galleries, but we recommend checking out the Glenhyrst Art Gallery if you don't have much time. As the city's main gallery, it houses over 600 prized works.
15. Hop on a ride at Canada's Wonderland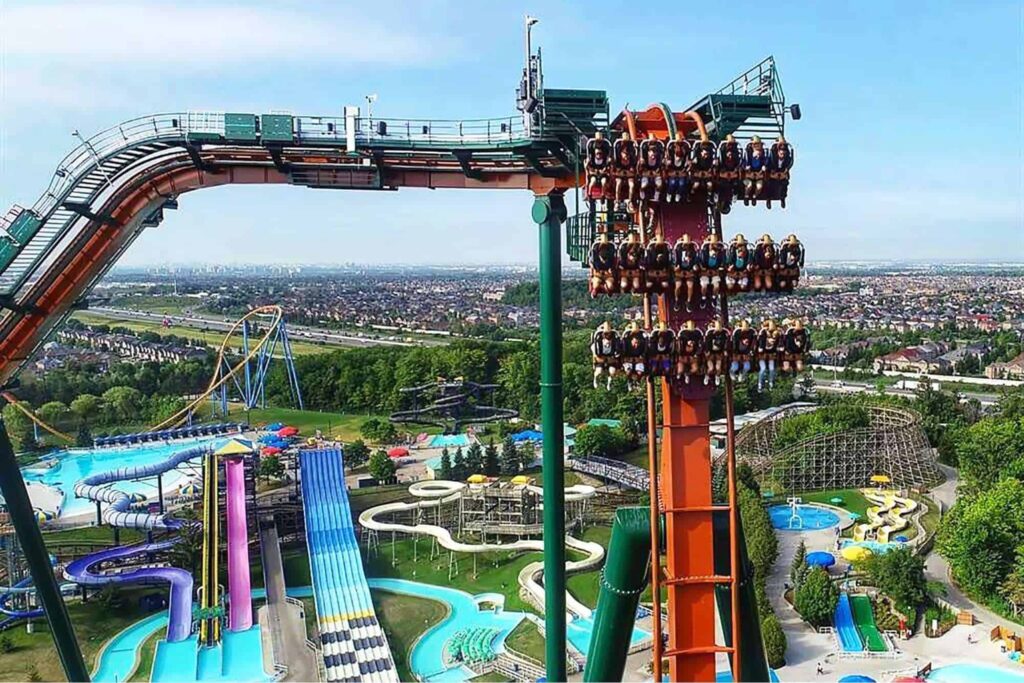 Address: 1 Canada's Wonderland Drive, Vaughan, ON L6A 1S6, Canada
Driving Time from Toronto: 30 minutes
Canada's Wonderland is by far Toronto's best amusement park with over hundreds of diverse rides and attractions made for all types of people! It's a great day trip destination if you want to travel somewhere close with tons of activities!
This theme park is home to a variety of unforgettable rides like the loop-heavy roller coaster called The Bat. If you're looking for the craziest ride of your life, hop on the Yukon Striker for incredible heights at jaw-dropping speeds.
Pro tip:

We recommend a ride on the Sledge Hammer. The ride will have you spinning 80 feet in the air before leading you to a free fall a mere second later!