The 7 Best Electricians in Toronto
When was the last time your home's electrical systems were checked? If it's been a while, now's definitely the right time to hire an electrician to make sure that your electrical wires, circuit breakers, and transformers are working properly.
Luckily for you, we already compiled some of the best electricians in Toronto worth hiring. Before that though, we're going to share the average cost of hiring an electrician in the area, so our readers know what to expect.
The Cost of Electrical Services in Toronto
There's no doubt that hiring an electrician comes at a high cost, but considering the risks involved in doing electrical work by yourself, the expenses are quite forgivable!
Most electricians in Toronto charge an hourly rate that ranges from $65 to $130, depending on the type of work and type of their license. This rate includes only the labor of the electricians, so expect it to go higher due to cost of parts and transportation fees.
The common factors that affect the rates of an electrician are distance, accessibility, and experience. If you choose to go with an experienced electrician who lives far from your home, then prepare for higher fees.
In the same manner, the fees will go up the more urgent the concern is. Asking an electrician to come over during midnight, holidays, or weekends will result in almost double hourly fees, on top of the cost of parts and transportation.
If the average cost of an electrical project is within the range of $200 to $650, emergency services can cost $130 to $260 or more in total.
Anyway, here's a closer look into the average cost of common electrical services in Toronto:
| | |
| --- | --- |
| SERVICE | EXPECTED COST |
| Wiring a house | $700 – $975 |
| Light fixture work | $195 – $972 |
| Generator repair | $330 – $1300 |
| Generator installation | $1300 – $7800 |
| Socket installation | $195 – $325 |
| Electrical breaker repair | $130 – $200 |
| Attic fan installation/repair | $260 – $520 |
| Ceiling fan installation/repair | $65 – $260 |
| Smart home installation | $518 – $2500 |
The Best Electricians in Toronto
Let's now jump right into our picks for the companies that employ the best electricians in Toronto. Check them out below to see which ones offer the services you're looking for.
1. Made Electric Inc.
If you're looking for a trusted electrical contractor in the Greater Toronto area, we recommend giving Made Electric Inc a call.
Made Electric Inc. made it to the top of this list for various reasons, which includes their electric services. Unlike some electrical contractors in the area, Made Electric Inc. caters to residential and commercial clients.
Their team of electrical contractors have the necessary credentials to deal with a wide range of issues. Moreover, they are fully insured, licensed, and bonded.
Plus, Made Electric Inc. takes great care in screening their electricians, so you can rest easy know that the people working on your property are trustworthy.
Another thing we like about Made Electric Inc. is their ability to answer emergency calls in the Greater Toronto Area.
No matter the time of day, Made Electric Inc. can dispatch a team to address any issues that residential or commercial properties may have.
Caters to residential and commercial clients
Operates 24/7
Licensed, insured, and bonded contractors
Accommodates a large service area
Rates may spike depending on the location
Customer Reviews
Here are a few customer feedback posted on Google Reviews:
"Amazing company! They were an absolute pleasure to work with on what was a very stressful issue for one of my properties. Excellent customer service. I will definitely be using them again. Thanks Maria and team!"
– Jessyca Scott
"I got excellent work from Made Electric…. right away when it was need it. Very friendly and professional… 100% I recommend them."
-Rodolfo Munoz
2. Langstaff & Sloan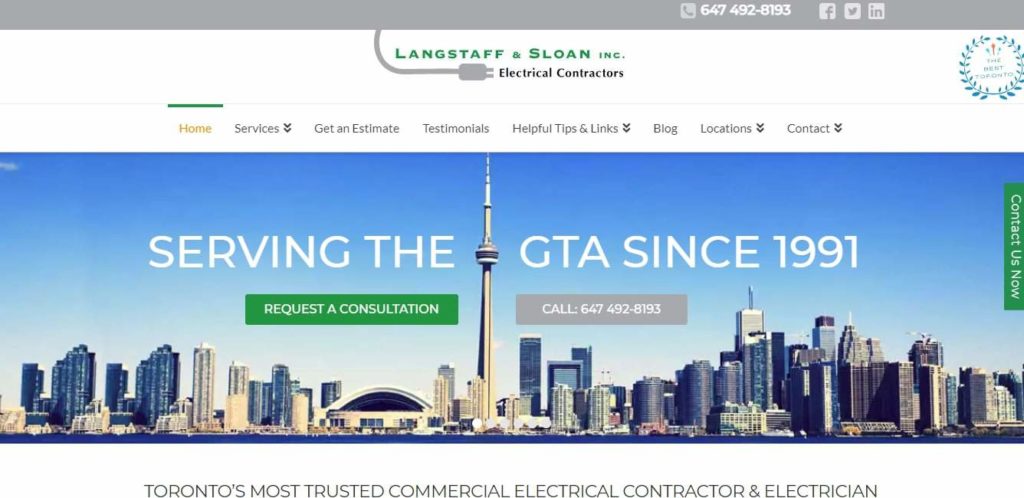 BEST FOR
Residential electrical services
SERVICES
Maintenance and assessment, service calls, knob and tube rewiring, rubber wiring, breaker panel installation, service upgrades, renovation wiring, and aluminum wiring
WEBSITE
https://langstaffandsloan.com/
ADDRESS
300 New Toronto St #6, Etobicoke, ON M8V 2E8, Canada
CONTACT DETAILS
416-503-2033
647-492-8193
OPERATING HOURS
Monday – Friday: 8:00 AM – 5:00 PM
Langstaff & Sloan has been providing residential and commercial spaces in the Greater Toronto Area with quality electrical services since 1991. It's headed by Rob Sloan, a master electrician with more than two decades of experience.
While it's open to both homeowners and business owners, residential services remain its bread and butter. Its electricians are experts in high-rise sub-metering, retrofit lighting, service upgrades, aluminium wiring, among others.
It technicians can accommodate basic electrical tasks such as maintenance and troubleshooting as well, if you only want an electrician to check the condition of your home's electrical system.
No worries about the type and size of your house because its technicians know their way around different types of electrical wires and breakers.
Langstaff & Sloan is also one of the few electrical companies to embrease eco-friendly and green technology as part of its commitment to work towards the benefit of the environment.
Another thing customers love about Langstaff & Sloan is its reasonably priced services. It might be one of the most famous electrical companies in Toronto, but its rates never go above the average.
20 years of experience
Competitive rates
Large team of technicians
Uses green technology
No operations on weekends
Customer Reviews
Here are a few customer feedback posted on Google Reviews:
"I called Langstaff and Sloan to request further information with regards to having an electrical outlet replaced as well as dimmer switches installed. I was directly connected with Rob who was very informative and provided additional advice as to how to maximize the use of his electricians time since I was going to be charged for one hour of labour regardless of how quickly the jobs were done. Peter came out the same day and was extremely efficient and professional in completing the work. I asked Peter additional questions about possible jobs I would like to have done in the future to which he was able to provide further insight. I would highly recommend calling Langstaff and Sloan for your next Electrical need, as I certainly will be doing in the near future. 5 Stars!!"
-Kasey Lentz
"I don't know much about anything electrical and I was having an issue with wiring and a ceiling light fixture in my apartment so I contacted Langstaff & Sloan. Rob was quick to respond and had someone available to come out the next day. The electrician Peter was extremely knowledgeable, professional and friendly! He was able to fix my lighting issue quickly. Overall a great experience I was very impressed and would highly recommend them!"
-Kristina T
3. High Park Electrical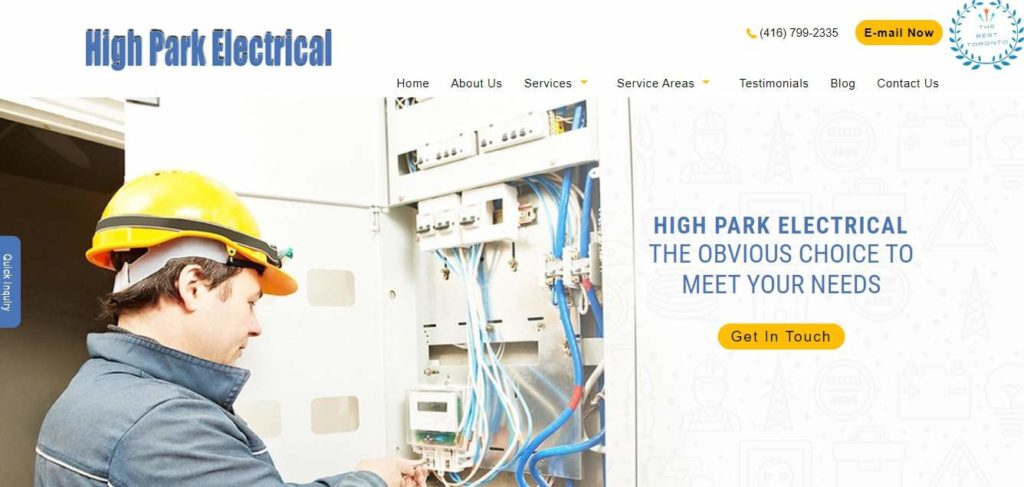 BEST FOR
Wide service areas
SERVICES
Electrical wiring and rewiring, knob and tube wiring, knob and tube replacement, electrical panel upgrade, electrical troubleshooting, and electrical maintenance
WEBSITE
https://www.highparkelectrical.ca/
ADDRESS
16 Chapman Rd, Etobicoke,ON M9P 1E5
CONTACT DETAILS
416-799-2335


[email protected]

OPERATING HOURS
Open 24 hours
High Park Electrical services most of Toronto and other surrounding areas, such as Mississauga, Brampton, Oakville, Etobicoke, Vaughan, and Markham. It's open to residential spaces, commercial establishments, and even industrial properties.
It's among the few electrical companies open for 24 hours a day, allowing customers to seek out its services any time of the day, even during midnight. Its emergency services are a bit more expensive though.
Some of the appliances that its technicians can deal with are air conditioners, ceiling fans, washing machines, and refrigerators, among others. These are mostly for residential services.
For its commercial services, it offers leased space wiring, isolated computer circuits, new construction lighting, and security and landscape lighting. Basically, it can improve the atmosphere and security of your commercial space.
Services areas outside Toronto
Emergency services
Quick response time
Also open to commercial and industrial clients
Rates are a little above average
Customer Reviews
Take a look at some comments shared on its official website:
"Great work, very experienced with knob & tube replacement Replacing knob & tube in most of house Jose and High Park Electrical lived up to the high expectations set by previous reviews on this website. Jose and two of his electricians worked steadily for approx. 2 weeks to completely rewire almost every room in the house and install new wiring for overhead light fixtures in almost every room. I was amazed at how little damage was done to the walls and ceilings considering they had to install wires where they had never been conceived in my 100+ year old house. The work was done on time and on budget."
-Tom in Cabbagetown
"Jose replaced the knob and tube wiring that was present in 80% of our house. Not only was he very aware of the need to minimize the visible entry points through the plaster, but he also discussed his wiring plans in great detail so that we knew what to expect. The panel was well done. As well, he discovered that our dryer needed a separate grounded line, and replaced this as well. The finishing touch was replacing an old chain pull for the laundry light with one that was easier to use Thanks Jose!"
-Lisa
4. Alkon Electric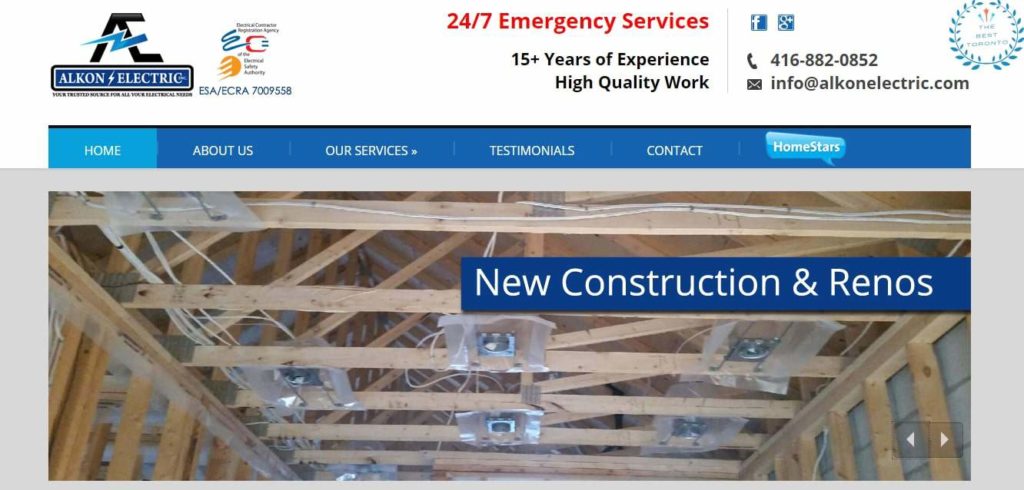 BEST FOR
Electrical maintenance
SERVICES
Troubleshooting, new constructions, renovations, lighting maintenance, indoor lighting, outdoor lighting, light fixtures, lighting installation, and knob replacement
WEBSITE
https://alkonelectric.com/
ADDRESS
8 Holswade Rd, Scarborough, ON M1L 2G2, Canada
CONTACT DETAILS
416-882-0852


[email protected]

OPERATING HOURS
Monday – Saturday: 7:00 AM – 6:00 PM
Sunday: 8:00 AM – 12:00 PM
We strongly recommend checking out Alkon Electric if you're looking for an electrical contractor that specialises in maintenance and troubleshooting.
It's a locally owned company that offers a wide range of electrical services to residential and commercial spaces. Its electricians are mainly hired for troubleshooting and maintenance, but they can deal with all sorts of electrical problems.
In the event that an electrician gets injured inside your home, you won't have to worry about being accountable because all of its technicians are insured, licensed, and certified.
More than that, if you're not satisfied with the work of its technicians, they will do everything again free of charge. This is one of the benefits of hiring a contractor that protects both its employees and customers.
It's also worth noting that its electricians are equipped with high-grade electrical tools and parts, so there's no need to doubt the quality of their workmanship.
Though based on what its customers have said so far, we have enough reason to believe that you won't be disappointed with its services.
15 years of experience
Licensed, insured and certified electricians
Emergency services
Competitive rates
Uses high-grade electrical equipment
Shorter operating hours on Sundays
Customer Reviews
Here are some comments we found on Google Reviews:
"Alex and Dimitri did an excellent job on the installation of a new sub panel. They were the only company that came out to give me a quote actually. They were able to come out to do the work within a week of talking to them, and they were on time. Their work was neat and they cleaned up my main breaker as well. They answered all of my questions and looked at something else I was concerned about while they were here. I feel confident in their work and expertise, and I recommend giving them a call if you need a good electrician."
-Vannesa P
"Alkon Electric did some work for me previously when I lived in a condo. Now I've moved onto a house and was not disappointed with their service when they came back. They reconnected the clevis to my house (it holds the electric wires coming into your house), the previous owners didn't seem to notice or care. So it was a priority for safety. Alkon did a great job and saved me loads of money. I definitely recommend them to anyone that needs electrical work done."
-Andre M
5. Toronto Wiring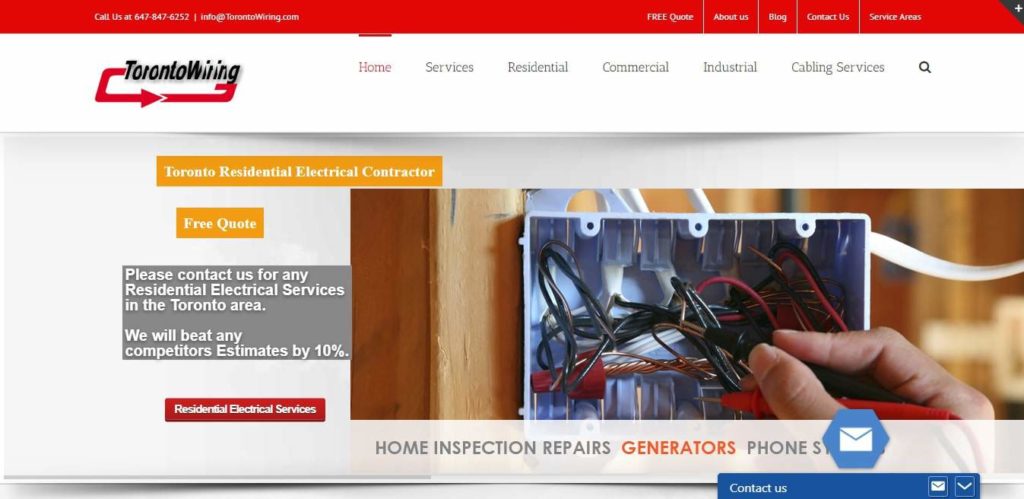 | | |
| --- | --- |
| BEST FOR | Emergency services |
| SERVICES | Backup generator, electrical panel upgrade, pot lights installation, electrical maintenance, electrical troubleshooting, network rewiring and voice networks, power supply and delivery, power security, and engines controls. |
| WEBSITE | https://langstaffandsloan.com/ |
| ADDRESS | 15 La Rose Ave, Etobicoke, ON M9P 1A7, Canada |
| CONTACT DETAILS | 647-847-6252 |
| OPERATING HOURS | Open 24 hours |
Toronto Wiring is a GTA-based company that offers high-quality and cost-efficient electrical services. In fact, it's even been voted as the electrical contractor with the best electricians in Toronto by both industry leaders and customers.
One thing we like about Toronto Wiring is how quickly it responds to customer requests. If you book an appointment before the end of office hours, you can be provided with same-day services given that its electricians work 24 hours a day.
In line with that, customers who need emergency services will be accommodated immediately. It treats all electrical projects as urgent, so no customer will have to wait for a couple days before someone comes over to check the cause of the problem
Due to its wide range of services, Toronto Wiring is able to accept residential, commercial, and industrial clients. It can provide maintenance work, electrical remodelling, panel upgrades, and security lighting and cameras of any size.
All of its services are licensed and insured in case the work of any of its electricians is less than satisfactory. The coverage includes their employees and their workmanship.
Operates 24 hours a day
Same-day services
Open for emergency services
Insured and licensed services
Excellent customer service
Emergency services are expensive
Customer Reviews
Take a look at what previous clients posted on Google Reviews:
"Toronto Wiring installed a 220 50amp wire from my electrical panel to outside my house along our wall and buried from the end of our house to the place where our swim spa will be placed. The work was excellent and of the highest quality. Moreover, the guys were very neat and clean. Their pricing was very competitive; they were on time and I highly recommend Toronto Wiring for any electrical project that you have."
-Steve Strober
"Toronto Wiring has been responsive to my request. We had an issue with our switch panel, and the technician came right on time and solved the issue within 10 minutes! He was professional, transparent and explained each step in detail."
-Dina Zhang
6. Your Home Electricians (AC Electrical)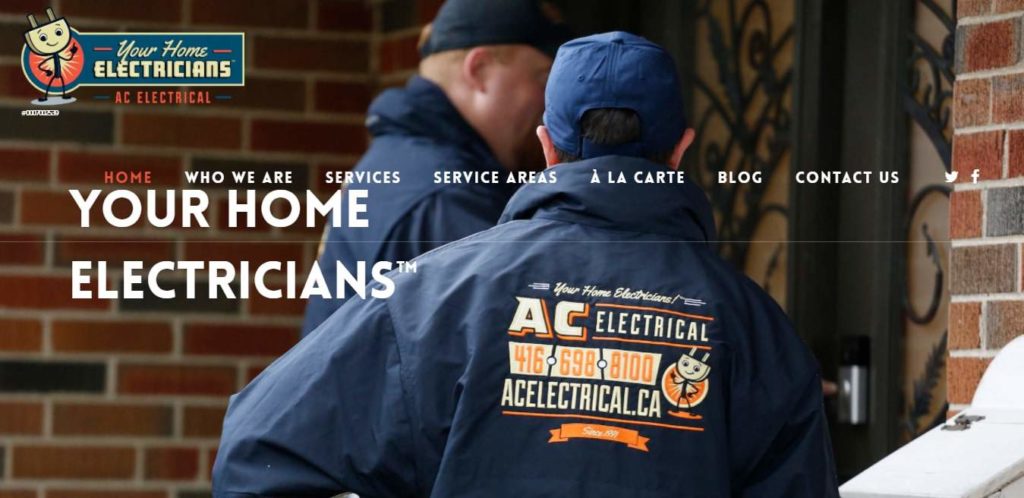 | | |
| --- | --- |
| BEST FOR | Full insurance and liability |
| SERVICES | Generators, smoke detectors, electrical panels, code compliance, circuits and wiring, lighting installation, ventilation and exhaust fans, plugs and switches, and electrical vehicle charging stations |
| WEBSITE | https://acelectrical.ca/ |
| ADDRESS | 251 Raleigh Ave, Scarborough, ON M1K 1A5, Canada |
| CONTACT DETAILS | 416-698-8100 |
| OPERATING HOURS | Open 24 hours |
Established more than 25 years ago, Your Home Electricians has grown into one of the most in-demand electrical companies in Toronto, servicing both households and commercial establishments.
It's known for employing a large team of technicians who can deal with a wide range of electrical systems and appliances. All of its electricians are trained to repair generators, circuits and wires, exhaust fans, switches, and plugs, among others.
What's more, its electricians are known for being punctual. You can expect that its technicians will knock on your doors a few minutes before the scheduled time, equipped with complete sets of the right electrical tools.
When it comes to service rates, customers don't need to worry about going beyond their budget. Its rates are honest and transparent, so there will be no hidden or middleman charges that will appear on the bill.
Every project handled by its electricians is covered by a warranty that lasts up to three years. in case it breaks down after a month, customers don't have to spend anything for the follow-up repairs.
Transparent rates
Full warranties
Punctual electricians
Quick response time
Wide service areas
Services are a bit pricier than the average
Customer Reviews
Your Home Electricians has an average rating of 4.8 out of 5 on Google Reviews. Here are some of the comments:
"The work they have done on my building was night and day, they installed all exterior spot lights along the front to help illuminate the building at night which were controlled by an automatic sensor for lights to turn on and off by themselves. I am more than pleased with how professional Kyle and David were along with Steven who was co-ordinating all of the work and permits. They knew exactly what would look good and made all the decisions with design and placement of the lights and it turned out amazing. Very organized team, I was searching for a few companies and AC electric was in and out within one day, cleaned up after themselves, and showed up on time with no involvement from my end."
-Dani Habbal
"When you find a great contractor/tradesperson you hold on tight and never let them go! AC electrical service is fantastic. Do not hesitate to retain their services. We had some issues with our pool installation contractor and Alex came swooping in (several times) to save the day."
-Kelly Belgrave
7. Hotwire Electric

BEST FOR
Award-winning Electric Services
SERVICES
Residential Electrical Services
Commercial Electrician Services
New Construction Electrical
Custom Homes Electrician
Electrical Panel Upgrade
Potlight Installation
Generators & Back-Up Power Services
Electrical Wiring
WEBSITE
https://hotwire-electric.com
ADDRESS
60 Dewlane Dr, North York, ON M2R 2P8, Canada
CONTACT DETAILS
phone: 416-553-5533
email: [email protected]
OPERATING HOURS
Contact for more information
If we're talking about established electric companies, then it's impossible not to include Hotwire-Electric to the list.
See, Hotwire-Electric is one of the most respected and most trusted electrical contractors in Toronto, having served private and commercial customers for nearly two decades.
Throughout all of that time, the company has earned the respect of the people by consistently offering quality electric services to the greater Toronto area. They also offer a policy of open engagement and competitive pricing.
Not only that, but the company also offers a policy of open engagement and competitive pricing.
It's also worth noting that every member of the Hotwire-Electric team, from the Master Electrician to apprentice, is dedicated to safety and effectiveness. Clients can expect thorough inspections and work from the Hotwire-Electric team, ensuring that the clients' property can prosper after.
Excellent attention to detail
Transparent rates and services
Professional and prompt technicians
Little information regarding rates online
Customer Reviews
Hotwire Electric has a 95% star score on Homestars, proving their proficiency in the field. Here are some comments from previous clients:
"Oldish house with multiple DIY efforts to execute wiring and other electrical projects resulted in a jumbled mess at the breaker box and multiple unfunctioning outlets, light switches and lights. Required 2 new panels in two different locations, massive clean-up of basement wiring and re-labelled circuit breakers. Work done over 4 days efficiently, with minimal fuss and mess. Was happy to have them back to support two smaller projects. All good and highly recommended."
"Very quick response for an impromptu project working around a deck rebuild. They recommended a much safer setup than what was originally done, ensuring the cable was properly armored and secured under the deck. New entry point into the house and the old one well sealed. The master electrician and his apprentices/helpers were professional, thorough, polite and very careful with cleanup. They even apologized for the noise made by drilling through the foundation! Will hire them back for bigger projects in future."
FAQs about Electrical Services in Toronto
---
And with that, we conclude our list of the best electricians in Toronto. If you've hired any of these electrical companies in the past, share with us experience with them.
By the way, if you're also looking for a reliable cleaning company in the area, make sure to check out our list of the best cleaning services in Toronto.Our list features some of the most in-demand and trusted cleaning companies in the GTA.