A Guide to the 14 Best Cleaning Services in Toronto
Don't have the time to do home cleaning on your own? If so, you need the top cleaning companies in Toronto to help you – and we're listing them here today!
We took a look at the companies that offer the best cleaning services in the city for both residential and commercial spaces. We focused on those with proven quality services, experienced cleaning staff, and top-notch cleaning equipment.
You'll learn more about each cleaning service provider here, as well as the expected cost of cleaning services in the Greater Toronto Area. We've answered some common cleaning service questions as well!
The Average Cost of Cleaning Services in Toronto
After collecting data from different cleaning companies in the GTA, we discovered that the average cost of cleaning services is somewhere between $200 to 250, with most homeowners spending somewhere between $150 to $300.
What swings the actual price to either end of the range? Well, there are two factors that typically determine the expenses of hiring cleaning companies: number of hours and square footage.
Most cleaning companies in Toronto usually charge by the hour, costing from $64 to $116, while others charge by square footage.
Obviously, the bigger the house is, the longer it takes to wrap up the cleaning, resulting in higher costs. How often you hire cleaning service providers will likewise affect the cost.
Most cleaning companies offer discounts if a customer hires their services multiple times, or if a client signs a contract for long-term service. One-time cleaning services can cost anywhere from $250 and $390, which is a lot more expensive.
In terms of cleaning coverage, most cleaning companies will do the following chores:
Dusting surfaces
Cleaning walls
Vacuuming and mopping floors
Scrubbing sinks and countertops
It's worth noting that general cleaning services in Toronto don't usually include washing dishes and doing the laundry. These are called speciality cleaning, so they come at an additional cost.
Here's a table of the estimated cost of general cleaning services and a few extra cleaning tasks:
AVERAGE COST
ROOM SIZE or TYPE OF SPECIALTY CLEANING
ONE-TIME CLEANING
WEEKLY CLEANING
Single-family homes
$155-$193
$90-$150
900 sq. ft. two-bedroom apartment with five rooms
$103-$258
$77-$161
1300 sq. ft. single-story home with seven rooms
$129-$387
$109-$200
2200 sq. ft. two-story three-bedroom home with nine rooms
$193-$517
$129-$232
Window treatments
$129-$258
NA
Ceiling cleaning
$193-$387
NA
Furniture and upholstery cleaning
$129-$193
NA
Refrigerator cleaning
$45-$130
NA
Move-in or move-out cleaning
$245-$426
NA
Oven cleaning
$38-$45
NA
While residential cleaning services are charged either by the hour or square footage, commercial cleaning services charge by square footage, on a monthly cleaning basis. Here's a table of the average cost of commercial cleaning services in Toronto:
| | | |
| --- | --- | --- |
| SQUARE FOOTAGE | SCHEDULED CLEANING SERVICE | AVERAGE COST PER SQUARE FOOT (MONTHLY FEE) |
| 0-3500 | Once a week | $0.03 – $0.08 |
| 0-3500 | Twice a week | $0.06 – $0.16 |
| 3500-7000 | Once a week | $0.02 – $0.06 |
| 3500-7000 | Twice a week | $0.05 – $0.13 |
| 7000-10000 | Once a week | $0.02 – $0.05 |
| 7000-10000 | Twice a week | $0.03 – $0.09 |
| 10000+ | Once a week | $0.01 – $0.03 |
| 10000+ | Twice a week | $0.03 – $0.07 |
The Best Cleaning Services in Toronto
Now that you know the average cost of cleaning services in the GTA it's time to move on to our picks for the top cleaning companies in Toronto.
Check them out below to see which one offers the type of cleaning service you're looking for.
1. Enjoy House Cleaning
BEST FOR
Residential & Commercial Cleaning
SERVICES
Regular (Weekly, bi-weekly or Monthly)
Deep Cleaning
Move in/outs
Post Construction/ Renovation
Pre-Sale/Rental Cleaning
Carpet & Upholstery Cleaning
Interior & Exterior Windows Cleaning
WEBSITE
https://www.enjoyhousecleaning.com/
ADDRESS
Toronto, Canada
CONTACT DETAILS
(416) 909-1590


[email protected]

OPERATING HOURS
Monday to Friday, 8 am to 6 pm
Enjoy House Cleaning is a Family Operated business, that began small, but with dedication, hard work, and consistently good cleaning services, it grew to what it is now: A renowned cleaning company who has served clients like Louis Vuitton in its seven years of operation.
Their main goal is to provide a better qualify of life to all their clients, by making their environment a clean, healthy and happy place. Besides, their clients gets more free time to enjoy their life awhile Enjoy House Cleaning takes care of the rest.
One will find that Enjoy House Cleaning is one of the most highly regarded cleaning companies in all of Toronto, if not the entirety of Canada. To this day, it holds a solid 4.8 out of 5-star rating in various review platforms, including Google, Facebook and Homestar's.
They have a very well organized system, that brings to each client a very special experience from the 1st call until the service is over. Besides, they have the option for regular and eco-friendly products, and you can customize your own checklist according to your needs and budget. They will listen to your needs and try their very best to accommodate them all.
Customized Service & Checklist
Eco-friendly & Regular products option
Easy to communicate and fast response
Follow Covid-19 Safety Protocols
All Staff is Vaccinated
Competitive Rates
Insured Company
Weekends only under request and if they have a team available
Last minute requests are not guaranteed
Customer Reviews
Here are some comments shared by satisfied clients of Enjoy House Cleaning:
"I couldn't be more satisfied with Enjoy Services! I've used many cleaning companies in the past, but something was always left behind.
Enjoy cleaners are the most professional cleaners I've ever seen. They are always on time, never had a cancellation from them, and the most important: my home is always spotless! I work from home, so it's easy for me to see if a place is not cleaned properly, since I am at home most of the time, and every time the cleaner leaves my place, there is NOTHING that wasn't done in perfection!
Honestly, love you guys! Decided to write this review because I know how hard it's to find a company that is professional to the higher level, that you can trust your home, and especially does the job to perfection!"
"I have been using Enjoy House cleaning on & off for several years now. I have also used them for move out cleans. They always do excellent work & I always feel confident when I use them. They are professional & very methodical with their cleaning & tidying up. I also like that 2 or 3 people come at the same time so they are in & out of my home quickly. I strongly recommend them!"
2. Maidstr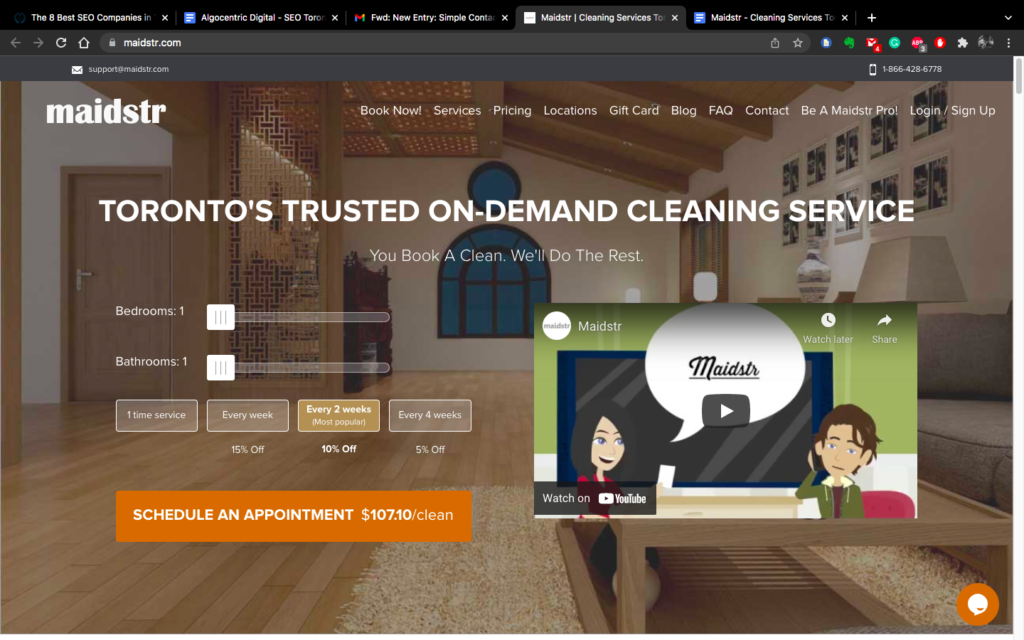 BEST FOR
Easy to book cleaning service
SERVICES
Standard Cleaning, Deep Cleaning, Move Out Cleaning, Apartment Cleaning, Condo Cleaning, Office Cleaning, Post Construction Cleaning
WEBSITE
https://maidstr.com/
ADDRESS
Toronto, Etobicoke, Mississauga, Oakville, North York
CONTACT DETAILS
Phone: 1-866-428-6778.
Email: [email protected]
OPERATING HOURS
Monday to Saturday: 8:30am – 6:00pm
Sunday: 8:30am – 12:00pm
Maidstr is one of our top choices in Toronto because they offer on-demand cleaning services at flat rate pricing. Since you can book your schedule online with the click of a button, there's no need for time-consuming in-house estimates.
All you have to do is fill up the booking form by selecting the date, time and number of rooms you want cleaned. They accept online payment so scheduling a cleaning service can be done in only around a minute.
Maidstr offers their services in the Greater Toronto Area wherein customers can schedule a recurring service throughout the year. By doing so, you can get an extra 15% discount and not worry about missing a cleaning schedule on your preferred day.
Maidstr is fully insured and all their cleaners have been background and reference checked. So you can rest assured that your home will be safe and that the persons doing the cleaning have been vetted.
Now if you're not satisfied with their cleaning service, they will even come back and re-clean the problem areas free of charge. You can even do same day bookings, although an extra $25 will be added to your fee.
If you're looking for an easy and convenient way to schedule your home for cleaning, Maidstr is one of our top picks in Toronto. So whether you need a deep cleaning for you home or a recurring schedule for your office, they're definitely an option worth considering.
Hassle-free on demand instant booking
Can have a recurring cleaning schedule throughout the year
Fully insured
Staff have been background and reference checked
Shorter operation hours on Sunday
Need credit card to book
Same day cleaning has extra $25 charge
Customer Reviews
Let's take a look at what their clients have to say:
"Maidstr has the best cleaning team. I've been extremely satisfied with their work and the results were above my expectations!! Highly recommend!! A+++++" – Booklover Kim
"We were hesitant on hiring a cleaning service as my wife and I do all the cleaning ourselves, however hiring Maidstr to do a move in clean was the best decision we made! We were so impressed that we have recommended Maidstr to all of our family and friends!" – ​​Mark Fernando
3. Hire A Maid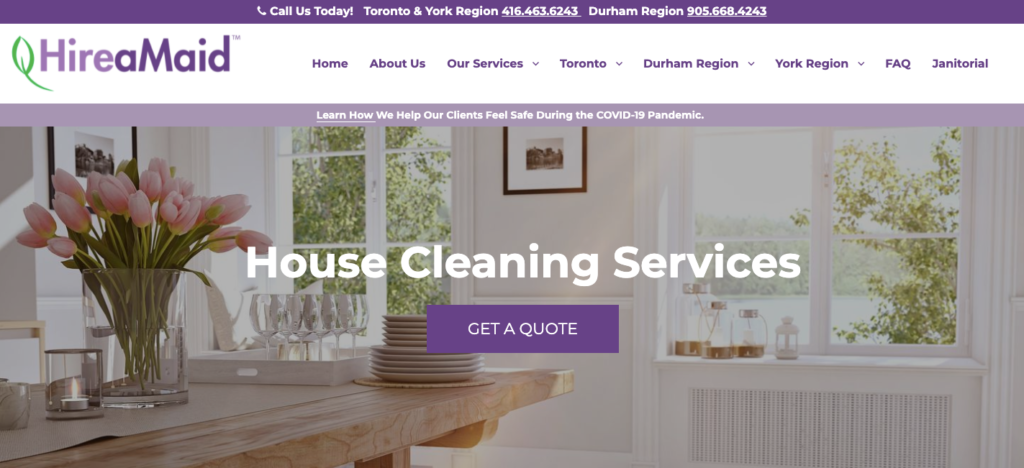 BEST FOR
Home Cleaning Services
SERVICES
Deep Cleanings, Maintenance Cleaning Services, Post-Renovation Cleaning, Move-In/Out Cleanings, Home Staging Cleanings, Spring Cleanings, Office Cleaning, Online Cleaning Gift Certificates
WEBSITE
https://hireamaid.ca/
ADDRESS
924 Pape Ave, East York, ON M4K 3V2, Canada
CONTACT DETAILS
(416) 463-6243
OPERATING HOURS
Monday to Friday: 9 AM – 5 PM
Saturdays & Sundays: CLOSED
"Time" is something that most people appear to be short on these days. Instead of countless hours of housekeeping, Hire A Maid will allow you more time to accomplish things you'd rather be doing.
Voted as Best Maid Service by Durham Parent Magazine's readers for 6 consecutive years, 4-time Winner of Homestars' Best of Greater Toronto Award (2022) and Best Residential Cleaning Service Companies In Toronto, Hire A Maid is your go-to company for your deep house cleaning and post renovation cleaning needs.
Since 2008, Hire A Maid has served 4,065 happy customers, 95,033 cleanings performed and 358,497 valuable hours saved. These numbers are well supported by the quality they do in the homes of the people in Greater Toronto.
Giving you a glimpse on their process, they see to it that they hire professionals who take pride in their work and go above and beyond to provide you with excellent customer service and cleaning. It entails hiring only employees (not subcontractors) who are thoroughly trained, covered by workers' compensation, are bonded and insured, and are dedicated to keeping you satisfied month after month and year after year.
They have rigorous standards for the people they hire, and they only hire around one out of every 200 job candidates. Your home is cleaned by the best of the best when you hire Hire A Maid.
They also have gift cards where in you can give the gift of a spotless house to your loved ones.
Your cleaning needs will never go wrong with Hire A Maid.
Highly detailed, customized, and efficient service
Cleaners are trained, WSIB protected, bonded, and insured employees (never a subcontractor)

Strong focus on customer service and client satisfaction

Award-winning since 2008 with more than 95,000 cleanings performed
Closed evenings and weekends for maid services (office cleaning is available 24/7)
Customer Reviews
Here are some comments shared by satisfied clients of HireaMaid:
"Hire a Maid staff have been cleaning my house for several years now. The office and cleaning staff have always been professional and accommodating. Recently Jasmine has been doing a terrific job, working efficiently and leaving our house sparkling clean and tidy. Well done!" (From Louise, on Homestars.com)
"Hire A Maid is a wonderful company, with wonderful service. The staff is very friendly and they do a great job. I highly recommend this company, you will not be disappointed! My cleaner Diane is amazing!" (From Natasha, also Homestars.com)
4. Five Star Cleaning
| | |
| --- | --- |
| SERVICES | House cleaning, moving cleaning, post renovation cleaning, mold remediation, 24/7 water damage service, rug cleaning, carpet cleaning, upholstery cleaning, and scotch guarding. |
| WEBSITE | https://5starcleaning.ca |
| ADDRESS | 6021 Yonge Street Toronto, Ont. M2M 3W2 |
| CONTACT DETAILS | +416.315.7562 |
| OPERATING HOURS | Monday to Sunday 8:00 am to 8:00 PM |
If you're looking for an expert in cleaning carpets that has affordable rates and specialized tools for the job, then look no further way from Five Star Cleaning. They have multiple offers including odor cleaning, stain removal, scotch guarding, carpet stretching, and anti allergy cleaning alongside their regular carpet cleaning.
They offer one time cleaning however it would be wise to regularly clean your carpets. We highly recommend the anti allergy cleaning alongside the regular carpet cleaning since carpets are known to trap allergens in the room making them the healthiest floor covering you can have.
It is also worth noting that they have a 24/7 flood emergency or a water damage service wherein for over 28 years they have been providing water damage restoration services to Toronto and GTA.
Five Star Cleaning is committed to providing professional and detailed cleaning service, being certified with the Institute of Inspection Cleaning and Restoration Certification and several other certification institutions for their impeccable methods in cleaning.
24/7 Flood Emergency
Has varieties of specialized services
Great customer service
Customer Reviews
Professional, courteous and quick
"Very professional & courteous. Quick response time and quick appointments. Our wall to wall carpet & stairs hadnt been washed in years and with a dog I didnt have much hope but they came out amazing. Same with our sofas. Pricing was also reasonable. Highly recommend them. I will definitely use them again and try their other services." – Rose Davidson
Highly recommend
"The team over at 5 Star Cleaning really live up to their name. I needed help after having some work done on my house getting ready to sell. 2 professionals came to my house and brought everything needed. They were able to let themselves in and communication was great. The house looks immaculate inside and out. I highly recommend it.". – Dave Hobs
5.   AspenClean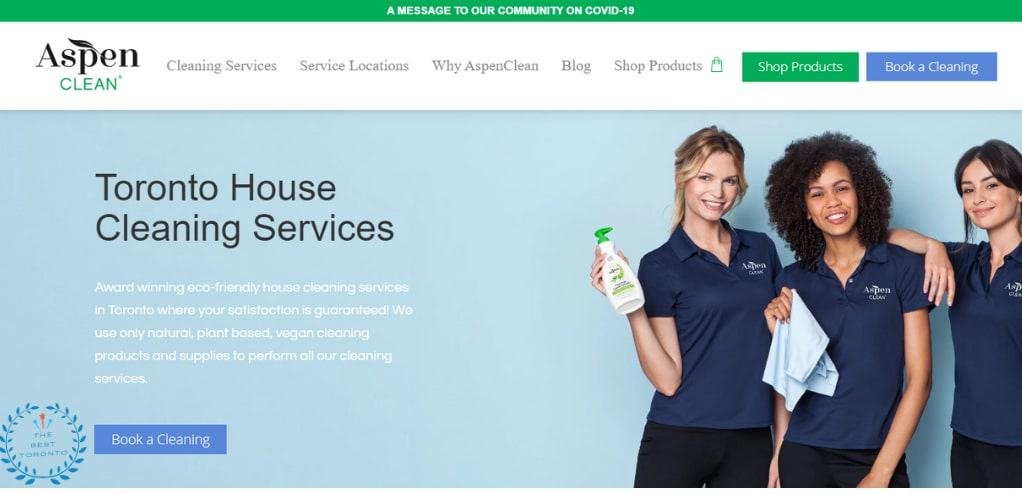 BEST FOR
Residential cleaning services
SERVICES
Complete house cleaning, move out cleaning, post-construction cleaning, short-term rental cleaning, spring cleaning, green cleaning, condo cleaning, maid services, carpet cleaning, and office cleaning
WEBSITE
https://www.aspenclean.com/
ADDRESS
801 York Mills Rd #216a, North York, ON M3B 1X7, Canada
CONTACT DETAILS
416-546-4593 1-855-925-9900
OPERATING HOURS
Monday – Friday: 9:00 AM – 8:00 PM
Saturday: 10:00 AM – 7:00 PM
AspenCleaning is a cleaning company that services most residential areas in Toronto and in other surrounding areas, such as Woodbridge, Markham, Vaughn, Richmond Hill, Thornhill, North York, Scarborough, and Willowdale, among others.
Its cleaning services are offered to commercial spaces too, but its specialty remains household cleaning. Some of its residential cleaning services include general cleaning, post-construction cleaning, spring cleaning, and even move-out cleaning.
AspenCleaning has been in operation for more than 15 years now, so it's earned the trust of thousands of homeowners in the GTA. Its cleaning services have been praised for being consistent through the years too.
No worries about being exposed to toxic and harmful cleaning products either. That's because AspenCleaning promises to use only safe and eco-friendly cleaning methods and products.
In fact, it even has a cleaning service called "green cleaning", where only environmentally safe cleaning solutions and equipment are used, with no exceptions.
If you're interested in AspenClean's services, all you have to do is book an appointment online. It takes no more than five minutes.
Uses safe and non-toxic cleaning products
Licensed and insured cleaners
Online booking of appointments
Offers a wide range of home cleaning services
Rates tend to be high
No operations on Sundays
Customer Reviews
As one of the best cleaning services in Toronto, AspenClean has received mostly positive feedback from residential clients. Here are some of the comments:
"I found AspenClean through a simple Google search and booked an initial house cleaning within a few minutes. I was definitely nervous about making this type of commitment without a referral or face-to-face meeting but everything turned out great. Gary answered all my questions over the phone and helped finalize my appointment since my requested service date was fully booked. Team # 2 arrived at my house on time and I was able to open the front door for them remotely while at the office. When I arrived home after work the house was immaculate. AspenClean surpassed my expectations and I am looking forward to working with them again in the future."
"We booked AspenClean for the second time, this time for a post-construction clean. They were quick to respond prior to showing up; they were fine with my dog being home without us there. And all of that is before they even cleaned – the best part! We came home and the place was spotless. We are so happy with the service and the attention to detail."
6. Focus Cleaning
Focus Cleaning is a family-owned and operated business that has been servicing the Toronto area since 2002. Each and every cleaner that they send out to sites have been trained, screened, and vouched for by the company in terms of skills, character, and professionalism.
Clients of Focus Cleaning will be happy to learn that the services the company renders out are tailored to fit the clients' needs. This includes both the process and the equipment and cleaning products.
Aside from the thorough top to bottom cleaning services, Focus Cleaning also offers specialised, focused cleaning such as window washing, power washing, high dusting, carpet cleaning, and many more.
It's also worth noting that restoration services are also available. Clients who have properties that have undergone floods or fire can be restored with the help of Focus Cleaning.
Personalised cleaning services
Screened cleaners
Cleaning services for commercial properties and condos
Restoration and maintenance services available
Customer Reviews
Here are some comments shared by satisfied clients of Focus Cleaning:
"Focus cleaning has been our night cleaners for the past year and we are happy with their service. I like the constant follow up with the supervisor Victor who rectified any issues that we had. Prices are fair and the cleaning staff are courteous and mindful."
"I work for a company called Strategic Coach. Our office is roughly 48,000 square feet and is located in the Liberty Village area. Recently we decided to switch our cleaning services to Focus Cleaning and let me tell you, we couldn't be happier with our decision.
Their team, from the top down, is incredible to work with. Not only have they provided exactly what we were looking for but they've gone above and beyond our expectations. Senthu (our lead operations contact) and his team are very friendly and responsive. Our account rep is a pleasure to work with. I honestly can't say enough about how happy I am with the overall experience."
7.   LUX Seriously Clean Homes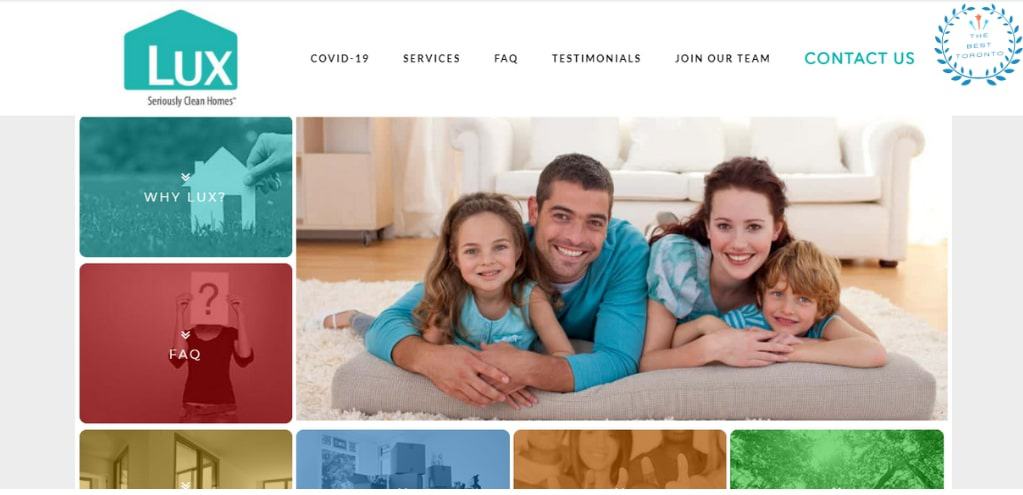 | | |
| --- | --- |
| BEST FOR | Consistency, reliability, high quality and professionalism |
| SERVICES | Maintenance cleaning, spring cleaning, pre-sale cleaning, move-in/out cleaning |
| WEBSITE | https://www.luxclean.net/ |
| ADDRESS | Toronto, ON, Canada |
| CONTACT DETAILS | [email protected] |
| OPERATING HOURS | Monday – Friday: 8:00 AM – 5:00 PM |
LUX was started by a "corporate sales and marketing" husband and wife team in 2009. They offer a premium experience for clients who look for high value partners to help with their home services. The LUX team are obsessive about process, employee and client service and doing everything possible to ensure their clients are happy with their home cleaning.
This company offers cleaning teams that have been carefully recruited and trained, and are lead by experienced and professional team managers – and their COVID-19 policies are industry leading.
When it comes to service area, LUX Seriously Clean Homes is definitely mid-town focused and covers many of Toronto's finest neighbourhoods.
The company isn't a fan of toxins either, so it promises to use only safe, non-toxic, and eco-friendly cleaning products. Spokespersons say they would rather spend more time scrubbing floors and surfaces than letting strong chemicals do the work.
It's one of the few cleaning companies that offer allergy and asthma cleaning as well, which is a specialized cleaning service for people with respiratory problems. Its cleaning tools and products are safe for all forms of allergies.
And as a vital point for those of us with non-human family members, your pets will be safe during the cleaning process too, say their cleaners. Cleaners are even pre-screened to know if any of them has allergies to cats, dogs, and other household pets.
While their hourly rates are lower than some of their competitors, they maintain happy clients and a stellar reputation by cleaning for more time. Therefore, they tend to be more expensive per cleaning than most cleaning companies in Toronto.
Team members are top professionals
Use completely safe cleaning products
COVID-19 policies
Customer Service
Scheduling policies are stringent
Per cleaning price can be higher than most
Customer Reviews
Here are some of the comments shared by customers on Google Reviews:
"LUX crew were marvelous, professional, polite and miracle workers! Our home sparkled and was beautifully cleaned. They managed to clean around an inquisitive dog, who they were lovely towards and it didn't stop them from immediately getting things done. Wow, we were amazed at what they accomplished. Thank you Lisa and Allan"
"I am a realtor in central Toronto and had the distinct pleasure of utilizing LuxClean on my personal home when I brought it to market after a light but house-wide renovation. LuxClean took 3 days to do the full job (I opted for a fully detailed package) and the results were breathtaking. I now use them monthly in my new home and have referred to them at every opportunity. If you want true professionalism, superb results and know that this comes at a price then look no further!"
8.   MCA Group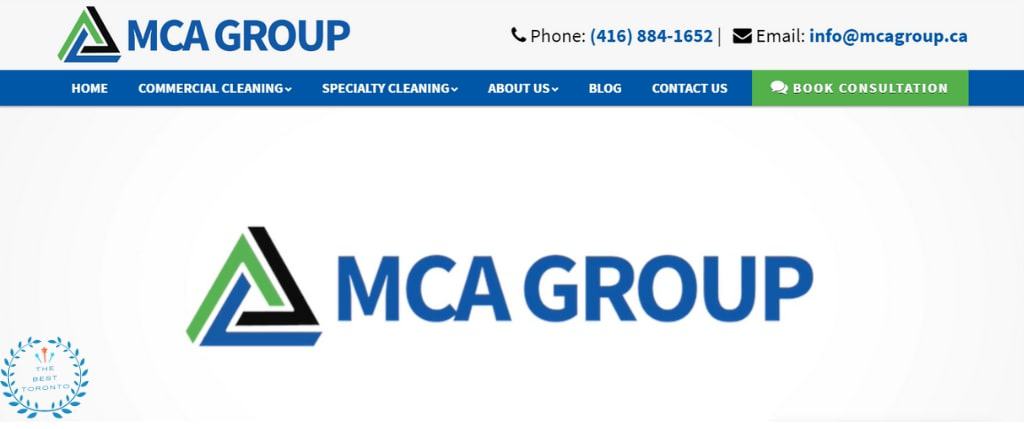 BEST FOR
Commercial cleaning services
SERVICES
Office cleaning, office disinfection, post-construction cleaning, building cleaning, retail cleaning, hotel cleaning, restaurant cleaning, dealership cleaning, school cleaning, food plant cleaning, and janitorial services
WEBSITE
https://mcagroup.ca/
ADDRESS
6021 Yonge St. Suite #220 North York, ON, M2M 3W2
CONTACT DETAILS
416-884-1652

[email protected]

OPERATING HOURS
Open 24 hours
MCA Group offers cleaning services to a variety of commercial establishments, including schools, restaurants, offices, sports facilities, hotels, retail spaces, medical facilities, and industrial buildings, among others.
Some of the well-known clients of MCA Group are The Boulevard Club, Cactus Club Cafe, Panavision, Stone Tile, Montcrest School, Rothmans, Benson, and Hedges,
MCA Group is also one of the few cleaning companies that operate 24 hours a day, 7 days a week, making it the perfect option for emergency cleaning services. It can clean offices during midnight when there are no employees around.
Another thing that MCA Group promises to every client is fast and efficient cleaning services. Its cleaners never cut corners, so you can make sure that every area in the office will be sparkless clean.
MCA Group takes care of its clients' health too by using only non-toxic and eco-friendly cleaning products to ensure that no one's health will be at risk, not even its cleaners.
Its office is based in North York, but its services are extended to commercial spaces in Toronto, Vaughn, Aurora, Concord, Midland, Oakville Ontario, Niagara, and more.
24-hour services
Uses safe cleaning products
Competitively priced services
Serves all types of businesses
Questionable customer service
Customer Reviews
Here are some comments proving that MCA Group offers one of the top cleaning services in Toronto:
"We've been working with MCA Group for a couple of months now, and are so happy with the service we're receiving. Their cleaners are experts and do such a thorough job of cleaning disinfecting our space. We have a peace of mind knowing that they have been there. The owner and team are so responsive, and professional – you can tell they have been in business for many years!"
"MCA Group has been cleaning for The Westlake Hotel for a year now and I must say, they have gone above and beyond a traditional cleaning company. As the manager, I have never had an issue with cleanliness or time taken to clean rooms; a pure joy! Any issues that have arisen were dealt with immediately and followed up with to ensure our satisfaction as a client. I will ALWAYS recommend MCA Group for their customer service, work ethic, and an overall phenomenal experience!"
9.   Custom Maids Toronto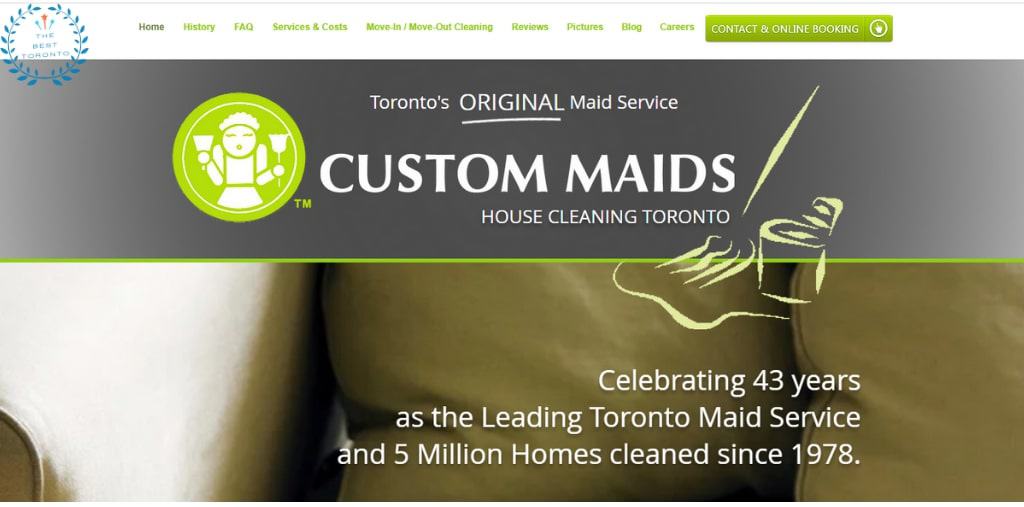 | | |
| --- | --- |
| BEST FOR | Housekeeping services |
| SERVICES | General home cleaning, move-in cleaning, and move-out cleaning |
| WEBSITE | https://www.custommaidstoronto.com/ |
| ADDRESS | 2 Carlton St Suite 1508, Toronto, ON M5B 1J3, Canada |
| CONTACT DETAILS | 416-488-5254 |
| OPERATING HOURS | Monday – Friday: 8:00 AM – 5:00 PM |
Established in 1978, Custom Maids Toronto has grown into one of the most trusted housekeeping companies in the area, catering to residential spaces of all sizes.
Custom Maids Toronto focuses on general home cleaning, where every room and even the appliances inside your home will be cleaned.
Its cleaning ladies will take care of everything. You may even leave a note for its cleaning ladies about a specific area you want to be thoroughly cleaned.
Most of the company's clients are busy individuals who can't find the time to clean their own spaces but want to come home to a clean and organized home. Custom Maids Toronto promises exactly that, even with little to no instructions from its clients.
However, Custom Maids Toronto doesn't use its own cleaning tools and products, so clients have to provide them for cleaners. It explains why its cleaning rates are considerably cheaper than other cleaning companies' rates.
Some of the items clients need to prepare are buckets, vacuum cleaners, floor mops, glass cleaners, pails, paper towels, sponges, and furniture polishers.
Online booking available
Customized cleaning services
Covers all rooms inside your home
Clients need to supply cleaners with cleaning tools
Customer Reviews
Here are some comments shared by satisfied clients on Google Reviews:
"I have an all white studio that I wanted to beam and I called on Custom Maids Toronto rather randomly. The service offered was extraordinary! The agent I spoke with via phone was detailed and all was done as she described. The team member arrived promptly to render the service, she was also very professional, diligent and did a fine job! My studio is sparkling!!! I don't even want to move a thing. It's well worth the price."
"I booked Custom Maids to come and clean after the holidays. My house was a mess! Claudette came in and did a wonderful job, she was extremely thorough and paid attention to the smaller details. I have tried several cleaning companies in the downtown area, searching for "the one". Custom Maids is by far the best value for service"
10.   No More Chores of Toronto Cleaners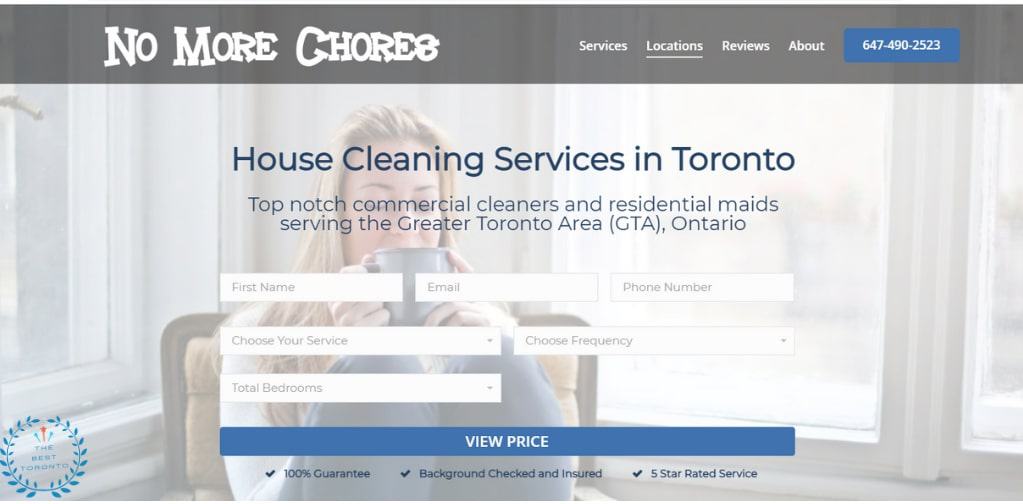 BEST FOR
Recurring cleaning services
SERVICES
Standard cleaning, one-time deep cleaning, move-in and move-out cleaning, commercial cleaning, vacation rental cleaning, and post-construction cleaning
WEBSITE
https://www.nomorechores.com/
ADDRESS
18 Colgate Ave, Toronto, ON M4M 1N4, Canada
CONTACT DETAILS
647-749-6440
OPERATING HOURS
Monday – Friday: 8:00 AM – 6:00 PM
Saturday: 9:00 AM – 5:00 PM
There's no doubt that No More Chores stands as one of the most in-demand cleaning service providers in Toronto, catering to the needs of both residential and commercial clients.
No More Chores employs a huge team of cleaners who can handle an extensive range of cleaning jobs, including maintenance cleaning, commercial cleaning, rental cleaning, and moving in/out cleaning, among others.
If you're after a cleaning service that covers all the areas in your house then we recommend choosing its standard cleaning service. All rooms, surfaces, and most appliances will be cleaned, including the kitchen, living room, bedroom, ovens, dishwashers, and even ceiling fans.
All of its cleaning services are offered at a one-time, weekly, bi-weekly, or monthly basis, with possible discounts if you will be hiring its services more than once.
No More Chores offers post-construction cleaning too, perfect for those who need a hand in cleaning up the mess left by any renovation contractors.
Home appliances will also be cleaned
One-time, weekly, and monthly cleaning services offered
Always fully booked
Expensive
Customer Reviews
Take a look at some of the comments shared by its past and current clients:
"Excellent service! We used No More Chores as a one time service to give our place a really deep clean. Elvira spent all day working non-stop and did a great job. It's more expensive than other Toronto companies, but they bring all their cleaning equipment and products, and their work is very good. Definitely recommend it."
"Really fantastic experience all round. We had an incredibly tough cleaning situation (an apartment that hadn't been cleaned for years!) which required some specialized cleaning services on an urgent schedule. I was really concerned that we'd get things done in time . No More Chores were very professional and friendly in all interactions and the apartment was made totally pristine. Fully recommend."
11. Dhyana Cleaning
BEST FOR
Airbnb Cleaning
SERVICES
DEEP CLEANING
MAINTENANCE CLEANING
AIRBNB CLEANING
COMMERCIAL CLEANING
WEBSITE
http://www.dhyanacleaning.com
ADDRESS
225 Brunswick Ave, Toronto ON M56 2M6
CONTACT DETAILS
Phone: (647) 642-7487
Email: [email protected]
OPERATING HOURS
Contact for more information
Dhyana Cleaning is another cleaning company whose consistently good work has been praised by many Toronto locals. It offers residential, commercial, and Airbnb cleaning for those who are in need of these services.
It was founded in 2014 by Katie Shulist under the name "Clean by Nature." Evident in its current name, the company has undergone major changes since then, but one thing remains constant after all these years: the quality of its services.
Dhyana Cleaning offers eco-friendly cleaning solutions that are also efficient and affordable. The cleaners, who have all been thoroughly screened before dispatched to the sites, make it a point to be friendly, professional, and, most noteworthy of all, thorough in every job they take on.
Clients can expect their properties to be spotless after sessions with Dhyana Cleaning.
Bonded, insured, and trustworthy cleaners

Eco-friendly cleaning services and supplies

Excellent customer service
Does not offer cleaning for industrial properties
12. Master Maid Toronto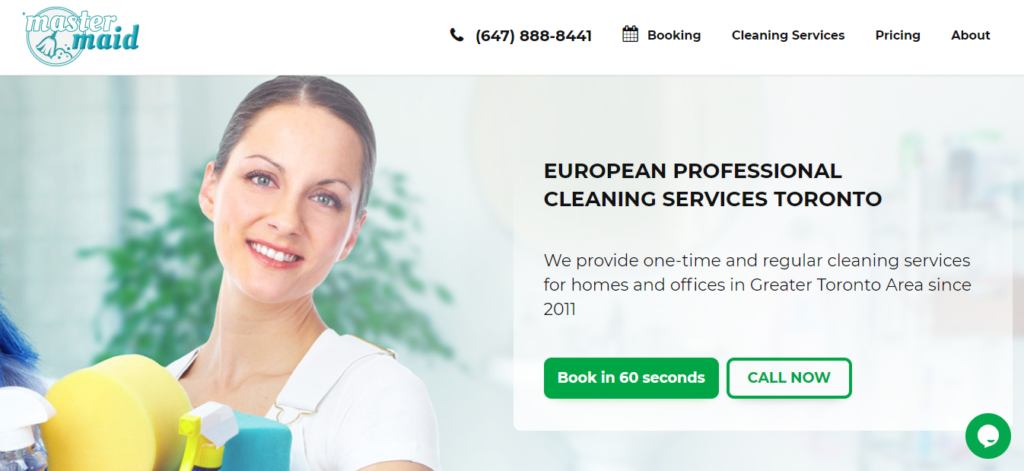 | | |
| --- | --- |
| SERVICES | Routine cleaning, moving in/out cleaning, AirBnB cleaning, post-construction cleaning, office cleaning |
| WEBSITE | https://mastermaid.ca/ |
| ADDRESS | 275 Shuter St unit 707, Toronto, ON M5A 1W4 |
| CONTACT DETAILS | (647) 888-8441 |
| OPERATING HOURS | Monday – Saturday: 8:30 AM – 5:00 PM |
Master Maid Toronto is yet another full-service cleaning company offering both routine and one-time services. Its one-time cleaning services include post-construction, AirBnB, and moving in/out cleaning services.
As for routine cleaning, it has weekly, bi-weekly, tri-weekly, and monthly scheduling. Each of these schedules even has discounts.
Aside from these usual services, Master Maid Toronto also accommodates last-minute clean-up requests. That said, it's limited only to next-day appointments so you may have to find someone else if you need spontaneous same-day services.
But what makes Master Maid Toronto really stand out is that it has affordable services, with a standard $130 fee for single-room apartments. It also offers affordable hourly rates and avoids any types of contracts.
Master Maid Toronto even provides its clients with the choice to use green cleaning supplies without any additional charges. Clients only need to specify such requests in Master Maid's convenient online booking forms.
Accommodates last-minute next-day appointments
Green cleaning supply options available
Available for commercial cleaning
Affordable pricing
No contracts
No same-day requests
Closed on Sundays
Customer Reviews
Read these reviews to know more about what previous clients appreciate the most about Master Maid Toronto:
"Master Maid was easy to book, had availability within the week, and our cleaner, Veronica, did a great job. She was thorough, quick and very pleasant. She brought all of her equipment and products with her which makes it super easy for us. The owner Miguel was very prompt to answer emailed questions."—Christine R
"I have come to trust this company, I started from standard cleaning and my expectations were exceeded. I use their service only going forward and would recommend them to anyone who wants to have peace of mind and feel safe during this pandemic. The job is done well without supervision. They are on time and reliable. Well worth the price."—Hazi Rahman
13. Cleaning Services Toronto Pro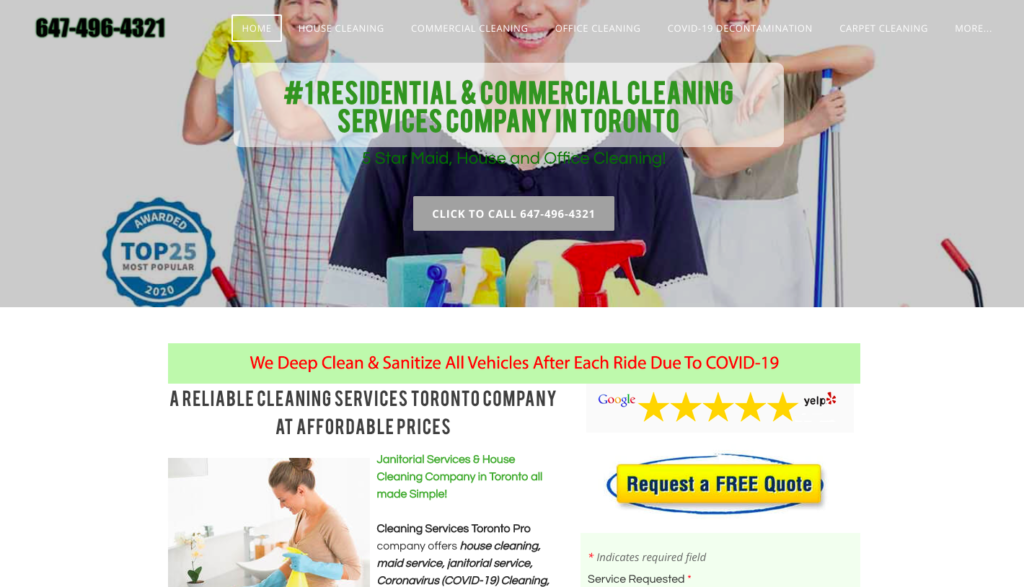 | | |
| --- | --- |
| BEST FOR | Easy booking |
| SERVICES | Carpet Cleaning, Spring/Deep Cleaning, Moving In/Out Cleaning, Residential Cleaning, Office Cleaning, Post Renovation Cleaning |
| WEBSITE | https://www.cleaningservicestorontopro.ca/ |
| ADDRESS | 1075 Bay Street #102A, Toronto, ON M5S 2B2 |
| CONTACT DETAILS | Phone: (647) 496-4321 |
| OPERATING HOURS | Monday to Sunday: 9:00am – 5:00pm |
Cleaning Services Toronto provides almost every cleaning service you can possibly think of. Whether it's cleaning your property, a maid service, sanitation, or a janitorial service for your office, they've got it covered.
Their affordable rates and reliable service make them a popular pick in the city. They offer special rates and packages for those who need their recurring services.
Cleaning Services Toronto's new Dry Fog sanitation system can safely and effectively disinfect and decontaminate enclosed spaces, killing harmful pathogens. They only use safe and EPA approved products for disinfecting as well.
Each cleaning job is tailor-made for each client since not every cleaning job is the same. Cleaning Services Toronto can customize a plan and schedule that meets your requirements, whether it's a large commercial property or your home.
Dry Fog services
Affordable rates
Easy booking process
14. Brilho Luxury Cleaning Services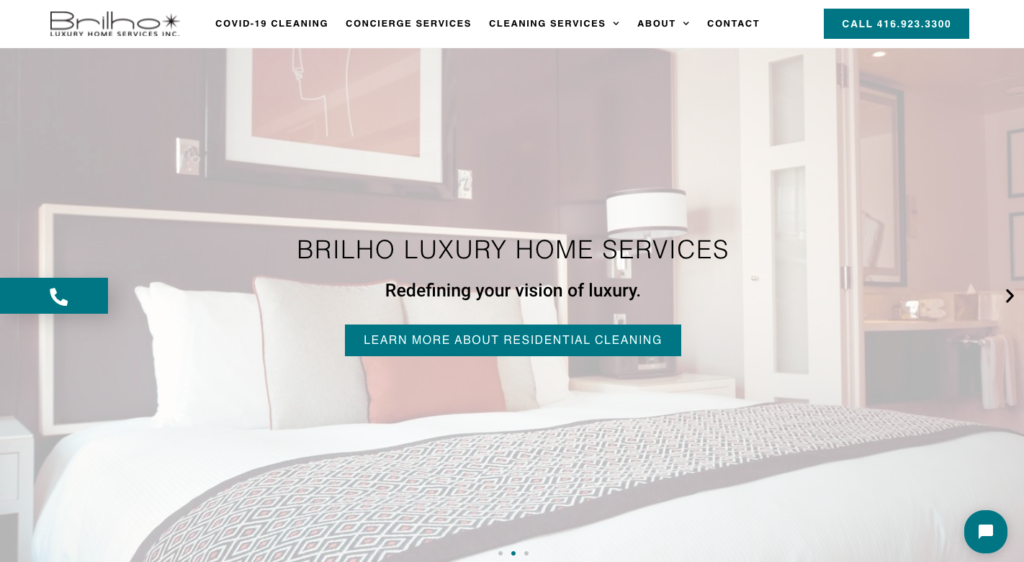 BEST FOR
Luxury cleaning
SERVICES
Residential Cleaning, Commercial Cleaning, Post-Renovation Cleaning, Condominium Cleaning, Real Estate Cleaning, Deep Cleaning, Decontamination, Marble & Granite Restoration, Duct & Ventilation Cleaning, Fabric Stain Protection
WEBSITE
https://brilhoservices.com/
ADDRESS
275 Macpherson Avenue, Unit 104, Toronto ON
CONTACT DETAILS
Phone: 416.923.3300
Email: [email protected]s.com
Fax: 416.923.3302
Brilho Luxury Cleaning Services offers a wide range of cleaning services for the residents of Toronto and the GTA. Whether it's a one-off spring cleaning or a recurring maintenance schedule, they'll provide the results you need.
Founded by Luciano Motta, Brilho Luxury Cleaning & Services is known for their keen eye for detail and outstanding customer service. They offer the ultimate solution for those who want a luxury cleaner to care for their property.
Whether the space is your home, a commercial space, a post-renovation or move in/move out cleaning, this company can handle the job. They also offer effective decontamination and fogging that kills 99.9% of microbes.
If you're interested in their services, you can get a free in-home assessment by giving them a call. This scheduled visit will also give you a chance to discuss in detail your preferred customized cleaning plan for your space.
Free estimates
Luxury cleaning services
Acdepts credit cars
No flat rate packages offered
FAQs about Cleaning Services in Toronto
---
And with that, we conclude our list of options for the best cleaning services in Toronto. If you've worked with any of these cleaning companies in the past, share with us your experience with them.
By the way, if you also know of other cleaning companies worth hiring, tell us their names so we can check if we can add them to our list. We always love hearing from our readers!