The 5 Best Market Research Services in Toronto
Market research is like detective work for businesses and organisations, whether you're a fledgling entrepreneur running a startup or a business tycoon in charge of a multinational enterprise. It's all about collecting, deciphering, and making sense of data to unveil the secrets of consumer behaviour, market trends, and competitor movements.
These services are typically offered by specialised firms, data analytics experts, PR agencies, and even academic institutions. We've rounded up these specialists who have their finger on the pulse of an ever-shifting market. They're here to help you seize opportunities and foster growth for your business!
How We Chose the Best Market Research Services in Toronto
How much do market research services cost in Toronto?

Medium to large-scale projects that involve comprehensive research studies, substantial sample sizes, and various research methods typically range between $10,000 to $50,000, depending on the complexity.
1. Craft Innovations
Test
Info
WEBSITE
https://craftinnovations.global/
ADDRESS
20 Thomas Riley Rd, Toronto, ON M9B 0C3
SOCIAL MEDIA
FACEBOOK
CONTACT DETAILS
(437) 421-4992
OPERATING HOURS
Monday - Friday: 9:00 AM - 8:00 PM

Saturday: 10:00 AM - 5:00 PM
Craft Innovations, a research and design firm catering to small businesses and enterprises, was founded in 2019 by Maryna Podstrigich and Andriy Gubynskyi. Originally hailing from Ukraine, the firm has since established its headquarters in Toronto.
They excel at studying all kinds of businesses, like stores, online shops, finance tech, banks, and video game tech using quantitative and qualitative research. Some notable companies like MasterCard, UNDP, and CanadaVisa trust them to help make smart decisions.
Craft Innovations also talks to the top bosses in companies, like CEOs and other big shots. Moreover, they use high-tech software to help figure out how well products fit in the market and how much they should cost. This method is particular to transactions between businesses (B2B), as well as with their consumers (B2C).
Proven experience in the Fintech industry
Scaled for startups to global enterprises
Top-rated by Clutch and The Manifest
ESOMAR World Research Member
Employs holistic research and UX strategies
Some minor lapses and delays in communication
Customer Reviews
They take note of strategic goals while focusing on customers' needs and wants
"Our cooperation was effective. Craft Innovations team is very business-oriented, we've discussed communication approach and project plan during the kick-off meeting and followed this agreement throughout the project. They take note of strategic goals of the bank and existing limitations while focusing on customers' needs and wants." – Volodymyr Omelchenko (Managing Consultant, Mastercard), Clutch Reviews
They demonstrated a strong understanding of our needs
"During our cooperation, we were particularly impressed by the team's responsibility and ability to listen to our vision and develop appropriate solutions based on them. They demonstrated a strong understanding of our needs and were able to translate them into effective digital solutions." – Artem Bodnarchuk (COO, Uployal), Google Reviews
2. Fresh Squeezed Ideas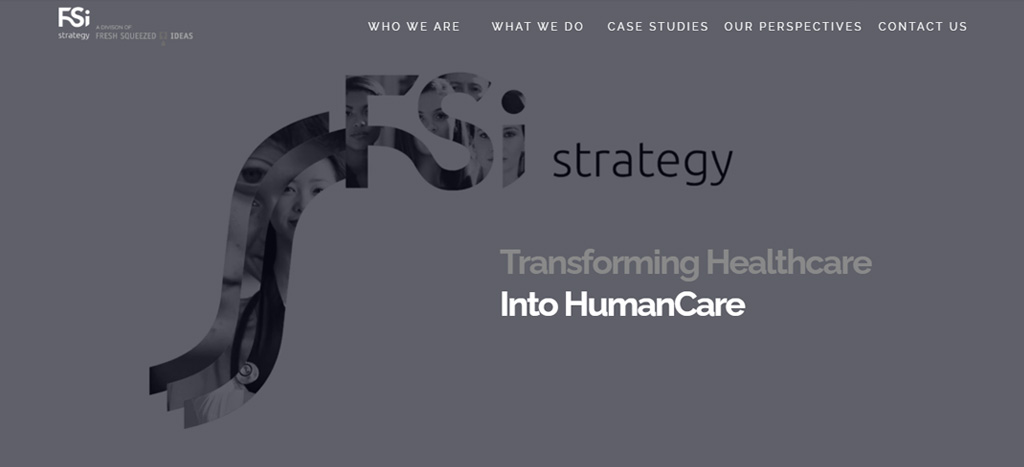 Fresh Squeezed Ideas, or FSi, is a Toronto-based firm that came to life in 2006, thanks to CEO Karen McCauley. They create in-depth plans that look ahead into the future of a business. Their particular focus is to make healthcare better, not just in their neighbourhood, but all across the country.
What sets them apart is that they help big medicine companies like Adastra, Janssen, and GSK make wise decisions. They do this by combining market research, making smart strategies, and giving advice on how to run businesses.
FSi uses all kinds of tools like workshops, tests, and cool videos to understand their clients and the people they're trying to help. This includes stakeholders, healthcare workers, and most importantly, patients. Additionally, they also lend their expertise to other areas like shops, schools, and banks.
Special focus on the healthcare industry
Extensive array of research strategies
Empathic and human-centric approach
Accurate and transparent cost estimates
Consistently on-time with deliverables
Expensive rates
Not scaled for small businesses
Customer Reviews
They have expertise in various fields, which is their competitive advantage
"Fresh Squeezed Ideas has a nice methodology of how to uncover segments. They call it "pulling needs apart." They have expertise in various fields, not just statistical analysis, which is their competitive advantage. In addition, the team knows how to keep their focus on the important aspects of segmentation." – Robert Garmaise (CIO, Fasken), Clutch Reviews
The team is made up of powerful storytellers and strategists
"Their ability to use research to inform strategy stands out the most from other research firms we've worked with. Fresh Squeezed Ideas identifies issues and opportunities and makes their implications to the Nestlé brand as clear as possible. The team is made up of powerful storytellers and strategists." – May Zeibak (Insight Manager, Nestlé), Clutch Reviews
3. Grierson Consulting Inc.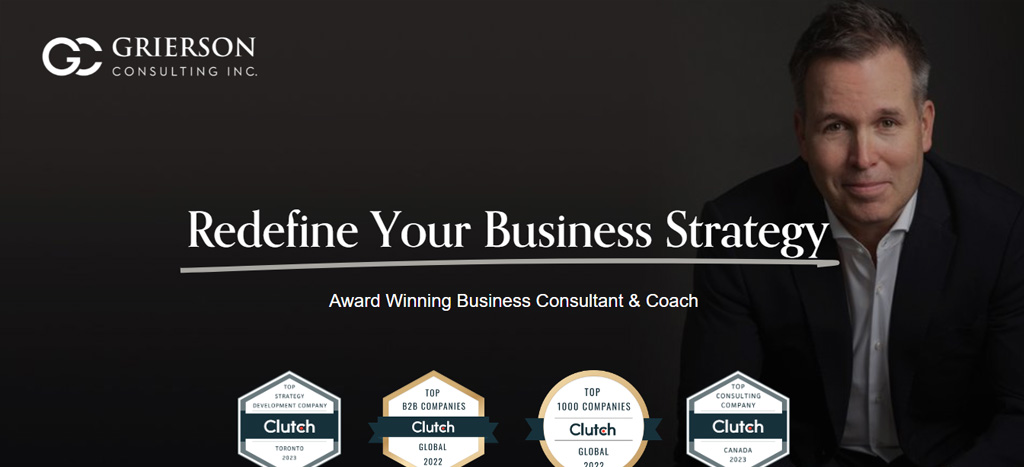 Todd Grierson started Grierson Consulting Inc., a small and quick-thinking company in Elmira, Ontario. They help all sorts of different clients, from small businesses to medium-sized ones in manufacturing, retail, consumer products, and services sectors. Some of the notable companies they work with are MELLOHAWK Logistics, Corbec, and Epiphany Café.
Before starting this company, Todd Grierson had great success with Elmira Poultry, where he made $50 million every year in just five years! He then decided to sell that company and start his very own consulting firm.
At Grierson Consulting Inc., every client is treated as a partner, with a strong focus on increasing revenue and business growth. This begins with a comprehensive introductory session, followed by weekly meetings. 
Prioritises relationships with clients
Proven work in effective business growth
Excellent listening and communication skills
Knowledgeable across a wide range of industries
Can be selective with clients
Limited range of research methodologies 
Customer Reviews
The workflow was smooth and efficient
"The results definitely confirmed some of our strengths and highlighted some important points that we aren't communicating to our customer base. We will use this info to help us rebrand and develop our new website to showcase our strengths and why we are different…The workflow was smooth and efficient, from bi-weekly meetings to phone calls… [What we find most impressive was] Grierson Consulting's commitment to learning about our business and understanding our challenges." – Executive, Corbec Inc., Clutch Reviews
Excellent, and fast. Overall, it was a great experience.
"The market research study revealed that customers in the target market segment preferred donuts with unique flavours and toppings, and were willing to pay a premium for high-quality ingredients… Excellent, and fast. Overall, it was a great experience." – Anonymous, Clutch Reviews
4. East & West Inc.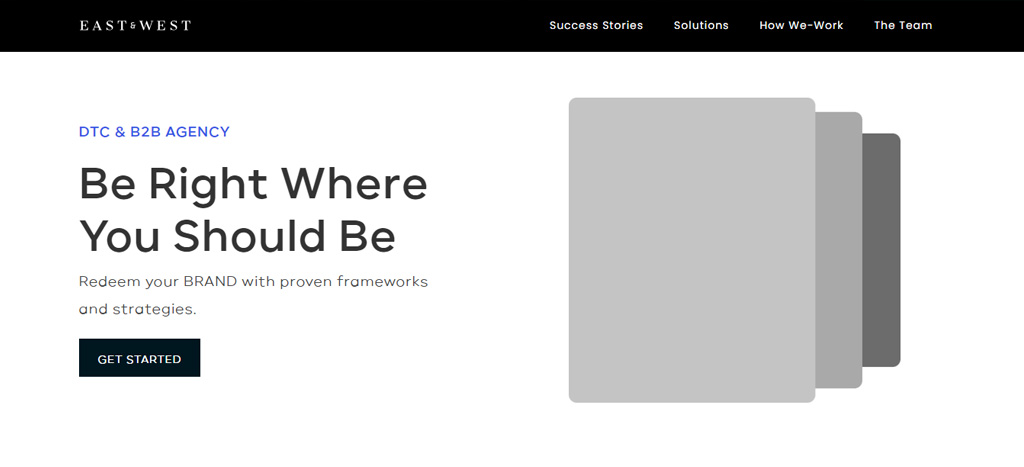 | Test | Info |
| --- | --- |
| WEBSITE | https://www.eastnwestinc.com/ |
| ADDRESS | 2030 Bristol Cir Suite 210, Oakville, ON L6H 6P5 |
| SOCIAL MEDIA | INSTAGRAM |
| CONTACT DETAILS | (424) 230-8305 |
| OPERATING HOURS | Monday - Friday: 7:00 AM - 5:00 PM |
East & West Inc. packs a powerful punch with a small team led by CEO Al-Janabi Abdul, a serial entrepreneur with a keen interest in technology related to real estate and making businesses grow. Since its inception in 2015 in Oakville, his firm has partnered with a diverse client pool in the fields of real estate, government, retail, e-commerce, and consumer goods.
Right now, they have a team of six people, including a designer, lead developer, and accounting advisor. Most of the folks they help are smaller businesses like Mymedia Inc., Touchdown Coworking Space, and Decor Group, which are all from around the neighbourhood.
What makes East & West Inc. special is that they're solely focused on market research. With a wide range of capabilities, they do things like making ads, interviews, and strategising for businesses. And they don't just give everyone the same advice – they really get to know what each company wants and stands for.
Boutique market research firm
Diverse clientele
Provides branding and advertising services
Certified partner of Google, Shopify, and Facebook
Higher cost range
No proven experience with larger enterprises
Customer Reviews
Knows the ins and outs of market research
"East & West Inc knows the ins and outs of market research — they showed me concrete data to work around with, and they have an understanding of my clients' needs, and what must be done to meet those. Additionally, they have their strategies in place to ensure that our engagement has a destination." – Fernanda Cancado (CEO & Founder, Touchdown Coworking Space), Clutch Reviews
They understood what I wanted, and they knew exactly what they were doing
"I've worked with a lot of service providers, and the main issue was always not delivering the quality they promised, which would usually lead a lot of back and forth. They understood what I wanted, and they knew exactly what they were doing. Their team delivered a great product in the end. The second aspect is their time management and commitment to timelines. They have always finished within the deadlines they set." – Ahmed Mahdy (CEO, Smart Policies), Clutch Reviews
5. Lead Generators International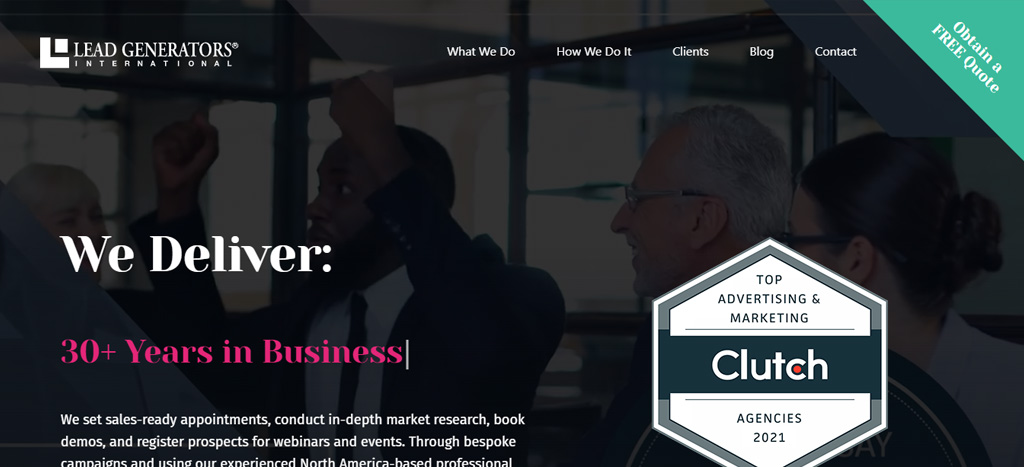 Lead Generators International, or LGI for short, is a big deal when it comes to helping businesses find new customers and gather important info. They use business-to-business telephone appointments to talk to the right people and do some detective work. Most of their clients are mid-sized organisations or just starting out.
This North American company was founded by Tyler Dawson, a marketing and business development executive with an impressive track record. Notably, he also manages two other sales and marketing companies based in Vancouver and the GTA.
Over 30 years, they have partnered with brands such as HP, Shell, and IBM. Their methodology involves strategic planning and research, followed by daily reports and weekly calls, concluding with a wrap-up report and conference call. 
Proven track record of over 30 years
Survey and telephone appointment-driven research
Provides-all-inclusive lead generation services
Competitive pricing
Limited range of research methods
Clientele is not as diverse
Customer Reviews
They are very responsive, easy to work with and achieve what they set out to do
"The workflow between our team and LGI was very effective. They are very responsive, easy to work with, and achieve what they set out to do… The working relationship was the most impressive. It would be easy to find others to do this work as well, but as we had a limited budget and were testing out the system in general, they were very patient with our learning curve and appreciative of our circumstances. " – Anonymous, Clutch Reviews
I don't think there's anyone who has stronger attention to detail than Tyler and his team
"Their communication was impeccable. I received daily communication from Tyler, and I would also get weekly statistics and synopses tabulated for me. I don't think there's anyone who has stronger attention to detail than Tyler and his team… They were very flexible in terms of delivery, and his team was responsive to him and him in turn to me. That was primarily the reason I worked with them for the third time." – Mark Thompson (President & CEO, RegIQ Solutions LLC), Clutch Reviews
---