A Guide to the Best Appliance Repair in Toronto
Do you have a few home appliances begging to be repaired? Instead of waiting for their condition to get worse, we'd suggest having them checked by the repair companies on this list as soon as possible.
Here we have a walkthrough on everything you need to know about the best appliance repair in Toronto, including the cost, the top repair companies, the range of their services, and the questions to ask before hiring one, among others.
Let's start with the expected cost of repairing appliances in Toronto.
The Cost of Appliance Repair in Toronto
There's no doubt that most people would be quick to throw away an appliance when it no longer functions properly. There's usually a question that comes with this: is it worth it to spend money on appliance repair?
We believe that this question can only be answered by looking into the cost of repairing different appliances in Toronto.
Most appliance repair companies in the Greater Toronto Area charge clients on an hourly basis, which can range from $130 to $260 per hour, excluding service fees and the cost of appliance parts.
Coverage varies per repair company, so make sure to ask how their fees are calculated first.
On average, Toronto households spend about $220 for an appliance repair, with most spending somewhere between $125 and $400. We can say that appliance repair can be quite expensive, especially if you have major appliances that need maintenance frequently.
However, there are factors that influence the cost of appliance repair. Here are some of them:
Type of appliance: Most home appliances are either gas or electric. If you own a gas-type appliance, then expect to pay more because they're typically more complicated to repair.
Replacement parts: Since some appliances have parts that require more time and effort to find, the cost of repairing older and lesser-known appliance models is usually higher.
Appliance layout: Some appliances have a more complicated layout than others, making it harder for technicians to reach the site of the problem and fix it, which then results in higher repair costs.
Warranty: Appliance warranties will always come in handy when hiring a repair company. It's worth noting that only a few product warranties will cover the entire cost of repair, as most of them only provide discounted repair rates.
Anyway, here's a table of the common appliance repair problems and their estimated costs to give you an idea of how much you can expect to pay:
APPLIANCE
COMMON PROBLEMS
EXPECTED COST
Washing machine
Wobbling, leaking, failing to drain, underfilling, standing water, mechanical failures, and faulty drive belts
$155 to $600
Dryer
Dryer belt replacement
$260
No heat
$100 to $260
Drum issues
$60 to $260
Overheated dryer
$60 to $160
Faulty dryer
$60 to > $1,000
Fridge and freezer
Faulty compressor fan, clicking noises, faulty compressor, and other noises
$25 and $260
Rattling sounds
$60
Faulty ice maker
$325 to $430
Faulty defroster
$130 to $260
Broken freezer
$260 to $325
Oven
Broken burner, faulty indicator light, stuck oven door, poor heating, bad temperature, faulty broiling
$130 and $260
The Options for the Best Appliance Repair in Toronto
After detailing the cost of appliance repair in Toronto, it's time to move on to our picks for appliance repair contractors whom we believe are worth hiring.
Continue reading below to know more about the range of their services and what makes each one a company worth considering.
1. Certified Mechanical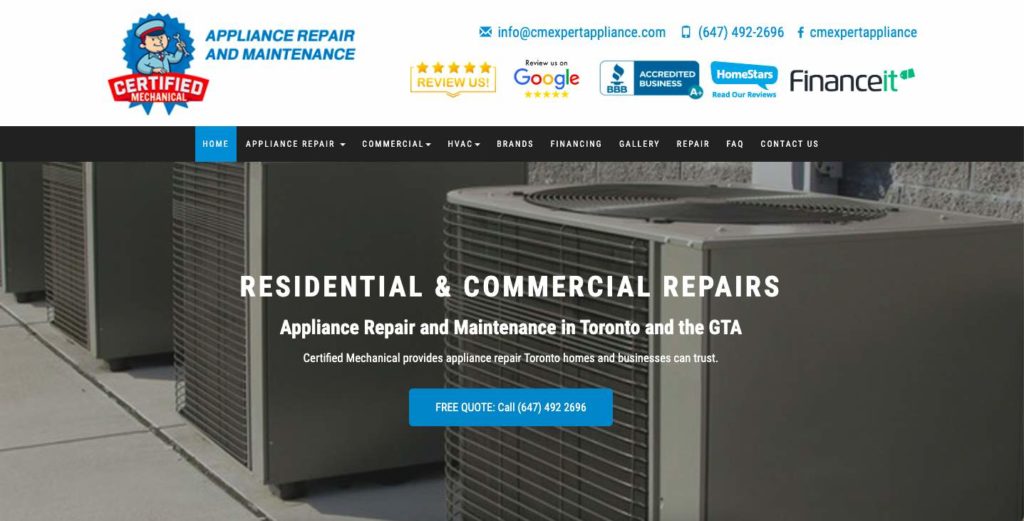 BEST FOR
Appliance repair and maintenance
SERVICES
Fridge, Freezer, Stove, Oven, Washer, Dryer, Dishwasher, Washing Machine, and Bath & Sauna Repair
Commercial Repair
HVAC Repair
ADDRESS
Toronto, Ontario M6N 1H1
CONTACT NUMBER
(647) 492-2696
WEBSITE
https://www.cmexpertappliance.com/
OPERATING HOURS
Contact for more information
Certified Mechanical is a locally owned and operated company that is dedicated to client satisfaction, and they promise prompt completion of projects.
We think that this company is worth being your top options for any appliance repairs since they can do both residential and commercial repairs.
Among their many pros, the amount of repair services is definitely one of the top ones. They can pretty much repair any home appliance you have.
In addition, they can also do commercial repairs, such as coin laundries, coolers, and ice machines. We think it's create that they can cater to residential and commercials alike.
Another good thing we find is that they offer a free quote for their services, so potential customers can have an idea of the costs before committing.
To add to that, they also have a flexible appointment schedule.
Given these, we believe that it's no wonder that they've received a BBB accreditation.
Residential and commercial repair services available
Free quote
BBB accredited
Operating hours unavailable on website
2. Total Care Appliance Repair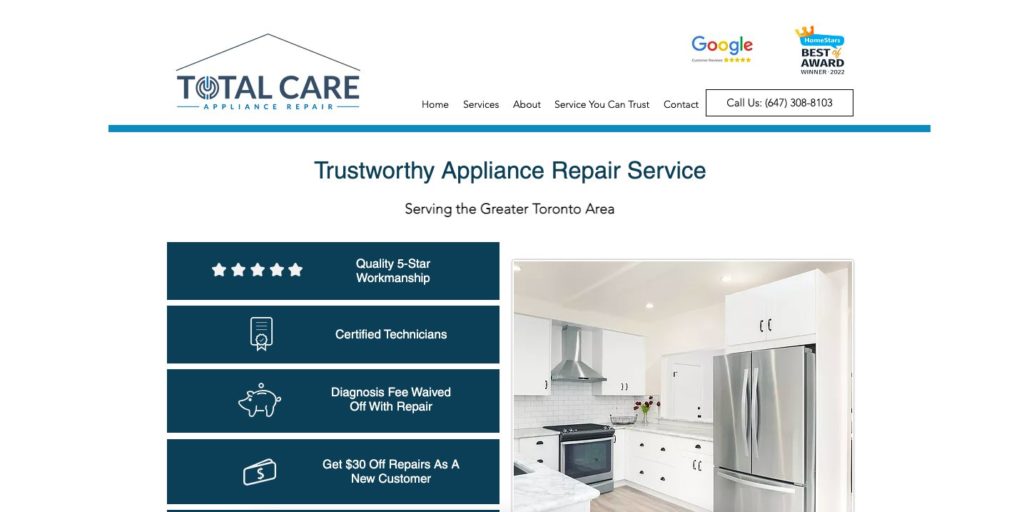 | | |
| --- | --- |
| BEST FOR | Residential appliance repair |
| SERVICES | Refrigerator/Freezer, Electric Range/Oven, Dishwasher, Washer/Washing Machine, Dryer, Range/Stove/Cooktop Glass Replacement |
| ADDRESS | 1652 Bathurst Street, Toronto, Ontario, Canada |
| CONTACT NUMBER | (647) 308 8103 |
| WEBSITE | https://www.totalcareappliance.com/ |
| OPERATING HOURS | Sunday to Friday: 9 am – 7 pm |
Total Care Appliance Repair is one of Toronto's most trustworthy and reliable appliance service repair.
Their services include repair of refrigerator, freezer, electric range, oven, dishwasher, washing machine, dryer, and also range/stove/cooktop glass replacement.
We like how above all the different types of appliances they can repair, they can also work with a range of appliance brands.
Some of the brands that they can repair are Whirlpool, Frigidaire, KitchenAid, Samsung, LG, General Electric (GE), Electrolux, Maytag, Kenmore, Amena, Inglis, Bosch, Jenn-Air, Blomberg, and Sub-Zero to name a few.
We know that there are companies that claim to offer quality services, but fail to do so. Don't count Total Care into that list because they follow through and we really like this about them.
They want to ensure that all their clients are satisfied with their work and that they always offer 5-star customer satisfaction, and as we've gathered, they constantly achieve this.
We're not surprised because their work is quick, efficient, and tidy at the same time. Many clients attest to their speedy diagnosis of a problem and quality work.
We haven't seen any complaints about their service, and this is why we've added them to this list!
However, they may not be the best option for commercial repairs since their services are mainly for residential appliances.
Open 6 days a week
Award-winning company
30-day warranty on all parts and labor
Diagnosis fee waived off with repair
Closed on Saturdays
Repairs mainly residential appliances
Customer Reviews
"Ronen attended my home to assess an issue with my washer after a prolonged period of disuse. After a comprehensive series of checks, he was able to diagnosis the most likely cause of the issue and presented a range of options as to what I should consider. There was no pressure to accept his advice and the costs of alternative scenarios were set out clearly. He was tidy and orderly in the way he went about his work and I would have no hesitation in recommending his service."
"Ronen from Total Care Appliance Repair was professional, prompt and friendly and was able to repair our washing machine. We found his service was true to the reviews we read online, and we would highly recommend this company and his service!"
3. Elite Appliance Service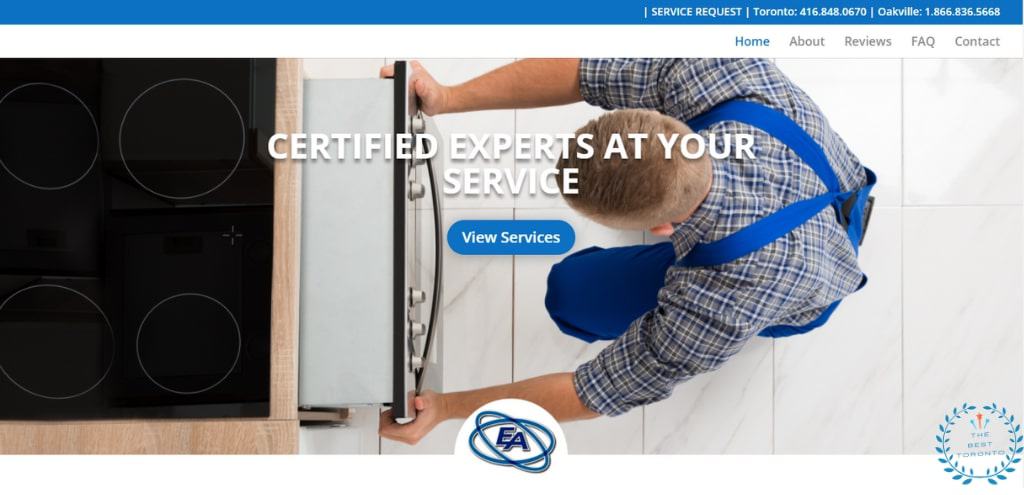 BEST FOR
Residential and commercial services
SERVICES
Washers, dryers, stackables, ranges, ovens, refrigerators, dishwashers, microwaves, cooktops, freezers, vent hoods, and wine coolers
ADDRESS
50 Great Gulf Dr Unit 49, Concord, ON L4K 5W1, Canada
CONTACT NUMBER
416-848-0670
WEBSITE
http://www.eliteappliance.ca/
OPERATING HOURS
Monday – Saturday: 9:00 AM – 5:00 PM
Sunday: 10:00 AM – 3:00 PM
Elite Appliance Service has been providing appliance repair solutions to residential and business spaces all over the Greater Toronto Area for more than 21 years now.
It's composed of a large team of award-winning, trained, and experienced technicians who can deal with most types of appliances, which explains why it's the go-to repair contractor of most homeowners in Toronto.
Some of the appliances that its technicians repair are dryers, washers, ovens, cooktops, ranges, fridges, dishwashers, vent hoods, and wine coolers, among others.
All of Elite Appliance Service's technicians are certified and trusted by major appliance manufacturers as well, such as Whirlpool, KitchenAid, LG, Bosch, Haier, Panasonic, Thermador, and a whole lot more.
It's one of the few repair companies that operate seven days a week, allowing customers to ask for help even during weekends. Its operating hours on Sunday are shortened though, and it's closed during holidays.
More than 21 years of experience
Certified by major appliance manufacturers
Open on weekends
Limited service guarantee
Shorter operating hours on Sundays
Customer Reviews
Many customers have claimed that Elite Appliance Service is indeed one of the most reliable companies for appliance repair in Toronto. Some customers gave the following feedback:
"I found all the employees starting from customer service to technician were very professional. They are super friendly and helpful. The technician came on time and he handled the issues of my dishwasher in a timely manner and was able to directly fix the problem. I appreciated this company with a BIG Thanks."
"I would like to share my warm thoughts and appreciation to the Elite Appliance Team. Early this year they helped me to fix the fridge in my office. The rack was broken and they quickly replaced a new one. The technician also helped to wipe the parts clean. We did not mind the cost since it was for business expenses anyway. Most importantly, they got things fixed in the quickest time that we need!"
4. I-FIX Appliance Repair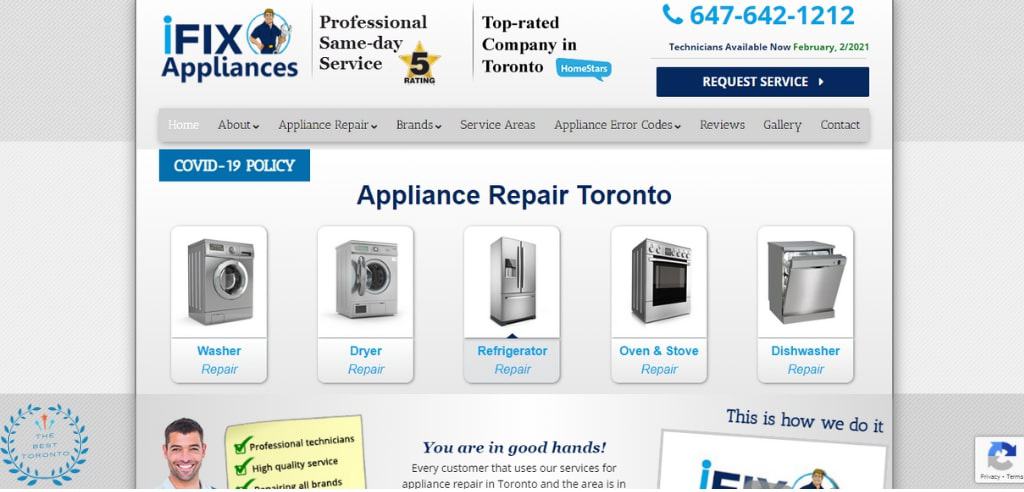 | | |
| --- | --- |
| BEST FOR | Same-day repair services |
| SERVICES | Washing machine, dryers, refrigerators, ovens and stoves, and dishwashers |
| ADDRESS | 1656A Eglinton Avenue West, Toronto, ON M6E 2H2 |
| CONTACT NUMBER | 647-642-1212 |
| WEBSITE | https://ifixappliances.ca/ |
| OPERATING HOURS | Monday – Sunday: 7:00 AM – 10:00 PM |
I-FIX Appliance Repair services most residential areas in Toronto and in the surrounding Greater Toronto Area, including Hamilton, Scarborough, Kitchener, North York, Vaughn, Richmond Hill, and Markham, among others.
Through its same-day repair services, I-FIX Appliance Repair proves there's no need to wait for a couple of weeks before being able to use your appliance again. You can return to doing household chores in less than 24 hours!
Aside from having a team of experienced and licensed technicians, I-FIX Appliance Repair provides each technician with advanced tools and original replacement parts to make sure that every appliance will function properly by the time their work is over.
Dishwashers, ovens, stoves, washing machines, dryers, refrigerators, and freezers are only some of the appliances that its technicians know how to handle.
Quick turnaround
Open seven days a week
Reliable customer service
Trusted by most appliance manufacturers
Rates can be expensive if there's no insurance
Customer Reviews
As one of the top-rated repair companies in the area, I-FIX Appliance Repair has received hundreds of positive comments from customers. Here's what some of them had to say:
"Excellent customer service. Attentive and quick to get back to me. Price was very reasonable. We ended up not using the service as we purchased something new but it's worth mentioning that replies were prompt and the person on the phone was professional and attentive unlike others. Should we need repair for other appliances… this will be my first call."
"They called me back within 5 min of me calling them. They were able to diagnose and give a tentative estimate over the phone. They had two guys out the next day and they had the dryer fixed in less then 1/2 Hour at the estimated price. Both guys were polite and professional and wore masks the whole time. I couldn't be happier with their service."
5. Same Day Appliance Repair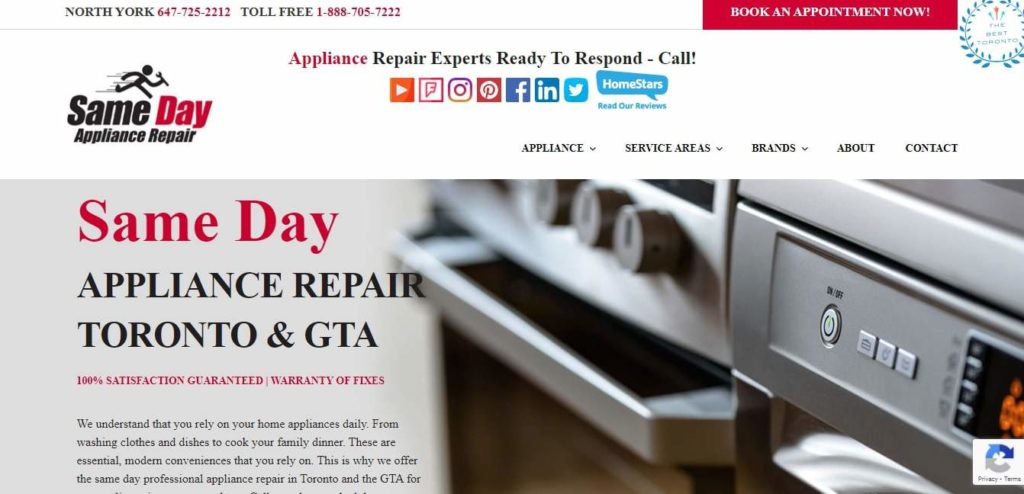 BEST FOR
Competitive repair fees
SERVICES
Dishwashers, ovens, stoves, washing machines, fridges, and dryers
ADDRESS
Concord ON L4K 0A8 647-725-2212 1-888-705-7222
CONTACT NUMBER
647-725-2212

[email protected]

WEBSITE
https://samedayappliancerepair.ca/
OPERATING HOURS
Monday – Sunday: 9:00 AM – 9:00 PM
Same Day Appliance Repair is another repair company that promises quick repair turnaround, but what makes it different is its affordable and transparent service fees.
Before starting any type work, every customer will be given a quote to know if they can work their budget around it. There's a guarantee that there will be no hidden and last-minute charges, because customers are made aware of the coverage of fees.
Some of the appliances that it repairs are the fridge, dryer, washer, stoves, fridges, dishwasher and other appliances. Its technicians are available any time of the day, so customers may seek rush and emergency services.
Same Day Appliance Repair is also known for having some of the most courteous technicians in the area. Its technicians make sure not to leave any trash behind after completing their work, allowing customers to return to their normal routines immediately.
It offers a three-month labour and parts guarantee for all the repair work it accepts, even the simplest ones. In case the appliance repaired starts malfunctioning within the week, you no longer have to worry about the cost of repair.
It's even made it easier for customers to book its services online. Customers are more than allowed to call to book a service, but it's a lot easier and faster booking an appointment online.
Three-month service guarantee
Online booking of appointment
Competitive and transparent rates
Discounts for senior customers
May charge cancellation fees
Customer Reviews
Take a look at some of the comments posted by customers on Google Reviews:
"While no one was answering and had 5 days waiting time, Same Day Appliance Repair was the most responsive company, they took my call, listened and booked a service call. I was hoping to fix my dryer the same week but they got it running on the same day. I can't express how happy I am with the service and the professionalism from the employees. The technician was friendly and wore a mask during the entire time. If you are looking for a company to fix your appliances that are truly professional, contact Same Day Appliance Repair."
"I've got a big freezer in my garage where I stock a ton of fish and poultry I order from a farm. When it broke down one weekend I hurried to find a repair company, however, nearly everyone I called was giving me the same excuse. I couldn't wait, I needed someone to get here fast and fix the freezer or I would lose a 6 month worth of supplies. These guys picked up the phone, showed up within 2 hours and fixed the darn thing in 30 minutes. I can't recommend their services highly enough!"
6. Toronto Viking Repair

BEST FOR
Premium Brands Appliance Repair
SERVICES
Fridge, Stove, Washer and Dryer Repairs, Service Brands
ADDRESS
426 – 221 Balliol St., Toronto ON M4S 1C8
CONTACT NUMBER
647 244 9711 | [email protected]
WEBSITE
https://torontovikingrepair.ca
OPERATING HOURS
Monday – Friday, 8:00 AM to 6:00 PM
Saturday, 10:00 AM to 4:00 PM
Sunday, 10:00 AM to 4:00 PM
Toronto Viking Repairs offers appliance repair service in GTA and this company specifically caters to the premium appliances brands from North America and Europe.
Some of the brands they service include but not limited to Viking, Ultraline, Miele, Jenn Air, Wolf, Sub-Zero, Bertazzoni, Thermador, Liebherr, Blomberg, Dacor, Bosch, AEG, Alfresco, Ariston, Faber, Falmec, Franke, Fulgor, Huebsch and more!
But of course, apart from repairing high-end brands, Toronto Viking Repairs' technicians have well-rounded training. This means they can also work on the more common North American brands such as Kenmore, Maytag, KitchenAid, Whirlpool, Frigidaire, GE, Samsung, LG, and the like.
Finally, premium Viking Repair services can be pricey for some people, it's a good thing that they give discounts for online booking as well as free online quotes.
Free online quote
Discounts for online booking
Accepts all major credit cards
Services high-end European brands
Appointment required
Can be pricey
Customer Reviews
Here's what some customers had to say about their experience with Toronto Viking Repair:
"I just had an awesome experience with Aden of Toronto Viking Repair. He helped me resolve issues with my fridge. He is friendly, knowledgeable and my new go to for all appliance repairs. If you need any appliance repairs I highly recommend him!"
"Best appliance repair experience I've ever had. They were friendly timely and very professional, and also very Covid conscious. Had them work not only on our Viking appliance but also on other brands as well. I highly recommend using them."
7. Max Appliance Repair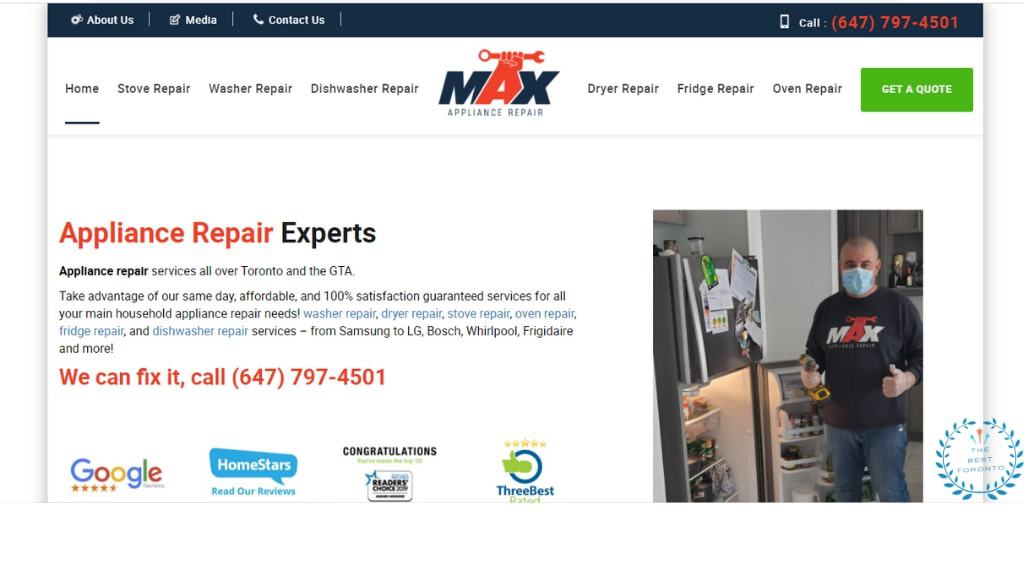 BEST FOR
Emergency services
SERVICES
Washing machines, dryers, stoves, refrigerators, and ovens
ADDRESS
314 Torresdale Ave Toronto, ON, M2R 3N3
CONTACT NUMBER
647-477-0946

[email protected]

WEBSITE
https://www.maxappliancerepair.ca/
OPERATING HOURS
Monday – Sunday: 7:00 AM – 10:00 PM
Max Appliance Repair is a family-owned appliance repair company with over 15 years of experience fixing washers, dryers, stoves, ovens, and other common household appliances.
It specializes in emergency appliance repair services for all major brands and models, so no worries even if you're carrying an old and outdated refrigerator. Its technicians are also equipped with advanced appliance tools and authentic replacement parts.
Max Appliance Repair can accommodate same-day repairs, but customers need to book an appointment before the 10pm cut-off time. It also offers service calls free of charge for all repair projects.
In terms of prices, Max Appliance Repair tries to keep everything as affordable as possible to reach more customers. Its technicians will find a way to provide a service that fits a customer's budget without compromising the quality.
Its services aren't limited to the Toronto area, residential and business addresses in Milton, Pickering, Oakville, Scarborough, Markham, Whitby, Kleinburg, East York, and Hamilton, among others can hire its services.
15 years of experience
Competitive rates
Free service calls
Late cut-off time for same-day repairs
Customer Reviews
Here are some positive comments shared by previous and current clients:
"My dishwasher has been leaking for a couple of days. Today I decided to call a technician. Alexander N arrived on time and showed me the broken part that was causing the leak. He explained to me how the dishwasher works and why this problem happened. Luckily for me he fixed it right away and also wrote down a procedure on how to clean the dishwasher properly. Thanks Alexander, I really appreciated it."
"Alex from Max Appliance Repair recently fixed my fridge. First, the office booked an appointment in a timely manner with text confirmation. I found Alex to be very professional, timely with response, excellent communication, and diligent/honest. Parts were ordered and Alex called right away to book an appointment to fix the issue, took his time and addressed all the issues thoroughly. Overall great experience with Alex and the company. I was also impressed by the office's efficient correspondence"
8. RA Appliance Repair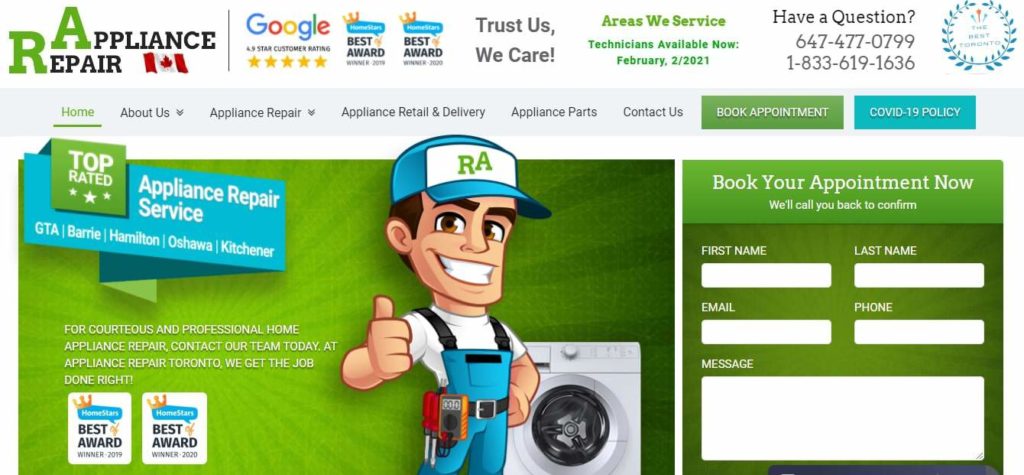 | | |
| --- | --- |
| BEST FOR | Replacing broken appliance parts |
| SERVICES | Refrigerators, washers, dryers, ovens, stoves, dishwashers, and appliance installation |
| ADDRESS | 4548 Dufferin St #206, North York, ON M3H 5R9 |
| CONTACT NUMBER | 647-477-0799 1-833-619-1636 |
| WEBSITE | https://raappliancerepair.ca/ |
| OPERATING HOURS | Monday – Sunday: 8:00 AM – 11:00 PM |
If there's one thing that makes RA Appliance Repair different from all the other repair companies in the Greater Toronto Area, it'd have to be its focus on future-proofing appliances, which reduces the chances of them breaking down any time soon.
RA Appliance Repair's technicians are all trained and certified to repair all types of home appliances, including fridges, ovens, stoves, dishwashers, and washing machines, among others. Every customer can be assured that the appliances are under the care of the most qualified persons for the job.
Providing a service guarantee for all repairs is one of its ways to take ownership for its technicians' work. If the problem comes back within a week or two, its technicians will check it again free of charge.
RA Appliance Repair is also a trusted supplier of authentic original parts for fridge, stoves, ovens, washers, dishwashers, and other appliances. It offers 30-day warranty on all parts, and up to a year of warranty on selected parts.
When it comes to rates, RA Appliance Repair takes pride in the fact that it's among the most affordable appliance repair companies in Toronto and the GTA. It doesn't charge customers pick-up and delivery fees as well.
Supplier of original appliance parts
Service guarantee for all repairs
Offers some of the most affordable rates in Toronto
Sometimes, it's difficult to book an appointment
Customer Reviews
Here's what some customers had to say about their experience with RA Appliance Repair:
"Tom was very professional and quick at fixing my dryer. He showed up on time and followed COVID-19 guidelines, I was comfortable having him in the house. He even patiently explained everything to me and put everything back to where it was before he left. I would definitely use his service again in the future if I have anything else."
"I called RA Appliance in the late evening, because my dryer started to smoke up. I knew that they were closed, but one of their technicians picked up (I was lucky to get a hold of them because they were moving to a new office), and was nice enough to come over that same night. This was a godsend because I had all of my business clothes in the dryer and had an important meeting first thing in the morning. Long story short, it turned out that I had lint built up inside the dryer itself and it almost caught fire. The technician explained that I need to not only remove the lint from the filter, but also do yearly maintenance, which I never knew.. After the tech finished the maintenance, everything was good to go!"
9. High Tech Appliance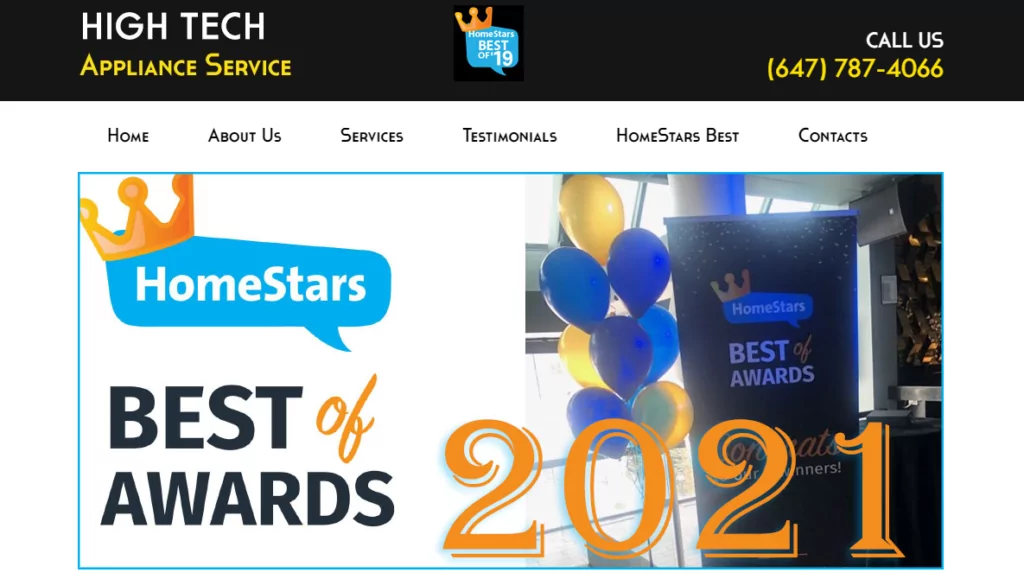 BEST FOR
Residential & Commercial Appliance Repair
SERVICES
Fridge Repair, Washer Repair, Stove Repair, Dryer Repair, Dishwasher Repair
ADDRESS
80 Bridlegrove Dr Toronto, ON M1M 3W8, Canada
CONTACT NUMBER
(647) 787-4066 | [email protected]
WEBSITE
https://hightechappliance.ca
OPERATING HOURS
Monday – Friday, 8:00 AM to 6:00 PM
Saturday, 8:00 AM to 5:00 PM
Sunday, 10:00 AM to 5:00 PM
With more than 15 years of experience in the business, High Tech Appliance Service has been providing exceptional service to residential and commercial clients across the GTA. High Tech Appliance assures you that you will be provided with the highest quality service at the lowest prices.
They specialize in repairing appliances of various brands. They are also well educated about the methods and ways of carrying on the work related to a specific branded appliance repair. Their forte is quick and economical servicing at the disposal of the clients.
You also need not worry because High Tech Appliance is a legal and qualified entity that passes all the quality standards laid in this department. On top of all this, their team of technicians are well equipped with all the needed devices required for repair and maintenance and at the same time is fully trained in all the processes and methodology required to carry on such repairs.
Open everyday
Over 15 years of experience
Registered and licensed team
Customer Reviews
Here's what some customers had to say about their experience with High Tech Appliance:
"We came home after a day out to find our fridge and freezer (stock full of groceries from the previous day) were not cooling. Although it was 8:30 in the evening when I called, Atiar came over within an hour and promptly identified the problem and fixed the fridge/freezer. He was courteous and professional and efficient. I have already recommended him to two more people and would call him back to help out with any other appliance repair that may be needed! Thank you for excellent service when we needed it the most!"
"I called Atiar after we were having problems with our Bosch dishwasher. He came out for the first service call and upon inspect said that while he was happy to order parts, it would be in our best interest to purchase a new dishwasher given the part + installation would be about $450. He recommended a new Bosch that was on sale for $500. We had him back to install the new dishwasher. Installation was on time, clean and very efficient. Aman, who works with him was EXTREMELY polite and a pleasure to have in our home. I would highly recommend this company, as I used others in the past who were not as reliable or honest has High Tech."
10. Octopus Royal

BEST FOR
Repairs and Maintenance Routines
SERVICES
Repairs for dryers, washers, dishwashers, microwaves, ovens, fridges, range hoods, and ice machines
ADDRESS
50 Alness St, North York, ON M3J 2G9, Canada
CONTACT NUMBER
(647) 286-1327
[email protected]
WEBSITE
https://octopusroyal.com
OPERATING HOURS
24/7
Octopus Royal is dedicated to keeping home appliances functioning at optimal conditions. The service company is open seven days a week and helps address issues regarding dryers, washers, microwaves, ovens, fridges, and other household appliances, regardless of the brand and make.
Aside from the flexibility of their services, Octopus Royal is also known for its affordability, typically offering competitive rates for their quality repairs.
Thinking of getting new appliances? Octopus Royal is also capable of installations and fittings. With their help, clients can prevent rattling noise, water leaks, electrical hazards, fire, flood, and poor alignment of appliances.
Competitive pricing
Repair and maintenance for a wide array of appliances
Excellent customer care and support
11. Maydone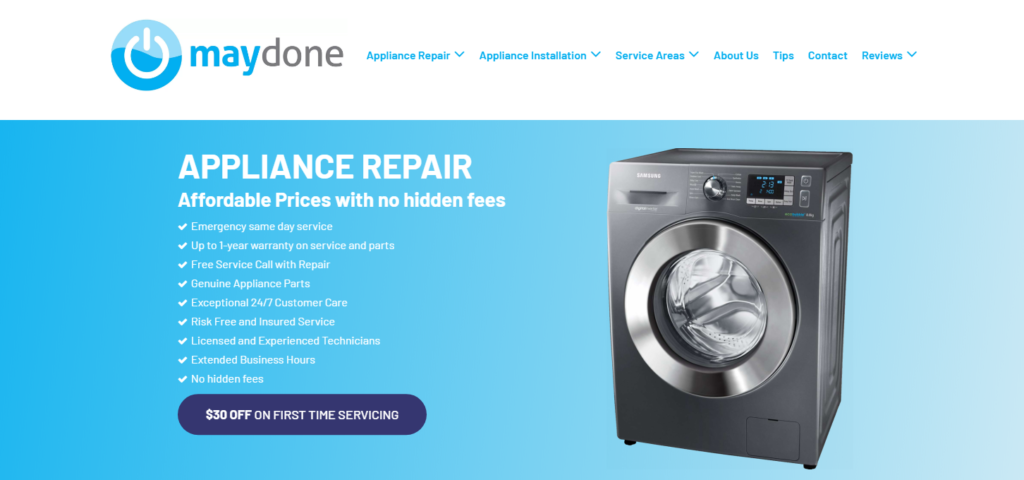 BEST FOR
Repair and installation services across GTA
SERVICES
Appliance repair and installations
ADDRESS
North York:
46 Dudley Ave, North York, ON M2N 4W8

Calgary:
3600 Brenner drive, NW Calgary, AB, T2L 1Y2, 1003 Unit

East York:
352 Leslie St, Toronto, ON M4M 3E2

Hamilton:
51 Atwater Crescent, Hamilton, ON L9C 2E8

Richmond Hill:
Unit 309 – 310 Red Maple Rd, Richmond Hill, ON L4C 0T7

Maydone Appliance Repair Headquarters:
46 Dudley Ave, North York, ON, M2N 4W8
CONTACT NUMBER
Toll:
+1 (888) 513-0052

GTA, ON:
+1 (289) 801-7857
+1 (647) 558-5825

Calgary, AB:
+1 (587) 885-1446
[email protected]
WEBSITE
https://maydone.com
OPERATING HOURS
Mon 8:00 am – 10:00 pm
Tue 8:00 am – 10:00 pm
Wed 8:00 am – 10:00 pm
Thu 8:00 am – 10:00 pm
Fri 8:00 am – 10:00 pm
Sat 8:00 am – 10:00 pm
Sun 8:00 am – 10:00 pm
Maydone is an appliance repair company that strives to constantly provide quality services, exceptional efficiency, and the highest level of professionalism.
To accomplish this, Maydone goes out of its way to vouch for each member of their team, ensuring that every person that joins can live up to the standards set by the company.
So, clients can expect technicians who are highly skilled, friendly, professional, and prompt. Not only that, but these technicians are also capable of performing fitting and installations for clients who are looking to have new household appliances in their homes.
New clients will also be happy to know that Maydone offers $30 off for the first servicing. The company is open seven days a week, even during holidays, so contact them today to learn more of their services.
Guaranteed warranty
Licensed professionals
Same-day service available
Affordable rates
Open seven days a week, including Public Holidays
Might be pricey depending on the project
Customer Reviews
Here's what some customers had to say about their experience with Maydone:
"Called about a freezer issue, they were there next day. Was able to deduce the issue very quickly and solve it easily. Quick efficient and very friendly as well. Would definitely recommend."
"Repairmen were on time, very knowledgeable and very honest. Very quick turnaround from diagnosis to repair."
12. Canada Appliance Repair

BEST FOR
Timely and reliable appliance repairs
SERVICES
Dishwasher Repair, Washer And Dryer Repair, Refrigerator Repair, Oven/Stove/Range Repair, Cooktop Repair, Freezer Repair, Gas Appliance Repair
ADDRESS
325 Bogert Ave, Toronto,
ON. Canada M2N1L8
CONTACT NUMBER
Phone: (416) 887-5839
Email:

[email protected]

WEBSITE
https://canadaappliancerepair.ca
OPERATING HOURS
Mon – Sun: 9 am to 11 pm
Canada Appliance Repair is one of the most trusted repair companies in all of Toronto, boasting numerous reviews from clients new and old that depend on the brand for top-notch appliance repairs.
One of the best things about working with Canada Appliance Repair is its versatility in the trade. The company's technicians are highly skilled and have experience dealing with all models and brands of home appliances.
Aside from their skillfulness, Canada Appliance Repair technicians are also known to be professional and prompt, offering quick responses to the needs of the clients.
Licensed and insured
Same-day service available
Cost-effective solutions
Caters to all brands and models of home appliances
No service for non-home appliance
Customer Reviews
Here's what some customers had to say about their experience with Canada Appliance Repair:
"I called Canada Appliance Repair and was able to book an appointment on short notice with Taras to fix a problem I had with my Blomberg dryer. Taras arrived on time and quickly went to work. He was able to identify the source of the problem and fixed the issue efficiently. He also provided good tips on how to maintain my dryer properly. Overall, Taras was professional, knowledgeable, and proficient at what he does. I wouldn't hesitate to recommend Taras and Canada Appliance Repair to anyone who has an issue with their appliances. 5/5 stars."
"Quick and respectful repairman. Did a great job fixing my washing machine and checked to make sure my dryer was in working order too."
13. 911 Appliance Repair

BEST FOR
Repair services for all brands
SERVICES
Appliance Installation
Fridge Repair
Washing Machine Repair
Oven Repair
Stove Repair
Dryer Repair
Dishwasher Repair
Sealed System Repair
Gas Appliances Repair
ADDRESS
2081 Wilson Street, Innisfil ON, L9S 4Y2
CONTACT NUMBER
(647) 334-7733
[email protected]
WEBSITE
https://www.911appliancerepairservices.ca
OPERATING HOURS
Daily, 7AM to 9PM
Next on our list is another highly regarded appliance repair company: 911 Appliance Repair. True to its name, 911 Appliance Repair is an excellent choice for homeowners looking for quality repair and installation services on a short notice.
Depending on when the call was placed, 911 Appliance Repair tends to provide service within the same day, if not, then the next day. Moreover, their team of expert technicians have all been vouched for in terms of training, professionalism, and character.
They're quick to respond, gives out thorough explanations for the services they're going to give, and even offer 3-months warranty for any parts that will be replaced by the company.
It's also worth noting that 911 Appliance Repair is fully licensed and certified.
Homestar Winner of 2020 and 2021
Trained technicians
Prompt services
Affordable rates
Fully licensed and certified
3-month warranty on parts and labour
Does not service commercial appliances
Customer Reviews
Here's what some customers had to say about their experience with 911 Appliance Repair:
"Thank you Evgeny for your quick and professional service. My washer wasn't working and he fixed it in an hour. He was friendly and knowledgeable. 100% would recommend reaching out to him if you need home repair services."
"I am very pleased with the excellent service I received from 911 Appliance Repair Services. We just finished a major kitchen renovation and I had them install a brand new hood fan and hook up my gas oven. They were very professional, arrived on time and took great care in my house so as not to scratch or dirty any new surfaces such as my new counters and floors. The installation was completed within the quoted time and I am very pleased with how beautiful it looks. They took the time to walk me through how the fan works and cleaned up everything perfectly. Pricing was honest and fair. I'd definitely highly recommend the services of this company and wouldn't hesitate to use them again!"
Trained technicians
Prompt services
Affordable rates
Fully licensed and certified
3-month warranty on parts and labour
Does not service commercial appliances
14.   Annar Bormi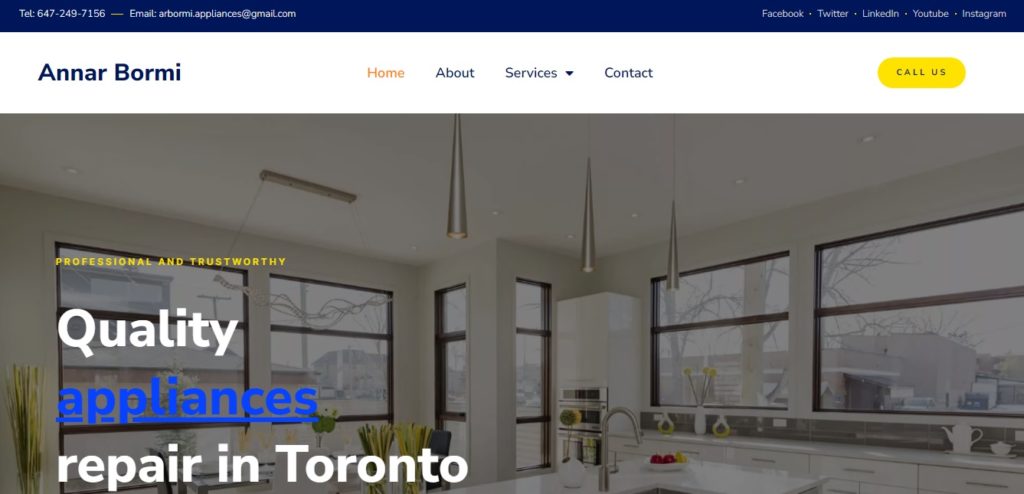 Annar Bormi is a shop that offers a wide range of appliances repair and is among one of the leading companies in the area ever since it opened. With over 875,000 projects by 2021, they have since then acquired over 27 years of experience under their belt which they bring to every job that they handle.
We like that they are able to offer after-service support to ensure that clients get the best value out of their services and that customer satisfaction is guaranteed at all times during their experience with them.
Aside from this, they are also in partnership with various professional brands such as LG, Whirlpool, Samsung, Sharp, and Bosch among many others to ensure that all parts used are certified and are of quality as well.
Though they do not have upfront and flat pricing available, their website does feature an online free quotation to help clients assess should they like to avail of their services and know what to expect in terms of budget.
Overall, with experts ready for the job and equipment and products that are both durable and ideal for long-term usage, we highly recommend them to clients who need their appliances to get theirs fixed or parts replaced.
Accommodates a variety of brands
Offers free online consultation
Long-term repairs
Operating hours unavailable
What to Look for When Hiring an Appliance Repair Service Provider
---
And that's it for our list of the companies that offer the best appliance repair in Toronto. If you've hired any of these companies in the past, don't hesitate to share your experience with us!
Oh, and if you know of other repair companies that should've been on our list, tell us their names so we can check if they're worthy of being added to our picks.