Where to Stay in Toronto: A Visitor's Guide
Toronto, a vibrant metropolis, has it all – cultural immersion, urban exploration, and thrilling outdoor adventures. With around 27.5 million visitors flocking to this diverse city annually, it's no wonder it's a top tourist destination.
But with so much to offer, deciding which area to stay in can be overwhelming, especially for first-time visitors. That's where we step in!
For us, the best neighbourhoods in Toronto for tourists on vacation are Downtown, Yorkville, Queen West, Harbourfront, and The Distillery District
We chose these areas based on several factors, such as proximity to attractions, cultural experiences, dining options, and overall atmosphere. Read on as we explore each area in more detail!
Downtown, Toronto
When you visit Toronto, Downtown is where the action is! It's the perfect location, just steps away from iconic landmarks like the CN Tower, the Rogers Centre, the Art Gallery of Ontario, and the vibrant Nathan Phillips Square.
Downtown is always abuzz with exciting activities; and if you have the energy to match it, you'll definitely belong. It's easy to immerse yourself in Toronto's entertainment, shopping, and theatre districts, where you'll discover a multitude of options.
You'll also get to indulge in delectable cuisine at the diverse range of restaurants, unwind at trendy bars, and rest comfortably in the nearby hotels.
How Much Do Cost in Toronto Guide?
You'll also get to indulge in delectable cuisine at the diverse range of restaurants, unwind at trendy bars, and rest comfortably in the nearby hotels.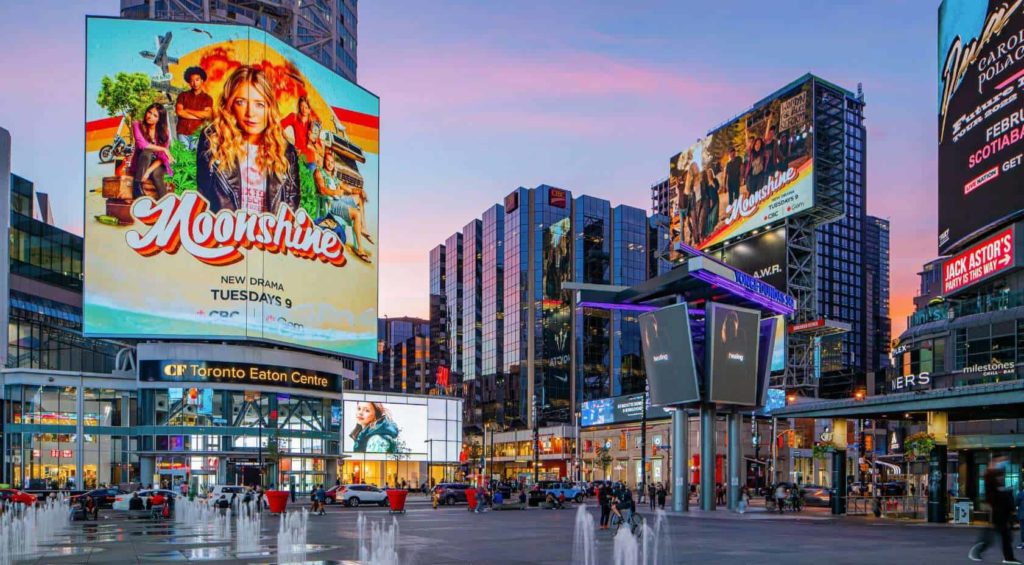 Pro tip:
If you're planning to explore mainstream attractions like the CN Tower, the Royal Ontario Museum, the Ripley's Aquarium of Canada, and the Toronto Zoo, get yourself a CityPASS as this will save you money on admissions.
Our top pick for accommodations in Downtown, Toronto: Chelsea Hotel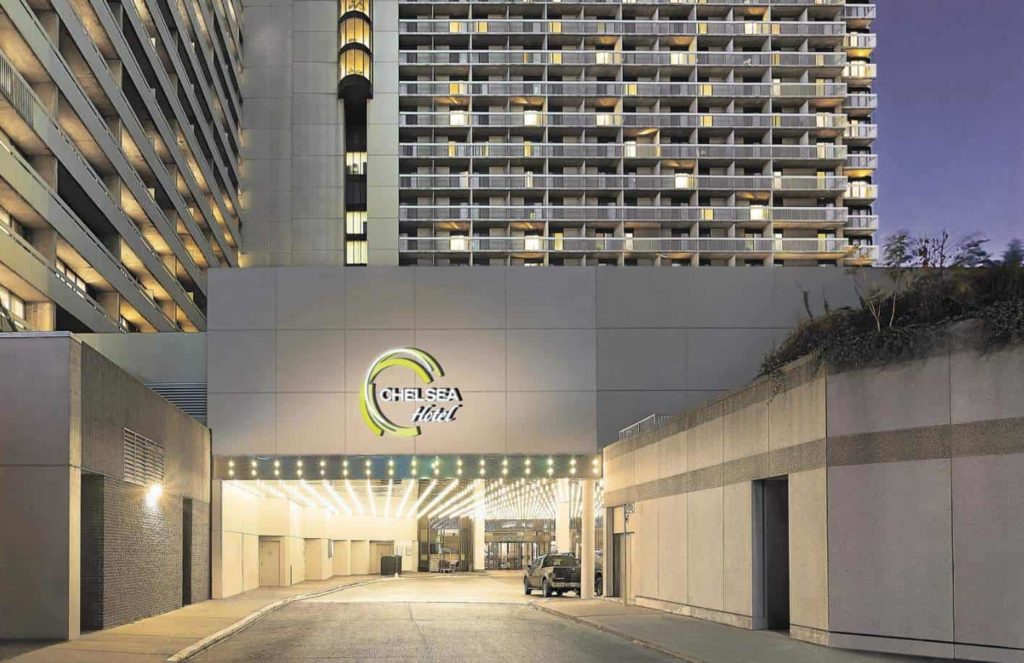 Website: https://www.chelseatoronto.com/en/
Address: 33 Gerrard St W, Toronto, ON M5G 1Z4, Canada
Contact number: +1 416-595-1975
At the heart of the city, Chelsea Hotel boasts a prime location that puts you close to all the popular attractions. Plus, you'll be delighted to find that their rates are wallet-friendly, starting at just $150 per night.
One of the standout features of the Chelsea Hotel is its impressive range of amenities. Stay active and rejuvenate in their fitness centre, take a refreshing dip in the pool, or unwind in the sauna.
And when hunger strikes, you don't have to venture far – the hotel offers a fantastic restaurant and a lively bar, ensuring you can indulge in delicious meals and drinks right on-site.
Yorkville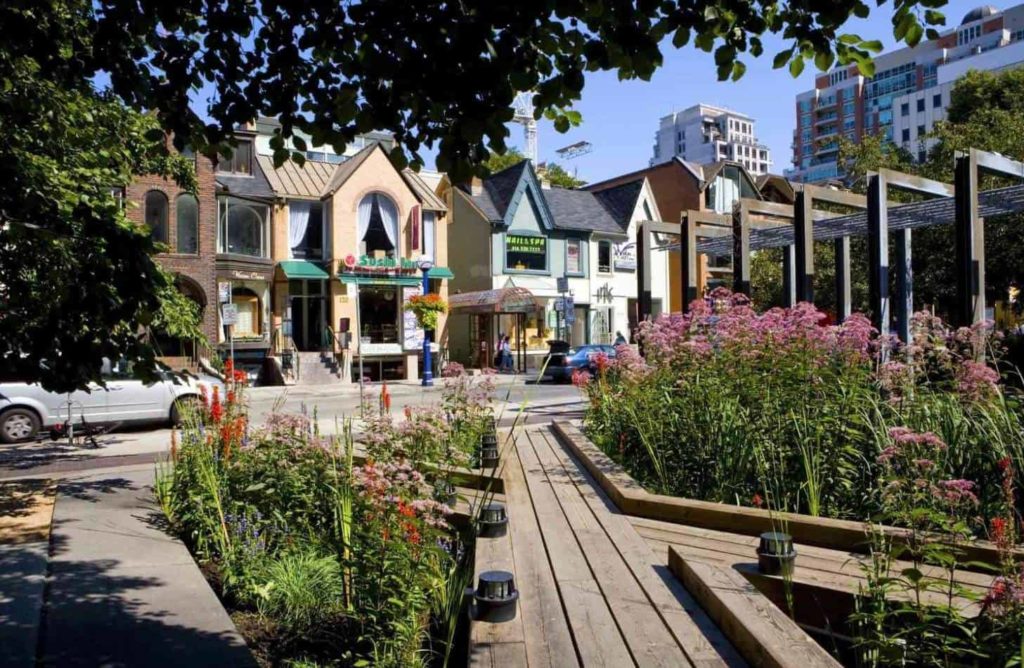 For those seeking a touch of glamour without sacrificing proximity to popular attractions, Yorkville is the perfect haven.
Nestled between Downtown and Midtown, this upscale neighbourhood is renowned for its luxury shops, exquisite restaurants, and top-notch accommodations.
If you're planning an indulgent staycation, this area is home to prestigious hotels like the Four Seasons Hotel and the Ritz-Carlton.
It's easy for a shopaholic to give in to temptation here. Just a stroll along Bloor Street, the main shopping avenue in Yorkville, puts you face-to-face to a dazzling array of designer boutiques, upscale brands, and high-end retailers.
Yorkville also boasts a vibrant art scene, from umerous art galleries showcasing contemporary and modern masterpieces to colourful street murals.
Pro tip:
Plan your trip ahead as Yorkville hosts several events and festivals throughout the year, including the Yorkville Exotic Car Show, Bloor-Yorkville Icefest, and the Toronto International Film Festival (TIFF).
Our top pick for accommodations in Yorkville, Toronto: The Hazelton Hotel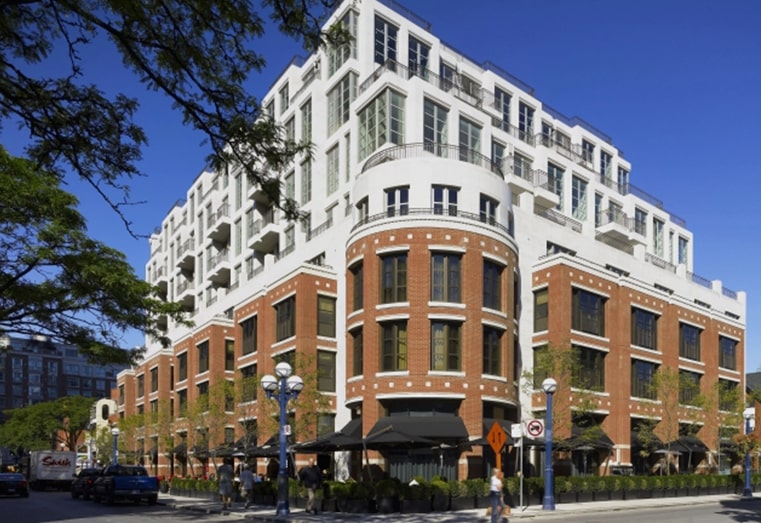 Website: https://www.thehazeltonhotel.com/
Address: 118 Yorkville Ave, Toronto, ON M5R 1C2, Canada
Contact number: +1 416-963-6300
With its intimate nine-storey structure, the five-star Forbes-rated Hazelton Hotel stands out as a haven of exclusivity, offering an upscale experience that'll make you feel like a VIP.
You'll enjoy world-class amenities that are all about pampering and rejuvenation, including an inviting indoor pool, full-service spa, and state-of-the-art fitness centre.
Don't forget to gaze out of those floor-to-ceiling windows for breathtaking city views that'll leave you speechless.
Hungry? You'll get to indulge your taste buds at The Hazelton's exceptional bars and restaurants – one of which is ONE Restaurant, an award-winning gem that serves up mouthwatering classic French and Italian dishes.
Queen West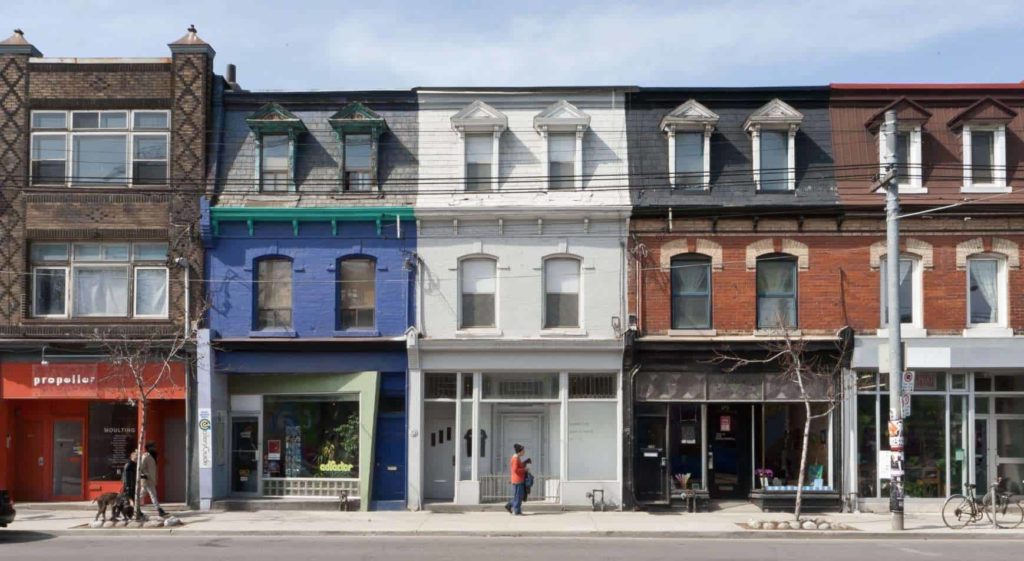 If you're interested in arts, music, and culture, you'll feel right at home in Queen West, Toronto. This vibrant and eclectic neighbourhood is bursting with art galleries, independent boutiques, and captivating street art.
Don't forget to check out the Museum of Contemporary Art Toronto (MOCA) while you're here—it's a must-see.
For the fashionistas, Queen West is the place to be, with boutiques that showcase local designers, vintage treasures, and unique independent brands.
And mark your calendar for the Queen West Art Crawl, an incredible event that celebrates and showcases the talents of local artists and artisans.
Whether you're in the mood for casual bites, trendy cocktail bars, or even live music venues, this neighbourhood also has it all.
Speaking of live music, Queen West is a vibrant hub for live performances. You can get your fix of local and international artists at renowned venues like The Cameron House, The Rex Hotel Jazz & Blues Bar, and The Drake Underground.
Pro tip:
Queen West is a great place to look for quirky souvenirs to take home! You'll find plenty of unique and artsy stuff for sale around the neighbourhood.
Our top pick for accommodations in Yorkville, Toronto: Gladstone Hotel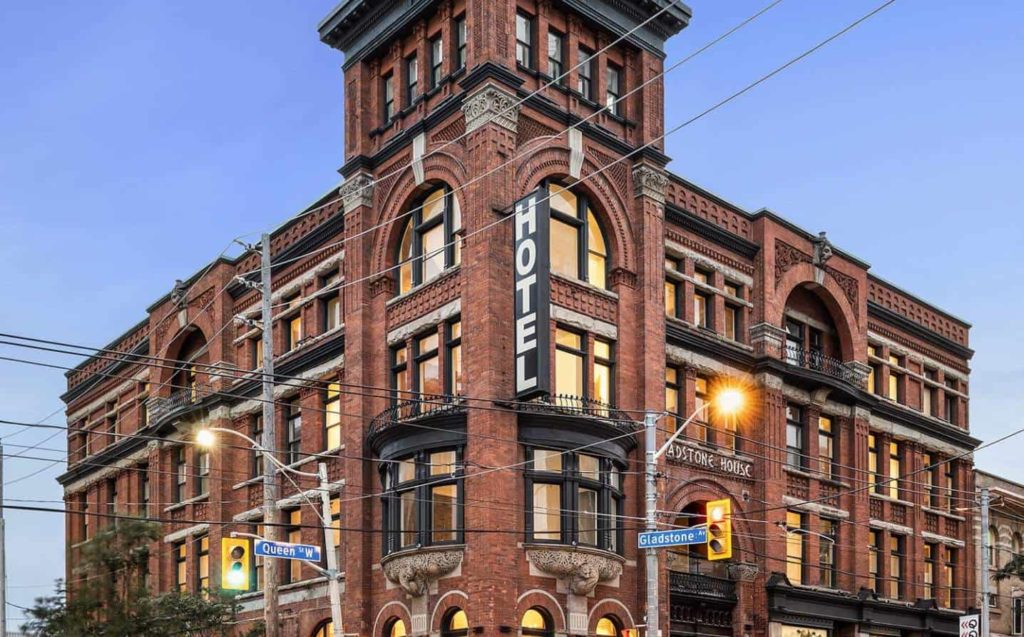 Website: https://www.gladstonehouse.ca/
Address: https://www.gladstonehouse.ca/contact/
Contact number: +1 416-531-4635
Since 1889, the Gladstone Hotel has been a place where art comes to life.
What makes it truly special are its 37 rooms, each individually designed by a different Canadian artist. Checking in becomes an adventure in itself, as you discover the artistry that awaits behind each door.
But the Gladstone Hotel is more than just stylish accommodations. It's a gathering place for artists, locals, and travellers alike, creating a sense of community and sparking creative exchanges.
As such, the hotel regularly plays host to captivating art exhibitions, live music performances, and engaging cultural events.
The cheapest rates at the Gladstone Hotel start at $159 per night. But do take note that rates can vary depending on the time of year and the type of room you choose.
Harbourfront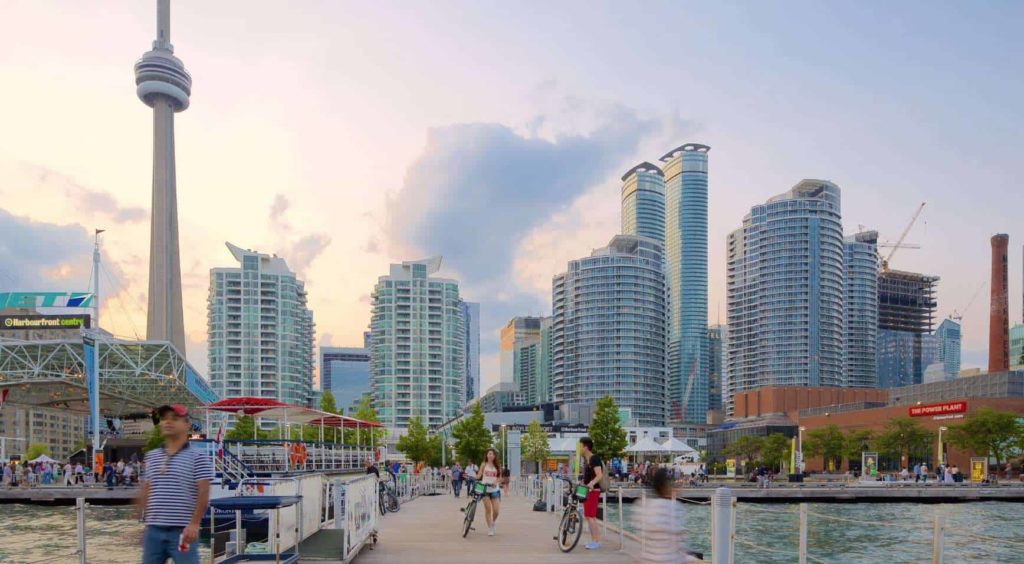 Located along the shores of Lake Ontario in downtown Toronto, Harbourfront is a scenic and vibrant neighbourhood renowned for its stunning views of Lake Ontario and the Toronto skyline.
The area is also a cultural hub where there are year-round events, festivals, and performances, including music concerts, dance shows, art exhibitions, and theatre productions.
This is also a great option if you're keen on water sports. Harbourfront provides opportunities for kayaking and canoeing, allowing visitors to explore the lake and its surrounding islands.
Harbourfront also offers abundant choices for food establishments, tourist attractions, and accommodations.
Pro tip:
Take advantage of the waters even though you're not into water sports. You can take a boat tour instead and get to see some of the iconic landmarks of the city from the water.
Our top pick for accommodations in Harbourfront: Fairmont Royal York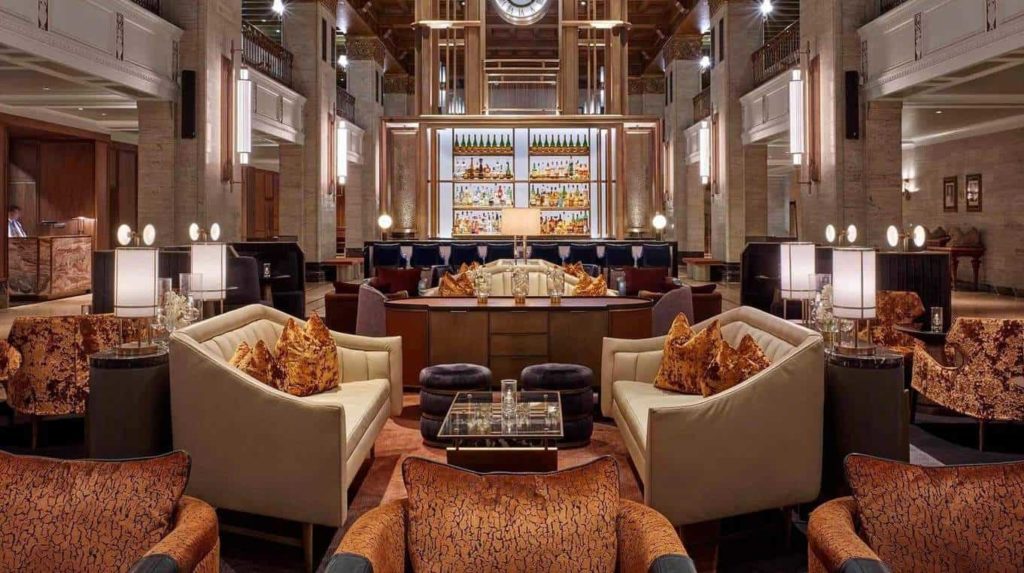 Website: https://www.fairmont.com
Address: 100 Front St W, Toronto, ON M5J 1E3, Canada
Contact number: +1 416-368-2511
Fairmont Royal York is a historic five-star hotel known to have pampering the world's biggest VIPs since the 1920s, including Queen Elizabeth II, John F. Kennedy, and Nelson Mandela.
Talk about impressive company!
With over 1,300 rooms and suites, each one meticulously designed for comfort and indulgence, you'll feel like royalty from the moment you step inside.
But what truly sets Fairmont Royal York apart is the incredible team of staff who go above and beyond to ensure your stay is nothing short of extraordinary.
Their genuine warmth and commitment to guest satisfaction have earned the hotel its well-deserved reputation as one of the area's highest-rated gems. You'll be welcomed with open arms and treated like family throughout your stay.
The Distillery District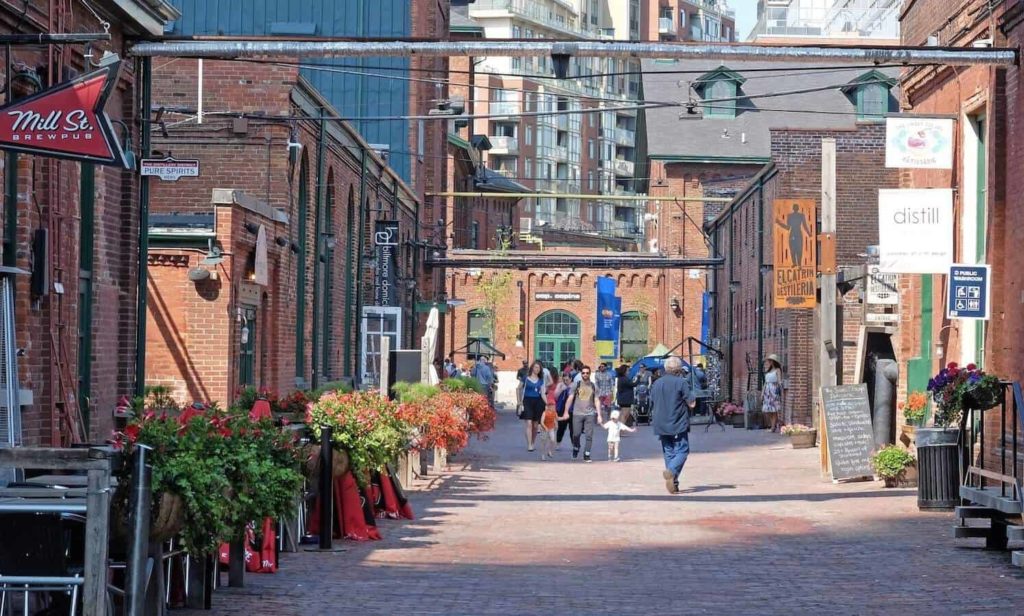 If you're looking for a laid-back atmosphere to soak in the local scene, look no further than the Distillery District.
This charming pedestrian-only neighbourhood is the ultimate destination for exploring cosy cafes, mouthwatering restaurants, and eclectic shops.
Walking down the Distillery District's cobblestone streets also feels like traveling through time! With over 40 heritage buildings spread across 13 acres, this place boasts North America's largest collection of Victorian-era industrial architecture.
Today, these historic buildings have been transformed into a lively mix of foodie hotspots, unique boutiques, and creative spaces..
Pro tip:
When the sun sets, the Distillery District truly comes alive. Head over in the evening to enjoy live music performances, side-splitting comedy shows, and groovy DJ sets happening in various venues throughout the area.
Our top pick for accommodations in The Distillery District: The Omni King Edward Hotel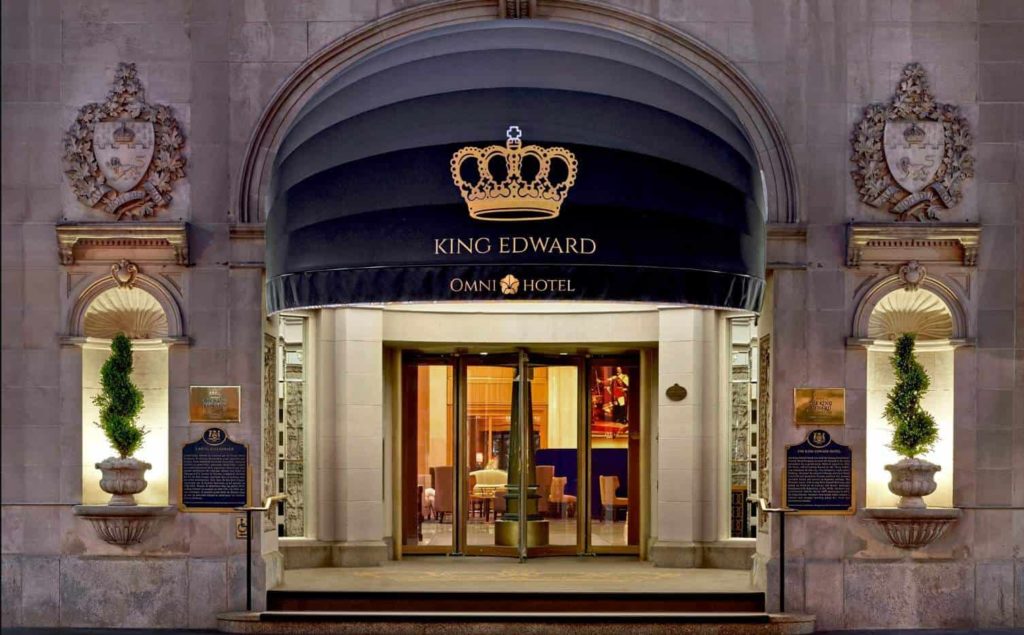 Website: https://www.omnihotels.com
Address: 37 King St E, Toronto, ON M5C 1E9, Canada
Contact number: +1 416-863-9700
While you won't find any hotels within the immediate boundaries of the Distillery District in Toronto, there's a fantastic option just a short walk away: The Omni King Edward Hotel.
It's a top-notch choice, although it does come with a higher price tag.
Dating back to 1903, The Omni King Edward Hotel is steeped in history and is easily one of the city's most iconic hotels.
Inside, you'll find a variety of luxurious guest rooms and suites designed with both comfort and sophistication in mind.
While staying at The Omni King Edward Hotel may be a splurge, it's an experience worth considering.