Top 5 Lawn Care Companies in Toronto
A beautifully landscaped lawn improves the curb appeal of your house. Maintaining the lawn, though, can take a lot of time and effort.
It is a commitment to ensure that your lawn is in excellent condition for all seasons. Thus, hiring a lawn care service not only saves you time but also cost.
Leave it to the experts to do the maintenance of your lawn as they know how to keep it in excellent shape.
We have found the top lawn companies in Toronto here. Read on to learn about these companies and their excellent services further.
How much does a lawn care service cost in Toronto?
A lawn care company offers different services to suit clients' needs. The most popular service is lawn mowing and garden care as these are usually done weekly.
We have listed the prices of the services that the lawn care companies in Toronto offer. There are services, however, whose prices can only be determined upon checking and evaluating the area.
| Service | Rate |
| --- | --- |
| Weekly lawn mowing | $140 per month |
| Weekly lawn mowing and garden care | $220 per month |
| Spring cleanups | $75 per staff per hour |
| Custome garden care | $175 per month |
| Sod installation | quote available upon request |
| Snow removal | quote available upon request |
| Professional gardening | $75 per staff per hour |
| Hedge and shrub pruning | $62 per staff per hour |
| Fertilization and weed control | $297 starting price per season |
The Best Lawn Care Companies in Toronto
Lawn care is an investment and hiring the right provider for it will make your money go a long way. We have narrowed down the criteria to find the best lawn care companies in Toronto.
1. Gardenzilla Lawn & Garden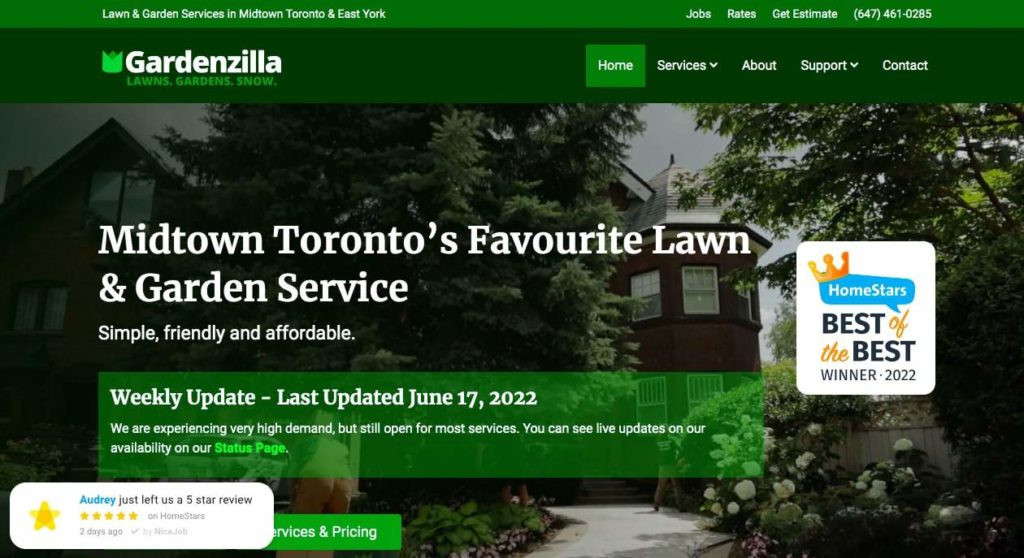 Test
Info
Services

Landscape Maintenance

Gardening and Yardwork

Installation and Repairs

Website
Address
618 O'Connor Dr, East York, ON M4C 3A1, Canada
Contact details
647-461-0285
Operating hours

Monday – Friday: 7 am – 3 pm

Saturday – Sunday: Closed
| | |
| --- | --- |
| Availability | ★★★★☆ |
| Services | ★★★★★ |
| Staff | ★★★★★ |
| Customer Satisfaction | ★★★★★ |
| Pricing | ★★★★★ |
Gardenzilla Lawn and Garden started serving Midtown Toronto and East York in 2014. Since then, it has been rated as one of the best lawn and garden companies based on customer satisfaction and excellent staff.
It can do great lawn care work because of amazing gardeners, landscapers, and office staff. Its team is not only friendly and warm but also finishes work on time and hardly bothers the homeowners.
Among the gardening and yard work, Gardenzilla offers are spring clean-up, weekly lawn mowing, and weed control. Aside from these services, it also offers landscape maintenance, installations, and repair.
For someone who has little knowledge of lawn care, getting this provider's services is worth it. We loved that its lawn services are done consistently, efficiently, and professionally.
Gardenzilla does a thorough initial interview even over the phone. The staff is very helpful, easy to communicate with, and very responsive.

However, the company's services are only limited during weekdays. It is not open on weekends, so if there is a need for any emergency work, you will have to wait.
Regarding the costs of its services, quotations are given based on the actual site visit. We found this process to be fair, realistic, and comprehensive.
We love that the provider customizes the service according to what the customer needs and does not offer a one-size-fits-all service. Its prices are affordable and billing is super easy.
All in all, we are impressed with the quality of service and professionalism of the team. We highly recommend Gardenzilla for continually doing an excellent job.
Amazing staff
Good selection of services
Consistent work
Realistic quotation
Limited operating days
No fixed pricing
Customer Reviews
Prompt response
We used Gardenzilla for the second season in a row to carry out our spring clean up. Michael and his team did a fantastic job cleaning up and pruning our shrubs; turned soil and added compost to our flower beds. Gardenzilla provides professional service. They responded to every enquiry promptly. We've been very happy with Gardenzilla and recommend them!
Reasonable price
Gardenzilla have so far been the best lawn caring company I have used. Reasonable priced, reliable, flexible packages and easy to communicate with. Hope they keep up the good work and will definitely continue to be their client. – Vivenne
2. Mr. Mow It All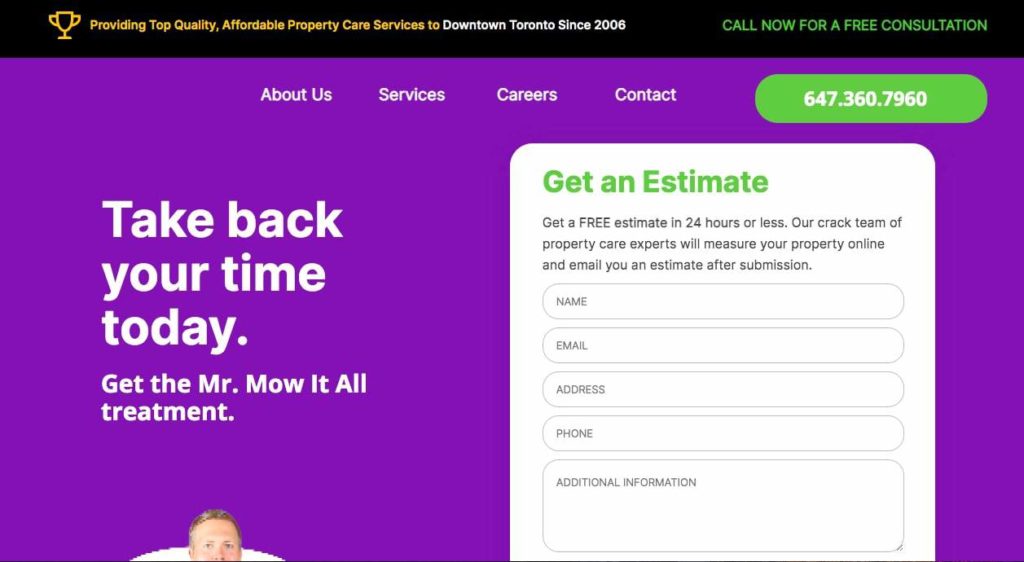 Test
Info
Services

Weekly Property Care

Fertilization and Weed Control

Professional Gardening

ReSodding and Landscape Enhancements

Hedge and Shrub Pruning

Residential & Commercial Snow Clearing

Seasonal Planters

Website
Address
10 Industrial Street Unit SY-04, Toronto, ON M4G 1Z1, Canada
Contact details
647-360-7960
Operating hours

Monday – Friday: 7 am – 3 pm

Saturday – Sunday: Closed
| | |
| --- | --- |
| Availability | ★★★★★ |
| Services | ★★★★★ |
| Staff | ★★★★☆ |
| Customer Satisfaction | ★★★★☆ |
| Pricing | ★★★★★ |
Mr. Mow It All was started by Chris Thacker, who at 12 years old, was mowing his neighbors' lawns for a few bucks. Now, his company offers lawn mowing, gardening, and snow removal in urban and residential areas in Southern Ontario.
The commitment of this company is to provide the best lawn care service. For one, it has fuss-free quotes that are tailored to fit your property and are available within 24 hours.
Billing is done by service and not per season, which translates to paying for only the specific work done. There are no hidden costs, which we appreciate.
We also like the staff's attention to detail. During a snow storm, they monitored the situation and looked for alternative routes to be able to clean up the area the fastest way.
For better performance of its equipment, the mowing blades are sharpened every 10 hours of mowing. The blade edge, on the other hand, is sharpened every visit to every lawn.
We also commend that the team finished ahead of schedule. The work was performed meticulously and they left the driveway and walkway clean and tidy.
The provider's schedule is limited to weekdays and there are no lawn services on weekends. There were instances, however, of the crew not arriving on time.
Overall, we are happy with Mr. Mow It All because of its outstanding customer communication and amazing lawn services.
Fuss-free quotation
Meticulous work
Regular equipment maintenance
Not punctual
Limited operating days
Customer Reviews
Highly recommended
3 staff members showed up to prepare perimeter of back yard garden for spring planting. The garden was raked, soil turned over and weeds removed. They were very friendly and did a great job. I would definitely ask them to come back in the late fall to prepare the garden for winter. I highly recommend this company. The salesman, office staff and maintenance crew were very professional. – Terri
Detailed proposal
I reached out to Mr Mow It All for snow removal quotes on some commercial properties in Toronto. I dealt with James there and have to say he was excellent. Compared to dealing with other snow removal companies for quotes James had great communication, their proposal was very professional, put together well, detailed, and informative. He was also very timely in getting me information and a proposal and there was no delay in our communications. It's easy to see that they care about providing their customers excellent service. 5 stars. – Sarah
3. Greenbloom Landscaping Design Inc.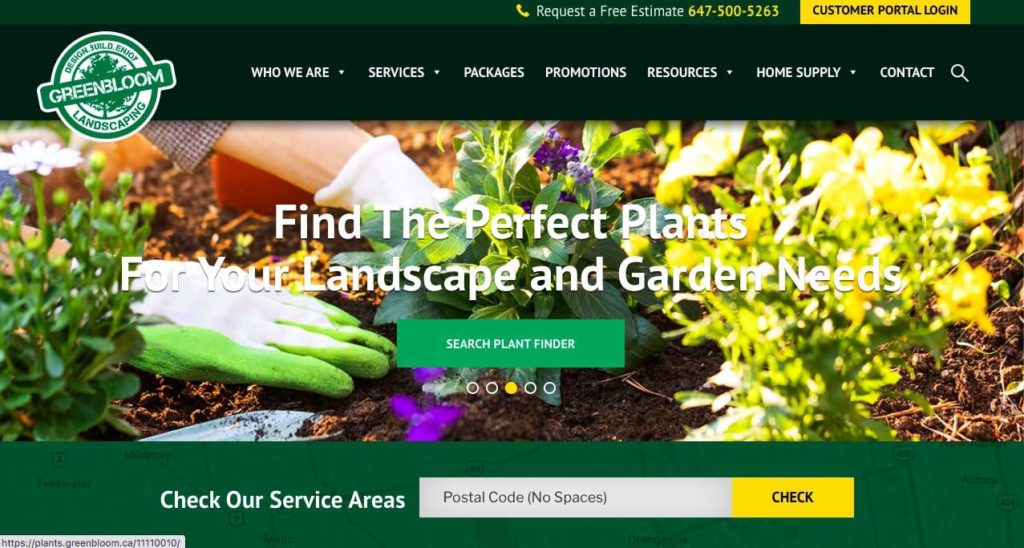 Test
Info
Services

Lawn Care

Plants and Gardens

Trees and Shrubs Planting and Removal

Spring and Fall Clean Ups

Landscape Design and Consultation

Website
Address
165 Geary Ave, Toronto, ON M6H 2B8,
Contact details
647-500-5263
Operating hours

Monday – Friday: 9 am – 5 pm

Saturday – Sunday: Closed
| | |
| --- | --- |
| Availability | ★★★★★ |
| Services | ★★★★★ |
| Staff | ★★★★★ |
| Customer Satisfaction | ★★★★☆ |
| Pricing | ★★★★☆ |
Greenbloom Landscaping Design, Inc is a green eco-friendly business that serves Toronto and GTA. The goal of this company is to ensure that with its work, clients love their garden and surroundings.
Whether you need small clean-ups or long-term maintenance, Greenbloom will do the work. It can also redo your landscaping and do custom work on your lawn or garden.
We love that its work is original and done with care by skilled and friendly workers. The crew's honest passion for work is what sets the company apart from the other lawn care providers.
We also appreciate the company's going above and beyond what it needs to do. Commendable too is the meticulous and professional work its representatives did on our yard — they even gave us helpful maintenance instructions.
However, the sodding work done recently was not measured properly and was a little short of the actual size. We were surprised that a team was sent back the next day to finish the work at no extra cost.
As for pricing, its quotes are cost-efficient and it does not overcharge.
The company responds to inquiries quickly and offers free estimates, which you can get by either calling or filling up a form on its website.
However, we were disappointed that it is closed on weekends, which could cover more schedules for lawn care.
As a whole, as one of the best lawn care specialists in Toronto, we highly recommend Greenbloom. The staff is efficient and friendly and their work is excellent.
Excellent work
Efficient staff
No overcharging
Meticulous services
Closed on weekends
Mistakes on measurements
Customer Reviews
Quick response
We are really happy with the sod installation done by Greenbloom. The owner was very responsive to all my questions and was able to schedule the job sooner than I expected. The crew that came to do the job were excellent and did a great job with the installation. The grass looks great, and we look forward to using it this summer! – Ayesha
Beautiful job
We worked with Greenbloom this year for several small yard projects – filling a garden with river rock, putting in a border wall around gardens, and planting some garden beds. Shir was responsive, professional, and got all of the jobs done beautifully and quickly. He went out of his way to deal with any questions / concerns. You can tell that he cares deeply about customer satisfaction and the work that he does. Thank you Shir and Greenbloom! – Kathryn
4. Landcare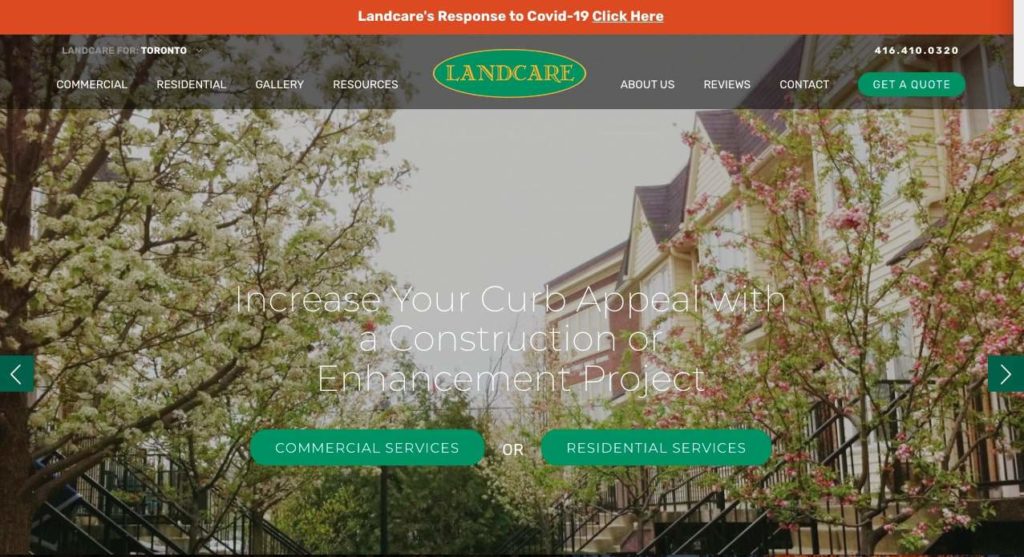 Test
Info
Services

Residential Landscape Design and Construction

Yard Maintenance

Website
Address
174 Perth Avenue Toronto, Ontario M6P 3X5
Contact details
416-410-0320
Operating hours

Monday – Friday: 9 am – 5 pm

Saturday: 10 am – 5 pm

Sunday: Closed
| | |
| --- | --- |
| Availability | ★★★★☆ |
| Services | ★★★★★ |
| Staff | ★★★★★ |
| Customer Satisfaction | ★★★★★ |
| Pricing | ★★★★★ |
Landcare has established a name for itself in the industry with its 25 years experience in providing lawn care services in Toronto and other areas in Canada.
It has continually provided top-notch service because of its professional and well-trained team.
Composed of horticulturists, landscape designers and specialists, stone masons, and carpenters, they are able to achieve exterior maintenance that is paramount to the best in the industry.
The company's top-notch customer service has ensured that the work is done on time and clients are satisfied. There is no question about the quality of work and attention to detail given to each project.
What we appreciate with Landcare is that its team finishes the job on time and executes its plan well. Furthermore, communication is great and services are affordable.
Prices for lawn care can be costly, but we felt we got our money's worth with the result of its excellent job. The staff is hard working and makes sure they leave the area clean and tidy.
However, there have been instances when online inquiries were not answered right away. It also does not help that Landcare is closed on Sundays.
The limited number of days of operation can also affect the number of lawn care jobs it can accept on a given week.
Excellent service
Affordable
Good communication
Highly skilled staff
Closed on Sundays
No replies from online inquiry
Customer Reviews
Extremely pleased
Landcare brought our vision for a backyard oasis to life, going above and beyond our expectations. We were extremely pleased with the professionalism and attention to detail exhibited by each of the staff and crew and are grateful for the stunning backyard that we now have to enjoy with family and friends. Thank you, Landcare! – James
Excellent job
We recently got our front and backyard cleaned up and re-sodded. Dante Brown-Fucci and his team helped us through this from beginning to end and did an excellent job. The pricing was reasonable and everyone had a lot of knowledge and were professional throughout the whole process. The work came out great and we couldn't be happier! – Samay
5. Mr. Lawnmower Landscaping Services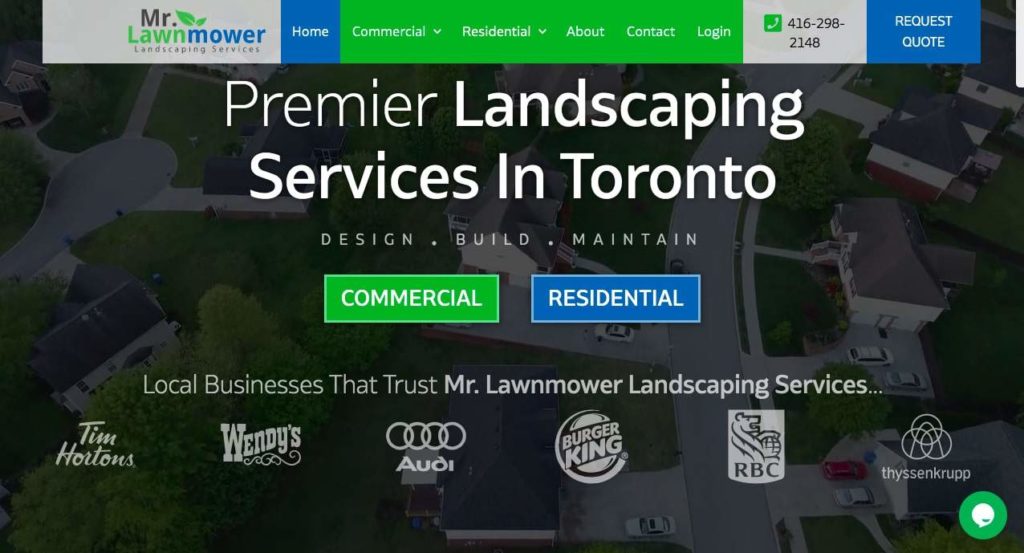 Test
Info
Services

Residential Design

Residential Maintenance

Residential Landscaping

Irrigation and Sprinkler System

Website
Address
871 Sheppard Ave E,Scarborough, ONM1B 5R7
Contact details
(416) 298-2148
Operating hours

Monday – Friday: 9 am – 5 pm

Saturday – Sunday: Closed
| | |
| --- | --- |
| Availability | ★★★★★ |
| Services | ★★★★★ |
| Staff | ★★★★★ |
| Customer Satisfaction | ★★★★☆ |
| Pricing | ★★★★☆ |
For over 15 years, Mr. Lawnmower Landscaping Services has been working on ensuring that yard design is able to connect with your home.
It uses landscaping software to help deliver the best customer experience. Coupled with this is its staff that is courteous, reliable, and professional.
We have noted its excellent and trustworthy service. Furthermore, its expertise in the field has been helping homeowners and businesses beautify and take care of their surroundings.
We also like the way the staff explained the kind of work to be done. The knowledgeable advice they gave helped us get the best service for our yard.
We are happy with its quick response and open communication that made the quotation and service flow quickly. Added to this, the company has maintained the standard quality of work and has not disappointed clients.
If you are looking for a one-stop lawn care company, Mr. Lawnmower's services go beyond landscaping and maintenance. What is amazing is it can even put up picket fences or install a sprinkler system.
We are disappointed, though, that it doesn't operate on weekends and has short working hours, which can limit its time to schedule more lawn care jobs.
But overall, we are very happy with the provider's work as well as the complete lawn care services it offers.
100% customer satisfaction guarantee
Uses landscaping software
Trustworthy service
Knowledgeable staff
Stays on budget
Limited operating days
Short working hours
Customer Reviews
Knowledgeable service
Excellent service! The Mr. Lawnmower's team helped transform my weed infested front yard into a relaxing garden oasis. Everyone we dealt with at the company was professional and provided us with knowledgeable advice. I would use them again for future landscaping projects and would recommend them to family and friends. – Kevin
Reliable work
We are very happy with Mr Lawnmower company for their well done job over 5 years to make our large lawn beautiful and neat. They are reliable and quick service. I highly recommend this company to other landlords with similar needs. Wish you continue to success in your business. – Hong
FAQs on Lawn Care Services
---
Lawn care is essential for a beautiful yard as well as to ensure your grass and plants thrive. To save you time and effort, we recommend you get the services of the top lawn care companies we have found.
To learn more about lawn and plant care, read these articles: