The 8 Best Arborists in Toronto
Looking for a professional arborist in Toronto? You're on the right page.
To help you select an arborist in Toronto, we've put together this list of the top arborists working in the city. It covers what they do best, as well as the pros and cons of hiring them.
We've also included pricing information and an FAQ section that answers many of your questions about arborists, tree removal, tree service, and so on.
How much does it cost to hire an arborist in Toronto?
Arborists render many different services and costs can differ depending on which ones are availed of. Certain factors can also affect the price of a service.
For example, the following factors can affect the cost of having a tree removed from your property:
Size
Diameter
Location
Condition
Below is a table of some of the most common services rendered by arborists in Toronto, as well as how much you should expect to spend:
Tree Removal
Small: $165 to $600
Medium: $200 to $1000+
Large: $500 to $1300
Very Large: $1200 to $3000
Tree Trimming/Pruning
$100 to $1500
Stump Grinding & Removal
$100 to $600
Arborist Report
$250 to $350 + HST
Tree Maintenance
$500 to $800
The Top Arborists in Toronto
Now that you have a general idea of how much certain arborist services cost in Toronto, we can move on to our list. You'll find that each of our selections come highly recommended, with customer reviews you can peruse conveniently located at the bottom of each entry.
1. Twelve Oaks Tree Service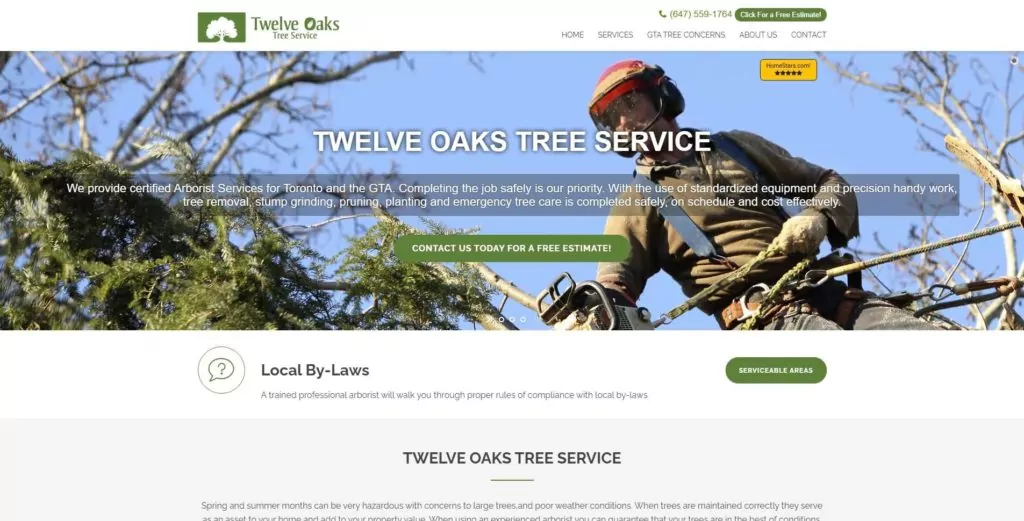 SERVICES
Tree Removal, Tree Pruning, Tree Planting, Stump Grinding, Lot Clearing, Arborist Reports, Emergency Services, etc.
WEBSITE
https://arboristtoronto.ca/
OFFICE LOCATION
50 Leek Crescent Suite 101 Richmond Hill, ON L4B-4J3
CONTACT DETAILS
(647) 559-1764,

[email protected]

HOURS OF OPERATION
Monday – Sunday: 8:00 am to 6:00 pm
With 15 years of experience in the industry and the ability to attend to concerns in a wide service area, it's no wonder Twelve Oaks Tree Service is a favorite among customers in Toronto and the GTA. They provide various arborist's services anywhere between Brampton and Ajax, Newmarket all the way down to the Lakeshore.
In addition to the usual services that you can expect from an arborist such as tree removal, tree pruning and stump grinding, they also perform tree planting and supply the trees themselves. Homeowners looking to give their properties a curb appeal boost can choose from many popular tree species, including maple, oak, and birch, among others.
The owners of Twelve Oaks are also very hands-on. Wes Franklin (the founder) or his son Justin usually accompanies the crew, no matter what the job is.
This means that you always have access to a skilled and certified arborist who will oversee the project and supervise the team. Previous customers also attest to the fact that the Twelve Oaks team will always go above and beyond the call of duty, attending to small requests such as chopping wood or trimming off a few stray branches without charging.
In sum, hiring Twelve Oaks to do your tree work is great if you are looking for a no-muss-no-fuss company that is straightforward about what they can offer.
However, they have a limited selection of services compared to some others on this list, which may necessitate looking to a different company for more specialized tasks.
Personalized attention from the owner or his son for each project
Certified arborists supervising the team
Only offers the basic suite of arborist services
Customer Reviews
Check out what previous customers have to say about Twelve Oaks Tree Service with these reviews from their website:
"We hired Wes to remove one trunk of a elm tree which was falling over into our shed. He and his crew were punctual and polite, and did a great job for a very reasonable price. We wanted the wood, and he cut it as requested." -Graham from Etobicoke
"Wes and his team came in and removed a very large 45 year old tree that was situated in a tight spot between the house and pool. I was very impressed with how quickly they worked and the attention paid to ensuring that nothing was damaged as they worked. Wes provided great customer service by removing some dead branches off of one of my other trees." -Wendy from North York
2. Toronto Tree Removal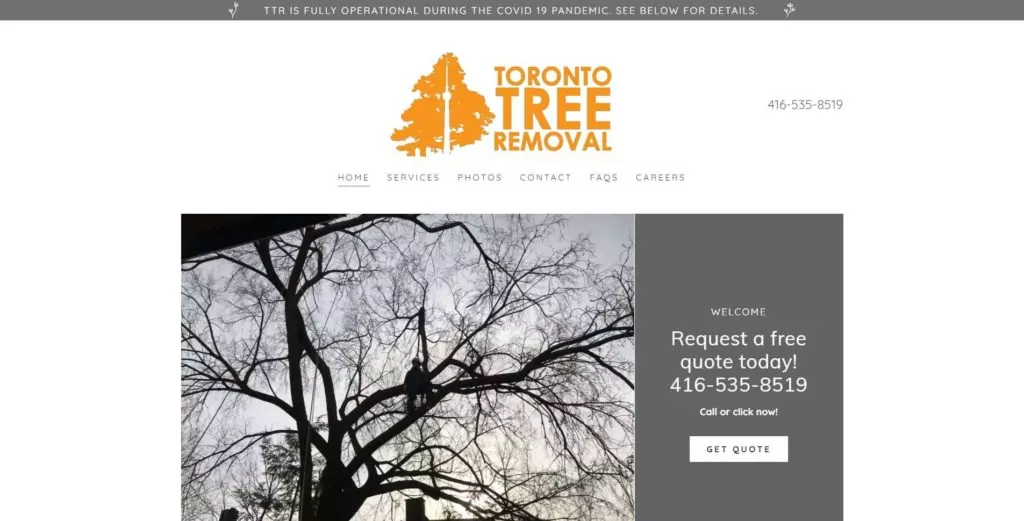 Right out of the gate, Toronto Tree Removal impressed us with their list of offerings. The company primarily serves downtown Toronto, as well as surrounding areas such as North York, Etobicoke, and Scarborough.
In addition to tree removal and associated services like pruning, stump grinding, and arborist reports, the company can also come in to perform emergency services. You can call on Toronto Tree Removal if you need help getting a fallen tree off your house, vehicle, or any essential lines going into your home—even after hours.
You can also call on them to remove hazardous trees from your property. If you aren't sure whether a tree poses a risk or not, their experts are happy to perform an aerial inspection that follows the ISA's Tree Risk Assessment Qualifications.
One of the best things about employing Toronto Tree Removal is the fact that you do not need to be home for the assessment or to receive your quote. It will be emailed to you after a member of the team comes by to inspect the tree, which you also do not need to be present for.
We also love their free wood chip delivery service. Gardeners and landscapers in need of wood chips can request a delivery of them to any location in the GTA at absolutely no cost.
Sadly, the company at present does not offer certain services that we feel are essential to any business that specializes in tree care. If you are looking to have a tree replanted or have chemicals sprayed on your trees to treat pests, you'd be better off looking at a different one.
Diverse suite of services
Emergency services available
Customer doesn't have to be on the premises to receive their quote
Does not offer tree replanting
Does not offer chemical spraying services
Customer Reviews
Here's what customers are saying about Toronto Tree Removal, from the reviews on their official site:
"The three man crew worked quickly, efficiently, tidied up well, had regard for the neighbors and passersby, AND did exactly what I wanted. I am very pleased." -John C.
"TTR provided prompt and excellent service for a large old tree which had a section in very poor condition. They did a great job and left the site very clean and tidy. Would definitely recommend them." -Private User
3. Tree Doctors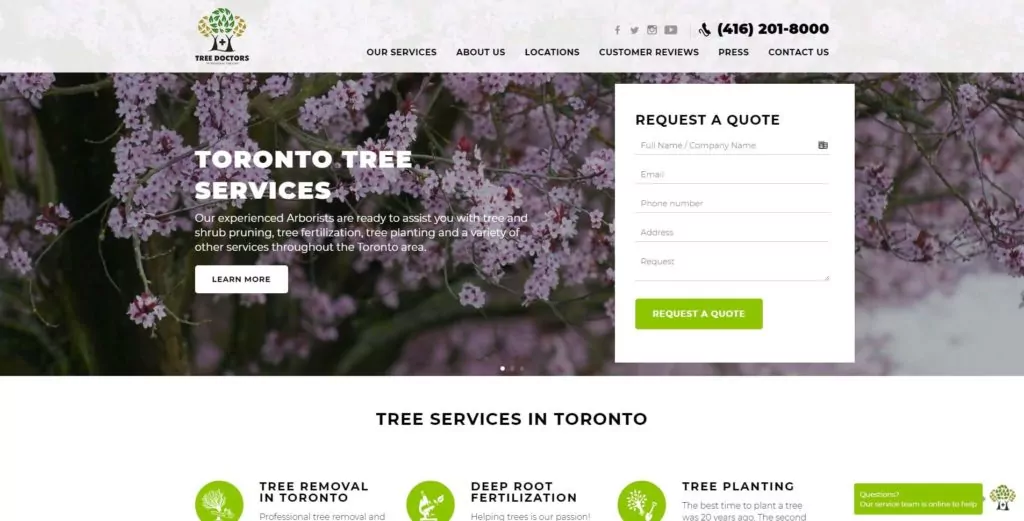 SERVICES
Tree Removal, Tree Planting, Tree Pruning, Stump Grinding, Arborist Reports, Emergency Services, etc.
WEBSITE
https://treedoctors.ca/
OFFICE LOCATION
343 Olivewood Rd Etobicoke, ON M8Z 2Z6
CONTACT DETAILS
(416) 201-8000,

[email protected]

HOURS OF OPERATION
Monday – Friday: 7:00 am to 7:00 pm
Most providers in this category tend to be positioned as tree removal services first and arborists second. Tree Doctors' approach is different—they are a tree-care company dedicated to doing right by your trees and making sure they stay healthy and beautiful.
If you are the kind of property owner who would rather see your trees saved rather than removed, then Tree Doctors might just be the company for you. They employ licensed arborists who will do everything they can to help you keep your trees before recommending any irreversible procedures.
They also perform other specialized tree care services such as tree/deep root fertilization, soil aeration, mosquito & tick treatments, and more. The company is also available 24/7 to attend to dead, dying, or dangerous trees on your property that may pose an immediate hazard to you and yours.
If environmental consciousness is something you look for in the businesses that you patronize, then you'll love Tree Doctors as much as we do. They make an effort to plant, protect, and preserve trees wherever possible and only use biodegradable oil in their chainsaws, too.
Regular arborist reports from Tree Doctors come at a reasonable price and include a replanting plan. Those who take advantage of additional tree care or removal services from the company also qualify for discounts and deals—just ask!
We did notice that customer service for this company seems to be hit or miss, though. Previous clients have complained about a few jobs going unattended and unresponsive staff.
Fortunately, the company offers a full cashback guarantee and seems happy to offer refunds if you are unhappy with the services rendered.
Very extensive list of services
Environmentally conscious
Full cashback guarantee
Inconsistent customer service
Customer Reviews
Here's what previous customers have to say about Tree Doctors, courtesy of Facebook Reviews:
"The crew came out exactly when they promised to. There were 5 men, and all were polite, extremely conscientious about their work as well as about observing COVID protocols. Much appreciated. The work and cleanup were all done exactly as promised, and precisely as I wanted it done. They even cut and stacked firewood for me. I had asked them to just toss it in a corner of the yard, but instead there is now a big stack of 18″ logs ready for the fireplace. I recommend them without reservation. They will do a fine job at a reasonable price, with none of the usual (or unusual) negative surprises." -Jon Palmer
"Overall Excellent service. The manager called back in a timely manner, set up an appointment quickly to see the job. His prices are very fair. They removed two trees for me and did an excellent job with the clean up. Highly recommend for tree and stump removal." -Anne Vee
4. Al Miley & Associates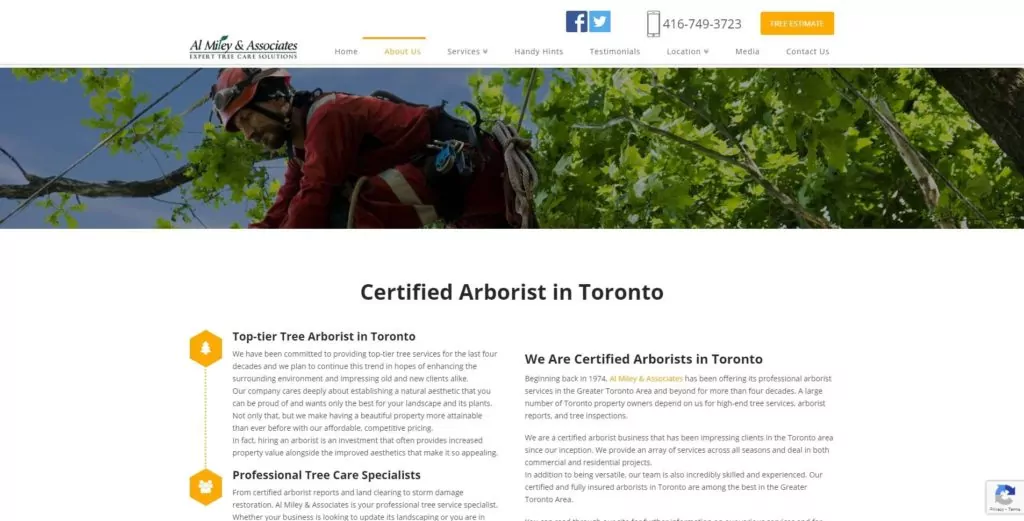 SERVICES
Tree Removal, Tree Pruning, Tree Restoration, Lot Clearing, Arborist Reports, Emergency Services, etc.
WEBSITE
https://almileytree.com/
OFFICE LOCATION
203 Toryork Drive, North York, ON
M9L 1Y2
CONTACT DETAILS
(705) 356-3302,

[email protected]

HOURS OF OPERATION
Monday – Friday: 8:00 am to 8:00 pm
Al Miley & Associates is one of the most recognizable names in tree care in Toronto and the GTA, with over 4 decades of experience under their belt. They offer a wide variety of solutions to customers in Richmond Hill, Mississauga, Vaughan, Oakville, Markham, and surrounding areas.
As certified arborists, the company specializes in objective reports for whatever purposes they may serve, whether it's to identify any underlying issues with them or for various property development applications. They also offer the usual arborist and tree care services you would expect, such as pruning, removal, lot clearing, and more.
On top of that, they offer services that you may not find with other arborists. For example, they have a tree restoration service that may be able to help bring back a tree that's sickly or on the verge of dying.
Another such service is their tree crane service, which can help safely and efficiently deal with hazardous trees, or one that poses a potential danger. Not all tree care companies even have a tree crane.
Having Al Miley & Associates on your speed dial is great if you're looking for an arborist and tree care specialist that can perform a wide range of services. It means being able to trust one crew to cover your every tree-related need, instead of calling multiple companies in.
Unfortunately, this company rates slightly on the lower end of the spectrum when it comes to responsiveness. According to their ratings on HomeStars, this is the area where Al Miley & Associates tends to falter.
Previous customers have reported calls going unanswered on occasion, so you may want to keep that in mind. So while they do seem to offer great services, actually getting in touch with them to avail of those services may not always be simple.
Good range of services
Specializes in arborist reports
Upfront about service costs on their website
Occasionally unresponsive to customers
Customer Reviews
Here's what people have to say about Al Miley & Associates on HomeStars:
"I worked with Robert from Al Miley & Associates to have a sugar maple in the back of our house looked at to see whether it needed to be removed or it "just" needed a lot of dead wood removed.
Robert was punctual and very reachable over a period of a few weeks as we got a few quotes. In the end, we went with Robert (and Al Miley) because their price was reasonable, and they came across as one of the most genuine/honest of the group that provided quotes.
In the end, we removed a significant amount of deadwood from the sugar maple, and also had some work done to a locust tree.
The Team of 3 arrived on the date promised, at the time promised. They worked through the whole day and did a great job of leaving the sites as clean as possible.
I highly recommend Al Miley & Associates based on my experience." -Edrikk
"Al Miley & Assoc. were extremely professional and accommodating for our complicated job with a large stump between two garages and both wedged in the ash-fault of the driveway. They were even able to work around our home excavation team.
Reasonable price and quick. I would definitely recommend to anyone." -Jason
5. Man with an Axe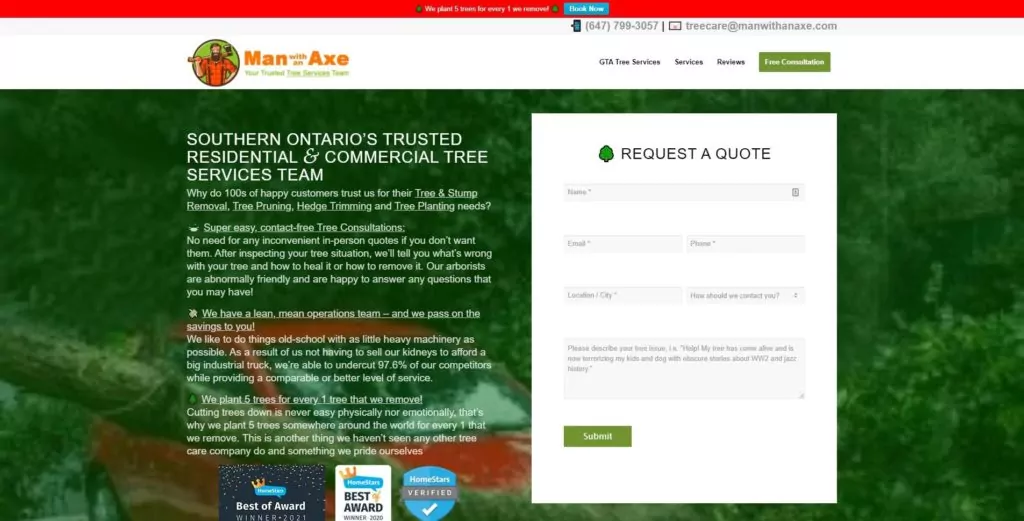 SERVICES
Tree Removal, Tree Pruning, Tree Planting, Stump Grinding, Arborist Reports, etc.
WEBSITE
https://manwithanaxe.com/
OFFICE LOCATION
145 Jardin Dr, Concord, ON L4K 1X7
CONTACT DETAILS
(647) 799-3057,

[email protected]

HOURS OF OPERATION
Monday – Friday: 9:00 am to 5:00 pm
When it comes to tree services, you probably won't get anything more straightforward than (a) Man with an Axe. This tree services provider primarily attends to customers in southern Toronto and the surrounding areas.
They may have a basic suite of services, but they do what they do well—and with a palpable sense of humor. They've got your back if you are in need of tree removal, pruning, stump grinding, or arborist reports.
Man with an Axe's arborists can also help you further develop your property with their tree planting service. They'll work directly with you to find and plant trees that will thrive on your property, taking the climate, soil conditions, and even your long-term property goals into consideration.
The company lives up to its name by preferring to do things without having to employ heavy machinery, if possible. This, and the fact that they keep their team small and agile, allows them to offer their services at significantly lower rates from their competitors.
Man with an Axe can also conduct 100% contact-free tree consultations if you're pressed for time or have COVID-19 related concerns. You do not have to receive your quote in person, if you so choose.
This business is ideal for customers who only need the essentials—nothing more, nothing less. Man with an Axe also offers reduced rates to customers who choose to keep the wood, which makes them a great choice for the cost-conscious.
Clients who need more in-depth work done on their trees are probably better served elsewhere, though.
Rates are extremely competitive
Staff are very friendly and approachable
Same-day quote and job completion for most services
Limited selection of services
Customer Reviews
Here's what customers have to say about Man with an Axe, courtesy of HomeStars:
"Chris and team did an amazing job removing a 70 feet maple on my front yard. Very professional and reasonable price. I will definitely use their service again. Thanks Chris and the crew." -Andrew
"Our beloved mature maple tree was damaged in a storm. Chris assessed the tree and within 24 hours he and his crew arrived with a bucket truck to remove limbs and several branches to ensure stability and safety, while saving the tree. Their work was skilled and efficient. They used a large chipper and left our property very clean. Tracey, office administrator, was also very efficient and friendly. We are very happy that we were able to save our tree. Thank you!" -Anna
6. The Real Tree Masters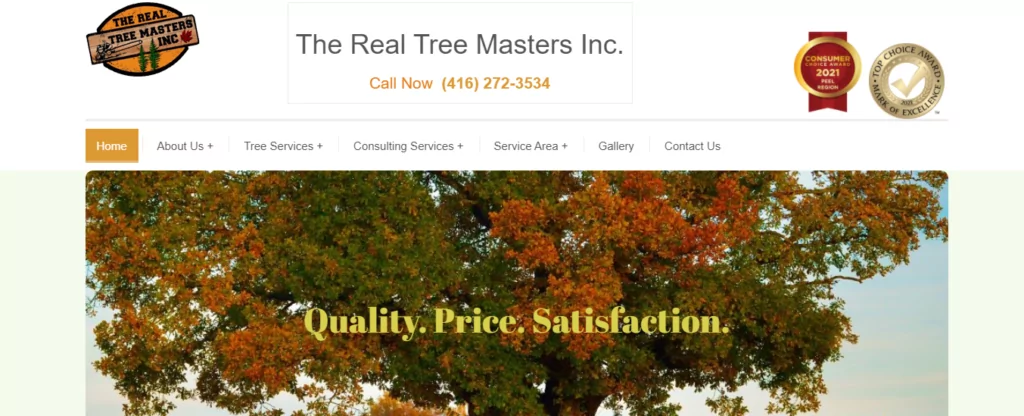 SERVICES
Tree Removal
Tree Planting
Arborist Report
Stump Grinding
Commercial Tree Services
Tree Protection Plan
Tree Pruning
Tree Trimming
Deep Root Fertilization
WEBSITE
https://www.therealtreemasters.ca
OFFICE LOCATION
50 Burnhamthorpe Rd W #401, Mississauga, ON L5B 3C2
CONTACT DETAILS
(416) 272-3534
[email protected]
HOURS OF OPERATION
Monday – Friday: 9:00 am to 6:00 pm
Toronto is a city with a lot of trees. It's no surprise that the city has a lot of different tree care options for their residents.
What sets The Real Tree Masters Inc. apart from other tree care company is their professional and courteous approach. It's not just about trimming trees, they take pride in making sure that any project they undertake, large or small, will be done with the utmost attention to detail and quality.
They are also well-versed in how to maintain healthy trees. They help Toronto residents save money by preventing damage to their property before it happens.
Some of their services include tree cutting, planting, pruning, trimming, construction arborist report, root pruning, deep root feeding, tree cabling, tree maintenance, tree protection zone, tree hoarding & stump grinding.
The Real Tree Masters Inc. consists of some of Toronto's best arborists, providing professional tree care and trained professionals who know how to diagnose problems before they turn into emergencies.
Emergency services available
Full range of arborist services
Large service area
Insured servces
7. Heritage Tree Inc.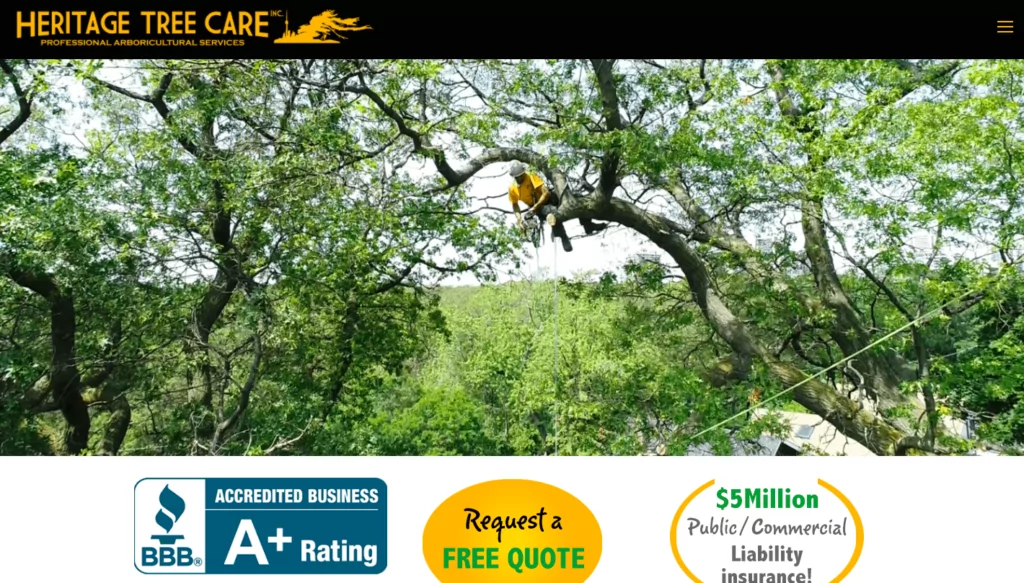 | | |
| --- | --- |
| SERVICES | Tree Pruning & Structural Maintenance, Tree Healthcare And Planting, Tree Removals & Stump Grinding, Storm Damage, Fertilization, Risk Assessment & Hazard Mitigation, Arborist Reports & By-Law Mitigation, Urban Wood Reclamation & Log Milling, Cat Rescue |
| WEBSITE | https://www.toarborist.com/ |
| OFFICE LOCATION | 434 Runnymede Rd, Toronto, ON M6S 2Y8, Canada |
| CONTACT DETAILS | Phone: (416) 458-4745 |
| HOURS OF OPERATION | Monday to Sunday: 7:00am – 7:00pm |
Heritage Tree Care is a holistic tree care company that provides various tree work services to the residents of Toronto and the Greater Toronto Area (GTA).
With ISA Certified Arborists and apprentices on board, Heritage Tree Care is knowledgeable in diverse methods and standards of tree health care, risk management, planting, and removal.
What makes their business model unique is that they use all the tree by-products produced in the course of their work. Whether transforming these materials into bespoke furniture or returning the much needed nutrients to the soil, all of their "green waste" is put to good use.
They are fully insured with over five million worth in public and liability insurance, so you can rest assured that should any unfortunate incidents occur, they've got it covered. But they've got safety at the core of their workmanship, with fully trained and certified staff.
So whether you need tree pruning, maintenance or need assistance cleaning up the damage after a storm, Heritage Tree Care is an option worth considering. They are cost-efficient, safe, fully insured and are ISA certified, making them one of our top arborists in Toronto.
Full-circle, holisitc tree care
ISA certified
Services entire GTA and Toronto
Fully insured
8.   Majestic Maple Tree Service & Property Maintenance Ltd.
SERVICES
For Residential and Commercial Properties:
Tree Removal
Stump Removal
Tree Trimming
Hedge Trimming
Shrub Maintenance
Fall Clean Up
Snow Removing
Salting
WEBSITE
https://www.majesticmaple.ca/
OFFICE LOCATION
2313 Islington Ave, Etobicoke, ON M9W 3X1, Canada
CONTACT DETAILS
(647) 784-6198
[email protected]
HOURS OF OPERATION
24/7
Trusted, approved and partnered with Eden since 2018, Majestic Maple Tree Service & Property Maintenance Ltd. has been providing their top of the line service in order to not make trees a liability. All year round, they help their clients make informed decisions about the health and safety of their trees.
As not everyone has chosen the path of being an arborists, we are impressed with this company for they make sure that you are being serviced with experienced arborists. They take pleasure in their skills to assist you safeguard and care for your property.
They are also fully insured and prepared with the correct tools to tackle any project, big or small. With these tools, they see to it that they utilize modern equipment to get the job completed safely and efficiently.
Not only do they offer services for residential and commercial properties such as tree and stump removal, tree and hedge trimming and shrub maintenance but also they do fall clean up, snow removal and salting. During your consultation with them, they will be able to assist you in identifying tree and woody shrub, disease diagnosis and advice, ecological/sustainable landscaping practices and do arborist reports.
You are in safe hands with Majestic Maple Tree Service & Property Maintenance Ltd.
Free estimate and consultation available
Fully insured
Wide range of services
No rates listed onlineCustomer Revies
Customer Reviews
Here's what customers have to say about Majestic Maple Tree Service & Property Maintenance Ltd. courtesy of Google reviews:
"A pine in my backyard fell during the previous windstorm. Jesse answered my call right away and a visit was promptly scheduled. He and his crew did a good job removing the fallen tree. I also have a very tall mulberry with its canopy stretched far beyond the fence line. Jesse spent a significant amount of time trimming it back to shape. It was no easy task but the result was amazing. He and his crew left two neat piles of firewood in my backyard as well. I am very impressed with his professionalism and attention to details. Wouldn't hesitate to recommend him to anyone who could use some tree services." – Monica
""A wind storm took down our pine tree that fell on another neighbours front lawn /driveway. I called Jesse at 10 pm on Saturday night and the tree was gone by 12:45 am on Sunday morning. Efficient and a great clean up job, like the tree was never there. Thank you Jesse and his team for a great service. – Lucy
Frequently Asked Questions about Arborists in Toronto
---
Trees need to be properly managed and cared for if you want to continue enjoying them for years to come. Hiring an arborist in Toronto can help ensure the health and well-being of your trees.
Are you looking for other service providers that can help develop your property? Check out this list of the best general contractors in Toronto.