The 5 Best Places to See Beautiful Tulips in Toronto
The tulip is a widely cultivated flower that originated in Turkey.
They are a popular choice for gardens and parks, and Toronto is no exception! Visitors to the city can see tulips in bloom at many different locations.
Where does one go to see beautiful tulips in Toronto? Here are our top recommendations!
Top Places to See Beautiful Tulips in Toronto
Below are the questions that guided us in identifying and evaluating the best places to see tulips in Toronto.
How much do tulips in Toronto cost?
The following table shows the common types of bouquet and their estimated price ranges in Toronto.
| BOUQUET | PRICE RANGE |
| --- | --- |
| Single color bulb tulips | $34.95 to $58.95 |
| Dual color bulb tulips | $38.95 to $58.95 |
| Triple color bulb tulips | $56.95 to $101.95 |
| Spring collection (usually includes tulips, lilacs, roses, and stocks) | $48.95 to $82.95 |
| Dual type tulips (usually includes bulbs and peonies) | $62.95 to $101.95 |
Normally, 10-12 pieces compose a bouquet arrangement.
The type of tulips being sold can have an impact on prices. Certain types of tulips, such as rare or hybrid varieties, may be more expensive than others.
The time of year is a major factor in determining the price of tulips in Toronto. Tulips are typically in highest demand during the spring, and thus, prices will be highest during this time.
However, tulips may also be in demand during other seasons, such as Yuletide or Easter, and prices will reflect this demand.
1. Allan Gardens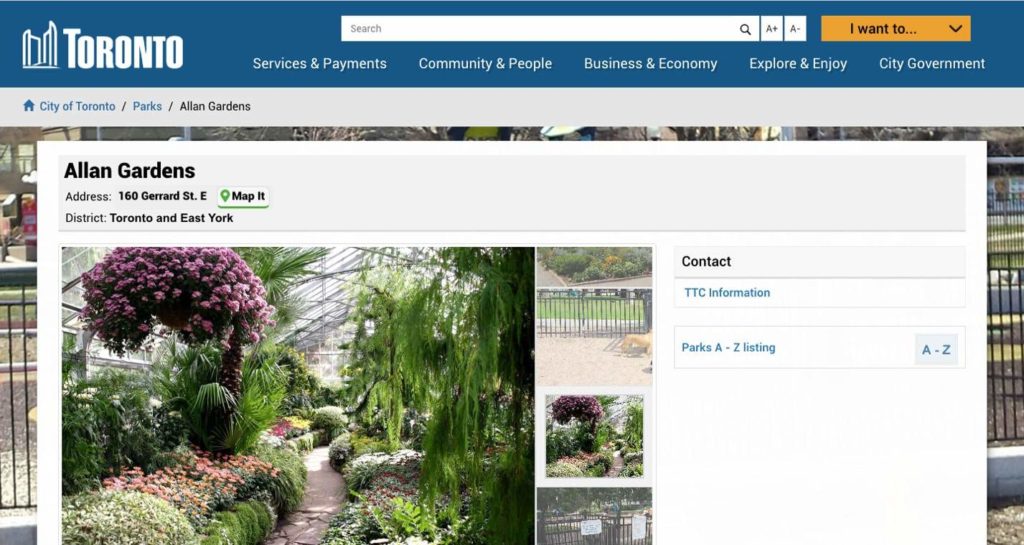 | | |
| --- | --- |
| VARIETY OF TULIPS | ★★★★★ (5/5) |
| LOCATION | ★★★★★ (5/5) |
| Accessibility | ★★★★★ (5/5) |
| Atmosphere | ★★★★★ (5/5) |
| MAINTENANCE | ★★★★☆ (4.5/5) |
| Layout and design | ★★★★★ (5/5) |
| Cleanliness | ★★★★☆ (4/5) |
| AMENITIES | ★★★★☆ (4/5) |
| ADMISSION FEES | ★★★★★ (5/5) |
Going to Allan Gardens, we realized that they have a diverse botanical garden. You can clearly see different types of tulips and other beautiful flowers as you roam around the area.
It took us approximately 20-30 minutes to completely explore its scope. We saw their beautiful collection of plants which includes a wide array of tulips and various flowers, small trees, and other exotic plants.
We spotted some gorgeous tulips on our walk. The elegant white Emperor tulips, striking red-orange double early tulips, and lovely pink peonies were a feast for the eyes!
Allan Gardens is located in downtown Toronto near Jarvis street, which is a very accessible area for public transit. There is free parking on-site, too.
They have sections specifically allocated for flowers however, regular goers claim that the park is starting to get old because of the amount of people going there for its dog park area.
We were amazed at the available amenities—a conservatory area, dog fountain, dogs off-leash area, two drinking fountains, a greenhouse, and parking lot.
Although, we received reports regarding unruly dogs that are sometimes present in the off-leash area.
Allan Gardens also has available picnic spots around the park but there are only few benches available as well as portable washrooms.
On the brighter side, this garden has two unique features, their koi fish and turtle zone which we're sure will be loved by the little ones.
Ongoing construction is apparent in the garden so you might experience a limited view if you plan to go there anytime soon.
And the most exciting part of Allan Gardens? It's free admission for everyone!
Diverse botanical garden
Wide array of tulips, small trees, and exotic plants
Accessible by public transit
Free parking on-site
Picnic spots
Koi fish and turtle zone
Free admission
Unruly dogs may be present in off-leash area
Only portable washrooms available
Few benches
Ongoing construction; some areas may be off-limits
Visitor Reviews
Marvelous conservatory
Back from Toronto and despite the awful winter weather, I made sure to be surrounded by flowers! First it was Allan Gardens, a marvelous conservatory, still free for the public to enjoy any and every day. There's a dog park on the grounds right beside it, so both people and dogs are happy with a visit to this garden. The spring bulbs – tulips, hyacinths and daffodils were out as well as an amazing show of orchids." —Glenys Morgan, Facebook
Gorgeous pink tulips
"I'm low key obsessed with tulips and the gorgeous pink ones were some of my favorites in Allan Gardens." —Liliane Fawzy, mytorontomyworld.com
2. St. James Park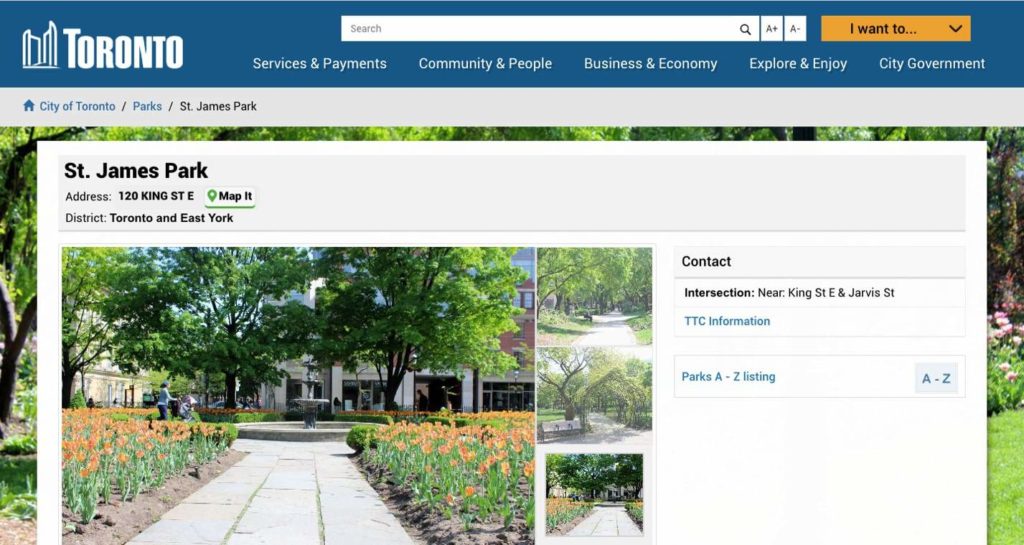 | | |
| --- | --- |
| VARIETY OF TULIPS | ★★★★★ (5/5) |
| LOCATION | ★★★★☆ (4.5/5) |
| Accessibility | ★★★★☆ (4/5) |
| Atmosphere | ★★★★★ (5/5) |
| MAINTENANCE | ★★★★★ (5/5) |
| Layout and design | ★★★★★ (5/5) |
| Cleanliness | ★★★★★ (5/5) |
| AMENITIES | ★★★★☆ (4/5) |
| ADMISSION FEES | ★★★★☆ (4/5) |
If you're into vintage and Victorian vibes, we think you'll love St. James Park. It's a popular location for hosting weddings and other type of parties inclined with their design.
Their garden is beautiful with numerous tulips available for viewing.
We spotted the grand perfection triumph tulips, which belong to one of the largest tulip species. They come in baby pink as well as red and white colours.
In addition, there were red and yellow single late tulips. A lot of Café Noir tulips also caught our attention, which are deep purple to almost-black in colour.
Having clean paths and well-arranged tulip beds are two of the park's many selling points for us.
Located in King Street East, it's near St. Lawrence market and is accessible by public transport either via bus, tube or train. It's important to remember this as they have no car parking available in the area.
We like that this location gives guests a great place to enjoy a green scenery in a busy area.
They have a gazebo, playground, splash pad, drinking fountain and a lot of trees, which makes the temperature breezy and cool during warm weather.
Regarding the playground, the parents we talked to were a little conflicted with how the it was built.
Apparently, this is because it has higher slides and complicated climbing structures, which may need guiding attention if you have a younger kid coming with you.
Unfortunately, St. James Park doesn't have a dog area. They do have a fair number of benches available for sitting and relaxing within the park.
Another downside would have to be the amount pigeons flocking the area, making it hard for picnic goers to enjoy the space at times.
You can enter the park for $8.50 if you're an adult, $7.00 for seniors and commercial groups with at least 7 members in a single vehicle, and free admission for minors aged 17 years old and below.
Clearly, this park that is laced with history would help refresh your eyes amidst the busy atmosphere surrounding the area. It's a great place to unwind and energise your spirit!
Victorian design
Numerous tulips
Accessible by public transit
Green sceneries
Cool and breezy atmosphere
Fair number of benches for relaxation
No dog parks
Playground not as friendly for smaller kids
Pigeons in picnic area
Visitor Reviews
Perfect place for photography
"Loved the color of the full tulip gardens. Perfect place for photography and kid's playground." —Ruma Dhaka, Google Reviews
This park has many tulips where you can take pictures
"Small and nice park near king station. You don't have to visit Ottawa to attend tulip festival, this park has many tulips where you can [take] pictures 😉. Beware of pigeons as there are many pigeons and they keep flying over your head 🤣😂. There is playing area for children." —Poonam Mane, Google Reviews
3. James Gardens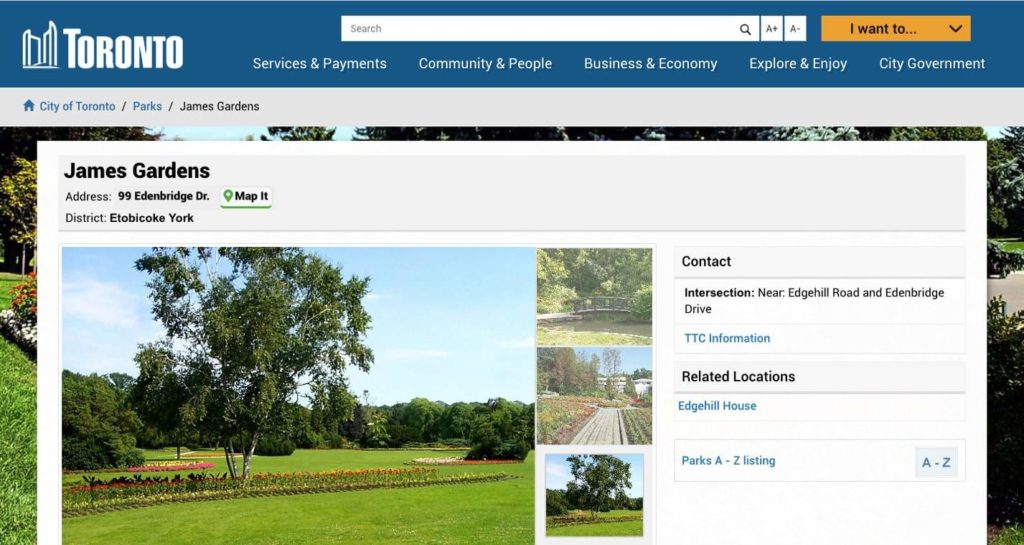 | | |
| --- | --- |
| VARIETY OF TULIPS | ★★★★☆ (4/5) |
| LOCATION | ★★★★☆ (4.5/5) |
| Accessibility | ★★★★☆ (4/5) |
| Atmosphere | ★★★★★ (5/5) |
| MAINTENANCE | ★★★★☆ (4/5) |
| Layout and design | ★★★★☆ (4/5) |
| Cleanliness | ★★★★☆ (4/5) |
| AMENITIES | ★★★★★ (5/5) |
| ADMISSION FEES | ★★★★★ (5/5) |
James Gardens is a hidden gem in the city of Toronto. It is a beautiful park along the Humber River, with natural streams and long trails, making it a perfect place to escape the hustle and bustle of the city.
This garden is extremely spacious and their tulip collection is a must-see. We caught sight of stunning red triumph tulips and white Emperor tulips.
While the variation seemed limited compared to the other gardens that we mentioned, their tulip displays are huge, which we think guests would appreciate especially photographers.
They also have an amazing multitude of flowering trees which is a view to behold especially during spring and autumn.
Since James Gardens is known for their vast green spaces, its location is comparably less convenient to access in contrast with other spots we brought up.
Moreover, what the garden could improve on is maintenance. We noticed that the stone pathways and some of the flower beds were disorganised.
Nevertheless, unique features of this garden include ponds where ducks and geese may be fed. You can also find here lawn bowling, cross-country skiing, memorial cairn in rose garden, and the scenic view of the Humber Valley.
In addition, they have a children's garden, two drinking fountains, greenhouse, two kitchens, picnic tables, parking lot, washroom facilities all readily available.
James Gardens is open to the public for free. It really is a great spot if you wish to feel tranquility in the midst of your busy city life.
Spacious
Tulip displays are huge
Vast green spaces
Good for long walks
Pond with ducks and geese
Great number of allowed activities and special features
Picnic tables
Maintenance should be improved
Less convenient access
Visitor Reviews
The scene of tens of thousands of tulips is so beautiful
"…When I first entered the park, I saw most of the beautiful flower plants. There were many flower beds and the flowers were blooming beautifully. In addition, there is a small pond in the park, the pond is beautiful, and there are fish inside. The James Garden trail is very good for running and spreading, and some locals will come here in their leisure time to stroll around. The place where the tulips are in full bloom has a place where the tulips are specially planted, and the scene of tens of thousands of tulips is so beautiful. PS: Open Hours: Free all day." —黐線低, Trip.com Reviews
Absolutely beautiful display of tulips
"…I'm surprised that in the city we have such an outstanding garden like this, I know the location isn't downtown, but it's really nice to have this green space, something of this size isn't seen for a city like ours. The botanic garden has a lot of plants that normally are natural to the Toronto/Canada area, [there's an] absolutely beautiful display of tulips, and the rock gardens are a nice touch…" Ryan L., Yelp Reviews
4. Rosetta McClain Gardens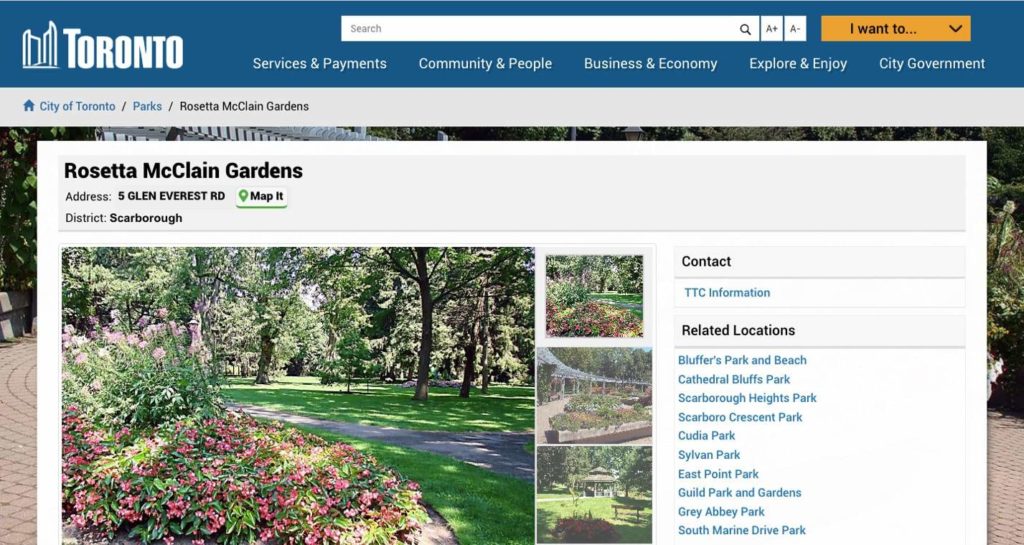 | | |
| --- | --- |
| VARIETY OF TULIPS | ★★★★☆ (4/5) |
| LOCATION | ★★★★★ (5/5) |
| Accessibility | ★★★★★ (5/5) |
| Atmosphere | ★★★★★ (5/5) |
| MAINTENANCE | ★★★★☆ (4.5/5) |
| Layout and design | ★★★★☆ (4/5) |
| Cleanliness | ★★★★★ (5/5) |
| AMENITIES | ★★★☆☆ (3/5) |
| ADMISSION FEES | ★★★★★ (5/5) |
What we realised going to Rosetta McClain Gardens is that it's a sure haven for flower connoisseurs, and bird and butterfly watchers.
Their plants and flowers are meticulously cared for. In particular the tulips on display are diverse and spectacular.
They have vivid Emperor tulips in a yellow, and triumph tulips in cream and pink.
Our favorite part was the carpet of double early tulips that came in a variety of pink shades—they were simply gorgeous.
Rosetta McClain Gardens also provided us a breathtaking panorama of Lake Ontario from the top of Scarborough Bluffs.
It's accessible by public transport where the stop is right across the park. Pedestrian access is also available through Lakehurst Crescent.
Despite being in a convenient location, this place is as peaceful and tranquil as it gets.
We appreciate that inclusivity plays a big part in the garden. Trail wheelchairs are accessible and park maps in Braille are available within the area.
However, there were guests we talked to that reported the trails were not maintained well during winter and the traffic flow lacks enforcement.
We still enjoyed that they have a parking lot and is free for use, although obtaining a space during weekends might be a little hard as a larger number of people come to the place.
The amenities we enjoyed include a drinking fountain, picnic shelter, and washroom facility.
However, dogs, bicycle riding, picnics, rollerblading, skateboarding, and playing ball are prohibited in the garden.
Like most of the entries in our review, Rosetta McClain Gardens also offers free admission to everyone who wishes to come.
Magnificent view of Lake Ontario
Well-maintained flowers
Haven for bird and butterfly watchers
Accessible by public transport
Peaceful and tranquil
Trail wheelchairs and park maps in Braille
Free parking
Free admission
Trails are not maintained during winter
Traffic flow inside garden lacks enforcement
Limited activities allowed
Visitor Reviews
It was like a mini tulip fest
"We visited mainly to see the tulips. They were in bloom when we visited! It was like a mini tulip fest. 🌷♥️ The only not so good about the place is the limited parking space. we visited in the afternoon and the lot was full. Luckily, a car was leaving when we drove by the parking lot! The place was easy to find. Washrooms are on site. It's a small park but it was worth the visit. I'd definitely go back there again." —RA, Google Reviews
Beautiful tulips in full bloom
"Lovely views of Lake Ontario. Beautiful tulips in full bloom for Mother's Day!" —Sally Wong, Google Reviews
5. Toronto Botanical Garden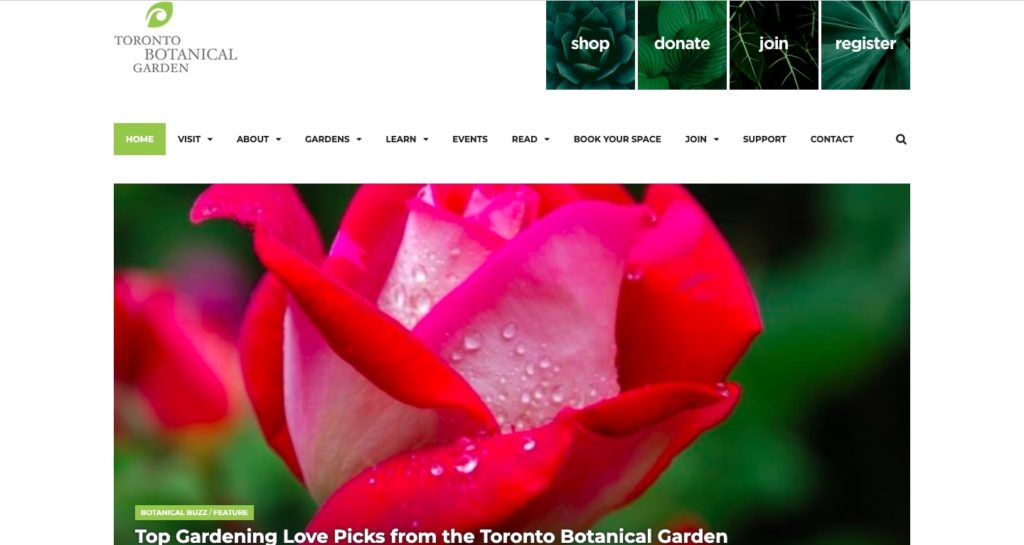 Test
Info
FACILITIES

Themed Gardens

Garden Shop

Café

Green Roof

Event Spaces

Weston Family Library

Parking Lot

Washrooms

WEBSITE
https://torontobotanicalgarden.ca/
ADDRESS
777 Lawrence Avenue East, Toronto, ON
CONTACT INFORMATION

PHONE: 416-397-1341

OPERATING HOURS

Mon–Sun: 9:00 AM–5:00 PM
| | |
| --- | --- |
| VARIETY OF TULIPS | ★★★★★ (5/5) |
| LOCATION | ★★★★★ (5/5) |
| Accessibility | ★★★★★ (5/5) |
| Atmosphere | ★★★★★ (5/5) |
| MAINTENANCE | ★★★★☆ (4.5/5) |
| Layout and design | ★★★★☆ (4/5) |
| Cleanliness | ★★★★★ (5/5) |
| AMENITIES | ★★★★★ (5/5) |
| ADMISSION FEES | ★★★★★ (5/5) |
The Toronto Botanical Garden offers an array of themed gardens spanning for almost 4 acres of land.
They centre on providing a complete range of innovative indoor and outdoor online learning experiences about plant-focused education.
Surveying the garden, we saw their wide range of flowers available for observing and admiring. This includes their varying collection of tulips in different colours, phases, and sizes.
We found "Love Song" tulips, one of the earliest tulips that bloom in the Toronto Botanical Garden. These beautiful tulips are red-orange in colour with a yellow base.
There were also the precious Tulip clusiana Tinka species, which are small tulips that come in shades of cream and red. In addition, grand perfection triumph tulips could be seen in the garden.
We like that you could access the garden via bus which will directly take you right to the corner of Leslie street and Lawrence avenue. You can also take the subway, taking the exit at Lawrence station then take 162.
Furthermore, parking is provided, for a reasonable fee of $2.50/hr.
Toronto Botanical Garden regularly organises shows for various flora, but their showrooms seem to be small, which is underwhelming for some spectators.
It's also a little disappointing that there are not a lot of signs are visible in the garden, making it a little difficult to navigate the area. However, their trails are quite good to explore if you want to check their other flower arrangements.
We think that Toronto Botanical Garden has the most organised and clean pathways out of all the parks we discussed so far.
On the other hand, there are places in the garden that are under construction, which may jeopardise your whole experience of the garden.
Their garden shop and farmer's market might compensate for it though, as essentials for gardeners are available in these areas.
Additionally, they have benches everywhere and a small café where you can grab a snack if you ever get hungry exploring the gardens. Although, their menu does not include meals which might help in satiating your hunger.
In spite of that, the good news is you can enjoy free entrance!
Centres on learning experiences about plant-focused education
Huge collection of tulips
Accessible via public transport
Organised and clean
Has a garden shop, farmer's market, and café
Benches everywhere
Free admission
Small showrooms
Not a lot of signs visible
Limited menu in café
Visitor Reviews
Nice spot for dates and photography
"Really nice place for a stroll in the spring for tulips. One of the nicest spots for dates and photography." —Billy Yap, Google Reviews
The tulips were in full blossom
"Really pleasant place for a short walk. Bring your camera to take lots of nice pictures. Went in late May and the tulips were in full blossom." —Heather Chung, Google Reviews
FAQs on Tulips in Toronto
---
Toronto is indeed home to several wonderful spots where you can admire all these beautiful tulips in all their glory.
You can have tulips delivered to your home if you just can't get enough of them! Find out who the top flower delivery services in Toronto by reading our review.