Florists with the Best Flower Delivery in Toronto
Looking for the florists that offer the best flower delivery in Toronto?
Luckily for you, we're here to make everything a whole lot easier. We combed through the entire city in search of trusted flower shops that have unique flower arrangements, cater to all types of events, and do quick and efficient deliveries.
You'll know everything about them here, from the flowers included in their selection down to the rates of their delivery services. Check them out below to know which one can provide the most beautiful flowers when needed.
The Florists at the Top of Our List
1. Lou-Lou's Flower Truck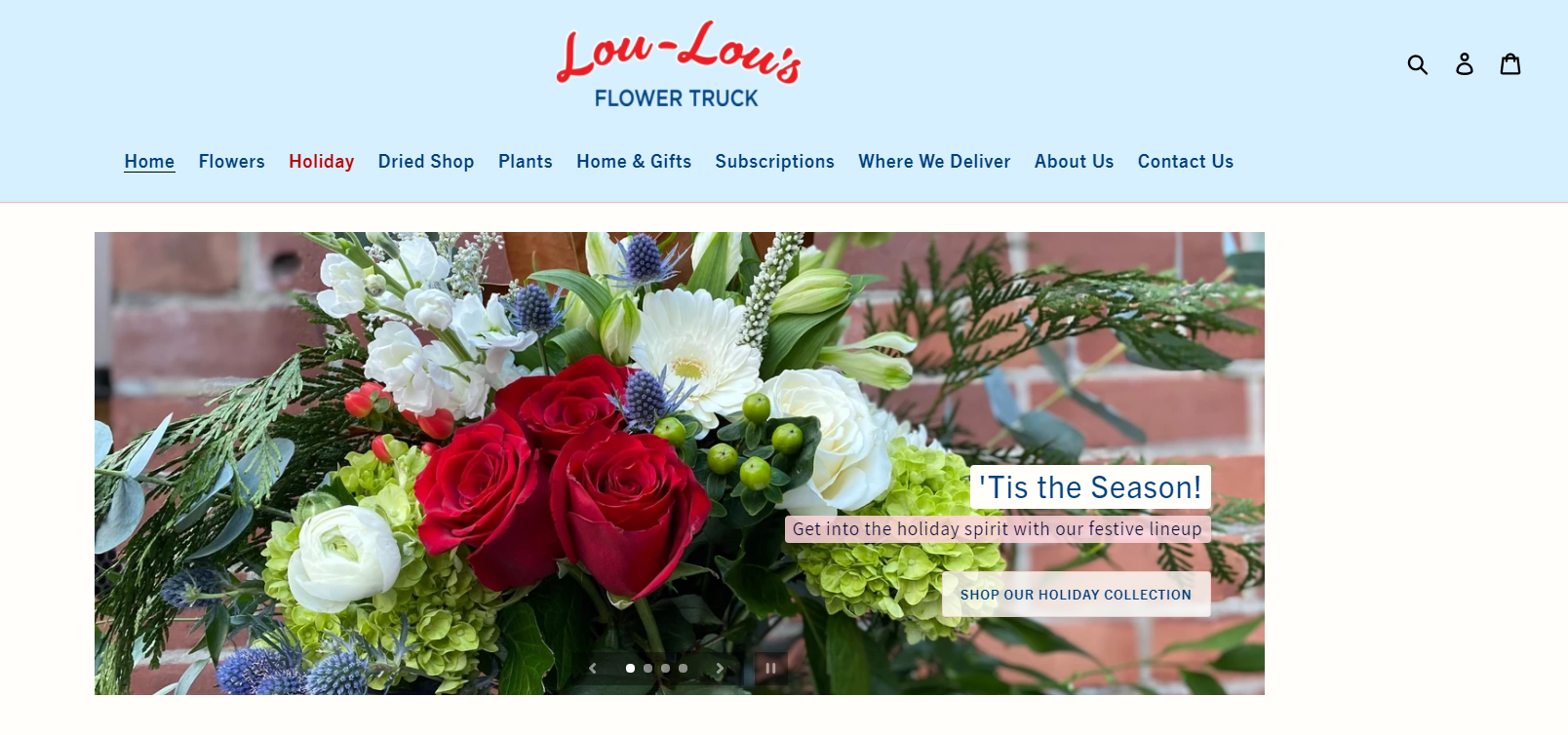 Lou-Lou's Flower Truck began in 2018 as Toronto's mobile florist, bringing fresh flowers to the streets of Toronto in our 1966 baby-blue pickup, and has since grown into an online shop offering next-day delivery throughout the city.
They take pride in using only premium-grade flowers and creating beautiful, freshly made bouquets just for you – no pre-made, out-of-the-box bouquets.
They also offer a curated selection of dried flowers, plants, and home items.
Aside from their regular collection Lou-Lou's Flower Truck also provides flower subscription services, so that customers in need of regular flowers can avail of them with no trouble. Currently, the shop offers weekly, bi-weekly, and monthly flower subscriptions for fresh flowers.
Wide range of flower arrangements to choose from
Several payment options available
Free delivery in Toronto
Standard $12 delivery fee for the GTA
2. Tonic Blooms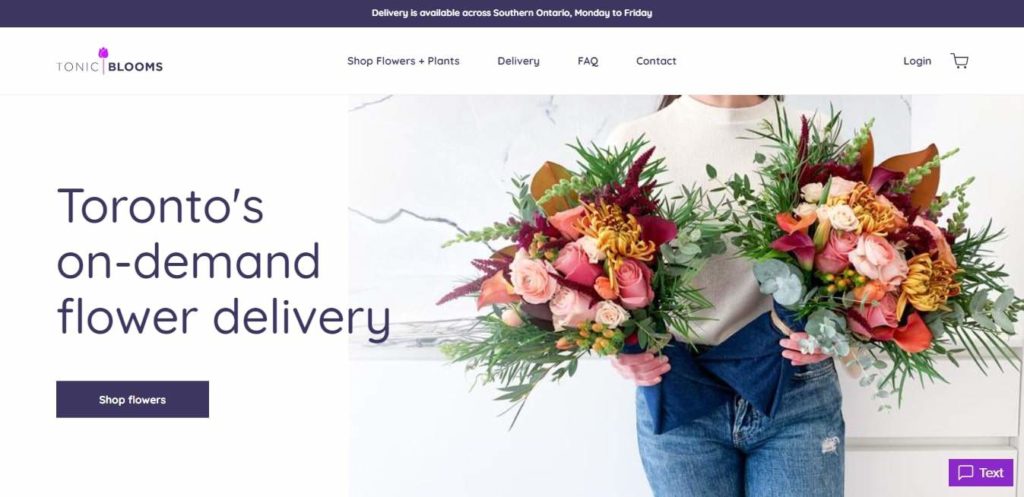 SPECIALTY
Custom-made flower bouquets and houseplants
PRICE RANGE
$63.00 – $114.00
SELECTION SIZE
Medium
DELIVERY FEE
Calculated at checkout
WEBSITE
https://tonicblooms.com/
ADDRESS
688 Richmond St W, Toronto, ON M6J 1C5, Canada
CONTACT DETAILS
416-305-0035

[email protected]

DELIVERY AND PAYMENT
Accepts cash and debit and credit cards
Tonic Bloom offers same-day and on-demand delivery to locations within the Ontario area, including almost every corner of Toronto. It's open from Monday to Friday, from 10am to 8pm, but there's a cut-off time for deliveries.
If there's something that Tonic Bloom is known for, it'd have to be quick and efficient flower deliveries. Its on-demand delivery service is available to all locations in the Toronto Downtown Core.
Customers may place their orders between 10am to 7pm. If you book a slot before 9:30am, your flower is guaranteed to be delivered within the day, from 10am to 12pm.
Its same-day delivery, on the other hand, is available across the GTA and surrounding areas. It's open for nighttime deliveries as well, depending on the address of the recipient, making it a perfect option for those throwing evening parties.
Has 2 delivery options
One of the fastest flower delivery services in Toronto
Limited flower collection
3. Crown Flora Studio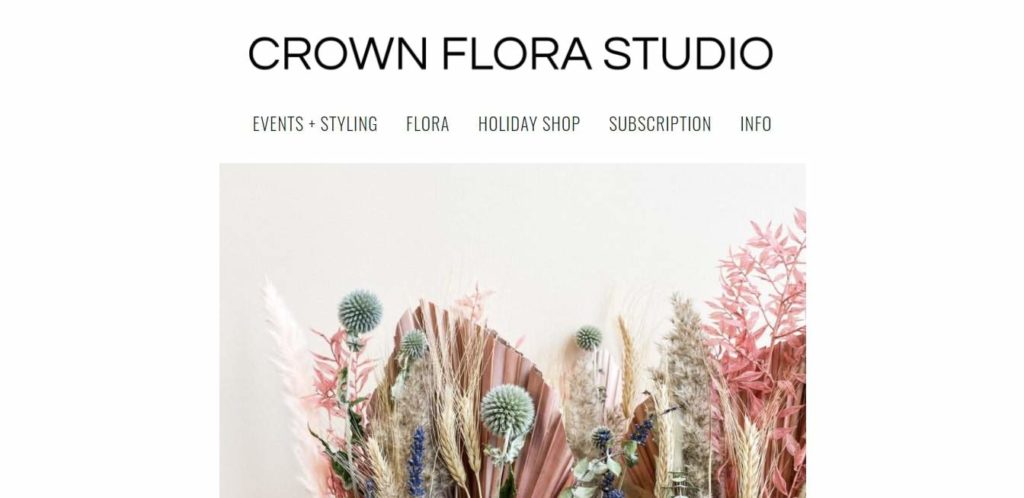 | | |
| --- | --- |
| SPECIALTY | Flower subscription and event catering |
| PRICE RANGE | Call their hotline for more details |
| SELECTION SIZE | Medium |
| DELIVERY FEE | Calculated at checkout |
| WEBSITE | https://www.crownflorastudio.com/ |
| ADDRESS | 1233 Queen St W, Toronto, ON M6K 1L5, Canada |
| CONTACT DETAILS | [email protected] |
| DELIVERY AND PAYMENT | Accepts cash and credit cards |
If you want to give a friend a weekly or monthly flower subscription, then you definitely want to check out the services of Crown Flora Studio. It's a boutique flower shop and studio that focuses on event catering and flower subscriptions.
Crown Flora Studio is made up of a duo of passionate and experienced flower designers, so every bouquet that gets sent out is born out of amazing creativity. We have yet to receive complaints about its bouquets from its customers.
In terms of deliveries, Crown Flora Studio services most of the Greater Toronto Area, but same-day delivery isn't always guaranteed. It's a small flower shop with only a few members of staff.
Despite that, Crown Flora Studio promises that no customer will ever receive sad, dead, or wilted flowers from them. It's no surprise it's called one of the top flower shops with the best flower delivery in Toronto.
Crown Flora Studio is more famous for its wedding and corporate event catering, by the way, so you might want to get its services when the time comes for you to arrange one.
Unique flower designs
Creative and experienced florists
Small number of staff
Same-day delivery isn't guaranteed
4. Sweetpea's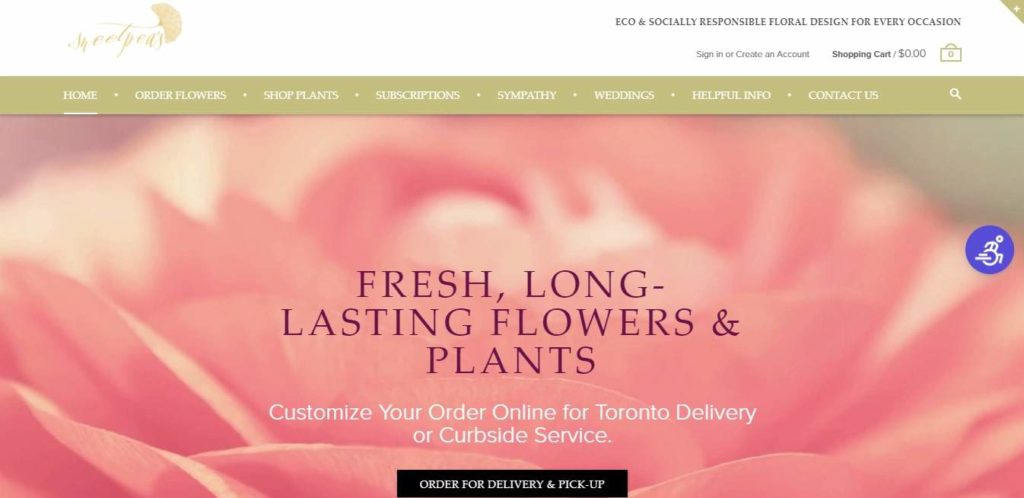 | | |
| --- | --- |
| SPECIALTY | Rustic flower designs |
| PRICE RANGE | $60.00 – $150.00 |
| SELECTION SIZE | Medium |
| DELIVERY FEE | Calculated at checkout |
| WEBSITE | https://www.sweetpeas.ca/ |
| ADDRESS | 294 Roncesvalles Ave, Toronto, ON M6R 2M4, Canada |
| CONTACT DETAILS | 416-537-3700 |
| DELIVERY AND PAYMENT | Accepts cash and credit cards |
If you're looking for rustic and eco-chic flower designs, then look no further than Sweetpea's. It's an eco-focused floral studio that specializes in eco and socially responsible floral arrangements, so you won't ever see it including plastic in its bouquets.
Sweetpea's boasts a wide range of flower designs fit for any occasion, including solemn ones like funerals. For those who want a more personal touch, you may opt for its custom-made flower arrangements.
While other flower shops tend to copy each other's flower designs, Sweetpea's promises that it doesn't base its arrangements on designs found on the Internet. Everything is meticulously handcrafted by its team of professional floral designers.
The shop also offers same-day deliveries to addresses throughout Toronto & the GTA, as long as the order is placed before the cut-off time. We recommend calling beforehand as the cut-off time tends to change depending on how busy the day is.
You might be spending more money for its flowers, but Sweetpea's will make sure that it will be worth it down to the last cent. It's why we call it one of the flower shops with the best flower delivery in Toronto.
Eco-friendly flower designers
Same-day delivery throughout Toronto
No deliveries on Sundays
Flowers a bit expensive
5. Botany Floral Studio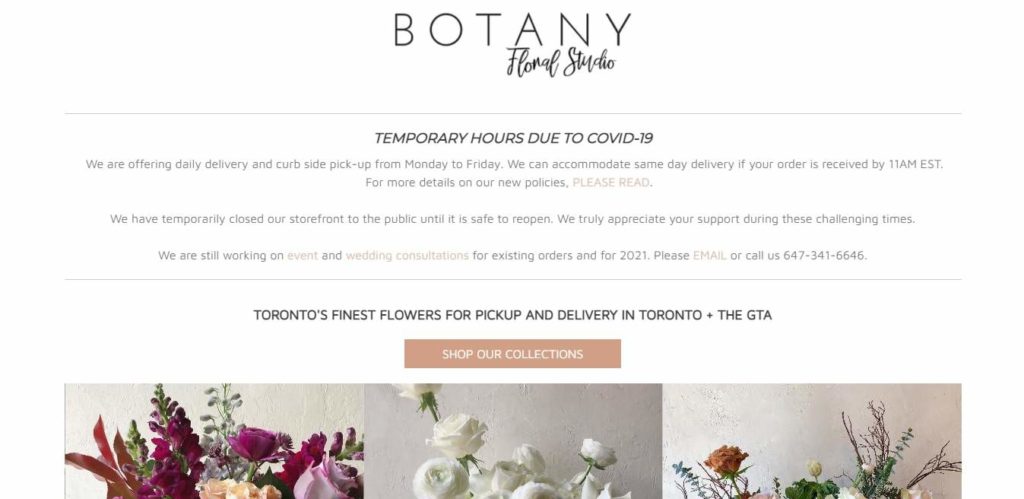 SPECIALTY
Fresh and organic designs
PRICE RANGE
$75.00 – $200.00
SELECTION SIZE
Large
DELIVERY FEE
Calculated at checkout
WEBSITE
http://www.botanyflowers.ca/
ADDRESS
626 College St, Toronto, ON M6G 1B4, Canada
CONTACT DETAILS
647-341-6646

[email protected]

DELIVERY AND PAYMENT
Accepts cash and credit cards
Botany Floral Studio services most of Toronto and a few neighboring areas, providing fresh flowers and houseplants to whoever needs them. All of its flowers are handpicked with utmost care and grown in the healthiest environment possible.
Some of these blooms include sunflowers, roses, orchids, tulips, daisies, carnations, bougainvilleas, and more. It grows flowers through Spring to Fall, so it always has an abundant stock of fresh flowers.
Botany Floral Studio is made up of staff who call themselves a collective group of artists, designers, growers, and carpenters. Every bouquet is crafted by its creative floral designers.
In terms of deliveries, Botany Floral Studio is open for both business and residential deliveries. Customers who order flowers for business purposes can expect to receive their flowers between 12PM to 5PM.
If you want to learn how to make flower arrangements yourself, you can also sign up for its flower designing workshops! It's all virtual, so you can attend it from the comfort of your own home.
Always fully stocked
Very large selection of flowers
6. Wild North Flowers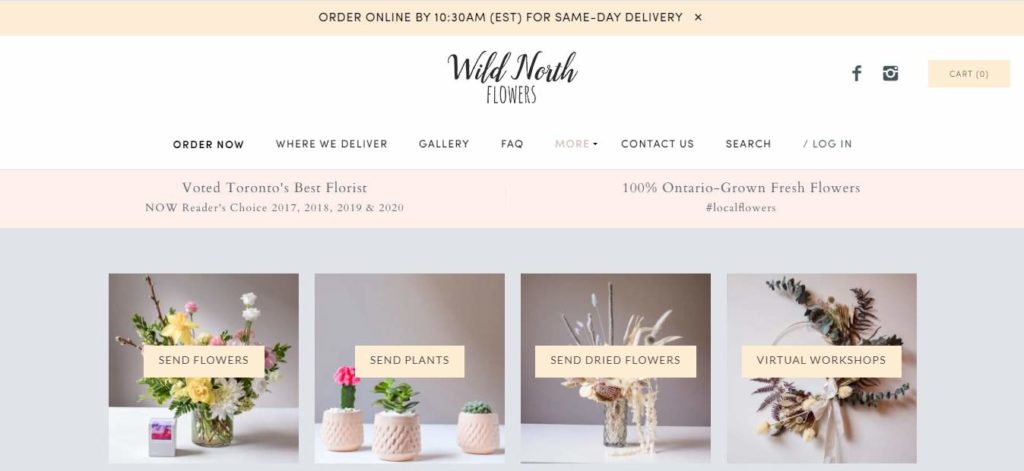 SPECIALTY
Flowers for all occasions
PRICE RANGE
Call their hotline for more details
SELECTION SIZE
Large
DELIVERY FEE
Calculated at checkout
WEBSITE
https://www.wildnorthflowers.com/
ADDRESS
135 Tecumseth St #6, Toronto, ON M6J 2H2, Canada
CONTACT DETAILS
416-504-3000

[email protected]

[email protected]

DELIVERY AND PAYMENT
Accepts cash, credit cards, and PayPal
Wild North Flowers is a locally owned flower shop that services Toronto, Etobicoke, North York, Scarborough, Concord, Markham, Richmond Hill, and Thornhill, among others. It caters to residential homes, business spaces, schools, hospitals, and even funeral homes.
While most flower shops deliver only on weekdays, Wild North Flowers continues to deliver flowers until Saturday. Regular orders are delivered between 12pm and 6:30pm, depending on the location of the recipient.
Customers who are in a rush to receive their flowers are encouraged to place their orders before the 10am cut-off for same-day deliveries. It doesn't accept walk-in customers as all orders need to be placed online
Most Toronto residents consider it one of the flower shops with the best flower delivery in Toronto due to its quick and efficient deliveries. We have yet to find complaints from customers about receiving wilted and hideous flower arrangements, so that says a lot about its services
All of Wild North Flowers's flower arrangements are also designed in their florists' signature styles. They use over eight varieties of flowers, which customers can choose themselves.
Saturday deliveries offered
Same-day deliveries
7. Florida Flowers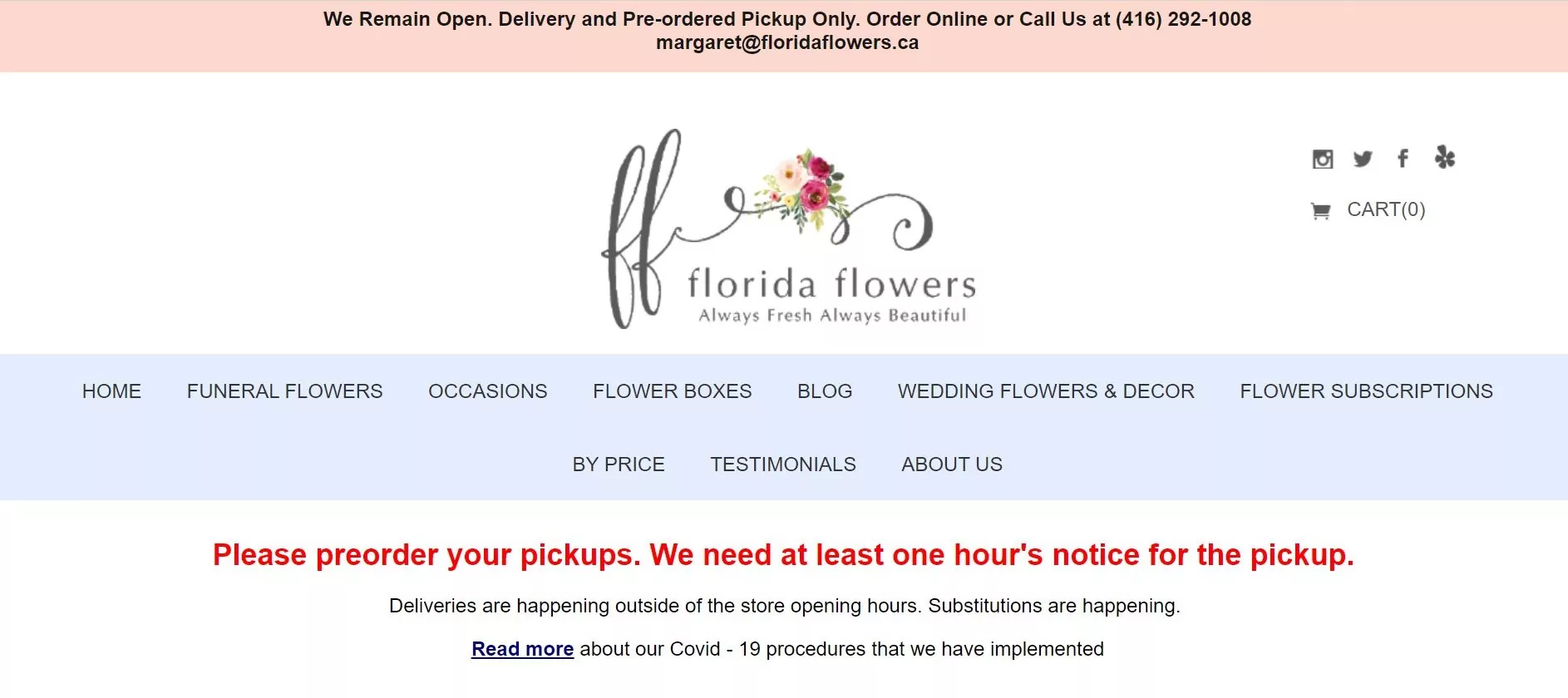 SPECIALTY
Large decorative flower arrangements
PRICE RANGE
$40.00 – $300.00
SELECTION SIZE
Medium – large
DELIVERY FEE
Calculated at checkout
WEBSITE
https://floridaflowers.ca/
ADDRESS
390 Progress Ave #5, Scarborough, ON M1P 2Z6, Canada
CONTACT DETAILS
416-292-1008 |

[email protected]

DELIVERY AND PAYMENT
Wide delivery service area and accepts all major credit cards
Florida Flowers is a full-service flower shop with a large variety of fresh flowers arriving almost every day throughout the week, and as the need arrives. They are in contact with many suppliers that gives them the first pick of the day to ensure quality and freshness.
Their approach to arranging flowers start by attending to their customer's ideas. Whatever occasion it is, whether it's a simple gift, a flower box or basket, a wedding or even as sympathy flowers, they can do it all.
It's also worth noting that the flowers they arrange are on the larger scale. For Florida Flowers, the bigger it is, the better! They arrange flowers in bouquets, boxes, baskets and vases that can scale up to medium to large. Choosing Florida Flowers will certainly get you beautiful and eye-catching decorative flowers.
Offers many designs and flowers
Medium – large decorative flowers
Accepts all major credit cards
3:00 pm cut-off for same day delivery
Cannot guarantee time-specific delivery
8. Martin's Flowers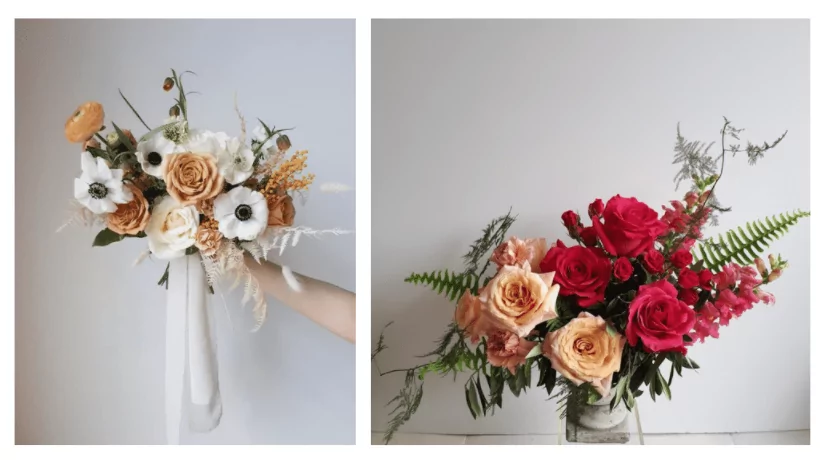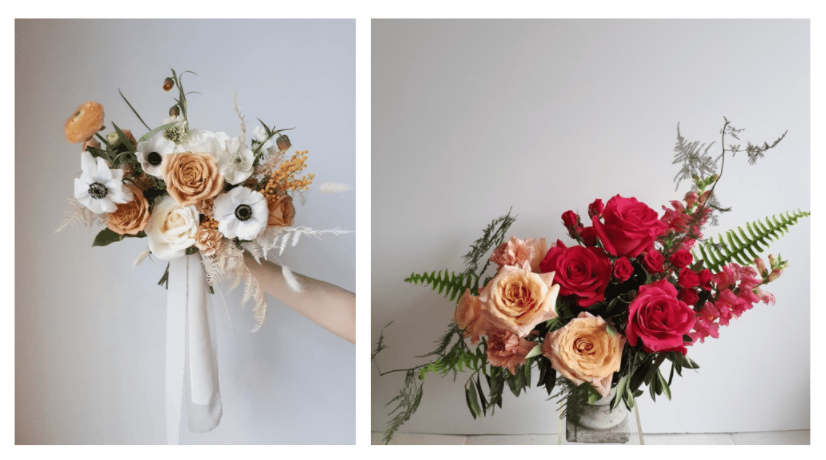 SPECIALTY
Gift baskets and seasonal flowers
PRICE RANGE
$49.95 – $295.95
SELECTION SIZE
Small – Large
DELIVERY FEE
Calculated at checkout
WEBSITE
https://martinflowers.com/
ADDRESS
2862 Dundas St W Toronto, ON, M6P 1Y8 Canada
CONTACT DETAILS
416-766-6121, 800-263-1510 |

[email protected]

DELIVERY AND PAYMENT
Contact for more information
Martin's Flowers, also known as Martin's the Flower People, is a well-established flower shop since 1898 going through 5 generations of florist to florist. For the past few decades, Martin's Flowers has continued to create unexpected beauty by hand-selecting the season's best blooms from local growers, whenever possible.
Through their deep appreciation of plants and flowers, they are able to transform any occasion, focusing on movement, texture, and design. The expertise in their craft is evident through the numerous events and occasions that they've arranged flowers for.
Not only this, but Martin's Flowers is also full of surprises as they offer seasonal flower arrangements, dried flower arrangements, and flowers woven as headdresses. Truly, their eye for design and color palette is unique and breathtaking.
Weddings & Events
Sympathy Flowers
Same day delivery available
Closed on Sundays
Possible additional tax and delivery charge
9. Flowers Just Because

SPECIALTY
Fresh Flower Arrangements
PRICE RANGE
$65.00 – $140.00
SELECTION SIZE
Large
DELIVERY FEE
$10 dollar flat rate across the GTA
WEBSITE
https://flowersjustbecause.ca/
ADDRESS
12285 Albion Vaughan Road
Kleinburg, ON
L0J 1C0
CONTACT DETAILS
Phone: 905.893.5557
Email: [email protected]
DELIVERY AND PAYMENT
American Express, Diners Club, Discover, Mastercard, VISA
Found on Albion Vaughan Road, Flowers Just Because is a flower shop that specialises in floral arrangements, hand-tied bouquets, vase arrangements, and gifts for various occasions.
You can stop in and pick up flowers or order them online to be delivered anywhere in the Greater Toronto Area (GTA).
Flowers Just Because has been around 30 years now. and they pride themselves on their customer service. Their team is made up of knowledgeable and highly skilled florists who have a large selection of fresh blooms to work with.
Additionally, they offer same-day and next-day delivery. Orders placed before 1PM can be delivered the same day and the rest are typically scheduled for the next.
A flat rate of 10 dollars apply to all orders.
Various payment options available
Large selection of fresh flower arrangements
Flat rate of $10
10. The Flower Nook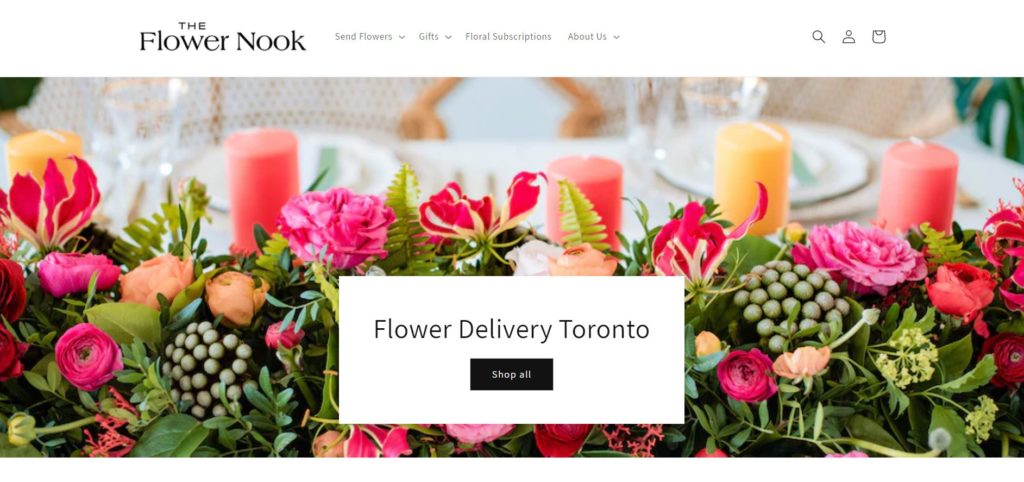 SPECIALTY
Spring flowers, hand-tied bouquets, dried flowers, assorted gift baskets
WEBSITE
https://www.flowernook.ca/
ADDRESS
1729 Bayview Ave, Toronto, ON M4G 3C1, Canada
CONTACT DETAILS
+ 1 416 482 8200
OPERATING HOURS
Monday – Friday, 9 AM – 5 PM
Saturday, 10 AM – 4 PM
Surprise your loved ones with a fresh bouquet of flowers from The Flower Nook. From classic rose bouquets and seasonal hand-tied bouquets to vase arrangements like dancing bird of paradise and purple haze, you'll find great variety from this florist.
They even offer floral subscriptions so that you can regularly give flowers to your loved ones without having to order repeatedly.
With great quality and variety comes great prices though, so we recommend preparing your wallets should you choose to do business with them.
But despite the steep prices, you can rest assured that you're paying for only the freshest flowers out there. We've combed through their reviews and found it a consistent fact that their previous clients all loved their fragrant and high quality arrangements.
The Flower Nook's customer service is also top-notch, which is one of the reasons why they have so many loyal clients. You can even complement your floral gifts with greeting cards and chocolates.
Great customer service
Wide variety of flowers and gorgeous arrangements
Offers other gifts like chocolates and greeting cards
Bouquets are slightly more expensive than average
11. Toronto Flora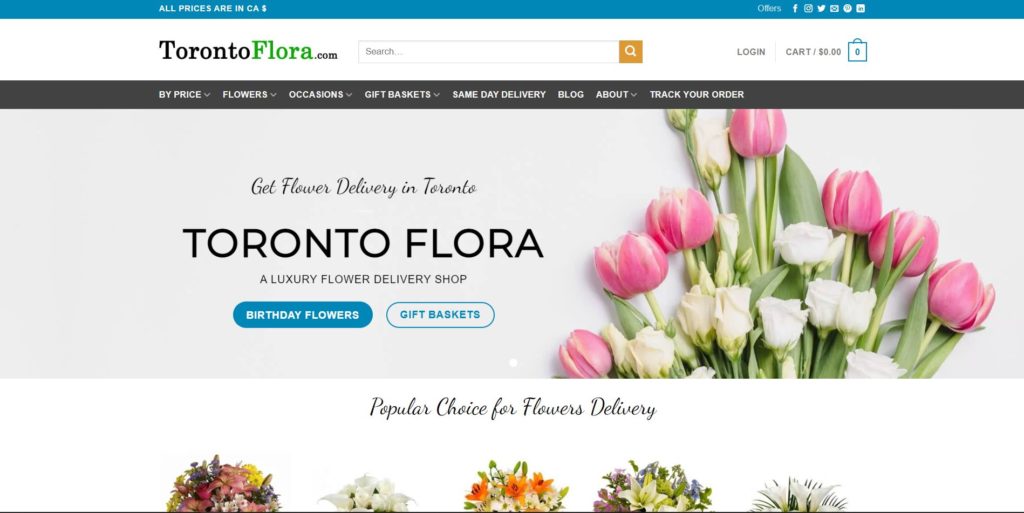 | | |
| --- | --- |
| SPECIALTY | Flower delivery, flowers for different occasions |
| WEBSITE | https://torontoflora.com |
| ADDRESS | North York Blvd, Toronto, ON M2M 3S9, Canada |
| CONTACT DETAILS | +1 437 370 4411 |
| OPERATING HOURS | Open 24 hours Monday – Saturday |
Ever since opening its doors in 2019, Toronto Flora has been striving to be one of the best flower delivery service providers in the city.
The first thing we liked about this place is the availability of more affordable bouquets. They've also listed their products according to the occasion, which makes the selection process easier for you.
Toronto Flora also accommodates overseas clients who wish to order flowers for their loved ones in Toronto. For that reason, they also offer a lot of payment methods for convenience.
However, we've seen some complaints about late deliveries, with one day delays being quite common. That's why we recommend ordering in advance and not relying too much on their same day delivery promise, as the store could also get busy during certain holidays.
Other than that, we think that Toronto Flora is worth checking out for the great variety of flowers and arrangements they provide.
Overseas clients can order flower for local residents
Accepts Visa, MasterCard, PayPal, and Stripe
Affordable bouquets available
Complaints about late delivery
Closed on Sundays
FAQS about Flower Delivery in Toronto
If you haven't tried flower delivery in Toronto, we're assuming that there are lots of questions about it running through your mind, Anyway, we're here to answer some of those pressing questions!
---
And with that, we conclude our list of the flower shops with the best flower delivery in Toronto.
If you know other flower shops with fast and efficient delivery here, tell us their names so we can check if we can add them to our list!