The 6 Best Tutoring Services in Toronto
Is your child having some difficulties with their studies? Or are you simply aiming to further improve their already advanced academic performance?
If you want stress-free, one-on-one online or in-home sessions with personalized learning plans, then this list is for you. After all, parents all want investments with definite payback in the long run.
The Top Tutoring Services in Toronto
We have picked tutoring services that have proven themselves to be a good investment for improving students' performances. We picked them based on their versatility (the number of services that they provide), affordability, responsiveness, and the supportiveness and engaging nature of their tutors.
The Cost of the Best Tutoring Services in Toronto
Tuition costs vary based on tutor experience and credentials, but here are the usual ranges right now:
| | |
| --- | --- |
| Private tutor | $25 to $80 an hour |
| Online tutoring | $25 to $50 an hour |
| Local tutoring center programmes | $150 to $200 per month |
| SAT and test prep tutoring | $45 per hour up to $100 per hour |
1. TutorBright Toronto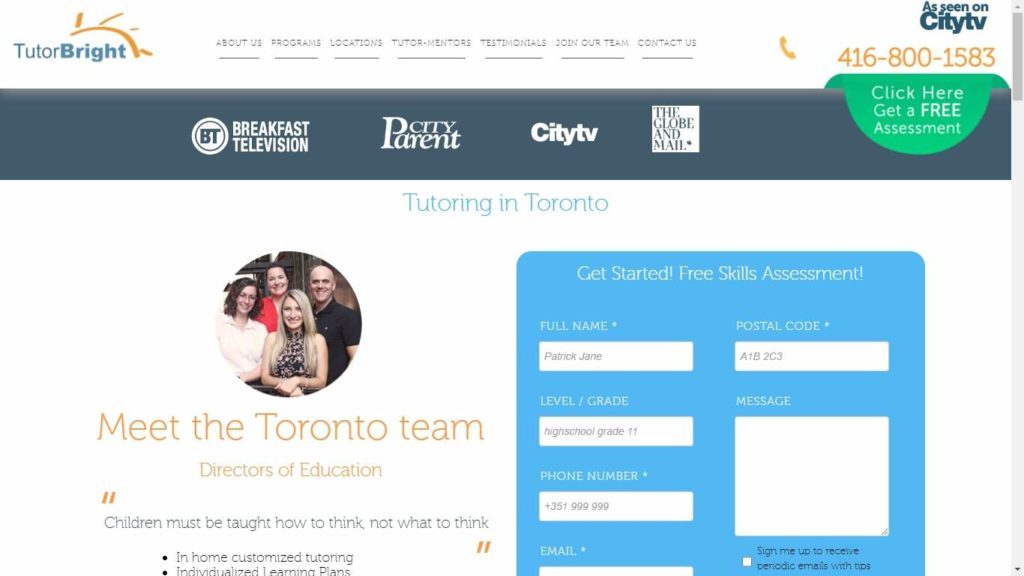 SERVICES
In-home customized tutoring for different stages of education (early skills (pre-elementary), elementary grade, high school preparation, high school, adult education) and for focusing on particular subjects (math, English, French); special education; homework help; ESL tutoring; SATpreparation
WEBSITE
http://tutorbright.com/tutoring-toronto/
ADDRESS
18 Gloucester Ln., Toronto, ON M4Y 1L5, Canada
CONTACT DETAILS
+1 416-423-3030
OPERATING HOURS
Monday – Friday: 9:30 AM – 7:30 PM
Saturday: 11: 00 AM – 3:00 PM
What we really like about TutorBright is that they promise many things and have over seven years of helping students succeed to back those up.
They provide free, fully comprehensive assessment and consultation that will identify your child's weaknesses and strengths, thus allowing them to craft a personalized learning program well-suited for your child's capacities and needs.
They also promise stress-free services to parents. With an understanding of the gaps in the education system, TutorBright can empathize with the stress the parents have when dealing with their child's education.
We also appreciate that TutorBright takes on a collaborative approach. In order to raise your child's grades and self-esteem, they aim to work with all of the people involved in the education of your children, from parents to teachers to even schools.
They have world-class tutors and mentors who are not only subject experts sufficiently trained in communication skills but also are genuinely concerned with your child's development and success.
Another thing to like is that they don't do contracts or bulk hours. That's good because it prevents you from being locked into a tutoring relationship you don't like, just because you paid for it.
And if you do choose to stay, they promise to deliver services that are affordable for everyone. This is in conjunction with their belief that every child has the right to a great education.
With their personalized academic plan and tutors specifically chosen to suit your child's needs, the roots of poor academic results shall be dealt with and the students shall regain their belief in their capabilities and ultimately, themselves.
If you ask us, these are the main reasons TutorBright is among the best tutoring services here in Toronto.
Free fully comprehensive consultation and assessment
No contract, no bulk hours
Affordable fees
World-class tutors & mentors
Customized learning experience for success
Could improve their tutor matching for students
Customer Reviews
Tried and tested services
We have used TutorBright for the past two years. Steve and Ashley have always been wonderful to deal with. They are responsive and professional and their tutors are excellent. This year my daughter worked with Caroline for Grade 10 science. Caroline was a wonderful tutor who was always patient and inspiring and was flexible in her sessions to ensure that my daughter was supported throughout the quadmester. We will definitely continue tutoring with TutorBright! – Rosa DeFilippis
Impactful teaching approach
Thank you Tutor Bright for support during this challenging time. Although, there was a pivot to an online platform my son was matched with a tutor that was engaging, supportive and created a positive and fun virtual learning environment . He was thrilled to work with his tutor and we seen immediate improvement in his work and confidence. – Diarra Hughes
2. Learning Tree Tutors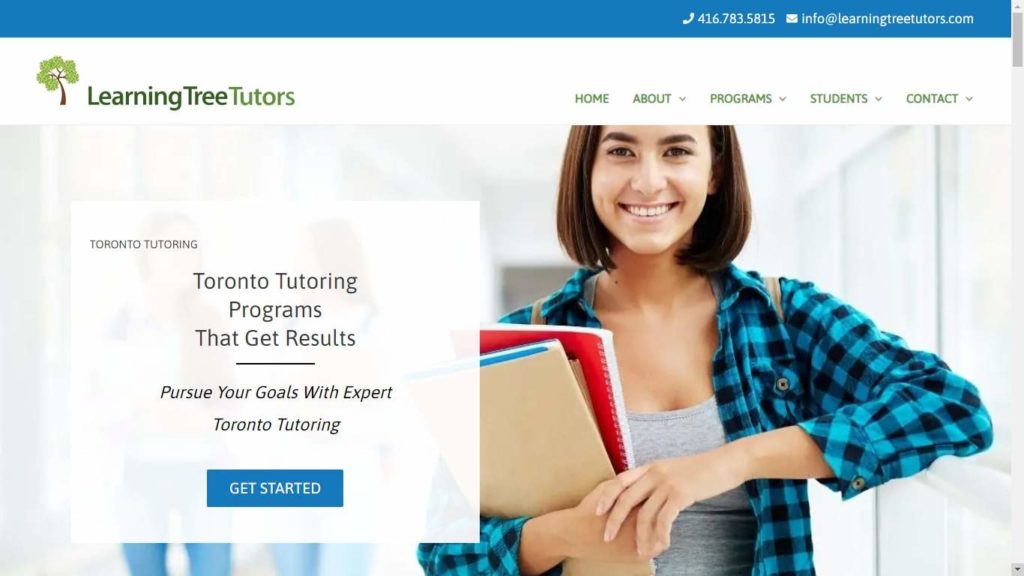 SERVICES
Online classes and on-site services for various subjects (English, math, science, French, reading, writing, computer science, social sciences); learning enrichment; tutoring for those with special needs; homework help; remedial teaching; summer tutoring
WEBSITE
https://learningtreetutors.com/
ADDRESS
736 Spadina Avenue #308, Toronto M5P 2J6
CONTACT DETAILS
+1 416-783-5815
OPERATING HOURS
Monday – Friday: 9:00 AM – 8:00 PM
Saturday: 9:00 AM – 5:00 PM
Sunday: 11:00 AM – 5:00 PM
Do you want expert Toronto tutoring? Learning Tree Tutor, an award-winning Toronto tutoring company, promises to deliver just that.
Learning Tree Tutors excels in one-on-one instruction, individual attention, flexibility, and good communication, all while focusing on optimizing student achievement.
With personalized and one-on-one tutoring, they deliver individualized learning plans that fit the weaknesses, strengths, and learning style of each student, with experts helping to achieve your goals
Learning Tree Tutors provide student-centered teaching for all ages & levels, from grades K to 12 as well as core subjects at University. But beyond that, they also provide accelerated learning and enrichment for gifted learners and high-achievers.
Many testimonials from satisfied parents agree with our own perception, as they speak of improved academic results and grades, increased student self-confidence, and comfortable and convenient sessions. These are quality tutors and services at work.
Registration is easy, and it's quick to start. And if you know us, we love things better when they're tied with great convenience.
Award-winning
Tutoring for all subjects, ages, and levels
Certified teachers and subject specialists
Familiar with the Ontario Curriculum
Provides both private in-home and online tutoring
Open daily
Not for 1-time only sessions or last-minute emergency calls
Customer Reviews
Works with student's strengths and weaknesses
I am so very pleased with our tutor. Every lesson she goes above and beyond for my daughter (grade 4 math). She works with my daughter's learning strengths and weaknesses. Her prep for my daughter's lesson is amazing. She incorporates music and games to keep her interested and engaged. We feel very lucky to have her. My daughter actually said today after her lesson that "Math is fun!!!" Who would have ever thought. Lol. – Pearl Ross
Devoted and result-oriented
We have been with Learning Tree for 4 years and I'm grateful for their services. All the tutors are dedicated professionals that not only provide helpful assistance but also inspired my son to achieve higher level academics. We took Chemistry, Math, English, and Physics. The 1:1 tutoring sessions really increased my son's confidence in the subjects and made him more motivated to learn. I would like to give special thanks to Barbara, Andrew, Michael, Carlos, and Stefanie for their dedicated work and support. I would highly recommend Learning Tree as a devoted and result-oriented team! – Svetlana Ionas
3. Tutor Doctor Central Toronto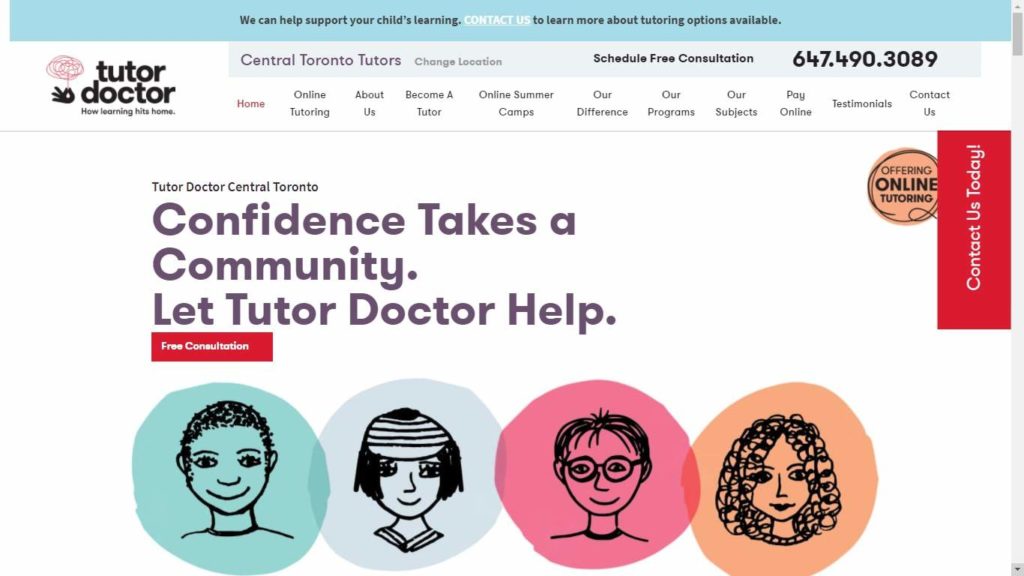 SERVICES
Online classes and in-home for a variety of subjects (math, English, science, Spanish, French); ESL tutoring; sat preparation; ACT preparation; elementary & middle school tutoring; high school tutoring; university and college tutoring; adult tutoring; special needs; summer tutoring; homeschool tutoring; veteran programs
WEBSITE
https://www.tutordoctor.com/central-toronto/
ADDRESS
88 Charles St E #408, Toronto, ON M4Y 2W7, Canada
CONTACT DETAILS
+1 647-490-3089
OPERATING HOURS
Monday – Thursday: 9:00 AM – 7:00 PM
Friday: 9:00 AM – 5:00 PM
Saturday & Sunday: 12:00 PM – 5:00 PM
It can be really reassuring to have a tutoring service that sticks to its mission and values, and deeply understands the need for good habits and discipline. Fortunately, Tutor Doctor delivers their services with those in mind.
Since every student learns differently, they develop unique, personalized plans for each individual. And to them, this comes with their very own X-Skills Game Plan, which we found to be really fascinating.
This game plan stems from Tutor Doctor's academic success formula, which comprises academic knowledge and academic discipline. It's not enough to simply have knowledge based on the classroom curriculum: the student must also develop discipline, which is composed of their so-called "X-Skills".
Their comprehensive programs speak for themselves, as 95% of customers recommend them in their 15+ years of helping more than 200,000 people.
From this, we see that they really commit to their mission and values, which can be condensed into "making a difference in lives through education".
That ties right into their stated mission, which is to change the trajectory of students' lives. This is complemented by several values: understanding, curiosity, ingenuity, ownership, and grit.
So, with careful assessment of each student's needs, convenient and flexible in-home and online tutoring, personalized tutoring approaches from specifically handpicked tutors, and updated progress report in every step, we find Tutor Doctor to be one of the best out there.
Free detailed consultation
60-day money-back guarantee
Tutor match guarantee
Customized learning experience 
Update progress report
Possible poor tutor performance depending upon the local office involved
Customer Reviews
Tutors with strong knowledge
Great convenience when time is an issue, and quite frankly when is it not? Also great for a child who benefits from the comfort of their own surroundings. We're in the Toronto area. The assessment was very good, a real understanding of the workings of the school system and the child's needs. tutors were terrific, very professional and had the patience to help my daughter learn rather than just handing her the answers. Worth every penny. The tutors also had really strong knowledge in various subject areas. My daughter's marks rose dramatically and she mastered the material. What more can you ask? Cost very reasonable compared to others we looked at. – Alison Golob
Supports student progress
The team at Tutor Doctor Centr al replied to our request for support quickly and invested time in getting to know our family and our child who needed the additional support. This investment helped ensure they assigned a tutor with appropriate knowledge and the right personality to support my child. Our tutor always comes on time and really provided invaluable help to our child for grade 9 and 10 math support. He quickly identified how my child learns and they build a great relationship that supported the success of of the tutor experience. The additional support made all the difference in supporting my son's progress and improving his knowledge and grades. He got the additional support that he needed to be successful. – Laura Pillsworth
4. Teachers on Call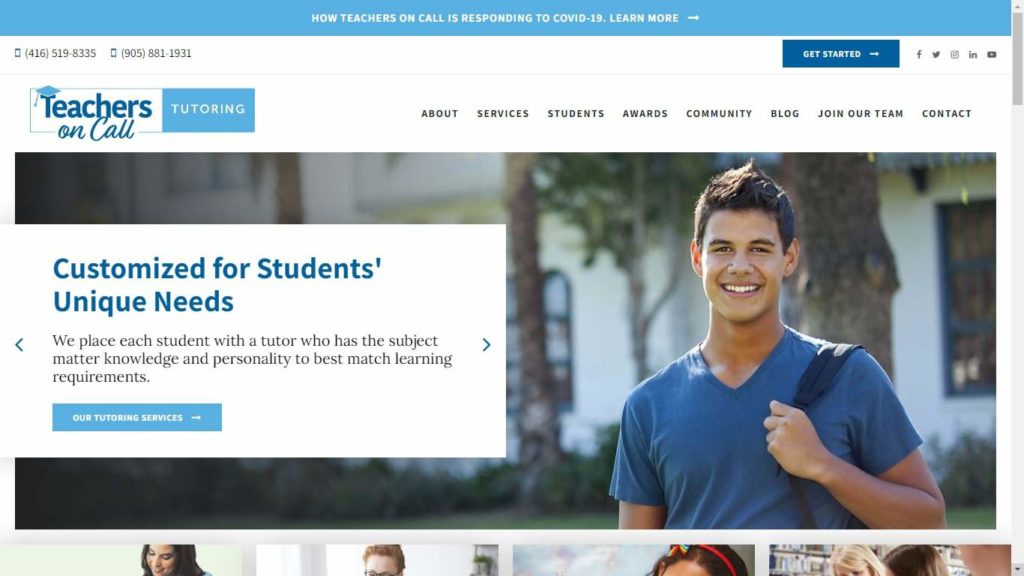 | | |
| --- | --- |
| SERVICES | Online and in-home one-on-one individualized support for students of all ages & levels (from kindergarten to grade 12) in all subjects (including math, science, English, French, reading & writing skills, etc.) |
| WEBSITE | https://www.teachersoncall.ca/site/home |
| ADDRESS | 2 St Clair Ave W, Toronto, ON M4V 1L5, Canada |
| CONTACT DETAILS | +1 416-519-8335 |
| OPERATING HOURS | Monday – Sunday: 9:00 AM – 9:00 PM |

With 30+ years of experience, Teachers on Call has been continuously recognized as a leading figure of tutoring in Toronto, providing excellence for thousands of students and families.
Their approach to tutoring is to work together to develop a customized tutoring program flexible enough to provide for the educational needs of your child.
Their one-on-one support is designed to optimize students' learning experience, all while being convenient enough to suit the family's schedule.
They also focus on both classroom expectations and your child's specific needs, with an emphasis on communication to keep the parents and students up-to-date with their progress.
Teachers on Call make these possible through thoroughly-screened educators who understand school expectations. Plus, they work with both students and parents, and have the flexibility to work with the active schedule of your family.
Their tutors include teachers certified by the Ontario College of Teachers (OCT), retired teachers, and teacher candidates completing their degrees in the Faculty of Education.
We find that Teachers on Call's reputation for quality, personalized tutoring services, and unparalleled results stem from their earnest efforts. They aid students in building academic skills, developing better study habits, improving self-confidence, and achieving success in school and life.
Over 30 years of experience
Award-winning
Certified teachers
Relationship-based tutorial services
Flexible tutorial services that match family schedule
Can be difficult to contact at times
Customer Reviews
Understands client needs
We have had an amazing experience with Teachers On Call. They took the time to understand our needs and learn about our child in order to match us with the perfect tutor. The tutor is incredible and adapts to our child as needed, providing a very personalized session. My child gets very excited for her tutoring session and asked to continue this year which I am happy to do because it has boosted her confidence so much! The company is extremely professional as is the tutor. Highly recommend Teachers on Call! – Jackie Ruderman
Highly recommended tutorial services
My daughter was so overwhelmed by her grade 10 math class. Teachers on call was quick to respond and provide a tutor who was such a good fit for my daughter. Grades improved and her overall attitude towards math changed. Even though the math course is over, my daughter wanted to continue to work with her tutor over the summer to prepare her for grade 11 math. Highly recommend. – Nicole Cih
5. Tutorax – Tutoring Toronto & Homework help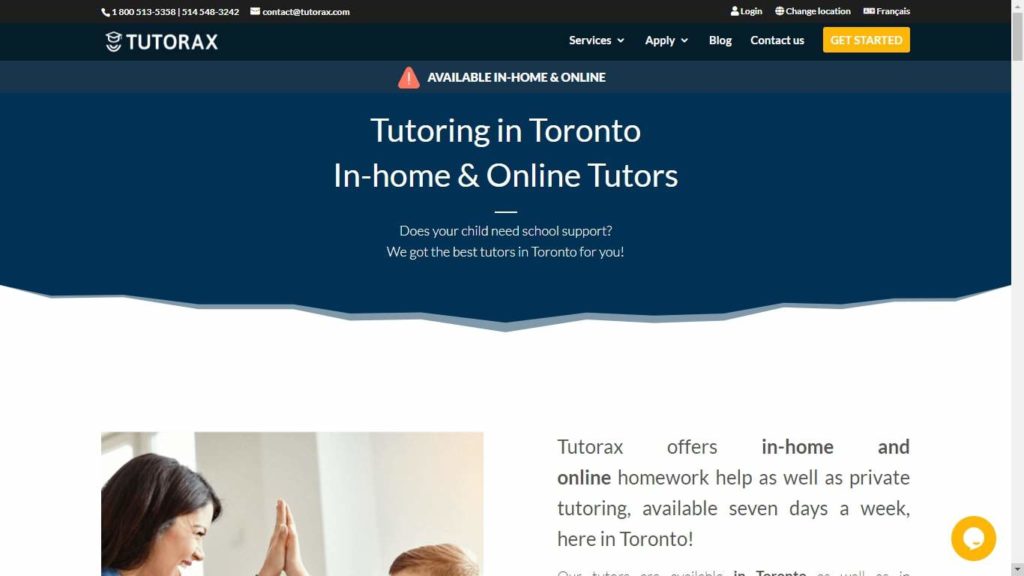 SERVICES
Online and in-home tutoring for a myriad of subjects (mathematics, physics, English, science, chemistry, biology, history) for students of all levels (elementary, high school, college, and university); homework help
WEBSITE
https://tutorax.com/en-ca/on/tutoring-toronto/
ADDRESS
1 Yonge St #1801, Toronto, ON M5E 1W7, Canada
CONTACT DETAILS
+1 647-560-7224
OPERATING HOURS
Monday – Friday: 8:00 AM – 7:00 PM
Saturday & Sunday: 8:00 AM – 5:00 PM
Just like the other entries on this list, the results speak for themselves. With more than 45,000 students assisted in Canada, 95% of Tutorax students improved in their academic performance.
They have more than 600 qualified tutors, dedicated to helping your child review concepts he/she didn't understand, summarizing the lessons, catching up on the delay, or performing additional exercises.
Whether on a weekly basis or on particular occasions, tutoring lessons can take place at your home or online. This makes their services more flexible both in time and location
Tutorax tutors also conduct follow-ups after the first lesson and throughout the school year. There's cooperation among the tutor, the teachers, and the parents in order to provide the best learning environment for the academic development of your child.
By the way, their website also has a blog section that contains articles helpful to students, such as tips on how to do certain operations in Mathematics. We found some nice content on it, so you may want to check it out too.
Has 600 qualified tutor
Quick start (Get a tutor in less than 7 days)
Tutors work with child's teachers
Rigorous follow-ups to track progress
Reaching out can be a struggle at times
Customer Reviews
Tailor-made tutorial services
Communication isn't just about being fluent. It's the non-verbal, listening skills and body language. Received helpful tips to push my communication skills and indirectly impact self-confidence during public speaking. Tutorax doesn't just offer a language class to practice grammar. It's tailor-made. Felt the passion. Time and money well spent. Strongly recommend. No matter your level or objectives! – Karl Duhamel
Best experience for learners
I have been trying to find the right tutor for my step daughter's science class for a long time, she tried a couple of different tutors from other companies and she was left disappointed. When a friend of mine referred me to Tutorax, I was understandably skeptical but so far it has been the best experience for her . I would highly recommend to any kids that is searching to improve their grades to try one of their tutors. Thank you very much! – Gabriel Chicoine
6. Tutor One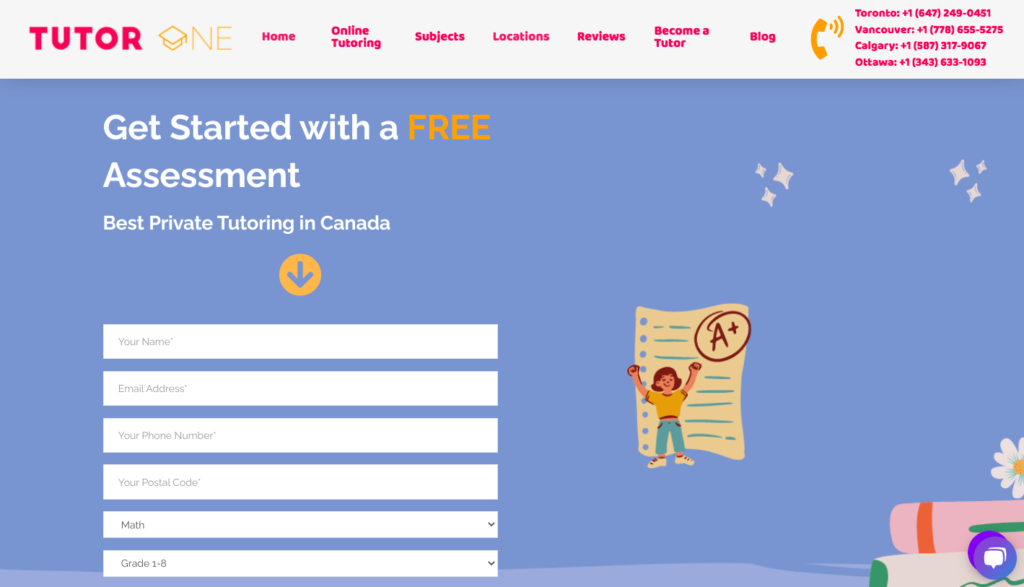 SERVICES
Special Needs, Math, Science, English, French, ESL, Chemistry, Physics, MCAT, Writing, Reading
WEBSITE
https://tutorone.ca/
ADDRESS
105 Westmount Ave. Toronto, ON M6H 3K3
CONTACT DETAILS
Phone: (647) 249-0451
Email: [email protected]
OPERATING HOURS
Monday – Friday: 8:00 AM – 8:00 PM
Saturday & Sunday: 8:00 AM – 5:00 PM
TutorOne has a team of tutors that consists of students, professors and instructors from the local community. These knowledgeable individuals are all dedicated to help students develop their mind and skillset to excel in their studies.
With over 2,000 students tutored in Canada and thousands of private tutoring hours completed,
TutorOne offers customized learning plans, confidence building, skill development and problem solving programs.
They offer One-on-One tutoring as well to help address problem areas and teach the basics. However, TutorOne also lays down a foundation for valuable learning skills that can increase students' chances for success in school and their career.
TutorOne offers a mix of early and middle school programs, high school programs, summer programs for grades 4 to 12, standardized test preparations, and online private tutoring that includes a free assessment.
They offer a range of subjects ranging from special needs classes to ESL. So whether your child needs a little extra help in all areas or needs specific assistance in a certain subject like math or chemistry, TutorOne has got it covered.
Offers a range of subjects
Has online tutoring
Offers special needs and ESL classes
Doesn't specify how many or who their tutors are
Customer Reviews
Let's take a look at what their clients have to say:

Overall pleasure to register for lessons
"All the members at TutorOne are tremendous!! Our science tutor is reliable, resourceful, and incredibly thorough. The owners and admin have a smooth running business… making it easy and an overall pleasure to register for lessons." – Jennifer Marants

TutorOne is definitely the right in-home tutoring agency for you
"Couldn't be more than happy with the services received from TutorOne. My daughters grades improved dramatically in chemistry and calculus with one-on-one tutoring with one of the kindest tutor's we've ever met. If you're looking for a private tutor, TutorOne is definitely the right in-home tutoring agency for you." – Susan Fizbecker
FAQs About Tutorial Services in Toronto
---
Choosing the right tutoring service for your child is crucial for their development as a student and as a person in general. If you want to see top-notch education providers here in Toronto, check out these reviews: