Top 5 Photography Studios in Toronto
Social media has made sharing photos and videos easy. With just a click of a button, people can post pictures of their travels, events, products for sale, or even selfies.
With this new technology comes the challenge of having aesthetically beautiful photos. Thus, many are looking for ways to improve their photographs to be social-media-worthy.
From our research, we found out that photography studios are more in demand now, used not only by professional content creators but by anyone who wants to express their creativity.
Have you always wanted to shoot in a professional studio? We have found the top photo studios in Toronto. Read on further to know what these studios have to offer.
How much does photography studio rental cost in Toronto?
There are a lot of photography studios in Toronto that offer varied services and free add-ons. We narrowed it down to the top photo studios that offer the best value for your money.
Most photo studios offer either hourly or two-hour rates, which makes it easy for professional and casual photographers to do work at an affordable and yet amazing studio setup.
| Photography Studio | Price |
| --- | --- |
| That Toronto Studio | $110 for 1 hour |
| Mole cutting or shaving Mint Room Studios | $45 for 2 hours |
| Wade Studios | $150 for 2 hours |
| Studio 207 | $150 for half day |
| Working Proof Studios | $300 for 2 hours |
The Best Photography Studio in Toronto
To determine the top photo studios in Toronto, we have a set of criteria we based our choices on. These criteria are what we think will help clients determine if the photo studio is what will meet their needs.
1. That Toronto Studio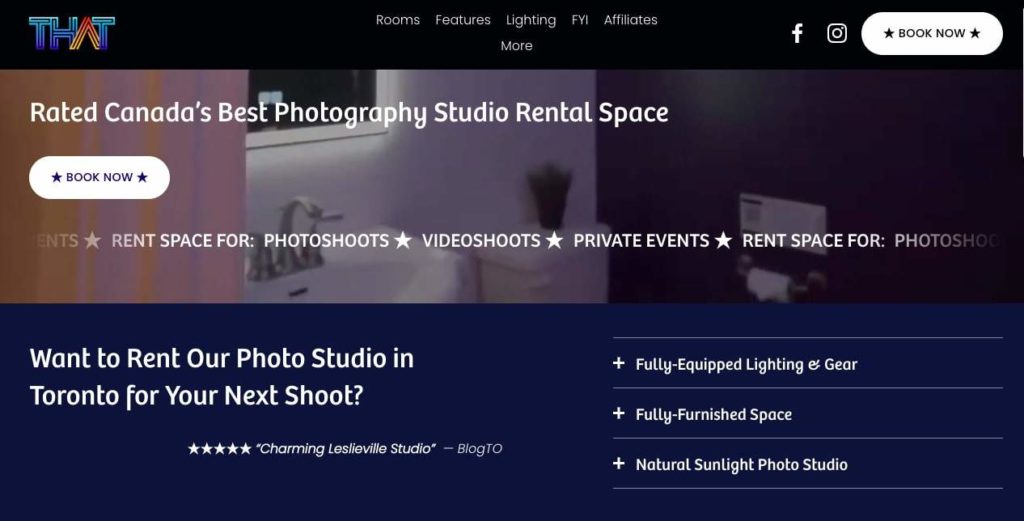 | Test | Info |
| --- | --- |
| Website | |
| Address | 260 Carlaw Avenue, Unit#202A, Toronto, ON, M4M 3L1 |
| Contact details | 416-277-6355 |
| Operating hours | Open 24/7 by appointment |
| | |
| --- | --- |
| Studio setup | ★★★★★ |
| Price | ★★★★☆ |
| Facility | ★★★★★ |
| Availability | ★★★★★ |
That Toronto Studio is a natural photography studio that has been rated as one of the leading photography studio rentals in Canada. It offers the best experience even to customers who are just starting out in their photography adventure.
This has been a go-to spot for models, photographers, artists, and other creatives. But now, its doors are open to people who would like to try their hand at creative content or just to celebrate in a versatile space with many beautiful and well-appointed areas to take pictures.
To book this studio, there are 9 sets to choose from and for each of them, clients have full access to the furnished space. We did not have to bring any props as the studio rooms are beautifully decorated.
We like that it is open 24 hours every day of the year and all bookings are made by appointment.
Regarding the appointment schedule, clients have 2 choices. The daytime appointment is from 6 am – 9 pm while the nighttime schedule is from 9 pm – 6 am.
With this flexible schedule, you can have an all-access pass for only $110, which is good for 1 hour for 12 people.
What we like about this package is that clients can use its pro lighting kits for free, which include 3 pro strobe lights on c-stands and mood lights. And if you need a professional photographer, this studio has one for hire as well.
We also found the notes around the studio helpful to guide users on how things work. But for further questions or clarifications during your rental time, the staff can be reached 24/7 via phone or video call.
The owner, Daniel is the epitome of customer service as he is quick to respond, easy to talk to, and super accommodating.
The studio's facilities include a private wash, changeroom, and Hollywood-style hair and make-up station. We were disappointed, though, that it charges a cleaning fee if you don't clean up after your booking.
That being said, That Toronto Studio is still highly recommended by clients like us. The place is beautifully decorated and very functional.
Gorgeous space
9 studio set up
Accommodating staff
Private wash and change room
Makeup area
No photographer included
Cleaning fee
Customer Reviews
Gorgeous studio
This studio is absolutely gorgeous! All the way from the set to the lights! The set is incredibly beautiful. There's tons of natural light; as well as in-studio lighting all around. The studio is very spacious, and each corner section is different which gives you the opportunity to be very creative. There's also mirrors on each corner set which makes it easier for models, as well as a makeup/hair area, kitchen, a white-studio corner, and background drops! Everything's also very organized, labels and neat. If you're looking for an earthly chic theme, this is definitely your space! There's also warmer tone lighting and black curtains which if closed, it gives the place a night-out/modern vibe as well! The Studio host is attentive, charismatic and very helpful! Will definitely be coming back! – Luz
Lots of space for pictures
In celebration of a special occasion, we decided to book this place for 3 hours. I would like to say that every single guests of ours was very excited as soon as they got there. There's lots of space to take pictures and mingle. We all had a very memorable time. I will recommend you booking here and contacting the host about any needs that you might have beforehand. – Shadat
2. Mint Room Studios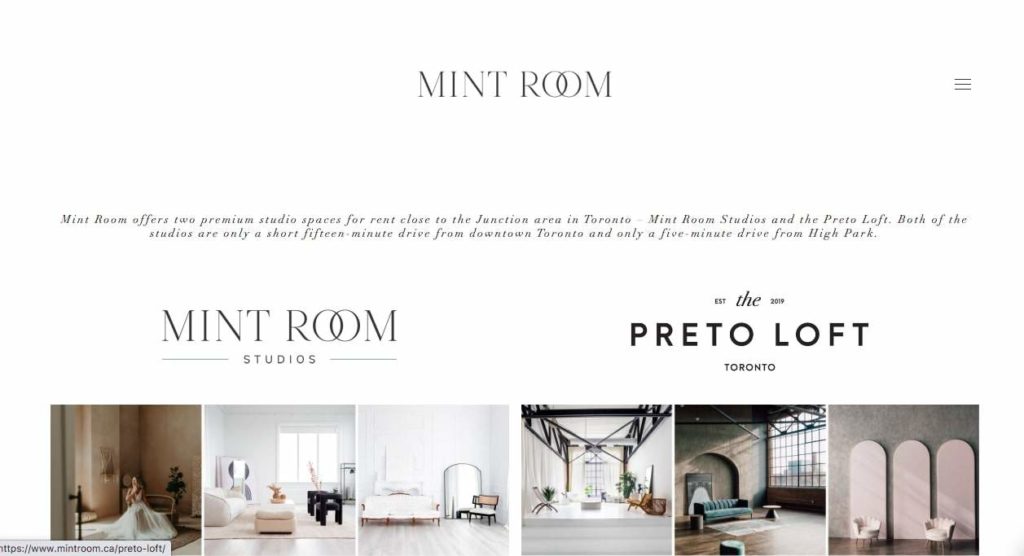 | Test | Info |
| --- | --- |
| Website | |
| Address | 300 Campbell Ave Unit# 300, Toronto, ON M6P 3V6, Canada |
| Contact details | 647-977-2793 |
| Operating hours | Monday – Sunday 8 am – 8 pm |
| | |
| --- | --- |
| Studio setup | ★★★★★ |
| Price | ★★★★★ |
| Facility | ★★★★★ |
| Availability | ★★★★☆ |
Mint Room Studios opened its doors in 2017 and since then, it has been a perfect place for taking pictures of family events as well as professional photo shoots.
With over 7,000 square feet of space, clients will be treated with elegant interiors and ample studio room.
Speaking of studio rooms, each of the 9 rooms is unique and the decors match the design. The studio also has a changing room, as well as two make-up tables.
This is the perfect studio for photographers who want to take pictures with natural light with its oversized windows and airy interior. We found that even though there was bad weather, there was still enough gorgeous daylight illuminating the space.
We think the pricing is fair, with an hourly regular rate of $95. However, we're disappointed that the studio is only open for 12 hours every day.
We are also a bit bummed that the rooms are not soundproof, so clients are asked to keep noise at a low level always. Also, you'll need to tidy up after or pay a minimum of $50 dollars for the cleaning fee.
There is no parking space near the studio, which was a little inconvenient as we had to walk farther from the nearest parking.
Despite that, Mint Room Studios is a great place to take stunning pictures for your social media content and other platforms.
Discounted rates
Stunning studio rooms
Offers natural light photography
Creative backdrops
Rate is per person
Shared studio space
Cleaning fee
Limited operating hours
Customer Reviews
Elegant decor
Absolutely gorgeous. I may be biased because my photoshoot was during the Christmas 🎄 season and my room was professionally decorated. We were in unit 300. And the decor was very classy and elegant with hint of gold and hues of green. I was blown away. My photographer was phenomenal but she works independent of Mint Studios. I can't wait to go back. Parking is accessible on Campbell Street. And there is a fancy coffee shop on the main floor. – Kryssie
No bad shoot
Best studios ever! Very professional staff, beautiful rooms, clean and all with gorgeous daylight, even when it's gloomy outside! Never had bad shoot there! Parking isn't the best but I'm there very often and trust me, it's not a big deal to walk 1min or usually less 🙂 Love that they keep always upgrading so you or your clients can't get bored. Love all their spaces. – Wioletta
3. Wade Studio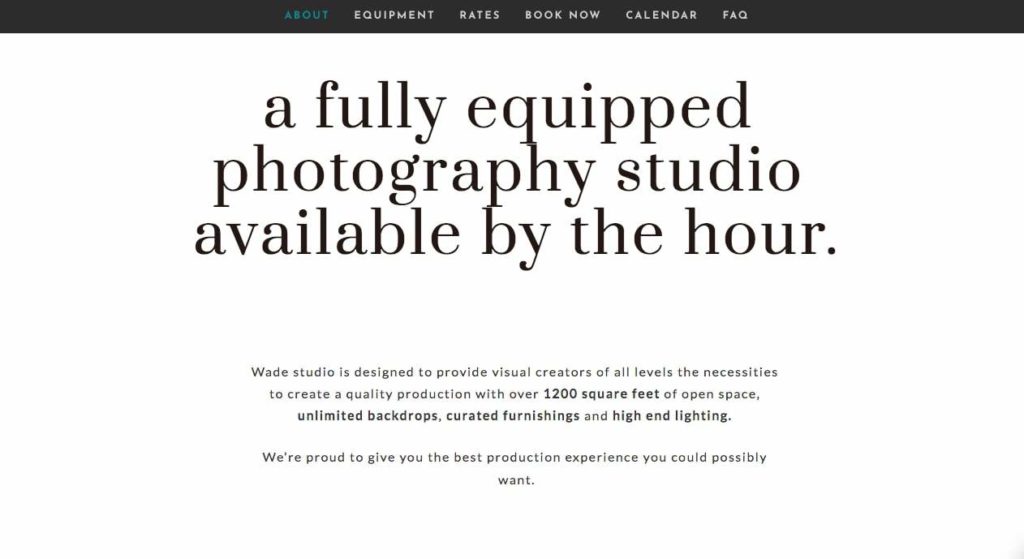 | Test | Info |
| --- | --- |
| Website | |
| Address | 87 Wade Ave, Toronto, ON M6H 1P5, Canada |
| Contact details | 647-525-2253 |
| Operating hours | Monday – Sunday: 6 am – 2 am |
| | |
| --- | --- |
| Studio setup | ★★★★☆ |
| Price | ★★★★★ |
| Facility | ★★★★★ |
| Availability | ★★★★★ |
Wade Studio has been in operation for 3 years, making clients satisfied by providing all the necessities to take stunning and quality photos. It aims to give clients the best experience in photo shoots and other events.
What we like about this studio are the rates that it offers. It has 2-hour rates as well as half and full-day rates.
To make the studio rental more affordable, it even has promotional packages with several bookings that clients can redeem anytime.
With Wade Studio, you get a spacious area that is very versatile. It may not offer well-appointed and themed studio rooms, but this is where the clients can play with their creativity.
However, the studio is located on the second floor, which can be inconvenient to some who may find it difficult to climb the stairs. We like, though, that there is available parking nearby.
The studio boast of its natural light areas. But the real bonus is the availability of professional equipment, which is included in the rental fee.
We must mention that we experienced a smooth and easy booking process. However, we learned from clients that previous bookings ran over the schedule.
Some were even asked to stop earlier than their booked time slot because of a mix-up in schedules.
Moving on, we like Wade Studio's long operating hours. It is open every day by 6 am and can accept bookings until 2 am the next day.
All in all, this studio is highly recommended for its clean and lovely space. A special mention is the free use of professional lighting equipment.
Free use of professional lighting
Affordable rates
Spacious and clean studio
Long operating hours
Located on the 2nd floor
Overlapping of schedules
Customer Reviews
Absolutely perfect
I had such an amazing time here! The studio was absolutely perfect for the aesthetic of our shoot. The lighting, props and overall atmosphere was exactly what I needed. Will definitely be using this studio many more times in the future! – Ivy
Easy to book
Great experience shooting at Wade. Easy to book/ easy to get in to the studio. Great makeup/hair area with good lighting ! Had everything we needed. Will definitely shoot here again. – Milena
4. Studio 207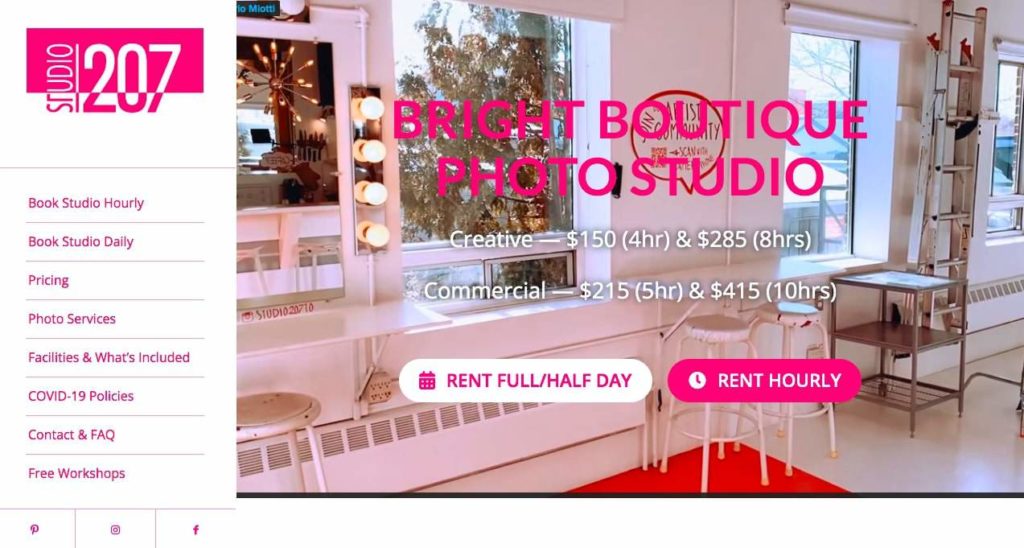 | Test | Info |
| --- | --- |
| Website | |
| Address | 65 Jefferson Ave #207, Toronto, ON M6K 1X8 |
| Contact details | 647-478-6503 |
| Operating hours | Monday – Sunday 8 am – 8pm |
| | |
| --- | --- |
| Studio setup | ★★★★☆ |
| Price | ★★★★★ |
| Facility | ★★★★★ |
| Availability | ★★★★★ |
Studio 207 is a quiet little studio in the Liberty Village. It may be small, but the customer experience has been nothing but awesome.
Its iconic pink floors blend well with natural light coming from the cove windows. Furthermore, when one rents the studio, lighting equipment, and booming sound systems are free to use.
We also enjoyed the use of a makeup room, kitchen, change room, and outdoor patio. Free wi-fi is thrown in for more convenience during the photo shoot.
As for rates, it has different rates for creative and commercial photo shoots. The creative photo shoot is meant for personal and promotional events and costs $150 to rent the studio for half a day.
Whereas, the commercial photo shoot is for advertisement and other activities related to promoting a service or product. A half-day commercial rental is $215, which is still affordable.
We appreciate that we encountered friendly and kind studio staff and the owner is also very responsive before and during your appointment. The studio is accessible too, as parking is available nearby.
Unlike other photo studios, Studio 207 does not have different themed rooms. Regardless, it still offers a lot of shooting options. It even provides accessories such as a stepping stool, which is needed for ease of the shoot.
Studio 207 is a marvelous photo studio for your creative content. One will enjoy the studio and all the free equipment and accessories to help achieve social-media-worthy pictures.
Complete lighting equipment
Additional free accessories
Parking available
15-minute headshot services
Small studio
Different rates for creative and commercial shoots
Customer Reviews
Friendly staff
A warm and neat place to go. The staff there is very friendly and very kind, he helped me to resolve the parking problem. And he chatted with me to make me feel more relaxed for the first audition in my life. I had a fun and positive experience in downtown! – Yangyang
Clean and clutter-free
I recently did a shoot at Studio 207. Before arrival, online policies and directions were clear. After arrival, they turned out to be accurate. This is a small – but big enough – studio that has all the basics, and then some. I found it clean, free of clutter, and inviting. The owner, who was in the upstairs office, was easy-going and helpful. My model found the studio clean and cute. I will shoot here again.
If you are are looking to shoot a football team or a '53 Mercury this is not the place for you. If you are looking to shoot 1, 2, or 3 models or sitters or a family portrait in a clean and comfortable small studio – highly recommended! – Ken
5. Working Proof Studios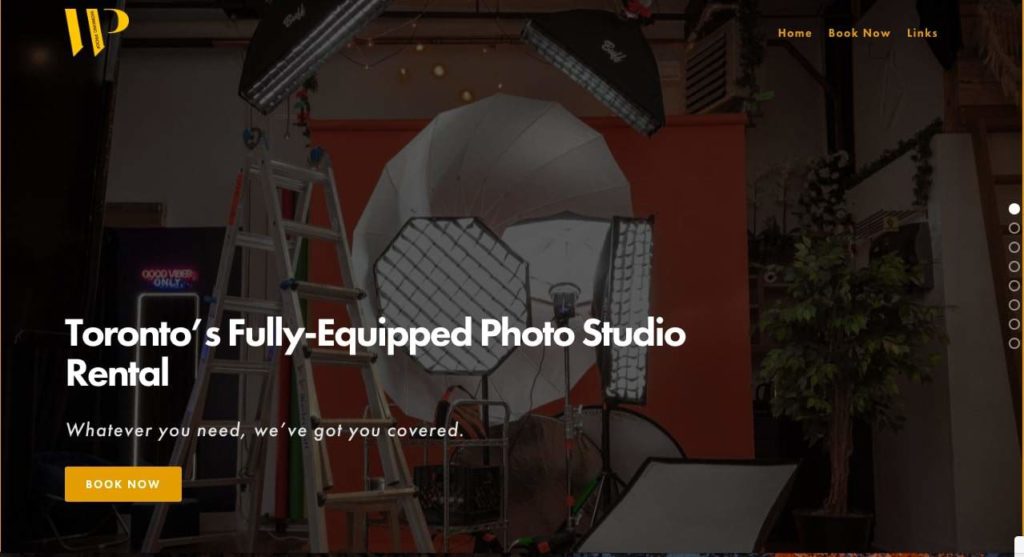 | Test | Info |
| --- | --- |
| Website | |
| Address | 1173 Dundas St E #226, Toronto, ON M4M 3P1 |
| Contact details | 416-277-6355 |
| Operating hours | Monday – Sunday: open 24 hours |
| | |
| --- | --- |
| Studio setup | ★★★★★ |
| Price | ★★★★☆ |
| Facility | ★★★★★ |
| Availability | ★★★★★ |
Working Proof Studio is one of the longest-running photography studios in Toronto. With its impressive facilities, it has provided the perfect space for commercial and lifestyle photo shoots.
What we like is its aesthetically designed studio that comes with 2 studio rooms and professional lighting equipment. Also, it offers an optional hired grip that can give assistance during the shoot.
We appreciate that it does not allow sharing of space, so you're assured of a private and no noise experience. Furthermore, the studio offers easy and flexible scheduling.
However, no staff is available on site. But they do make themselves available for phone and video calls.
The studio has beautiful interiors that get south natural light. This allows clients to achieve photogenic results with plenty of decors to use.
Its offer of an array of free lighting studio fixtures is extraordinary. Coupled with so many nooks and crannies, you will have unique photos and an incredible photo shoot experience.
Another convenience it offers is having its own restroom, change room, and a corner for hair and makeup. What is also commendable is it is wheelchair accessible.
It is also conveniently located with parking nearby, which is one of the reasons why clients patronize this studio.
We found its price a bit expensive with the 2-hour rate at $300. Although, this comes complete with lighting equipment. But what we like the most is its best value rate for 12 hours at $800 for 15 people.
We also appreciate the VIP treatment we got with amazing hospitality, free wifi, and a sound system. We experienced the staff being attentive, organized, and friendly.
Working Proof Studios is highly recommended as it offers excellent customer service. Also, having beautiful interiors that is available for 24 hours adds to overall client satisfaction.
Beautiful interiors
Open 24 hours
No sharing of space
Great facilities
2-hour rate is pricey
No staff available on-site
Customer Reviews
Profession and responsive
An absolutely amazing experience! Beautiful studio, with great lights and backdrops. Definitely one of the best multi use spaces in the city. The owner is professional and very responsive. I would definitely recommend this studio to anyone and will be using this space in the future! – Brendan
Perfect Studio
I couldn't have asked for a better location then @workingproofstudios to have our Fashion Shoot. It was the perfect studio space for our needs. Conveniently located with parking near by at an affordable price. If you need gear just inquire, they're always there to respond to your needs. They do not disappoint. I'll definitely rebook this location!!! – David
FAQ on Photo Studios
---
To take stunning pictures in a professional studio setup is an experience any creative content creator will surely enjoy. The top photography studios in Toronto that we found offer this experience at affordable rates.