The 5 Best Yacht Rentals in Toronto
Gatherings and parties have been redefined in so many ways. People can celebrate and come together through various activities and places –- even in yachts.
Whether you're wanting to host a yacht party or renting one for a quick getaway, here is a list of the best yacht rentals in Toronto.

Ready? Let's sail away!
How much do yacht rentals cost in Toronto?
While enjoying the experience is your main goal, budgeting comes first before anything. Take a pause in planning your itinerary and check out these prices first.
Please note that these are estimated costs for renting a yacht in Toronto. We would still recommend getting a quote from providers if you have specific requests and needs.
| Package Type | Price |
| --- | --- |
| Per head | $100 - $200 |
| Hourly (around 10-13 people) | $500 - $700 |
| 10-12 passengers, 2-hour rental | $1,100 - $1,500 |
| 10-12 passengers, 3-hour rental | $1,700 - $2,500 |
| 12-24 passengers, 2-hour rental | $2,800 - $3,500 |
| 12-24 passengers, 3-hour rental | $3,800 and up |
The Best Yacht Rentals in Toronto
Ensuring a luxurious experience means getting down to the details. We examined each of the charter companies in this list according to the following:
1. Toronto Yachts
Test
Info
PACKAGES
Birthdays, Bachelor/Bachelorette Parties, Corporate Events, Family Excursions
WEBSITE
https://mytorontoyacht.com/
ADDRESS
11 Polson St, Toronto, Ontario M5A 1A4
CONTACT DETAILS

Call: +1 (844) TO YACHT / (844) 869 2248

Text: +1 (416) 993 3529
| | |
| --- | --- |
| AMENITIES | ★★★★★ |
| PACKAGES | ★★★★☆ |
| MANAGEMENT | ★★★★☆ |
| BOOKINGS AND INQUIRIES | ★★★★★ |
Toronto Yacht is a fully licensed and insured rental yacht company. It boasts of its own exclusive commercial dock downtown, along with the promise of providing a 5-star experience.

The management of Toronto Yachts says that they have been running an aircraft charter business for more than a decade. This is honestly commendable as it provides a hassle-free experience for customers who want an overall luxurious itinerary.
The company offers rentals for small, medium, and large yachts which can hold anywhere between 8-12, 12-16, and 16-24 people respectively. Special raft parties for 20-28 people are also available.
Depending on the yacht size that will be rented, certain inclusions come with each package. Examples of these inclusions are refrigerators, CD players, bluetooth, barbecue grills, life jackets, and more.
What is most interesting about this rental company is its Yacht N' Fly feature, which enables passengers to directly transfer from a yacht to a plane. This is made possible through the company's sister company, Presidential Air.
Apart from Yacht N' Fly, Toronto Yachts also offers management for clients who own yachts or who are planning to purchase one. Toronto Yachts will provide qualified captains, servers, mooring, maintenance control and management, and more so clients can enjoy the benefits of yacht ownership.
They also give yacht owners the option to enroll their vessels in a commercial charter program that will allow a recoup of investment. This charter program mainly assists clients in offsetting yacht ownership costs.
Bookings can be made through their website and inquiries can be answered through text or call.
The only negative thing we can say about Toronto Yachts is that it is located in Polson Pier. Previous visitors we've spoken to say that the area can be unsafe, overpriced, and sometimes dirty.
We believe that potential clients may take them out of their options list given the negative comments about its location.
All said, the company proves to be a reputable place for yacht rentals. It has a perfect 5-star rating out of 24 Google reviews and holds more than 7,000 followers on Instagram.
Sea Attendants are Smart Serve holders
Yacht N' Fly service
Yacht Management services
Only for groups 28 and below
Location has a few bad reviews online
Can be more costly than its competitors
Customer Reviews
Highly recommended
An amazing experience with the family. The view is incredible at night. The captain and crew are wonderful, professional, and fun! May I add in they are grill masters – the back of this yacht has a bbq and they grill the meats you bring on board. The yacht has a great sound system and very clean and spacious inside. Highly recommended and I can't wait to book with them again! — Jessica Medeiros, via Google
Amazing experience!!
Absolutely the best yacht charter in Toronto, highly recommended.
We've rented from a few providers, and Toronto Yachts is by far the best.
The yacht is luxurious, and very clean… but most importantly, if you're looking for a party, the sound system makes you feel like you're in a high-end club on the water.
Staff is very professional, the Captain and hostess provided exceptional service going above and beyond…. bonus, they were so much fun!! — Melissa Teoli, via Google
2. Cityscape Charters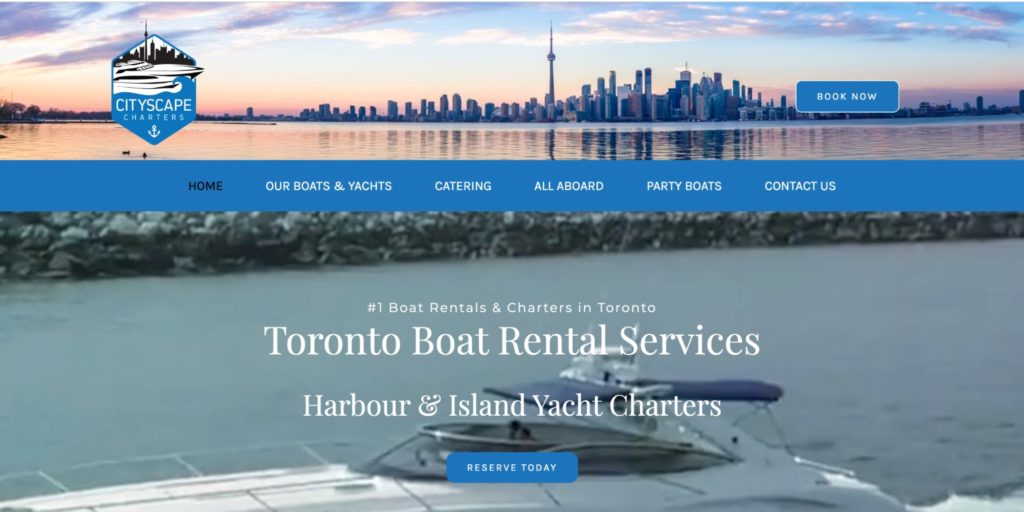 | Test | Info |
| --- | --- |
| PACKAGES | Party Boats, Family Boat Tours, Private Functions Fishing Charters, Sightseeing of Toronto's Waterfront, Toronto Island Tours, Romantic Boat Rides, Toronto Boat Rentals, Team Building |
| WEBSITE | https://cityscapecharters.ca/ |
| ADDRESS | 5 Queens Quay W, Toronto, Ontario M5J 2H1 |
| BUSINESS HOURS | 6:00 AM - 11:00 PM |
| CONTACT DETAILS | +1 (416) 613 BOAT (2628) |
| | |
| --- | --- |
| AMENITIES | ★★★★★ |
| PACKAGES | ★★★★☆ |
| MANAGEMENT | ★★★★☆ |
| BOOKINGS AND INQUIRIES | ★★★★★ |
With over a decade's worth of experience in the yacht charter industry, Cityscape Charters offers a variety of vessels for a selection of activities.
Their flagship vessels include the Sunseeker 48' Superhawk, Viking 45 Convertible, Sunseeker 34' Superhawk, and Gran Turismo '52. We particularly like the Sunseeker 48' Superhawk because of its speed, luxurious appeal, and maximum capacity of 12.
That being said, Cityscape Charters isn't an ideal place for groups larger than a dozen people. This can be a disadvantage for those that have events consisting of more than 12 guests.
However, they do step up in terms of their services. Apart from the usual hosting of events, the company also offers activities such as fishing, lake crossing, sightseeing, and even sunset/moonrise cruises.
They also offer photography services for groups who wish to have photos and videos of their yacht experience. This is quite impressive as it even includes drone footage operated by an industry professional.
Online booking is available through their website. Acquiring and inquiring about their services can also be done through call.
Honestly, aside from its accommodating capacity, the only thing we see Cityscapes Charter improving on is its online presence. Many clients come from social media and their Facebook and Instagram accounts only hold 110 likes and 1,227 followers respectively.
It is also important to note that this charter company doesn't prepare meals in-house – they partner with a third-party catering service that delivers food to the yachts. While this doesn't mean bad food quality, having a third party food service can be a deal breaker for people who are looking for a full luxurious yacht experience.
Overall, there isn't much to dislike about this company. They also have a perfect 5-star rating out of 27 Google reviews.
Extensive experience
Offers other outdoor activities
Available photography services
Can cater only up to 12 people
Third party food service
Small online presence
Customer Reviews
Easy booking process
"Had an amazing cruise – the captain and crew were professional and fun and they thought of every detail; and the boat and the food was awesome. Easy booking process and I would definitely recommend them for any special occasion. 10 stars!" — Bryan Bambrick, via Google
AMAZING experience
"Booked a charter for a day with friends and had an AMAZING experience!! Boat was beautiful and clean and the crew was fantastic! The perfect blend of sunset, lake breeze and great company! We will certainly escape the city again soon!!!!" — Priscilla Juca, via Google
3. GTA Yacht Rental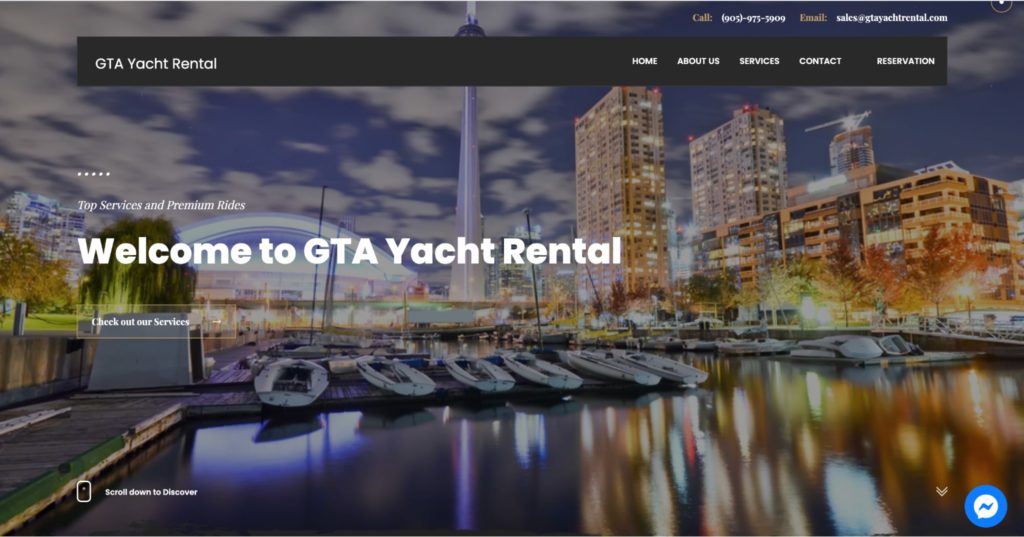 | Test | Info |
| --- | --- |
| PACKAGES | Birthday Celebrations, Business Meetings, Bachelor Parties, Weddings, Anniversaries, Tourism |
| WEBSITE | https://www.gtayachtrental.com/# |
| ADDRESS | 235 Queens Quay W, Toronto, Ontario |
| BUSINESS HOURS | 12:00 AM - 8:00 PM |
| CONTACT DETAILS | +1 (905) 975 5909 |
| | |
| --- | --- |
| AMENITIES | ★★★★☆ |
| PACKAGES | ★★★★☆ |
| MANAGEMENT | ★★★★☆ |
| BOOKINGS AND INQUIRIES | ★★★★★ |
GTA Yacht Rental offers top services and premium rides. It started its Toronto operations in 2014 and now claims to be the city leader for yachts over 60 feet.
Probably the strongest asset of GTA Yacht Rental is how they offer services apart from private yacht charters. The company also provides jet skis, kitesurfing, paddle boards, and wakeboards.
Their rental service is formed by a fleet of 4 yachts that caters to 10 destinations across GTA. Private Yacht Cruise packages usually include a captain and onboard bartender.
However, do take note that the usual packages cover a maximum of up to 13 people and GTA Yacht Rental will charge an additional $200 per head. Rates are also higher during the weekends.
Their private yacht packages can be booked through their Facebook account. A contact form is also up on their website and they are open to inquiries via call for those who are interested in their other services.
What seems to make this charter company less appealing is how it asks its guests to bring their own food and beverages. This sort of ruins the "overall experience," in our opinion.
Another thing to point out is how there seems to be no online reviews available for this rental company. Potential clients who base on previous experiences of others may stray away from them given this.
However, they have more than 8,000 followers on their Instagram account and 4 recommendations on their Facebook page.
Open from midnight to early morning
Has 4 available yachts
More than 5 years experience
Additional charges for groups of 14 and above
Food and beverages are not part of the package
4. Elevate Yacht Charters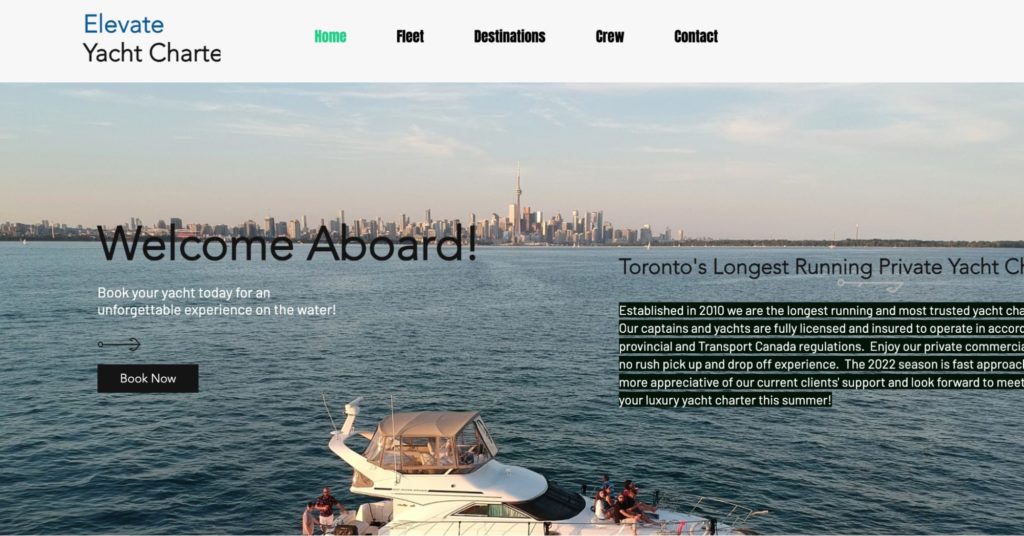 Test
Info
PACKAGES
Private Gatherings, Parties, Weddings, Proposals, Media Events, Special Events
WEBSITE
https://www.elevateyachtcharters.ca/
ADDRESS
415 Queens Quay W, Toronto, Ontario M5V 1A2
BUSINESS HOURS
12:00 AM - 8:00 PM
CONTACT DETAILS

[email protected]

+1 (416) 276 0951
| | |
| --- | --- |
| AMENITIES | ★★★★☆ |
| PACKAGES | ★★★★☆ |
| MANAGEMENT | ★★★★☆ |
| BOOKINGS AND INQUIRIES | ★★★★★ |
Established in 2010, Elevate Yacht Charters takes pride in its fully licensed captains and insured yachts. They also have a private commercial dock to give customers a hassle-free experience.
Safety and first aid training were given to the charter company's crew to comply with Transport Canada's Regulations. What makes this commendable is the fact that the requirement is for yacht operators to have at least 1 first aid trained crew, but this company went beyond complying.
This rental company boasts of its fleet of yachts that can attend to most occasions. What they consider as the star of their fleet is the 400 SeaRay Sedan Bridge, which is complete with most luxurious amenities such as a large tanning area and large upper deck.
The two other units are the 420 Carver Mariner and 340 SeaRay Sport Cruiser, which can accommodate 15 people and 10 people respectively. Of course, the downside is that groups of 16 and above cannot be served by this rental company.
Charter destinations is what makes this rental company stand out. They are the only ones who offer tours of the Toronto Harbour, Island Lagoons, and Hanlan's Point Beach.
We believe that these particular destinations are perfect for those who enjoy both quick and laid back boat rides. These natural settings allow both locals and tourists to bask in the beauty of Toronto's environment.
Depending on the timing, Porters Island Airport planes can be seen up close during their Toronto Harbour tours. Elevate Yacht Charters says that the plane may seem so close and reachable.
Some of their new tours are the Niagara on the Lake Wine and Beer Tours, Scarborough Bluffs, and a Hanlan's Movie Night with a 15 foot media screen.
Three testimonies can be found on their website and 1 via Facebook but there are no traces of them via Google reviews. Their website can also do more in terms of navigation and layout, as some information tends to get cut when you view via desktop.
On the bright side, booking is made easy through the "Book Now" button on their website and a submission form is open to anyone who wishes to make an inquiry.
Fully licensed captains and insured yachts
Safety and first aid trained crew
Exciting charter destinations
Choice of 3 yachts
Cannot accommodate groups of 16 and above
Small online presence
Website not desktop-friendly
Customer Reviews
"Very happy with our day out on the water! One of the best ways to enjoy Toronto!" — Nicholas Sawarna, via Facebook
"We were looking to book a corporate team building experience for our sales and marketing teams. Elevate Yacht Charters set us up with 3 amazing yachts for a floatilla, I had never heard of that before but it was AMAZING! — Roger, 46, via Elevate Yacht Charters website
5. Heritage Coast Charters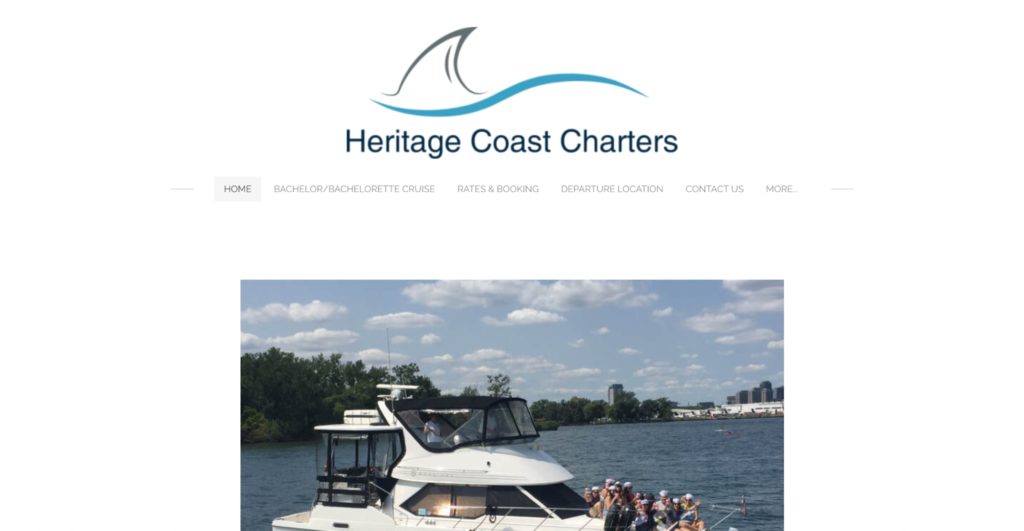 | Test | Info |
| --- | --- |
| PACKAGES | Anniversary Celebrations, Birthday Parties, Bachelor/Bachelorette, Evening Lights Cruise |
| WEBSITE | https://www.heritagecoastcharters.com/ |
| ADDRESS | 249 Queens Quay West, Unit 110, Toronto, Ontario M5J 2N5 |
| CONTACT DETAILS | +1 (416) 747 2837 |
| | |
| --- | --- |
| AMENITIES | ★★★★☆ |
| PACKAGES | ★★★★☆ |
| MANAGEMENT | ★★★☆☆ |
| BOOKINGS AND INQUIRIES | ★★★★☆ |
Heritage Coast Charters has been around since 2004 and has been recognized as the best small motor yacht charter boat in the Greater Toronto Area by the "Toronto Now" magazine's "best of Toronto."
They also received the 2019 Toronto Star Readers' Choice Award Winner for Boat Charters with their proven record of serving groups of 10-12.
Usual package rates are $1,150 and $1,650 for 2 hours and 3 hours respectively, exclusive of tax. Customers who wish to have additional hours need to call their hotline to ask about their rates.
Rates include the basics — a captain and first mate, water, a cooler filled with ice, and the vessel's fuel.
Of course, given their limit on passenger capacity, the charter rental service automatically loses the market portion that needs yachts for 13 or more people.
Nevertheless, intimate groups may enjoy scenic views of Lake Ontario, a taste of the Toronto skyline, and scenes from surrounding areas. This experience is where the company promises to deliver.
​Heritage Coast Charters also has a special anniversary promo as of writing. Their 15 year celebration offers a 3-hour minimum Bachelor/Bachelorette party with free pick-up and drop-off within the city of Toronto.
Bookings and inquiries are made easy through call and a contact form on their website. Customers are required to do a 50% deposit upon booking though and a full payment a day before departure.
Cancellations are free when made a week before departure date. Full refunds are issued when the company decides to cancel due to weather issues.
Overall, this company proves to be a reliable place for yacht rentals. They got a total of 4.3 stars out of 16 Google reviews.
Multi-awarded charter rental company
Fair-priced packages
Free cancellation a week before date of departure
Offers promising views of Lake Ontario
More than 15 years experience
Poor customer service (according to 1 review)
Can only serve a maximum of 10-12 people
50% deposit required upon booking
Full payment required a day before date of booking
Customer Reviews
Everything was really affordable
"I rented this boat for my birthday and it was amazing! The hosts were so kind and hospitable. They are really really experienced and made us feel so comfortable throughout the ride and the day. I also did quite a bit of shopping around and everything was really affordable in comparison to other options. In addition there were no hidden fees ! Choose them if you're in need for an amazing experience. I found everything as advertised !" — Amma Gyamfowa, via Google
"Chartered this boat for a friend's birthday. Was so easy and Ken was very accommodating. Went out for 2 hours. You can bring your own food and booze. Was such an amazing experience. Will for sure charter with Ken and his wife again!

Absolute best option
If you're looking for a charter in Toronto, this is the absolute best option! They are also properly registered to offer charters which many other options are not. Highly recommended!" — Andrew Koolsbergen, via Google
FAQs about yacht rentals in Toronto
---
Did you have fun reading through the packages and tours provided by the charter rental companies in this list? Share your thoughts with us and let us know if you have other recommendations!
If you're actually planning for a yacht wedding, this couple's guide to planning weddings in Toronto might help you.