A Couple's Guide to Planning Weddings in Toronto
Walking down the aisle soon or waiting at the end of it? For soon-to-be grooms and brides, comprehensive wedding planning is critical to making the most of this memorable day.
In this guide, we listed down general requirements and health guidelines to follow for weddings.
We also have a step-by-step guide to planning your wedding as well as a section for important wedding decor and other things to remember - so let's begin!
Legal Requirements to Obtain
Before we get to the fun stuff, here are the basic legal requirements you need to get married:
Now if you're having a destination wedding outside of Canada, you need the following:
A marriage license
A marriage officiant authorized to the province of Ontario (List of authorized officiants available at the Service Ontario website
Two witnesses
Letter of Non-Impediment (in some counties, as proof that you're not currently married)
Eligibility and marriage requirements in the country you're getting married in (check with the Canadian representative of the country)
General COVID-19 Guidelines to Follow
Even if restrictions are getting more relaxed, it's still essential to meet Toronto Public Health requirements to avoid the spread of COVID.
Require or encourage vaccination among your guests.
Opt to have virtual Livestream services for your wedding.
Honor the capacity limit of your wedding venue.
Communicate with the guests about safety protocols.
Practice social distancing and require face masks.
Increase ventilation in the venue.
Change the wedding service and reception to minimize social interactions.
Keep an attendance list for contract tracing.
Steps to Planning Your Dream Wedding
Now, the key to a successful wedding is adequate planning. You have two major options: to plan the wedding yourselves or to hire a wedding planner to do the work for you.
There are, of course, obvious advantages and disadvantages to both options. Planning on your own gives you complete control but opens up bigger risks of failure, one way or another.
Experienced wedding planners know to get the most out of your budget, but they're really not a budget-friendly option. On the bright side, there are often packages to choose from to match your budget.
Either way, you still have to dip your toes in all the facets of your wedding plan. So basically, it's vital to really know what you want, how you want to achieve it, and truthfully, how much you're willing to spend to get there.
Brainstorm Your Wedding Goals
Every plan starts with a goal in mind. This is the stage where you sit with your future spouse and basically just talk about the themes you like, the decor, the people you plan to invite, etc.
While it seems super-straightforward, it can be confusing if you both want different things. But what you'd want to do is to make sure you meet halfway so you both get the results you want.
Here are a couple of questions to ask each other to help you arrive at a consensus:
How would you describe the perfect wedding?
Do you prefer a smaller, more intimate wedding, or one that's larger in scale?
Would you be willing to invest a lot in the ceremony, or refocus the funds on your actual marriage instead?
What theme do you think perfectly captures your goals in the wedding and your personality?
Do you like being more hands-on for the process, or would you be more comfortable having a professional take over the planning?
How do you think your respective families will respond to the themes you've come up with?
What are certain things or moments in a wedding that you wish NOT to happen in yours?
Establish a Budget
People will say that you can't put a price on your dream wedding – but who are we kidding here? The truth is, your budget is the single most monumental decision on your wedding day.
Your budget defines the kind of venue you'll have access to. On top of that, it also defines the scale you're limited to, no matter how resourceful you think you are.
You have two ways of establishing a budget. You can either settle on a solid figure and break it down into specific factors or start with the specific factors until you reach the maximum amount you're willing to spend.
Ideally, your budget should be allocated like this for the following:
| Item | Percentage From Your Budget |
| --- | --- |
| Reception | 48% - 50% |
| Flowers | 8% - 10% |
| Videography / Photography | 10% - 12% |
| Entertainment | 8% - 10% |
| Invites & gifts | 2% - 3% |
| Wedding planner fees | 8% |
| Allowance for unexpected expenses | 5% - 10% |
Decide When and Where to Hold the Ceremony
Next, decide on a date when you want to get married and where you want to hold the event. This will give you a timeframe to work on so you can plan 4 to 6 months in advance of the wedding.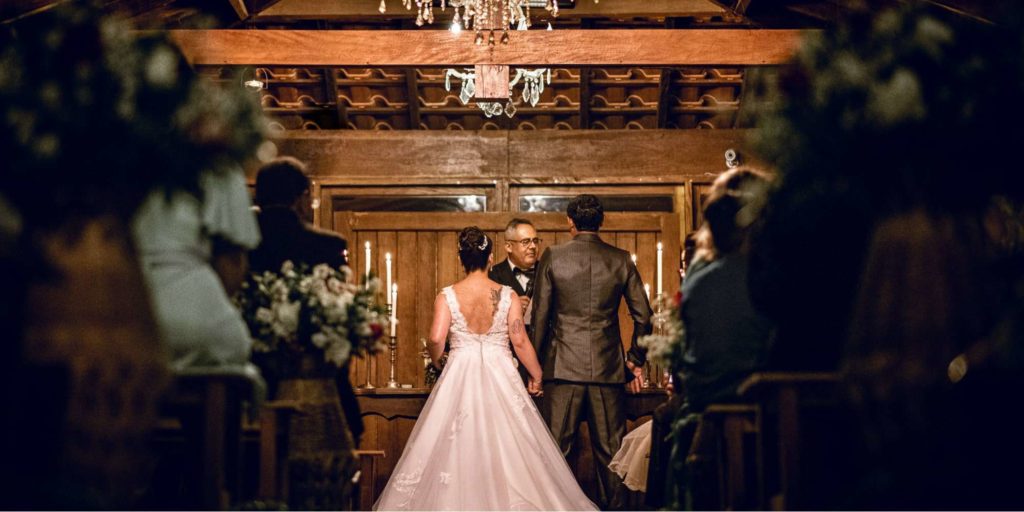 Finding a wedding venue is usually the best place to start because most providers also offer packages for decor. This is often limited to the wedding ceremony only, so the reception will be a different matter in this case.
Now, the date of your wedding is all up to you and your partner. You can set it up on a special day between the two of you or go on a more practical route for couples.
Here are some pro tips that can help you set your wedding date:
Summer is one of the best seasons to hold a wedding due to the long days and pleasant weather, though it does have a caveat where costs are concerned.
Book at least 6 months in advance for your venue and vendors if you plan to get wed in the summer.
If you're more budget-conscious, you may want to avoid summer weddings because planners tend to charge more at this time.
Unless you're in an airconditioned venue, you may want to avoid requiring formal attire during summer.
Fridays, Saturdays, and Sundays are some of the best days to hold a wedding.
Long weekend weddings are best for destination weddings so you can spend one day with your guests.
Make a List of People to Invite
The size of the venue you've chosen and the date you've set will give you an idea of whom and how many to invite. But, take note, you can actually do this step first and focus your venue and date based on who's attending, instead of the other way around.
Naturally, you'd want the following people to be there on your special day:
You and your partner's parents, relatives, and close friends
Any important individual who you wish should witness your wedding day
Mutual friends and neighbors
With that said, you should also get into planning the invitations and the giveaway gifts you plan to share. Note that you must have a final guest list that includes people who accepted the invitation.
Speaking of gifts and invitations, you can get services from the following providers:
Graphic designers to design the cards and message
A reliable delivery service to ensure that the mail gets sent out weeks prior
T-shirt and merchandise printing services that can make bulk gift orders
Hire a Videographer and Photographer
It's not the most important aspect of a wedding, but it definitely hurts if you don't have one. Note that both services are expensive, but for a once-in-a-lifetime event, would you really skimp here?
Anyway, a wedding videographer can provide you with feature-film types of cinematography or snippets. They also usually offer photography services too as a bundle – but this of course will cost you more.
Wedding photography services are something you can hire pre-wedding or on-site. Often, these are bundled as packages where you can get extras like photo albums and more.
Because of the cost of either service, you should take your time finding options that fit your needs as closely as possible. Seek out recommendations from your friends or read reviews to find the ones that offer top-quality results.
Plan the Reception and Entertainment
The reception is a moment of celebration and in general, just having pure unbridled fun. Of course, it's time to feast on some good food too!
Some of the first vendors you can connect to are catering services. A lot of them specialize in wedding catering services, plus they allow you to curate your own menu too.
On top of that, you can add a spice of entertainment too by hiring professional musicians to amp up the party. Or if you want, you can simply play good music in the background to build the atmosphere.
List of Wedding Decorations and Other Bridal Needs
As a whole, you need the following decor and accessories to complete your wedding. We've put together tips for each set too:
Flowers and venue decorations:
Find a florist and flower delivery service early to ensure that they can supply your wedding day. Getting that many flowers together takes planning!
Make sure the decor and flowers match the theme and color scheme.
Get a photo booth rental (if you like) for your guests to use.
Wedding cake:
The design is all up to you – it's your cake after all!
Make sure to do a taste test of your wedding cake options.
Don't forget to consider any dietary restrictions like allergies that your guests may have.
Wedding dress and wedding ring:
Don't only focus on high-end boutiques – you can look like a million bucks even in a hand-me-down.
Accessorize. The shoes, jewelry, and hairstyle you put on can elevate a relatively simple look.
Order rings as early as possible so further alterations can be accommodated.
---
Marriage is a consequence of love and perhaps the most beautiful one among many others. So for your special day, plan like a pro and hear the wedding bells ring for the new life ahead!