A Guide to the 5 Best Wedding Venues in Toronto
Congratulations on finding your one true love! However, your search isn't over if you've yet to find the best place to tie the knot.
In today's review, we'll cover the best wedding venues in Toronto plus other wedding details you need to know. We'll talk about the costs, plus factors you must consider before making a choice.
The Cost of Wedding Venues in Toronto
Tying the knot is a serious investment and might be one of the biggest expenses to cover in your life. Knowing this, it's best to find the right wedding venues that can give you the best value for your special day.
Some venues provide a wedding package for their clients, while others don't.
See the table below to get an idea of the cost of different types of venues:
| | | |
| --- | --- | --- |
| Venue Type | Lower Cost | Higher Cost |
| Event Center | $2,083 | $23,823 |
| Private Club | $2,331 | $17,123 |
| Banquet Hall/Restaurant | $2,378 | $22,576 |
| Historic/Landmark Building | $4,083 | $22,596 |
| Museum | $4,474 | $14,748 |
| Brewery | $4,812 | $10,259 |
| Hotel/Resort | $5,021 | $73,014 |
| Barn/Farm | $5,989 | $12,341 |
| Park/Garden | $7,886 | $13,353 |
Top Wedding Venues in Toronto
Now that you have an idea of how much each wedding venue costs, let's look at the city's best wedding venue.
As a point of reference, we only chose wedding venues that offer event packages to clients. We also considered the capacity of the venue, special offers, and noteworthy exclusives that you may enjoy.
Each company has its own kind of service that may be of your type, so take some time and read through their services and decide whether they fit your needs.
1. Toronto Wedding Chapel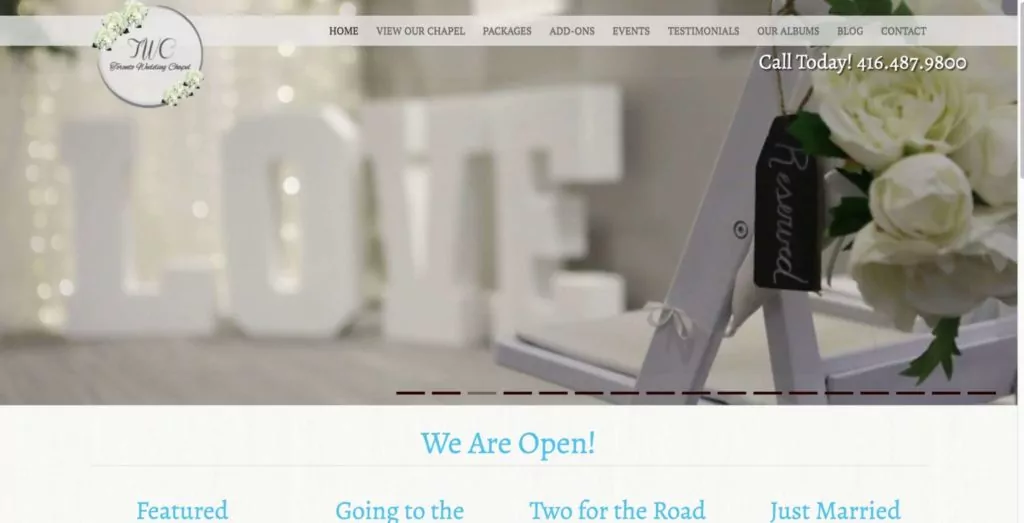 | | |
| --- | --- |
| SERVICES | Wedding Ceremony Packages, on-site wedding officiants, Professional photography, wedding photography package |
| WEBSITE | https://torontoweddingchapel.com/ |
| ADDRESS | 276 Merton St, Toronto, ON M4S 1A9, Canada |
| CONTACT DETAILS | +1 416-487-9800 |
| OPERATING HOURS | Hours of service may differ |
Toronto Wedding Chapel has been in the business since 2006. For 15 years, they've been serving clients with an intimate and elegant wedding chapel in Toronto.
Apart from scoring a wonderful venue, you can also choose from four major packages that they offer. Let's talk about each one in depth.
The "Going to the Chapel" package provides the most intimate wedding experience for the future couple for $595 plus applicable taxes. However, it has a limit of 10 guests for the wedding, excluding the bride and groom, plus guests can only stay for half an hour.
The "Cherish the Moment" package allows you to stay at the chapel for one hour. But it's more than twice the price of the first one at $1,395.
If the budget is a bit tight at the moment, you can go for the "Two for the Road" package for only $495. It's a very private and simple wedding type that only accommodates four people who are the witnesses.
It's really the marriage that counts anyway, but you do have to move fast to score this package. This service is only available on Thursdays – 11:00 AM to 6:00 PM, so bookings are limited.
Their last wedding package is called "Just Married" and allows you to have up to 18 guests at the venue. With this, you get all the basics which is a fantastic deal for big families, but unfortunately, it's not available as of writing due to COVID.
Comprehensive packages meant for small weddings
Best for intimate weddings
Mini chapel venue
Caters other ceremonies
Wide selection of service add-ons
Some packages may not be available or are limited
Customer reviews
Stress-free wedding in an awesome location
Katherine is amazing. Her and her husband are very friendly people and work with you as much as possible. They have a beautiful place and we feel very happy and confident in sharing our big day with them at their awesome location.Our wedding went off stress free. Katherine you're amazing. Paula was great as the officiant. Ernesto was very fun and friendly and a great photographer. We're very thankful for such an amazing wedding. I'd give you more stars if I could. – Drk King
Romantic and intimate time in the venue
Me and my husband had an intimate ceremony at the Toronto Wedding Chapel with just 13 people. How they made such a small space into a romantic, fairy tale like venue is beyond me. Every single moment was perfect from the wonderful officiant to the beautiful owner who felt more like someone who was part of the family then someone I had met that day! If you want an intimate wedding for an AMAZING price, look no further! Book NOW! – Shagare Senthil
2. Berkeley Field House Event Venue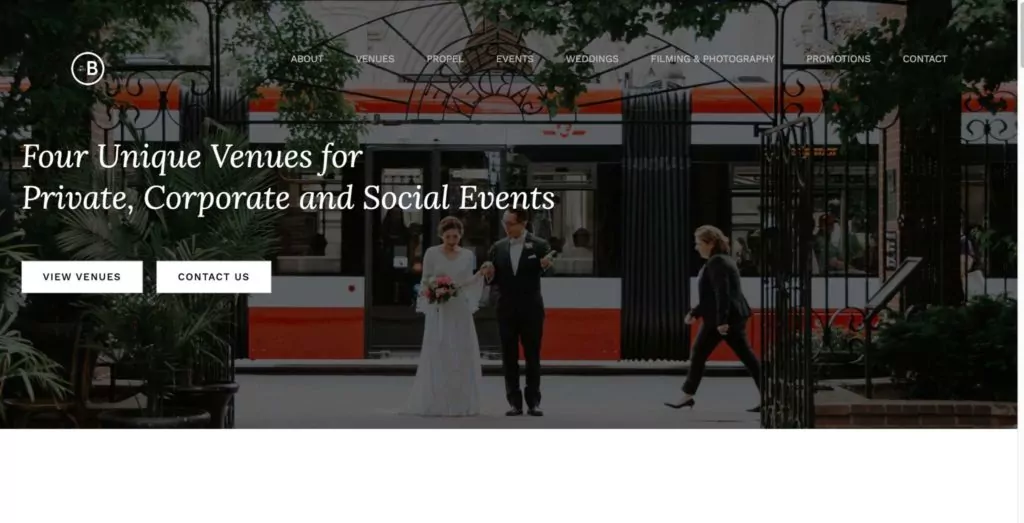 | | |
| --- | --- |
| SERVICES | Micro weddings, 2021 nano weddings, 2021 micro wedding |
| WEBSITE | https://berkeleyevents.com/ |
| ADDRESS | 311 Queen St E, Toronto, ON M5A 1S7, Canada |
| CONTACT DETAILS | +1 416-361-9666 |
| OPERATING HOURS | Open 24 hours |
The Berkeley Events has four venues available around Toronto for you to pick from. They have been in business since 1999, having launched with the much-acclaimed 1871 Berkeley Church.
They have three wedding packages you can choose from as well as the seven venues and photographers. However, photographers don't come with those wedding packages and are categorized based on how long you want to hire them.
The Micro package allows you to seat 50 guests, has four private course meals including dessert, and is fully staffed along with a venue coordinator to plan your perfect day. But this package lies on the more expensive side with its cost starting at $12,500.
They also have the same package but at a different venue. In the Berkeley Fieldhouse, you can seat up to 74 guests – great for big ceremonies.
The package comes with a three-course meal and plated appetizers, as well as their special Berkeley staff. So it's basically all that you'd want on a standard yet grand wedding.
The pricing for the package is based on how many people are attending, which starts at $260 per person. Based on that starting point, you can expect a grand total of $19,240 if you use the venue's max capacity.
The Nano Package, as the name suggests, is more fit for smaller weddings. With this package, you can have up to 25 seated guests.
The package includes a four-course meal and a three-hour open bar. However, this package is only available from Sunday through Thursday, and can only provide you with the La Maquette and Berkeley Fieldhouse venues.
7 different venues to choose from
Wedding packages fit for bigger weddings
Packages include meals and working staff
Can also cater to small, more intimate weddings
Bigger weddings can be pricey
Certain packages have limited availability
Customer reviews
Beautiful environment and friendly staff
Just had our wedding here. Staff is great and very friendly. The food was great. Beautiful inside and out. Nice environment. Perfect for a small wedding and rustic feel. We were so happy to have our wedding here, everything went smoothly. -Michelle Massacraze
Great location for every celebration
Beautiful wedding venue. Forgot I was in the city, out door landscaping is cute with a little river flowing through and plenty of wood and brick. Great spot for a wedding or celebration. Top in Toronto! -Lou Anne
3. Bellamy loft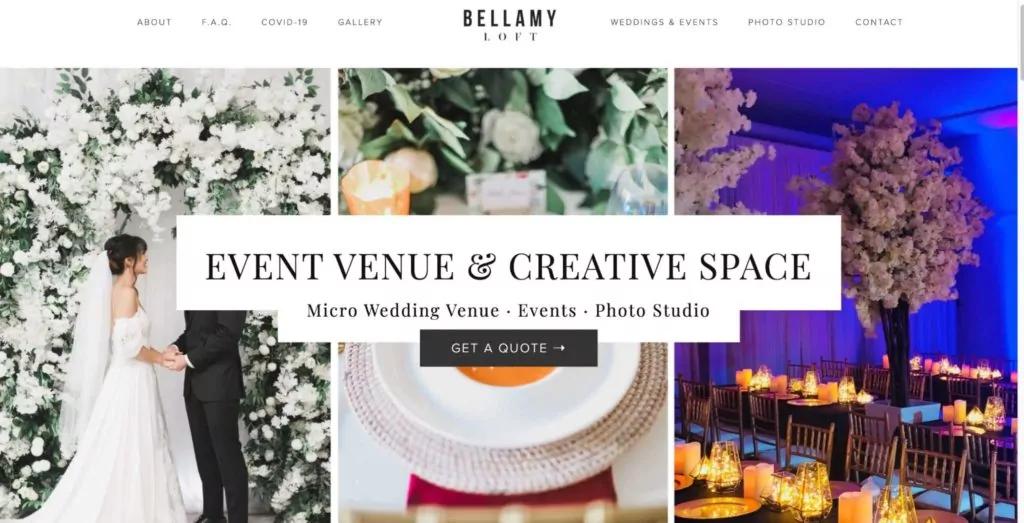 | | |
| --- | --- |
| SERVICES | Wedding Ceremony, Micro wedding, All-inclusive Wedding |
| WEBSITE | https://www.bellamyloft.com/ |
| ADDRESS | 1230 Sheppard Ave W Unit 4, North York, ON M3K 1Z9, Canada |
| CONTACT DETAILS | +1 647-995-5414 |
| OPERATING HOURS | Monday – Sunday: 11:00 AM – 5:00 PM |
Bellamy loft provides a modern vibe in their micro weddings and other events. Their venue can fit 80 seated guests or 150 standing guests based on the client's choice.
The venue provides three types of packages, where each one has different sub-packages to choose from. In addition to that, they have an a-la-carte service for the other services that aren't included in the other packages.
The packages are divided into three major categories namely Wedding Ceremony, Micro Weddings, and All-Inclusive Weddings. Each package has optional add-ons that you can get to amp up your wedding day.
You can choose to have a simple wedding ceremony or intimate wedding where you can invite your closest confidants. If you're worried about the pandemic, you can choose the "The Petite" package that allows you to broadcast your wedding.
The last type is an all-exclusive wedding package. This covers everything from the wedding to the reception as well as the food and bar. The only downside to this package is the fact that it will be the most expensive of the three.
Provides both the venue for the wedding and reception
Optional add-ons available
Can cater to up to 150 standing guests
Option to broadcast your wedding under certain packages
Option for ceremony-only weddings
Has comprehensive packages for micro weddings
Payment plans available
Prices are only available upon request
Customer Reviews
Well-organized team and memorable experience
We loved our experience at Bellamy Loft! Their team is amazing and extremely organized. Their officiant was able to include all of our personal notes and he had everyone laughing. The entire experience was so memorable and beautiful! Thank you! -Jeunesse
Stress-free personalized wedding
Our wedding was stress-free, beautiful and personalized to us. Thank you Bellamy Loft for the best experience. Huge kudos for allowing our dog to be a part of the day!! We highly recommend your venue and the great packages you offer! – Jessica C
4. Devoted To You
| | |
| --- | --- |
| SERVICES | Wedding, destinations, proposals, parties |
| WEBSITE | https://www.devotedtoyou.ca/ |
| ADDRESS | 110 Cumberland St #332, Toronto, ON M5R 3V5, Canada |
| CONTACT DETAILS | +1 416-728-9078 |
| OPERATING HOURS | Monday – Sunday: 10:00 AM – 6:00 PM |
Devoted to you is a wedding officiator company that provides not only the venue but also everything you will need at a wedding. They have been in business for 15 years and have provided a space for all kinds of occasions.
Speaking of their wedding service, the company has a different approach to wedding planning. They are very versatile and allow their clients to plan the wedding with their help.
From the first day of planning, they would listen to what their clients wanted. This might work on people who have a clear plan on what they want their wedding to be, but a downside to those who aren't knowledgeable enough in wedding matters.
Next is budget planning, which is a flexible stage for those working on a set budget. They would start to discuss the cost of the wedding and consider changes depending on how much you want to get from what you're willing to pay for.
The plus thing about their approach is versatility. You have so much freedom to tweak your wedding the way you want it to be – all without blowing your budget.
Highly personalized wedding services
Budget-oriented approach
Allows wedding planning from abroad or any place in the world
In-depth consultation to create a wedding plan
Manages everything from logistics to project management
No set packages to choose from
Customer Reviews
Amazing organizers with great decor
We hired Carmen to help organize our backyard wedding during COVID-19. She did a great job and was able to organize the tea ceremony as well. A backyard wedding has an incredible amount of unforeseen logistics and she was able to manage everything. She introduced us to an amazing designer/florist (Nous Design) and cater (Elle Cuisine). -josh Hong
Professional and organized
I have worked with Carmen many times on Weddings and Photoshoots, she is a true professional at what she does and she is very personable and organized. I've seen her handle Wedding Planning with ease and be there to serve her Couples to ensure their Happiness on their Wedding Day! I can honestly recommend Carmen for your own Wedding or Special Event! – Corina V. Photography
5. Eglinton Grand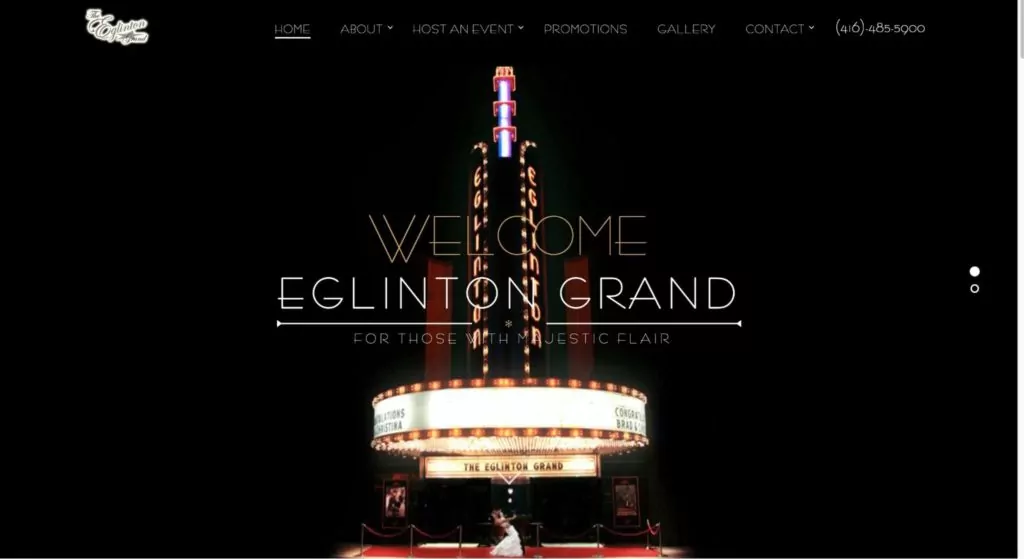 SERVICES
Eglinton grand classic wedding package, Chinese wedding package, indian wedding package
WEBSITE
https://eglintongrand.com/
ADDRESS
400 Eglinton Ave W, Toronto, ON M5N 1A2, Canada
CONTACT DETAILS
+1 416-485-5900
OPERATING HOURS
Monday – Friday: 9:30 AM – 5:30 PM
Saturday: 9:30 AM – 4:00 PM
Eglinton Grand used to be a theater that was now turned into an elegant and sophisticated place to house all sorts of events. Their venue can house up to 225 guests in a theater-style sitting arrangement.
They have three different wedding packages that offer a traditional feel to the wedding. The Chinese wedding and Indian wedding are available to those who want to have the traditional wedding, while the Eglinton grand classic wedding package offers a more grand display.
Each wedding package has different cuisine types to choose from. There's the classic menu, the grand menu, and the Mediterranean menu – each having its own specialty.
Each menu package comes with a silver bar selection. If you want to upgrade, an additional $5 is needed to get a gold bar selection for each head, and $10 for the platinum bar selection.
They provide one hour for the ceremony and depending on the venue, they can house 200 to 320 guests. The gallery can seat 200 guests excluding the bride and groom, while the main hall can accommodate 320 people.
Over 30 years of experience
Best for grand weddings with hundreds of guests
Food selection is available online for easy choosing
Specializes in traditional weddings
Great menu selection featuring various cuisines
Each package comes with a silver bar selection
Clients can make the venue exclusively for the wedding alone
Lowest service charge in GTA
Expensive option
Not meant for more intimate weddings
Customer Reviews
Professional customer service
I have worked at the Eglinton Grand multiple times through my event and wedding planning business, Jessica Lisi Events, and nothing compares to their level of service, professionalism, and customer service. It's always a pleasure when my clients not only bring me on to do month-of coordination services with them, but also when I get to introduce Full Planning clients to this venue as well. -Jessica Lisi
Amazing and unique
My husband and I had our wedding reception here and everything was amazing. The food was delicious, the staff was super friendly and did everything in their power to make sure we had anything we wanted. Teresa was great to work with right from the start and was very accommodating and responsive. The venue itself is beautiful and super unique. It was a perfect night! -Michelle Liotta
Factors to Consider When Choosing a Wedding Venue
Weddings are among the most memorable times in people's lives, so it's important to make each choice count. Here are some things that you need to consider before choosing a wedding venue:
Budget
Before picking a venue, you first need to know how much money you want to spend. This narrows down your choices to whichever falls in those categories.
Knowing your budget also allows you to manage what you can and can't get based on the things you want to expect in your wedding. Of course, you can't compromise on quality so find the balance between what you're willing to pay and what you want to get.
Time and Date
Some venues aren't open on specific dates, so you need to check that the one you want is open on the day of your dream wedding. Although churches are open 24/7, some wedding venues are not, especially when under certain packages.
Once you have the location you want, consider when they will be available on the date you want to be wed. Your wedding date is important, but if you don't mind making adjustments, you can find something with better availability.
Location
The location where the wedding and reception will be held should be in line with what's convenient for you. Consider picking a location that is accessible to both you and your guests.
If you happen to choose a location that is relatively far from your home, it's very likely that you will have to pay for the travel fees for your guests. This would be another thing that will be added to your budget.
Theme
Finally, you should know what theme you want your wedding to be. Do you want a traditional-looking wedding or a modern wedding with grander designs?
The style you pick will greatly impact the memories you and your partner will have in the future.
Plus, it's a great way to showcase your personalities and your stylistic preferences as a couple.
FAQs About Wedding Venues in Toronto
---
Ready to take the next stages of your life? See our other reviews to help you have a fruitful marriage after a successful wedding: