The 7 Best Italian Restaurants in Toronto
Are you craving some Italian cuisine? Well, consider yourself lucky because we're here to share our picks for the best Italian restaurants in Toronto.
We combed through the entire Greater Toronto Area in search of dining spots that specialise in all types of Italian food, from pizza down to pasta dishes. We curated our list based on their menu, price range, dining atmosphere, and feedback from customers.
You'll get to know more about these restaurants below. Anyway, let's start!
1. Mattachioni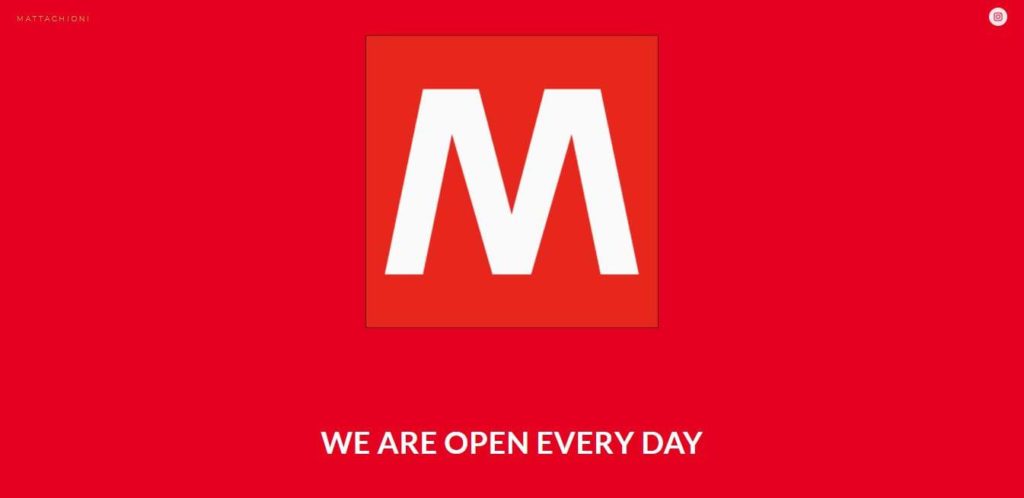 BEST SELLERS
Marcobruno, Salumi, Funghi Perosen, Ontario Cucumber, Insalata Burrata, Margherita, Marinara, Apollonia, Stefano Mistruzzi, and La Bufala
DELIVERY
No
PRICE RANGE
$6 to $24
WEBSITE
http://www.mattachioni.com/
ADDRESS
1617 Dupont St, Toronto, ON M6P 3S8, Canada
CONTACT DETAILS
416-519-1010


[email protected]

OPERATING HOURS
Monday to Sunday: 8:30 AM – 9:00 PM
Located in Junction Triangle, Mattachioni is an Italian bakery and pizzeria known for best paninis and pizzas in the entire Toronto. It's a dining spot with a carb-heavy menu, so we can't suggest it to those who are on a strict diet.
Its menu is limited to salads, pizzas, and paninis, but customers will have a variety of options for each meal. It serves seven types of paninis, eight types of salads, and thirteen types of pizzas.
In terms of serving sizes, Mattachioni doesn't disappoint. A single serving of its salad can stand as an entire meal already, so anyone who orders it will be full after only one plate, which is quite rare when it comes to salad servings.
It's not the biggest Italian restaurant in the area, but customers do adore its space as it feels like you're eating at an actual pizzeria in Italy.
Mattachioni is open the entire week, from 8:30 in the morning until 9 in the morning. It doesn't do deliveries though, so you will have to personally drop by if you want to taste its famous pizzas and paninis.
Open seven days a week
Longer operating hours
Budget-friendly menu
No deliveries, only dine in and takeouts
Customer Reviews
Here's what past diners had to say about their meal at Mattachioni:
"I can't believe how amazing the food was at this amazing restaurant! First of all, I love the location. Great neighbourhood and very convenient to get to. The staff were so friendly and helpful as well. The selection of fresh food was stunning! There was so much to choose from and so many of the items offered were made fresh in house. I had the cheese and tomato sandwich and was impressed! I recommend you try everything! Support local!"
-Paolo De Ciantis
"Much gratitude to Mattachioni staff tonight. I've been coming here for years, and it's always been a favourite. Tonight after work I went to buy myself a treat or two from the bodega and happened to mention it had been a particularly challenging day… they went out of their way to cheer me up. I'm grateful and humbled to be reminded that a little kindness goes a long way these days."
-Jess Parish
2. Carisma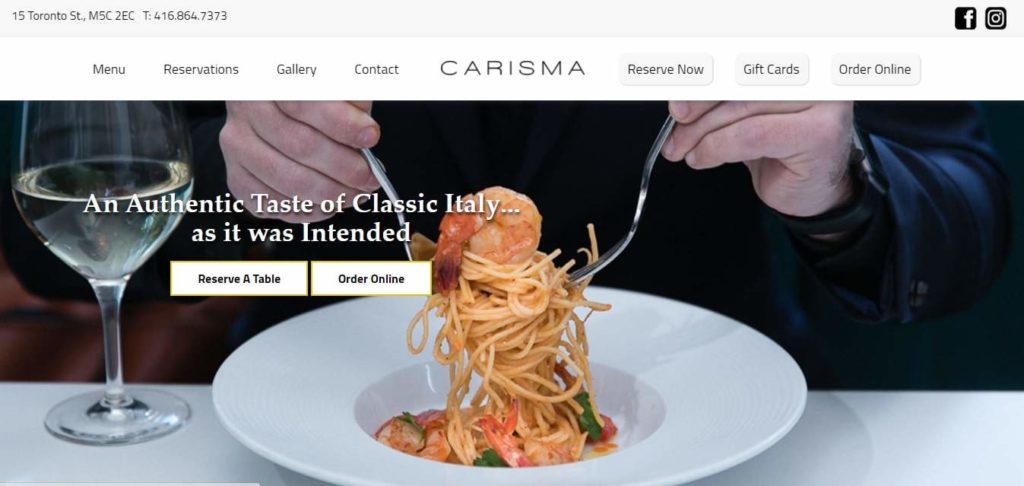 BEST SELLERS
Cozze Al Guazzetto, Cesare, Calamari Alla Griglia, Carpaccio Di Manzo, Insalata Di Bufala, Tartare Di Tonno, Pappardelle, Calamarata, Tartare Di Tonno, and Lasagna
DELIVERY
Yes
PRICE RANGE
$17 and up
WEBSITE
https://www.carismarestaurant.com/
ADDRESS
15 Toronto St, Toronto, ON M5C 2E3, Canada
CONTACT DETAILS
416-864-7373
http://opentable.ca/
OPERATING HOURS
Monday to Friday: 12:00 PM – 10:30 PM
Saturday: 5:00 PM – 11:00 PM
If you don't mind spending on upscale dining, then we recommend checking out Carisma. It's among the few Italian restaurants in the area that offer a fine dining experience – at a higher price, of course.
Carisma opens at 12pm, so its menu mainly caters to afternoon and evening diners. It's also made up of all sorts of classic Italian dishes, including pappardelle, calamarata, raviolini, risotto del giorno, polipo, and gnocchi, among others.
For desserts, diners will be able to choose from different types of house-made gelato and sorbets. Prepare your wallets though, because even its desserts are quite pricey.
Another thing to know about Carisma is that it carries an extensive collection of cocktails and fine wine, which is a perfect complement for any Italian dish. We highly recommend trying it out if you're after a full Italian dining experience.
Dining in at Carisma has never been easier as customers can reserve a table online or through a phone call. It's open for deliveries and take outs as well.
Italian fine dining experience
Easy booking of tables
Accepts take outs and deliveries
Wide selection of cocktails and wine
Customer Reviews
Carisma has gained mostly positive reviews from its customers. Here are some of their comments:
"Absolutely amazing meal. The staff were wonderful, extremely kind and attentive. The food was absolutely delicious, I would especially recommend the shrimp pasta and the calamari for an appetizer. The food was served extremely quickly, and it was easily one of the best meals I've ever had! My only comment is that the seats are extremely close to one another, we were less than a foot away from other couples on either side which kind of took away from the meal. Other than that, I would absolutely recommend this place if you're looking for a nice, upscale, romantic dinner!"
-Jeannette Morrison
"This is a great fine dining experience and the food really hits the spot. I went for my birthday. The presentation was beautiful , the taste was impeccable. I had scallops for an appetizer and it was decadent. The lamb chops were wonderful and cooked at a perfect temperature throughout. I was very satisfied with my meal. The pear martini was also good with fresh pears. The customer service was also great. I would recommend this place and visit again."
-Oacia Fair
3. Sud Forno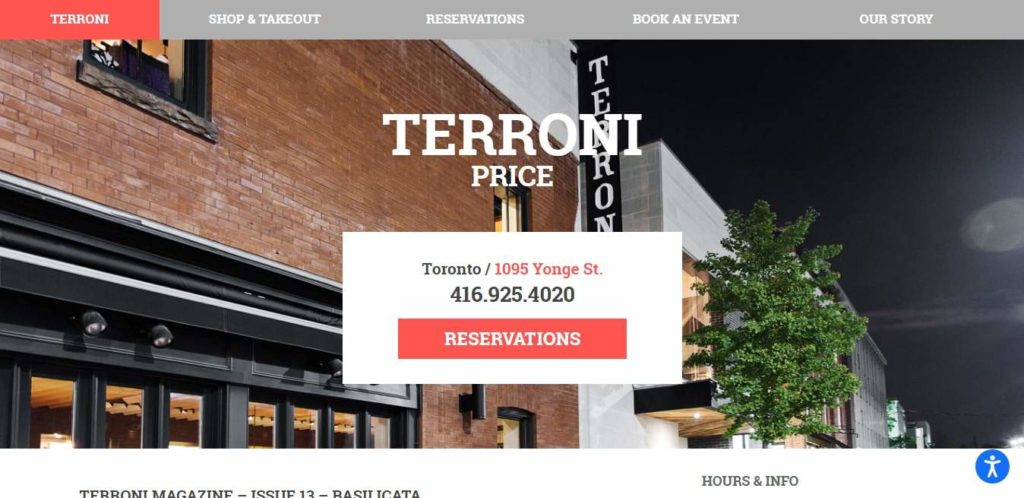 | | |
| --- | --- |
| BEST SELLERS | Cestino di Pane, Ricchia, Giuggiolosa, Garganelli Geppetto, Tagliatelle alla Bolognese, Margherita, Santo Spirito, Sazzizzu, and S Gelato Artigianale |
| DELIVERY | Yes |
| PRICE RANGE | $10 to $30 |
| WEBSITE | http://sudforno.com/ |
| ADDRESS | 132 Yonge St, Toronto, ON M5C 1X3, Canada |
| CONTACT DETAILS | 416-955-1100 |
| OPERATING HOURS | Monday to Saturday: 9:00 AM – 9:00 PM |
When it comes to interiors and design, Sud Forno is the Italian restaurant to beat. It's known for its modern, sleek, and spacious two-storey building that's conducive for both socializing and working.
Its first floor is reserved mostly for dining, where customers can treat themselves to its broad selection of Italian food. Its menu includes all types of salads, paninis, pizzas, pastas, sweets, and even coffee.
Sud Forno is also one of the few Italian restaurants with a vegan menu. Aside from its eight types of salads, some of its paninis and pasta dishes can be converted into plant-based, egg-free, and gluten-free dishes.
For its best-sellers, you might want to try its truffle and mushroom gnudi served with truffles, Parmigiano, handmade ricotta, and mixed wild mushrooms. You're guaranteed a mouth-watering treat with this one.
The upper floor, on the other hand, functions as a sit-down dining room where customers can grab a quick brunch while finishing off some work. It's where some customers come to socialize as well.
Sud Forno is always busy on weekdays given that it's located in the city's financial district, so it's not the quietest dining spot during lunch hours.
The best thing about Sud Forno is that it's not just a post for professionals. It's a restaurant where friends, families, and lovers can grab a bit and catch up.
Diverse menu
Accessible location
Has vegan meals
Two-storey dining spot
Reasonable prices
Customer Reviews
Take a look at these comments to see why Sud Forno is considered one of the best Italian restaurants in Toronto:
"Came to Sud Forno on a weekday for dinner (with a reservation) and were quickly seated. The service was quick and knowledgeable of the menu with suggestions. The food although was amazing- pizza unusually in a square was phenomenal and the pasta made to near perfection. Italian is my go to cuisine and this is definitely my new go to restaurant."
-Ryan Lu
"This coffee shop and bakery is brilliant. The scrambled eggs made to order in front of patrons are a feature. The baked goods, pizza, paninis and salads were outstanding. The price point of Sud Forno is similar to Starbucks or Subway. However, the quality is higher than franchise shops and the menu is diverse and very satisfying. This coffee shop is located in a fully renovated, two story, completely restored old building that has been very well designed with a modern interior. It is totally cool and trendy and an awesome place to sit with a laptop. Highly recommended."
-Joe Harrison
4. Piano Piano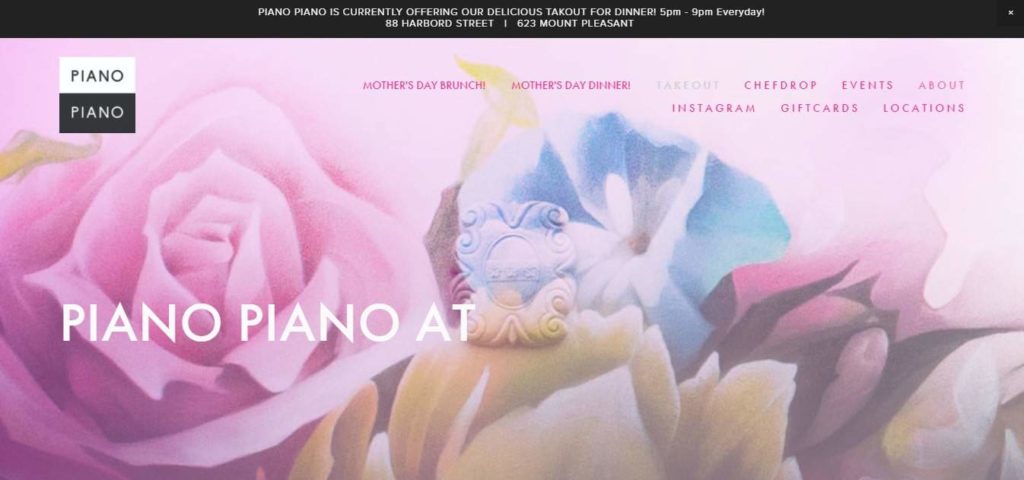 BEST SELLERS
Radicchio Salad, Smoked Burrata, Mushroom Cavatelli, Ravioli Bolognese, The Sweet Hornet, Margherita Pizza, and Bone In-Veal Chop
DELIVERY
Yes
PRICE RANGE
$10 to $29
WEBSITE
http://www.pianopianotherestaurant.com/
ADDRESS
623 Mt. Pleasant Road, Toronto

88 Harbord St, Toronto, ON M5S 1G5, Canada
CONTACT DETAILS
416-929-7788


[email protected]

OPERATING HOURS
Monday to Sunday: 5:00 PM – 9:00 PM
Piano Piano is an Italian restaurant with two branches in Toronto: one along Harbor Street and another one in Mount Pleasant. It's safe to say that it's one of the most accessible Italian dining spots in the area.
However, there's more to Piano Piano than its accessible branches. Here's why it made the cut for our list of the best Italian restaurants in Toronto:
For one, its interiors alone are something to look forward to. Both of its branches are designed by Toronto-based talented interior designers who created a dining space that looks and feels like an actual restaurant in Italy.
Second, diners will never run out of food choices. It offers four types of pasta dishes, seven types of pizzas, two traditional meat-based mains, and sides to top of the meals.
If you prefer gluten-free desserts, worry no more because Piano Piano has you covered. Its salted chocolate fudge cookies are safe for diet-conscious people and strict vegetarians.
Piano Piano is open for deliveries, but its pizzas and pastas can be purchased from its partner stores all over Toronto. It's made it easier for patrons to taste its signature dishes without having to visit either of its branches.
The only downside with this Italian restaurant is that it's open only for four hours a day, although it operates from Monday to Sunday.
Two locations in Toronto
Open for deliveries
Reasonable prices
Operates seven days a week
Shorter operating hours
No vegan mains, only desserts
Customer Reviews
Here are comments shared by customers on Google Reviews:
"Such a beautiful place. the interior and the exterior of the building is so beautiful that you kinda don't want to leave. their menu is like a newspaper which makes it so fun to look at. everything we ordered from the menu was super delicious. From the salad, steak, meatball and omg the tiramisu. SOOOO delicious. The staff were so nice. Our waitress was super nice and polite. I wanted to hug her loool. totally recommend this place"
-Shirin Montebare
"I came to eat at this restaurant during Summerlicious and it was fantastic. The decorations and open space was wonderful, the artwork was interesting and unique and the food was delicious. Second best calamari I've had so far. The cheesy garlic bread was fluffy and light, the pastas were great and the portions were enough to leave you satisfied and with room for the enormous slices of cake. I'm not kidding, the chocolate cake for 2 and carrot cake for 2 can feed 3-4 people, very delicious. I don't recall the name of our server but she was excellent! Very great service! I would go back."
-Alex Garcia
5. Cafe Oro di Napoli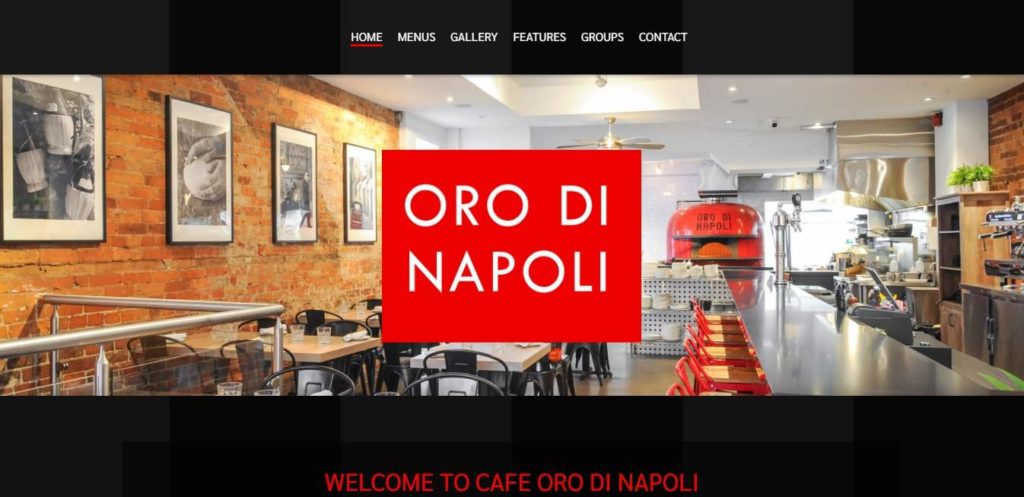 BEST SELLER
Calamari Fritti, Cozze, Tagliere Di Salumi e Formaggi, Mushroom Crostini, Insalata Di Ocampo, Caserecce Pesto, Gnocchi Pomodora, Rigatoni Osso Buco and Quattro Stagion
DELIVERY
Yes
PRICE RANGE
$8 to $24
WEBSITE
http://www.cafeorodinapoli.ca/
ADDRESS
75 Jarvis St, Toronto, ON M5C 2H1, Canada
CONTACT DETAILS
416-315-7979


[email protected]

OPERATING HOURS
Monday to Sunday: 11:30 AM – 10:00 PM
Found in the center of Old Town Toronto, Cafe Oro di Napoli is a Neapolitan-style pizzeria with gorgeous decors and diverse menu.
It may be a small corner dining spot, but its menu is as extensive as other famous chain restaurants in the area. Everything is budget-friendly as well, with its antipasti priced at only $9 per serving.
Aside from antipasti, its menu includes salads, pasta dishes, risottos, tomato-based pizza, white pizza, desserts, and alcoholic drinks. Its servings are quite generous as well, which makes its affordable dishes even more worth it.
If you want to taste its best sellers, we recommend ordering the rigatoni osso buco and Gnocchi Pomodora because its customers have nothing but praises for these dishes.
Another thing we like about Cafe Oro di Napoli is the quiet and pleasant atmosphere from opening to closing. It gets busy on most days given its location, but it never reaches the point that it becomes too noisy and distracting.
Cafe Oro di Napoli is open from 11:30 in the morning to 10 in the evening, making it the perfect brunch and dinner spot before and after work.
Open seven days a week
Conducive for working
Diverse menu
Easy booking of reservation
Serves speciality coffee and alcoholic drinks
Packed with customers on weekdays
Customer Reviews
Cafe Oro di Napoli has received hundreds of positive comments from its customers. Here's what some of them had to say:
"This place is amazing! We've ordered take out from here over five times and not only is their food consistently good but it also reheats as well as leftovers. The staff and customer service is top notch. This has become part of our monthly take out rotation! If this is how their takeout is, I can't wait to visit them for dine in! Highly recommended."
-Farah F.
"Simply amazing! The food, the service, the atmosphere and cleanliness are on point. Everything is delicious, the wood oven pizza is great, but the Mussels in the white wine sauce are the best. We can't recommend it highly enough, this place is from now on, one of my top 3 for Italian Food. We will definitely come back soon."
-María Morales
6. Trecce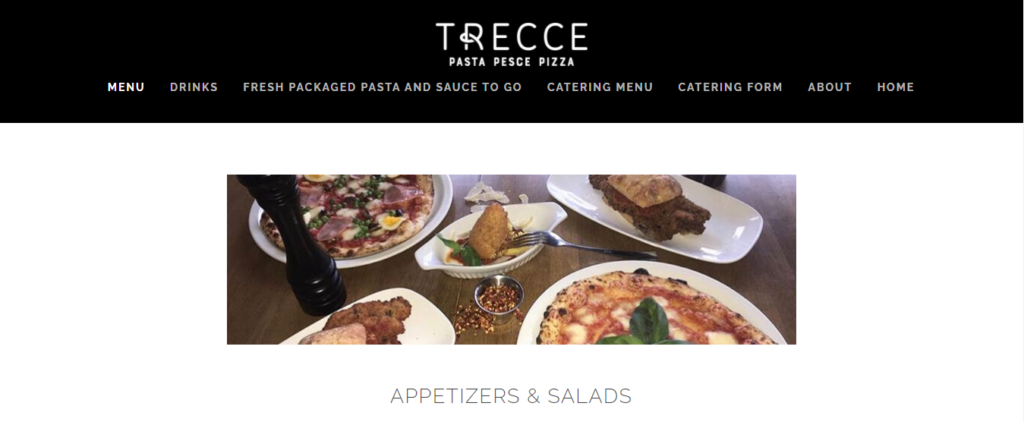 | | |
| --- | --- |
| BEST SELLER | Squid ink pasta and other fresh pasta, pizza, grilled octopus, calamari, oysters, rice balls |
| DELIVERY | Yes |
| PRICE RANGE | $4 – $145 |
| WEBSITE | https://www.trecce.ca/ |
| ADDRESS | 1792 Danforth Ave, Toronto, ON M4C 1H8 |
| CONTACT DETAILS | (416) 463-2655 |
| OPERATING HOURS | Tuesday – Saturday: 3:00 PM – 11:00 PM |
For those planning on pasta nights with seafood on the side, Trecce can be a great restaurant to order from. This restaurant offers a wide assortment of fresh and authentic Italian meals paired with a great selection of wine and locally crafted beer.
But what really makes Trecce a special and go-to Italian restaurant is its warm and welcoming staff. We say this because we've read numerous reviews praising this restaurant for its customer services.
Another great thing about Trecce is that it offers contactless delivery. And the best thing about this is that it offers it for free!
Trecce also does more for those who would rather stay at home as it also sells handmade pasta and pizza. It even sells jars of its signature sauces like pesto, pizza puttanesca, and gorgonzola.
Large menu of authentic Italian cuisine
Free delivery
Handmade pasta and signature sauces for sale
Excellent customer services
Available for catering
Customer Reviews
Here are some customer reviews to help you decide whether or not Trecce is the restaurant you've been looking for:
"What a wonderful restaurant. This family owned location is fantastic. Their pizza oven is the show case of the kitchen. Putting out outstanding pizzas with fresh ingredients in short order.
You can see the pride in service from the staff as they take care of their guests.
With the recent popularity of this neighborhood, Trecce is definitely a bedrock of quality in a beautiful laid out restaurant. The Aranchini was amazing, wine well priced and pricing competitive. I look forward to going back there again and enjoy more pizzas."
—Robin M
"Last week was our first time we came to that magnificent restaurant. But It is surely not the last. We enjoyed the evening a lot with the attentive service, with the excellent meal and wine and with the modest cost. We will surely come back again."
—Tomas Mooney
7. Campo Restaurant

| | |
| --- | --- |
| BEST SELLER | Gnocchi, lobster salad, Italian tiramisu, marinated olives |
| DELIVERY | Yes |
| PRICE RANGE | $5-$120 |
| WEBSITE | http://www.camporestaurant.com/ |
| ADDRESS | 244 Jane St, Toronto, ON M6S 3Z1 |
| CONTACT DETAILS | (647) 346-2267 |
| OPERATING HOURS | Wednesday – Sunday: 12:00 PM – 8:00 PM |
Now, if you're up for a fusion of Italian and Spanish cuisine, then Campo Restaurant can be the place to go. This restaurant is pretty well known for its handmade gnocchi, lobster salads, and a wide assortment of wines.
While its menu may be limited compared to others, it still has affordable dishes beginning as low as $5. It even has full-blown chef-curated menus good for two for $120.
To ensure the best quality and taste of its dishes, Campo Restuarant uses only local fresh produce. It also uses seasonal ingredients to create full-blown special menus that families can either eat in the restaurant or order for delivery.
Aside from its delicious meals, Campo Restaurant also provides a next-level dining experience thanks to its patio and cozy interiors. However, this cozy atmosphere is just an attribute of its small location.
This amazing dining experience also extends to its delivery as it provides take-home meals that are easy to finish and garnish at home. Luckily, this take-home option helps balance out the limited seating capacity this restaurant has.
Aside from its limited tables, Campo Restaurant also has limited opening days so if you're thinking of getting that gnocchi on a Monday or Tuesday, then you'll have to find another restaurant.
Mix of Spanish and Italian cuisine
Budget-friendly menu
Cozy atmosphere
Easy-finish take-home meals
Small space
Limited opening days
Customer Reviews
"Really amazing elevated Italian cuisine here. Huge fan of the olives, they are packed with flavour. Other awesome options are the mushroom toast and the veal is also incredible. Perfect for that special occasion or date night." —Tari Mubu
"Campo is my new favourite restaurant. My fiancé and I ordered takeout a few weeks ago, and it was delicious (especially the pan con tomate – such fresh tomato topped with Manchego cheese). And then we ordered their New Years Eve special menu – it was absolutely extraordinary. It was essentially a tasting menu that you would heat up yourself at home with their careful directions. We ate the meal over the course of about 3-4 hours. Favourite dishes from the special menu include the lobster with truffles and celeriac crema dish and the gnocchi with truffle fonduta and fresh white truffles. I am particularly picky with pasta, but this is probably the best gnocchi I have had in Toronto! The salad was excellent as well- blood orange with fennel, burrata, basil and pistacchio. Thank you to the chef for this beautifully thought out dinner – we so enjoyed ringing in the New Year with this treat of a meal. We are thrilled to have discovered this restaurant, and can't wait to order takeout again soon."—Bianca Thomas
FAQs about Italian Restaurants
---
And with that, we end our list of the best Italian restaurants in Toronto. If you've been to any of these restaurants in the past, share with us your dining experience with them.
If your favourite Italian restaurant isn't on our list, don't hesitate to share their name with us, so we can check if they're qualified to be added to our picks.