Top 7 Team Building Activities in Toronto
Team building offers various activities that require participants to work together to achieve the tasks at hand. Through shared experiences, your employees learn how to work as a team and communicate better.
Read on to see our reviews on the groups that offer the best team building activities in Toronto.
The Best Team Building Activities in Toronto
Here are the criteria to choose the companies that offer the best team building activities in Toronto:
How much does a team building activity cost in Toronto?
Here is an estimated cost of team building activities based on the number of participants:
Number of participants
Range
10 participants
Half day

Full day

CAD 4,680 - CAD 9,100

CAD 5,590 - CAD 10,790

20 participants
Half day

Full day

CAD 5,460- CAD 10,400

CAD 6,760 - CAD 12, 220

50 participants
Half day

Full day

CAD 8,840 - CAD 14,300

CAD 11,180 - CAD 17,680

100 participants
Half day

Full day

CAD 11,700 - CAD 20,280

CAD 13,780 - CAD 23,400
Pricing for a team building activity will depend on the number of participants as the cost of materials will increase as more people join. The number of facilitators needed will also increase for bigger groups.
If the team building is held in a particular location, transportation costs have to be considered. The venue rental, along with props and materials, also need to be calculated.
Customisation of activities may entail a higher fee. The same goes for activities done on weekends and holidays.
1. Quiz Coconut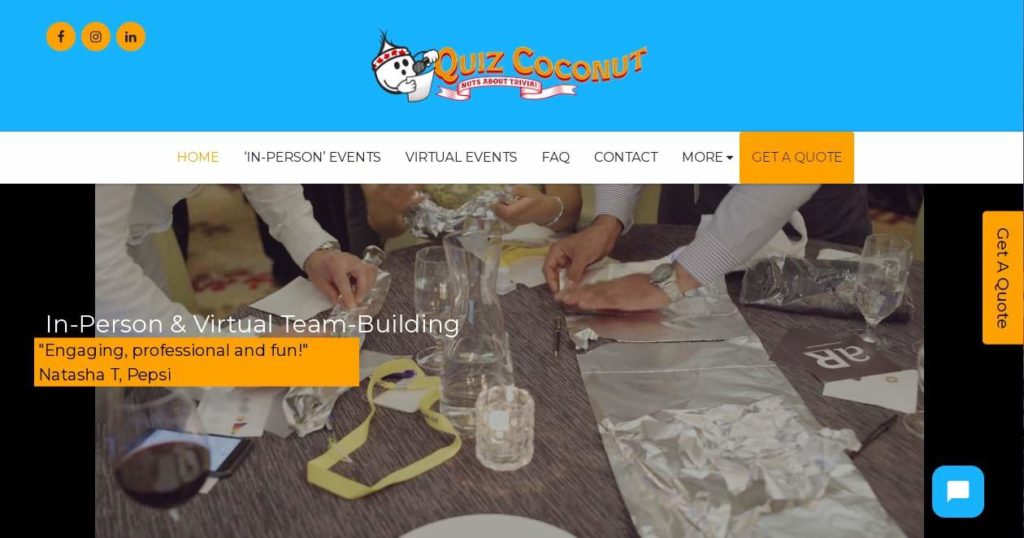 Test
Info
SERVICES
In-person Events

Virtual Events

WEBSITE
https://quizcoconut.ca/
ADDRESS
Downtown Core, Toronto
CONTACT DETAILS
647-783-7749
OPERATING HOURS
Monday - Friday: 9 am - 9 pm

Saturday - Sunday: Closed
| | |
| --- | --- |
| Criteria | Rating |
| Delivery | ★★★★☆ (4/5) |
| Flexibility | ★★★★★ (5/5) |
| Customer Feedback | ★★★★★ (5/5) |
| Team Building Staff | ★★★★★ (5/5) |
Quiz Coconut is rated as number 1 in providing trivia events in Canada. They have done team-building activities for Disney, Coca-Cola, Google, Amazon, and J.P. Morgan.
What we like about this company is how it makes its services available to both in-person events as well as virtually. It can also cater to a small group of 20 people and up to 200 participants.
Its on-site trivia nights can run up to two hours. This is made more exciting with interactive challenges that involve creative tasks or games to test teamwork.
We found out from a group of doctors that the virtual event they had was fun and entertaining. They like how the hosts were energetic and made sure that everyone was engaged and participative.
However, its team building activities are just centered on one kind – trivia night. We do note that participants who are not good at trivia still find the team building enjoyable.
They also make the quiz inclusive for all ages and backgrounds. Everyone in the team will be able to answer, may they be anywhere from the bottom rank to top-level management.
If you are looking for a stress-free team building activity, Quiz Coconut can help you. The team will set up the place or zoom meeting, come up with activities, and provide music and entertainment.
Do note that they usually run events on weekdays. If a client requests a Saturday event, the fee will be higher.
Overall, Quiz Coconut made it to the list because its hosts know how to interact well with clients. The activities are engaging as well.
Number 1 in Canada for trivia events
Conducted team building activities for big corporations
Offers both in-person and virtual events
Caters to groups of up to 200 people
Inclusive activities
Only has trivia night as their team building activities 
Events are available only on weekdays
Special Saturday requests will cost more
Customer Reviews
Wonderful activity
"We didn't know what to expect by hosting a virtual quiz event with some of our staff, but James did a wonderful job! Relevant to all age groups, efficient, entertaining, and well organized. We would love to participate again." – Entegrus
Super fun trivia activity
"The host, James, had amazing energy that made trivia with him super fun. He had a fantastic virtual set up with a variety of question types to help get people involved in a virtual trivia night and was able to determine the winner right away; no waiting for score tabulations. Super simple for anyone to participate in and a lot of fun!" – Elyse
2. Conundrum Adventures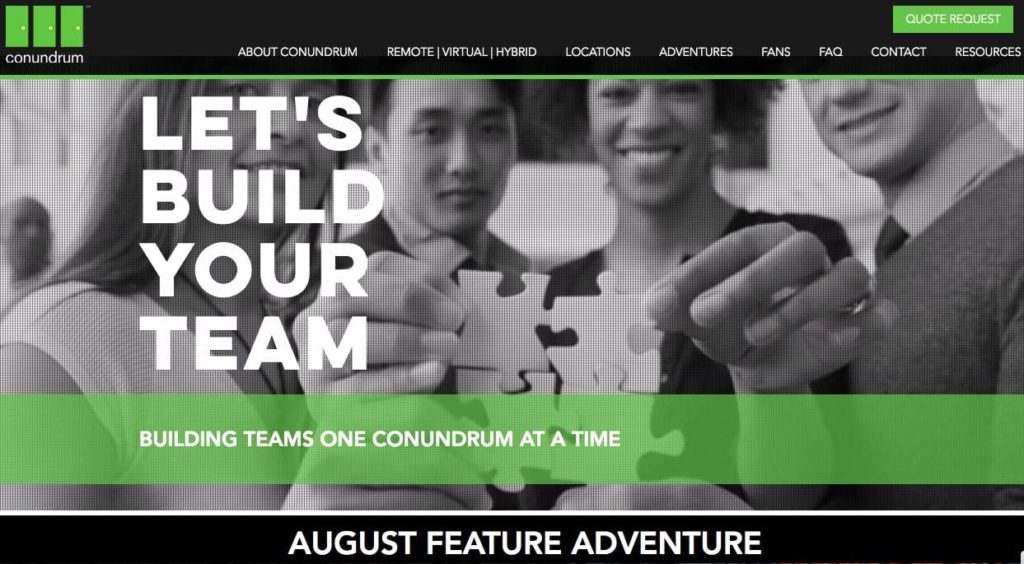 Test
Info
SERVICES
Quiz Style

Escape Room

Scavenger Hunt

Murder Mystery

Mixer

WEBSITE
https://www.conundrumadventures.com/
ADDRESS
Serves Toronto and Oakville areas
CONTACT DETAILS
416-988-2714
OPERATING HOURS
Monday - Sunday: 9 am - 9 pm
| | |
| --- | --- |
| Criteria | Rating |
| Delivery | ★★★★★ (5/5) |
| Flexibility | ★★★★★ (5/5) |
| Customer Feedback | ★★★★☆ (4/5) |
| Team Building Staff | ★★★★★ (5/5) |
Headache-free team building activities are what Conundrum Adventure offers. For the past 17 years, it has been planning and setting up a wide array of activities that promote team camaraderie.
It offers much flexibility in terms of location, as clients can opt for indoor or outdoor programmes. This allows the company to bring participants to Toronto's popular districts, museums, and science centres.
Participants in a Distillery District adventure shared with us how they found their activity fun and challenging. They didn't even mind that they had were walking for up to 2 hours.
What is good is participants can also have a card or mobile app-based activity.
The card-based activities are, however, limited to just answering 14-16 questions. The good thing is that it allows participants to still explore as they start and end in different areas.
For more choice, we feel that the mobile app is a better option. Aside from questions, they can also do photo and video challenges.
At the same time, its mobile app allows Conundrum to cater to clients wherever they are through virtual events.
Clients can take part in a quiz-style activity or engage participants in a scavenger hunt. It also has challenging activities like an escape room and solving a murder mystery.
We do warn that a virtual event with 150 participants takes a lot of work and coordination. Clients we spoke to were grateful that the team is very dedicated and came up with a well-thought-out plan for their company's team building.
Finally, we like that Conundrum Adventure's activities focus on testing the mind and not just physical strength. This makes it a more exciting team building experience.
17 years of team building experience
Indoor and outdoor locations
Card and mobile app-based activities
Offers virtual events
Outdoor activities may involve 2 hours of walking
Customer Reviews
Professional and smooth activities
"We recently engaged Lynn & her team at Conundrum Adventures for a 2 day offsite. They did an amazing job with both the true colors personalities workshop and the scavenger hunt. Everything was carried out professionally & smoothly and our team had a lot of great takeaways in addition to many memorable moments from the hunt. Thank you Lynn for an excellent job!" – SS
Unique team building
"After experiencing the outdoor adventure, I would describe Conundrum as a very unique team building resource that creates camaraderie between co-workers! My goal when researching team building activities for my group was to find something that was different…something that would be a first for everyone involved….this goal was certainly achieved as soon as we hit the streets!
Our adventure was captivating for my entire group, which included a variety of roles, personalities and backgrounds!! I loved seeing the friendly competition that was happening between the teams!!! Overall, my expectations were exceeded and I would highly recommend Conundrum!!" – Logros
3. Art Factory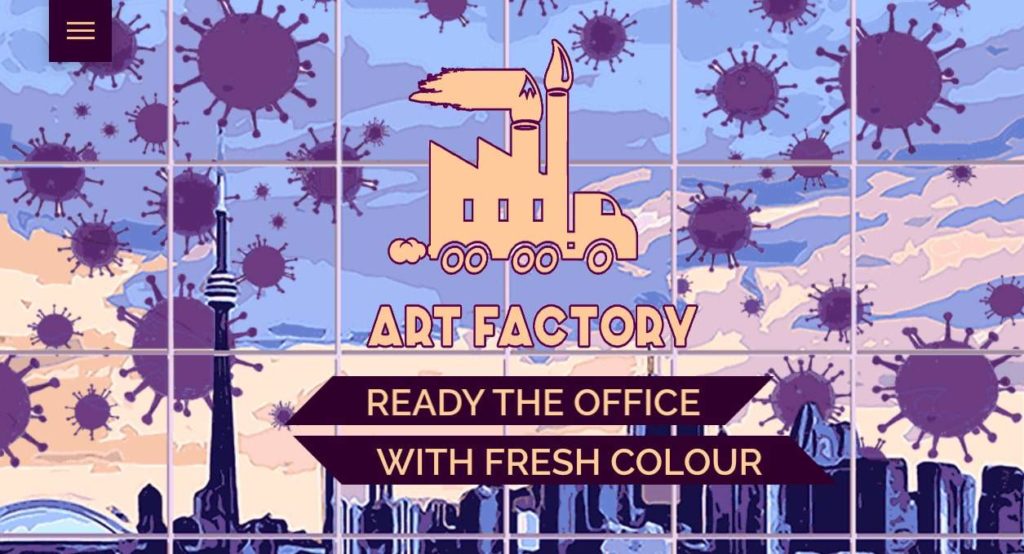 Test
Info
SERVICES
Collaborative Murals

Paint Parties

Office Tower Group Puzzle

WEBSITE
https://artfactory.cc/
ADDRESS
63 Adelaide St W #306, Toronto, ON M5H 1Y2
CONTACT DETAILS
647-479-1299
OPERATING HOURS
Monday - Sunday: 9 am - 10 pm
| | |
| --- | --- |
| Criteria | Rating |
| Delivery | ★★★★☆ (4/5) |
| Flexibility | ★★★★★ (5/5) |
| Customer Feedback | ★★★★★ (5/5) |
| Team Building Staff | ★★★★★ (5/5) |
At Art Factory, knowledge in art is not a requirement. Its edge is allowing participants to contribute to making a bigger artwork.
If you are looking for a team building activity focused on art, Art Factory will make it easy for you. Participants are provided with their own canvas and art supplies.
Painting projects come with a laminated photocopy or laser-etched drawing of the painting. Images that are complicated are made into smaller paper cutouts.
The team can set up art activities on location or in their studio. They also offer online events by sending art materials to participants and guiding them virtually.
What is great is how the canvases can be put together as one big mural or a puzzle.
The artwork can be easily installed in the office as it comes numbered, with wire ready for hanging. For an additional fee, Art Factory can send an instructor to install the artwork.
We found out that for bigger groups, its founding instructor can help facilitate. For smaller groups, they have a list of artist instructors.
Clients say that the instructors are very good at attending to details. The instructors were even able to guide and encourage a group of 80 participants for a Paint Night.
However, clients cannot create original paintings straight on the canvas. This is a bummer for budding artists who want to do their own unique work.
On the bright side, Art Factory offers a 2-hour free graphic design for personalised artwork.
What we like with this kind of service is that participants not only learn how to work with their team better but also create beautiful masterpieces along the way.
Canvas and painting materials are provided
Art project is guided with a photocopy of the original artwork 
Different artworks can be formed into a mural or puzzle
Onsite and off-site options
Offers online art activity
No chance to do original artwork
Customer Reviews
Unforgettable experience
"We contacted Art Factory Toronto for our corporate event. Eric responded quickly to the variety of our requests and with his skill and assistance the team building event was a complete success!
Colleagues really enjoyed the event and we were pleased with the result. All the collaborative murals look great in our wall. It was a great exercise everyone painting first individually and also collaborating each other on specific murals and then when we brought together all the paintings we could appreciate the big picture and all the time having fun!
Thank you so much for Eric and his team for creating an unforgettable experience for us!" – Maria
Little preparation needed
"Eric was amazing to work with. He is responsive, professional and did a great job teaching us techniques and tips to make our art come together. Since the Art Factory comes to you, there is very little preparation other than choosing your images. I would strongly recommend this team building activity to anyone looking to utilize a groups' unique talents to compose a lasting piece of art that can be displayed anywhere! Everyone had a great time!! Thanks Eric!" – Kim
4. Pop Events Group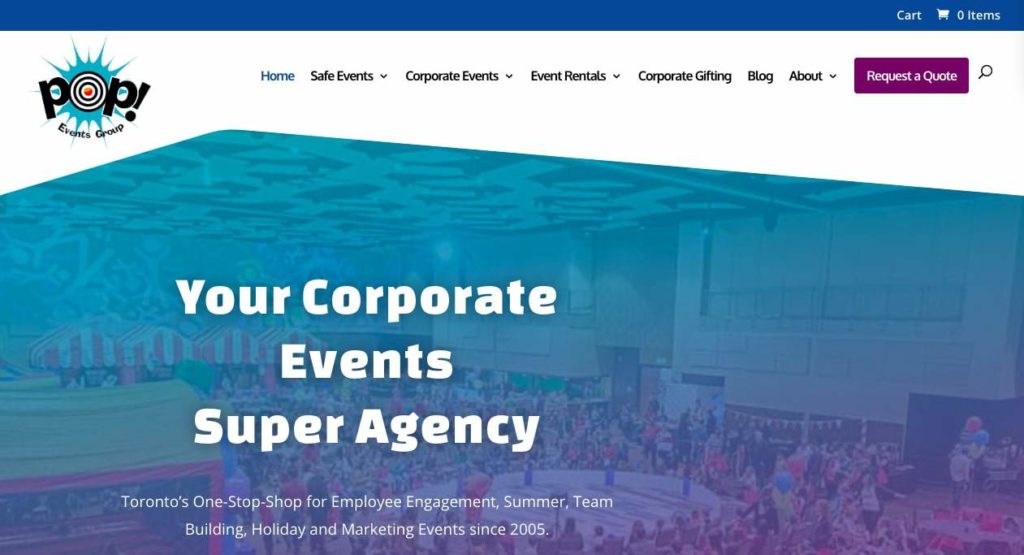 Test
Info
SERVICES
Team Building Events

Meeting Management

Corporate Entertainment

Virtual Events

Brand Activations

WEBSITE
https://popevents.ca/
ADDRESS
146 St Regis Crescent S, Toronto, ON M3J 1Y
CONTACT DETAILS
416-665-3594
OPERATING HOURS
Monday - Friday: 9 am - 5 pm

Saturday - Sunday: Closed
| | |
| --- | --- |
| Criteria | Rating |
| Delivery | ★★★★☆ (4/5) |
| Flexibility | ★★★★★ (5/5) |
| Customer Feedback | ★★★★★ (5/5) |
| Team Building Staff | ★★★★★ (5/5) |
Since 2005, Pop Events Group has been a one-stop shop for all corporate events. They ensure to provide the right activity so participants are engaged and entertained.
Pop Events offers unique team building activities like Olympics-style competitions and game shows. It can even set up a mini golf course and video game activities.
If you are looking for extreme sports, Pop Events can set up rock climbing walls and create a space for sumo wrestling. It can also arrange tournaments for competitive sports like basketball and golf.
We do note that some employees might find outdoor activities challenging. To address this, Pop Events also offers indoor activities with a focus on mental challenges and artistic activities.
Another thing we'd like to note is how it helps clients celebrate their employees' work for personal milestones. This is a good way to make employees feel appreciated and recognised.
Virtual events are also available, with some team building activities limited to 100 participants. This can be a bit of a setback as other companies can handle more.
Still, clients we've spoken to who opted for virtual activities were happy as they found the games engaging. Apparently, the host of the events usually ensures that the team will have a blast even if it is a competition among colleagues.
Accommodations of clients' requests such as customisation of games and duration are allowed. These may come with additional fees, but clients have found that the organised and engaging hosts make the price worth it.
We recommend Pop Events for its wide array of team building activities and for the effort the team puts in to make each event a success.
One-stop shop for corporate events
Unique team building activities 
Offers extreme sports activities
Offers both outdoor and indoor activities
Does virtual events 
Some virtual team building activities can only accommodate up to 100 people
Customisation of activities will have added fees
Some outdoor activities can be physically challenging
Customer Reviews
Amazing setup
"On behalf of the Ted Rogers Management Conference I wanted to write this review after working with Pop Events for two events. Our first event was a multicultural night where we hired two artists and the second was a social where we had a casino themed event. Dima and her team were incredible. The ongoing communication between our team and hers before, during, and after the events was very helpful and she made herself available at all times in case questions or concerns came up. The overall quality of the set-up was amazing and exactly as described. I would recommend Pop events because they help with all of the planning, they have hands-on support during the event, take care of preparation and tear down, so all you have to do is show up! Truly a wonderful experience." – Isabela
Very responsive and patient team
"Our teams at Venterra Realty had a great time playing trivia. We had just under 60 staff join for trivia in one big Zoom meeting and it still felt very inclusive. Everyone had an equal opportunity to participate with the buzzer platform and I thought it was well managed. The Pop Events team was very responsive and patiently answered/guided me through all my pre/post-event questions and requirements (accommodating with my budget and helped people through clear instructions on how to play). I'd highly recommend them for your next company event!" – Helen
5. Fundamentals of Play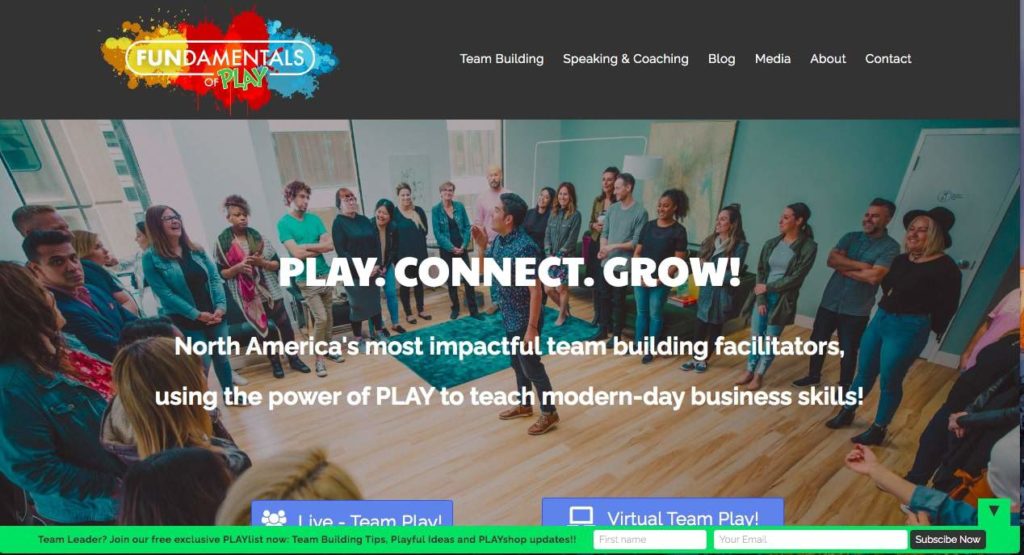 Test
Info
SERVICES
Live Team Building PLAYshop

Virtual Team Building PLAYshop

Keynote Speaking

Third LIfe Revival - Life Coaching

WEBSITE
https://www.fundamentalsofplay.ca/
ADDRESS
Serves Toronto and nearby areas
CONTACT DETAILS
647-233-2577
OPERATING HOURS
141 Spadina Ave

Toronto, Ontario, M5V1X
| | |
| --- | --- |
| Criteria | Rating |
| Delivery | ★★★★☆ (4/5) |
| Flexibility | ★★★★☆ (4/5) |
| Customer Feedback | ★★★★☆ (4/5) |
| Team Building Staff | ★★★★★ (5/5) |
Fundamentals of Play, as its name implies, uses play to encourage productivity and camaraderie. It has done team building activities with large corporations such as Unilever, Coca-Cola, and RBC Royal Bank.
As more companies do remote work, this company has shifted its services virtually. A new employee said that she appreciates the virtual play as she got to know co-workers she never met in person in a fun and engaging way.
This company may use games but clients are surprised to discover more about its capabilities. It also allows participants to de-stress through its dance and rock band activities to end the workshop.
Understandably, this style of team building is not everyone's cup of tea. Companies who prefer something more formal and structured may not appreciate this as much.
On a lighter note, there are clients who appreciate Luis Serrano, the founder, for his efforts in using play to help create a more positive workplace. He facilitates the games seamlessly as well as challenges participants to get out of their comfort zone.
Luis might be a one-man team but he is able to accommodate groups of up to 100 participants.
He is also the only one on our list who publishes his rates. One of his packages, valued at CAD 3,200, offers a themed workshop that runs for 3-4 hours with games and a finale activity.
What we like about this company is how its workshops have themes such as teamwork, innovation, and empathy-building. Clients have told us that the virtual themes have helped employees adapt to changes and foster positive attitudes.
Virtual team building
Can handle groups of up to 100 participants
Published rates
Themed workshops centered on work and attitude improvement
Style is not to everyone's liking
One-man team 
Does not offer in-person team building activities
Customer Reviews
Highly recommended team building sessions
"Luis runs highly effective and dynamic play sessions. I highly recommend his sessions to companies and teams everywhere – lots of take always and learning opportunities." – Colette
Recommended for play and fun
"I went to Luis' FUNdamentals of Play event and I would recommend it to anyone that needs a little play in their lives. It was a full night of fun and games with some tips about how adding play to your life will improve the quality of your life. I think everyone could benefit from one of Luis' PLAYshops." – Alex
6. Spiniko
SERVICES
Virtual Group Activity
Event Planning
Event Staff
Brand Activation
Giant Games Rental
WEBSITE
http://spiniko.ca
ADDRESS
7 Copeland St suite 1000, East York, ON M4G 3E7
CONTACT DETAILS
1-866-244-0954
[email protected]
OPERATING HOURS
Monday – Friday, 9:00 AM – 5:30 PM
| | |
| --- | --- |
| Criteria | Rating |
| Delivery | ★★★★☆ (4/5) |
| Flexibility | ★★★★☆ (4/5) |
| Customer Feedback | ★★★★☆ (4/5) |
| Team Building Staff | ★★★★★ (5/5) |
Spiniko has been providing fun and interactive team-building activities for over seven years. They are a group of people that are driven by their emotions. Since 2015, they have been "PLAYING TO GATHER" and creating opportunities for people to bond with one another.
Known for their handcrafted life-size games that are created in Canada, these games are designed to entertain both children and adults. These team-building activities is especially known for clients who are looking for enjoyable corporate activities and rental games for events.
Checking their website, they have eight featured games and just by seeing the photos, we can see how fun it would be to play those games. One of these said games is Tic-Tac-Dunk wherein two players compete on a designated court. In front of them is a handcrafted board made up of 9 basketball rings that would be the play area.
Zero Waste policy
Experienced staff
Great customer communication
7. Its Game Night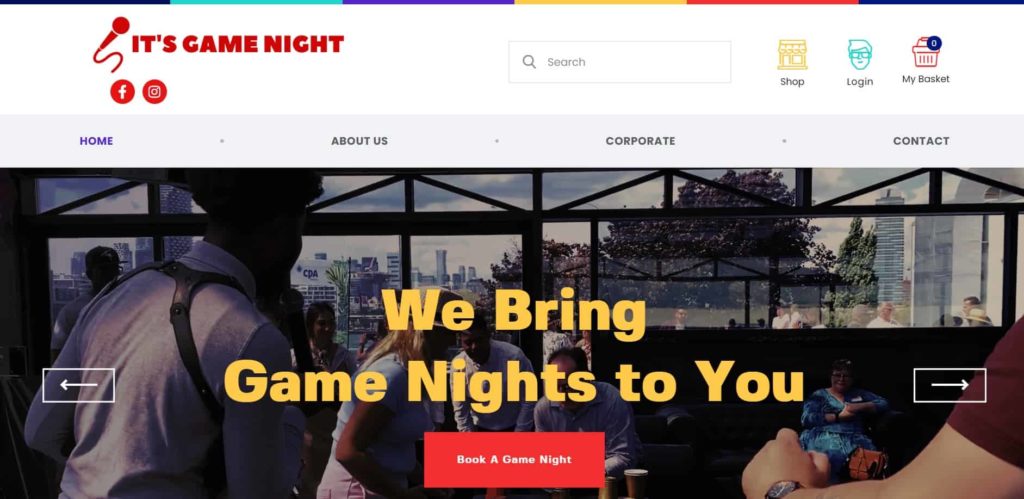 Test
Info
SERVICES
In-person Events

Virtual Events

WEBSITE
https://itsgamenight.com/
ADDRESS
Toronto
CONTACT DETAILS
416 783-6771
OPERATING HOURS
| | |
| --- | --- |
| Criteria | Rating |
| Delivery | ★★★★★ (5/5) |
| Flexibility | ★★★★★ (5/5) |
| Customer Feedback | ★★★★★ (5/5) |
| Team Building Staff | ★★★★★ (5/5) |
Its Game Night is an enterprise that offers its clients with a wide range of adventurous and competitive games perfect for any events or team building purposes among others.
Established back in 2019, they have since then had the unique niche in combining both virtual and in-person events so that their clients can still connect no matter their situation and proximity with one another.
Furthermore, we like that they are hosted by professional hosts to ensure that participants get the best and optimum experience playing their games and at the same time learn more about each other as well.
Rates of their services aren't readily available to which we recommend clients to fill out their form for an accurate breakdown of fees for this.
Nonetheless, with their exemplary range of team-building games and activities, versatile and professional team of hosts, and collaborative environment, we highly recommend that clients check them out.
Fun and interactive games offered
Enhances healthy competition and camaraderie
Hosted by professionals
Slight limitations on games offered
FAQs on Team Building
---
And that's a wrap for our review on companies offering the best team building activities in Toronto! For out-of-office bonding activities, we have other articles on fun activities that might interest you: