Top 5 Clinics for the Best Plastic Surgery in Toronto
Ready to spoil yourself with a facial or body transformation? Great! We have just what you need to get the ultimate gift of self-love.
In this review, we'll go through top clinics that can deliver the best plastic surgery in Toronto. We'll cover the basics from costs to the profile of the surgeons who'll perform the procedures.
Now, read on so you can unlock the face and body that you deserve.
The Cost of Plastic Surgery in Toronto
Before we get into each clinic, let's discuss the potential costs first. This will give you an idea of how much it'll cost for standard plastic surgery.
See the table below that outlines the estimated costs for some of the most common procedures you can get:
Procedure
Estimated Costs
Eyelid Surgery
$3,750 – $4,500 (Upper)
$3,500 – $5,200 (Lower)
$6,750 – $8,000 (Both)
Facelift
$15,000 – $20,000
Rhinoplasty
$4,000 – $15,000
Lip Lift
$2,500 – $3,000
Neck Lift
$4,800 (with liposuction)
$8,800 (with skin tightening)
Breast Augmentation
$9,800 – $14,000 (Fat transfer)
$7,250 – $11,000 (Implants)
$11,500 – $14,000 (Implants and lift)
Breast Reduction
$8,000 – $10,000
Brazilian Butt Lift
$8,000 – $15,000
Liposuction
$3,000 – $10,000 (depends on the treatment)
Tummy Tuck
$6,000 – $7,500 (Mini)
$8,750 – $12,000 (Full)
Lower Body Lift
$15,000 – $20,000
Arm Lift
$6,000 – $6,800 (Mini)
$9,800 – $10,000 (Full)
Thigh Lift
$6,500 – $11,000
The Best Plastic Surgery Clinics in Toronto
See, beauty comes with a price, and a staggering one at that. Knowing this, you wouldn't want your money and time to go to waste, right?
Selecting the right clinic is essential for guaranteed procedures under the hands of qualified practice surgeons. Read each review to find out which one is best for you:
1. Edelstein Cosmetics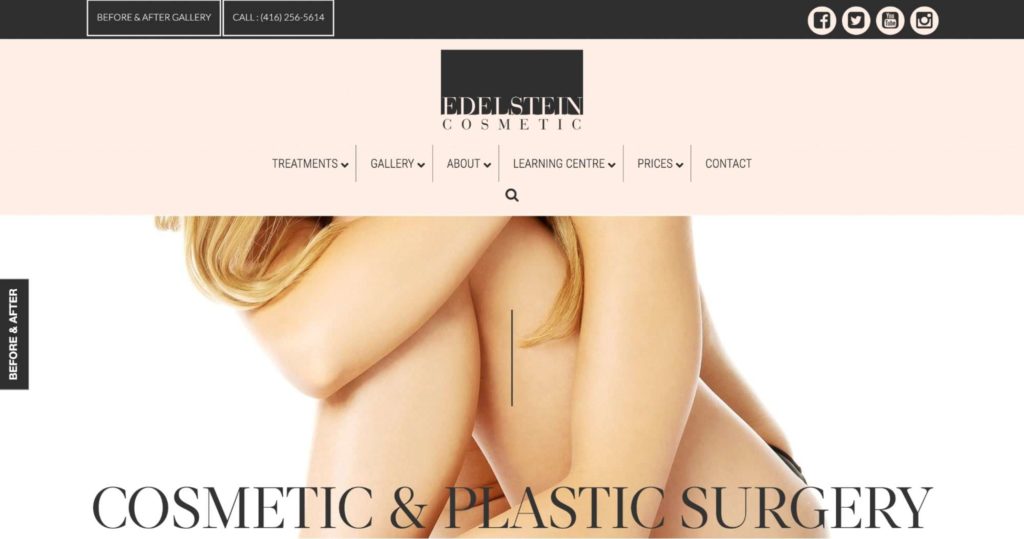 SERVICES
Surgical procedures such as breast surgeries, face surgeries, body surgeries, surgeries for women and men; non-surgical procedures for face and body
WEBSITE
https://edelsteincosmetics.com
ADDRESS
362 FAIRLAWN AVE, TORONTO, ON M5M 1T6
CONTACT DETAILS
1-866-687-4273
(416) 256-5614
OPERATING HOURS
Tuesday – Friday: 8:30 AM – 5:00 PM
Edelstein Cosmetics provides services ranging from surgical to non-surgical procedures. They cover almost every kind of plastic surgery possible so you're sure to get what you need here.
The first thing we'll look into is their prices, which are all within Toronto's average by the way. You can also pay in cash, cheque, Mastercard, Visa, and American Express.
Apart from the flexible payment options, we also like their financing options via MediCard or Health Card Financing. These financing options can help you pay for your procedures in case you don't have the means yet.
The team of surgeons in this clinic is headed by Dr. Jerome Edelstein. He has 24 years of experience as a plastic surgeon, specializing in breast and body enhancements.
Onboard he has Dr. Jeffrey Fialkov and Dr. Kunaal Jindal. The former specializes in craniofacial plastic surgery, while the latter focuses on body, breast, and facial procedures.
Best for breast-related plastic surgeries
Offers services covering both body and facial procedures
Flexible payment and financing options
Prices are within Toronto's average
A team of surgeons with specific specialties in surgery
Schedule a consultation online
No online appointment booking option
Closed on Monday and weekends
Customer Reviews
Service that genuinely cares
The staff are so kind and caring. I was referred to Dr Edelstein by a friend for a breast augmentation and she was 100% correct. He knows his stuff and he genuinely cares about how you look. He really wants you to look and feel good about yourself. I felt extremely comfortable the entire time. He really is THE BEST in his field and has an incredible team that work for him. The entire experience has been amazing. If you're looking for a trustworthy doctor, and clinic, Edelstein Cosmetics is a safe place to go and the results are incredible! The best decision I made! – Deana Hoyles
Flawless and professional procedure
Dr. Edelstein was amazing! I highly recommend. After doing a ton of research I decided to book a consult for a breast augmentation with him and I was so happy I did. I got in for surgery only two weeks after my consult and I was extremely pleased. The day of surgery went flawless & all my nerves and worries went away as soon as I met with dr. Edelstein before surgery. He is extremely professional and has great bedside manner. Dr. Edelstein and his staff are truly amazing and will answer any questions via phone call or email in a timely manner. I'm now six months post op and I couldn't be happier! – Jaime Esser
2. Power Plastic Surgery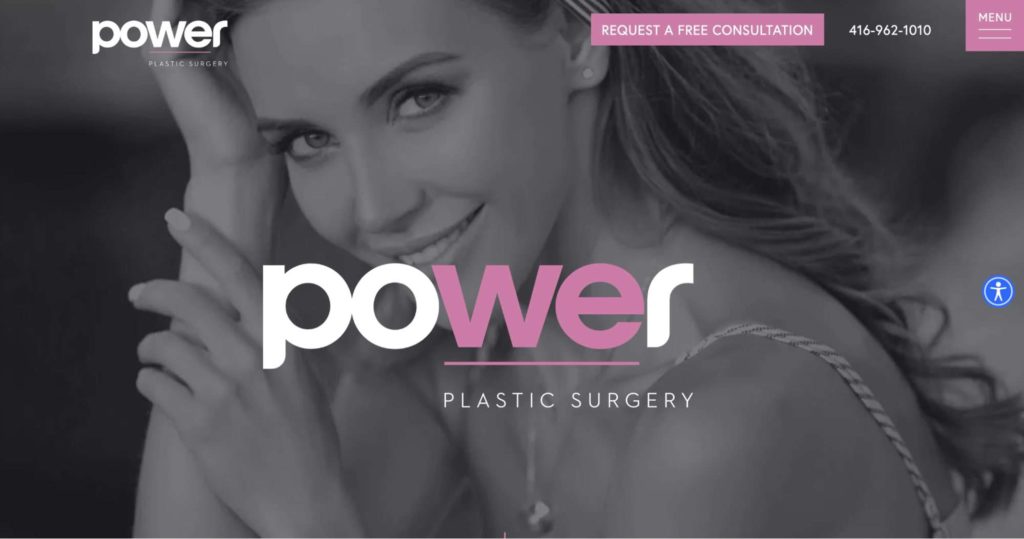 | | |
| --- | --- |
| SERVICES | Surgical procedures on the face, breast, and body; minor surgical procedures, medspa |
| WEBSITE | https://www.powerplasticsurgery.com/ |
| ADDRESS | 199 Avenue Rd, 2nd floor, Toronto, ON M5R 2J3, Canada |
| CONTACT DETAILS | 416-962-1010 |
| OPERATING HOURS | Monday – Friday: 8:30 AM – 5:00 PM |
Power Plastic Surgery offers various common procedures for the face, breast, and body. They also perform non-surgical procedures and minor surgical work.
One of the first things we liked is that they offer a free consultation for all clients. This will help you assess your surgical options and get expert recommendations from the surgeon.
As per the price, we always prefer a disclosed pricing table so we're pretty disappointed that this one doesn't have that. You'll need to send a request first, which is a bit of a hassle for an estimate.
Fortunately, we found something that could make up for this slight drawback. If you live far away, they'll help you with your lodging arrangement, which is fantastic for out-of-town patients.
By the way, the surgeon behind this clinic is Dr. Stephanie Power who is one of the very few female surgeons in Toronto. So in case you're going for a breast procedure and feel uneasy with a male surgeon, she's your best choice.
Dr. Power is relatively young in the field, by the way, with only eight years on the job – but we think she can rival most surgeons in the area in terms of actual quality of experience. A Princeton graduate, she's already completed two fellowships in Aesthetic Surgery and Trauma & Reconstructive Surgery.
Covers both minor and major plastic surgeries
Offers free consultation to clients
Assists with loading arrangements for out-of-town patients
A female surgeon who can help female clients feel at ease
Prices are only available upon request
Closed on weekends
Customer Reviews
Excellent cosmetic results
Dr. Power excised two steatocystomas for me. She is absolutely lovely and an excellent surgeon. I'm extremely happy with the cosmetic result. She was never rushed and patiently talked me through the procedure and the post-op care instructions. It is clear that she has the patient's best interests in mind, as she talked me out of removing another steatocystoma as she did not feel that the lesion was prominent enough to warrant excision and a scar. Her attentiveness is reflected in how much she remembers about her conversations from prior appointments. – Shirley Deng
Quick and painless procedure
I had a small procedure that I was referred to Dr. Power for. I was nervous. She reassured me. Consult went smooth. Surgery day came and went quick and painless. I was in and out in no time. Dr. Power was fast and professional. Even chatting during the surgery to calm me down. Receptionist helped wrap up and I was out the door. Very happy with the service. – Eric McKinnon
3. Solomon Facial Plastic Clinic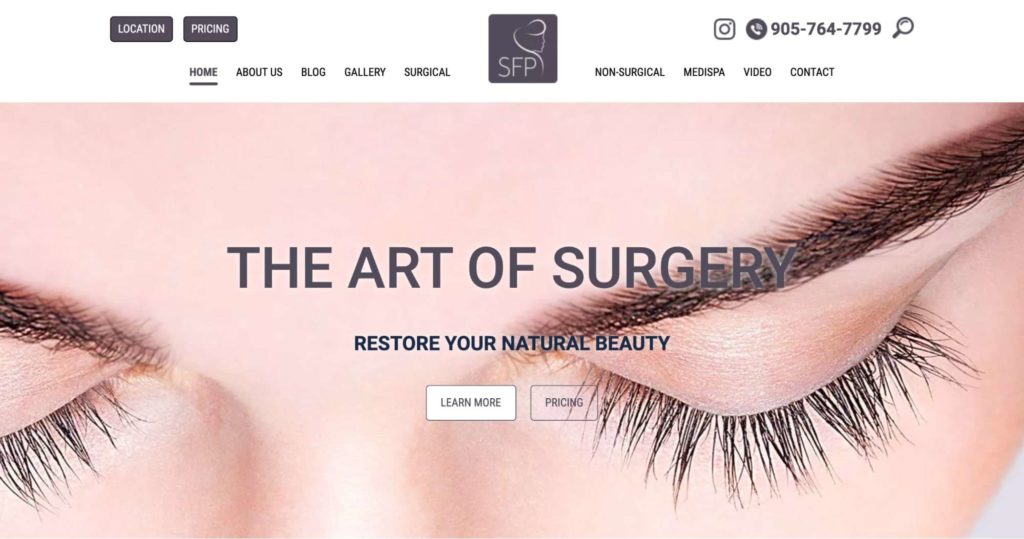 SERVICES
Surgical procedures on face, neck, eyes, nose, and hair; non-surgical procedures such as botox, lasers and skin treatments, acne scar treatment, body treatment
WEBSITE
https://www.solomonfacialplastic.com/
ADDRESS
305 Davenport Rd, Toronto, ON M5R 1K5, Canada
CONTACT DETAILS
416-864-6100
OPERATING HOURS
Monday – Thursday: 9:00 AM – 5:00 PM
Friday: 9:00 AM – 3:00 PM
As the name implies, Solomon Facial Plastic Clinic concentrates mostly on facial procedures. Their specialty areas include the face, neck, eyes, nose, and hair.
Our favorite thing about them is how comprehensive their prices are. Every specific procedure has a transparent starting price point so they won't leave you guessing about the potential costs.
Speaking of costs, you do have to pay $100 for the consultation fee. But if you proceed, the amount will be deducted from your total costs.
If you find that costs are beyond your means, you can get financing options through Credit Medical and Medicard France. There are also certain procedures covered by the OHIP, particularly those that are health-related.
Running this clinic is Dr. Philip Solomon who has 27 years of facial plastic surgery experience. His specialties are rhinoplasty and deep plane facelift.
He is board-certified by the Royal College of Physicians and Surgeons of Canada. He's also a fellow of the Royal College of Physicians and Surgeons of Canada.
Best for deep plane facelift and rhinoplasty
27 years of experience
Comprehensive and transparent costs for every type of procedure
Average prices
Financing options through Credit Medical and Medicard France
Flexible payment options
Consultation fee deducted from the total cost of the procedure
Communication and follow-ups are difficult at times
Closed on weekends
Customer Reviews
Fast and fantastic results
My mom, Ingrid, and I both had surgery with Dr. Solomon and both of us are VERY happy. My mom received the Deep Plane Facelift and she already looks fantastic and she's two days in. She's super happy with the outcome thus far. I had a Closed Rhinoplasty and I am also extremely happy. I've always been so unhappy with my side profile and now I want to show it off. Neither of us were in pain and we were treated like royalty. Dr. Solomon is VERY knowledgeable and he is an incredible surgeon. The nurses and staff there are extremely friendly, as well. We both HIGHLY recommend Dr. Solomon for all of your surgical needs. – Vanessa Merswolke
Extraordinary experience
I have had several experiences at plastic surgeons' offices both in Canada and in the US. None compare to Dr. Solomon's office. His staff embrace you with warmth from the moment you walk in the door. Dr. Solomon is a natural, a gentleman and an artist. He takes an interest in his patients and their happiness. I had a facelift and rhinoplasty, I am 51 years of age and this was hands down the best decision of my life. Extraordinary experience. – Catherine Mcphee
4. Yorkville Institute of Plastic Surgery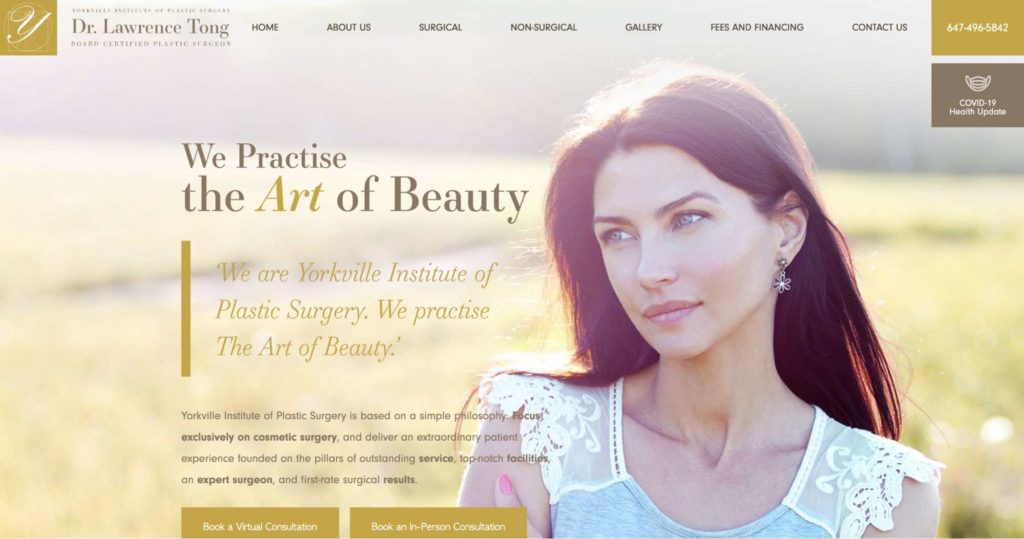 SERVICES
Breast enhancement, facial surgery, brow and eyelid surgery, body sculpting, non-surgical procedures
WEBSITE
https://www.myplasticsurgerytoronto.com/
ADDRESS
7 St Thomas St Suite 507, Toronto, ON M5S 2B1, Canada
CONTACT DETAILS
647-496-5842
+1 416-972-0999
OPERATING HOURS
Monday – Thursday: 8:00 AM – 5:00 PM
Friday: 8:00 AM – 1:00 PM
Yorkville Institute of Plastic Surgery specializes in breast enhancements, facial procedures, and eyelid surgeries. They also offer non-surgical methods such as coolsculpting and non-invasive skin treatments.
As per the fees, the cost for each procedure is undisclosed, but you have to pay $150 for the consultation. Don't worry because this fee is applied if you proceed with any procedure.
By the way, during your appointment booking, you have to pay a 50% deposit. So keep that in mind before proceeding with the booking process.
Speaking of appointments, they have cancellation and rescheduling policies. This can cost you from 25% to 100% of your total fees so make sure that your mind's made up before proceeding.
Fortunately, you may not need to cancel at all because Dr. Lawrence Tong is a highly qualified surgeon. He has double board certifications by the Royal College of Physician and Surgeons of Canada and the American Board of Plastic Surgery.
He sub-specializes exclusively on plastic surgery on the face, breast, and body. He has also completed thousands of procedures in Canada and the United States.
In-person and virtual consultation available
Consultation fee is applied to any procedure
Flexible payment options
Surgeon completed thousands of surgeries in Canada and the United States
Prices are only available upon request
Cancellation fees that can cost you 25% to 100% of your total fees
50% deposit is required upon booking
Customer Reviews
Money well spent
I am very pleased with my results! Jean and Kathrine were so welcoming and made sure everything ran smoothly. The nurses were so kind and made the process of "going under the knife" a lot less scary. Dr. Tong was essentially the glue that tied everything together and made the whole process worth it, he is super skilled, talented, kind and a top tier surgeon in Canada. Even though I am only 5 days post op, I am really loving the results of this procedure and I feel it was definitely money well spent. The incision was done really neat and clean and I can tell that I will have minimal raised scarring. I look forward to seeing the final results once the swelling goes down. I was hesitant to write a review so soon since I still have a ways to go in terms of recovering but things are going so well so far with minimal pain. I will continue to update if need be. 10/10 I highly recommend Dr. Tong! – Chrissy B.\
Thorough, patient, and down-to-earth surgeon
My experience with Dr. Tong was wonderful, from initial consult through surgery and post-op. I met with about 8-10 other surgeons prior to meeting with Dr. Tong, and Dr. Tong was by far, hands-down the most thorough, patient, open, down-to-earth, and comfortable doctor. All my questions leading up to and after the surgery were promptly answered and I asked a lot! Jean and Katherine were amazing and so responsive on both phone and email. The whole process has been extremely smooth and comfortable, and I am extremely happy with my results so far. Would 100% recommend! – Lu Huang
5. Avenue Plastic Surgery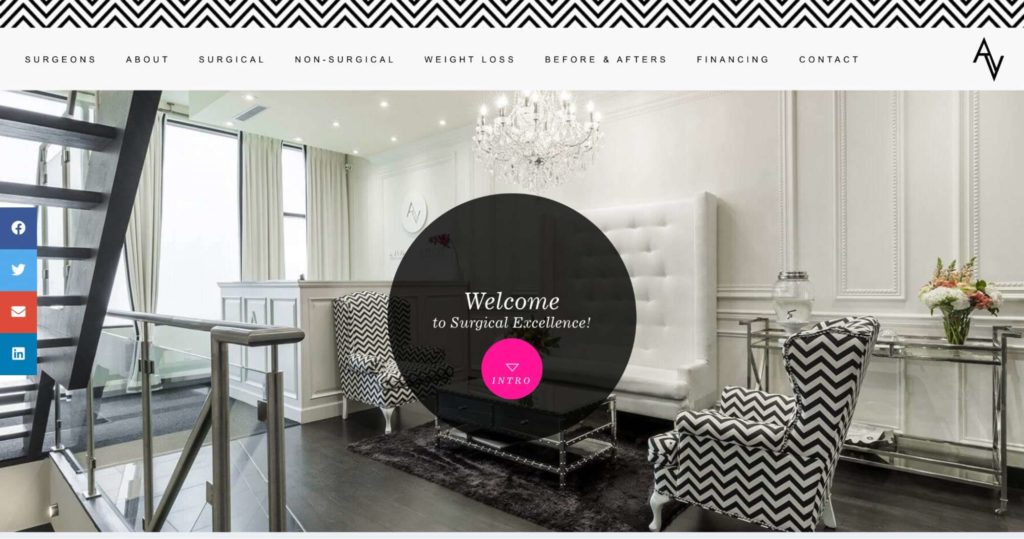 | | |
| --- | --- |
| SERVICES | Surgical procedures on the face, breast, and body, non-surgical procedures |
| WEBSITE | https://www.avenueplasticsurgery.ca/ |
| ADDRESS | 1802 Avenue Road, Toronto, ON M5M 3Z1 |
| CONTACT DETAILS | (416) 789-9979 |
| OPERATING HOURS | Monday – Friday: 9:00 AM – 5:00 PM |
Avenue Plastic Surgery focuses on some of the most common plastic surgery procedures. This includes facelifts, body lifts, and breast augmentation.
The best thing about working with them is that they design a customized treatment plan for you. All the steps and processes are tailored to give you the best results.
We also like their honest pricing, which all falls within the average in the city. Some prices are even lower than Toronto's median costs.
Regarding costs, you get flexible payment options including cash, cheque, Visa, Mastercard, and Discovery. Financing options are also available through Medicard and Crelogix.
The clinic has two surgeons: Dr. Alexander Golger and Dr. Romy Ahluwalia.
Dr. Golger is certified by the Royal College of Physicians and Surgeons of Canada. Dr. Ahluwalia is also a staff surgeon at Humber River Hospital.
Best for tummy tucks, breast implants, facelifts and, mommy makeover
Customized treatment plan
Flexible payment options
Low to average costs of procedures
Financing options through Medicard and Crelogix
Customer Reviews
Goes above and beyond
Dr Romy thank you so much for giving me the best possible results for my tummy tuck surgery procedure. I love the fact that my scar is so well hidden on my waistline and how flat my tummy looks now. Thank you for answering all my questions before surgery, the day of surgery, and during recovery. Shoutout also goes out to your team who went above and beyond to take care of me and make me feel like million bucks. Best tummy tuck plastic surgery team in the six!!! – Brenda Snell
Asrtonishing results
I am 33 year old female and had breast augmentation with silicone implants by Doctor ahluwalia. The after result is astonishing. The implants look very well balanced with my body and its just the right level of projection i wanted. Doctor ahluwalia and his group of staff know what they were doing and i had confidence in them from the very beginning. I can recommend this team to any women looking to have breast augmentation procedure in Toronto or surrounding area. Very great results! – Melissa Magliaro
Common Plastic Surgery Procedures
Plastic surgery has been getting more popular over the years. Almost 18 million surgical procedures are being done in a year, and not only women but also men have undergone procedures as well.
Here are some common plastic surgery procedures that people get every year.
Liposuction
Liposuction is a surgical process where they will suction out the fat from a certain body part in order to make it slimmer and give it a shapelier silhouette. There are two types of liposuction that are available out there: one is tumescent liposuction, and the other being ultrasonic-assisted liposuction.
The former uses a saline solution, a drug to constrict blood vessels, and a numbing agent. Then a cannula, a small hollow metal instrument, will suck out the fat along with the solution.
The other type of liposuction requires the cannula to release ultrasonic energy that melts that fat and then the fat is sucked out.
Breast Augmentation
Breast enlargement has become very popular for women, especially those who want to make asymmetrical breasts more symmetrical. Another common reason is to enlarge the breast or reduce its size.
Silicon implants are now very popular too, although they used to be banned as a health risk. Patients need to wait 1-2 weeks before they can return to their normal life activities, but vigorous activities such as jogging may require a longer time.
Blepharoplasty
Surgeries in the eyelid are often done for cosmetic reasons or because of vision impairment. Too much sagging of the skin could cause vision problems and even make you look older.
Puffiness and wrinkling are reduced during this procedure, giving the patient a younger look – this may even correct their vision. In addition, fat pads under the eyes, also known as eye bags, are removed in the lower lid procedure.
Abdominoplasty
This procedure is often called a "tummy tuck" or a lower body lift. Abdominoplasty removes the excess skin from the abdomen and tightens the skin that remains.
The ideal candidates for this procedure are those who don't have too much fat but have soggy, hanging skin in their stomach area. Patients can already return to their normal activities after 2-3 weeks, but still need some rest before they can do vigorous activities.
FAQs About Plastic Surgery in Toronto
---
Happy with our list? Let us know if we helped you find the right cosmetics clinics for you – we'd love to hear your story!
In the meantime, you can browse our reviews for other cosmetic procedures you can take. You can start with our list of the best coolsculpting clinics in Toronto to freeze unwanted stubborn fat away!