THE 5 BEST WALLPAPER INSTALLATION SERVICES IN TORONTO
Are your walls feeling tired and uninspired? It's time to give them the makeover they deserve!
Wallpaper installation is the perfect solution to add personality and breathe life into any space. With just a few rolls, adhesives, and the skilled craftsmanship of expert installers, your walls can transform into captivating works of art.
The possibilities are endless when it comes to installing wallpapers that match your personal style, preferred materials, and budget. Whether you're a homeowner, property manager, or business owner seeking to enhance your space, these experienced wallpaper installers can achieve seamless and stunning results!
How We Chose the Best Wallpaper Installation Services in Toronto
How Much Does Wallpaper Installation Cost in Toronto?
Installing wallpaper, inclusive of materials and labour, in a typical powder room, can range from $800 to $1200, depending on the type of wallpaper and the complexity of the space.
1. Majestic Wallpaper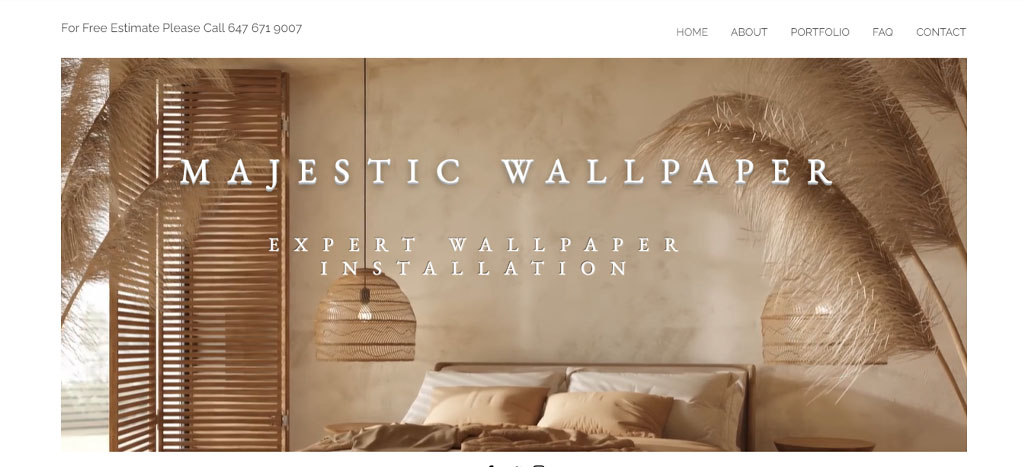 Test
Info
WEBSITE
https://www.majesticwallpaper.ca/
ADDRESS
32 Forest Manor Rd #1605, North York, ON M2J 0H2
SOCIAL MEDIA
INSTAGRAM
CONTACT INFORMATION
Phone: (647) 671-9007
OPERATING HOURS
Monday - Friday: 8:00 AM - 5:30 PM

Saturday: 9:00 AM - 4:00 PM
Majestic Wallpaper was born out of Oscar Diego's profound passion for transforming ordinary walls into eye-catching installations. Since 2002, he's been establishing his business, starting in New York and later relocating to Vancouver before finally settling in Toronto and serving the entire GTA community.
A true master of the craft, Oscar has earned praise from clients for his nearly flawless installations and remarkable expertise in handling various types of wallpaper materials, including luxury brands like Schumacher, Versace, and Cole & Son. Understanding the value of these materials, he makes sure to optimise each roll, minimising waste. His notable projects include a unique burlap natural fabric for shower stalls and intricate staircase installations, which demand exceptional skill.
He and his team accommodate projects of all sizes and complexities, catering to both residential and commercial needs. Additionally, they offer services such as wallpaper removal, repair, and sales.
Nearly flawless and even craftsmanship
Strong grasp of a wide range of materials
Accurate estimates for wallpaper rolls
Reliable with warranty coverage
Transparent and fast responses
Ideal for complex installations
Customer Reviews
Perfect planning and installation
"Amazing work by Oscar! We were amazed by his attention to detail. You cannot see where each sheet of wallpaper ends and meets. Perfect planning and installation. Professional and personable. Will definitely recommend him and his team." – Jennifer Giordano, Google Reviews
Can handle complex installations, have a passion and flair for their work
"Oscar and his brother took the extra time to try and get the wallpaper to line up as best they could given the uneven walls. To my own eye – I wouldn't have noticed the imperfections if they hadn't pointed these out to me. I greatly appreciated how transparent Oscar was about the process and the walls… If you're looking for expert installers who can handle complex installations, have a passion and flair for their work, and have excellent communication – look no further than Majestic Wallpaper!" – Joanna Tam, Google Reviews
2. KENDALL & Co. Design + Decor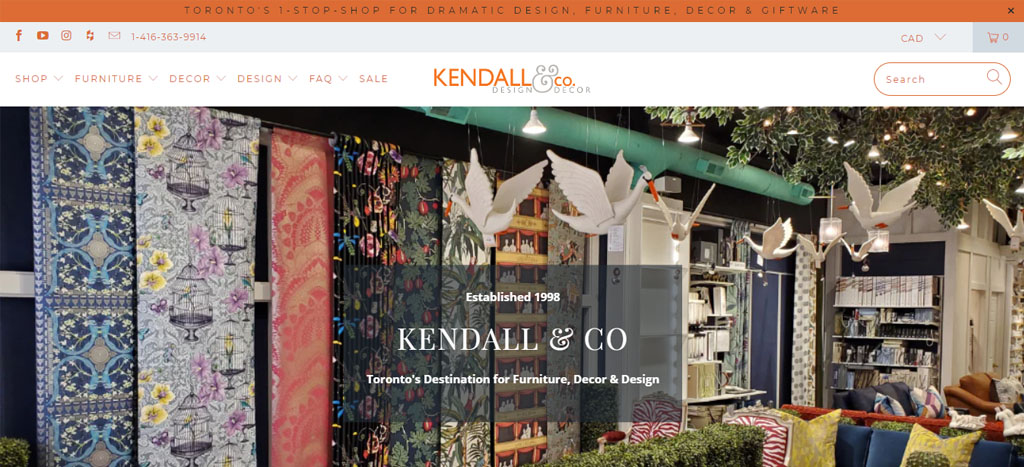 Test
Info
WEBSITE
https://kendallandco.ca/
ADDRESS
514 Parliament St, Toronto, ON M4X 1P4
SOCIAL MEDIA
INSTAGRAM
CONTACT INFORMATION
Phone: (416) 363-9914
OPERATING HOURS
Tuesday: 12:00 PM - 6:00 PM

Wednesday - Friday: 10:00 AM - 6:00 PM

Saturday: 11:00 AM - 6:00 PM
KENDALL & Co. Design + Decor offers much more than just wallpapers and installation services; it's a hidden gem filled with one-of-a-kind furniture and decor pieces, complemented by their custom design offerings.
Located in Cabbagetown, this independent retailer and design firm takes pride in showcasing Canadian-made products and providing exceptional interior design services since 1998, with a portfolio that extends nationwide.
Co-owners Kendall Williams and Kevin Kung, along with their dedicated team, offer an extensive collection of wallpaper samples. However, if you can't find exactly what you're looking for, they'll happily make a call to place a special order. They'll also keep your preferences and budget in mind the whole time.
Kevin or one of their friendly design associates will be there to guide you through the entire journey, from selecting a design that complements your space to overseeing the installation process. Fancy that!
Comprehensive wallpaper services
Unique and extensive selection of wallpapers
Offers custom designs and consultations
Hands-on and organised reps
Efficient and courteous tradesmen
Serves commercial and residential clients
Premium rates
Only installs wallpapers purchased from their shop
Customer Reviews
The process was just as fabulous as the result
"Top marks for the team at Kendall & Co. Transforming our powder room was a positive, engaging experience from start to finish. Meaghan curated an inspired selection of wall coverings; samples were ordered and discussed; and Kevin was always there with his discerning eye, design flair, and encouragement. I can't thank them enough for their patience and support. The process was just as fabulous as the result: Impeccable installation and a powder room with pizzazz. " – Jane Kershaw, Houzz Reviews
Great service, extremely patient, and helpful!
"They have a really unique selection of wallpapers available here. My husband and I chose some patterns to go with and also used the services they provided for wallpaper installation. Kevin, our store rep, was always very attentive and kept us up to date with the ordering, the installation dates, and all. Great service, extremely patient, and helpful! Also, the store itself has a ton of really cool decor pieces for the home. Definitely worth checking out." – Carly T., Yelp Reviews
3. CAM Painters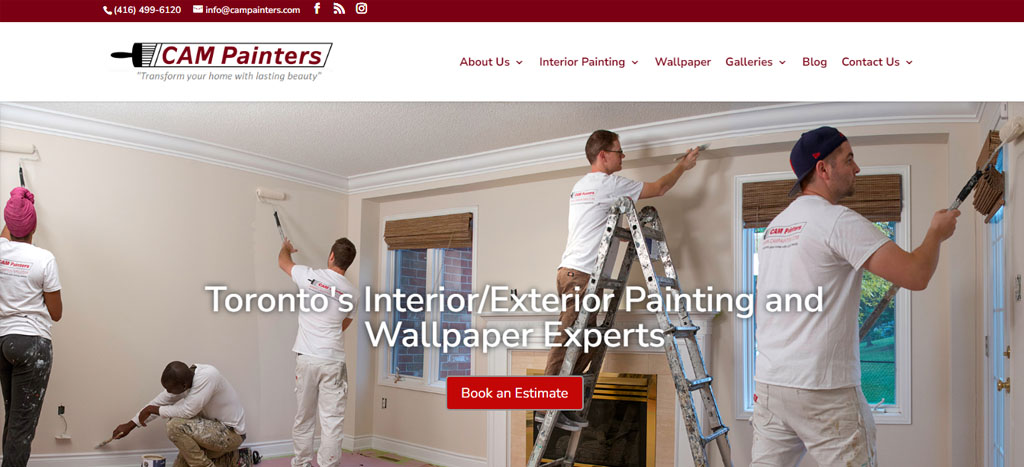 | Test | Info |
| --- | --- |
| WEBSITE | https://campainters.com/ |
| ADDRESS | 2703-5 Concorde Pl. North York, ON M3C 3M8 |
| SOCIAL MEDIA | INSTAGRAM |
| CONTACT INFORMATION | Phone: (416) 499-6120 |
| OPERATING HOURS | Monday - Friday: 9:00 AM - 5:00 PM |
The CAM Painters story began in 2001 with its founder, Craig Armstrong, who spent his student days working for his brother's painting business to fund his university education. Developing a genuine passion for the craft, he ventured out and established his own business soon after graduating.
Starting on a shoestring budget, Craig aimed to set a high standard of quality in indoor painting and wallpaper installation to homes throughout Toronto. This is apparent through their growing clientele, many of whom have discovered the business through word-of-mouth referrals.
The folks at CAM Painters are known for their upbeat and amicable nature, ensuring that your home is in even better condition than when you left it. They've tackled impressive projects on challenging surfaces, such as two-story fireplaces, ceilings filled with pin lights, and countless mural installations.
Consistently delivered quality results
Full WSIB coverage
Competitive rates
Reliable warranty terms
Friendly and respectful with property
Experienced with an array of materials
Doesn't offer design consultations
Customer Reviews
Incredibly professional, a clear communicator, and offered a high level of detail
"From the first moment interacting with Craig to see if he could install wallpaper in my home, he was incredibly professional, a clear communicator, and offered a high level of detail in researching the specific installation requirements of the paper I had chosen. Given the paper was very expensive, it made me super confident in choosing Craig. The finished product is gorgeous and he went to great lengths to ensure I was completely happy." – Jane Clapp, Google Reviews
On time, pleasant to deal with, and made sure the job was perfect
"We decided to paint our second bedroom navy blue and hang William Morris wallpaper on one wall. With the expense of the wallpaper, we knew we wanted to hire a professional and from his great reviews and our conversations with Craig, we felt comfortable that he and his team were the right choice. They were on time, pleasant to deal with, and Craig made sure the job was perfect before he left." – Trina Waddell, Google Reviews
4. Katie's Wallpaper Installation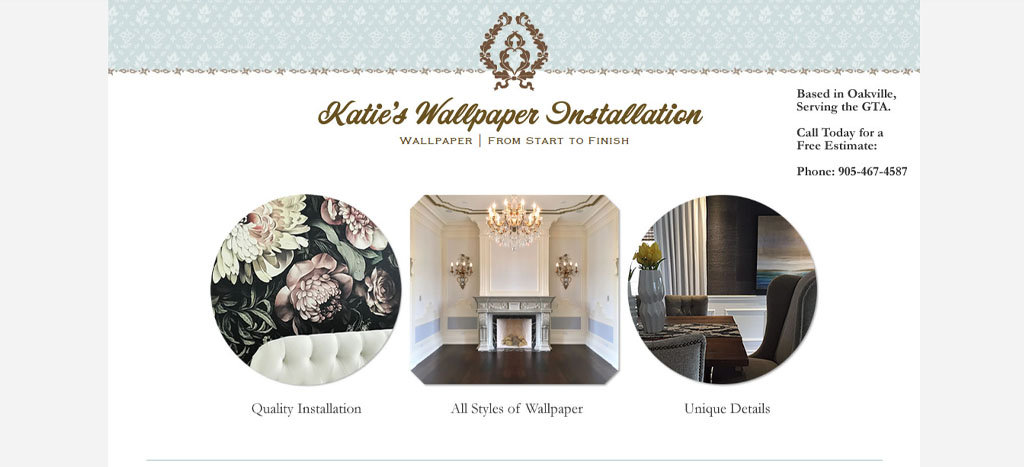 Katie Hunt opened her eponymous luxury wallpaper installation business about 12 years ago, inspired by a memorable vacation stay in a 5-star hotel room adorned with stunning wallpaper. This experience ignited her passion for the craft, prompting her to decorate her own home and eventually establish her own company.
Her business offers comprehensive services, ranging from design to installation, serving homes throughout Greater Toronto at competitive prices.
With a background in Architecture, Katie possesses inherent skills in designing and applying wallpapers. Being self-taught, she personally handles every installation job, without outsourcing any help (with the exception of her husband, Ken).
Thanks to its remarkable growth and national TV recognition, Katie expanded her business to include designing and supplying original prints, ensuring the same exceptional printing quality as Brewster Wallcoverings. In addition to her own collection, Katie is delighted to install wallpapers supplied by clients.
Offers design consultations 
Supplies and customises wallpaper designs
Competitive prices
Keen and meticulous with details
Skilled in installing a wide range of materials
Not offering removal services
No warranty on services
Limited scheduling flexibility 
Customer Reviews
Really know what they are doing and delivered their work quickly and flawlessly
"Love my new wall! Katie and Ken did an amazing job transforming my home! Katie was very helpful and responsive and gave great suggestions for my wallpaper choices. Katie and Ken were detailed oriented, easy to communicate with, friendly, and most importantly, they really know what they are doing and delivered their work quickly and flawlessly! I'd highly recommend!" – Fannie Leung, Google Reviews
Excellent service, very fast work, and they leave everything super spotless
"I was so happy to get a booking with Katie's Wallpaper. Excellent service, very fast work (guess that's why they're the pros) and they leave everything super spotless. In one day only since my wallpaper has been up I already have a bunch of friends and family considering adding wallpaper to their places — I don't even have my place fully furnished yet!" – Natali Tofiloski, Google Reviews
5. Precision Wallpaper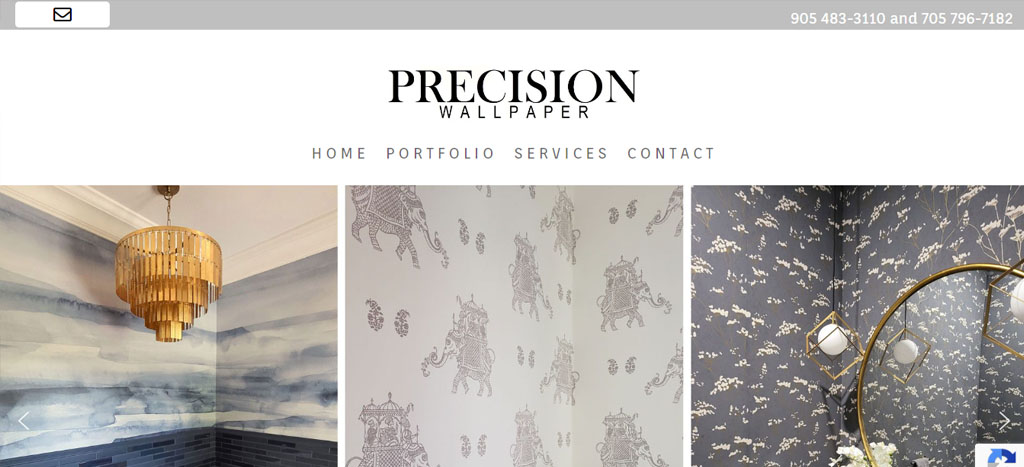 Precision is the name of the game… and the company! Founded by Shawn Gardner in 2007, they're all about delivering meticulous craftsmanship. They go beyond just making homes beautiful, catering to a diverse range of clients including commercial establishments and businesses. The company also serves as subcontractors for related trades throughout Ontario.
When it comes to your wallpaper needs, Precision Wallpaper is a one-stop shop. They offer a range of services, from removal and repair to helping you find the perfect match. Their extensive wallpaper library is a treasure trove of brands that cater to diverse tastes and budgets.
With a wide variety of materials available, including traditional textures, specialty and artisan wall coverings, and custom murals, they ensure a perfect fit for every preference. And if you already have your own wallpaper, they are more than happy to handle the job.
Supplies a broad assortment of wallpaper brands
Offers in-house design services
Provides wallpaper removal and repair
Responsive to warranty-related touch-ups
Diverse range of price points
Few reports of delayed appointments
Slightly longer lead times
Customer Reviews
The job was done quickly and efficiently
"Shawn is very professional, in terms of how he works, and how he deals with clients. He's also very knowledgeable about wallpaper, he even taught us about the different leading brands, such as Cole and Son, etc… Overall, the job was done quickly and efficiently. He also offered to take down our wallpaper at no cost if and when we decide to install a new type of wallpaper. The bottom line is that we are satisfied with the service and appreciate his professionalism." – Annabelle R., HomeStars Reviews
I cannot stop looking at my wallpaper!!
"I was so impressed and pleased with the installation of an accent wall in my bedroom and the powder room. Shawn was punctual and his experience was evident in how he set up his table and used his laser during installation. I cannot stop looking at my wallpaper!! I have already decided to add more wallpaper in my home with Shawn" – Nina Rose, Google Reviews