The 9 Best Math Tutors in Toronto
There's no doubt that mathematics is a hard and complex subject that almost every student struggles with. If your child is one of the kids who have trouble with it, you should definitely think of hiring the best math tutors in Toronto to help him.
Finding the top math tutors in the area isn't normally easy, but worry no more because we've already put together a list for you. All you have to do now is pick one whom you think will be perfect for your kid!
The Average Cost of Math Tutors in Toronto
Before we get to the tutors, let's talk about their rates.
Hiring math tutors in Toronto would cost parents anywhere from $30 to $85 per hour, depending on the experience of the tutor, which math subjects are covered, and the number of students in one class.
Math tutoring usually covers every sub-topic, including arithmetic, pre-algebra, algebra, statistics, and calculus, among others.
It's common for parents to enroll their children in math tutor groups to encourage them to interact and collaborate with other kids. It's the cheaper option too, costing about $20 to $30 for less than 10 sessions.
Other parents opt for private tutoring to allow the tutor to focus on the specific needs of their kids. Obviously, this costs a lot of money, ranging from $50 to $70 per session.
These rates are a pretty sweet deal, if you ask us, but there are ways to get your kid a math tutor at a lower price. College students and freelance math tutors usually charge $15 to $30 per hour for high school math, for instance.
The Best Math Tutors in Toronto
Whether it's a private tutor or group tutor you're after, either will be a great way to help your kid improve their grades, prepare for tests, and learn new techniques and topics.
Check out our picks below to see where to find the top math tutors in GTA.
1. The Math Guru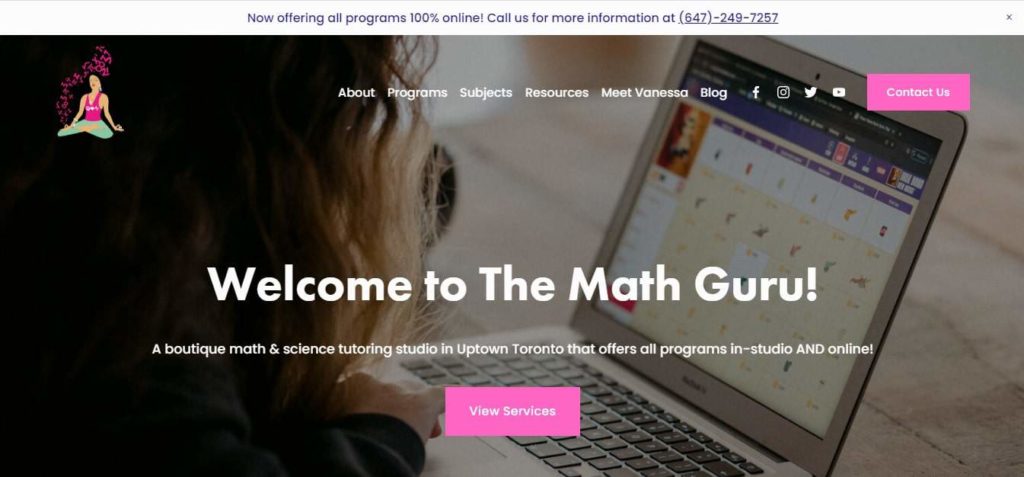 SERVICES
Private tutoring, group lessons, course credits, workshops, summer programs, and exam parties
PRICING
$75 per hour
WEBSITE
https://www.themathguru.ca/
ADDRESS
2541 Yonge St #3, Toronto, ON M4P 2H9, Canada
CONTACT DETAILS
647-362-1883


[email protected]

OPERATING HOURS
Monday to Thursday, Sunday: 9 AM – 10 PM
Friday: 9 AM – 8 PM
Sunday: 9 AM – 5 PM
With a perfect 5 out of 5 on Google Reviews, The Math Guru stands as one of the top-rated tutor centers in Toronto, so we couldn't help but give it a spot in our list.
The first thing you should know about it is that it was founded and is headed by a certified math teacher with a Master's degree in Mathematics education. In this case, you know that all its students are in capable hands.
Why? Because there's no better person to look after your child than someone who has first-hand experience in teaching and knows the struggles of young students.
The Math Guru teaches a variety of math and science subjects as well, including grade 11 math, grade 12 math, biology, chemistry, and physics. This means you can enroll your kid in other advanced classes to give them a leg up on other students.
We appreciate that The Math Guru goes beyond the traditional learning modes of private and group tutoring. There are also summer programs, exam parties, workshops, and course credits open to every student.
Due to the pandemic though, other parents may prefer online over physical classes. Luckily, The Math Guru offers online teaching as well, proving that it really cares for the welfare of its students.
Headed by a certified math teacher
Online classes are available
Summer programs
Offers science subjects
Hourly rate is above average
Customer Reviews
"Honestly the best there is. When in the studio, the vibe is incredibly unique. It does not feel sterilized and fake, it is very fluid and warm. The smell of baked goods and complementary tea always puts a smile on my son's face. It was to the point where I had to get tea for home to recreate the feeling when we were not in the center. Online, his teachers were knowledgeable and friendly. His tutors are both knowledgeable and flexible. They go from their curated curriculum, to supporting what is (or is not) being taught in schools. They are hands down the best in the game, well worth the investment for any student." -Dilesha Stelmach
"I can't say enough amazing things about The Math Guru; from top to bottom everyone here is outstanding. They are incredibly responsive, professional and accommodating on top of being just some of the nicest and most caring people you'll ever have the pleasure of meeting. The tutor that they paired my nephew with was perfect and from the first session I could see how much he enjoyed it. He has learned so much and his love of math is now through the roof! I would highly recommend them to anyone!" -Miguel E
2.   Learning Tree Tutors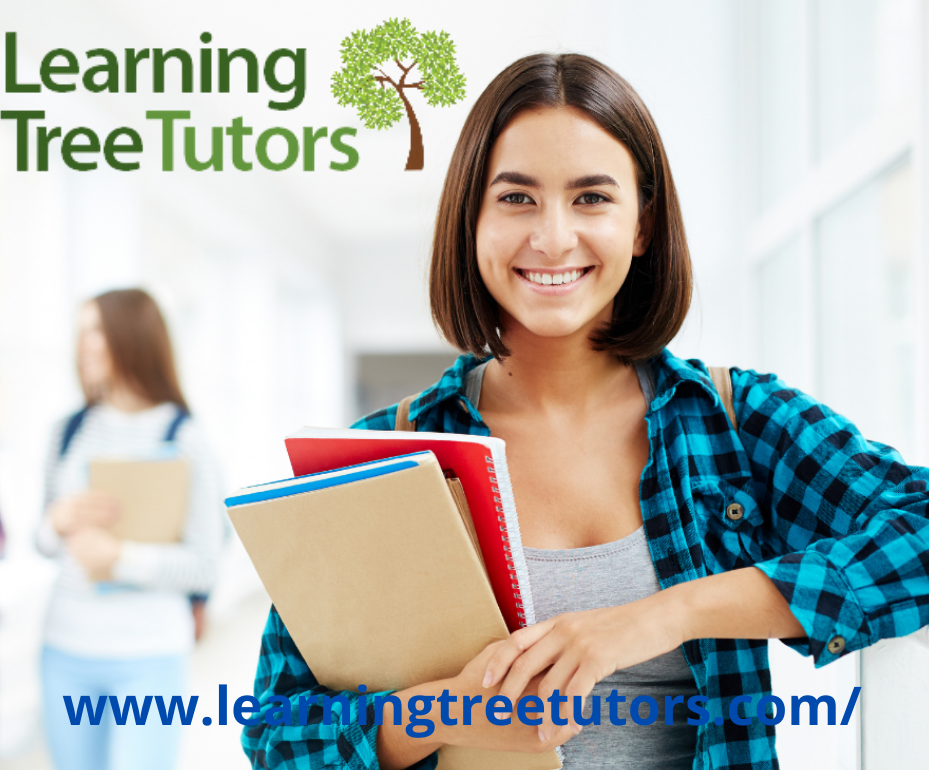 SERVICES
Private 1-on-1 tutoring and summer programs (math, sciences, and all academic subjects Grades JK to 12 and postsecondary)
PRICING
Starting at $38/hr. to $65.00/hr. packages available
WEBSITE
https://learningtreetutors.com/
ADDRESS
736 Spadina Avenue #308
Toronto M5P 2J6
CONTACT DETAILS
416 783 5815
[email protected]
OPERATING HOURS
For Lessons – Monday to Friday: 4:00 PM – 9:00 PM
Saturday to Sunday: 10:00 AM – 7:00 PM (Call office for information Monday to Saturday 9:00 AM – 5:00 PM )
Learning Tree Tutors offers customized 1-on-1 math tutoring support for Grades JK to 12, as well as for many college and university courses. Tutoring is also available for English, French and STEM science courses such as biology, chemistry, physics, and computer science. As a result, you can enroll your kids for tutoring in a variety of subjects. Tutoring packages for regular tutoring can be customized to fit every family's needs.
Tutors are qualified teachers or graduate subject specialists who are experts in math or other academic subjects – they know their subject's concepts, ideas and problems inside and out.
Tutors provide homework help, academic enrichment, remedial tutoring and test preparation. Instruction is personalized so that students receive lessons tailored to their individual needs, learning styles, and interests. This tutoring approach benefits all types of students, from gifted and advanced learners down to those who struggling with math and falling behind academically.
At Learning Tree Tutors their main focus is on providing affordable and convenient 1- on-1 online tutoring in the GTA. In-Home or in-library tutoring, is available but limited to central Toronto.
1-on-1 tutoring for math, sciences, all academic subjects
Online programs
All levels -Grades JK to 12, college and university
Competitive rates
Summer programs
Accredited by the Better Business Bureau (Ontario)
1-on-1 sessions only
Not an office or centre where you drop off kids after school
Customer Reviews
Here's what a few students have to say about Learning Tree Tutors:
"I am so very pleased with our tutor. Every lesson she goes above and beyond for my daughter (grade 4 math). She works with my daughter's learning strengths and weaknesses. Her prep for my daughter's lesson is amazing. She incorporates music and games to keep her interested and engaged. We feel very lucky to have her. My daughter actually said today after her lesson that "Math is fun!!!" Who would have ever thought. Lol."
"Excellent services for great price! I will highly recommend Learning Tree Tutors Toronto to all parents or students who are looking for a professional tutor. Special thank you to all tutors who helped my son to achieve his goals in studying Grade 12 Math and Chemistry! They are very knowledgeable professionals with great attitude."
3.   Miss Math Tutoring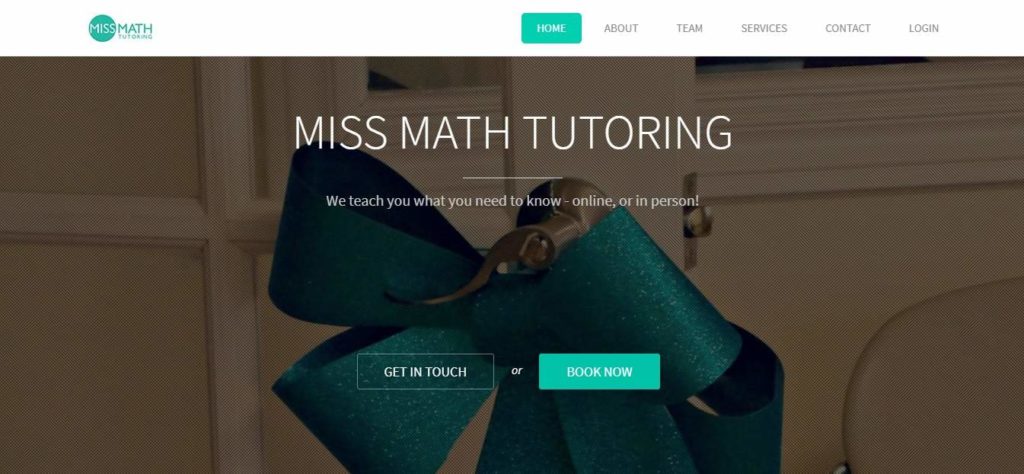 SERVICES
Private tutoring, group lessons, learning with a friend, and learning pods
PRICING
$65 per hour $260 per month for 1 session per week
WEBSITE
https://missmath.ca/
ADDRESS
2017 Danforth Ave #300, Toronto, ON M4C 1J7, Canada
CONTACT DETAILS
647-216-7893


[email protected]

OPERATING HOURS
Call their hotline for more details
If you're looking for a long-term math tutor for your child, then you might want to take a look at Miss Math Tutoring. It has monthly memberships with schedules that range from one class per week to four classes per week.
And even with only seven years of experience, Miss Math Tutoring has managed to handle more than 800 students — which is an impressive feat, if you ask us. Most of its students excelled in various subjects after completing their classes, not just in math.
It may not have the largest roster of tutors among our picks, but every single one of its tutors is an excellent educator in their own right. Its team includes four math tutors, four science tutors, and one French tutor.
Oh, and we know some kids like learning on their own while others prefer learning with a friend. Luckily, Miss Math Tutoring has an option where a student can tag along with a friend, starting for only $45 per hour and per student.
Another thing we like about Miss Math Tutoring is its private learning pods, which are great for students who want complete privacy while studying on their own.
Overall, we highly recommend Miss Math Tutoring to every student regardless of their preferred learning method. It's versatility is the main reason it earned a spot in our list.
With learning pods
Competitive rates
Expert team of tutors
Online classes are available
Operating hours not posted online
Customer Reviews
Helen Zias shared this comment on Google Reviews:
"I highly recommend Miss Math tutoring; excellent tutors, fantastic service, and really flexible. My two children have gone to Miss Math from grade 9-12, so we attended in person and virtual tutoring. The tutoring was one on one, which was ideal. The office was always so welcoming, friendly and warm, such that my kids looked forward to tutoring as a highlight of their week. The switch to virtual was excellent. They have gotten my kids through the pandemic with high marks. Honestly I give Miss Math my highest possible recommendation."
A parent named Alan Lyons shared the experience of his son:
"Miss Math has been a great experience for my son… He's worked with a few different Miss Math tutors over the last couple years and they've all been fantastic. Very positive and very effective. Miss Math is a very easy company to deal with. Their scheduling is very flexible and convenient. I highly recommend it. Five stars out of five!"
4.   Kamaris Math Tutoring
SERVICES
Private tutoring, group lessons, results driven program, foundation rebuilding program, and advanced skills program
PRICING
$20 to $55 per hour
WEBSITE
https://kamarismath.com/
ADDRESS
785 Carlaw Ave. Suite 203 Toronto, ON M4K 3L1
CONTACT DETAILS
416 463 7389


[email protected]

OPERATING HOURS
Monday to Friday: 9:00 AM – 6:00 PM
Whether your child's goal is to get a higher score on their next exam or catch up on the lessons they've missed, Kamaris Math Tutoring could be the perfect tutor centre for them.
For one, Kamaris offers different tutoring options to accommodate the goals of every student. There's a results-driven program that teaches students concepts they will need to ace their upcoming exams.
Meanwhile, the foundation rebuilding program focuses on the fundamentals by teaching students the concepts they might have missed and reviewing materials from the previous years.
There's even a program catered to students who want to be one step ahead of their classmates to sharpen their mathematical and logical skills. Basically, Kamaris can accommodate all types of students with different learning goals.
Best of all, Kamaris offers these classes at a reasonable rate, ranging from $20 to $55 per hour. Students can even learn with their friends in groups of two to four, which helps improve their collaborative skills.
Goal-centered approach
Competitive rates
Veteran team of math tutors
Small team, so it can't accommodate a large number of students
Customer Reviews
Curious about what parents think of Karisma? Check out these comments:
"Kamaris Math Tutoring has friendly, extremely knowledgeable tutors. During my time being taught by George, my math has seen an increase of 15%. This is due to his approach of truly teaching me the concepts of each unit. That being said, not only does Kamaris provide excellent tutoring services, they also have created an environment where I am excited to learn. I would highly recommend anyone who is either struggling with math in school, or simply wants to get ahead." -Chris Johnson
"It has been about two years that i am bringing my son all the way from North york to Kamaris, today i have received my son's report card and his math grad was much higher than before, this achievement was not going to happen without Kamaris families help and fantastic tutoring, i take this opportunity to thank you all specially Michael for your efforts and helps and amazing way of teaching and wish you all lots of success and happiness." -Alireza Alamouti
5.   Mathnasium
SERVICES
Private tutoring and summer programs
PRICING
Call their hotline for more details
WEBSITE
https://www.mathnasium.ca/
ADDRESS
77 Billy Bishop Way #B6, Toronto, ON M3K 0C2, Canada
CONTACT DETAILS
416-638-6284


[email protected]

OPERATING HOURS
Monday to Thursday: 3:00 PM – 7:00 PM
Sunday: 12:00 PM – 4:00 PM
When it comes to diversity of students, Mathnasium is the tutor centre to beat. It's open to all types of students, from gifted and advanced learners down to those who struggle in all fields of mathematics.
We like that Mathnasium designs learning plans depending on the capacity of a student and the concepts that they need to master. Instead of cramming students with different capacities into a one study group, it focuses on customized private learning.
There's no added pressure of accomplishing homework as well. It strictly follows a rule that all learning and teaching takes place inside its rooms, encouraging students to rest while at home.
Mathnasium can teach high school students too, by the way, helping them get into their dream universities.
A membership at Mathnasium is a full-time commitment as it typically lasts for a year, so we highly recommend checking it out if you want a long-term math tutor for your child.
We admit that it's not the cheapest math tutor centre out there, but your hard-earned money will be worth it once you've seen your kid's improvement.
Long-term math tutoring
Customised learning plans
Flexible schedule
Above-average rates
Shorter operating hours
Customer Reviews
Take a look at these comments shared by parents:
"My son has been attending Mathnasium of Downsview for 5 months and really enjoys it. His confidence has soared, and he is actually having FUN with math! All of the instructors (whether in-centre or online) are doing a fantastic job of keeping the kids engaged. Keep up the incredible work!" -Jodi M
"We have been very impressed with the program since we started in November. The kids are constantly being assessed and we get reports on their progress. They can concentrate on spending time in areas they need extra help. Sara and Duncan are accessible and responsive to all of our concerns and questions and genuinely care about the kids learning. The transition to the online program has been seamless and the kids have been able to continue their learning and interactions with the staff at the same level. I would highly recommend the program and this location." -Kimberly Liu
6.   Jeff's Math & Science Tutoring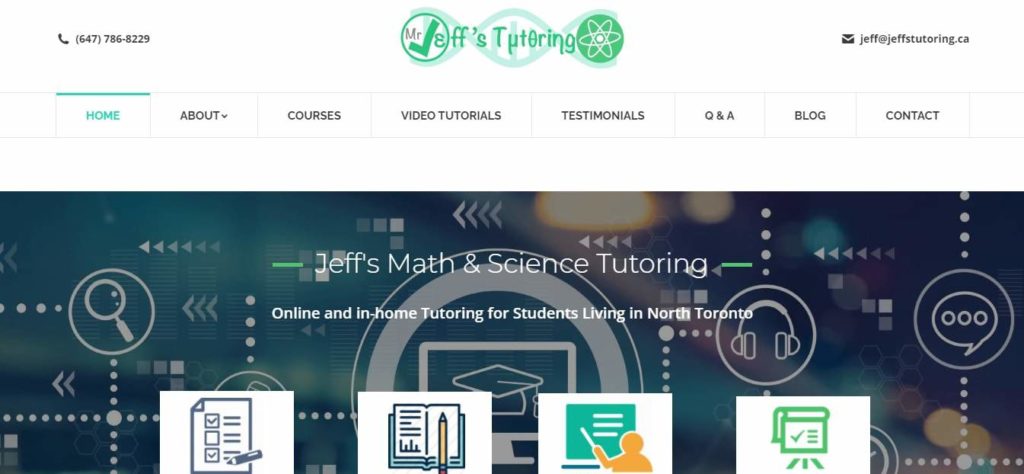 SERVICES
Math classes and science courses
PRICING
Call their hotline for more details
WEBSITE
https://jeffstutoring.ca/
ADDRESS
15 Tangreen Ct #704, North York, ON M2M 3Z2, Canada
CONTACT DETAILS
647-786-8229


[email protected]

OPERATING HOURS
Monday to Friday: 4:00 PM – 9:00 PM
Saturday to Sunday: 10:00 AM – 7:00 PM
If you want a math tutor that can give your child a head start, then Jeff could be the one you're looking for. He landed a spot in our list based on two main reasons.
First, he specialises in individualised one-on-one tutoring, so the learning program will be tailored to the needs and goals of every student. If a student wants to review past concepts, Jeff tries to teach those in the most effective way.
Second, he has the most personal approach among our picks. He can do the tutoring at home or at the library or cafe, depending on the mood of a student.
More than that, Jeff strives to establish a rapport and create a sense of trust between him and his student. This is often part of an effective tuition setting, so it's vital when seeking a tutor.
The coverage of his math courses include algebra, analytic geometry, abstract reasoning, calculus, functions, vectors, and even data management. He also teaches science courses, from general science to physics.
He may be working alone, but he isn't to be underestimated. He has access to most textbooks for all math courses, and even has developed his own handouts, assignments, and tests.
Finally, Jeff is open not only to Toronto students, but those in North York, Thornhill, Vaughan, Richmond Hill, and Markham as well.
Customer Reviews
Here's what a few patents had to say about Jeff's Math & Science Tutoring:
"I had Mr. G for Grade 11 Functions. He was an amazing teacher who tailored the class to his students. He made sure that he took feedback and enhanced his teaching. Both real-time and prerecorded video lessons were extremely informative and helpful. He is an amazing teacher who makes the class extremely fun. Overall, I don't think I could've asked for a better teacher especially in a difficult course!" -Ashwin Kandappah
"Jeff has been tutoring my daughter for her high school science and maths since grade 9. He is very patient, professional, and tailor makes the tutoring session for my daughter's specific needs. He is the best tutor we have ever had. Highly recommend." -Clement Chen
7.   Math4U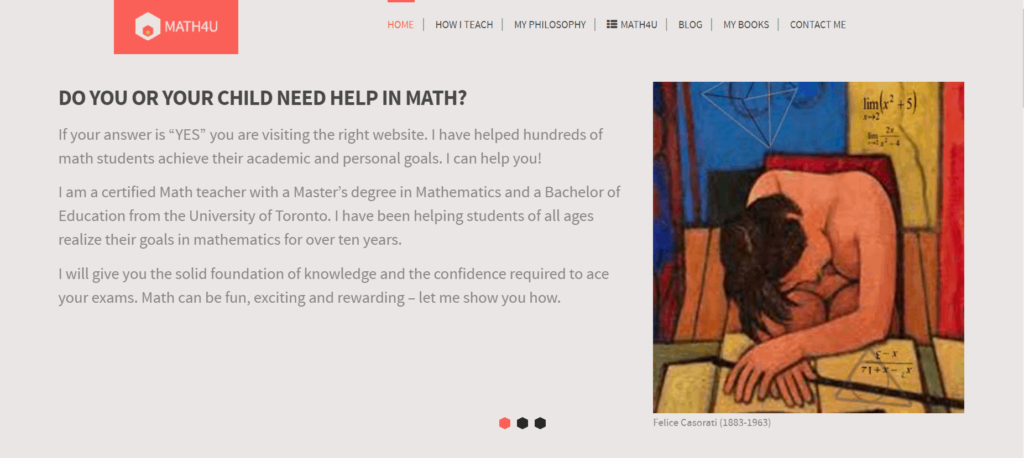 SERVICES
Small Math Classes, Grade 9-11 Tutorials, Summer Preparation Classes
PRICING
One-on-one: $40/hr
2 Students: $20/hr
WEBSITE
https://www.math4u.ca
ADDRESS
59 McNab Blvd, Toronto M1M 2W6
CONTACT DETAILS
(416) 230-6316
OPERATING HOURS
Monday – Friday: 4:00 PM – 9:00 PM
Saturday, Sunday: 10:00 AM – 9:00 PM
For a more personal and tailor-fit tutoring experience, Math4U is private tutor you should consider. It is run solo by Yasmina Roberts, a tutor and teacher who has experience with high school mathematics.
She provides two options for her tutoring classes, namely, one-on-one sessions and group of two sessions. The small volume of students allows her to properly guide the progress of each individual, making for better learning and faster improvements in Mathematics.
If you're looking to prepare your child for university entrance exams and tests, you'll be glad to know that she also holds classes during the summer. There's also free tutorials on Mathematics available on her website, particularly for grades 9 to 11.
With her wealth of experience and individualised approach, Math4U's Yasmina Roberts is a tutor perfect for students no matter how good or bad they may be at Mathematics. We advise contacting her as early as possible if you're interested, since she only accommodates a maximum of two students during one session.
Comprehensive tutoring
One hour lessons
Free tutorials available on website
Summer classes available
Teaches maximum of 2 students at a time
8.   Nick's Method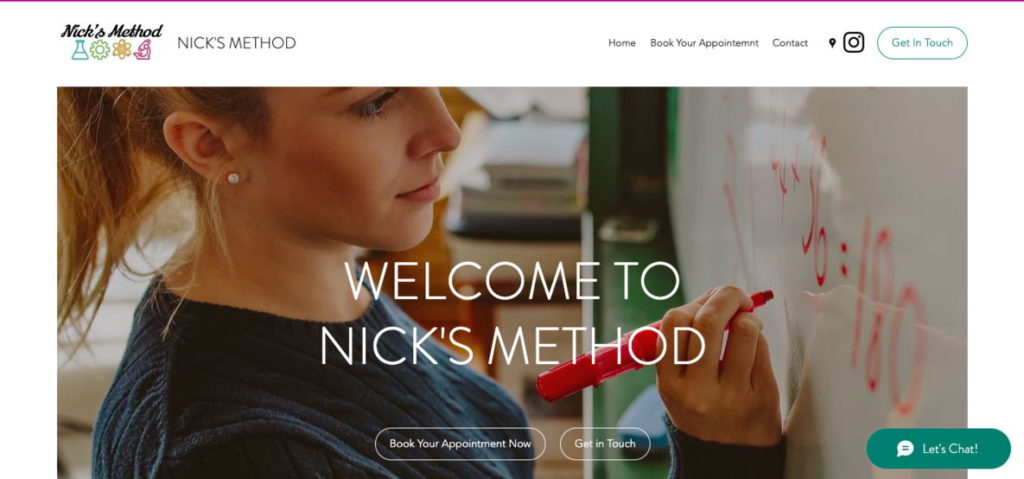 SERVICES
Courses in Math (Elementary, Middle School, High School), Sciences (Physics, Chemistry, Biology), Computer Science, and Post Secondary Level (Math, Physics, Statistics)
PRICING
C$55/hr
WEBSITE
https://www.nicksmethod.com/
ADDRESS
550 Eglinton Ave. East, Unit B Upper, Toronto, ON M4P 1N9, Canada
CONTACT DETAILS
(647) 530-3328


[email protected]

OPERATING HOURS
Monday to Thursday: 2:30 pm – 10:30 pm
Friday & Saturday: Closed
Sunday: 8:30 am – 10:30 pm
Nick's Method is made up of a team of educators working together to improve their students' proficiency in the subjects they're learning, and in such a way that they're able to address each student's learning preferences to create unique learning experiences for them.
They teach math from elementary up to university level. Whichever level of math you're aiming to master, the team at Nick's Method can surely help you.
What we like about them is that they also offer classes in other courses, such as biology, chemistry, physics, statistics and computer science.
They've helped a number of students of different levels understand their lessons—and they did this with patience and in such a way that they make math enjoyable. You'll really get the bang for your buck with them!
It's important to note that they have a strict 24-hour cancellation policy. If your session was booked within 24 hours, you will also still be charged for cancelling.
Tutoring for different math levels
Offers courses in other subjects, such as science and computer science
Received a 5-star rating from all their students
Open on Sundays
Strict 24-hour cancellation policy
Closed on Fridays and Saturdays
9. Miss Dori Tutoring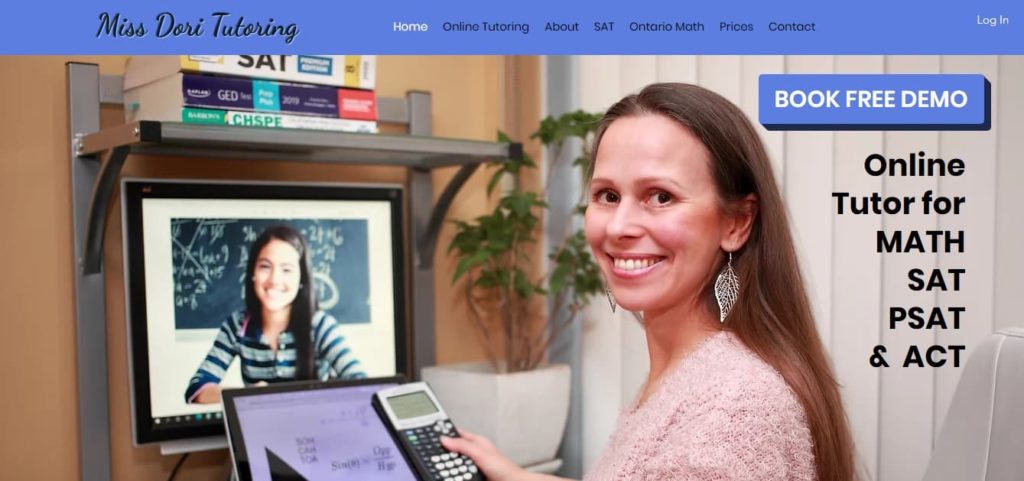 Miss Dori Tutoring is an online educational facility that focuses on providing students with the right skills and techniques when it comes to solving a wide array of Math problems and concepts. Headed and operated by Miss Dori herself, she has since then garnered over 15 years of experience under tutoring which she brings to every session that she teaches online.
We like that the tutor is highly experienced and is adequately certified to work with children in the Police & Vulnerable sector so parents can be assured that she is well-trained when it comes to dealing with their children.
Aside from this, she also offers a 20-minute free consultation session for her and the tutee to assess which approach fits best and a demo as to how the whole online tutoring program actually happens.
Price ranges along with booking can be readily accessed on her website as well wherein clients can also choose whether they want their classes to be semi-private or in groups, and an option between online or physical tutoring sessions as well.
Overall, with her past clients commending her efficient approach to tutoring and high expertise in the field of mathematics, we highly recommend them to clients who are in need of extra and supplementary support when it comes to learning and mastering math concepts,
Offers comprehensive on-site, home, and online math tutorials
Free consultations and demo lessons
Affordable rates
On-site tutorials unavailable due to COVID-19 reasons
FAQs about Math Tutors
---
There you have it, that's our list of the best math tutors in Toronto. If you've already made a pick, don't forget to share it with us!
If you know of other reliable math tutors in Toronto, tell us their names so we can check if they have the credential to be added to our list.
If you're thinking about transferring your child to another school, you might want what you're looking for in our list of the best private schools in Toronto.