The 9 Best Private Schools in Toronto
If it's one of your priorities to give your child the best environment conducive to intellectual, emotional, and social development, then you're probably considering private schooling. The best private schools in Toronto can foster your kid's aptitudes and provide an optimal learning experience.
We understand that finding the right private school can be stressful, considering its impact on your child's future. That's why we've compiled your best options below.
How Much Do Private Schools Cost in Toronto?
Tuition varies greatly based on two key factors: where the school is located and what sort of private school it is. They commonly start at less than $4,000 a year for elementary levels.
As a general rule, tuition costs less in younger grades because parents have more options for early development education. Private schools have to compete with daycare services and nursery schools, hence the reduced fees.
On the other hand, you should expect to pay anywhere from $20,000-$50,000 for centrally located prestigious boarding schools. Most of these fees go toward staff salaries, classroom supplies, facility maintenance, and room and board.
The Best Private Schools in Toronto
It's no surprise that giving your child the private school advantage often comes at a considerable cost. But we think it's worth it and you probably do too. So, here's our list of the best private schools in the city.
1. Hudson College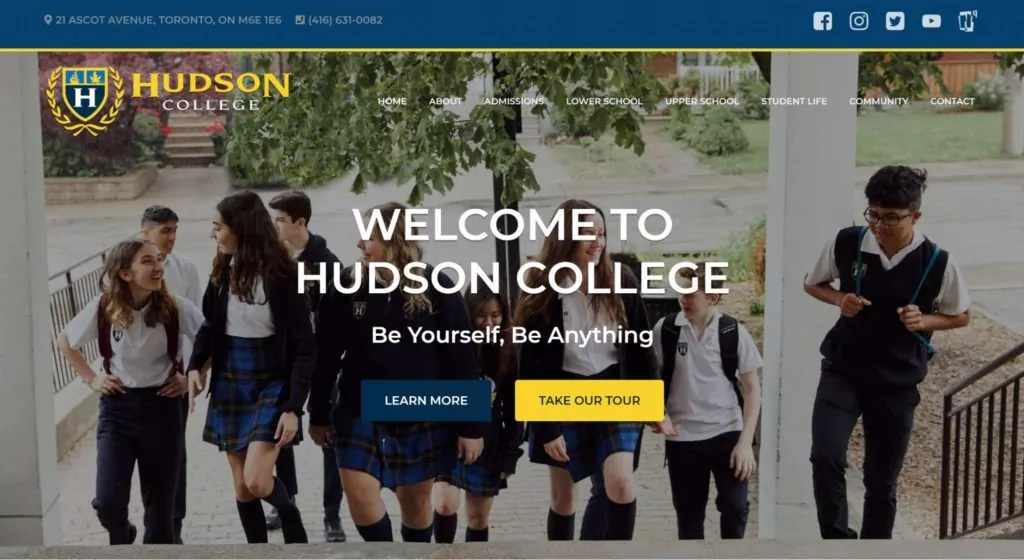 | | |
| --- | --- |
| LEVELS | Kindergarten, junior years, middle years, homework, gifted program, French, academic philosophy, 3-trimester system, technology and innovation, 53 course offerings |
| WEBSITE | https://hudsoncollege.ca/ |
| ADDRESS | [21 Ascot Avenue, Toronto ON M6E 1E6 |
| CONTACT DETAILS | (416) 631-0082 |
| OPERATING HOURS | Monday to Friday: 8:30am-5:00pm |
At Hudson College, kids are encouraged to do one thing above everything else, and that's to be themselves. The staff acknowledges that every child comes from distinct backgrounds, faces different challenges, and has varied ambitions.
If you want to enroll your kid in a school that enables students to express themselves fully, Hudson is an excellent option. At this school, children can pick their coursework based on their interests, as expected from a place that celebrates individuality.
Hudson is also a sensible choice if your child needs special attention. They have after-school tutoring, one-on-one counseling, and workshops.
Again, we expect this kind of attentiveness if you're paying around $17,240 a year. We like Hudson's approach because it sets kids up for success in higher education and later on in life.
Some might think that the tuition is pretty steep, but we think it's reasonable for the kind of environment that Hudson has created.
Kids are not bound by a set curriculum
Encourages kids to be intellectually curious
Teacher Advisory Program (student self-assessment system)
Structure may be too loose for some
Customer Reviews
Here's what parents have to say about their kids' Hudson College education:
"My teenage son loves the school! As a parent, I really appreciate that teachers and school staff keep us informed about academic progress but also about all school activities and management decisions. The transparency and collaboration with parents is fantastic. The school offers tons of extracurricular and small size classes to ensure very interactive and engaging studying."
– Vanda Hudak
"I have been delighted with Hudson so far. My child is in junior kindergarten and the teacher is wonderful. She is very gentle and comforting to the children and very informative to the parents. In regards to the school in general, I am more than happy with the services. The other teachers that I have encountered are all so warm and welcoming. The community of the school is fantastic. The school provides a great environment for children to learn and grow."
– Rhonda Hatrick
2. Fieldstone School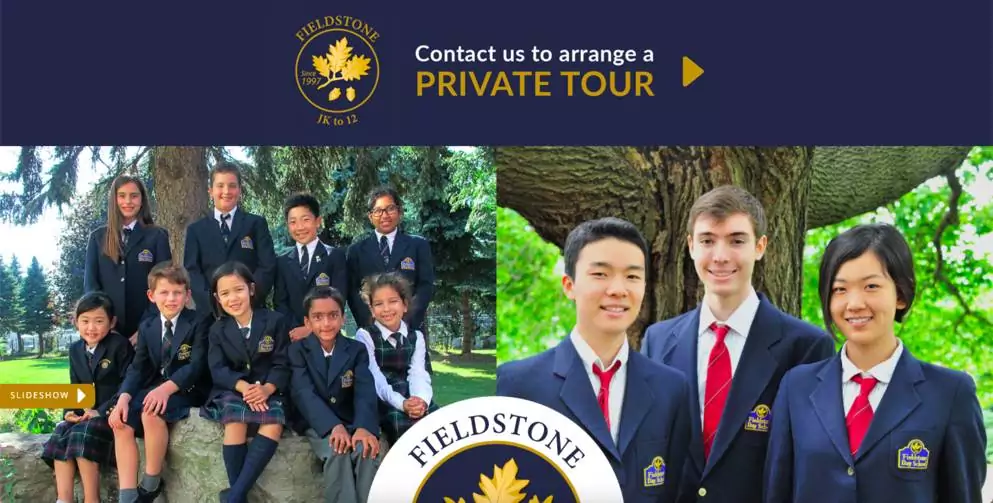 | | |
| --- | --- |
| LEVELS | Junior Kindergarten to Grade 12 |
| WEBSITE | https://fieldstoneschool.org/ |
| ADDRESS | 2999 Dufferin Street, Toronto, Ontario, Canada, M6B 3T4 |
| CONTACT DETAILS | +1 416-487-7381 |
| OPERATING HOURS | Monday to Friday: 7:30 AM to 5:00PM |
Fieldstone School has been honing children since 1997. They have Fieldstone Day School for JK to Grade 8 and Fieldstone King's College School for Grades 9-12.
Cambridge qualifications are one of the global standards for international education and recognized by the top institutes globally. As Toronto's only Cambridge School from students JK to Grade 12, Fieldstone can help your child have this edge.
Despite being a small private school with small class sizes, they still provide all the benefits of a larger school while giving each student the individual attention they need inside and outside of the classroom.
They believe in nurturing students socially and academically, as well as in co-curriculars. This is why they offer different clubs, sports, and field trips to enrich the students in different aspects of life and make them well-rounded.
At the end of their years at Fieldstone, their students matriculate at some of the best universities—not only in Canada, but across the globe.
Small class sizes
Offers a variety of co-curricular activities
Cambridge School
From JK to Grade 12
3.   Branksome Hall
| | |
| --- | --- |
| LEVELS | Junior kindergarten to Grade 12 |
| WEBSITE | https://hudsoncollege.ca/ |
| ADDRESS | [21 Ascot Avenue, Toronto ON M6E 1E6 |
| CONTACT DETAILS | (416) 631-0082 |
| OPERATING HOURS | Monday to Friday: 8:30am-5:00pm |
Branksome Hall's staff run the school with an understanding of the well-known fact that children learn at different rates. Teachers identify each student's learning profile and match it with the appropriate coursework and speed.
This approach has impressive outcomes, earning the students more than $1.7 million in entrance scholarships back in 2019. These scholarships were from top universities, no less!
So how did Branksome manage to pull that off? Aside from their individualized learning strategies plans, students are prepared for testing.
Those who are struggling can sign up for the Peer Tutoring Program, which teaches kids how to collaborate.
If you have a driven kid, Branksome can provide a healthy amount of motivation. When students get to Grades 9 and 10, they go through the Duke of Edinburgh Awards Program.
They can earn Bronze, Silver, or Gold levels of this internationally renowned honor. Diploma 1 and Diploma 2 students complete the IB Diploma CAS in their last two years at Branksome.
Academic focus
Adopts the IB World School Program
Has Well-being, athletics, arts, and leadership programs
Also a boarding school
Difficult to get into
Expensive
Customer Reviews
Here are two succinct reviews for Branksome Hall:
"The best girls' school in Canada."
– Winston Tian
"It's an amazing school, and it's very fun. There are many kind girls, and the education system is great!"
– Sammie Roberts
4.   Upper Canada College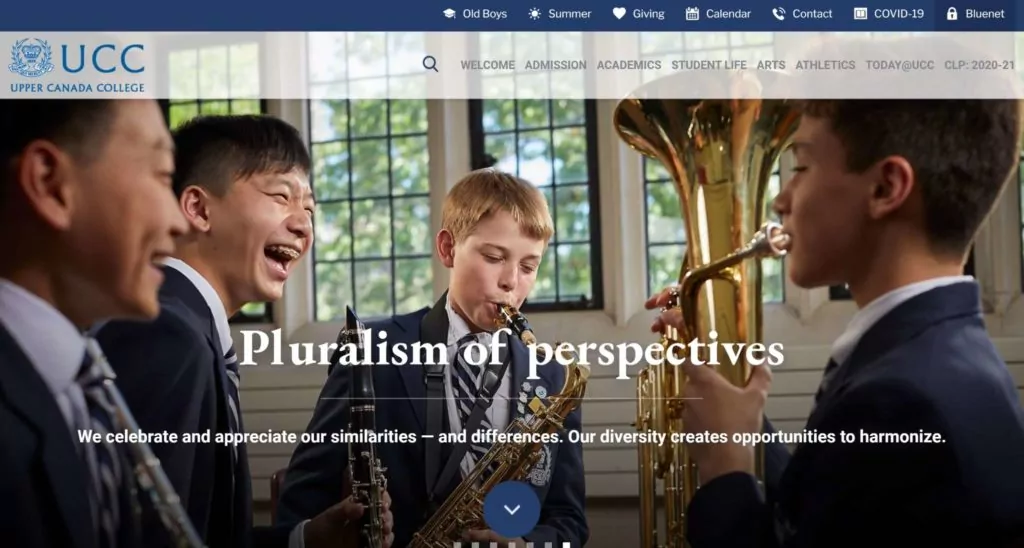 | | |
| --- | --- |
| LEVELS | Senior kindergarten to Grade 12 |
| WEBSITE | https://www.ucc.on.ca/ |
| ADDRESS | 200 Lonsdale Road, Toronto ON M4V 1W6 |
| CONTACT DETAILS | (416) 488-1125 |
| OPERATING HOURS | Monday to Friday: 9:00am-4:00pm |
Upper Canada College is an IB Continuum World School with 1,200 students in Senior Kindergarten through Year 12, including 88 boarders from across the world. It was founded in 1829.
UCC believes that every kid will benefit from a strong academic support structure that will enable him to fulfill the academic program's difficulties and attain his full potential.
Their extensive network of committed specialists includes Wernham West Centre for Learning teachers. If, as early as now, you're determined to help your kid get a diploma that opens doors, UCC can provide the prep work.
However, we don't think that UCC's methods are archaic and rigid. They also encourage kids to excel in more modern undertakings like developing soft skills.
Their arts curriculum enhances the children's ability to collaborate effectively with others, cultivating vital skills such as cooperation and compassion. These are tools that they can utilize throughout their future careers.
Plus, if prestige takes precedence in your list of concerns, UCC is easily the most reputable all-boys school in the entire country. With crisp uniforms and sprawling grounds, this school is definitely top-tier.
Students can get university credit
Prominent figure in Canada's educational system
Has support systems for mental health
Expensive
Competitive (can be a stressful environment)
Customer Reviews
Here are two reviews from Upper Canada College students themselves:
"I really appreciate the education and network I made at this school!"
– Deon Jennings
"One of the best schools I've ever had the opportunity of attending. It's well-rounded with there being a place for everyone, like band nerds, jocks, etc. I'm currently on one of the financial assistance programs, and for a school I thought would be full of spoiled kids (which they are, but not as many as you're probably led to believe), it has some very kind, respectful faculty and students. Food is mediocre at best, but overall an amazing school."
– Simon
5.   The Bishop Strachan School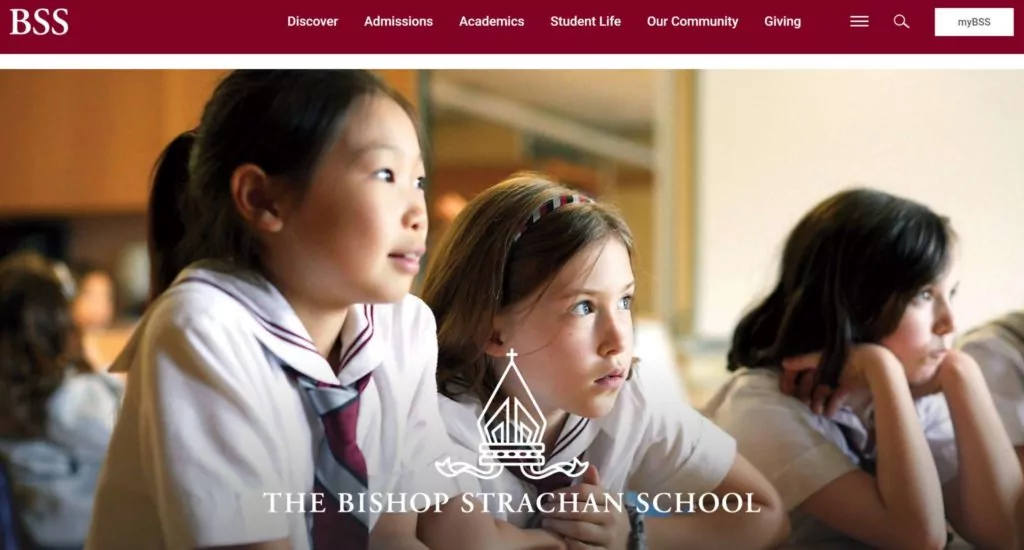 | | |
| --- | --- |
| LEVELS | Junior kindergarten to Grade 12 |
| WEBSITE | https://www.bss.on.ca/ |
| ADDRESS | 298 Lonsdale Rd, Toronto, ON M4V 1X2 |
| CONTACT DETAILS | (416) 483-4325 |
| OPERATING HOURS | Monday to Friday: 7:00am-8:00pm |
The Bishop Strachan School opened its doors to students in 1867. Despite the fact that women were not admitted to the University of Toronto until 1884, the school was built on the initiative to educate young girls nonetheless.
Of course, at the forefront of BSS's mission is equal opportunities for both men and women. They give girls a unique opportunity to be exposed to the world's greatest thinkers and innovators from all fields and cultures.
So right from the get-go, BSS was a spearheader in education, something they still strive to be today. We like their unique focus on leadership, encouraging girls to take on positions of power instead of cowering in the background.
If you want to witness your child's skills flourish, we suggest putting her in an environment where she's free to express herself, make decisions, and learn through her mistakes.
Most BSS girls continue to the finest post-secondary schools, where they use the core skills they learned in this esteemed school.
Historically significant institution
Unique focus on affirming girls' voices and thoughts
Has individual education plans
Teacher advisory groups
Expensive
Not very diverse
Customer Reviews
Here are first-hand reviews from The Bishop Strachan School alumni:
"I am still in touch, twenty years later, with some of my teachers. This speaks to the dedication of the teaching staff, I believe."
– Allison Smith
"The best educational experience of my life! Truly inspired me to go ahead with my dreams. I often think back on my days at BSS."
– Paige Pullen
6.   Junior Academy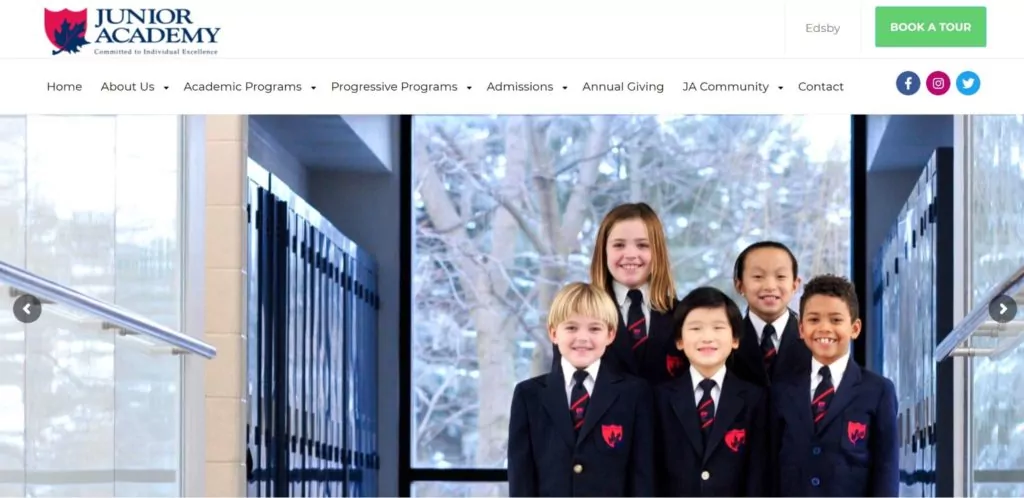 LEVELS
Junior kindergarten to Grade 8, daycare
WEBSITE
https://junioracademy.com/
ADDRESS
245 Bayview Avenue, Toronto ON M2L 1A6
CONTACT DETAILS
(416) 416-4567


[email protected]

OPERATING HOURS
Monday to Friday: 7:30am-6:00pm
If you want to go the truly progressive route for your child's private schooling, Junior Academy is the one that fits the bill. Their approach is project-based, designed to tap into a child's logical skills.
Another aspect of their methods that we find impressive is their focus on tech learning. As early as primary year, classes use iPads for reading and math lessons to supplement their learning.
The incorporation of technology into the classroom can prepare the kids for a vastly growing tech world. Students in grades 5-8 work on their own laptops and attend weekly technology workshops.
To arm them for a competitive career, students are also taught the science of stress and neuroception under the guidance of the Mehrit Centre and Dr. Stuart Shanker's self-reg model.
This imparts social and emotional intelligence to the kids, giving them a better chance at a clean bill of mental health when they're out of school.
Overall, it seems that Junior Academy produces well-rounded graduates ready to take on higher learning. From an early age, students are taught to problem-solve and navigate stressful situations.
Sharpens both independent and collaborative skills
Outdoor education every two weeks
STEPS Program (addressing each child's limitations with support from therapists)
Expensive
Not the best choice for traditional learners
Customer Reviews
Here are two reviews from two Junior Academy students' parents:
"I can not say enough about the staff at Junior Academy. My children attended the school many years ago and they both received the foundation they needed in order to succeed in high school and at university.Our family wants to thank everyone at Junior Academy. The teachers were kind, caring and patient."
– Jessica Warrington
"We had 2 children attend Junior Academy for several years and our entire family is so grateful to this school. The loving ,caring, and supportive environment our kids experienced was beyond our expectations. Teachers were very responsive and excellent at communicating with our family. I only wish they had a high school so we did not have to leave!"
– Sarah Henderson
7. City Academy

LEVELS
Post-Secondary Support
WEBSITE
https://cityacademy.ca
ADDRESS
Suite 115-1910 Yonge Street, Toronto, M4S 3B2
CONTACT DETAILS
416-482-2521
[email protected]
OPERATING HOURS
Monday to Friday: 7:30am-6:00pm
For students who are looking to get extra help in their studies through private post-secondary schooling, City Academy may be the right answer.
See, City Academy is a private school in Toronto that specialises in the aforementioned post-secondary schooling. The school's mission is to help students acquire the necessary knowledge and skills they'll need to thrive in college and university.
Working with City Academy's post-secondary schooling specialty is the small class sizes. See, City Academy was founded with one goal in mind: To provide students with individualised learning so that they can go on and do wonderful things in the future.
To this day, City Academy accommodates students in small class sizes to ensure that they are getting the information and attention that they need.
With City Academy, students take on four semesters. Students can opt for day classes and night classes. Summer classes are also offered to those interested.
It's worth noting that fees per course depend on the number of students handled by an instructor. As such, 1-on-1 classes are more expensive compared to classes with two to four students.
Small class room sizes
Day, night, and summer classes available
Programmes for athletes available
Fees are dependent on class sizes
8. Beacon School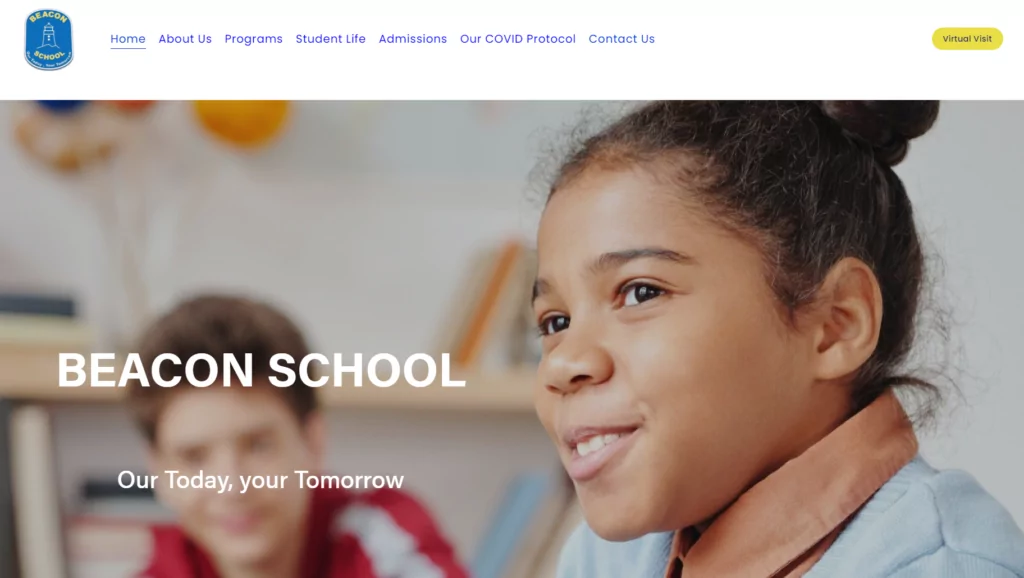 LEVELS
Kindergarten
Academic Regular
Academic Enrichment
Extra Programs
Summer Programs
WEBSITE
https://beaconschool.ca/
ADDRESS
Front office, 2191 Gerrard Str East
2nd location: 2195 Gerrard Str East
CONTACT DETAILS
(647) 518 8652
OPERATING HOURS
9:30 to 3:30
After school care is available per request
If you're looking for a school that can help lay out the foundations a child needs for the future, then there's no forgetting Beacon School.
One of the reasons why we recommend Beacon School is its approach to teaching and learning. See, Beacon School is a student-centric educational institution.
The educators from Beacon make it a point to take into consideration a child's academic needs, which is easily discernable through their small class sizes. After finding out what the students require of them, the educators then carefully adjust the curriculum so that nobody gets left behind.
Aside from the personalised teaching, Beacon School also specialises in creating a learning environment filled with encouragement and support. The teachers at Beacon School believe that positivity is a great motivator, after all.
To end things off, Beacon School's classrooms also provide an education framework where factors of gender, race, and socio-economic status do not prevent students from achieving ambitious outcomes.
All in all, the great care that is put behind creating classroom environments, teaching styles, and curriculum make Beacon School an excellent choice of a private school.
Student-centric approach to teaching
Caring and encouraging classroom environment
Small class sizes
In-person and online class programmes
Offers French classes
Customer Reviews
Here are two reviews from two Beacon School students' parents:
"Both of my children have loved the Beacon school experience and received an excellent education while also making great friends and building values that will last a lifetime. Beacon School has been a nurturing environment for our children with an excellent academic environment and wonderful culture and community!. It has played a crucial role in our sons' development." -Khalid Khalifa
"Beacon School has small class sizes, dedicated teachers and an easy to get to upper beach location! In just a few short weeks of attendance at the Beacon School our child transformed into a happy social child, a dedicated student and a learner looking to be challenged. For parents looking for a private elementary school that supports emotional growth in a safe and joyful environment and guides children to be the best student they can be, the Beacon School is it! The Beacon School met and exceeded our expectations, we could not be happier with the education our child received and the friendships they formed. The principal/owner and the teachers work so hard to nurture the students, while maintaining a strong and supportive academic program." -Emily King
9. The Dunblaine School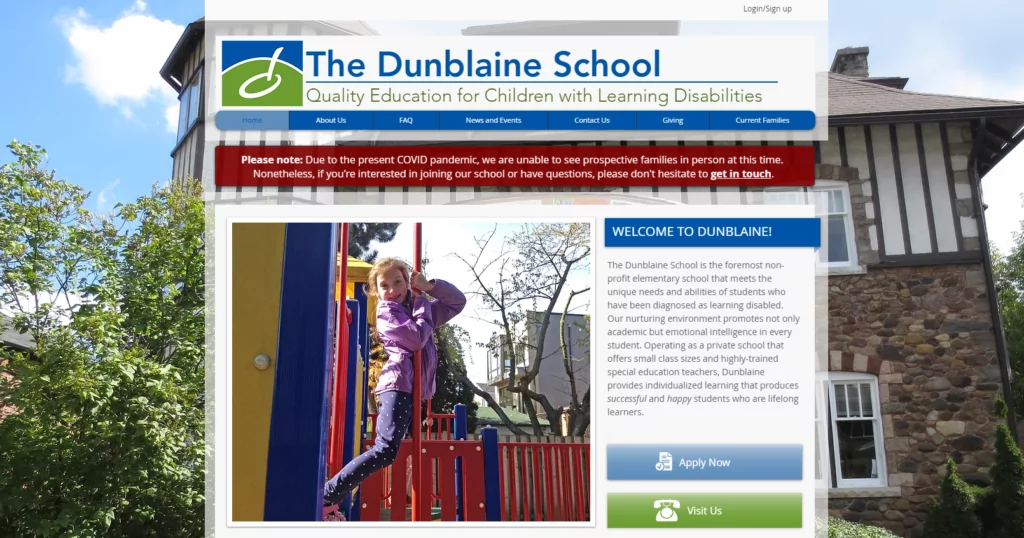 The Dunblaine School is an exceptional elementary school (grades 1 to 8) that is dedicated to serving the needs
of children with learning disabilities.
The Dunblaine School offers many commendable features but we most admire the specialized and individualized instruction that they provide in very small classes.
The teachers are experienced and trained in special needs education so that each student receives the care and attention they require to help them thrive.
For those interested, The Dunblaine School is open from Monday to Friday, and accepts enquiries through phone and email.
Encouraging classroom environment
Customisable learning plans
Small class sizes
Trained special education teachers
Offers no classes for higher or lower levels
How to Pick the Right Private School for Your Child
The right private school should be able to tailor its methods to your child's needs. Tuition is a serious consideration for most parents, so it's best if you treat this as an investment.
Like all investments, this has to be carefully planned out. Here are the factors to consider when selecting a private school for your child:
1. Independence
In the public education system, teachers and administrators have minimal control over the curriculum. State and district decisions are made in compliance with state education standards.
Private schools, on the other hand, maintain their curricular autonomy. As a result, private school teachers have a lot of flexibility in how they educate their students.
Make sure the school you're considering hires specialist educators or teachers with industry expertise in the areas your child is interested in.
2. Selectiveness
The law does not require private schools to accept all students. In effect, families normally go through an application process before they can enroll their children.
Private schools evaluate these applications based on a variety of factors. The majority of them will look at a student's academic history and achievements.
Generally, the more prominent or exclusive the school, the higher the level of selection. It's best to keep this in mind to manage your expectations.
3. Class sizes
A good indicator of quality education is the student-to-teacher ratio. It's essentially an estimate of how much one-on-one time your child will get.
Of course, the smaller the class size, the better. This is a particularly crucial factor if your child has significant learning limitations.
4. Culture
The idea of private school evokes pictures of snobbish uniformed privileged kids. And honestly, some schools may be strikingly close to that stereotype.
If you don't want your child around that kind of culture, make sure that your prospective school has the environment that you envision your child to be in.
FAQs about Private Schools
---
We hope this list helps you choose an environment where your child can flourish. You certainly have to pay the premium for the best private schools in Toronto, but we all try to spare no expense for the future of our kids.
If you're looking to move closer to the private school system in the city, you might want to get in touch with the best real estate lawyers in Toronto. They can help you manage the legal aspects of your new home purchase.