The 9 Best Real Estate Lawyers in Toronto
Are you planning on purchasing a residential property in Toronto soon? Then you're on the right page, as we're here to round up the top real estate lawyers in this city!
The best real estate lawyers in Toronto help in scrutinizing purchase agreements, obtaining title insurance, registering properties under a new name, overseeing financial transactions, and writing statements of adjustments.
For today's article, you'll learn about which law firms house the top real estate lawyers in the GTA area. We've also listed the fees that need to be paid when purchasing a property in Toronto.
1. MB Law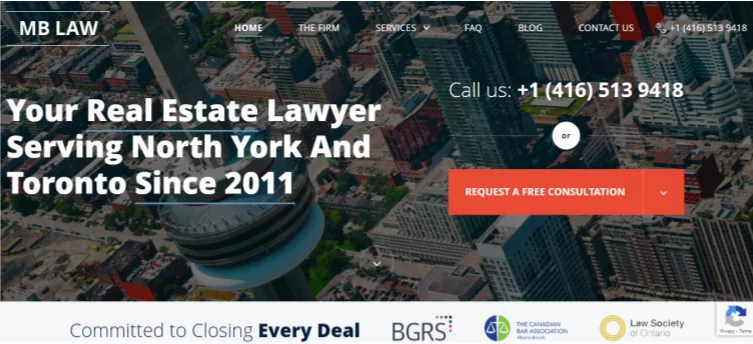 BEST FOR
Mortgage and Refinancing
EXPERTISE
Mortgage Refinance
Tile Transfers
Rebate Services
Business Incorporation
Lease Review
Joint Venture
Private Mortgages
WEBSITE
https://www.mbpropertylaw.com/
ADDRESS
5050 Dufferin St. Suite 216, North York, ON M3H 5T5
CONTACT DETAILS
Telephone: +1 (416) 513 9418
E-mail: [email protected]
Fax: +1 (416) 513 9340
OPERATING HOURS
Monday to Friday: 9AM–6PM
Over the years, MB Law has been providing the highest standard of legal services with professionalism, integrity, and customer centered approach. We love how their lawyers go out of their way just to make real estate and business transactions a smooth process.
No matter what situation you are in– has purchased a property in the past, buying a house for the first time, or experiencing complications– they can help you!
Another reason why we recommend them is they have 9 professionals that are always ready to serve people. This number of members allows them to cater more clients without compromising the quality of their work.
Unlike other firms, they can speak English, Russian, and Hebrew. This allows them to understand the process even better give you a peace of mind.
Has multiple locations
Addresses any potential issues before they arise
Step by step guidance
Need to request for a quotation
Customer Reviews
Here are a few reviews from their previous clients:
"If you are looking for an experienced, knowledgeable and professional Lawyer with a great team, look no further. Thank you Mariya and Vlad for the wonderful experience you have provided to my clients. It's a pleasure working with you and really appreciate you giving personal attention to every client in their Real Estate transactions !!!" – Hasan Zia
"Awesome Mariya! People person, understanding, knowledgeable, caring, prompt response to calls and emails! Mariya took time out of her busy schedule to make sure you understand before u sign on the dotted line. Used her service twice and and would use her many more times if I need to and highly recommend her to anyone." – Sita Reis
"Great service, I would highly recommend using them. Mariya & Vlad both very professional, on point & on top of things, taking time to explaining the process & the paperwork. Stress free experience." – TAG Dispatch
2. Costa Law Firm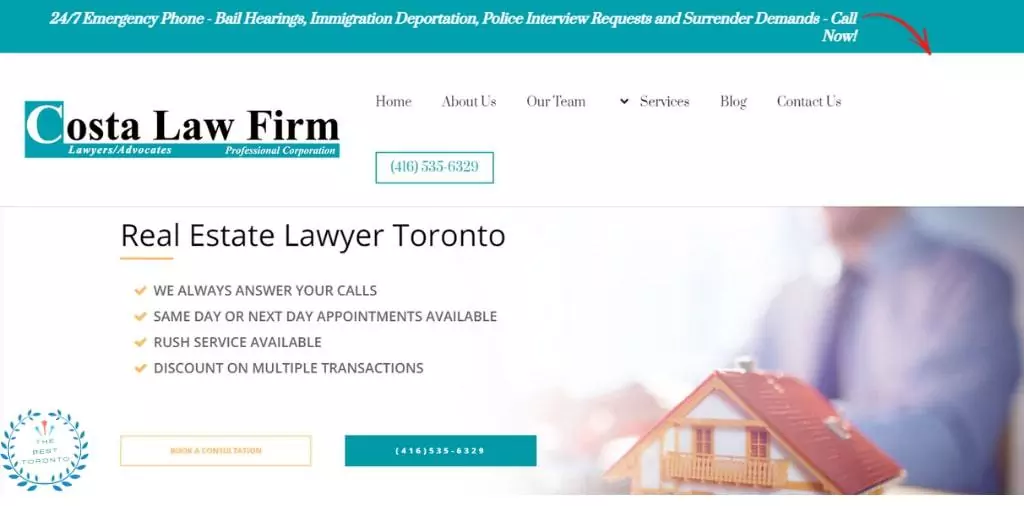 BEST FOR
Emergency legal services
EXPERTISE
Real estate law, criminal defense law, family law, immigration law, employment law, business law, civil litigation law, and wills and estate law
WEBSITE
https://costalawfirm.ca/
ADDRESS
1015 Bloor St W 1st floor, unit B, Toronto, ON M6H 1M1, Canada
CONTACT DETAILS
416-535-0437


[email protected]

OPERATING HOURS
Monday – Friday: 9:00 AM to 5:00 PM
Do you need a lawyer who can answer your real estate-related queries right away? We suggest checking out Costa Law Firm.
It's one of the few law firms in the GTA area that can provide emergency legal services for any type of legal concern.
In fact, most clients have praised its customer services for being dependable at all times, regardless of the hour. All calls to their hotline will be answered immediately.
Costa Law Firm is known for housing some of the best real estate lawyers in Toronto too if you want a lawyer who specializes in the closing stages of the purchase and sale transaction.
Its real estate team has also successfully guided clients through surveys, zoning requirements, title searches, and purchase and sale of residential and/or commercial properties.
When it comes to fees, clients will have to pay a base rate whose amount will largely depend on the type of property they're purchasing and selling. All clients will be charged for disbursements as well.
Aside from real estate law, Costa Law Firm's areas of expertise include criminal defense, family law, immigration law, labour law, corporate law, civil litigation law.
Transparent legal fees
Reliable customer service
Large team of real estate lawyers
Can offer help purchasing and selling any type of property
Customer Reviews
Here are some experiences shared by Costa Law Firm's previous clients:
"David Costa was excellent in helping us navigate the lawsuit. He was completely dialed in to what were the most important parts of the suit we needed to focus on and how we should deal with them. He was generous with his time and explaining things to us when we had questions, and we had lots of them. Our case ended without any prosecution and the charges were dropped. We would use him again without hesitation."
"Costa Law Firm was a tremendous help in solving my legal issues. David and his team were professional, efficient, thorough and compassionate. Everyone involved capably assisted me in understanding the issues and the possible outcomes. I could not be happier with the results and would encourage anyone needing legal help to contact them. Best law group in the town. Thanks to everyone at Costa Law!!!"
3. Mills and Mills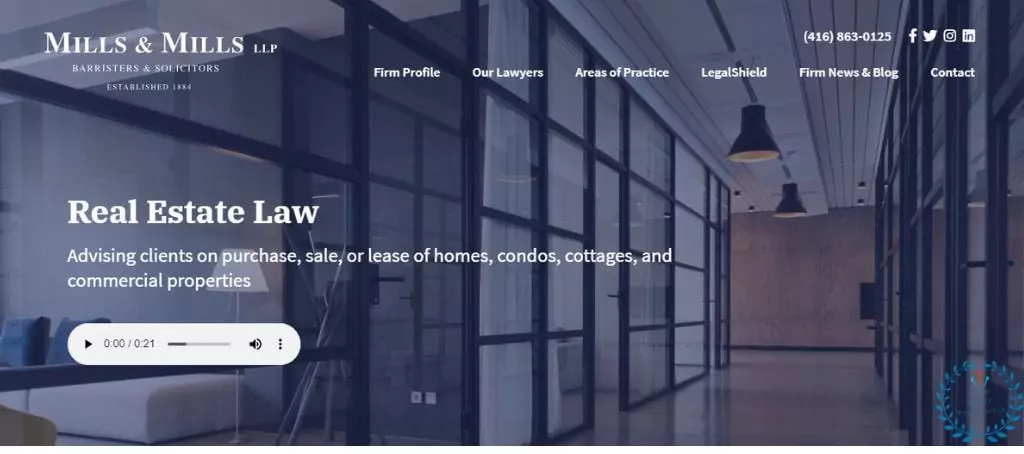 BEST FOR
Residential and commercial leasing
EXPERTISE
Real estate law, business law, criminal law, family law, health law, civil litigation, tax law, entertainment law, and wills, estates, and trusts
WEBSITE
https://www.millsandmills.ca/
ADDRESS
2 St Clair Ave W Suite 2101, Toronto, ON M4V 1L5, Canada
CONTACT DETAILS
416-863-0125
OPERATING HOURS
Monday – Thursday: 8:30 AM to 5:00 PM
Friday: 8:30 AM to 4:00 PM
Mills & Mills is headed by brothers David and J. Paul, two lawyers with decades of experience in providing all types of legal representation. It's a law firm that believes in long-lasting relationships, which explains why most of its clients stick around for decades.
It was established back in 1884, making it one of the oldest law firms in the Greater Toronto Area. Its areas of practice include business law, employment law, criminal law, family law, health law, tax law, and real estate law, among others.
Speaking of real estate, Mills & Mills boasts over 130 years of experience in advising on all types of real estate properties, from residential spaces to commercial establishments. It can help clients purchase, rent, and lease any type of property.
Clients of Mills & Mills can expect assistance from start to finish, from reviewing purchase/sale agreements down to working with financial institutions to close the deal. Other types of properties such as cottages, farms, and vacation homes are covered by their lawyers as well.
Lastly, Mills & Mills believes in affordable and accessible legal services too, so it may be a good option for those on a tight budget.
Competitive legal rates
Can deal with any type of property
One of the oldest law firms in the GTA
Shorter operating hours on Fridays
Customer Reviews
Here are some reviews shared on Google Reviews by previous and current clients:
"I hired David Mills as a lawyer for my employment situation. From the start, I felt very confident that David understood the magnitude of my problem and that he was able to apply his wealth of experience on it. He was professional in answering my questions which allowed me to believe this would have a positive outcome. He made sure we covered every angle to ensure we had a strong case. I trusted David's work and his calm approach throughout my ordeal. I would rate David's skill, knowledge, and professionalism a 6 even though it is out of 5. You will not be disappointed working with David. Thank you, David."
"I hired David Mills to navigate me through a family estate matter. He was very professional and knowledgeable, and offered exceptional advice and counsel. David resolved my issues and exceeded my expectations with the outcome. If you're looking for help, look no further than this firm. If I could give it ten stars I would. Thank you David Mills."
4. Eran Gevantschniter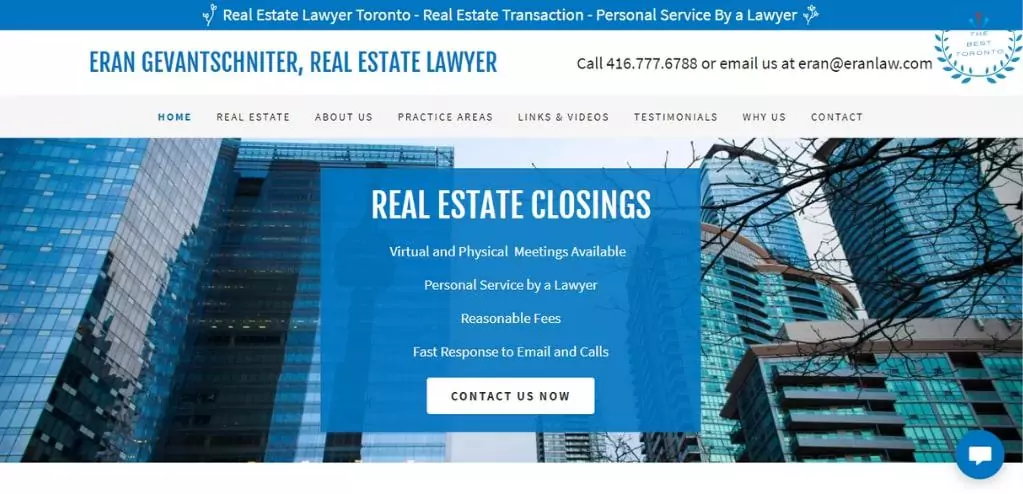 BEST FOR
Virtual and physical meetings
EXPERTISE
Residential transactions, commercial transactions, title searches, institution and private mortgaging, title insurance, and refinancing properties
WEBSITE
https://eranlaw.com/
ADDRESS
1 Dundas St W #2500, Toronto, ON M5G 1Z3, Canada
CONTACT DETAILS
416-777-6788


[email protected]

OPERATING HOURS
Monday – Friday: 9:00 AM to 6:00 PM
Eran Gevantschniter is one of the few lawyers in the Greater Toronto Area who focus on real estate transactions, helping clients close a residential property deal, obtain title insurance, and refinance their properties.
His firm is also one of the top-rated law firms in Toronto, boasting a perfect 5 out of 5 rating on Google Reviews. Most of its clients have praised its budget-friendly legal services and dependable customer service.
Other services provided by Eran Gevantschniter include checking purchase agreements, mortgaging institutional and private properties, handling foreclosure proceedings, and even drafting financial agreements.
What makes it a great option for people hoping to purchase their own homes is the reasonably priced legal fees. Its fees are some of the cheapest ones in the area, so all you have to worry about is the payment for your new house.
If you have no time to drop by its office personally, you may opt for a virtual meeting with any of its real estate lawyers.
Eran Gevantschniter is open to clients from all sectors, including homeowners, business owners, and government officials.
Reasonably priced fees
Open to clients from all sectors
Deals with all types of properties
No weekend operations
Difficult to get an appointment sometimes
Customer Reviews
Take a look at what Eran Gevantschniter's clients had to say about their services:
"I had an AMAZING experience with Eran. The closing process for my Downtown Toronto condo went very well. As a first time buyer, it was important for me to have a highly experienced, fast, responsive, and attentive lawyer. The price is very reasonable & it was totally worth it to me! When I was searching for a lawyer, I wasn't focused on finding the "lowest" price I can get. High-quality service is way more important to me, and Eran went above & beyond for me! If you're looking for a top-notch real estate lawyer, I HIGHLY recommend Eran. I will definitely use Eran's services again in the future!"
"My partner and I decided to use Eran's services for buying our first home due to his many 5star reviews. He explained all the details patiently and was always available to answer all our questions in detail. During our last viewing (2 days before closing), we noticed that the seller had not left the house in an acceptable condition. We immediately let Eran know about the situation, and he managed it excellently via clear communications with the seller's lawyer, making them fix all the issues before the closing."
5. LD Law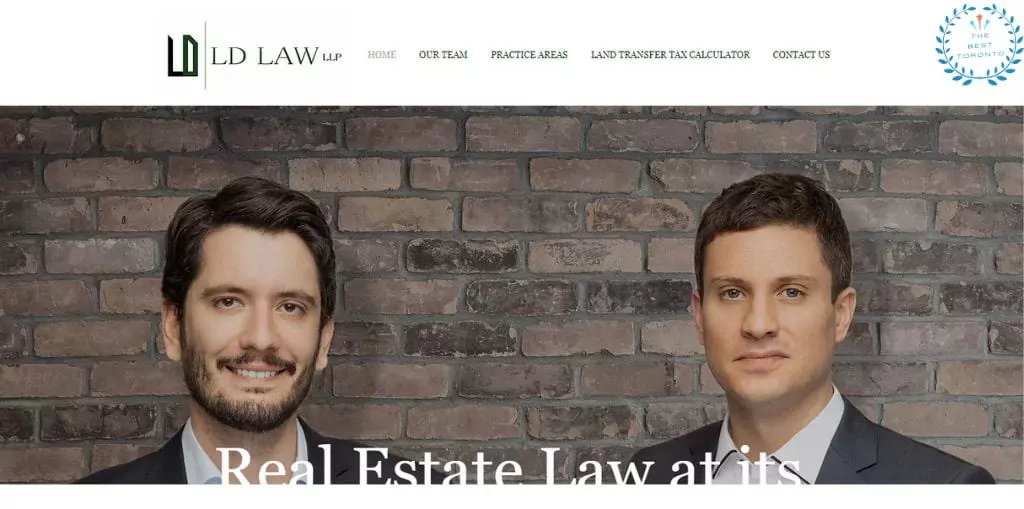 | | |
| --- | --- |
| BEST FOR | Expanded service areas |
| EXPERTISE | Real estate law, wills and estate planning, and business law |
| WEBSITE | https://www.ldlaw.ca/ |
| ADDRESS | 1551 Bloor St W, Toronto, ON M6P 1A5, Canada |
| CONTACT DETAILS | 416-747-9900 |
| OPERATING HOURS | Monday – Friday: 9:00 AM to 5:00 PM |
LD Law is a Toronto-based law firm that services a long list of communities, including High Park, Bloor West, Bloordale, Junction, West Bend, Brockton Village, Cabbagetown, FortH York, Little Portugal, and New Toronto, among others.
It's headed by three experienced and sharp real estate lawyers: Daniel La Gamba, David Baptista Del Rios, and Carla Dias. LD Law is capable of handling all types of clients, from anxious first-time buyers to long-time real estate investors.
LD Law might be a small law firm compared to our other picks, but it can deal with a wide range of real estate needs. Its lawyers are experts in refinancing residential homes, purchasing commercial properties, and drafting selling agreements.
Other services offered by LD Law include transferring titles, registering survivorship applications, constructing liens, reviewing condo status certificates, commissioning documents, and mortgaging private properties.
Outside of real estate law, LD Law also advises clients on wills and estates, business law, and corporate law matters. It's able to service all legal needs in English, Italian, Portuguese and Spanish as well.
Accepts first-time homeowners as clients
Multilingual lawyers
Deals with all types of properties
Small law firm, so limited staff
Customer Reviews
As one of the law firms with the best real estate lawyers in Toronto, it's received mostly positive comments from its clients. Here are some of them:
"Daniel and his team are doing a commendable job in their line of work. My entire transaction went, so smoothly, and they took stress off my shoulders. I haven't come across such good lawyers. They do their jobs so professionally while maintaining a healthy reputation in the market. They helped me understand each aspect of my case(it was complicated, won't lie) and never gave up on it. I love the dedication and enthusiasm that they show towards their work. Great job guys."
"We have worked with Daniel on multiple home buy and sales. His professional approach, calm nature, responsiveness, and organization are outstanding. If you have any issues – he solves it immediately. Aside from professional expertise and valuable input, Daniel is an all around great guy! Highly recommended and wouldn't go anywhere else. Thanks Daniel and team!"
6. Cowan & Carter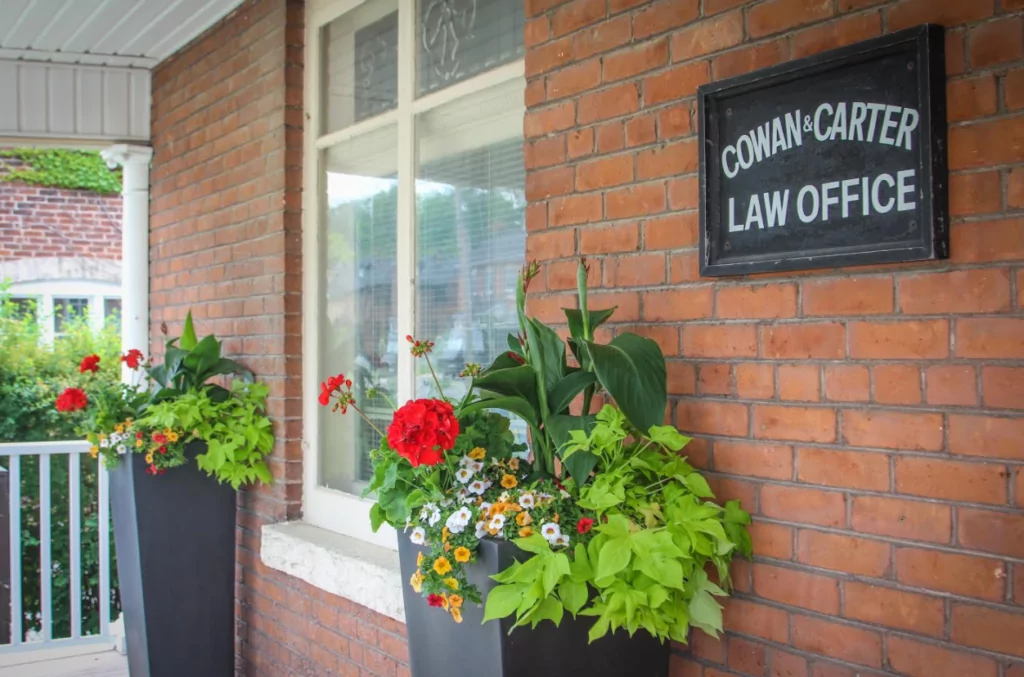 SERVICES
Real estate law, corporate law, wills and estate law
WEBSITE
https://www.cowanandcarter.com/
ADDRESS
400 Applewood Crescent #100, Concord, ON L4K 0C3
CONTACT DETAILS
(249) 495-6448 (GTA/Vaughan)

[email protected]

OPERATING HOURS
Monday – Friday: 9:00 AM – 5:00 PMAfter hours: by appointment
Established in 1903, Cowan & Carter has become one of the oldest and leading law firms when it comes to residential and commercial real estate, corporate law, and wills and estates law.
For its real estate services, it has experience and expertise in all types of homes and all types of transactions. So, it can help anyone from first-time buyers and sellers alike.
Cowan & Carter also offers its services to clients who are getting complex mortgages from Olympia Trusts or other private lendings that are through self-directed RSSP. This law firm even accepts transactions like title transfers, refinancing due to court orders, and severance and consents.
Additionally, Cowan & Carter guarantees direct and prompt communications with lawyers to avoid any miscommunications or missed details for each real estate sale or purchase. It even extends its services to accommodate busy clients who need after-hours appointments.
Such personalized response times are possible because Cowan & Carter only has two lawyers and one law clerk. However, this size of a team for its assortment of offered services can also result in difficulty booking services with Cowan & Carter.
Direct contact with lawyers
Caters to all kinds of real estate transactions
After-hours appointment option available
Commercial and residential real estate
A relatively small team of lawyers
Closed on weekends
Customer Reviews
Previous clients have described Cowan & Carter to be efficient, accessible, and professional, thus ensuring successful and timely real estate transactions:
"I was introduced to Nick Tenev with Cowan and Carter through our mortgage broker. I had never worked with Cowan and Carter before. I was in a time crunch closing my mortgage through circumstances that were beyond my control. To say that it was a stressful situation is an understatement. Nick, at Cowan and Carter saved the day. They managed to close my mortgage in a timely fashion. They were professional, knowledgeable and efficient. There are no words to describe my gratitude. I highly recommend Cowan and Carter and look forward to working with them in the future."—Nancy
"Our family has used this firm for seven real estate transactions. In every occasion Nick has gone over and above what was required, was very accessible and I would go so far as to say he even made it a bit fun. The fees are reasonable and his team is extremely friendly. I would have no troubles recommending Cowan and Carter and will return for the next deal."—Kyla Schulz
7. Baker & Company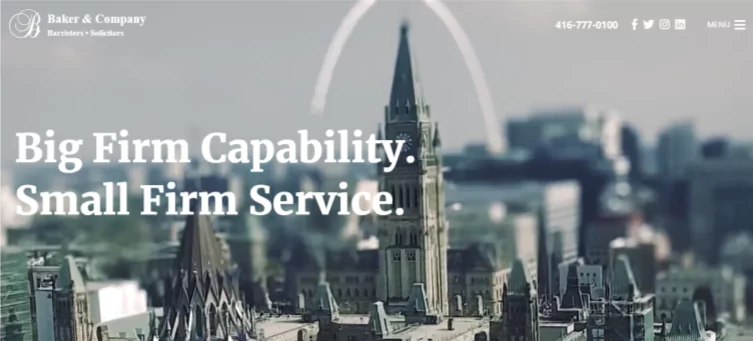 Baker & Company is under the leadership of Mark G. Baker, LL.M. (Cornell), a 30 year downtown Toronto veteran practitioner, author, teacher, and Law Society of Ontario Certified Specialist. What makes them unique from other law firms is how they use a positive, practical, and professional approach in providing legal solutions and support.
Their team of lawyers, paralegals, and clerks are highly skilled and trained with outstanding academic track records.
With how extensive their services are, it is the perfect time to consider them as your go-to law firm for real estate law services.
Unlike others, they make sure to maximize the benefits of technology when it comes to arranging meetings and doing transactions with their clients. To ensure all paper works, your documents will be sent to you via email.
Background per team member is easily accessible on their website
Uses modern database technology and services
Located in the heart of the financial district of Toronto
Rates and operating hours are not available
A few complaints about the lack or urgency
Customer Reviews
Here is a review from one of their previous clients:
"I would highly recommend Baker & Company specially Corinne Muccilli. I found her to be very patient in listening to your concerns and answering all your questions. She is also very pragmatic and realistic when suggesting solutions. As well as very accommodating to your budgetary concerns. I found her counsel and advise to be extremely honest and helpful. She was able to give me the peace of mind, reduce stress and successfully resolved a dispute for me. I would highly recommend Corinne to anyone." – Wasi Khan
Another one:
"I am happy to recommend Baker & Company. This a smart group of lawyers who are reliable and very service minded. They will do large transactions as well as small ones. This firm is a very good alternative to the large mega-firms. If you're not a large public company, this could be your best choice in town." – Heather Williamson
8. Ember Law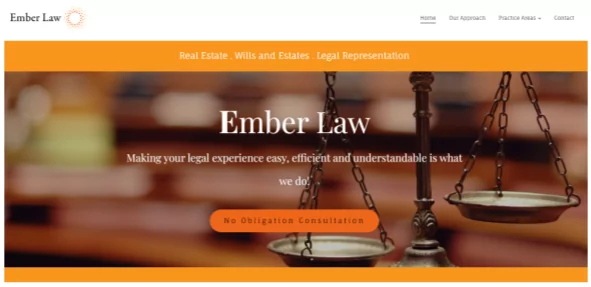 BEST FOR
Real Estate Legal Services
EXPERTISE
Legal Representation
WEBSITE
https://emberlaw.ca/
ADDRESS
3080 Yonge Street, Suite 6060 Toronto, ON, M4N 3N1
CONTACT DETAILS
Tel: (416) 486-0850
Fax: 1 (888) 486-7945
Email: [email protected]
OPERATING HOURS
Monday – Friday: 9:00 AM – 5:00 PM
Ember Law is your partner when it comes to any legal concerns to do with real estate. Making the once daunting task a breeze, Ember Law understands how much real estate transactions can put a stress on your life, and so they strive to always go that extra mile to help you get that peace of mind you deserve.
May it be up-sizing, down-sizing, buying, selling or refinancing, Ember Law is more than willing to guide you through the entire process, making your experience a pleasant one. They ensure to make the procedures uncomplicated so that you can complete your transaction quickly and efficiently.
Being a legal advocate, Ember Law's innovative strategies and approaches not only challenge the norm, but also place your interest at the forefront. Established back in 2018, they are highly proactive when it comes to meeting your needs – you simply need to ask.
We recommend this law firm for your real estate concerns due to their commitment to quality services and their vast resources that will surely help you find the best solution for your specific case.
Personalized services
Innovative solutions
Commendable customer service
Customer Reviews
Here is a review from their client:
"Sabrina is a bright and personable young woman who pays attention to detail and has a proven track record in the court room."
9.   Hummingbird Lawyers LLP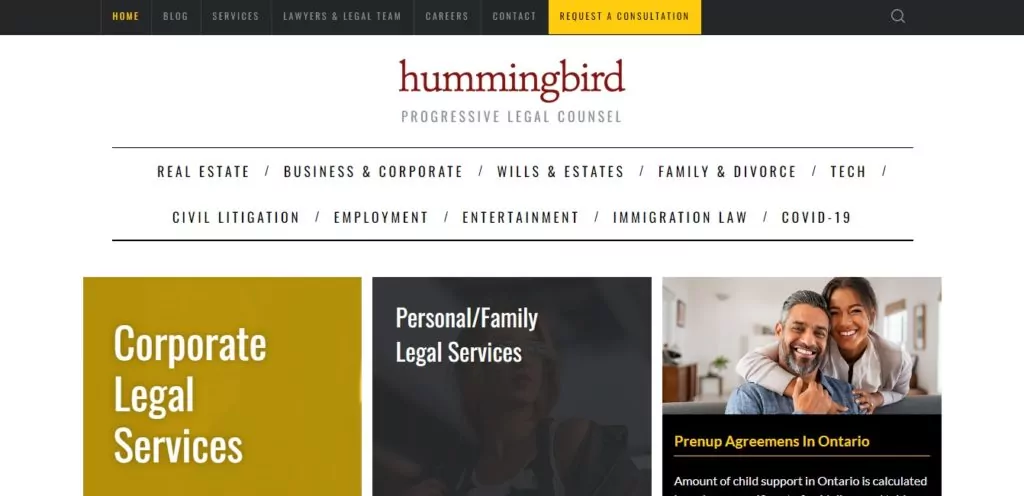 BEST FOR
Comprehensive Legal Services
EXPERTISE
Real Estate
Business & Corporate
Wills & Estates
Family & Divorce
Tech
Litigation
Employment
Entertainment
Immigration Law
WEBSITE
https://www.hummingbirdlaw.com/
ADDRESS
80 Bloor St W #1401, Toronto, ON M5S 2V1

8800 Dufferin St #301, Concord, ON L4K 0C5
CONTACT DETAILS
Phone: 905.731.1911
Fax: 905.731.1913
Email:

[email protected]

OPERATING HOURS
Monday – Friday: 9:00 AM – 5:00 PM
Hummingbird Lawyers LLP is a law practice that specializes in a wide range of matters, including family legal services and business legal services. Comprised of lawyers specialized in various legal matters, they have since then delivered consistent and long-lasting good outcomes for their clients who have entrusted them with their cases.
They presently operate two locations in Yorkville and Vaughan to assist attorneys in those branches in taking a more hands-on approach and spending more time focused on local clients.
Their previous clients have praised them for their individualized and professional approach to every case they handle, allowing them to tailor their services to the unique needs of their clients.
However, their services do not have upfront prices readily apparent, but consumers can enquire about their concerns on their website.
Overall, we strongly recommend them to clients in the area who are looking for professional corporate and personal lawyers who can represent them in court, as they have a network of highly reliable lawyers and resources for clients who want to learn more about their procedure and how to go about their cases with them.
Wide range of expertise
Informative website
Strong and skilled team of lawyers
Customer Reviews
Here are some reviews from their clients:
"I'm extremely pleased with the highly personalized, professional advice offered by Amy MacAlpine. She not only took the time to understand my needs, but also offered solutions that were specifically customized to my situation. Best part: all documents are available safely and securely online. Start to finish, the whole process was as easy and efficient as possible."
"A full service firm with an Excellent team of lawyers! Andrew Fortis in particular is such a pleasure to work with. I highly recommend Hummingbird Law for any and all Legal needs."
Fees to Remember When Buying a House in Toronto
There's no denying that moving into a new home can break the bank. Apart from the actual cost of the property, there are other fees to be settled, such as moving costs, home inspection fees, and more.
For those planning to get a house in Toronto, being aware of the numerous fees that come with being a homeowner will help you prepare for them.
Home inspection fees
Home inspections are needed to evaluate the foundation of the property and the different systems inside the home, such as electrical wires, plumbing tubes, and more. It's not required of homeowners, but it can give them peace of mind before deciding to purchase a property.
Since home inspections aren't required, most people tend to skip them to reduce the overall costs. However, if there are indeed problems in the house, the fee is minimal compared to what they have to pay in case of unforeseen damages.
Home inspections in Toronto cost about $250 to $500. It's a small price to pay, especially if you're committing to a home that you will live in for the next 20 years.
Home maintenance costs
We're going to admit that home maintenance is expensive, but it's recommended in order to safeguard your home for the years to come. After all, a home is an investment, and investments need to be protected.
Fixing minor repairs as early as now is cheaper compared to waiting for them to get worse. Aside from improving the quality of your home, maintenance can turn your home into a more relaxing and peaceful space.
In Toronto, the average cost of home maintenance repairs start from $3,000 and above. It's worth noting that annual home maintenance is recommended.
Moving costs
Of course, since you're going to need to transport some of your belongings to your new home, hiring a professional moving service is required. That is, unless you're planning to do the entire work all by yourself – which is impossible, by the way.
Based on our research, the average price of moving services in Toronto is somewhere around $1,500 to $5,000.
Keep in mind that the costs of moving services depend on a number of things: the number of times, their weight, and the distance between your old and new home.
Home insurance
Most real estate agents would affirm that home insurance is one of the most important investments you have to make as a homeowner. It's expensive, but it can cover losses and damages to your house and some assets inside it in case of an accident.
Home insurance will also provide liability coverage against accidents on your property. Its estimated cost is about $1,000 to $2,000 per year.
Legal fees
Asking for help from the top real estate lawyers in Toronto will make it easier to get your keys to your dream house.
Real estate lawyers manage all the paperwork involved in buying, selling, leasing, or mortgaging a property. Most homeowners tend to enlist help from them because of the multiple requirements that need to be ironed out before closing the deal.
In terms of legal fees, most law firms in Toronto charge somewhere between $1,000 to $5,000, depending on the experience of the assigned lawyer.
These legal fees already include disbursements, such as title searches, execution certificates, software charges, file storage charges, postage, faxes, and more.
---
Anyway, that's it for our list of law firms with the best real estate lawyers in Toronto. Already decided which law firm to hire? Tell us all about it!
By the way, we have other legal service roundups. For instance, if you ever find yourself in hot water against your employer, we recommend seeking help from the best employment lawyers in Toronto. We featured some of the most trusted law firms on that list.