The 5 Best Upholstery Services in Toronto
Purchasing brand new furniture for run-down seat covers or furniture-matching can get quite expensive. A good solution would be to get them upholstered instead.
Here, we reviewed the best upholstery shops in Toronto for leather covers and paddings to revamp your old sofas, chairs, and car seats.
Our criteria for the best upholstery shops in Toronto
We used the following criteria to determine the best shops for your upholstery needs:
How much do upholstery services in Toronto cost?
The average price range of upholstery services in Toronto ranges from $200 to $5,000.
The cost of the service still varies based on factors such as the type and size of the furniture, the upholstery fabric or leather, the wood finish, and the labour.
Fabric can cost anywhere from $30 to $60 per yard, while leather is a bit more expensive at $40 to $250 per yard.
Meanwhile, the usual labour charges average at $50 to $100 per hour. As for travel fees, it typically costs a minimum of $100 and could go up to $300.
Here are the average costs of upholstery for different kinds of furniture:
| FURNITURE TYPE | COST |
| --- | --- |
| Dining Room Chair | $200 to $600 each |
| Recliner | $600 to $2,000 |
| Leather Chairs | $800 to $2,000 |
| Chaise Lounge | $700 to $1,500 |
| Wingback Chair | $600 to $1,500 |
1. Re-Wrap Custom Upholstery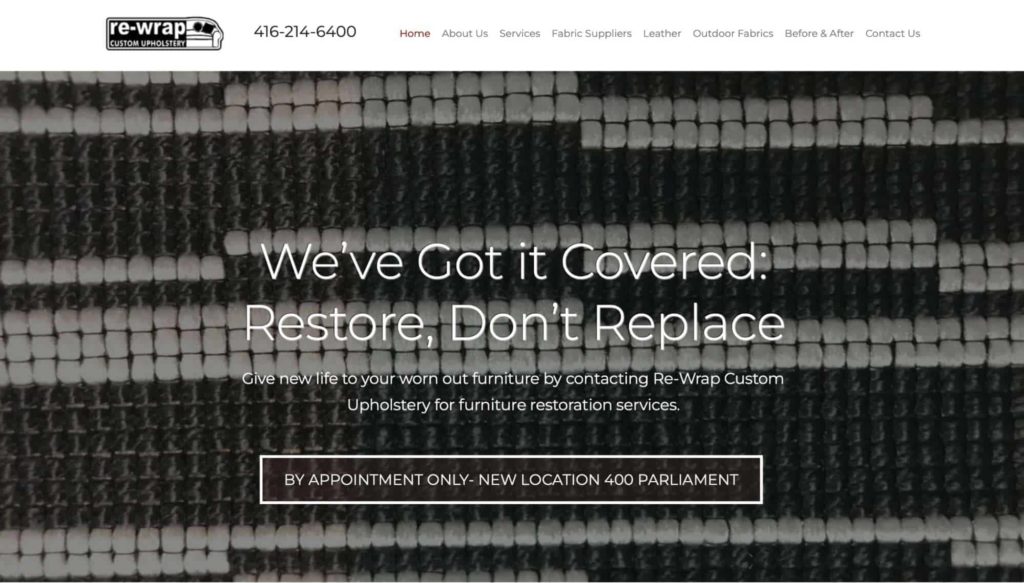 Test
Info
SERVICES
Furniture restoration, custom cushions, cushion reupholstery, headboards, wall pads (ideal for kids' play rooms and bedrooms), square cubes, benches, antique furniture restoration, interior design consultations
WEBSITE
https://www.rewrap.ca/
ADDRESS
400 Parliament Street, Toronto, ON  M5A 2Z7
CONTACT DETAILS

416-214-6400



OPERATING HOURS
Monday to Friday, 9:00 AM to 5:00 PM

Saturday, 9:00 AM to 4:00 PM
| | |
| --- | --- |
| EXPERTISE | ★★★★☆ (4/5) |
| SERVICES AND SUPPLIES | ★★★★★ (5/5) |
| TURNAROUND TIME | ★★★★☆ (4/5) |
| CUSTOMER SERVICE | ★★★★★ (5/5) |
Re-Wrap Custom Upholstery is known for providing furniture restoration and reupholstery services. They also do interior design consultations and work on other furnishings such as benches and storage furniture.
We appreciate that they provide pick-up and delivery services. This is extremely convenient for clients who are pressed for time.
What's great about them is that they have over 60 furniture designs from 25 fabric suppliers. They also have in-house fabric experts that can help you pick the colour and pattern that will best suit your home's interior.
Upon checking their portfolio, we were impressed to see how they were able to elevate their clients' furniture. It was a diverse catalogue, too, which really showcased their creativity and quality of workmanship.
For their services, you can expect to pay an average amount of $500 to $5,000 depending on the furniture you want to enhance.
Although, we'd like to point out that some clients were dismayed with the speed of their turnover. In some cases, they were apparently delayed in delivery for up to two weeks.
An upside is that many clients are happy with their structural strengthening, a free service that enhances the durability of the fabric and leather they use.
So if you're looking for a shop that has a high-quality service and upfront pricing, you might want to check Re-Wrap Custom Upholstery.
Has a wide selection of designs and fabric
Upfront pricing
Offers free structural strengthening for enhanced durability
Experiences a few minor delays in delivery
Relatively young compared to its competitors
Customer Reviews
Necessary fix
"Garry and the folks at Re-wrap fixed up my outdoor patio cushions after they were mangled by squirrels. The original cushions used Sunbrella fabric and they were able to match and replace only the fabric that was necessary. I can't even tell that anything is different, with the exception of a cost-saving patched section that is hidden from normal use." – Derrick Lee, Google Reviews
No issues
"Gary is an absolutely amazing to deal with!! The care and professionalism this company has for his clients is outstanding– I would highly recommend them for all your upholstery needs. I dropped off my chair and ottoman a few days ago and within a week it was done, perfectly re-upholstered no issues and no drama. Thank you for all your hard work." – PAUL SMITH, Google Reviews
2. New Way Upholstery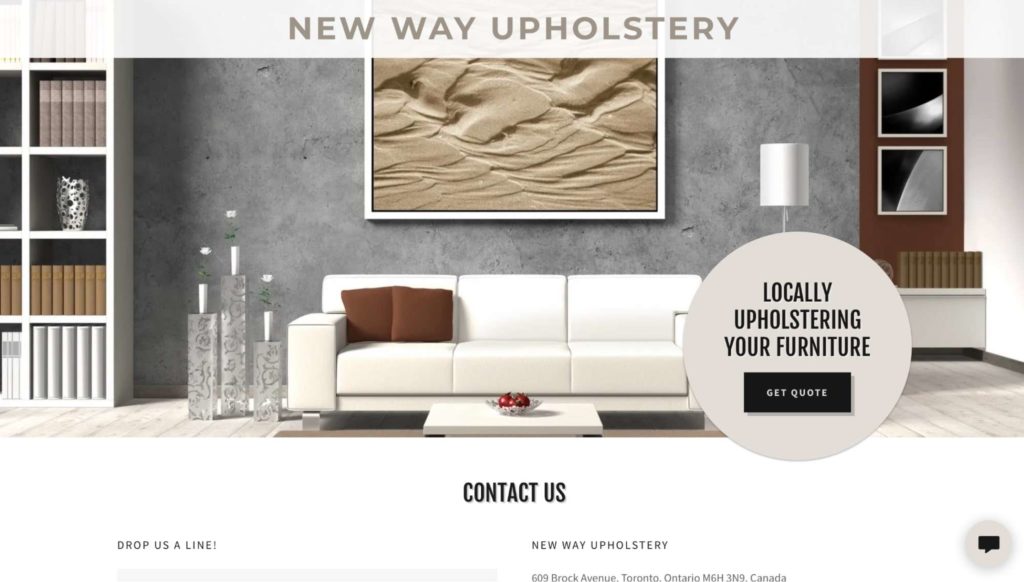 Test
Info
SERVICES
Reupholstery services
WEBSITE
https://newwayupholstery.ca/
ADDRESS
609 Brock Avenue, Toronto, Ontario M6H 3N9, Canada
CONTACT DETAILS

416-532-0195



OPERATING HOURS
Monday to Friday, 10:00 AM to 5:00 PM

Saturday, 9:00 AM to 4:00 PM
| | |
| --- | --- |
| EXPERTISE | ★★★★☆ (4/5) |
| SERVICES AND SUPPLIES | ★★★★☆ (4/5) |
| TURNAROUND TIME | ★★★★★ (5/5) |
| CUSTOMER SERVICE | ★★★★☆ (4/5) |
For over 40 years, New Way Upholstery has been leading upholstery services in Toronto for residential and commercial customers.
Their portolfio is proof of their skilled workmanship. But, we think they can work on providing a better visual that would best showcase how they were able to transform their clients' furniture.
This family-owned business may be small in number, staff-wise, but the owner still manages to accommodate all their customers' requests.
Even more impressive is how they manage to have a quick turnaround time, averaging at just a week and a half. And, they have a curated collection of fabrics available for clients.
However the downside here is that their services are relatively more expensive. Their rates cost around $1,150 to $5,600, which is higher than most similar companies.
We do appreciate how helpful they are to clients. They're often commended for how they provide sound advice in helping with the whole process – from choosing styles and fabric up to the finish of the furniture.
However, we've heard some complaints regarding inconsistencies in the quality of their work. We think they could work on being more consistent and professional in this aspect.
All things considered, we recommend New Way Upholstery for their keen attention to detail and friendly staff members.
Has over 40 years of experience
Relatively quick turnaround time
Rates are relatively more expensive.
Reports of inconsistencies in workmanship
Customer Reviews
Bobby is an absolute master at his craft
"Bobby from new way upholstery is an absolute master at his craft.
He is so passionate, knowledgeable and eager to help create exactly what his customer wants.
I trusted him with my grandmother's 100+ year old chairs and he did not disappoint.
The chairs are a true work of art!
He's got a client for life in me!" – H Morgan, Google Reviews
Professional and personable
"New Way Upholstery provided excellent service which was both professional and personable. Bobby was so helpful and offered useful advice in the reupholstery of an old wing back chair … which now looks like a new wing back chair! As well as completing the work with quality materials and great skill at a reasonable price our friendly upholsterer was most cooperative in the fitting the work into a schedule.
I would recommend New Way Upholstery to anyone who is looking to recover or restore a piece of furniture." – Kirk Lowry, Google Reviews
3. TJ Fine Upholstery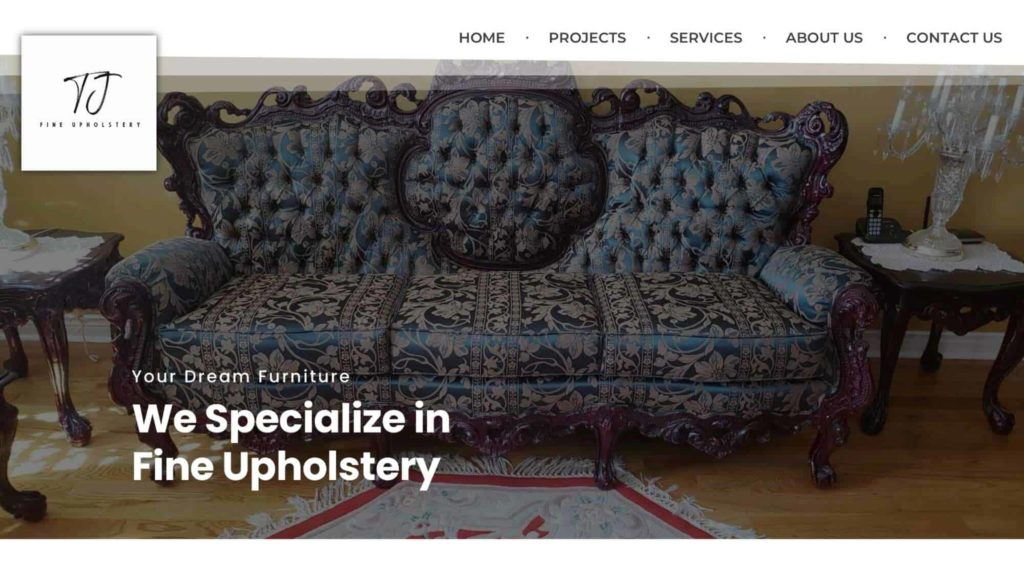 | Test | Info |
| --- | --- |
| SERVICES | Decorating and fabrication of window treatments, bedding, pillows, slipcovers and upholstery |
| WEBSITE | https://tjfineupholstery.com/ |
| ADDRESS | 1665 St Clair Ave W, Toronto, ON M6N 1H9, Canada |
| CONTACT DETAILS | (416) 653-2991 |
| OPERATING HOURS | Monday to Saturday, 10:00 AM to 8:00 PM |
| | |
| --- | --- |
| EXPERTISE | ★★★★☆ (4/5) |
| SERVICES AND SUPPLIES | ★★★★☆ (4/5) |
| TURNAROUND TIME | ★★★★★ (5/5) |
| CUSTOMER SERVICE | ★★★★☆ (4/5) |
TJ Fine Upholstery is a prominent family business in Toronto that has been engaged in upholstery services, custom furniture and restoration for 40 years.
What we like about them most is their quick turnaround time of less than two weeks. In most cases, clients are pleasantly surprised that their furniture is returned in just 10 days.
Adding to that, we like how they have a wide variety of fabrics. This gives customers a myriad of patterns and colours to choose from.
Clients also love that they're usually accommodated right away. This is because they stay open relatively longer than most similar companies.
They have an average cost of $1,600 to $2,400 for their services. But, they reportedly charge separate pick-up fees which significantly increases the final bill.
However, there are some complaints about the strong aroma of the paint they use. This makes a few clients uncomfortable, especially those who are sensitive to strong smells.
Overall, we like TJ Fine Upholstery for their professional and responsive set of staff members.
Open relatively longer than its competitors
Almost 40 years of experience
Quick turnaround time
Few complaints about the strong aroma of the paints they use
Pick-up fees significantly increase the final bill
Customer Reviews
Quick turnaround time
"We are thrilled to have found Milton! I knew from the first conversation that he was the man we could trust with our 25 year old sofa and wingback chair. He communicated with me through the process which was a quick turnaround of only 3 weeks. Nothing but impressed with the quality and service. We live an hour away, but it was well worth it! Thanks Milton!!" – Julie Cule, Google Reviews
Reasonable price
"TJ reupholstered my sofa with fabric I provided. His price was reasonable and once it was picked up, turnaround was fast. He is very busy and an old-school businessman.
I worked in the furniture industry for 20 years. Great job and would highly recommend it. I love how it turned out. Happy to support a local business!" – Linda Tim, Google Reviews
4. Alex Upholstery Services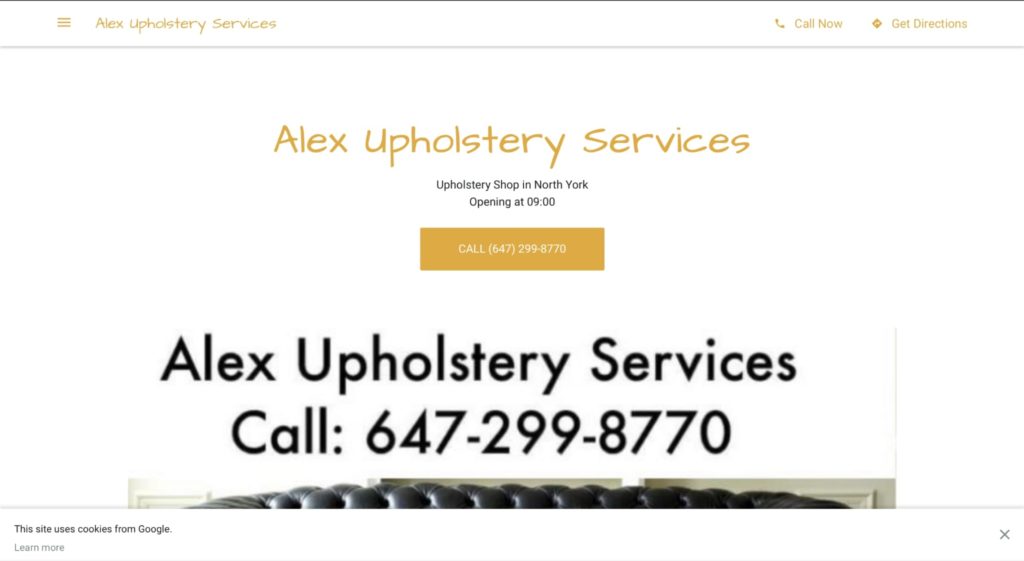 Test
Info
SERVICES
Ottomans, chairs, sofa, boat and car upholstery, sewing, fitted slipcovers, shams, bedskirts, bench and window seats, indoor/outdoor cushions, custom-made pillows - feather, down-filled, faux down microfibre-standard and custom sizes, custom made furniture, headboards, banquettes, ottoman's, sofa's, chairs, benches, room dividers, children's furniture
WEBSITE
https://alexupholstery.business.site/
ADDRESS
3987 Chesswood Drive, North York, ON M3J 2R8, Canada
CONTACT DETAILS
(647) 299-8770

(647) 262-5242

OPERATING HOURS
Monday to Friday, 9:00 AM to 6:00 PM

Saturday, 9:00 AM to 3:00 PM
| | |
| --- | --- |
| EXPERTISE | ★★★★☆ (4/5) |
| SERVICES AND SUPPLIES | ★★★★☆ (4/5) |
| TURNAROUND TIME | ★★★★★ (5/5) |
| CUSTOMER SERVICE | ★★★★☆ (4/5) |
Alex Upholstery Services is another family business that focuses on repairing and reupholstering furnishings. They're also known to be great at restoring antique pieces and repairing frames.
What we like the most about them is how relatively affordable their rates are! They only charge an average of $500 to $700, which is significantly more affordable compared to other shops in our article.
It's also impressive that they have over a thousand samples of fabric patterns and leather designs. And, they considerately accept client requests should they opt to bring their own fabric.
However, we hope they work on being more responsive because we found that they take a while to respond to client enquiries.
Still, in most cases, their customers are happy about them being able to finish the upholstery process a week ahead of the quoted timeframe.
Their staff members are also said to be professional and friendly.
In our book, Alex Upholstery Services can be relied on for factory-standard upholstery services, efficient turnaround time, and reasonable pricing.
Has over a thousand samples of fabric and leather designs
Mostly finishes services ahead of the promised schedule 
Relatively affordable rates
Not very responsive to client inquiries
Relatively short weekend hours
Customer Reviews
The quality and workmanship are amazing
"We recently had our sofa recovered by Alex and are thrilled with the result. The quality and workmanship are amazing and it literally looks brand new. Alex was fantastic to deal with. We were able to choose our fabric from the many books he had at the shop. Once the fabric was in, Alex and his team picked up our sofa and had it back to us in less than two weeks, which we really appreciated. I would highly recommend Alex Upholstery Services for anyone needing to recover their furniture. He is reasonably priced, very honest and the result is amazing!" – Robin Shimkovitz, Google Reviews
Most professional service I've ever seen
"Just had my 6 chairs and 2 bar stools upgraded by Alex Upholstery services. I have to admit this was the most professional service I've ever seen. The job that they did was Amazing. The chairs look better than when I purchased them originally. The variety of fabric and the quality of the fabric is fantastic. You won't be disappointed!!! The quality and service deserve what you pay for. Fast and easy service. Friendly staff. Thank you Alex and your staff for amazing service and quality." – Vic. D. M., Google Reviews
5. Princess Perfect Upholstery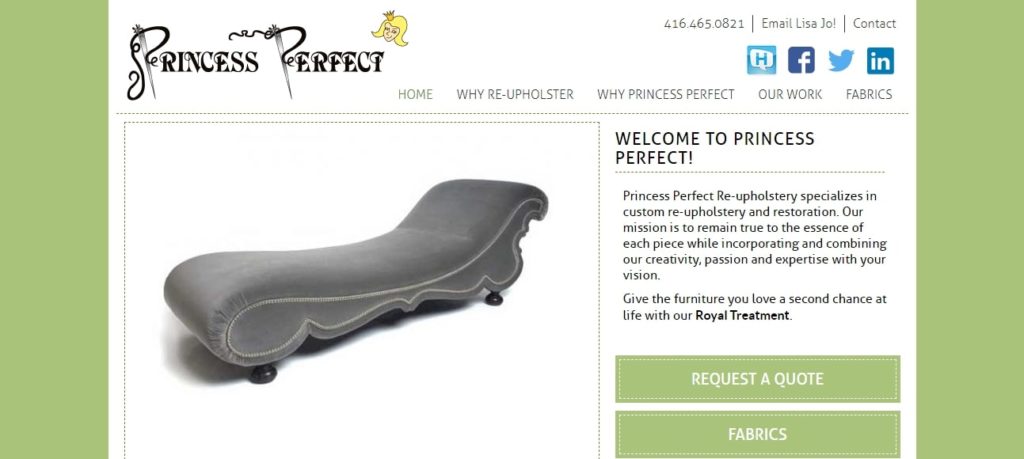 Test
Info
SERVICES
Custom re-upholstery and restoration
WEBSITE
https://www.princessperfect.ca/
ADDRESS
963 Pape Avenue, Toronto, Ontario M4K 3V6
CONTACT DETAILS

416-465-0821



OPERATING HOURS
Tuesday to Friday, 9:00 AM to 5:00 PM

Saturday, 9:00 AM to 1:00 PM
| | |
| --- | --- |
| EXPERTISE | ★★★★☆ (4/5) |
| SERVICES AND SUPPLIES | ★★★★☆ (4/5) |
| TURNAROUND TIME | ★★★★★ (5/5) |
| CUSTOMER SERVICE | ★★★★☆ (4/5) |
Since 2001, Princess Perfect Upholstery has been doing refinishing, reupholstery, and frame repairs for residential and commercial properties in Toronto.
We find the quality of their works impressive upon assessing their portfolio. It's obvious that they have a great eye when it comes down to the tiniest details in ensuring that their clients' furniture look good as new.
Also, we're pleased to know that Perfect Upholstery also has a fair share of fabric sponsors. This affords clients a wider selection of patterns, colours, and more.
Another thing we like about this shop is that they offer convenient delivery and pick-up services.
However, of course, the downsides can't be overlooked. There were instances wherein they didn't respond to clients immediately; some even waited for about 3 weeks before getting a response.
Other than that aspect, we have to give them props for their team's attentiveness. Apparently, their team is helpful in explaining and guiding customers through the entire process.
It's also been said that they're patient in clarifying technical details in a way that clients easily understand.
Various selection of fabric brands available
Delivers ahead of time
Offers pickup and delivery services
Can be unresponsive
Relatively shorter operating hours
Customer Reviews
Accommodating staff
"We have had two heirloom pieces reupholstered by Princess Perfect and are very pleased with both. They outsource the painting to a gentlemen who is very accommodating. He used milk paint at our request even though he doesn't normally work with it. He checked in frequently and shared pictures of the piece at various stages of the painting to ensure we were happy with the direction and that it was in keeping with our vision. The upholstery work is very well done as well!" – Nevada Reed, Google Reviews
Fantastic service and craftsmanship
"I had 2 Danish teak period chairs and a sofa refinished here. The work was excellent and I am so delighted that these pieces can now take pride of place in my living room. I would get more work done here in a heartbeat. These are not bargain basement prices, but you most definitely get what you pay for–fantastic service and craftsmanship!" – Marysia B., Google Reviews
FAQs on upholstery services
---
We hope this review of the best upholstery shops in Toronto helped you in your search for the best paddings and fabric for your furniture!
If you're perhaps looking for shops that do furniture restoration, you may want to check out our article on Where To Find The Best Furniture Restoration Services In Toronto.