Top 5 Criminal Defence Lawyers in Toronto
Being accused of a crime can be an unpleasant and extremely stressful experience. Your livelihood and reputation are on the line, as well as your freedom.
Furthermore, facing a criminal charge is terrifying as this has consequences. Whether it is a minor or major case, this may mean having a criminal record, monetary fines, and even jail time.
So it is crucial to speak to a criminal defence lawyer that will help with the case and come up with a winning defence. You also need to choose a well-qualified lawyer that will help you understand your fundamental rights before you step into the courtroom.
In this article, we've rounded up and reviewed the top criminal defence lawyers in Toronto.
How much is the legal fee of a criminal defence lawyer in Toronto?
Private criminal defence lawyers either charge a fixed fee or on operate on an hourly basis. As for the rate, this will vary as no two criminal cases are identical.
The cost will vary depending on the severity of the charges or the expertise of the lawyer you are getting. So, it is recommended that the legal fees are discussed prior to signing a contract.
Here are the indicative rates of what private criminal defence lawyers charge their clients.
| Service | Fee |
| --- | --- |
| Cases without trial | $1,500 - $10,000 |
| Cases with trial | $4,000 - $50,000 |
| Hourly rate | $150 - $700 |
The Best Criminal Defence Lawyers in Toronto
Knowing the cost of hiring a private lawyer is costly, we have set criteria to find the best criminal defence lawyers in the Toronto. We rated each of the choices according to the following:
1. Daniel Brown Law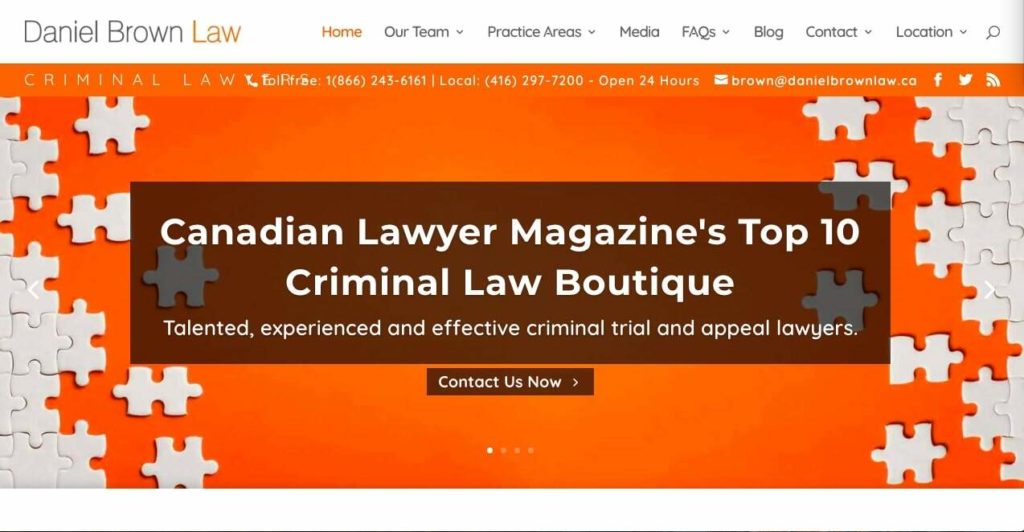 Test
Info
Services

Domestic Assault

Sexual Offences

Drinking and Driving Offences

Drug Offences

Property Crimes

Homicide

Website
https://www.danielbrownlaw.ca/
Address
103 Church St #400, Toronto, ON M5C 2G3
Contact Details
416-297-7200
Operating Hours
Monday - Sunday: Open 24 hours
| | |
| --- | --- |
| Criteria | Rating |
| Efficiency | ★★★★★ (5/5) |
| Availability | ★★★★★ (5/5) |
| Legal Experience | ★★★★★ (5/5) |
| Customer Service | ★★★★☆ (4/5) |
Daniel Brown Law is composed of experienced and effective criminal trial and appeal lawyers. Its lawyers frequently provide legal commentary to the media and have successfully represented individuals who have been wrongly accused.
It is recognised by Canadian Lawyer Magazine as one of the top 10 criminal law boutique firms. This shows how it has maintained the highest level of ethical standard and professionalism in its defence work.
We appreciate how Daniel Brown and his team of lawyers represented clients and helped solve their legal problems discreetly, quickly, and efficiently. Thanks to their impressive experience in all levels of criminal court, they're deeply familiar with the inner workings of this field of law.
The team of lawyers is also generous in lending their expertise and personal experiences. They are able to tailor-fit the defence that meets the client's unique circumstances by preparing the materials needed.
What is commendable also is their dedication to the interest of clients by keeping them informed every step of the way.
However, there have been instances when clients were unhappy with the firm's service as it did not meet their expectations in handling the case.
Also, we've heard of some complaints of unprofessionalism displayed by a few of the firm's lawyers. While these were exceptions rather than norms, we hope that management has addressed this issue with the specific lawyers.
One of the top 10 Criminal Law Boutique Firms
Experienced in all levels of criminal court
Maintains highest level of ethical and professional standards
Provides legal commentary in media
Some feedback on subpar service
Some reports of unprofessionalism
Customer Reviews
Dedicated team of lawyers
"INCREDIBLE!!! Lindsay Board is a warrior!! The team at Daniel Brown Law helped me get through a truly terrible time and gave me my life back. When my life came undone around me, this team went to war to get my life back. Without a doubt the absolute best and brightest lawyers in the world! Professional and compassion is how they operate. Was always treated as a person first and foremost, never seen as anything less. If there is anyone looking for a lawyer I would ALWAYS say to look at this firm. Completely dedicated to the case, worked tirelessly to succeed and make sure they were always at least 5 steps ahead. Cannot say it enough that these people are the ones you want in your corner." – Carter
Amazing criminal lawyer
"Hilary Dudding is an amazing criminal lawyer. I'd like to thank her for her hard and dedicated work on my boyfriends case. She truly gives 100% in everything she does and your life is safe in her hands. I am forever grateful for her. I would recommend her a million times to anyone who ever needs a lawyer. Once you meet her you'll immediately understand that this is a passion for her and that it is not just a job. Hilary truly loves what she does and it shows in her work. She goes the extra mile for her clients! Once again she is an amazing criminal lawyer and if anyone is looking for a criminal lawyer I would highly recommend her." – Dejah
2. Michael P. Juskey (MPJ) Criminal Defence Lawyer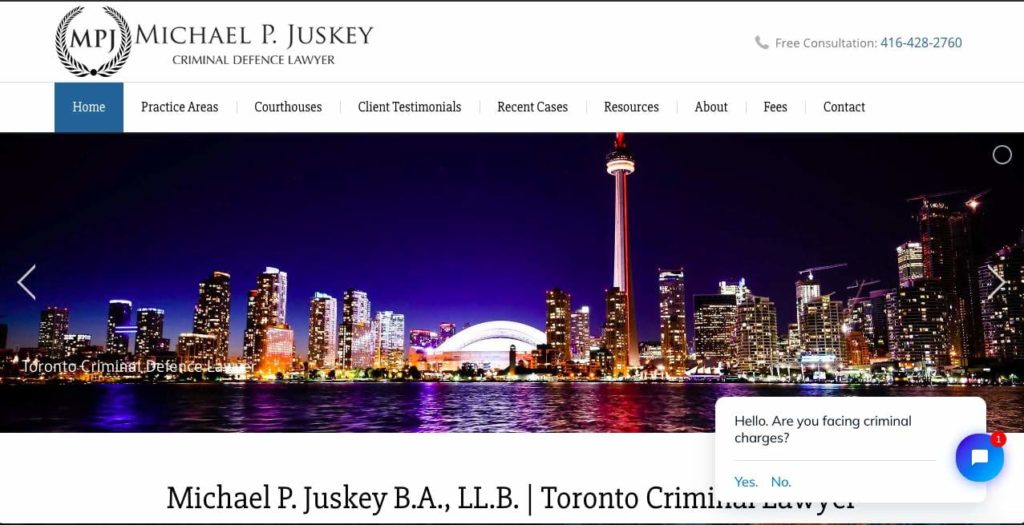 Test
Info
Services

Criminal Record Expungements

DUIs & Reckless Driving Defense Litigation

Domestic Violence Litigation

Drug Possession Defense Litigation

Federal Criminal Defense Litigation

Website
https://mpjlaw.ca/
Address
130 Spadina Ave. #606, Toronto, ON M5V 1X9
Contact Details
416-428-2760
Operating Hours
Monday- Sunday: Open 24 hours
| | |
| --- | --- |
| Criteria | Rating |
| Efficiency | ★★★★☆ (4/5) |
| Availability | ★★★★★ (5/5) |
| Legal Experience | ★★★★★ (5/5) |
| Customer Service | ★★★★★ (5/5) |
Michael P. Juskey (MPJ) Criminal Defence Lawyer has championed hundreds of clients. This law firm serves clients in Toronto and the neighbouring cities of Brampton, Newmarket, and Southern Ontario.
Even if he is on his own, Michael takes the time to listen to the client's side of the story and offers emotional support during a stressful time, which his clients appreciate.
Furthermore, he is always available to answer all questions. We hear that he makes himself available to clients every day and will also return every email and answer all calls promptly.
We also like that he keeps clients in the loop by updating them on the progress of their cases. His extra-mile support is also evident as he accompanies clients to interviews and court appearances.
What we appreciate about this law firm is its extensive research on case studies relevant to its current clients. Leveraging on this knowledge, they help clients gain a better understanding of where they stand and what can be done to beef up their defence.
Furthermore, Michael Juskey is said to be a trustworthy lawyer who genuinely cares for his clients. For one, he offers his initial consultation for free so clients need not worry about asking questions and knowing their legal options before making any commitment.
For case resolutions and court appearances, the fee is fixed and there are no surprise billings once work has started, which gets top marks in our books.
Prompt communication
Excellent research on cases
Free initial consultation
Fixed fee for case resolution and court appearances
Solo practitioner – may not be able to take on a large caseload
Customer Reviews
Took care of everything
"I was referred to Michael from a friend and from our first call, he was very confident, supportive, professional and very assertive. I knew right away this was the guy I wanted to defend my case, and I'm very happy he did! He's the best there is, and I could never imagine having anyone else represent me after him. He's very honest, and someone you can trust completely. He took care of literally everything, which was a huge stress relief, and checked in with me as needed. Not only was he able to defend me from an unjust accusation, his calm and empathetic demeanor offered emotional support to myself through out the entire process. He is extremely knowledgable and no time, is ever a bad time with him. If you ever have even the smallest of questions, he answers them in the most honest way. Because of him, I had the best outcome that I could ever have hoped in having my charge withdrawn. I am forever grateful for his service and I would highly recommend putting trust in him. He is unmatched in his profession." – KR
Professional and understanding
"Where do I begin? Mr. Juskey is as good as they come. From the first zoom meeting I knew he was going to get things done. His professionalism and understanding of the situations helped me achieve a positive outcome. My charges were withdrawn. He treats you with respect and always available when you need him. I highly recommend Mike if you want the best possible outcome." – SN
3. Neuberger & Partners LLP
Test
Info
Services

Civil Litigation

Corporate Criminal Defense Litigation

Criminal Immigration Defense Litigation

Criminal Record Expungements

Domestic Violence Litigation

Drug Possession Defense Litigation

Website
https://nrlawyers.com/
Address
1392 Eglinton Ave W, Toronto, ON M6C 2E4
Contact Details
416-364-3111
Operating Hours
Monday- Sunday: Open 24 hours
| | |
| --- | --- |
| Criteria | Rating |
| Efficiency | ★★★★★ (5/5) |
| Availability | ★★★★★ (5/5) |
| Legal Experience | ★★★★★ (5/5) |
| Customer Service | ★★★★☆ (4/5) |
Neuberger & Partners LLP started in 1993 as a full-service criminal law firm. As one of Canada's high-profile criminal defence law firms, it has fought thousands of cases in Toronto, GTA, and jurisdictions across Canada.
It has continuously maintained high-quality legal representations by employing a comprehensive approach to building a client's defence. Their lawyers are apparently very thorough in case preparation, which provides great reassurance to clients that they are in capable hands.
We like that they employ a collaborative approach to be able to provide valuable guidance and expert insight, as well as give thorough updates on the case.
The firm offers a free initial consultation with its lawyers, which is always helpful. Added to this, if you need urgent assistance, it has a hotline number that can be easily found on its website.
The team of multi-lingual lawyers (which is always a plus in multicultural cities like Toronto) is also available any time of the day to take calls and answer all our questions.
However, we find that support staff needs to learn to be more helpful in connecting clients with lawyers. In cases like these, it's imperative to act with a sense of urgency – perhaps management can consider upskilling or retraining their support staff on this aspect.
Full-service criminal law firm
High-quality legal representations
Collaborative approach for client's defence
Free initial consultation
Hotline for urgent assistance
Multi-lingual lawyers
Some reports on slow service
Customer Reviews
Best lawyer in the city
"WOW! I cannot thank Joseph and his team enough for all they have done for me. Joseph was an absolute shark with my case! He helped me win and move on with my life without any issues! Joseph, thank you soooooo much! You are definitely the best lawyer in the city! I highly recommend Joseph and his team!!! if i can give him and his team 100 stars, that's how high i would rate them! You are in VERY good hands when it comes to Neuberger & Partners!!! :)" – Littlerussia
Professional and helpful
"I was very frustrated when I got charged by police regarding the family matter. It is literally the first-ever case that happens in my entire family, no one knows how to deal with this situation. So happy I retained Joseph Neuberger and his team. They were very professional and helpful, the case is able to get completed withdrawal within 4 months, it make my life so much easy. Thank you all."
4. Jeffrey I. Reisman Criminal Defence Lawyer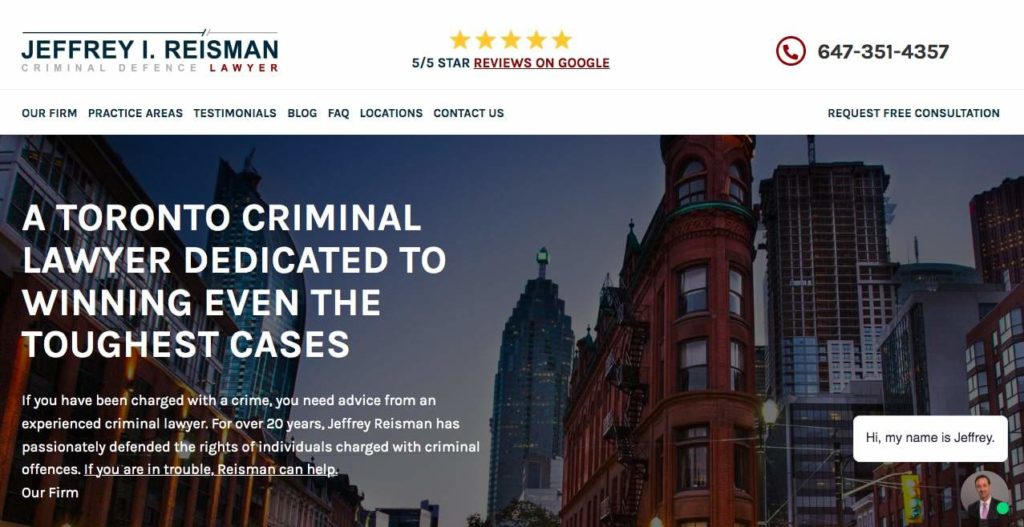 Test
Info
Services

Criminal Record Expungements

DUIs & Reckless Driving Defense Litigation

Domestic Violence Litigation

Drug possession Defence Litigation

Federal Criminal Defence Litigation

Website
https://www.jeffreismanlaw.ca/
Address
1000 Finch Ave W #705A, North York, ON M3J 2V5
Contact Details
647-351-4357
Operating Hours
Monday- Sunday: Open 24 hours
| | |
| --- | --- |
| Criteria | Rating |
| Efficiency | ★★★★★ (5/5) |
| Availability | ★★★★★ (5/5) |
| Legal Experience | ★★★★★ (5/5) |
| Customer Service | ★★★★☆ (4/5) |
Jeffrey I. Reisman is a Toronto-based criminal lawyer who has represented thousands of clients from simple to complex cases, which were resolved with the best possible outcome.
The past 20 years have seen Jeffrey appearing in many Courts including the Provincial Court and Superior Court of Ontario. Thus, clients are assured that he has a great understanding of the ins and outs of court proceedings and can discern the best defence for their case.
Jeffrey is knowledgeable and has helped clients through difficult situations, easing their stress and anxiety. He does this by educating clients about the legal process, as well as showing genuine empathy for their circumstances.
Clients also appreciate how responsive and honest he is. All their questions are satisfactorily answered, and he commits to full transparency when it comes to telling his clients about their chances.
Compared to other law firms having a lot of lawyers to work on different cases, Jeffrey is a solo practitioner. He might not be able to accept a lot of cases at the same time but clients have witnessed how he works diligently until the cases are resolved.
Of course, he gets his fair share of criticisms. We've heard of instances when he was not as prompt as he usually is with responses.
But these are isolated cases as Jeffrey prides on making himself available to clients 24 hours every day.
In fact, he offers a free consultation which you can request on his website. In this meeting, he will discuss the legal issues and let the client know if he can take on the case.
Great understanding of court proceedings
Educates clients about the legal process
Offers free initial consultation
Commits to full transparency on client's chances
Solo practitioner – may not be able to handle a large caseload
Some reports of delays in email replies
Customer Reviews
Less stressful process
"Jeffrey truly cares about his clients as well as the quality of his work. Knowing him for the past 7 years, he has never disappointed. He goes above and beyond with the efforts he puts towards every single legal matter. He makes the process the least stressful possible and we are always reassured knowing that Jeffrey is taking care of the case.
Thank you so much for everything you've done!" – Sahra
Best in the business
"This low key criminal defence lawyer is a force to be reckoned with. We have had the opportunity to let him do his magic on four cases within the last couple years. And although we are still in the midst of one of them I sleep well every night knowing Jeffrey is our lawyer. Each time when we expected to feel the wrath of our charges he somehow pulls off the unexpected and we have never seen a night in jail nor even have a criminal record. Ive never seen anybody go above and beyond better than Jeffrey Reisman. If there is only one chance in a hundred for you to beat the charges Jeffrey Reisman will capitalize on that chance and come out on top. Best in the business. Shows Knowledge. Integrity. Compassion." – Strawberry
5. Charitsis Law Criminal Defence Lawyers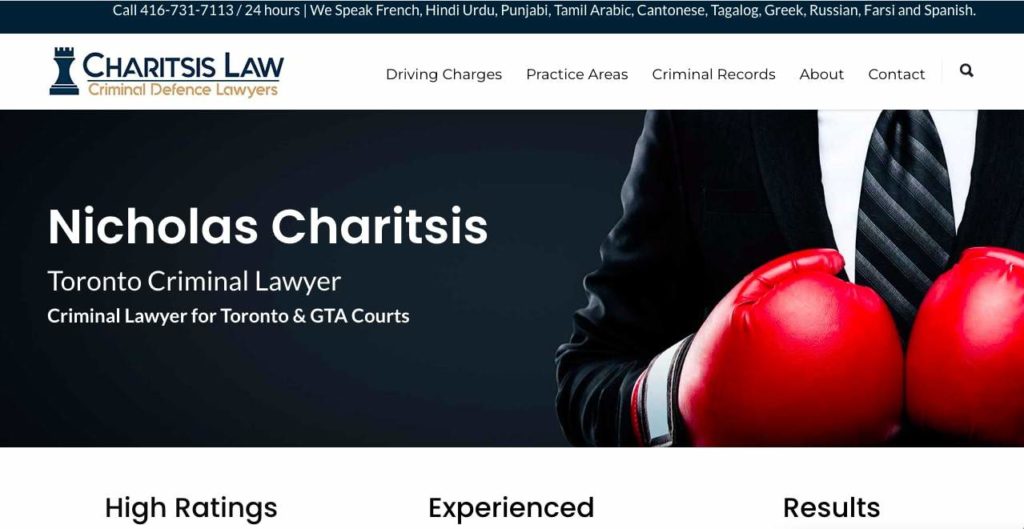 Test
Info
Services

Driving Charges

Sexual and Domestic Assualt

Criminal Records for Canadian and non-Canadians

Website
https://www.ontario-criminal-lawyers.com/
Address
1000 Finch Ave W Suite 705, Toronto, ON M3J 2V5
Contact Details
416-731-7113
Operating Hours
Monday- Sunday: Open 24 hours
| | |
| --- | --- |
| Criteria | Rating |
| Efficiency | ★★★★★ (5/5) |
| Availability | ★★★★★ (5/5) |
| Legal Experience | ★★★★★ (5/5) |
| Customer Service | ★★★★☆ (4/5) |
Charitsis Law Criminal Defence Lawyers is headed by Nicholas Charitsis, a criminal lawyer for Toronto and GTA courts.
From the many success stories we've heard, it seems this law firm has helped clients by continually safeguarding clients' reputation and livelihood throughout the duration of their cases.
Having appeared in more than 4,000 cases, we're convinced they're one of the industry's most seasoned firms. In fact, we hear they're known for their strong technical legal motions and arguments and excellent cross-examinations.
Its approach to ensuring clients get the best possible defence is by understanding the current situation and taking a cue from previous experiences. This is a great marriage of hindsight and relevance, which allows them to approach the case from different perspectives.
The team is responsive to queries and gives timely information so clients know what is happening.
We appreciate that they have a 24-hour hotline and offer a free initial consultation. Clients like that their lawyers are attentive, thorough, and prepared – even if consultations are done over the phone.
However, no law firm is perfect. With Charitsis, we've heard of instances when follow-up emails and phone calls were not answered right away.
This firm also charges a little bit more compared to other law firms, but given their stellar track record and high calibre of service, we're willing to let that one slide.
Varied experience in court proceedings
Excellent cross-examination skills
Free initial phone consultation
24-hour hotline
Some reports of delays in answering email and phone calls
Pricier legal fees
Customer Reviews
Highly recommended
Extremely satisfied with the results of my case. Nicholas went the extra mile to explain the process to me and got me the result of no criminal record. The judge congratulated me and said that your lawyer worked out an excellent resolution. I would highly recommend Nicholas to all my friends and family in need of a criminal lawyer. – Reza
Accommodating and compassionate
Nicholas has been a revalation to me! I struggled finding a lawyer based on my income and was very stressed about approaching my first charges and dealing with court. Nicholas was not only accomodating and compassionate to my situation, he helped me with the utmost professionalism and care and will only retain him for any matter I have. – Muji
FAQs on Criminal Defence Lawyers
---
That wraps up our reviews of the best criminal defence lawyers in Toronto! Hopefully, this list has been of help in your search.
For other legal concerns, check out these related reviews on the site: