THE 5 BEST TENNIS COACHES IN TORONTO
Stepping onto the tennis court isn't just about volleys and serves; it's a dance of finesse and power. But let's face it, even Houdini needed a few tricks up his sleeve. If you're taking your first swings or aiming to refine your game, the expertise of seasoned coaches can make all the difference.
This list includes the city's best tennis coaches who excel in refining techniques, from footwork to strategic plays, providing students not only with skills but also an enduring love for the sport.
How We Chose the Best Tennis Coaches in Toronto
How Much Does a Tennis Coach Cost in Toronto?
On average, the cost of hiring a tennis coach in Toronto is around $45 per hour. This rate can vary based on factors such as the coach's expertise, credentials, and the student's skill level.
1. Simon Bartram – Toronto Lawn Tennis Club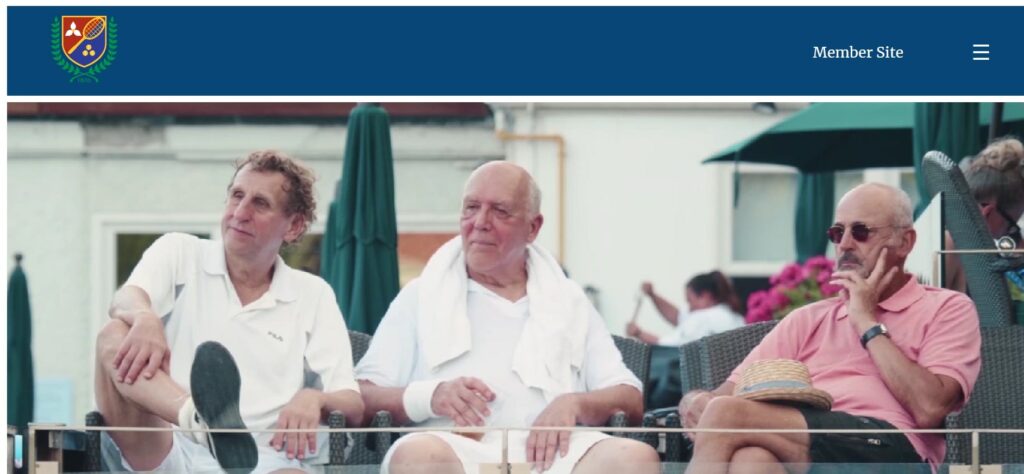 Test
Info
WEBSITE
https://www.torontolawn.com/
ADDRESS
44 Price St, Toronto, ON M4W 1Z4
SOCIAL MEDIA
FACEBOOK
CONTACT DETAILS
PHONE: (416) 922-1105
OPERATING HOURS
Monday - Saturday: 6:00 am - 11:00 pm

Sunday: 6:00 am - 9:00 pm
Simon Bartram is a former recipient of a trio of awards from Tennis Canada, namely Course Facilitator of the Year, Tennis Professional of the Year, and Coach of the Year.
He is currently the tennis director at the Toronto Lawn Tennis Club, with credentials standing tall as a Level 4 coach and Club Pro 3 certified by Tennis Canada.
With his performance as a former ATP-ranked competitor, he has been coaching tennis enthusiasts and professionals since 1990.
Simon's expertise supports his coaching portfolio, which extends to former WTA players. Notably, he earned the Tennis Canada Coaching Excellence Award, a testament to his contributions to nurturing talents like Daniel Nestor and other triumphant members of the Sunshine Cup-winning team.
Simon's students can play year-round tennis at The Lawn and maximise its 14 outdoor Har-Tru courts, including lit options for summer nights and winter-ready options like covered clay and indoor Plexi-cushion courts.
Coached Olympic tennis players
Accepts students year-round
Club Pro 3 Certified by Tennis Canada
Very classy and stylish
"It's an amazing club very classy and stylish makes you feel like "a one percenter" Very elite club and Makes you strive to make more money and enjoy the greatest things in life when you are around stylish classy elegant people that have sense of the world."
Daryl Weber, Google Review
Excellent family club
"Historically a leading tennis club in Canada whose origins are as almost as old as Canada itself (1876). Many of the best players in Canada are affiliated with the Club. Excellent family club, although it could be much stronger (given the Club's resources and facilities) on high performance junior development . It has a current staff of excellent pro's."
Stacey Reginald Ball, Google Review
2. Niki Naderiasrami – BreakPoint Tennis Club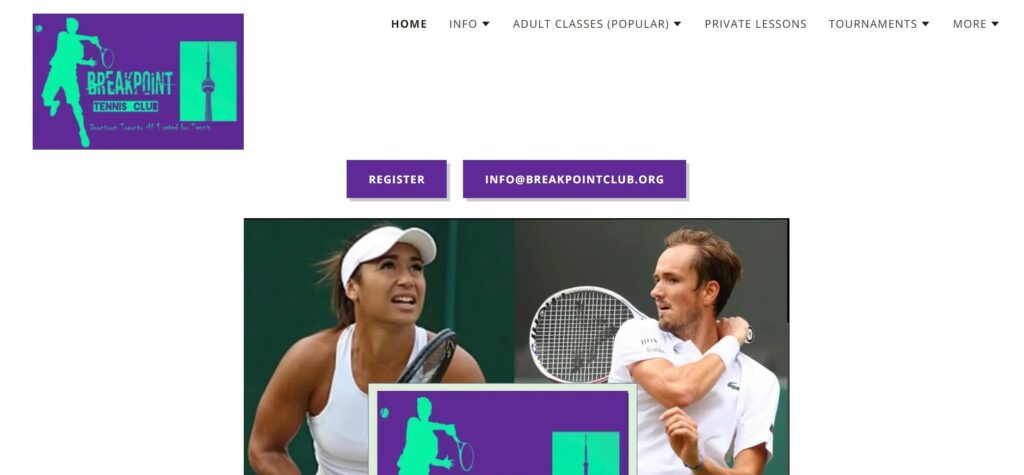 | Test | Info |
| --- | --- |
| WEBSITE | http://www.breakpointclub.org/ |
| ADDRESS | 510 King St E #809, Toronto, ON M5A 0E5 |
| SOCIAL MEDIA | INSTAGRAM |
| CONTACT DETAILS | PHONE: (647) 894-3977 |
| OPERATING HOURS | Monday - Sunday: 7:00 am - 10:00 pm |
Niki Naderiasrami's journey began as an assistant tennis coach at "Mani Club" in Mazandaran before earning her Tennis Professional Association (TPA) certification in 2022. She currently coaches at renowned clubs like Break Point, Toronto's Mayfair Club, and Oshawa's ICM Tennis Club, where she handles students of diverse skill levels.
Niki aims to provide a relaxed and amiable learning environment that encourages students to elevate their game, whether newcomers to the sport or those seeking to hone their abilities.
She excels as both a coach and player, earning York Mills MVP honors and achieving remarkable victories in regional and city Toronto District School Board (TDSB) championships. Her prowess extends to doubles as well, clinching gold and bronze in TDSB doubles championships.
Niki offers different group, semi-private, and one-on-one tennis classes to accommodate the students' availability and skill level.
Coaches at multiple locations
Relaxed and amiable teaching environment
Accepts beginners  
Limited slots for new students
Very well organized
"My partner and I really enjoy the beginner adult coed classes. We've had Coach Neel and Coach Max so far and both were great. Their office is very well organized and they run their classes on private courts which is hard to find downtown Toronto."
Jada Assunta, Google Review
Fun lessons and a great workout
"Excellent communication. Fun lessons and a great workout! I really appreciate the energy Coach Dave brings to the lessons."
Adlene Dervil, Google Review
3. Mike Czerwinski – MC Academy of Tennis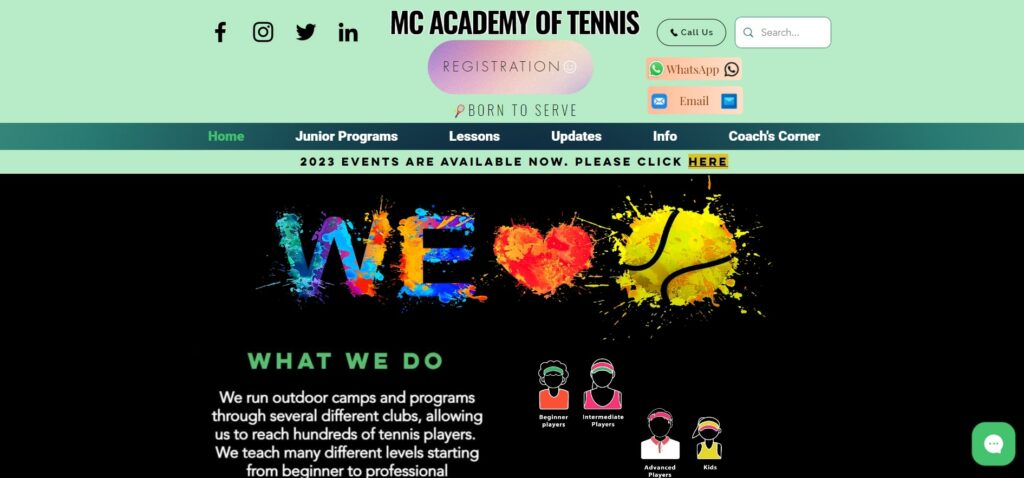 | Test | Info |
| --- | --- |
| WEBSITE | https://www.mcacademyoftennis.com/ |
| ADDRESS | 400, 410 Martin Grove Rd #400, Etobicoke, ON M9B 4L9 |
| SOCIAL MEDIA | INSTAGRAM |
| CONTACT DETAILS | PHONE: (416) 821-5555 |
| OPERATING HOURS | Monday - Sunday: 6:00 am - 11:00 pm |
After competing in professional tournaments, Mike Czerwinski seamlessly transitioned into the world of coaching, now boasting 25 years of coaching experience under his belt.
He wears two hats as owner and head coach at MC Academy of Tennis, bringing a unique approach to coaching by combining solid technique with fun through group practices and tandem plays.
Notably, Mike's coaching has paved the way for many of his students to excel in national events, clinch NCAA scholarships, and shine in provincial, national, and ATP tournaments.
His diverse roles span from being a playing and teaching professional at TG Rüsselsheim to pivotal Head Pro positions at Mayfair West Racquet and Fitness Club, Forest Hill Tennis Club, and Martingrove Tennis Club.
Mike's lessons exclusively take place outdoors. However, for adults, The Academy provides an indoor program at Veneto Tennis Club, available from mid-January to the end of March.
25 years of coaching experience
Fun teaching methods
Coaching techniques yielded successful results
Limited availability during tournament season 
Very knowledgeable and patient
"Coach Mike and his team are amazing! My kids (8 y/o girl and 6 y/o boy) have tennis classes with him for 3 years now and they love it! Every year we register them for summer camp and our kids have a blast! Mike is a natural, is very knowledgeable and patient and all kids really enjoy learning with him. It is really fun and you see they get the technique within a few classes! Thank you guys and see you again in June!"
Luciano Oliveira, Google Review
Professional and courteous
"This is the 2nd session and so far we are very pleased with coach Mike and his team of coaches for the junior league. They are very professional and courteous and above all make it fun for the kids. Always receptive to suggestions based on feedback provided which I can attest to."
Hina Marsonia, Google Review
4. Milana Drca – Toronto Tennis City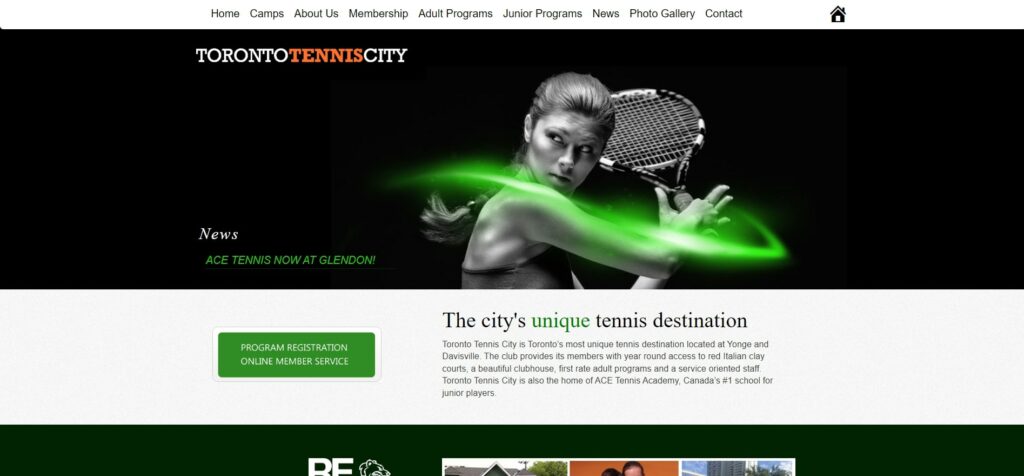 | Test | Info |
| --- | --- |
| WEBSITE | https://torontotenniscity.com/ |
| ADDRESS | 185 Balliol St, Toronto, ON M4S 1C2 |
| SOCIAL MEDIA | INSTAGRAM |
| CONTACT DETAILS | PHONE: (647) 381-6464 |
| OPERATING HOURS | Monday - Sunday: 6:30 am - 10:30 pm |
Milana Drca has served as a tennis coach at renowned establishments, including One Health Clubs, Mayfair West/Lakeshore, and ACE Tennis. She holds a range of qualifications, including being a Tennis Canada Certified Instructor, and a Tennis Canada Club Pro 1 Candidate.
Her coaching philosophy revolves around cultivating a strong mental mindset, honing strategic thinking, and fostering a deep understanding of the game's nuances.
Additionally, she places a strong emphasis on match simulation and scenario-based training, allowing her students to develop the ability to make quick, informed decisions during high-pressure situations.
In 2019, she clinched victories in the OTA Henry Farm Open (350) and the OTA Thornhill Park Open (350). She also participated in the ITF Tevlin W60 Challenger.
With a career-high national ranking of 27, she consistently excelled in competitive tournaments. Notable highlights include her victories in the OTA Adventure Valley Open in 2020.
27th in the national ranking
Coaches at multiple locations
Scenario-based training
Polite and friendly and inclusive
"I LOVE this club! It's one of the best tennis clubs in the city. The tennis coaches are top of the line. Mike and Simon are amazing and the others are too. The members are also very nice and everyone is polite and friendly and inclusive. I've made wonderful friends here and also improved my skills considerably."
Liza B, Google Review
Convenient location
"There are four red clay courts. Bubble in the winter to stay warm. Convenient location south east of Davisville station. There is a reception area that also sells some beverages and tennis balls. It's advisable to bring your own water as there are no fountains readily available. Sobeys supermarket is on the same street. Washrooms are located downstairs."
Jay A, Google Review.
5. Branko Stamenic – The Supreme Court Tennis Club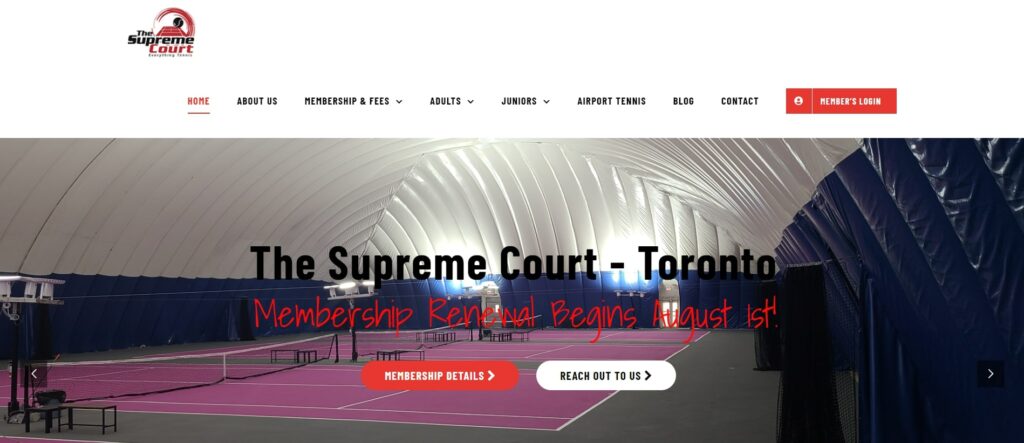 Branko Stamenic has a remarkable career spanning 25 years in high-performance and club-level coaching. He's been developing numerous provincial and national champions across various age divisions, as well as contributing to the success of Dutch Under-16 national champions.
He served as the Head Tennis Professional at Thorncliffe Park Tennis Club, played a pivotal role as a club professional at Mayfair Clubs, and contributed his expertise to seasonal clubs like Kew Gardens Tennis Club.
Beyond Canada, Branko's dedication has also influenced numerous athletes to secure Division 1 NCAA scholarships in the United States. He also conducted coaching tours in Australia, Serbia, and Dubai.
Recently, he started focusing on kids' high-performance training to nurture the next generation of tennis talents. His current roles include a tenure as a year-round coach for Peak Performance Academy, The Supreme Court Tennis Club, and Advantage Tennis International.
Focus on kids' high-performance training
Coaches at multiple locations
Multi-country coaching tours
Year-round availability 
Reports of a long waitlist 
There are four courts all in good conditions
"It is a good option for indoors tennis. There are four courts all in good conditions. There is less than expected space around each court but ok. It is tricky to get in. You have to use the door from the parking lot."
Farhang Tarlan, Google Review
The fees/rates are unbeatable
"Hands down, best winter tennis club in Toronto. You can book courts at various times (not just after 10pm), play on various competitive league teams, get lessons from the top pros/coaches in the country, and the fees/rates are unbeatable."
TheMrjasonoh, Google Review
---