THE BEST AESTHETIC CLINICS IN TORONTO
Aesthetic clinics aren't just sterile spaces; they're palettes where skilled hands create the best version of yourself.
With the increasing popularity of aesthetic treatments in Toronto, these clinics stand out for their certified staff and innovative treatments, ranging from non-surgical facelifts and rejuvenating skin therapies to advanced body sculpting procedures.
Whether it's a simple facial treatment or a complete makeover you're looking for, this list of Toronto's best aesthetic clinics can help you achieve that dream look and boost your self-confidence!
How We Chose the Best Aesthetic Clinic in Toronto
How Much Do Aesthetic Treatments Cost in Toronto?
In Toronto, you can expect to pay anywhere from $200 to $10,000 for a single treatment. 
This can vary depending on the type of treatment you are looking for, the experience of the practitioner, and the location of the clinic.
1.  Royal Treatment Medical & Cosmetic Aesthetics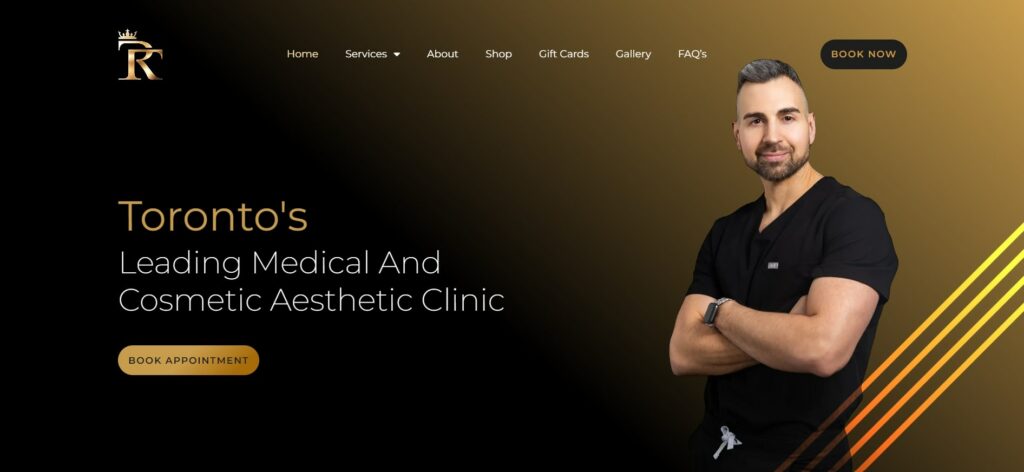 Test
Info
WEBSITE
https://www.royaltreatmentmedical.com/
ADDRESS
7 Grenville St, Toronto, ON M4Y 1W9
SOCIAL MEDIA
INSTAGRAM
CONTACT DETAILS
(647) 202-1839
OPERATING HOURS
Tuesday: 3:00 pm - 9:00 pm

Wednesday: 9:00 am - 2:00 pm

Thursday: 2:00 pm - 7:00 pm

Friday: 9:00 am - 5:00 pm

Saturday: 10:00 am - 3:00 pm
Conveniently located in downtown Toronto, Royal Treatment is led by Matthew Royal, who brings his nursing expertise and advanced injectables certification to the forefront. He specialises in anti-aging and wellness treatments, as well as cutting-edge medical and cosmetic injectable procedures.
Royal Treatment creates personalised treatment plans and offers complimentary consultations, ensuring all shared information remains confidential.
The clinic exclusively utilises Health Canada-approved products sourced directly from manufacturers, complete with drug information numbers (DIN), lot numbers, and expiration dates.
When it comes to dermal fillers, they solely use hyaluronic acid-based options. The benefit, you may ask? If you're not happy with the results or want to go back to how you looked before the procedure, they can easily and safely undo the filler using hyaluronidase.
Free Consultation
Health Canada-approved products
Step-by-step explanation of treatment plans
Varying hours of operation 
Convenient location
"I was referred by a friend to see Matt and I had a great experience! He is so professional and makes you feel comfortable with his breadth of knowledge & experience. His studio is really nice & in a convenient location. He's very responsive to any questions you may have pre and post-appointment- can't recommend him enough!"
Nicole McEachen, Google Review
Clinic is fresh, clean, and comfortable
"Matt is simply amazing. The clinic is fresh, clean, and comfortable. Matt is friendly, informative, patient, and takes great care. I've been able to achieve and maintain the Botox results I wanted that I couldn't get elsewhere. No awkward upselling or making you feel like you need more work done than you want. 10/10 would recommend to anyone wanting A+ service and results."
Summer Jones Fielding, Google Review
2. Therapeutic Aesthetics of Toronto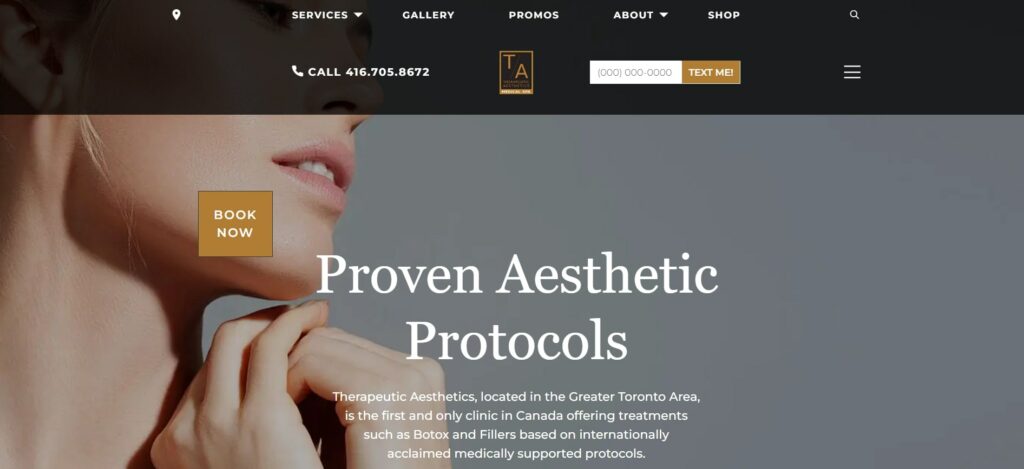 Founded in 2017 by Dr. Nitin Chauhan and Ashley Haydarian, RN, Therapeutics Aesthetics offers aesthetic treatments that are approved by the Royal College of Physicians and Surgeons of Canada (RCPSC), the College of Family Physicians of Canada (CFPC), and the Canadian Nurses Association (CNA).
They've also been voted Best Medical & Aesthetic Skincare Clinic 2023, Best Juvederm Clinic 2023, and Best Medical Clinic 2023 by prominent aesthetic organisations in the country.
The clinic focuses on enhancing appearance and well-being through non-surgical treatments. They offer services including BOTOX, body sculpting, hair restoration, O-Shot vaginal rejuvenation, and more.
If you are looking to enhance the shape and firmness of your buttocks without undergoing surgery, their Sculptra non-surgical butt injections are a standout feature. This innovative treatment uses poly-L-lactic acid (PLLA) to stimulate your body's natural collagen and elastin production, resulting in a more youthful and sculpted appearance.
Focus on non-surgical treatments
Multiple clinic locations
Offers financing options
I felt 10 years younger
"Great experience with Maryam. I love her expertise and the fact that she genuinely cares that her patients get the right treatment. After my treatment with Maryam, I felt 10 years younger! Great experience. I will certainly be going back!"
Ana Marica, Google Review
Excellent client service
"It's been two years since I've recognized myself in the mirror after a botched filler application from another facility. I did not believe there was much hope for correction but put my faith in Maryam and am so grateful I did – this clinic truly stands by its philosophy of natural over excessive. After one session with Maryam, who put me at ease with her therapeutic plan, I instantly recognized my face again. Wonderful experience, and excellent client service from Nurse Kennie – I will absolutely be going back!"
Julie Barbati, Google Review
3. OxyBeauty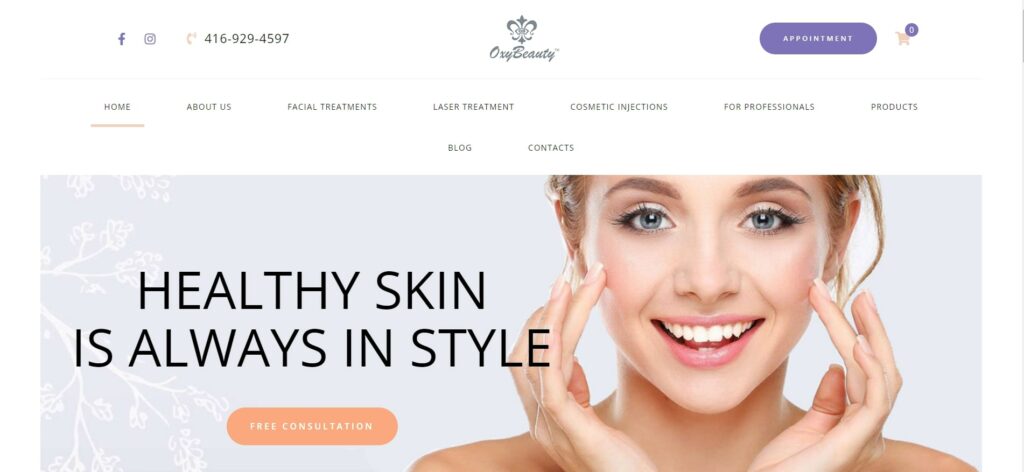 | Test | Info |
| --- | --- |
| WEBSITE | https://oxybeauty.com/ |
| ADDRESS | 14A Hazelton Ave Suite 304, Toronto, ON M5R 2E2 |
| SOCIAL MEDIA | INSTAGRAM |
| CONTACT DETAILS | (416) 929-4597 |
| OPERATING HOURS | Monday - Saturday: 10:00 am - 7:00 pm |
OxyBeauty was founded in 2004 by Dr. Yuriy M. Dolzhykov, a seasoned practitioner with over three decades of expertise in plastic and reconstructive surgery.
Dr. Dolzhykov introduced needleless OXYjet mesotherapy to Canada. This oxygen treatment, proven to be entirely safe, stimulates collagen production, cleansing, and deeply hydrating the skin.
It delves deep into the skin's layers, providing non-surgical solutions for skin revitalization, skin renewal, scar removal, stretch mark treatment, laser hair removal, skin resurfacing, and leg vein clearance.
A cornerstone of OxyBeauty's repertoire is the iconic Complete Skin Revitalization With Icon™ treatment, an advanced approach that combines laser, IPL, and Skintel treatments for exceptional results.
This treatment is tailored for women aged 30 to 55 and addresses various skin concerns such as skin ageing, wrinkles, dark spots, uneven skin tones, and acne.  
Pioneer in needleless Oxyjet mesotherapy
Free consultation
Convenient location
My existing pimples disappeared
"Absolutely loved my experience there: from the moment you enter and are greeted by Victoria herself to the moment you leave it is a pleasant experience! I rarely (if ever) allow anyone to touch my face but the doctors at the clinic are just so professional it is hard not to trust them and their work!
I got Oxyfacial at the clinic and could not be happier with the result: my face calmed down, looks plumper and brighter!! My existing pimples disappeared and the best thing is my skin condition keeps improving 2 days after the facial! Can't wait to be back!"
Killian Jones, Google Review
Friendly and professional environment
"My cousin recommended OxyBeauty and I'm really glad she did! From the moment I walked in the door, I was welcomed into a friendly and professional environment. Victoria was very personable and very knowledgeable about the procedures and treatments. I would highly recommend OxyBeauty to anyone."
Sydney Carey, Google Review
4.  D Luxe Lab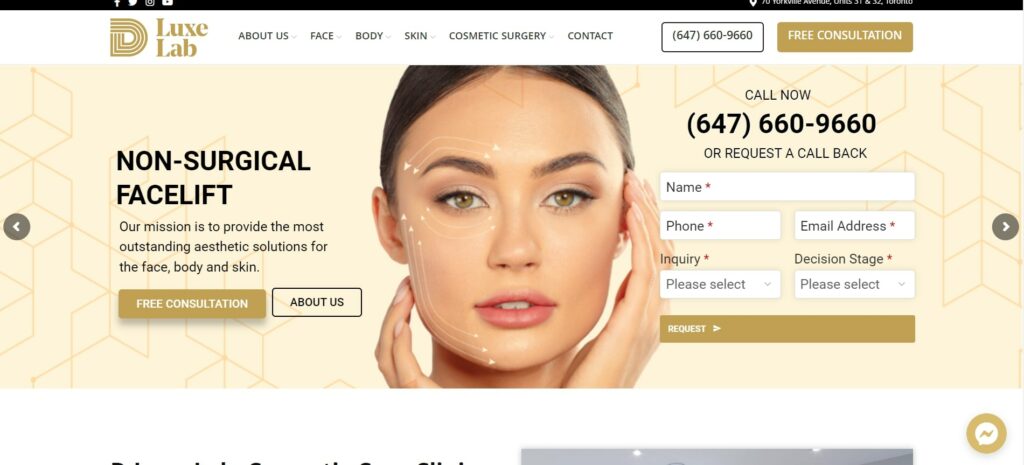 | Test | Info |
| --- | --- |
| WEBSITE | https://dluxelab.com/ |
| ADDRESS | 70 Yorkville Avenue Units 31 & 32, Toronto, ON M5R 1B9 |
| SOCIAL MEDIA | INSTAGRAM |
| CONTACT DETAILS | (647) 660-9660 |
| OPERATING HOURS | Monday - Saturday: 9:00 am - 7:00 pm |
Located in the upscale Yorkville area, D Luxe Lab specialises in non-surgical solutions for the face, body, and skin. They've been featured in well-known magazines like Us Weekly, Variety, and Vogue.
D Luxe Lab offers free consultations that provide honest and transparent advice, ensuring patients receive the best solutions without feeling pressured. From individual assessments, their certified professionals design customised treatment plans.
They recently partnered with Acorn Biolabs to introduce an innovative service called stem cell banking. This procedure was pioneered by Dr. Drew Taylor, who holds a Ph.D. in Biomedical Engineering from Toronto General Hospital.
Through the non-invasive collection of cells from hair follicles, these cells can be cryogenically frozen, preserving their youthful vigour and potential for future regenerative therapies.
Pioneers in stem cell banking
Free consultation 
Friendly staff
Convenient location
Clinic is modern, clean and beautiful
"I can't recommend D Luxe Lab enough. The location is fantastic; the clinic is modern, clean and beautiful. The staff are wonderful. Alifyah did an amazing job with my RF micro needling and laser resurfacing. She was patient and professional and took time to apply two rounds of topical numbing cream. She made me feel at ease throughout the whole procedure. I will be back!"
Halla Shami, Google Review
All the staff there is amazingly kind
"I did a Chemical Peel and IPL Full face and it has been the most amazing experience of my life! Giselle is taking care of me and she is the sweetest human ever! She explained everything to me from A to Z. She took her time to make me feel comfortable. And my skin is looking unreal! I am more than happy. All the staff there is amazingly kind! I recommend them 100%! I wish them all the best! :)"
Joy Happiness, Google Review
5.  Sovereign Skin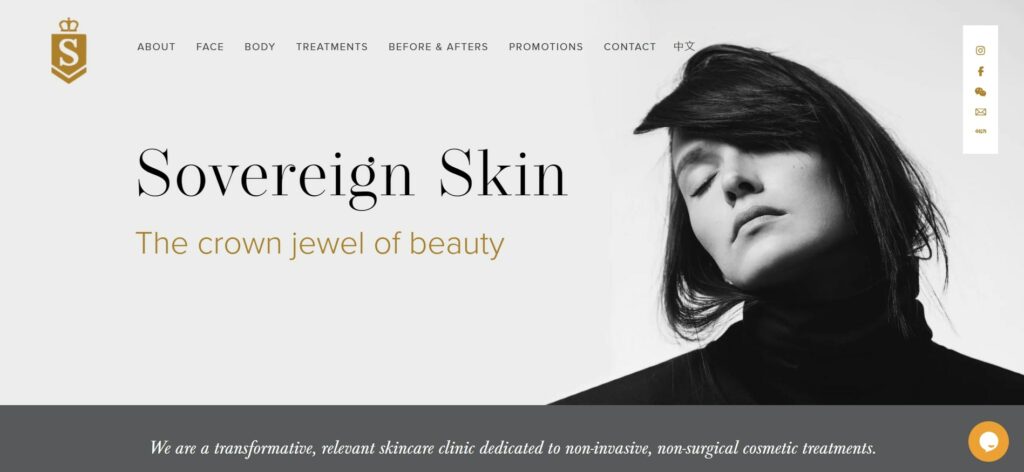 | Test | Info |
| --- | --- |
| WEBSITE | https://sovereignskin.com/ |
| ADDRESS | 59 Hayden St #701, Toronto, ON M4Y 0E7 |
| SOCIAL MEDIA | INSTAGRAM |
| CONTACT DETAILS | (647) 343-0801 |
| OPERATING HOURS | Monday - Friday: 8:00 am - 5:00 pm |
Sovereign Skin boasts a team of Canadian-trained medical estheticians and technicians who excel in the latest non-surgical cosmetic innovations. Their estheticians create personalised treatment plans to address individual concerns, with multiple post-treatment checkups to ensure both safety and satisfaction.
The clinic also specialises in conducting chemical peels and light laser treatments like IPL. Beyond the medical staff, the front desk personnel are equally well-informed and adept at explaining treatment options and procedure details.
One popular choice is the Green Toning treatment, which uses the StarWalker laser by Fotona. It works well for things like unwanted skin colour, dark circles under the eyes, and uneven skin tone. It's especially good for people with Asian skin who deal with dark spots, scars, and melasma.
This laser treatment not only makes pores smaller and improves skin colour, but it also fixes sun damage and makes treated areas smoother, giving clients a fresher look.
Knowledgeable staff including front desk 
Multiple post-treatment checkups
Competitive prices 
My skin has improved a lot
"I did the Fotona acne Laser about 2 weeks ago, and I had a really great experience! I met with Anna for a consultation first, and she was very kind, honest, and informative about the procedure. During the procedure, she made sure I was comfortable for the entire duration. My skin has improved a lot, which was a lot quicker than I expected! I really recommend Sovereign Skin for their services and hospitality!"
Ryan Nhan, Google Review
Staff were super friendly
"I did my Fotona green toning treatment about a month ago to address my hyperpigmentation and brown spots concerns. All the staff were super friendly and professional. Summer at the reception answered a lot of my questions even before my visit to help my select the most suitable treatment. The nurse Anna is very knowledgeable and very gentle when performing the treatment. The result was noticeable right after the treatment, will definitely come back and try other treatments as well in the future."
Angelina Zhang, Google Review
---