8 Clinics for the Best Botox in Toronto
All it takes is one Botox session to erase 10 years in your facial appearance. If you want to return to your youthful beauty, the clinics offering the best Botox in Toronto can help you!
In this article, we'll run through the top clinics for this procedure. Of course, we'll also take a look at the cost of Botox injections here, to provide you some insight on how much you'll spend.
The Cost of Botox Injections in Toronto
The cost of Botox injections depends on two factors. The first one is the treatment area, the second one is the Botox unit.
A Botox unit refers to the amount and strength of the Botox injectable. The Botox units you need depend on the results you want to achieve.
In Toronto, a Botox unit costs about $10 to $17. But some units cost more depending on the specialist injecting them.
For instance, an experienced plastic surgeon may charge $18 for the first 60 units. Meanwhile, with an injection nurse, you may only have to pay $8 to $12 per unit.
To illustrate, let's say you need 6 Botox units for your forehead lines and 10 Botox units for frown lines. As an example, the clinic you're getting injections from charges $10 per Botox unit.
| | |
| --- | --- |
| 6 Botox units x $10 | $60 |
| 10 Botox units x $10 | $100 |
| Total | $160 |
Note that this is not a one-size-fits-all scenario. You need more or less than the example we gave.
The Best Botox Clinics in Toronto
With the potential costs in mind, we can now move onto our list of the best Botox clinics in Toronto.
1. Skinjectables Cosmetic Clinic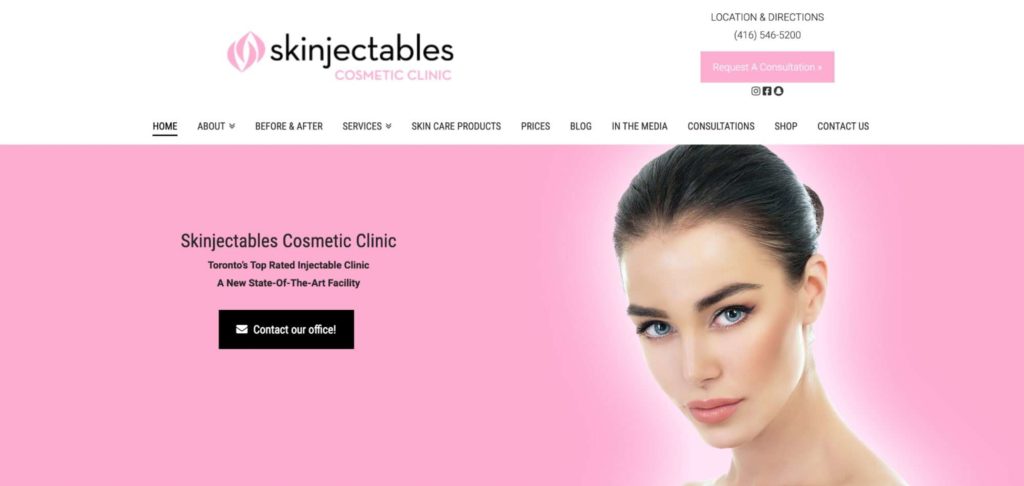 SERVICES
Botox, dermal fillers, hand rejuvenation, latisse, lip injection, microneedling, non-surgical facelift, skinceuticals
WEBSITE
https://skinjectables.ca/
ADDRESS
Skinjectables Cosmetic Clinic, 100 Front Street West, Level D, Toronto, ON M5J 1E3, Canada
CONTACT DETAILS
(416)-546-5200
OPERATING HOURS
Monday, Wednesday, Thursday: 9:00 AM – 6:00 PM
Tuesday: 9:00 AM – 5:00 PM
Friday: 9:00 AM – 4:30 PM
Skinjectables Cosmetic Clinic offers one of the best prices for a Botox session in Toronto. Each Botox unit only costs $11 with a minimum of 10 units per session.
If you're a new customer, you would have to undergo an initial consultation. Once they've defined the treatment areas and needed units, you'll complete certain forms.
But if you're sure about the procedure, you can print and fill out their registration and consent forms. Then, you can bring these forms with you for the consultation.
For consultations, you can book one through their website. Do take note of their operating hours though, as they tend to be inconsistent.
The clinic is also closed during weekends. So, keep that in mind in case your available hours are only during these days.
While their operating hours are a bit troublesome, we can't complain about their team of specialists. They even undergo continual training with Allergan, so you're sure that they're updated with new techniques.
Plus, they use Botox approved by the FDA and Health Canada. Overall, they seem to stick to the rules, which is what we like to see in providers of services like these.
Competitive cost of Botox units
Easy consultation booking
Highly-trained injectors
Uses FDA-approved Botox injectables
Inconsistent operating hours
Closed on weekends
Customer Reviews
Here's what customers have said about the company on Google Reviews:
"I was a first time patient today and it was also my first experience with Botox or any kind of cosmetic injections. I could not be happier and will 100% be returning in the future for treatments. The atmosphere is amazing and not to mention very aesthetically pleasing. The staff are extremely friendly, professional and efficient. I will be raving about my experience for weeks and cannot look forward to my next appointment. I've had such a pleasant experience it has made me comfortable enough to explore some of the other services they offer. They're so worth it." – Theresa O'Grady
"Had an amazing experience here, got 67 units of Botox, everything was explained thoroughly and all of my questions were answered. The entire process only took about 10-15 minutes and was pain free." – Bryce Fulton
2. Sovereign Skin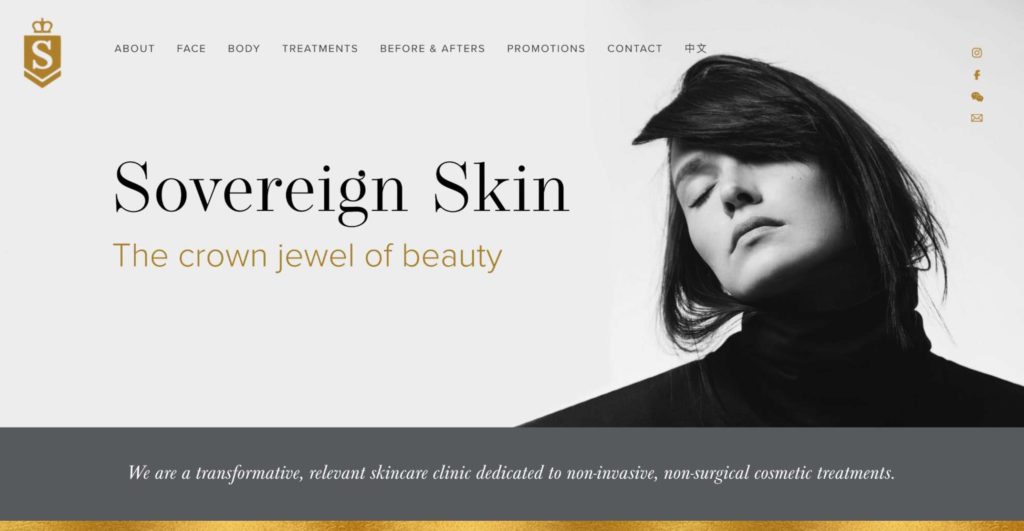 SERVICES
Botox, dermal fillers, acne and acne scarring, anti-age treatments, skin tightening, tattoo removal, body laser treatments, panda eyes laser, angel whitening laser, green toning, melasma
WEBSITE
https://sovereignskin.com/
ADDRESS
59 Hayden Street, Suite 701, Toronto, ON M4Y 0E7
CONTACT DETAILS
(647) 343-0801


[email protected]

OPERATING HOURS
Monday – Friday: 8:00 AM to 5:00 PM
Sovereign Skin prices its Botox services by treatment area. For example, to treat lines in the forehead region, they usually charge $325 + HST, but this price changes if they're treating lines around the mouth.
With this pricing scheme, you won't know the number of Botox units you're getting and paying for immediately. On the other hand, this usually guarantees that you're getting the outcome you desire.
What we liked about this clinic are its monthly promotions. Through this, you can get treatment discounts valid from the first to the last day of the month.
The only downside is that you need to wait until you see Botox treatment promotions if you really want to get the best deal possible. This is a downer if you're really impatient and don't have a lot of time.
Speaking of not having a lot of time, the clinic doesn't open on weekends. It is open during usual business hours, though, so you have great flexibility on weekdays.
Its team of nurses is specially trained with standardized cosmetic procedures. They also have Dr. Cory Torgerson on board: he has 15 years of experience as a plastic surgeon, which we like.
Offers monthly promotions for various procedures
Open in usual business hours
Great team of trained nurses
Highly experienced plastic surgeon on board
Prices are based on treatment areas
Closed in weekends
Customer Reviews
Here are some customer reviews of the clinic posted on Google Reviews:
"Their staff are professional and friendly, especially Chinese customer. She is very helpful to recommend some products on Wechat to me. I am pleased with my results and would recommend this clinic to my friends". – Han Na
"When I first arrived for a consultation, I was given a tour of the facility, it was bright and clean. During my first treatment, nurse Anna was communicating with me throughout the process to let me know what she was doing, asking me if I was okay with the heat level, she made sure I felt comfortable. I knew leaving my first treatment, I felt safe in her hands. She was easy to communicate with and was quick to respond when I had questions during my treatment aftercare. Overall, I had a great experience here and I have been recommending this place." – Vanessa Lin
3. NewDermaMed Cosmetic and Advanced Laser Clinic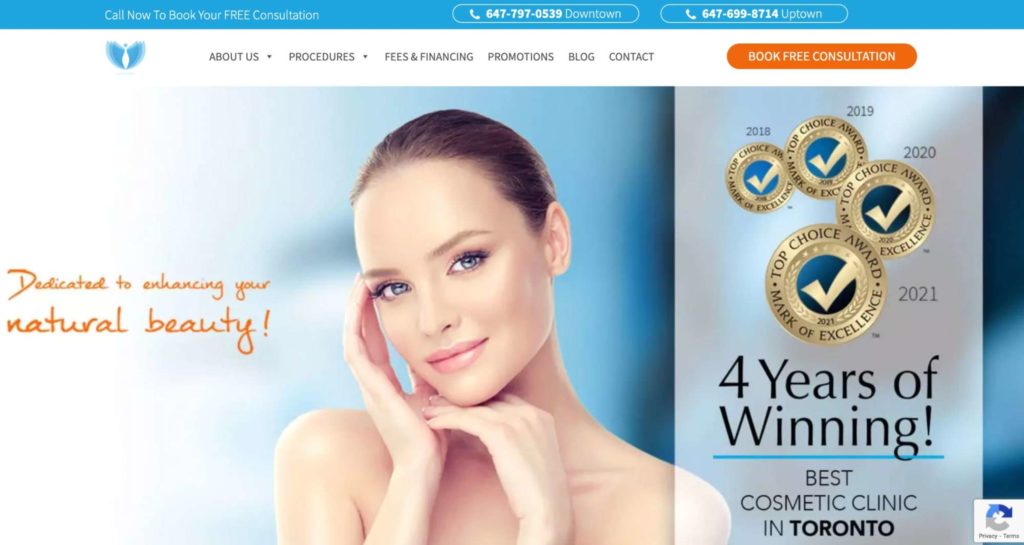 SERVICES
Botox, thread lift, lip augmentation, tear through correction, soft lift, Juvederm, VISIA complexion analysis, Belkyra for double chin (Note: these are only the services under its Botox & Dermal Fillers Clinic)
WEBSITE
https://www.newdermamedlaserclinic.com/
ADDRESS
790 Bay St. Suite 900, Toronto, ON M5G 1N8 (Downtown)
4763 Yonge St, Toronto, ON, M2N 5M5 (Uptown)
CONTACT DETAILS
(647) 797-0539 (Downtown) (647)
699-8714 (Uptown)


[email protected]

OPERATING HOURS
Monday – Friday 9:00 AM – 7:00 PM
Saturday: 10:00 AM – 5:00 PM (Both downtown and uptown)
NewDermaMed Cosmetic and Advanced Laser Clinic is one of the best Botox clinics in Toronto. It was also one of the most-often-recommended clinics when we did our survey looking for options!
It's probably no surprise, then, that this clinic has been bagging awards for four straight years. Since 2018, it's won the Top Choice Awards for best cosmetic clinic in Toronto.
It's also a winner in terms of pricing. Each Botox unit costs $12- not bad for a highly-awarded clinic.
The best part is, you can even get discounts with more Botox units. For example, you can get 25% off for a minimum of 60 Botox units.
By the way, if you're an existing client under a membership with them, the costs go down to $9 per Botox unit. On top of that, you also get free treatment.
Another thing that we loved about this clinic is that they take consultations to the next level. You can book a consultation online and give detailed information about your case.
The clinic also has three doctors on board: an aesthetic doctor, a vascular surgeon, and a plastic surgeon. We took a look at their qualifications and we're quite impressed with their certifications and education.
Apart from doctors, they also have an injection specialist and two cosmetic nurses. They also have a Customer Care representative to ensure a great experience.
Multi-awarded cosmetic clinic
Favorable cost of Botox unit
Discounts and perks for existing customers
Great online booking feature
Qualified team of doctors and nurses
Customer Reviews
Take a look at some of the reviews posted on Google Reviews about this clinic:
"I had a Botox injection by Dr.Negin Mastouri and she did a great job as always! I highly recommend her as I am very satisfied with the results on my face. I am her patient for several years and I am very happy with her knowledge and amazing behavior. I had always fear of any kind of injection, but Dr.Negin Mastouri made everything simple for me because she is a real expert in her field." – Nikki Hessami
"Friendly staff at the reception! Medical nurse was very knowledgeable and patient. She explained the procedure and aftercare very well and I got answers to all my questions. Saw the results right away and would definitely come back for treatments in the future!" – Dzmitry Zyhmantovich
4. Therapeutic Aesthetics: Botox Clinic Toronto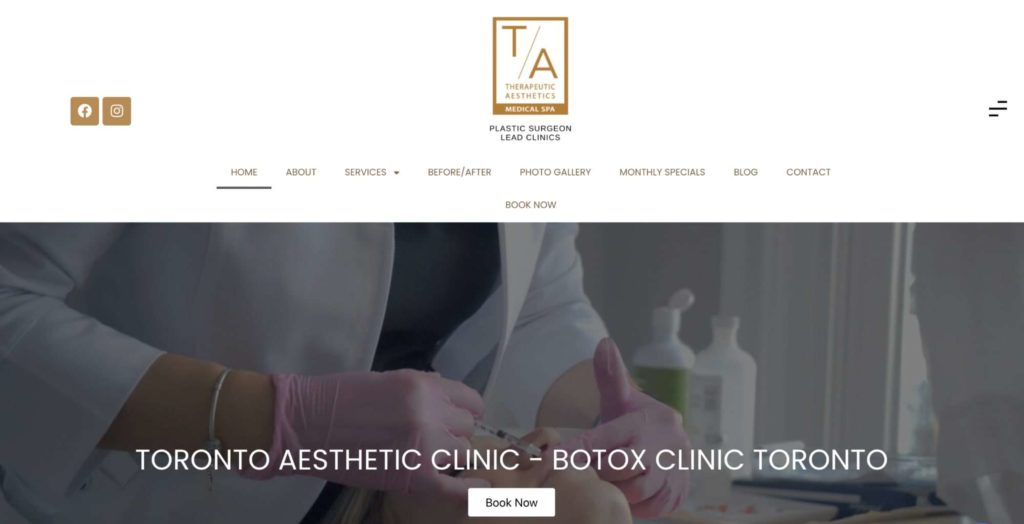 SERVICES
Botox, dermal fillers, platelet rich plasma (PRP) treatment, microneedling, body sculpting & contouring, skin tightening, anti-aging & scarring, double chin & face sculpting, rejuvenation treatments facials, photofacial (ipl)
WEBSITE
https://therapeutic-aesthetics.com/
ADDRESS
500 King St. West, Unit #352, Toronto, ON, M5V 1L9
CONTACT DETAILS
(416) 705-8672


[email protected]

OPERATING HOURS
Monday – Friday: 10:00 AM – 6:00 PM
With a 4.9 rating on Google Reviews, Therapeutic Aesthetics is one of the top-rated clinics on this list. And with over 165 reviews, it's hard to deny the quality of its services.
Speaking of quality, its team of injectors is made up of licensed medical professionals. That's always a good thing when you're talking about people who provide procedures like these.
One thing we didn't like much about this clinic is they don't give you Botox costs upfront. Fortunately, they offer a free consultation, which you can book through their website.
If you're worried about the costs, the clinic at least offers financing options for you. Through them, you can apply for a loan of up to $20,000.
Other than loans, you can also look forward to their monthly specials for discounts. However, the latest promotions we found on their website were still from June 2021.
Still, the solid testimonies from actual past clients make up for some of its flaws. Plus, their clinic is among the best-appointed ones we've visited — it just screams luxury!
High customer ratings
Free consultations
Financing options
Monthly specials for various procedures
Lacking information about their team
Monthly specials are not up-to-date
Closed on weekends
Customer Reviews
Here are some testimonies for the clinic:
"This place is the best. The manager Jen is super organized and friendly, the injector Ashley was so so so so sweet during my first-time lip filler appointment. She was constantly checking on me and asking if I needed breaks here and there. I felt so comfortable and as if I wasn't rushed. She did a great job of making my lips look natural but also more full all at the same time. 10/10 recommend and will be coming back." – Victoria Young
"I was very happy with my experience. Maryam was really nice and accommodating to the results I wanted. She took her time to listen and examine my face and then she shaped my lips with filler and injected some Botox around the lips to fix some asymmetry of the lips as well. I feel confident using their products and expertise. This place is great!" – Omni Baroi
5. The Pout Clinic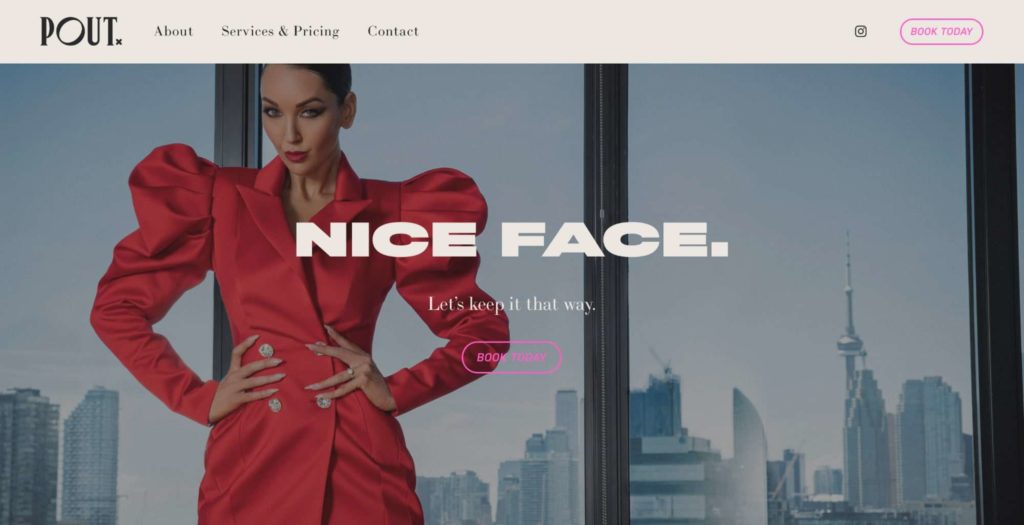 The Pout Clinic might take the cake in customer service. After all, it boasts a perfect 5 star on Google Reviews – and that's with over 300 testimonies!
As its name suggests, The Pout Clinic specializes more in lip and face fillers. But its Botox treatment is also a strong contender.
First, the prices are very competitive at $12 per Botox unit. By the way, if you sign up for a membership, you get 15% off on your first visit.
Note that the price per Botox unit varies depending on your chosen practitioner. With Megan Kozak, you'll pay $12 per unit; meanwhile, with Melissa Young, you'll pay $10.20 per unit.
Just for a bit of background, Megan Kozak is the clinic's founder. She's a certified aesthetic injector and a registered nurse – so it's safe to say that you're in good hands if you choose her.
Side note though: the clinic has very limited availability. Plus, you do need a valid credit card to reserve your appointment time.
On the bright side, they make it extremely easy for you to see their available time slots and dates. You can simply click on the available date and sign in to confirm the booking.
Perfect 5-star rating on Google Reviews
Flexible prices
Easy booking and viewing of available time and dates
Certified practitioner and nurse
Limited Botox services
Limited availability
Limited operating hours
Customer Reviews
Here are some customer reviews about the clinic:
"Pout is absolutely amazing. Not only do they have very knowledgeable and educated staff they are personable and give the best results. Their passion and care for their work and their clients is evident from the moment you enter the building, throughout the procedure and as they see you off in the end." – Kaitlin Love
"I honestly wouldn't trust this type of work with any other place! They truly take your needs/wants into consideration, but also provide you with enough facts and information to make an informed decision about what's right for "your" face. Mel is wonderful, along the whole team there. Professional, they pay attention to detail and make the entire experience super confirmable, especially helpful if it's your first time!" – Lindsay Hawes
6. Art of Facial Rejuvenation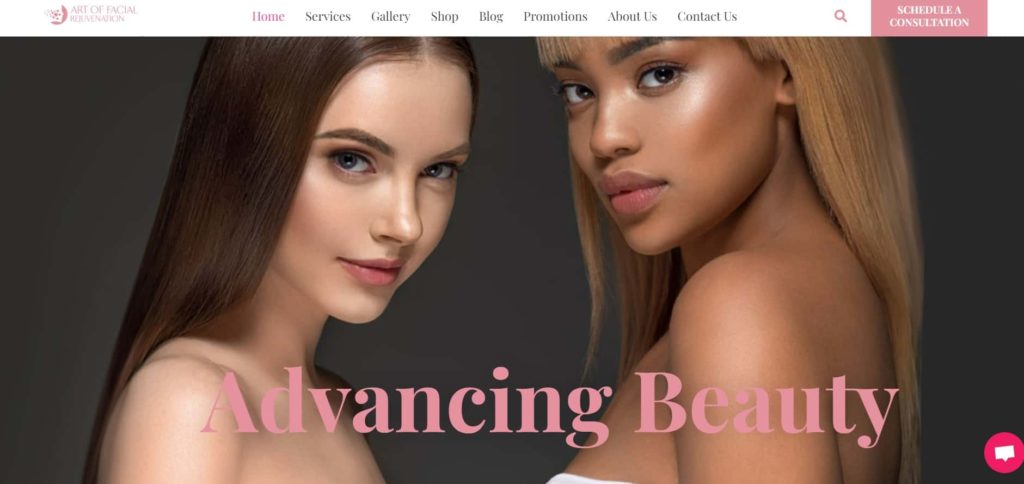 SERVICES
Massage
Injections
Weight Loss / Body Contouring
Skin Rejuvenation
Facials
Microneedling
Microblading
Micropigmentation
Acupuncture
Laser
WEBSITE
https://artoffacial.ca/
ADDRESS
177 Sheppard Ave W North York, ON M2N 1M9
CONTACT DETAILS
647-879-9181 | 416-229-2667 | [email protected]
OPERATING HOURS
Monday – Friday: 10:00 AM – 7:00 PM
Saturday: 10:00 AM – 4:00 PM
Art of Facial Rejuvenation is a clinic that offers a wide range of aesthetic services to help clients feel great, perform at their best, and become the best version of themselves by addressing their personal skin concerns.
Clients can be assured that they are going to work with professionals in the field who have a diverse set of experiences and what sets them apart when it comes to highly personalized approaches may it be for events or personal goals.
Their Botox injection services are available to be served in three brands namely Allergan, Xeomin, and Dysport to give clients more options to choose from and get reliable advice on what brand is best for their situation as well.
Though note that their Botox injection services aren't readily quoted online and interested clients may need to inquire beforehand about this.
Nonetheless, with their professional team of specialists, innovative technologies employed, comfortable facilities, and a relaxing interior, we highly recommend them to clients who are looking for professional Botox injection services.
Offers a wide range of Botox treatments
Personalized services
Innovative clinic technologies used
Customer Reviews
Here are some reviews from their clients:
"They are professionals and high educated, so kind so caring and they know what they are doing and giving me a very good service."
"Very happy with my laser treatment! Coming back in two weeks because I was very content with the service the staff provided me, as well as the quality of their work and nice atmosphere/ambiance of the clinic!"
8. Let Them Notice Medical Spa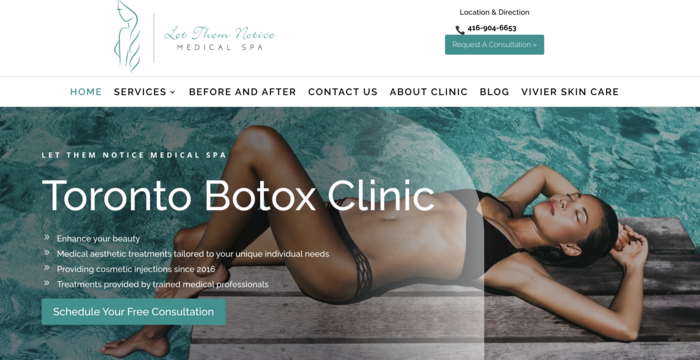 Let Them Notice is a Botox clinic based in Toronto, Canada. Their focus is on providing personalized care to their clients to help them achieve their aesthetic goals.
They offer a complimentary skin analysis to understand the client's needs and recommend the best treatment options, including Botox, fillers, PRP, and PDO threads.
Let Them Notice takes the time to understand each client's needs and offers personalized treatment options that cater to their specific requirements. This ensures that the client receives the best care possible.
Their staff is also highly professional and trained in their field. They have extensive experience with Botox injections and skin rejuvenation, which instills confidence in the clients.
We've also noticed that Let Them Notice uses state-of-the-art technology and the best injectable products available in the market. This ensures that the clients receive the best treatment possible with minimal discomfort and downtime.
However, Let Them Notice's popularity may make it difficult to schedule appointments at times that are convenient for clients. They may need to book well in advance to secure an appointment.
Personalized care
Professional staff
State-of-the-art technology
Customer Reviews
Here are some reviews from their clients:
"Wow this was a great top down experience, the nurse is very friendly, considerate and cooperative and the whole atmosphere was great. You will feel like home.. Finally, My face is hydrated, glowing and tightened. I'd highly recommend this clinic."
"Aman is amazing! So great to consult with to discuss the best options. I've been thrilled with all procedure and have been coming back for more for over a year now! I would highly recommend as her perfectionist attitude leaves you feeling like a new person!"
Common Areas for Botox Injections
You know the price, you know the best clinics… and now you need to know which areas you can get Botox injections in.
Here's a quick answer: you already know which areas in your face need Botox. After all, the treatment depends on the results you want to get and where.
But, some clients may not know which areas to treat unless they see a facial surgeon. Fortunately, professional advice from these practitioners can help a person achieve optimal results.
If you want to know your options, here are some common areas for Botox injections:
Forehead
Lines and wrinkles form on your forehead due to aging and of course, your facial expressions. The worst part is that these are the ones hardest to hide.
Frown Lines
Sad to say, no amount of happiness could ever erase frown lines. But don't get confused by the name: frown lines form between your brows.
These lines form when you furrow your brows in anger or frustration. Visit a good cosmetics clinic to reduce and smooth out these lines.
Crow's Feet
You get wrinkles when you're angry, but you also get wrinkles when you're happy. Crow's feet refer to lines that appear on the corners of your eye.
These lines are often the best gauge of someone's age. So if you want to stay younger a bit longer, take a trip to the best Botox clinic.
Neck Bands
As you grow older, you'll notice bands forming around your neck. This is because the platysma muscles begin to sag.
Botox makes these muscles relax, making neck bands less noticeable. This also affects the jawline, producing a neck lift.
FAQs About Botox in Toronto
---
Want to experience your youthful glow once again? The best Botox clinics in Toronto can help turn back time with their specialized treatments.
If you're eager to achieve a better version of yourself, take some time to also see our list of the best dermatologists in Toronto. We'd love to see you grow!