A Guide to the Best Therapeutic Massage in Toronto
Muscular pains. postural imbalances, or sports injuries? Only a good therapeutic massage can help you out.
In today's reviews, we'll feature specialty clinics that can deliver the best therapeutic massage in Toronto. Apart from the types of massage therapies, we'll also cover other matters such as cost and overall customer satisfaction.
The Cost of Therapeutic Massage in Toronto
Before we dive into individual reviews, let's talk about the costs first.
The price varies based on the type of massage and the session duration. See the table below for estimated costs of massage therapies:
| | |
| --- | --- |
| Session Duration | Estimated Cost + HST |
| 30 minutes | $57 - $66 |
| 45 minutes | $69 - $88 |
| 60 minutes | $91 - $110 |
| 75 minutes | $123 - $132 |
| 90 minutes | $124 - $154 |
Therapeutic massages are not covered by the OHIP. But there are insurance plans that cover massage therapy treatments as long as they're performed by a Registered Massage Therapist.
Check in with your insurer first to see if you're covered under your current policy.
The Best Therapeutic Massage Clinics in Toronto
Now that you know the average costs based on session duration, let's move on to the clinics that made our list. Assess your needs first so you can find a specialty clinic from or selections that can give you the best level of care and treatment for your precise situation.
1. Aches Away Toronto Massage Therapy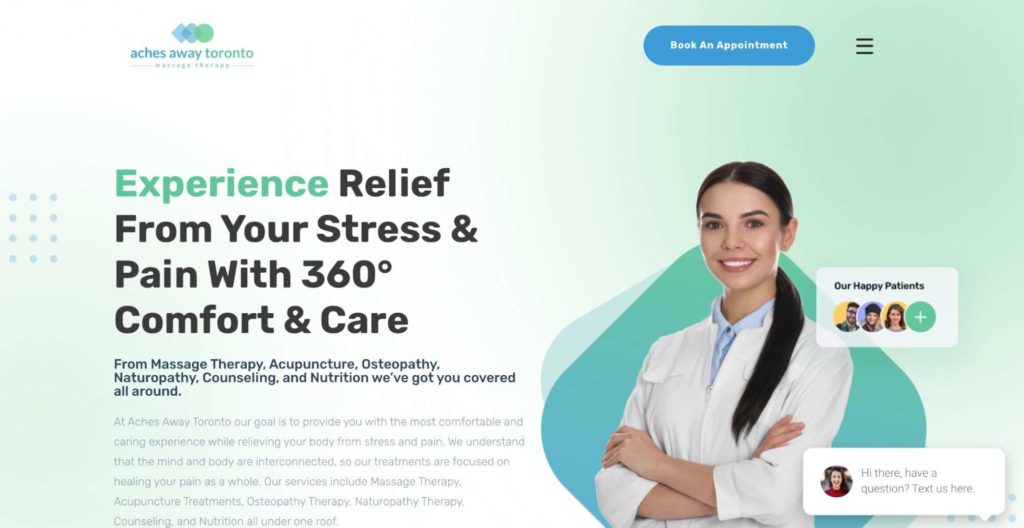 SERVICES
Massage therapy, osteopathy, naturopathic, counseling, acupuncture, health coaching
WEBSITE
https://achesawaytoronto.ca/home/
ADDRESS
2 Carlton St #707, Toronto, ON M5B 1J3, Canada
CONTACT DETAILS
+1 647-424-4528
OPERATING HOURS
Monday – Friday: 8:00 AM – 8:30 PM
Saturday – Sunday: 10:00 AM – 7:30 PM
Aches Away Toronto is all about the business of providing holistic pain relief to clients. From massage therapies to acupuncture, they offer services that – as their name says – take the aches away.
For massage therapies, you have six options. These are No Frills Massage, Sports Massage, Myofascial Release Therapy, Pregnancy Massage, Deep Tissue Massage, and All Frills Massage,
Since they don't accept walk-ins, you have to book online, which is super easy by the way. Payments are also convenient via email transfer, Mastercard, Visa, Debit, or Cash.
They have six registered massage therapists on board. Everyone is certified with a great education so we can say that you're in good hands here.
In their 10 years of business, they've already worked with more than 15,000 clients. If you want to be one of them, you can also try their other services for a complete wellness experience.
Open daily
Offers six types of massage therapies
More than 10 years of experience
Easy online booking option
Flexible payment options
Has worked with 15,000 clients
Award-winning clinic
Average pricing
No walk-ins
They can easily cancel your appointment 
Customer Reviews
Fantastic client with professional services
I've been getting regular treatments at Aches Away Toronto for many years. I don't typically write reviews but I can't resist the urge to share with everyone what a fantastic clinic this is. I've come here for massage therapy, osteopathy, chiropractic, naturopathy as well as acupuncture, and all the practitioners are professional, highly experienced, well trained, approachable and very helpful. I cannot rate my experience at Aches Away highly enough. Thank you so much and continue all the amazing work you're providing for you patients. – Catherine Taman
Provides relief for long-term issues
Have been coming here for years and recommend it to everyone! Anna and Jennifer are absolutely fabulous and incorporate unique techniques to really get into deeper tissue to resolve pain. I also see Kevin for cupping (glass/fire cupping) which this is one of the very few places I've found in Toronto which is performed by a RMT and therefore covered by insurance, luckily Kevin is also fabulous at what he does and with a combination of massage and cupping treatments I've actually been able to find relief for my long term issues. Could not recommend them enough! – Andrea
2. Step Up Massage & Rehab – Adelaide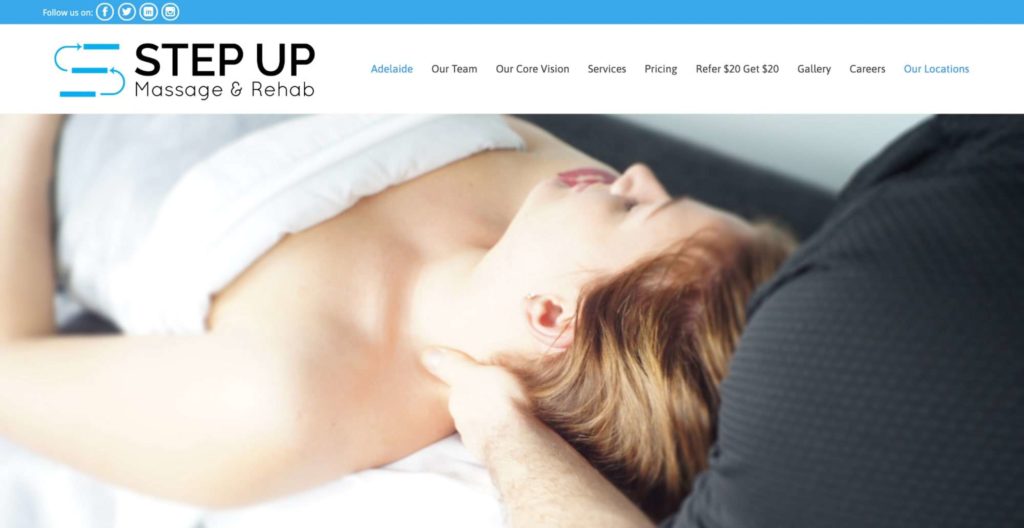 SERVICES
Registered massage therapy, chiropractic, physiotherapy, osteopathic manual therapy, acupuncture, naturopathy, psychotherapy, custom-made orthotics
WEBSITE
https://www.stepupclinic.com/adelaide/
ADDRESS
218 Adelaide St W #200, Toronto, ON M5H 1W7, Canada
CONTACT DETAILS
+1 416-300-8020


[email protected]

OPERATING HOURS
Monday – Friday: – 7:00 AM* – 9:30 PM
Saturday – Sunday: 7:00 AM* to 7:00 PM
*By Appointment Only – 7:00 AM to 10:00 AM
Step Up should be on your list if you want flexible locations and holistic services. They also offer small promotions that help offset the costs for the service you get.
The first thing we liked about them is that they have clinics in three different locations. They have one in Adelaide, one in Yonge & St Clair, and one in Yonge & Wellington.
Operating hours are basically the same in all clinics so you just have to choose the one closest to you. You'll also be eligible for the refer and share program where both you and the referral get a $20 discount.
They also have one of the biggest teams of RMTs we've encountered. They currently have 48 across their clinics, so accommodating you will be a piece of cake.
What makes this place stand out even more is that they bill your insurance directly. You don't need to put any effort in as they'll do all the work for you.
Although the prices are slightly higher than average (about $9 more than the highest average), insurance and easy payments make up for it. By the way, they also accept Apple Pay and Android Pay, so you can pay with your phone (or smartwatch).
Open daily
Accepts walk-ins on certain hours
Has three locations in Toronto
Get a $20 discount through referrals
48 RMTs on the team
Direct billing to insurance
Flexible payment options including Apple Pay and Android Pay
Has a cancellation policy that can cost you up to 50% of your normal fees
Slightly higher than average costs without insurance
Customer Service
Treats the toughest problem areas
Great overall experience with step up, but in particular my massage therapist Keegan delivered some of the best bodywork I've ever received. He was like a surgeon finding the areas I really needed help and he was strong enough to really address some of my toughest problem areas. Great bedside manner. Highly recommend. Worth every penny!!! – Andrew Gentile
Guaranteed pain relief after each appointment
I have been seeing Dr. Gary Ho for the last couple of months due to some back and shoulder pain. I have been waking up with really bad back pain and since seeing him, it has definitely subsided. The should pain I have is due to a work out injury, and its almost gone since seeing him. He is a pleasure to work with, he took the time to go through all my issues and provided a course of action. He is an amazing chiropractor and RMT. I would highly recommend going to him as he kind, patient and very knowledgeable. I always leave the appointment feeling amazing! – Philip Ha
3. MyoCare Registered Massage Therapy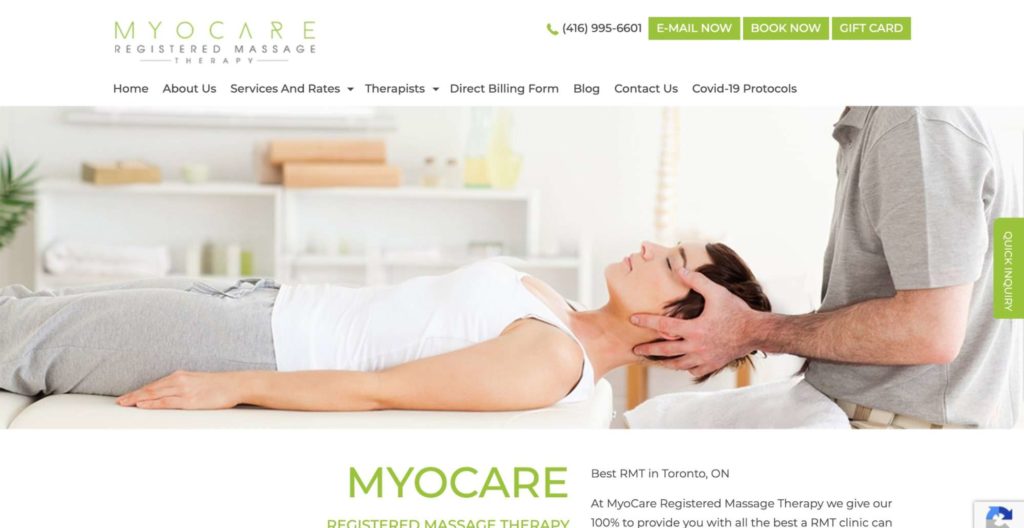 SERVICES
Deep tissue massage, pregnancy massage, jaw massage therapy, TMJ dysfunction treatment, myofascial release therapy, and injury rehabilitation
WEBSITE
https://www.myocarermt.com/
ADDRESS
1073 Bathurst St, Toronto, ON M5R 3G8, Canada
CONTACT DETAILS
(416) 995-6601


[email protected]

OPERATING HOURS
Monday – Friday: 9:00 AM – 7:00 PM
Saturday – Sunday: 9:00 AM – 5:00 PM
If you want to be in a clinic that specializes in Registered Massage Therapy, MyoCare is a great choice. They personalize the treatment so clients can get services that fit their individual needs.
The first thing we liked about them is that they offer a free consultation. Through this, a specialist can walk you through your best options – no strings attached.
If you ever decide to proceed, online booking is also a breeze. It's almost as easy as sending payments to them via cash or e-payment options.
Their rates are slightly higher than average but fortunately, they work with major insurance companies. If your policy covers the massage, they'll do direct billing for you.
Speaking of direct billing, setting one up is super easy online. Just make sure that you have an alternative payment option in case your policy doesn't cover it.
They currently have eight registered and certified massage therapists who are trained for certain treatments. And if you want to gift someone with some tender love and care, you can get them a gift card from the clinic!
Specialize specifically in RMT
Personalized treatment and care
Free, no-obligation consultation
Easy online booking and flexible payment options
Direct billing to major insurance companies
Highly-trained RMTs on board
Gift cards available
Slightly higher than average rates without insurance
Direct billing is only available if you fill out the form
Customer Reviews
Highly recommended clinic
I've been going to Myocare for a very long time. I mainly see Mel (the owner) but have also seen several other massage therapists there and have never been disappointed. Mel is amazing. She knows my body and it's various issues, and I always leave feeling better. She even treated me throughout my pregnancy and helped me get through some discomfort! I would highly recommend Myocare – especially if you want more than just a generic massage. You'll actually get treated by therapists who care about what's going on with your body and want you to leave feeling better. – Emily Rossini
Provides the best possible care
I have been seeing Melanie from MyoCare for quite a few years now. She has always made me feel comfortable and is always there to listen and to give her clients the best possible care. I have felt very safe going for my appointments during this Pandemic as I feel confident that all safety protocols are in place and practiced to ensure the safety of all that enter the establishment. – Mary Pereira
4. Atinama Massage Therapy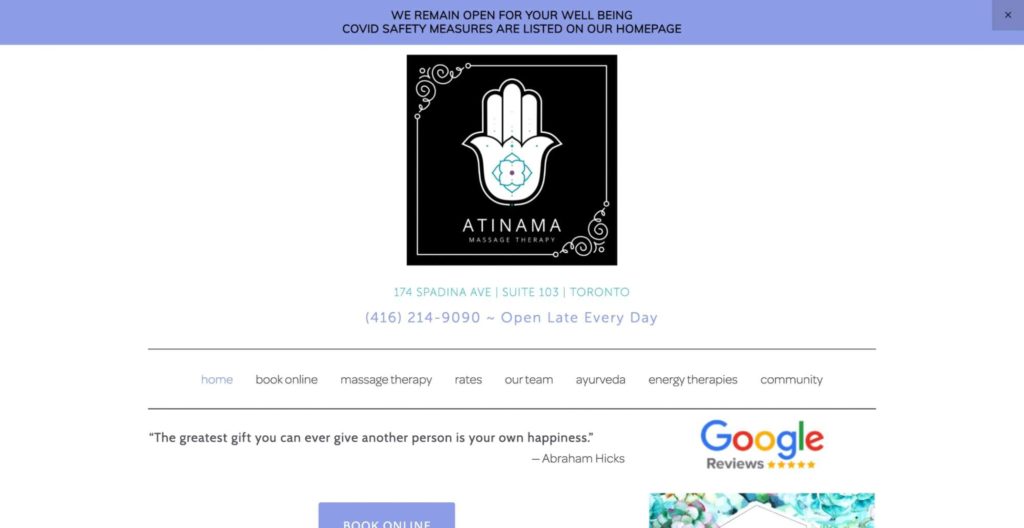 SERVICES
Deep tissue massage, prenatal massage, gentle relaxation massage, lymphatic drainage massage, Thai massage, hot stone massage, facial stretch massage, Osteopathy, Brazilian Vacuum Lymphatic Massage, Infrared Therapy, Ayurvedic Massage, Reiki, and Sports Massage
WEBSITE
https://atinama.com/
ADDRESS
174 Spadina Ave. #103, Toronto, ON M5T 2C2, Canada
CONTACT DETAILS
+1 416-214-9090
OPERATING HOURS
Monday to Saturday 9am to 9pm
Sunday 11am to 8pm
Atinama made our list by adding a few unique details that make them stand out. Here are a few more things you can expect in this place:
First, we're big fans of their beautiful treatment rooms that give a sense of luxury. You get electric blankets, ultra-soft sheets, and extra-wide massage tables for better comfort.
We also like the oil that they use, which is a combination of essential oils and fractionated coconut oil. But if you're not like us, you can go for an unscented option instead.
Of course, you can't fully enjoy the luxe of this high-grade oil without trained hands. Fortunately, they have 10 RMTs on the team – all certified and with good standing, as we checked.
Some of the fancy extras can obviously come at a cost, because they're one of the most expensive places we've seen. On the bright side, if you have the right policy, they can bill your insurance directly.
Beautiful and luxury treatment rooms
High-grade oil for massages
Option to use unscented oils upon request
Direct billing to major insurance companies
Accepts all modes of payment
Gift certificates available
Open daily
High rates without insurance
Has a cancellation policy that can cost you up to 80% of your costs when cancelled with less than 24 hours of notice
Customer Reviews
Secluded and calm location
I did a quick search around me for a massage place, and low and behold I found the best one. The atmosphere is amazing, the location is perfect, it's secluded and calm. The reception team is AWESOME, and I have an amazing practitioner who really helped me. She listened, and worked on areas that mattered. Thank you so much for making me feel and walk like a million dollar bill! – Tyler Ryll
Comfortable and relaxing experience
This place is a absolutely amazing . Very clean and professional. Nice waiting room that makes it feel very comfortable and relaxing. Went just for a 45 min massage . They are very professional and knew exactly what they are doing. Would recommend this to anybody who has a sore back or pain and can't find a good spot. This place is the best. And open 10 to 10 so you can't beat that !!! – Shane Kirkpatrick
5. Mind Body Flow Yorkville – Registered Massage Therapy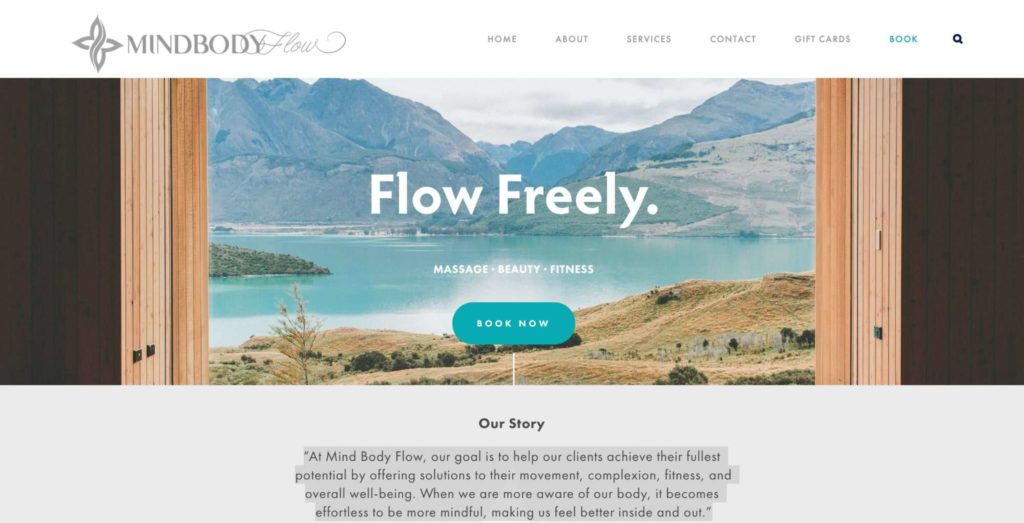 SERVICES
Swedish massage, deep tissue massage, myofascial release, pre & post-natal massage, foot massage, TMJ dysfunction, face and scalp massage
WEBSITE
https://www.mindbodyflow.ca/
ADDRESS
1200 Bay St. Suite 1200, Toronto, ON M5R 2A5, Canada
CONTACT DETAILS
+1 647-748-2100


[email protected]

OPERATING HOURS
Monday – Friday: 10:00 AM – 6:00 PM
Saturday: 11:00 AM – 6:00 PM
Sunday: 11:00 AM – 5:00 PM
Mind Body Flow is a good place to start if you want a taste of basic massage therapies. They offer deep tissue massage, Myofascial Release, pre and post natal massage, DoTerra Aromatherapy Massage, and DoTerra Deep Blue Rub Massage.
If you end up liking their services, they can also be your go-to place for physical wellness. They offer an online personal training program to help you achieve a healthy body.
Like other places on our list, they also do direct billing on your insurance. Keep it in mind as we think you might need it – their rates are higher than average.
What makes this place stand out is that you can actually get a couples massage. So if you want to get massage therapy with a loved one, that's totally an option.
Their team currently has seven RMTs, all certified with great experience and training.
By the way, they also offer complimentary Kangen water, which is said to regulate pH levels in the body. Try a sip if you want so you can rehydrate before your session.
Great place for massage therapies plus personal training
Personalized treatment
Direct billing to insurance
Couple massages available
Complimentary Kangen water
Gift cards available
Open daily
Flexible payment options
Cancellation policy that can charge you up to the full amount of the service
Higher than average rates without insurance
Customer Reviews
Gentle and soothing massage
Got a massage here after seeing wonderful reviews, especially with Celia. It was my first time getting a massage and Celia made me feel so comfortable. She read my file ahead of time and made sure to ask me questions before starting the massage. She was extremely gentle and everything was so soothing. Joyce at front desk was also extremely lovely and conversational, she made me feel at home. Overall fantastic staff, calming environment and lovely all around. Will be back soon! – Sinit M
Elevates the experience
Young & her team are highly skilled and care about your wellbeing, they personalize your appointment as much as possible to help you get the most out of it. They will also give you tips to do at home if they feel you need more help. I always feel super fresh and elevated after my appointment. The environment is very clean and relaxing, sometimes I don't feel like leaving after my massage. I personally do my massages with Dinah and would highly recommend her although the entire team is skilled because of Young's commitment to a high standard of service! – Mohamed Rezk
Factors to Consider Before Choosing a Therapeutic Massage Clinic
Getting a nice massage after enduring muscle pains would be a nice treat. However, picking the right clinic to go to may be hard.
Here are some factors to consider before choosing a therapeutic massage clinic
Service Options
There are many types of therapeutic massages that you can choose from. Each massage therapy is meant for a certain point in the body so it's best to have a variety of choices.
Clinics usually have websites, detailing all their available service along with their prices. You just have to find the massage that suits you the most, book an appointment and arrive for your session.
Practitioner's Experience
The next thing you should consider is the experience of their masseuse. The longer the masseuse has been doing the job, the more assurance you have that they will be able to do their job well.
Naturally, you should only get services from a Registered Massage Therapist. Not everyone has the license to give a therapeutic massage, so be cautious during your search
Products
Quality is, of course, an important factor to consider, especially if you are someone with very sensitive skin. Try looking up the products they use, or ask what components of their products they use for massages.
Some massage clinics might use low-quality products and charge at a low price, so you have to be wary of these things, lest you end up with an odd skin problem. Find a clinic that uses non-toxic and effective products.
Medical Information
A good therapeutic massage clinic would ask you about your medical condition and ask you to fill out a form detailing problems. This is standard practice to ensure that they'll be able to massage you without hitting the wrong spot.
Of course, you also need to be honest with your medical history. If you got surgery, it's best to let the practitioner know before so they'll have an overview of your current condition.
FAQs About Therapeutic Massage in Toronto
---
Like to see more lists that focus on your physical welfare, wellbeing, and overall wellness? See any of the articles next: