A Guide to the Best Physiotherapy in Toronto
Need a physiotherapist to help you with an injury that's severely affected your ability to carry out everyday tasks? You're on the right page, as we've done the work ourselves and looked for the clinics that offer the best physiotherapy in Toronto.
You'll learn more about these clinics here, together with the expected costs of undergoing physiotherapy. Let's start with all of that now!
The Cost of Physiotherapy in Toronto
Our first tip when it comes to the best physiotherapy in Toronto is to worry about the expenses later and prioritize looking for a physical therapy clinic with quality services.
However, we're aware that this principle can't be applied to every patient, because the costs will always be an issue.
It's worth noting that most medical insurance companies cover the physical therapy sessions, depending on the severity of the injuries. Most health insurance plans will cover all the costs of your physiotherapy treatment, while some can only cover the costs partially.
If you have medical insurance, we recommend giving your insurers a call first and asking for their policies on physiotherapy and which clinics are covered. Otherwise, prepare to pay for the sessions out of your own pockets.
Here's a table of the expected cost of physiotherapy in Toronto for individuals who don't have insurance of any sort:
| | |
| --- | --- |
| PROCEDURE | EXPECTED COST (PER SESSION) |
| Initial assessment and treatment | $90 – $115 |
| Subsequent visits | $80 |
| Prolonged visits | $160 |
| Sports physiotherapy | $80 – $125 |
| Neuro physiotherapy | $90 – $130 |
| Pelvic floor physiotherapy | $85 to $145 |
| Active rehabilitation | $80 |
| Vestibular initial assessment | $120 |
The Clinics with the Best Physiotherapy in Toronto
Let's move on to the clinics we think are worth visiting for your future physiotherapy needs! Check them out below to see which clinic has the treatment you're looking for.
1. Toronto Physiotherapy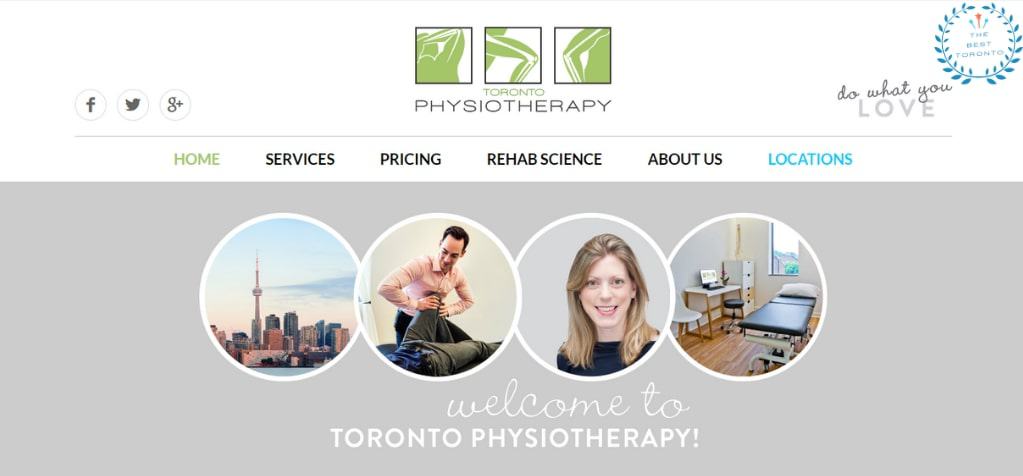 BEST FOR
Physical and virtual sessions
SERVICES
Physiotherapy, neuro physiotherapy, pelvic physiotherapy, sports physiotherapy, cancer physiotherapy, chiropractic, telerehab, yoga, pilates, and acupuncture
ADDRESS
442 Danforth Ave, Toronto, ON M4K 1P4, Canada
CONTACT NUMBER
416-792-5115
WEBSITE
https://torontophysiotherapy.ca/
OPERATING HOURS
Monday – Friday: 8:00 AM – 8:00 PM
Saturday: 8:00 AM – 4:00 PM
Let's start off our list with one of the top-rated physiotherapy clinics in the GTA: Toronto Physiotherapy. It boasts a near-perfect rating of 4.9 out 5 on Google Reviews, with most patients commending the expertise of its registered physiotherapists.
Toronto Physiotherapy conducts all sessions in private one-on-one rooms. If you're too busy to drop by its clinics, then you're more than free to opt for its telerehab, which is done through video phone calls at the comfort of your own home, or even office.
Unlike other clinics, Toronto Physiotherapy is 100% physiotherapist-owned, so there are no support staff who substitute for any of their physical therapists. It also doesn't have an open-gym feeling – but it does have a gym inside.
It offers all sorts of physical therapy treatments as well, including cancer physiotherapy, neuro physiotherapy, pelvic physiotherapy, sports physiotherapy, chiropractic, yoga, pilates, and even chronic pain management.
Since it accepts insurance, your treatment may be covered under employee extended health insurance benefits or motor vehicle accident insurance. Its receipts also qualify as deductible medical expenses on tax returns.
Owned by physiotherapists
No substitute staff
Offers virtual sessions
Specialized services
Appointments can become an issue sometimes
Customer Reviews
Here are some comments shared on Google Reviews by previous patients:
Before I came to Toronto Physiotherapy I was ready to give up on rigorous training due to several long term issues, but Rebecca developed a program that allowed me to get back to my fitness goals and to be pain-free! Rebecca really cares about her patients, is very passionate, driven, does a lot of research between sessions and tries to find the most tailored/effective and individual solutions for each problem. She has a holistic approach and can figure out the underlying root causes of injuries, asymmetries or muscle weaknesses that lead to chronic pain or reinjury and then treat them. If you want bespoke quality from your physiotherapist – I highly recommend working with Rebecca Tomasi!
-Eugene Korol
"I had knee replacement surgery a few months ago and had completed a group physiotherapy session through a rehab centre. There was still work needed to my knee so I explored private physio options. I heard about Toronto Physiotherapy and decided to go with them. This was a good decision for me and I am pleased with the results to-date. My physiotherapist, Leo Chau is professional, knowledgeable and pleasant. His expertise has helped me considerably with my knee recovery."
-P Fong
2. Rebalance Sports Medicine Physiotherapy & Chiropractic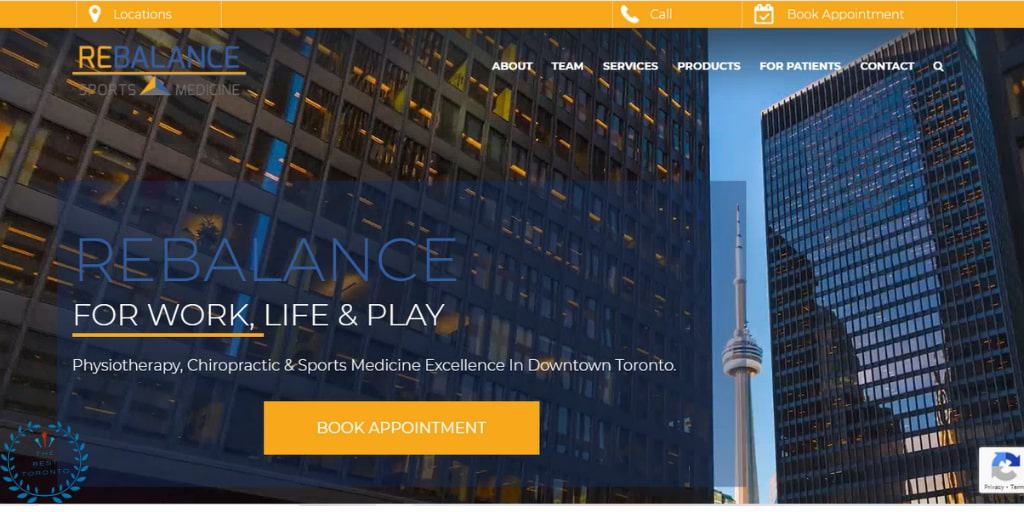 BEST FOR
Sports-related injuries
SERVICES
Physiotherapy, sports medicine, chiropractic care, massage therapy, pelvic physiotherapy, naturopathic medicine, pilates, yoga, medical acupuncture, shockwave therapy, laser therapy, custom orthotics, and arthritis medicine
ADDRESS
110 Yonge St #905, Toronto, ON M5C 1T4, Canada
CONTACT NUMBER
(416) 777-9999


[email protected]

WEBSITE
https://rebalancetoronto.com/
OPERATING HOURS
Monday – Friday: 7:00 AM – 6:00 PM
Rebalance Sports Medicine is a multidisciplinary physical therapy clinic that offers a broad array of services, including sports medicine, massage therapy, naturopathic medicine, medical acupuncture, arthritis management, and of course, physiotherapy.
It's a clinic staffed by physiotherapists, sports doctors, chiropractors, massage therapists, naturopaths, and even professional pilates instructors. Most of its patients are athletes and sports-inclined individuals, but anyone with injuries is welcomed with open arms.
Rebalance Sports Medicine is based in and services most of downtown Toronto. It has two convenient locations in the area that allow its staff to provide services to more patients with urgent physical therapy needs.
Speaking of urgents, patients who can't find the time to drop by any of its clinics are encouraged to avail of Rebalance's telehealth services. It operates beyond working hours, so patients can have their sessions online even beyond 7pm.
Aside from sports-related injuries, Rebalance also treats conditions and injuries related to the head, neck, shoulders, elbow, hand and write, back, pelvis, and nerves, among others.
Two locations in Toronto
Virtual sessions and consultations
Large team of specialists and instructors
Rates are mostly expensive
Customer Reviews
Take a look at what patients had to say about their experience with Rebalance Sports Medicine:
"Masha Yaitskov is an absolutely wonderful physio! I had a pretty debilitating problem with my back, that the chiropractors and other physios I'd seen couldn't help with at all. After the first week of seeing Masha there was a 50% improvement, and my back keeps improving. She has a true gift for this work. Also, as a person, she's smart, friendly and fun. I've told all my friends and family they definitely should see her if they have any physio needs. Couldn't recommend it more highly!"
-Lee Waldorf
"I have had decades of lower back pain and tried many various means of healing the issue without any lasting results. It wasn't until I found Bonnie and Emma at Rebalance that my pain, symptoms, issues were addressed and healed. I am so thankful to have found them. My body thanks them too! Bonnie and Emma are attentive, professional, and caring. They explained procedures, the "home-work" I had to do, and what was going on. I felt like I was listened to and most importantly heard! I am so thankful and recommend Bonnie and Emma whole-heartedly 🙂 Bonus: the entire team is very friendly!"
-Melanie Chenier
3. Cornerstone Physiotherapy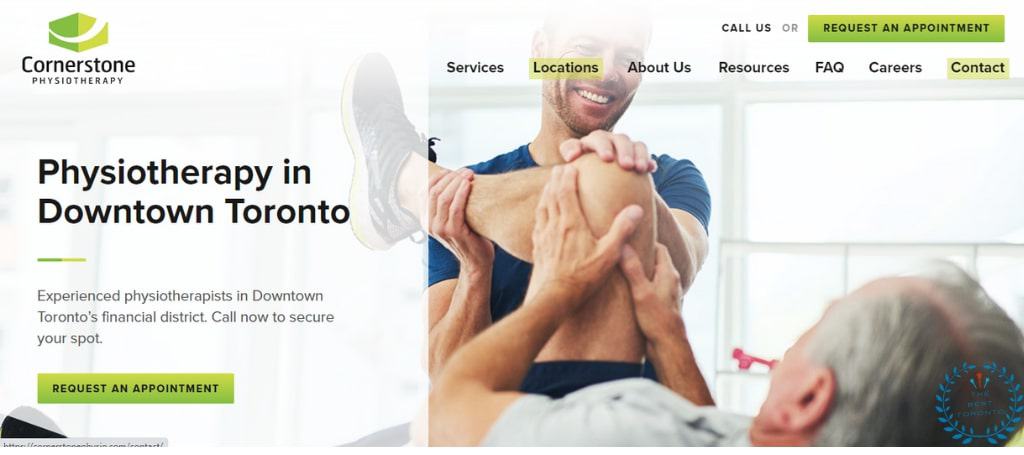 BEST FOR
Multiple locations and large staff
SERVICES
Physiotherapy, virtual physiotherapy, shockwave therapy, acupuncture, custom knee bracing, massage therapy, and pelvic physiotherapy
ADDRESS
55 University Ave #1710, Toronto, ON M5J 2H7, Canada
CONTACT NUMBER
(416) 777-9999


[email protected]

WEBSITE
https://cornerstonephysio.com/
OPERATING HOURS
Monday – Thursday: 7:00 AM – 7:00 PM
Friday: 7:00 AM – 5:00 PM
Established in 2008, Cornerstone Physiotherapy has grown into one of the most trusted physical therapy clinics in the entire Greater Toronto Area. It's headed by Adam Brown and Joon Nah, two physiotherapists with years of experience under their names.
Another thing to know about Cornerstone is that its staff has received multiple awards throughout the years. It's even been voted as the top physiotherapy clinic in the Greater Toronto Area for 2021 by multiple respected organizations.
It employs a large team of physiotherapists, massage therapists, and physical instructors, all of whom are trained to look after patients with different orthopaedic conditions and injuries.
Cornerstone directly charges the procedures to insurance providers, so patients don't need to worry about the costs and financing the treatments. It works with various insurance companies as well, so more patients will be eligible for the coverage than at other places.
Free consultations are available for individuals who want to know if their condition can be treated by Cornerstone's specialists. All patients are entitled to a 10-minute consultation free of charge.
Aside from Toronto, Cornerstone Physiotherapy also has clinics in College Station, North York, and Burling, by the way.
Multi-awarded clinic
Four locations in GTA
Free consultations
Directly bills the insurance company
Customer Reviews
Cornerstone Physiotherapy has an average rating of 4.9 out 5 on Google Reviews. Here's what some patients had to say about it:
"I strongly recommend Cornerstone to anyone looking for effective, evidence-based physiotherapy. I see Alex, who helped me end years of Achilles tendinitis and is now treating my knee pain (much improved). He clearly explains the cause of the problem and how the treatment will resolve it. I'm also impressed by the clinic's strict safety protocols (health checks, masks, sanitizing between visits)."
-Norah Murphy
"I highly recommend Cornerstone to anybody needing physiotherapy. Over the past few years, I have gone for different reasons and each time I have had my issues resolved. My physiotherapist (Giacomo Silvestri) always performs a comprehensive assessment and thoroughly explains the nature of my injury so that I understand how the injury occurred and what treatment is needed to correct it. The home exercise programs he has designed for me are effective and well suited for a home environment which makes it easy to follow and to see noticeable results."
-Donald Gavigan
4. Physiomobility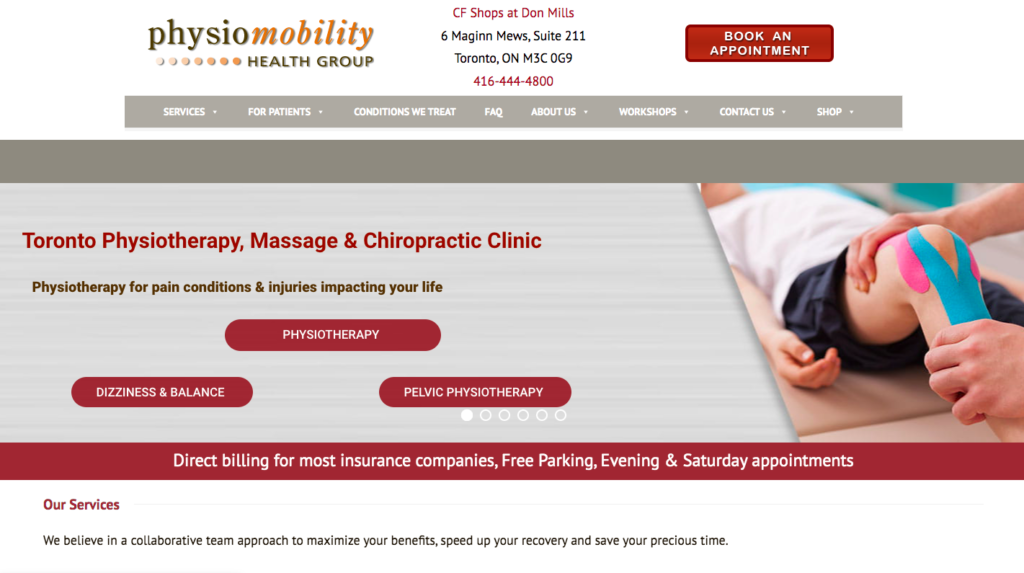 SERVICES
Orthopedic & Sports Physiotherapy, Vestibular Physiotherapy, Pelvic Health Physiotherapy, Virtual Physiotherapy & Telerehabilitation, Concussion Management
WEBSITE
https://www.physiomobility.com/
ADDRESS
6 Maginn Mews, Suite 211, CF Shops at Don Mills, Toronto, ON M3C 0G9
CONTACT DETAILS
Phone: 416-444-4800
Fax: 416-444-4811
Email: [email protected]
OPERATING HOURS
Monday to Thursday: 9:00 AM to 8:00 PM
Friday to Saturday: 8:00 AM – 4:00 PM
Sunday: Closed
Physiomobility was founded in 2005 by Gita Mikal, who also currently serves as its director. She is a highly experienced physiotherapist with post-graduate training and certification in vestibular rehabilitation, concussion management, and pain management.
From their humble beginnings in a cozy rental unit to a 3,500 square foot facility today, Physiomobility has earned a reputation as one of the best clinics in Toronto. With state-of-the-art equipment and a highly trained staff composed of physiotherapists & health professionals, they aim to provide a range of treatment options in a single clinic.
They provide four main areas of care – orthopedic & sports physiotherapy, vestibular physiotherapy, pelvic health physiotherapy, and concussion management. They also offer Virtual Physiotherapy and Telerehabilitation for those who have mobility issues or are unable to travel to their clinic.
So whether your health issues or goals are prevention, injury, pain, or disability, Physiomobility can help you on your path to wellness and optimal body functions. Each patient receives a tailor-made treatment program to target the root cause of the problem, instead of simply treating the symptoms.
State-of-the art facility
Highly trained physiotherapists
Virtual treatment options available
Direct insurance billing option
Free parking
Customer Reviews
Let's take a look at what their clients have to say:
"Physiomobility is a gem! Location and parking is convenient and easy to navigate (Shops at Don Mills). Staff were pleasant and the facility was nice. Receptionist was very gracious – was feeling flustered and out of sorts on first visit but she made me feel at ease and accommodated. Highly recommend Ingrid for Pelvic Floor PT! She is professional, gentle and warm which made me feel supported, and comfortable. Made much progress with her, and super grateful for her attentiveness and expertise. Would definitely recommend, and would definitely return. Thank you Ingrid and Physiomobility team!" – Joanne D
"Wonderful facility with professional staff and services. I saw Melissa after tearing my rotator cuff in Calisthenics; she was incredibly knowledgeable, thorough, and attentive all around. My visits included hands-on therapy coupled with exercise in the gym; I was also given a number of progressive exercises to do on my own time. I also received massages from. Grace who is equally fantastic. Very in tune with my body and needs, and very caring. Between both practitioners, I healed very quickly. Highly recommend!!" – Diana Wegner
5. Ace Physiotherapy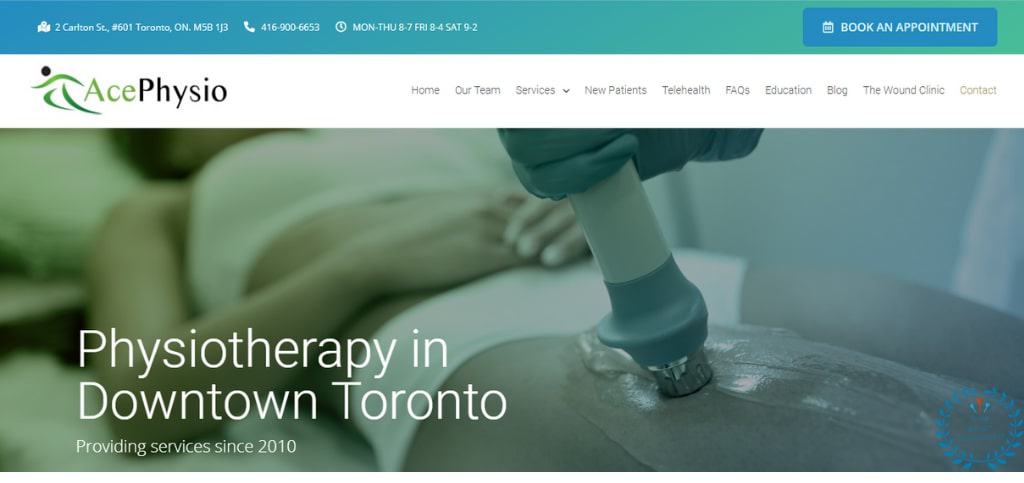 BEST FOR
Flexible schedules
SERVICES
Physiotherapy, massage therapy, shockwave therapy, chiropody, custom orthotics, custom knee braces, spinal decompression, acupuncture, manual therapy, ultrasound therapy, and cryotherapy
ADDRESS
2 Carlton St., #601 Toronto, ON. M5B1J3
CONTACT NUMBER
416-900-6653
WEBSITE
https://acephysio.ca/
OPERATING HOURS
Monday – Thursday: 8:00 AM – 7:00 PM
Friday: 7:00 AM – 5:00 PM
Saturday: 9:00 AM – 2:00 PM
Ace Physiotherapy is a physical therapy clinic that offers an extensive range of services, such as massage therapy, shockwave therapy, custom orthotics, manual therapy, ultrasound therapy, acupuncture, and physiotherapy, among others.
It's open for both in-person and virtual treatment, which is perfect for individuals who don't have the time to visit its clinic on weekdays. It's open and accepts patients on Saturdays, but only for a limited time.
Its team of physiotherapists are experienced in treating all sorts of chronic conditions, workplace injuries, motor vehicle incidents, and sports-related injuries. Its doors are open for individuals of all ages, including toddlers and senior patients.
Ace Physiotherapy is best known for its unique restorative methods that help the body recover, restore endurance, and improve muscular strength.
It works on an appointment basis, so walk-in patients aren't always accepted. However, in case you can't make it on time to your treatment, they say moving it to a more convenient time wouldn't be a problem.
Open for patients of all ages
Uses state-of-the-art medical equipment
Personalized physiotherapy
Shorter operating hours on Fridays and Saturdays
Customer Reviews
Take a look at some of the comments about Ace Physiotherapy's staff:
"I have been seeing Lauren since my second surgery for an ankle fracture in 2015. She is amazing at her job, takes my progress very seriously, and has checked in with me after all of my doctor's appointments. She is very knowledgeable, and not only teaches me plenty of exercises so I can keep up my therapy at home, but she also sends thorough descriptions of the exercises to me in PDF form after our appointments so I know exactly what I have to do. I don't think anyone else can match her devotion to her job, and I cannot recommend her enough."
-Miranda
"I've been seeing Alanna for a couple months now for an ongoing tendon issue. I've made more progress with her in the past few months than in the past year. I'm finally able to be more active again with no pain. She's knowledgeable, friendly, and I trust the program she's put me on to build strength without re-injuring the tendon. Definitely recommend her!"
-Madi Mcl
6. ALPHA Health Services
BEST FOR
Chronic conditions and motor vehicle injuries
SERVICES
Physiotherapy, dry needling and acupuncture, registered kinesiology, registered massage therapy, shockwave therapy, pelvic floor therapy, manual lymphatic, concussion rehabilitation, vestibular therapy, and pedorthics
ADDRESS
40 Holly St #901, Toronto, ON M4S 3C3, Canada
CONTACT NUMBER
416-545-1881


[email protected]

WEBSITE
https://www.alphahealthservices.ca/
OPERATING HOURS
Monday – Friday: 7:00 AM – 7:00 PM
ALPHA Health Services aims to provide high-quality medical services to individuals suffering from all types of chronic conditions, vehicle injuries, muscle sprains, sports-related injuries, and even concussions.
It caters to patients of all ages, including senior citizens, non-athletes, and non sports-inclined individuals. ALPHA's services are designed to develop and maintain the musculature to allow patients to live a more active lifestyle and age gracefully.
Some of the treatments provided by ALPHA are tele rehabs, massage therapy, physiotherapy, pelvic floor therapy, acupuncture, shockwave therapy, and vestibular rehabilitation, among others
It recommends tele rehabs to patients who don't have the time to drive to its clinic on weekends. However, if they're not into online physiotherapy, they can go with the home physiotherapy service.
ALPHA also promises that home visits provide the same services as those delivered in the clinic. Testimonials from its patients seem to bear this out.
Home services offered
Tele rehabs offered
Deals with patients all ages
Accepts health insurance
Accessible location
No weekend operations
Expensive, if no insurance coverage
Customer Reviews
Here are some comments posted by previous patients on Google Reviews:
"My experience with this clinic and specifically with physiotherapist Olivia Martins has been nothing short of outstanding. The clinic is always clean, organized, and welcoming (even during construction!) and they do direct billing which is very convenient.
Olivia is incredible. She listens attentively and is very knowledgeable. She demonstrates a sincere curiosity about the injury, and always finds ways to heal and help. She has helped me through three different injuries and I always leave the clinic feeling better. I finally convinced my partner to see a physiotherapist because I knew I could trust her; he has nothing but good words for her as well. She also uses an app that shows and guides you through your physio exercises at home, with reminders and timers to help you through it. I have never been so consistent with my physio before and this is a huge plus."
-Becky Romanovsky
"I initially went to ALPHA Health Services because it was right beside my apartment building. I was most impressed with the physiotherapy sessions there, which were streamlined for my particular problem. After 1 session with Leanna Maher I was able to move and by the end of a few sessions, together with the prescribed exercises I was pain-free. Leanna has healing hands. I trust every recommendation she makes. She and Charlotte Anderson are excellent physiotherapists. They have on-line sessions as well as posted videos of the prescribed exercises"
-Sheila Mia
7. Pickering Physiotherapy Institute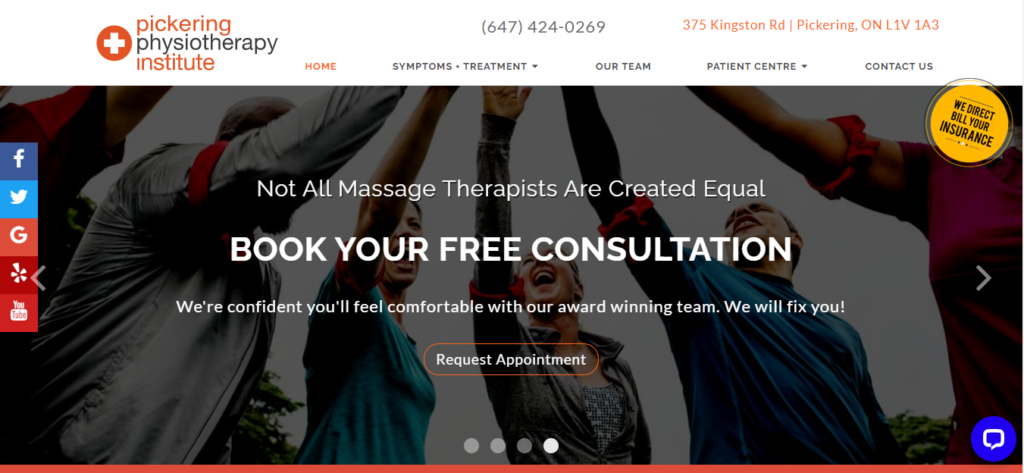 BEST FOR
Wide range of treatments
SERVICES
Physiotherapy, chiropractor, registered massage therapy, sports injury specialists, pain management, acupuncture, custom orthotics, naturopathic medicine, custom bracing, kinesiology, car accident clinic, WSIB rehabilitation
WEBSITE
https://pickeringphysio.ca/
ADDRESS
375 Kingston Rd, Pickering, ON L1V 1A3
CONTACT DETAILS
(905) 492-7375


[email protected]

OPERATING HOURS
Monday – Thursday: 9:00 AM – 8:00 PM
Friday: 9:00 AM – 7:00 PM
Saturday: 9:00 AM – 1:00 PM
Now if you're looking for more than the standard physical therapy procedures, then Pickering Physiotherapy Institute may be of help.
This physiotherapy clinic offers physical therapy, chiropractic, massage therapy, acupuncture, kinesiology, and orthotics. With this wide range of services, Pickering Physiotherapy Insitute can cater to almost all types of injuries and conditions.
To make sure each treatment is done well, Pickering Physiotherapy Institute also has a large team of experts. This guarantee gives its clients the peace of mind that their conditions are treated by addressing the root causes.
Aside from that, Pickering Physiotherapy Institute also makes things comfortable for its patients by directly billing their expenses to their respective insurance providers.
However, while this physiotherapy clinic is within GTA, it still is a bit farther away from the city. So, if you're looking for something more convenient, then this may not be the best for you.
Numerous rehabilitation techniques available
A large team of physiotherapy experts
Direct insurance billing
Not-so-accessible location
Customer Reviews
Here are some client reviews to tell you more about Pickering Physiotherapy Institute:
"I slipped my disc and was unable to walk but after my first appointment with Mr. Raju Gupta (physiotherapy) I got my life back. He was very patient and kind. Suggesting Dr. Allan's acupunture as well, the fear of needles were just in head but it increased my healing rate. Overall my experience with them were highly satisfying."—Ancy Nia Ann
"I am incredibly grateful to Dr. Kwong and the treatment I received. I went with extreme shoulder pain due to moving and could not lift my right arm. After one treatment I saw improvement and by the second treatment I was able to raise my arm without any difficulty. Thank you for the excellent treatment both by Dr. Kwong and the front desk staff who were very accommodating and flexible when I needed to adjust my appointment time."—Jasmin Corbie
8. MBody Physiotherapy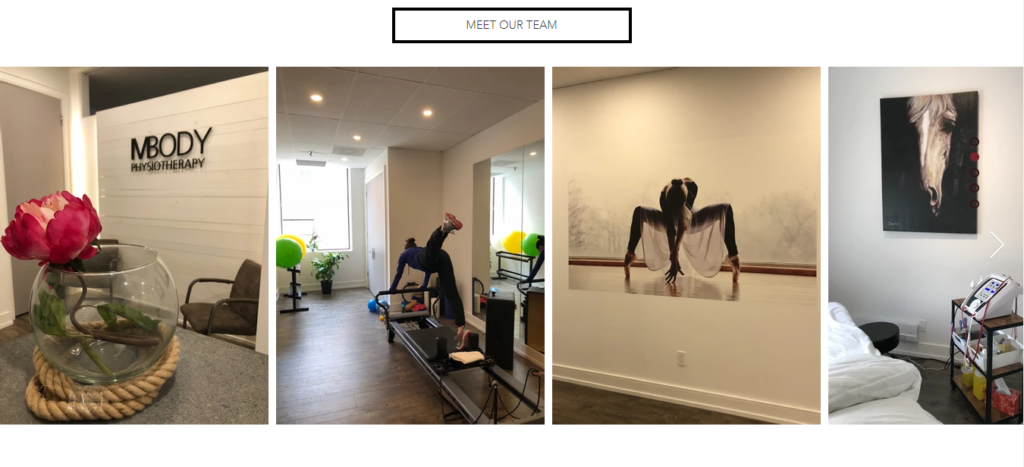 | | |
| --- | --- |
| BEST FOR | Personalized treatments |
| SERVICES | Physical therapy, acupuncture, private pilates |
| WEBSITE | https://www.mbodyphysio.com/ |
| ADDRESS | 2409 Yonge St Suite 201, Toronto, ON M4P 2E7 |
| CONTACT DETAILS | (416) 519-7097 |
| OPERATING HOURS | Monday – Friday: 8:00 AM – 7:00 PM |
Nothing spells physiotherapy like physical exercises and wide movements, and that's what MBody Physiotherapy is all about. This clinic is a 1900 sqft facility complete with six private treatment rooms.
Its founders, physiotherapists Lucy Lu and Sarah Marshall, are focused on providing the clinic's clients with personalized treatment plans. They also make sure to make their clients comfortable with their friendly and warm approach.
MBody uses a combination of physical therapy, pilates, and acupuncture to achieve effective results.
However, since it only offers a limited range of treatments, clients are also presented with limited options.
Wide treatment spaces
Personalized treatments
Utilizes and teaches pilates
Relatively limited treatment options
Customer Reviews
MBody has been praised online for its personalized services and its warm yet professional approach to its clients. Here are customer reviews to tell you more:
"By far the BEST physio experience I've ever had. Sara is a magician. In past experiences with other facilities, it would consistently be 20 minutes attached to the electric machine then sent to the back for 40 mins of stretching/exercising. Instead, Sara would spend the entire hour working on my knee and leave me with stretches to take home. My recovery was quicker than I expected. Knowledgeable and professional would be the two words I'd use to describe it. I would definitely return if need be!"—Adam Harper
"MBody physiotherapy is simply splendid!! My physiotherapist Sarah is knowledgeable, highly competent, professional and very personable. Through the use of many modalities Sarah is able to figure out what is wrong and what to do to straighten it out and help relieve pain and discomfort. The facility is also kept very clean. I highly recommend MBody physiotherapy!!"—Nancy Toran
9. Motion Fit Rehab and Wellness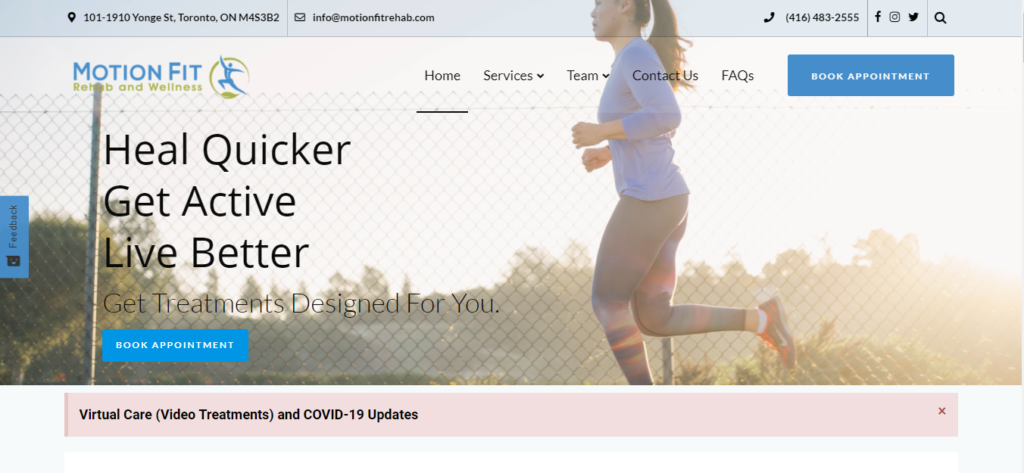 SERVICES
Manual therapy, MDT, acupuncture & dry needling, electrotherapeutic modalities, laser therapy, ultrasound therapy, therapeutic taping and athletic taping, individualized therapeutic and home exercises program, fitness and exercises, nutrition and weight management, custom orthotics, gait analysis, balance assessment
WEBSITE
https://motionfitrehab.com/
ADDRESS
1910 Yonge St Unit 101, Toronto, ON M4S 3B2
CONTACT DETAILS
(416) 483-2555 |

[email protected]

OPERATING HOURS
Monday: 8:00 AM – 6:30 PMTuesday: 8:00 AM – 7:30 PMWednesday: 10:00 AM – 6:00 PMThursday: 8:00 AM – 7:30 PMFriday: 10:00 AM – 7:00 PMSaturday: 8:00 AM – 7:00 PM
Motion Fit Rehab and Wellness offers a holistic approach to recovery by offering physiotherapy, chiropractic, massage therapy, acupuncture and traditional Chinese medicine, and dietetics and nutrition. With this approach, the clinic can help with a wide range of conditions and injuries.
Motion Fit provides one-on-one, hands-on and personalized treatments using skilled manual therapy, therapeutic exercise, acupuncture, dry needling and ultrasound and laser therapy. They also have experts providing traditional Chinese medicine and diet and nutrition advice to promote overall health and well-being.
Getting to Motion Fit Rehab is very convenient as they are located directly across the Davisville subway station and there are ample free and paid parking spaces at nearby lots and streets. The clinic also makes its services accessible and flexible by offering in-clinic and virtual care sessions.
Holistic approach for overall health and well-being
Fellowship-trained physiotherapist
Ergonomic assessments and custom orthotics available
Virtual treatment options available
Direct insurance billing option
Closed on Sundays
Not all practitioners are available Monday to Saturday
Customer Reviews
"I was pleasantly surprised when my new sports doctor referred me to Jerrick at Morion Fit Rehab. I had gone to Jerrick a couple of years ago at a different location and he resolved the pain issue I had in my foot. It has only been a few weeks but I am already experiencing improvement and the pain in my hip has subsided. Jerrick is knowledgeable, professional and most importantly effective in his treatments and exercise recommendations." -Margaret Hicks
"This clinic has become my go-to place for msk issues and general health maintenance. Jerrick has the breadth and the depth of knowledge of how the human body functions + its connections. He does more than just prescribing physio exercises; as a FCAMPT he provides hands-on adjustments that are effective in treating my issues. As a Family Doctor myself, I highly recommend any patients who needs physio to visit this clinic." -Linda Sun
10. Rebuild Physiotherapy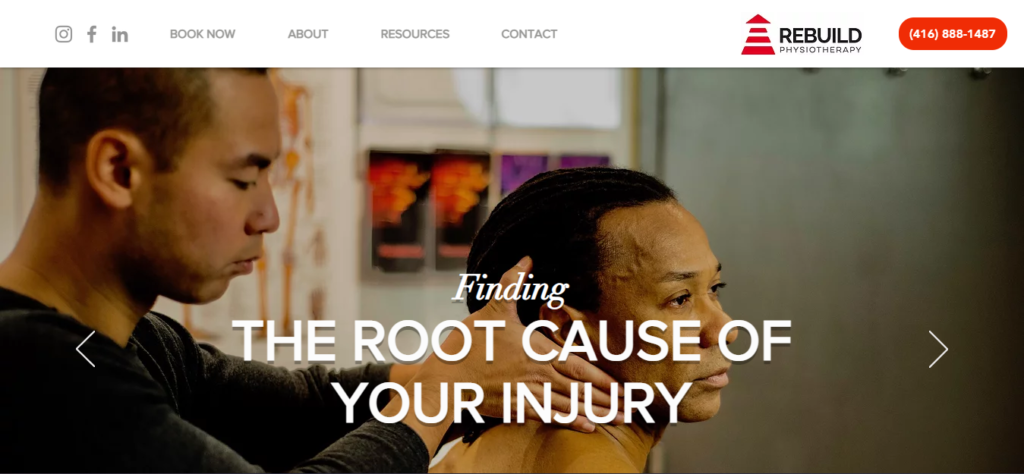 SERVICES
Manual therapy, medical acupuncture, ergonomic assessment, active release technique, post-operative rehabilitation, sportPhysiotherapy, vestibular rehabilitation, custom orthotics
WEBSITE
https://www.rebuildphysiotherapy.com/
ADDRESS
88 Queens Quay W #2500, Toronto, ON M5J 0B8, Canada
CONTACT DETAILS
(416) 888-1487 |

[email protected]

OPERATING HOURS
Monday, Tuesday, Thursday: 8:30 AM – 5:00 PMWednesday, Friday: 8:30 AM – 1:30 PM
Rebuild Physiotherapy is one of the many accessible shops in Toronto's PATH. Eric Lau, the sole physiotherapist of this clinic, has completed the fellowship for manipulative physical therapy and has even served as a consulting therapist for the Canadian National Basketball Team.
As a result of his deep and varied experiences, Eric can thus provide relief through manual therapy, active release technique, and acupuncture. So, this clinic is open for anyone in need of post-operative, post-accidental, or sports physiotherapy.
Additionally, this clinic also does custom orthotics and ergonomic assessments to ensure its patients can still accomplish necessary everyday tasks without having setbacks to their recovery. These techniques also assure clients that Rebuild tackles the root causes of pain.
Aside from these usual techniques for regaining physical abilities, Rebuild Physiotherapy also has vestibular techniques to help those with vertigo, dizziness, and balance issues.
But since Rebuild offers numerous services, one can also expect it to be loaded with customers. With this wide range of clientele and its limited operating hours and solo practitioner, Rebuild may not be as accessible as it wants to be for everyone.
Ergonomic assessments and orthotics available
Additional expertise on vestibular techniques
Wide range of physical therapy options
Fellowship-trained physiotherapist
Limited operating hours
Only one physiotherapist
Customer Reviews
With its effective treatments and approachable demeanour, Rebuild Physiotherapy has garnered numerous 5-star reviews such as those below:
"Eric was friendly and helpful with the treatment of my shoulder separation. My shoulder improved after following the structured recovery plan that Eric suggested based on my symptoms and recovery progression. He created an overall comfortable environment during the appointments, and the good conversations also contributed to the enjoyable sessions. I will revisit Eric in the future if I need a help from a physiotherapist."—Wooin Park
"Eric is a thorough friendly knowledgeable and helpful physiotherapist. I have been suffering runners knee pain and he has played a tremendous role in my road to recovery. From the start, Eric is very thorough with his assessments. He gave me lots of exercises to strengthen my knee and my knee is significantly better compared to before. In the past, I have had significant knee pain towards the end of my work shifts. Today, I don't feel any pain on my long work shifts. I am feeling fantastic and ready to try running again!"—Betty Wang
FAQs about Physiotherapy in Toronto
---
That concludes our list of the top clinics with the best physiotherapy in Toronto. Each clinic comes with its own perks and strengths, so your choice will boil down to your needs.
Do you know other clinics that can provide the best physiotherapy in Toronto? Share them with us so we can check if they're worthy of being added to our roster.
By the way, if it's been a long time since your last visit to the dentist, maybe now's the right time to consult with the best dentists in Toronto. Any of these dentists can treat any dental problem you're dealing with.