Top 5 Nanny Agencies in Toronto
Access to trustworthy and quality childcare is easier now with many nanny agencies. More than their availability, what is most important is the sitters are all properly screened and vetted.
Finding the right nanny is crucial as she will have an influence on your child. So to help you in your search, we found the best nanny services in Toronto.
The Best Nanny Services in Toronto
We based our choices of nanny services on the following criteria:
How much does it cost to hire a nanny in Toronto?
Here are the indicative rates of services that nanny agencies may offer:
| Service | Gross Rate per Hour |
| --- | --- |
| Nanny  | CAD 24 - CAD 40  |
| Newborn Care Specialist | CAD 30 - CAD 45  |
| Tutoring | CAD 160 |
| Music or Private Acting Lessons | CAD 130 |
| Pet or House Sitting | CAD 120 |
The computation of fee is based on the number of hours rendered by the nanny, gross of taxes.
Rates vary on the experience and length of service of the nanny for hire. The scope of work will also need to be considered in determining the rate.
Specialised nanny services like newborn care will be more expensive than a regular sitter. Nighttime or weekend shifts will cost more as well.
Hiring a nanny also means that you need to give contributions to their insurance, workers' compensation, and pension plan.
1. The Nanny Pages
Test
Info
SERVICES
Cleaners

Nannies

Elder caregivers

Business/Store Staff

WEBSITE
https://thenannypages.ca/
ADDRESS
145 King St W, Toronto, ON M5H 1J8
CONTACT DETAILS
416-316-7059
OPERATING HOURS
Monday - Sunday:  Open 24 hours
| | |
| --- | --- |
| Criteria | Rating |
| Client Servicing | ★★★★☆ (4/5) |
| Selection Process | ★★★★☆ (4/5) |
| Communication | ★★★★★ (5/5) |
| Availability | ★★★★★ (5/5) |
| Special Deals | ★★★★☆ (4/5) |
The Nanny Pages is a portal for both nannies and employers. Its mission is to make it easy for employers to search for nannies on its website.
The registration fee of CAD 37 to access the job search site is reasonable compared to the search fees of competitors. However, this is only good for a month, so if the search is not successful, clients need to pay again after a month.
The Nanny Pages site is open for employers to post their ads outlining their nanny needs. Requirements need to be specific and clear so clients receive help in composing the ad, which we like.
Once approved and posted, the client's ad is promoted to its 1000-plus network of job applicants. With The Nanny Pages' wide reach, it is easy for candidates to find employers and find the most suitable role for their skillset.
Employers can also look at the profiles of nanny candidates on the website and cross-check their references. So, they have the liberty to choose only those they want to go ahead and interview.
What we also like about this service is how the employers are allowed to meet the candidates to see if they are best suited for their needs. But, busy employers have to find a schedule to interview potential hires.
And, a bonus: they can match employers not just to nannies but also cleaners, caregivers for the elderly, or staff for your business.
Overall, we like that its site makes it easy to search for potential nannies. What's more, they get responses within a few hours via phone calls and emails.
Employees and nannies can sign up to post ads or search for jobs
Wide reach of potential applicants
Budget-friendly registration fee
Clients need to pay for another month if the search is unsuccessful
Customer Reviews
Great customer support
"We connected with an incredible caregiver for the weekends and are so appreciative of The Nanny Pages. It was great to get advice on the wording of the post so that our care needs would be clear! Thank you so much – having someone reliable, caring and capable in place for my husband's mum has given us so much peace of mind!" – Terri
Fantastic experience
"I had a fantastic experience on The Nanny Pages. I was able to hire two fabulous care givers in one day. The responses to my ad were Overwhelming but I was able to make the right fit in a very short period of time" – Hildi
2. EO Homecare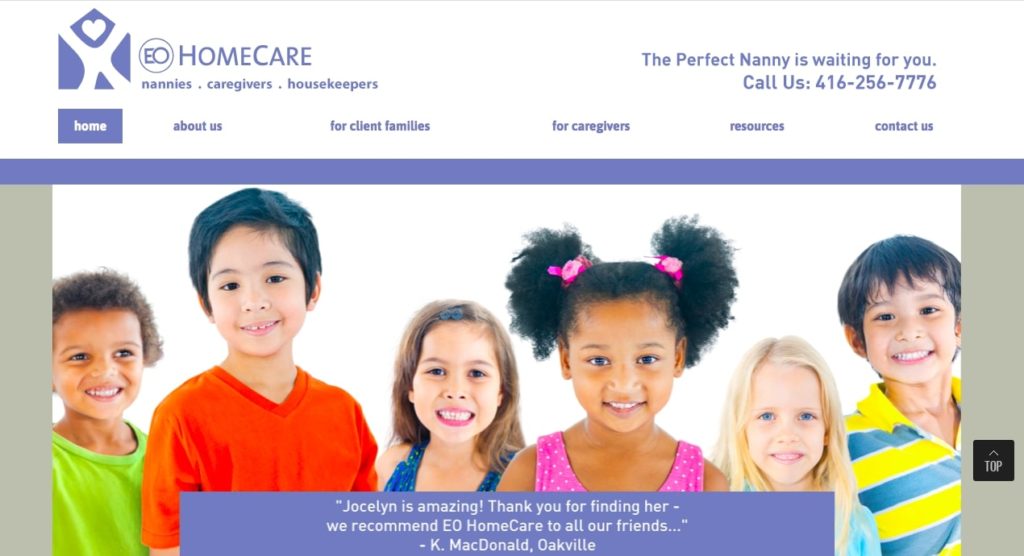 Test
Info
SERVICES
Nanny Services

Senior Care

Housekeeping

WEBSITE
https://www.eohomecare.ca/
ADDRESS
145 King St W, Toronto, ON M5H 1J8
CONTACT DETAILS
416-316-7059
OPERATING HOURS
Monday - Friday: 9 am - 8 pm

Saturday: 10 am - 4 pm

Sunday: Closed
| | |
| --- | --- |
| Criteria | Rating |
| Client Servicing | ★★★★☆ (4/5) |
| Selection Process | ★★★★☆ (4/5) |
| Communication | ★★★★★ (5/5) |
| Availability | ★★★★★ (5/5) |
| Range of Services | ★★★★★ (5/5) |
| Special Deals | ★★★★☆ (4/5) |
EO HomeCare provides caregiving and housekeeping manpower. They can accommodate clients' requests on either a full-time or temporary basis.
We like how its caregivers can do live-in or live-out arrangements. And as an added service, EO offers a nanny trial for up to two days.
Clients appreciate the meticulous 4-phase vetting process, which is extremely important given that they're looking for someone to look after a child. Screening is done through interviews, submission of personal documents, and verification of references.
And for further assurance, it has a 3-month guarantee for local, full-time and permanent workers. However, do note that for temporary and part-time employees, the guarantee is given on a case-to-case basis which can be discussed with the company beforehand.
We find it convenient that they can easily provide live-out nannies as their manpower is based in Canada. However, live-in nannies have to be sourced from outside Canada – and therefore sponsored by employers – as there is a short supply of them in the country.
This agency runs a Foreign In-Home Caregiver programme with nannies working in Hong Kong but are available to go to Canada. These are vetted, but employers can still choose to conduct video interviews for their own peace of mind.
It can be risky to hire foreign-based live-in nannies because you cannot personally meet the nanny before hiring. But the firm offers a 6-month guarantee in case a replacement is needed.
This is a costly option, though, as agency and application fees have to be paid. Employers also shoulder the travel cost and health insurance.
And more than the financial cost, the logistical stress of having to replace a nanny coupled with the cultural differences can prove burdensome.
In conclusion, we recommend EO Homecare as they put importance on screening applicants. Its strong attention to detail and vetting process are commendable.
Provides full-time or temporary nannies
Live-in or live-out arrangements 
2-day nanny trial
Meticulous 4-phase screening process
Provides guarantees for hired nanny
Live-in nannies are not local hire and need to be sponsored
Costly to hire live-in nannies
Associated risks in hiring foreign live-in nannies 
Customer Reviews
Easy process
"Esti and her team are a pleasure to work with! They coached me through everything and helped me choose a nanny that fit my family needs! Esti always gave it to me straight and was available to answer any question. She never made me feel my questions were silly! It was an easy processes with eo HomeCare! I would HIGHLY recommend going with them!!" – Pinky
Very helpful in the hiring process
"Finding a nanny is a stressful process, and I am very glad a friend indicated me the EO HomeCare agency. From the beginning, they understood my family needs and showed me the pros and cons of different options, so I felt confident to choose the live-in sponsored caregiver route. They were not only helpful in preparing all the paperwork, but also have a team of recruiters overseas that met with all the applicants before I interview them. I am happy to have hired the most amazing nanny to care for my LO. Thanks Esti and EO homecare team!" – Katia
3. The Summerhill Club
Test
Info
SERVICES
Babysitting

Tutoring

Music Lessons

Private Acting Lessons

Pet Sitting

House Sitting

Vacation Sitting

Overnight Help

WEBSITE
https://www.thesummerhillclub.com/
ADDRESS
764 Queen St W Suite 2, Toronto, ON M6J 1E9
CONTACT DETAILS
647-528-7074
OPERATING HOURS
Monday - Sunday: Open 24 hours
| | |
| --- | --- |
| Criteria | Rating |
| Client Servicing | ★★★★☆ (4/5) |
| Selection Process | ★★★★★ (5/5) |
| Communication | ★★★★★ (5/5) |
| Availability | ★★★★★ (5/5) |
| Special Deals | ★★★★☆ (4/5) |
Summerhill offers babysitting services in Toronto and other major hubs where they have a presence: New York, Los Angeles, and London. They can also provide sitters in other parts of the globe upon availability.
We like that they can provide a nanny even at the last minute. This comes with a fee of CAD 30, but for emergency situations, this is still a great option.
Another convenience is its client database. If there are no changes in their personal data and nanny requirements, clients just need to email the time and date a sitter is needed.
For the assurance of the employers, candidates undergo a rigorous hiring process. It covers face-to-face interviews as well as background checks via references and police clearance.
It adds to clients' peace of mind that their nannies are certified to conduct CPR for children and infants.
There are different ways that employers meet the candidates aside from email communication. Video chats are arranged so even the children can meet the potential nanny.
Trial shifts can also be accommodated. However, for cancellations less than 48 hours, clients will be charged a maximum of 4 hours of service.
And, here's a great value-added service: they have tutors or music and acting coaches as well. These are good additional options for parents who want to add an educational component to their childcare services.
Overall, Summerhill has made childcare convenient. And with their screening process, you know that you will get trustworthy sitters.
Provides nanny services in other parts of the world
Maintains client database so clients need not repeat data inputting 
Rigorous hiring process
CPR-certified for children and infants
Video chats and trial shifts with potential nanny
Last-minute booking fee
Cancellation fee for trial shifts
Customer Reviews
Go-to sitter
"Summerhill is our go-to when we need a sitter for our children. Allie and her team are incredibly professional, these are some really amazing people to watch your kids! We've had a Summerhill sitter stay with our two children when we had to be out of town overnight – it felt safe and went flawlessly. We use Summerhill often as we don't have family nearby and we couldn't be happier. And if you get stuck – they almost always can help out on very short notice. Highly recommend." – Jessica
Amazing sitters
"Allie is amazing! The sitters are amazing! I am so happy with the level of professionalism. I feel totally comfortable and have the utmost trust for the sitters that come into my home. They bring a wealth of knowledge, experience and an artistic flair!!! Love to support the artistic community, especially in these very hard times for them! It is definitely worth every single penny and I am happy to pay! Thank you Allie and your special team or artistic individuals." – Jillian
4. The Nanny Solution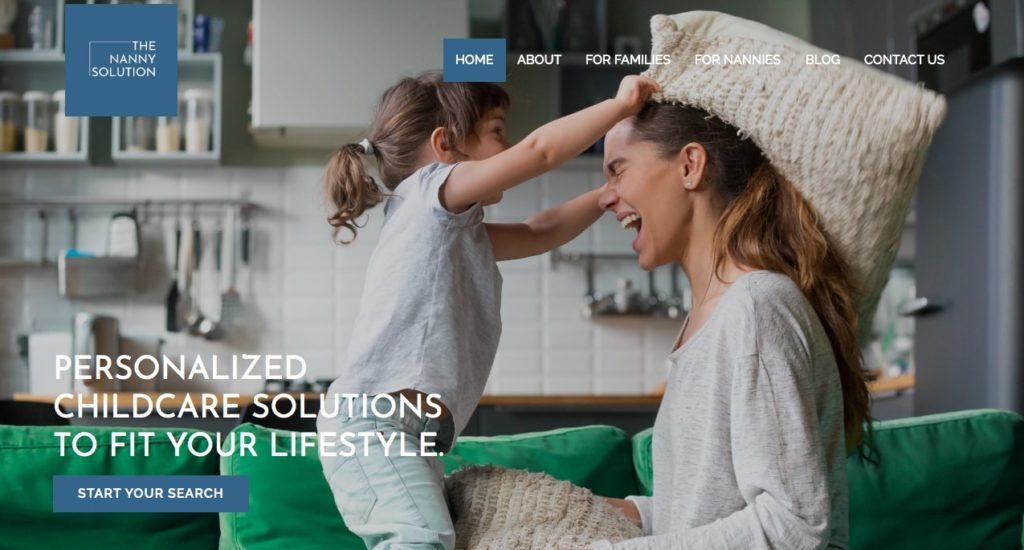 Test
Info
SERVICES
Part-time, Full time, live out Traditional Nannies

Nanny Educators- Tutors

Nannies-House Managers

Career Nannies

Temporary Nannies

Travelling Nannies

Newborn Care Specialists

Doulas

WEBSITE
https://thenannysolution.ca/
ADDRESS
Serves Toronto and other areas
CONTACT DETAILS
647-776-0911
OPERATING HOURS
No information available
| | |
| --- | --- |
| Criteria | Rating |
| Client Servicing | ★★★★☆ (4/5) |
| Selection Process | ★★★★★ (5/5) |
| Communication | ★★★★★ (5/5) |
| Availability | ★★★★★ (5/5) |
| Special Deals | ★★★★☆ (4/5) |
The Nanny Solution is a member of the Association of Premiere Nanny Agencies, which vets agencies to check if they follow standard industry practices.
This company has evolved to provide more holistic nanny services catering to the changing needs of families. It even covers the academic needs of children via trained and certified teachers or tutors, which is impressive.
Over the last 20 or so years, The Nanny Solution has helped 26,000 families. This increases our confidence in their credibility.
Sitters are available on a full- or part-time basis, although only limited to live-out nannies.
To ensure nannies' quality of work, only 10% who undergo initial screening get to the next round. Only candidates with at least 2 years of babysitting experience supported by references and a clear police record are considered.
They also undergo continuous training so they enhance their knowledge of food and nutrition, sports, and the arts. Aside from this, they require their sitters to know first aid and CPR for all ages.
What we like about this company is how they can provide short-notice nanny requirements. But for normal hiring, it will take 1-2 months to find a good match.
To start searching for a nanny, clients need to pay a one-time, non-refundable joining fee of $399. On top of this are a monthly agency fee for placing temporary or permanent nannies and the hourly rate of the nannies – which, when added up, can be quite costly.
On a brighter note, it is worth mentioning that it has a 90-day replacement guarantee in case the current service does not work out.
That said, we think this firm is a good choice because of its integrated approach.
Member of Association of Premiere Nanny Agencies
20 years of service providing nannies to  26,000 families
Able to provide teachers/tutors
Rigid screening of candidates
Provides short-notice nanny requirements
90-day replacement guarantee
No live-in arrangements available
Can take 1-2 months to match nanny and employer
Expensive, non-refundable joining fee
Agency fee on top of nanny salary
Customer Reviews
Supportive and reliable
"TNS and especially Lisa was truly supportive and reliable during our move to Canada with our 6 month old girl" – Ansie
Exceptional staff
"What a great service! When I was in a bind, they really listened to my needs and found our family a WONDERFUL nanny with short notice. The staff is friendly, knowledgeable, professional and efficient. I highly recommend The Nanny Solution and I am forever grateful to them for introducing us to Sara! Our kids adore her and so do we." – Elizabeth
5. Nanny Ninja
Test
Info
SERVICES
Nanny Placements

On-call Childcare

WEBSITE
https://www.nannyninja.ca/
ADDRESS
2967 Dundas St W #910, Toronto, ON M6P 1Z2
CONTACT DETAILS
647-288-1118
OPERATING HOURS
Monday - Saturday 9 am - 8 pm

Sunday 1 pm - 6 pm
| | |
| --- | --- |
| Criteria | Rating |
| Client Servicing | ★★★★☆ (4/5) |
| Selection Process | ★★★★★ (5/5) |
| Communication | ★★★★★ (5/5) |
| Availability | ★★★★★ (5/5) |
| Special Deals | ★★★★☆ (4/5) |
Nanny Ninja offers long term and on-call nanny services. Just like other nanny agencies, they have their own 3-stage process of screening for all applicants.
Finding a match will take 4-6 weeks. But if you need a nanny at the last minute or for a few hours only, you can avail of its on-call nanny service through an instant request booking system.
If you are looking for flexible rates, Nanny Ninja is for you as it offers a discounted booking fee if availing of packages. If not, a non-refundable booking fee is charged on top of the nanny's hourly rate.
What we like with Nanny Ninja is its employment guarantee in case the nanny´s employment ends within 1 year. This is credited to future placements in full or a portion of it, depending on the length of service.
Even better is if the employment ends for whatever reason within 7 days of the contract, it will credit back 100% of what was paid.
However, this is one nanny provider that requires clients to pay a hefty $299 application fee to start the search process. And once there's a match, a placement fee of 12% of the gross annual compensation of the nanny is collected.
This firm is highly recommended for how they ensure clients are provided with nannies who have age-appropriate skills. They even offer 20-minute free consultation and guide questions for clients when conducting interviews.
3-stage screening process
On-call nanny service
Instant request booking system
Packages with discounted booking fees
Employment guarantee of up to one year
Placement fee fully refunded for employment termination within 7 days
Free 20-minute consultation
Provide clients guide questions when interviewing candidates
Non-refundable booking fee if not availing of packages
Application fee to avail of its search process
Additional placement fee for hired candidate
Customer Reviews
Honest and supportive service
"This was our first time getting a nanny and we shopped around for a good agency. After extensive search we came across Nanny Ninja. Their pricing seemed very reasonable to us and Brandon was able to understand our requirements extremely well. Since it was our first time, Nanny Ninja made sure to answer all our questions in detail and with clarity. I felt they were very honest throughout the process and provided great support during the interview phase. The candidates Nanny Ninja narrowed down and sent us were all exceptionally good and it was a difficult job for us to choose one. It's been 2 months since our nanny started with us and overall things have been great.
Definitely recommend to give Nanny Ninja a shot. Thank you once again for the great support, Nanny Ninja." – Talha
Quick service
"I was very pleased with my Nanny Ninja! The online booking was easy and quick and despite the short notice they quickly found a babysitter for the time I needed. Cindy was great with the kids, she immediately put me at ease and I knew they were in good hands. The one downside is the booking fee + the nanny fee but it's worth it to know that I am getting quality nanny care, especially when it's short notice!" – Paige
FAQs on Nanny Services
---
This rounds up our review of the best nanny services in Toronto. We hope you can use their services when the need arises.
We also have other articles on hired services in case you are interested: