Top 5 Home Health Care Services in Toronto
As of January 2022, the Ontario Hospital Association has recorded 5,800 patients who can receive care at home or need long-term care.
Thus, home health care services have more demand now, especially for patients who are not physically able to do most of their basic needs. They can help patients recover and manage their day-to-day living.
It also eases the stress of family members having to take care of their loved ones. Now, they can turn to the best home health care services to see to it that their loved ones get excellent care and attention.
Read on for our reviews of the best home health care services in Toronto.
The Best Home Health Care Services in Toronto
We chose the best companies who offer home health care services based on these criteria:
How much does a home health care service cost in Toronto?
To get an idea of how much home health care services cost, below are the indicative prices:
| Services | Rate per Hour |
| --- | --- |
| Personal Support | $28 - $35 |
| Home Support | $24 - $33 |
| Registered Practical Nurse | $45 - $60 |
| Registered Nurse | $55 - $80 |
| Physiotherapy | $90 - $150 |
| Occupational Therapy | $110 - $150 |
| Speech Therapy | $120 - $135 |
| Registered Dietitian | $100 - $130 |
| Social Worker | $120 - $135 |
Home health care services are covered by OHIP. However, you need to know your eligibility as not all cases can qualify.
OHIP will fully cover or give partial coverage only depending on the care required. So, the kind of care or length of time given by the insurance coverage may not be enough for what the clients need.
The next option is private home care service. The cost varies on the kind of service taken, the frequency or length of time the service is needed, and the skills of the service provider.
1. Bayshore HealthCare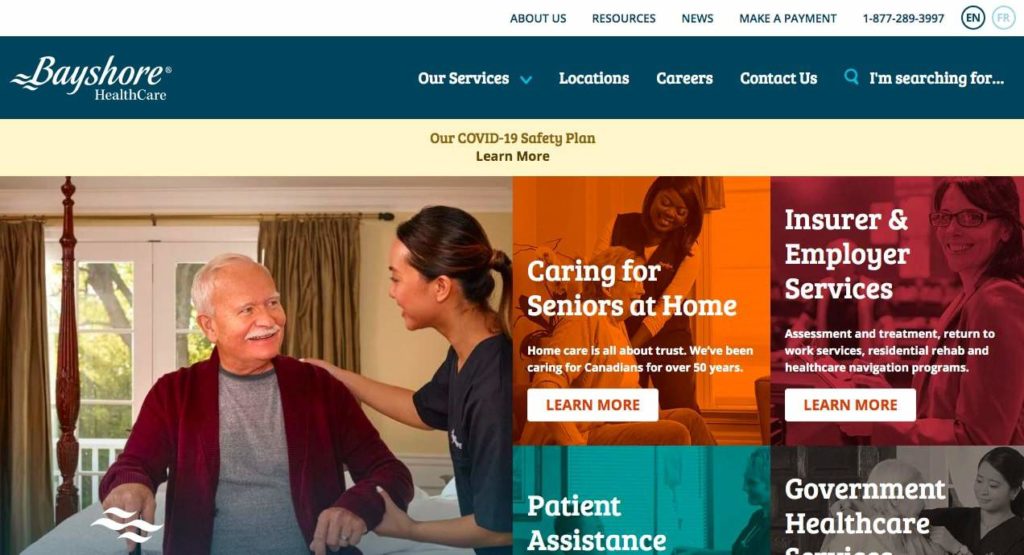 Test
Info
Services

Caring for Seniors at Home

Patient Assistance Programs

Insurer & Employer Services

Government Healthcare Services

Care by Medical Attention

Website
https://www.bayshore.ca/
Address
992 Kingston Road Toronto, ON M4E 1T2
Contact details
416-927-7850
Operating hours
Monday - Sunday: Open 24 hours
| | |
| --- | --- |
| Criteria | Rating |
| Range of Services | ★★★★☆ (4/5) |
| Cost of Service | ★★★★★ (5/5) |
| Availability | ★★★★★ (5/5) |
| Staff's Conduct and Expertise | ★★★★☆ (4/5) |
Bayshore HealthCare offers comprehensive home health care services catering to both privately-funded and with insurance-covered clients. It has been serving Canadians since 1966 and has received recognition as one of the Best Managed Companies in Canada since 2006.
What is notable is that Bayshore Care Planner tailor-fits services to the needs of clients. Patients are also serviced by a dedicated care manager, who oversees the execution of the care plan.
Not only do they offer a free consultation, but they also have a high response rate when it comes to booking one. You can expect to hear from them within 24 hours, which is impressive.
It is also great to know that its team of caregivers is available 24/7. What's more, we learned that they are not just trained to care for the elderly but are also knowledgable in home care and safety practices.
We have to say, though, that they may need to improve their staff training as some nurses on duty were apparently observed to be constantly on their mobile phones.
Worth highlighting as well are its patient assistance programmes, which aim to help those who need specific assistance at home.
For instance, they have Diabetes Express, which allows clients to receive their supplies and medications at home directly from the pharmacies. We do note, however, that there have been alleged instances of late deliveries, which can be troublesome for a diabetic patient.
Serving Canadians for more than 50 years
Recognised as one of the Best Managed Companies in Canada since 2006
Services tailored to patient needs
Free consultation with quick response
Caregivers available 24/7
Patient assistance programmes
Gives back to the local community via Bayshore Foundation
Some reports on needing to improve patient service
Instances of late delivery of medicines
Customer Reviews
Efficient service
"Great home care organization! They are professional, extremely efficient as they were able to put services in within 24 hrs, you can reach a live voice 24 hrs/day, the staff go above and beyond to provide care, house cleaning, engaging with loved one and even taking them on walks and to appointments. The peace of mind that they provide is priceless. Nothing but great things to say about this company!" – Diana
Amazing staff
"I recently arranged services in St. Michael's Hospital for my brother in law, who underwent open-heart surgery. We called Bayshore's Toronto Branch, and requested a Personal Support Worker for 12 hours overnight shifts, so that he would not be alone. The customer service from the first contact with the branch was EXCEPTIONAL. Care Manager Gina, took personal interest and suggested which staff might be a good fit. Over the course of his care, we received 3 Personal Support Workers who were all amazing. They were kind, gentle, and had real enthusiasm for their jobs!
I can't speak highly enough about our experience! I have heard that Bayshore is the best, and now I know first hand that they really are!!" – Mary
2. C-Care Health Services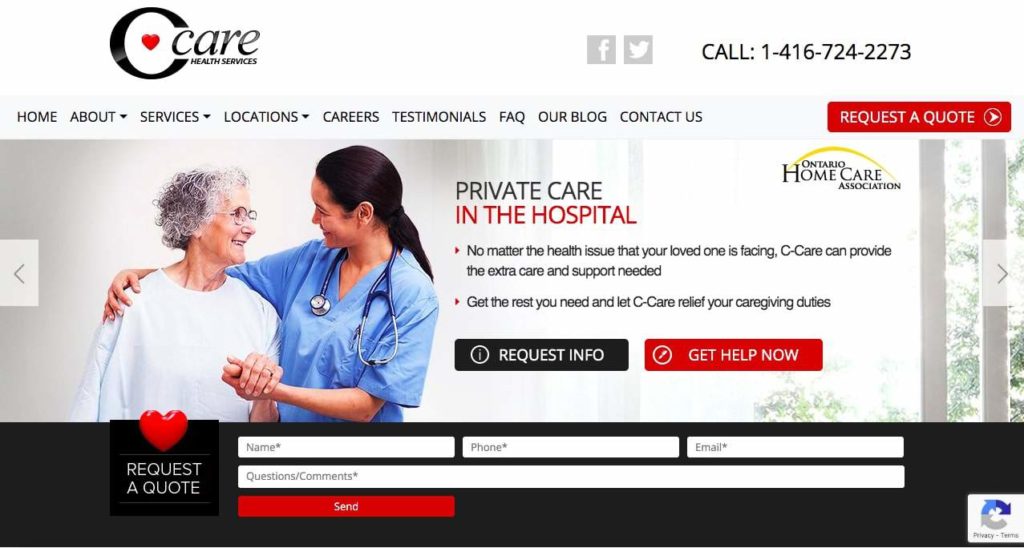 Test
Info
Services

Senior Home Care Services

Acquired Brain Injury Care

ALS Care

Alzheimer's Care

Dementia Care

Palliative Care

Website
https://www.c-care.ca/
Address
741 Sheppard Ave W #9, Toronto, ON M3H 0C9
Contact details
416-724-2273
Operating hours
Monday - Sunday: Open 24 hours
| | |
| --- | --- |
| Criteria | Rating |
| Range of Services | ★★★★★ (5/5) |
| Cost of Service | ★★★★☆ (4/5) |
| Availability | ★★★★☆ (4/5) |
| Staff's Conduct and Expertise | ★★★★★ (5/5) |
At C-Care Health Services, elderly and their families are assured that they get the best personalised care with the help of its skilled and certified staff.
Its Health Services Quality Programme ensures they provide quality service. For one, it offers free in-house inspection, which they will identify key insights that will help them come up with the patient care plan.
We like the flexibility C-care provides in its servicing, keeping in mind the client's budget as well as the amount of time the service is needed. In this way, it can offer affordable services on an hourly, daily, or weekly basis.
The past 20 years have seen this firm provide elderly assistance in personal hygiene, nutritional needs, and physical mobility.
What we appreciate is their constant communication with family members as well as other staff on the progress and daily activities of the patient.
To ensure the trustworthiness of its nurses and personal support workers, they do background checks and obtain local police clearance. Its reliability during emergency cases is also commendable as they are all trained to administer first aid and CPR.
Not all of its services though are covered by the client's insurance provider. But to help clients, it offers the first 8 hours for free if clients book its services for 1 month.
Just note that delays in providing staff for home care are possible as they also help in staffing hospitals, long-term facilities, and nursing and retirement homes.
20 years in giving elderly home care services
Staff are vetted via thorough background checks
Health Services Quality Programme
Customises services to fit clients' budget
Hourly, daily, and weekly arrangements available
Not all services are covered by insurance
Possible delays in the deployment of caregivers
Customer Reviews
Services are highly recommended
"My mom was a private, in-home client from 2015 until her death earlier this year, 2021. Over the 6 years, mom benefited greatly from the consistent, professional, compassionate care provided by the staff. As a registered nurse, I appreciated their knowledge base in caring for dementia patients like mom, as well as the promptness with which caregivers communicated concerns and observations regarding mom's changing condition. I felt reassured that her safety and comfort needs were patiently addressed. Raymond and the administrative staff were thorough, supportive and a pleasure to know. I would not hesitate to recommend C-Care to families considering private homecare." – Terry
Highest level of professional and ethical behavior
"C-Care has supported the daily care of my parents in law for over 2 years. I have been impressed with the level of care, empathy and personal affection each care-giver has shown in support of my husband's ailing parents. I have personally interacted with several PSWs and I have felt they represented the highest level of professional and ethical behavior. I have professional experience of good hiring practices as a retired HR executive and I have been impressed with C-Care case management and patient care. Great management, great patient care professionals." – Lydia
3. Eldercare Home Health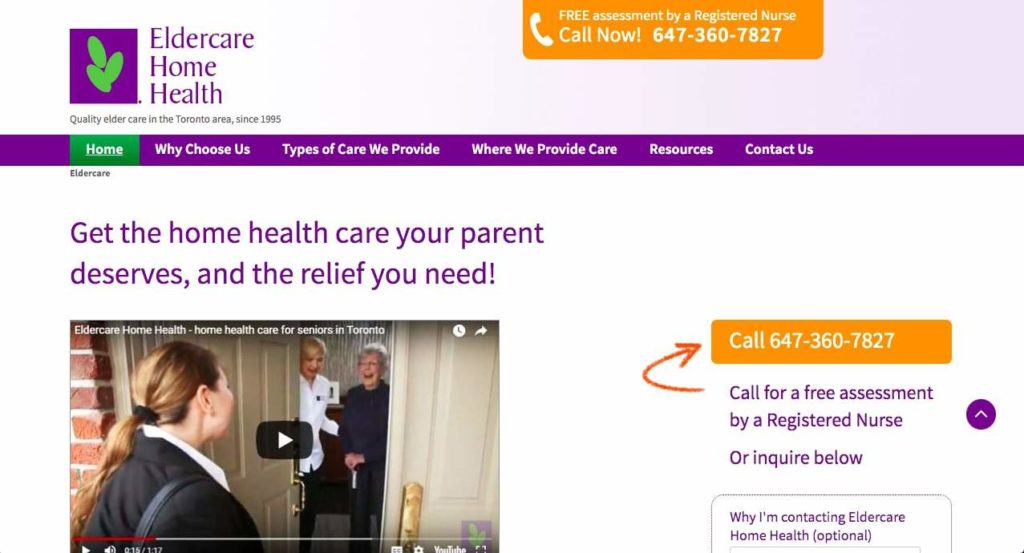 Test
Info
Services

Dementia Care

In-home Palliative Care for Seniors

Parkinson's Care

Stroke Care

Congestive Heart Failure Care

Website
https://eldercarehomehealth.com/
Address
234 Eglinton Ave E #207, Toronto, ON M4P 1K5
Contact details
647-360-7827
Operating hours
Monday - Friday: 8 am - 5 pm

Saturday - Sunday: Closed
| | |
| --- | --- |
| Criteria | Rating |
| Range of Services | ★★★★☆ (4/5) |
| Cost of Service | ★★★★★ (5/5) |
| Availability | ★★★★★ (5/5) |
| Staff's Conduct and Expertise | ★★★★★ (5/5) |
Since 1995, Eldercare Home Health has helped elderlies in Toronto and GTA with their in-home needs. Its scope of work is limited to senior care but is all managed by Registered Nurses (RNs).
What's great is a nurse does a free on-site assessment and meets with the client's family prior to service rendering. Scheduling this visit should be fairly easy as nurses are available 24/7 and does this regularly.

Having nurses assess the situation at home is helpful as their medical knowledge helps formulate the care based on their observations and insights. They also then assign the Personal Support Workers (PSWs) whose skills best fit the brief..
We like that the PSWs are certified and supervised by nurses. For clients' reassurance, the PSWs are required to call the nurse any time of the day for concerns or emergencies.
What is good to know is that clients only pay for the services of the PSW. The firm does not charge an additional fee for the work that nurses do.
We just wish that their office would stay open during weekends to accommodate urgent requests, or at least have an emergency hotline for this.
More than 20 years of elderly home care services
Free onsite assessment conducted by Registered Nurses
Nurses are available 24/7
Certified Personal Support Workers 
No additional cost for nurses' work
Home care service limited to senior care only – cannot cater to other home care cases
Office is closed on weekends
Customer Reviews
Reliable and consistent care
"We would like to express our sincere gratitude for the wonderful care provided to my mother over the last several weeks. We could not have asked for a better team of caregivers. Eldercare quickly identified our needs and were able to provide reliable and consistent care immediately. We highly recommend them!" – Kristie
Excellent cargivers
"My father has dementia and when my mother fell and broke her hip, suddenly there was no one to care for him. I called several agencies but when I spoke to Lisa, I got the feeling that this was the agency for us. Lisa came to my parent's house to meet with me and my dad in person while my mom was in hospital. She was calm and empathetic and knew what this whole horrible experience was like for us. She chatted with my dad and he liked her immediately. We have had several caregivers form Eldercare and they have all been punctual, reliable, helpful and understanding. Now that my mom is home we still employ Eldercare to help us out. I have nothing but good things to say about the service. If you need to change the timing of care due to appointments or activities the call centre is easily accessible and responsive. Highly recommend" – Aviva
4. Arcadia Home Care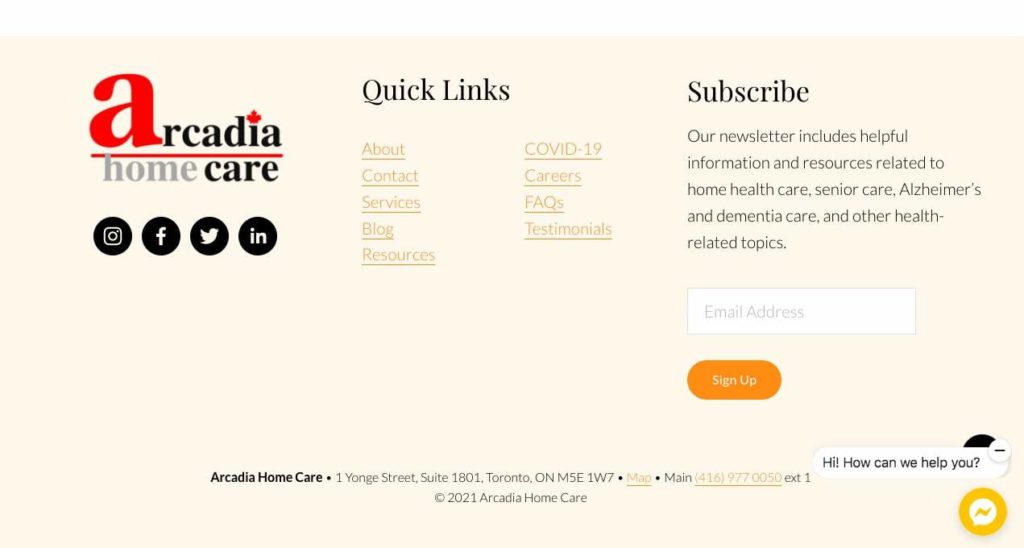 Test
Info
Services

Alzheimer's & Related Dementia Home Care

Acquired Brain Injury Home Care

Case Management

Palliative Home Care

Family Funded Home Care

Rehabilitation

Website
https://arcadiahomecare.ca/
Address
1 Yonge St Suite 1801, Toronto, ON M5E 1W7
Contact details
416-977-0050 ext. 1
Operating hours
Monday - Sunday: Open 24 hours
| | |
| --- | --- |
| Criteria | Rating |
| Range of Services | ★★★★☆ (4/5) |
| Cost of Service | ★★★★☆ (4/5) |
| Availability | ★★★★★ (5/5) |
| Staff's Conduct and Expertise | ★★★★★ (5/5) |
Arcadia Home Care's all-inclusive home care services are focused on helping people with dementia and traumatic brain injuries. Since 2005, they have easied families' worries as it takes over the day-to-day needs of their loved ones.
To know what Arcadia can do, clients can seek a no-obligation free consultation with its nurses. They will then give clients a customised care plan and find the right match among the team of Personal Support Workers (PSWs).
Based on the plan, they also recommend the services' length of time – house visits or 4- to 12-hour shifts. The plan then is executed by the PSW under the supervision of the nurse.
For those needing 24-hour care, like patients suffering from Alzheimer's, its team of PSWs is licenced and trained to help. They undergo classroom and practical training as well as get additional training on caring for persons with Alzheimer's Disease.
The PSW makes a report of day-to-day assistance given to update family members. What is notable is the tracking of the patient's behaviour to see if there are any causes for concern.
Aside from the free consultation, Arcadia has no special offers to lighten the financial load, unlike its competitors. The cost of service depends on the scope of help needed by each patient.
They do however help assess how a client can maximise coverage of publicly funded health insurance.
As an added service, we found out that its team of PSWs can speak different foreign languages. This is something that not all home care services can offer.
Home care services focused on dementia and brain injuries
No-obligation free consultation
Customised care plan
Personal Support Workers undergo classroom and practical training
Staff gets additional training on handling Alzheimer's Disease
Updates family members on day-to-day activity through a written report
Personal Support Workers can speak in different foreign languages  
No special offers for its services
Home care service is focused only on a few health concerns – cannot take in patients aside from having dementia or brain injury
Customer Reviews
Excellent in explaining care plan
"Rohit visited with my mother to outline how one in her position could plan care for a spouse in my father's condition. I was there, and I thought that Rohit did an amazing job. I know how entrenched my mother can be in her stance on these issues being resistant to delegating care to others. Anyone from a South Asian family would likely relate.
Rohit struck the right balance of patience and respect without sugar coating scenarios that families have to realistically plan for. With his intervention of sorts, my mother opened up to the reality that playing it day by day is not a strategy to avoid disruptive emergencies that are an inevitable part of aging. I'm very grateful to Rohit for navigating this difficult conversation with family with both pragmatism and empathy as he did so. Highly recommended." – Sohail
Professional staff
"All staff members are highly professional. Quality of care, communication and services. Safe and confidential environment is provided to everyone. Lots of shifts and good understanding of everyone's point of view. Very caring and respectful towards staff and clients." – Sapna
5. Home Care Assistance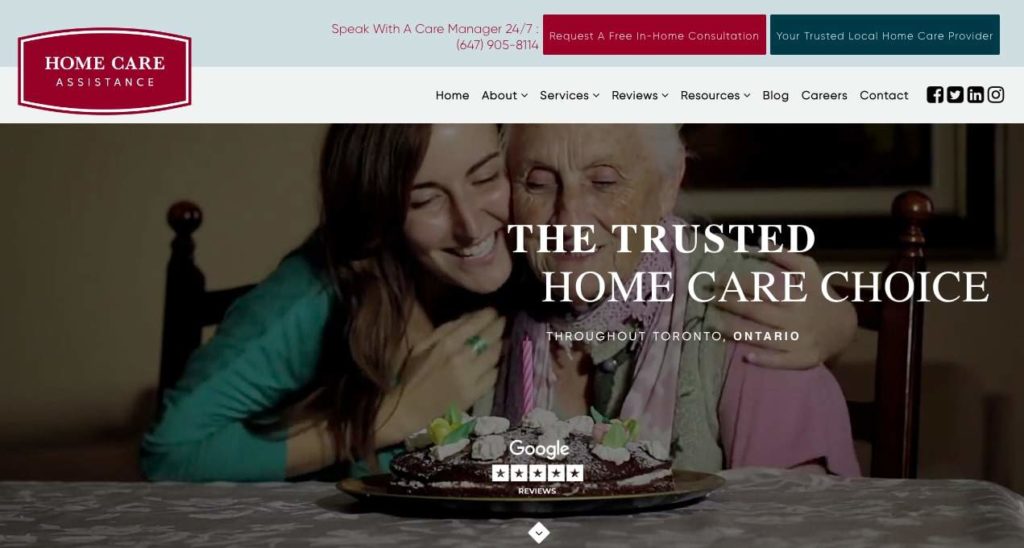 Test
Info
Services

Hourly Home Care

Live-in Care

Alzheimer's Care

Dementia Care

Stroke Care

Parkinson's Care

Hospice Support

Website
https://www.torontohomecareassistance.ca/
Address
355 Eglinton Ave W, Toronto, ON M5N 1A3
Contact details
647- 905-8114
Operating hours
Monday - Sunday: 8 am - 8 pm
| | |
| --- | --- |
| Criteria | Rating |
| Range of Services | ★★★★★ (5/5) |
| Cost of Service | ★★★★☆ (4/5) |
| Availability | ★★★★☆ (4/5) |
| Staff's Conduct and Expertise | ★★★★★ (5/5) |
Since 2002, Home Care Assistance has helped seniors with services tailored to their unique needs. They have the flexibility to be able to provide round-the-clock assistance as well as by-the-hour service.
What's worth noting is its free consultation is conducted at the home of the patient. A comprehensive plan, based on its Balanced Care Method, is drawn after the visit to give clients an idea of how they can help.
This holistic method takes into consideration clients having healthy meals, increasing physical mobility, and doing mental exercises. It also includes how patients can interact with their peers and give them direction.
In addition, elderlies that have dementia, Alzheimer's, and Parkinson's can have a caregiver live with them 24/7. They get the support they need just like staying in an assisted living facility but in the comforts of their homes.
Its caregivers are also trained to provide help to patients needing physical assistance and recovering from a stroke, falls, and other injuries.
The firms' willingness to change caregivers anytime clients request is commendable even after caregivers are carefully matched. While its office has limited operating hours, clients need not worry as its care managers are available any time of the day.
Aside from free consultation, we found out that this firm does not require any long-term commitment or a deposit before service commences.
However, its services are not covered by the government's OHIP. So, its affordability may be a consideration for clients in choosing this home care service.
Flexible in the length of time of service
Free consultation conducted at the home of the patient
Balanced Care Method – a holistic approach to helping patients
Will change caregivers upon the client's request
Staff can live with patients 24/7
No long-term commitment or deposit before the start of the service
Services not covered by government insurance
Limited office hours
Customer Reviews
Caring health worker
"The firm was fast and efficient in deploying a caring health care worker to look after my daughter living alone – a victim of a cycling accident. She really liked ad appreciated the home visits" – Sandra
Caring and compassionate caregiver
"We are so glad we found Home Care Assistance when we did. They went over and above for my grandmother and our whole family when life was really difficult for us. Nothing was too much to ask. The whole team of caregivers were really caring and compassionate and the company made sure that they were a good fit for her." – Bev
FAQs on Home Health Care
---
That's it for our review of Toronto's best home health care providers. Hopefully, you've found a few worth trying out for your loved one.
If you need more healthcare-related services, perhaps these other reviews can help: