The 8 Best Notary Public in Toronto
In need of fast and reliable notarization around the area? No need to look further as we've listed down the best notaries public in Toronto today!
In this review, we'll look into each notary's service fees as well as their specialties. We'll also talk about certain things that make their services unique versus other notaries.
Read on to find the typical costs of notarization services first!
The Cost of Notary Public Services in Toronto
The first thing you need to know is that you won't be paying per document. You'll be paying per notary signature, commission, or certification.
Knowing this, the pricing scheme is usually based on 1st, 2nd, 3rd, and so on, notarization, commissioning, or certification.
As a rule of thumb, the more notarizations, commissions, and certifications you get, the less you'll have to pay per notarization. You can also score a 1st to 3rd notarization for as low as $10 to $12, but it's generally going to be at $15 to $25.
See the table below to get a better understanding of the prices:
Notarization, Certification, Commission
Average Price Range
(plus applicable HST tax)
1st – 3rd
$12.95 – $20
4th – 6th
$10 – $20
7th – 9th
$8 – $20
10th and over
$5 – $20
Note that most notaries are open to discounts with more notarization numbers. This usually applies if you have 15 or more notarizations.
Top Notary Public in Toronto
Now, since the price decreases when the number of notarizations increases, it's best to just connect with one notary public to do all your notarization needs. Find the one for you here by looking through each individual review:
1. Toronto Notary Public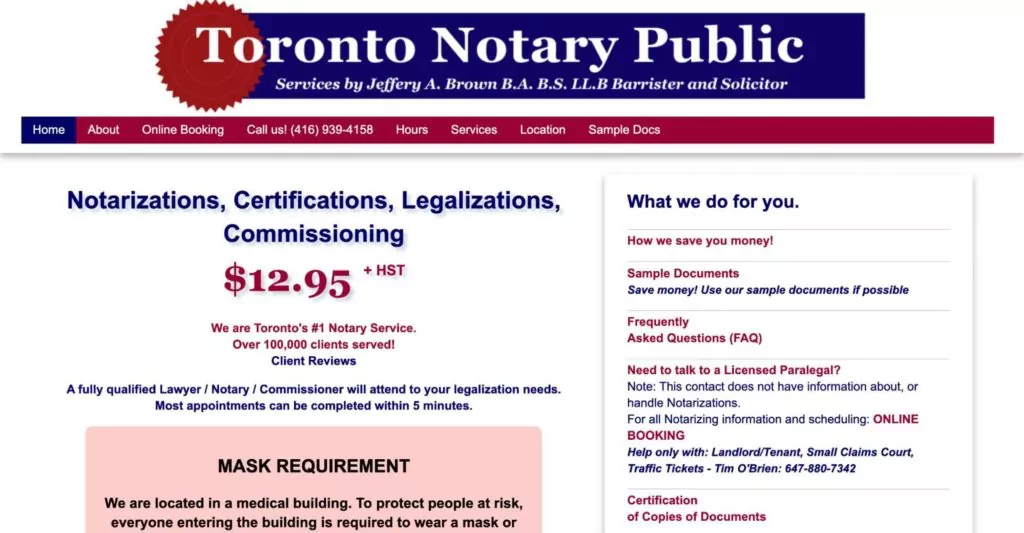 SERVICES
Certification of copies of documents, electronic document certification, notarizing/witnessing a signature, notarizing a document, commission of oaths, affidavits, solemn affirmations and declarations, consent to travel documents, invitation lettersproperty documents, power of attorney, notarizing a will, affidavit of execution ,criminal record check notarization/certification, translated documents, passports – in lieu of guarantor form, creating legal documents
WEBSITE
https://toronto-notary-public.com/
ADDRESS
800 Bathurst St #402, Toronto, ON M5R 3M8, Canada
CONTACT DETAILS
(416) 939-4158
OPERATING HOURS
Monday – Friday: 11:00 AM – 7:00 PM
Saturday: 11:00 AM – 3:00 PM
Toronto Notary Public is the place to go if you want fast and inexpensive notarization services. They also have a seamless booking option that smooths the process for you.
Jeffery A. Brown is a notary public and lawyer whose mission is to make notarization more affordable. But he can't play this game in single-player mode, so to speak: you have to do your part of the deal too.
This is what we love most about this notary public – it's efficient at offering fantastic value in a straightforward way. The moment you book an appointment online, you'll receive a text outlining what you need to do.
Following the instructions is vital to hasten the process and keep it reasonably priced. And to be quite frank, a lawyer's time is expensive and he's only offering his for around $5 to $13 per notarization.
If you follow his easy process, you can get an appointment done within five minutes. Basically, he's also saving you time too, which is a plus for us.
Brown also services vulnerable clients such as low-income individuals and newcomers. He also caters to students and senior citizens in Toronto.
The notary accepts same-day appointments but note that they have limited working hours. Speaking to staff or representatives is also a struggle here due to the fast-paced environment.
One of the cheapest notary services in Toronto
Seamless online booking option
Sends follow-up texts with comprehensive instructions before an appointment
Appointment completed in as fast as five minutes
Caters to low-income individuals and other vulnerable communities
Same-day appointments
Has a wheelchair-accessible office
Limited business hours
DIfficult to connect with staff or representative
Difficult to rebook due to a fast-moving setup
Customer Reviews
Best prices and fast task completion
It seems that Jeffery is One Man Army running the entire show..and he is doing it amazingly well. Prices for notarizing documents is cheapest, online booking system for appointment is convenient, and he completes the task fast. Basically you could be in and out of his office in few minutes. Pain point is parking but still not too bad. – Sameer Khatri
Fast and smooth transaction
I went there and it was one of the fastest and smoothest transaction I ever made in my life. It took her less than 10 minutes to notarize my document. The lady who assisted me was very accommodating and professional. I also like the fact that they sent me all the important instructions via text after making an appointment. Lastly, way way cheaper compare to other Notary public offices in Toronto. Thank you!! – Kaye G.
2. Downtown Notary
| | |
| --- | --- |
| SERVICES | Certified true copies of original documents, affidavits for insurance claims, certifying signatures and verifying identities, contracts, agreements, & leases |
| WEBSITE | https://downtownnotarytoronto.com/ |
| ADDRESS | 95 St Joseph St Office 129, Toronto, ON M6H 3G8, Canada |
| CONTACT DETAILS | +1 647-799-3531 |
| OPERATING HOURS | Monday – Friday: 9:00 AM – 6:00 PM |
Downtown Notary is one of the most prominent notaries in Toronto that offers a full range of notary services. They also offer online notary services via Notarize.ca.
One of the things that we liked about them is how simple the pricing structure is. Your first notarization will cost $35 and every additional notarization will only cost $17.50.
Speaking of prices, it still falls within the average in Toronto and is way cheaper than some others on this list. In addition to this, they also offer sliding-scale discounts for people on fixed incomes so you can offset the costs.
Another thing we liked in particular is that they don't charge for a name and gender change for trans persons. Plus, students and seniors can get significant discounts as long as they have valid IDs.
They also offer translation verification for Spanish documents. So, in case you're involved in a bilingual contract agreement, you'll know where to go.
As mentioned, they also offer online notary services via Notarize.ca, which costs $$36.99 for the 1st notarization and $21.99 for each additional notarization. Clients can request a paper copy sent via standard post at an additional fee of $16.99 which is exclusive of shipping costs.
The notary is closed every weekend as per usual business hours, but you can still set an appointment during those days. Just be aware of the lateness, no-show, and cancellation fees for these.
Offers online notarization via Notarize.ca
Competitively priced
Straightforward pricing scheme for additional notarization
Offers sliding-scale discounts for people on fixed incomes
25% discount for students, 10% discount for seniors
Free name and gender change on documents for trans people
Offers translation verification for Spanish documents
Weekend and evening appointments are possible
Difficult to communicate via email
Lateness fee that can cost you $6 to $50
Cancellation and no-show fee of $35
If you bring the wrong documents or misunderstand the requirements, you'll pay $30
Customer Reviews
Flawless and painless process
I had Downtown Notary notarize 4 documents for me, for a Visa application. I used Mario Delgado at the St. Joseph St. location in Toronto. He translated my documents into Spanish flawlessly, and made recommendations that my immigration lawyer neglected to tell me about. Time was an issue and the whole process was painless, although stressful, (not due to anything that Downtown Notary did or didn't do). If not for Mario's knowledge and professionalism, we would have had to make a trip back to Canada. Highly recommend. Thank you Mario. – Steven Dolson
Excellent turnaround time
Excellent service and professionalism!!! Mario from Downtown Notary assisted me with legalizing a couple of my documents for use in another country in amazing turn around time. I just want to say a big THANK YOU for being so responsive to my questions and accommodating. I highly recommend their services. – Bryan Bui
3. Maxim Gutsan, B.A Notary Public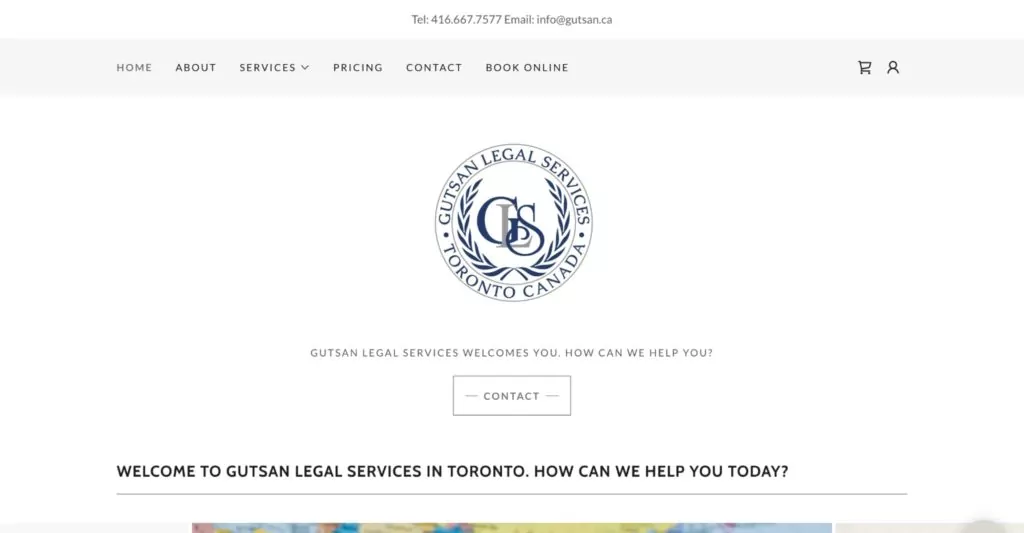 SERVICES
Notary public certified true copy, commissioner of oaths, consent to travel, affidavits, visa processing services, russian pension related inquiries, statutory declarations, children citizenship authentication & legalization services, letter of invitation
WEBSITE
https://gutsan.ca/
ADDRESS
1 Palace Pier Court, Toronto, ON M8V 3W9
CONTACT DETAILS
+1 416-667-7577


[email protected]

OPERATING HOURS
Monday – Sunday: 9:00 AM – 9:00 PM
Maxim Gutsan, B.A Notary Public offers both notary public and paralegal services. They also offer online commissioning services done via conference call.
The first thing we should mention is obviously its notarization service, both mobile and in-person. We have no qualms about the quality and turnaround time, but the price for a 1st notarization is high at $50.
Fortunately, the cost for a second and additional notarization is only $10. So, if you want to get over 10 notarizations in one go, you might end up spending a lot less here.
Costs go lower if you have bulk orders for certified true copies. We recommend taking advantage of this deal for your employment, education, or other document-heavy matters.
Another thing we favor about this notary public is the online commissioning. This process is done via videoconference, making it one of the most flexible options out there.
As a final note, we like that they have a very consistent working window every day. Plus, you can book a same-day appointment at any of the three locations they have in Toronto.
Competitive rates starting on the second notarization or commissioning
Offers mobile notarization
Offers discounts for bulk certified copies
Offers online commissioning via videoconference
Quick turnaround time
Open daily with a consistent working window
Easy online booking option
Expensive 1st notarization fee
Customer Reviews
Swift and insightful assistance
I met with Maxim last Friday, he was slightly late but it was well worth the wait. After discussing the issue at hand Max swiftly remedied my problem and assisted me in preparing and notarizing the immigration letter I needed. He is polite, insightful, and will look out for your best interest. The price is very reasonable for the service he provides and I highly recommend him to anyone that requires notary services. Thank you sir. – Alexander A Savchenko
Fast response and great communication
I was in need of a Notary Public earlier today, I found Maxim on the internet to see if he could help me with my documents and he responded quickly to my email, I booked my appointment easily through his website and I solved my needs in the same day which was amazing and totally unexpected. Also, he charges with fair rates which is important too. He responds fast to any phone call or text messages, he meets the required covid restrictions which is great and I'm just very happy with Maxim's overall service. Totally recommended. – Minerva A.
4. Notary Pro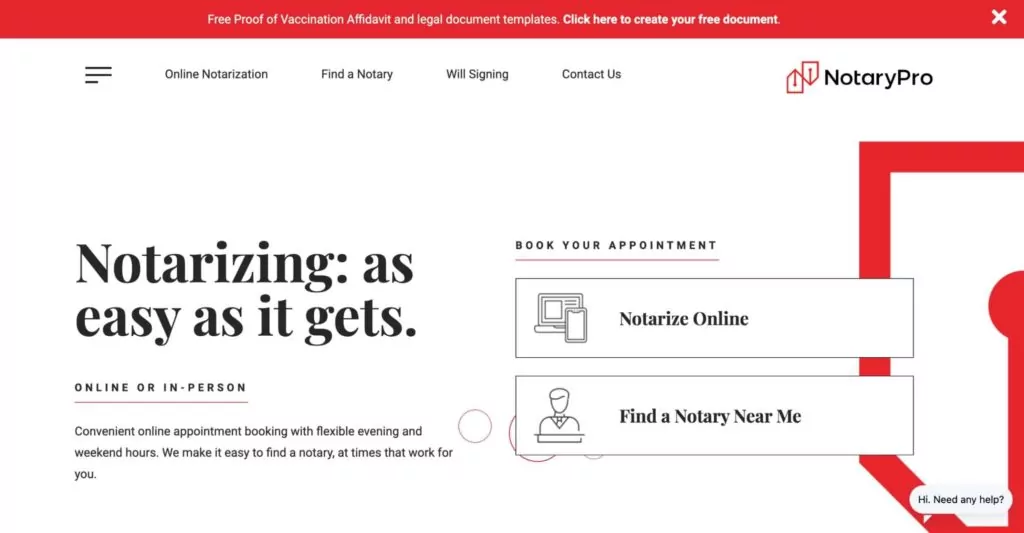 SERVICES
Notary public services, commissioner of oath services, online notary services, mobile notary services
WEBSITE
https://www.notarypro.ca/
ADDRESS
175 Bleecker St #216, Toronto, ON M4X 1L9, Canada
CONTACT DETAILS
+1 888-313-0909


[email protected]

OPERATING HOURS
Monday – Friday: 8:00 AM – 8:30 PM
Saturday: 9:00 AM – 5:00 PM
Sunday: 12:15 AM – 6:00 PM
Notary Pro offers both in-person and online notary services. But they also offer a notable mobile notarization where they come to you instead of the other way around.
Let's discuss their basic services first. Their online notarization is the cheapest one we've encountered so far at only $34.95
We like the process because it involves connecting with the notary via video call. This way, you'll both be present (virtually, anyway) as you electronically sign the document.
An in-person notarization costs the same as an online one. The only thing we're a bit iffy about is the cost of additional notarization, which is relatively high at $24.95.
Considering the value, we reckon that this notary is best if you only need a one-time notarization. Plus, you can get your document in as fast as five minutes so it's totally worth the price.
In line with virtual viewing, they can also virtually witness your power of attorney, will, or affidavit execution. Note that you will still use pen and paper to sign, it's just that it's more convenient since it takes place online.
Perhaps our favorite among their offerings is the mobile notary service where they'll drive anywhere convenient for you.
We recommend trying out this service if you're stuck in your office during work hours or if you're unable to leave your home. It's just a bit expensive at $79.95 but go for it if that's the price you're willing to pay for convenience.
Competitively prices in-person and online notary services
Processing time of as fast as five minutes
Offers virtual witnessing of power of attorney, will, or affidavit execution
Offers mobile notary services to your home, office, anywhere most convenient
Open daily
Many available appointment slots open
The cost of additional notarization is a bit pricey
Customer Reviews
Effective service at rock-bottom price
If you want a super quick, no nonsense, and effective service at a rock bottom price, this is for you. I am a satisfied customer. This is first time that I saw a lawyer at a economical price. – Natalie Mathews
Gets the job done
Josh is truly a notary pro. Was looking to get a document notarized and after coming across his 5 star reviews and competitve pricing, I decided to give Notary Pro a try. I am glad I did! Josh is friendly and professional. Knows what hes doing, gets the job done, offers a great price, and makes you feel comfortable. Highly recommend his service! – Emmanuel Awdishu
5. Red Seal Notary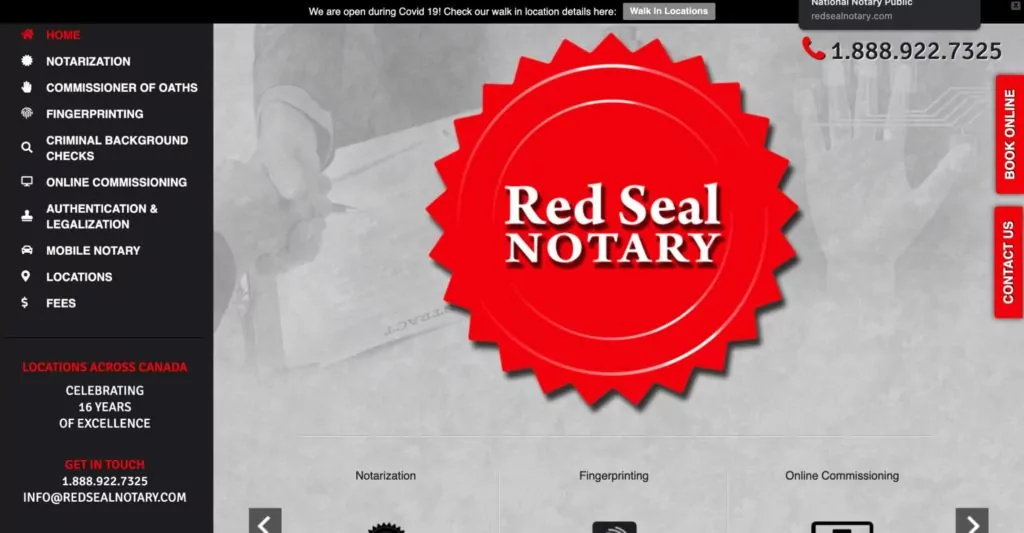 | | |
| --- | --- |
| SERVICES | Notarization, affidavits, certified true copy, consent to travelletter of invitation, statutory declarations, online documents, certification, marriage abroad, mobile notary services |
| WEBSITE | https://www.redsealnotary.com/p |
| ADDRESS | 25 Adelaide St E Suite 100, Toronto, ON M5C 3A1, Canada |
| CONTACT DETAILS | +1 888-922-7325 |
| OPERATING HOURS | Monday – Friday: 9:00 AM – 5:00 PM |
Being in the business for 16 years, Red Seal Notary can guarantee exemplary services. And they do this by providing fast turnaround time and good service.
If you're curious about their pricing, your first notarization will cost you $49, which lands them among the pricier notaries on this list. Fortunately, the second and any additional notarization will only cost you $10.
They also offer online commissioning fees for $75. But the real deal here is the drafts and notarization packages that start at $99.
This package includes consent-to-travel letters for children, statutory declaration of marital status, and more. These are basically documents related to family matters in case you might need to get married in another country or add a spouse to your pension.
In addition to all these, they also offer mobile notary services where they drive to you instead.
However, these services aren't always available. Plus, it costs $199.00 + notarization fees and you may even pay additional fees for waiting times beyond 10 minutes.
Fortunately, they make up for it by providing excellent walk-in notarization. If your appointment is on Wednesday, you'll even get a 15% discount if you're a student or senior citizen.
Favorable fees for the second or additional notarization
Offers draft and notarization packages
Offers mobile notary services
Has online notarization services
15% discount for seniors and students every Wednesday
Difficult to connect with via email
Expensive mobile notary services
Charges additional fees for waiting times beyond 10 minutes for mobile notary
Customer Reviews
Goes above and beyond with services
My experience with this specific location was beyond phenomenal. First and foremost, I walked in without an appointment few minutes before the closing time,and the general manager Blake McClung, was an absolute God sent. I was having trouble with a specific form that I needed notarized, and he went above and beyond, to made sure I left satisfied with the service. Mr. McClung helped me past closing time, and I felt terrible,but that is what good customer service is;making sure your customers leaves happy. Mr. McClung, I truly appreciated your help and would definitely recommend Red Seal Notary on Adelaide St to anyone. You deserve a raise too!Thank you again for being so patient in this trying time. Your hard work doesn't go unnoticed. Two thumbs all the way up!!! – Sabreena Woods
Prompt and fast process
Highly recommend this location. Walked in on a Monday afternoon without an appointment and they immediately made time in their schedule. Staff were prompt, knowledgeable and extremely efficient. The whole process took less than 10 minutes. I would absolutely use this location again and great value for the money. – Seth Gray
6. Dianna Giang Notary Public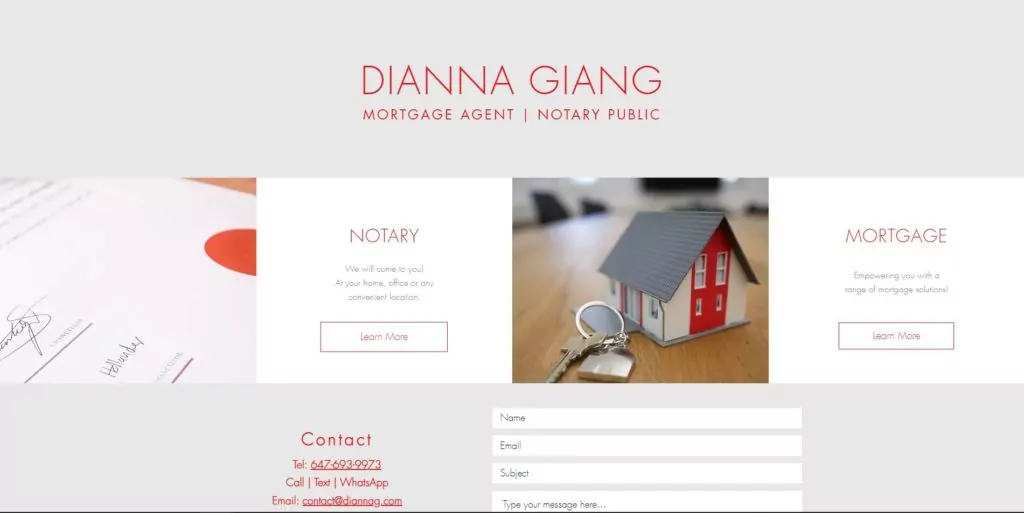 SERVICES
In-person notary, virtual notary, authentication and legalization, record suspension
WEBSITE
https://www.diannag.com
ADDRESS
170 The Donway W #828, North York, ON M3C 2E8, Canada
CONTACT DETAILS
+1 647 693 9973 | contact

[email protected]

OPERATING HOURS
Monday – Sunday, 9 AM – 5PM
Offering one of the most convenient legal services in the city, Dianna Giang Notary Public has earned itself a worthy spot among the top notary public in Toronto.
The thing that we really loved about them is their flexible booking via virtual notary. We're also amazed with their speed and efficiency, as one previous client even stated that their needs were attended to in just under 15 minutes.
We also noted how affordable their rates are compared to other notary public offices. This is on top of the fact that their services are also very mobile, which means you can choose the meeting place for your convenience.
However, we feel like their website could use more information. You see, having an FAQs section saves a lot of trouble and clients learn more in the process.
If you're also looking for record suspension services which include fingerprint and photo destruction, then Dianna Giang Notary Public can also help you with that. They can even assist with the authentication and legalization of documents should you need to use them outside the country.
Offers convenient virtual notary services

Record suspensions services available

Fast response and great overall service
Information on website is fairly limited
Lacks notable accreditations or awards as of writing
Customer Reviews
Professional, courteous, approachable
"Dianna's mobile service offers a minimal contact opportunity to get paperwork completed. Dianne is professional, courteous, approachable, flexible and very personable. She also responds very quickly. I would use her services again if needed. Thank you Dianna." – Susan Robillard
Prices were reasonable
"Needed a document notarized. Dianna was professional and efficient. She is a mobile service. I met her at Eglinton Square food court. Prices were reasonable. Would definitely recommend!" – Jay Sisouphanh
7. Laws.services
SERVICES
Notary public, small claims courts, provincial offences, landlord and tenant matters, human rights
WEBSITE
https://laws.services
ADDRESS
1225 Kennedy Road, Suite 2000, Scarborough, ON M1N3P9 Canada
CONTACT DETAILS
+1 (647) 699-31111
[email protected]
OPERATING HOURS
Monday – Sunday, 9 AM – 9 PM
Ever since 2013, Laws.services has been providing high-quality legal services to its clients in Toronto and the surrounding communities.
Starting off with their public notary services, the thing that we loved the most about them is their highly competitive rates. You only need to pay $30 for the first signature, and all the subsequent signatures cost only $10 each.
However, we noticed their notary public services are fairly limited to signatures. The lack of testimonials also made it hard for us to determine the other strengths of their notary public service.
On the bright side, there are many other legal areas that they can help you with. Laws.services provides legal representation in small claims court, as well as the landlord and tenant board.
They are also open everyday for 12 hours, which means that you have more time slots to choose from for appointments. Their availability even during public holidays is also impressive and serves as a good testament to their commitment to service.
Open even during public holidays

Very affordable rates

Offers other legal services
Fairly limited notary public services
No reviews or testimonials at the time of writing
8. Toronto Notary Service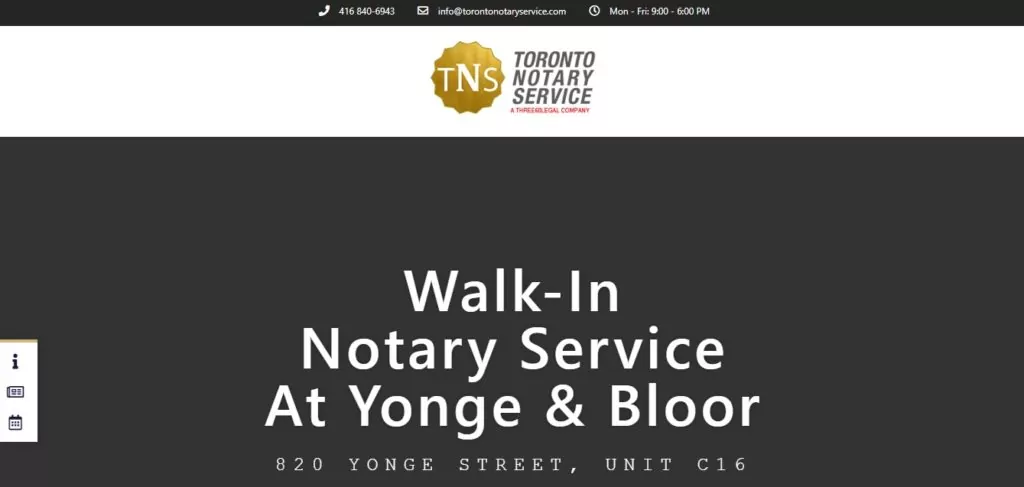 SERVICES
Notary Record Keeping, Invitation Letters, Vehicle Transfer Applications, Name Change Applications, Notarizing a Document where the Original is in a Digital Format, Canada-European Union Comprehensive Economic and Trade Agreement (CETA) documents, Document Translation, Certificate of Origin documents, Minor Travel Authorization Letters, Online Notarization, Custodianship Declarations
WEBSITE
https://torontonotaryservice.com/
ADDRESS
820 Yonge Street, Unit C16
CONTACT DETAILS
416 840-6943
[email protected]
OPERATING HOURS
Mon – Fri: 9:00 – 6:00 PM
Toronto Notary Service is a legal firm located at the Yonge & Bloor that accommodates a wide range of notary services both for local and international clients. with various certified lawyers at the helm of their services, they have since then been able to accommodate services such as Statutory Declarations, Affidavits, and Sworn Declarations among many other documents.
We like that they accept both walk-ins and appointments so that clients can easily avail themselves of their service at any hour within their operating times.
Aside from this, they also offer virtual commissioning services for clients who are unable to visit them physically and to better accommodate the needs of their international clients as well.
However, for clients who intend to know their rates, they may need to inquire further about their prices or perhaps book an appointment with them for consultation.
Overall, with a wide array of notarization services accommodated and certified lawyers especially knowledgeable in their services, we highly recommend them to clients in the area who are in need of prompt and professional notarization services near them.
Appointment completed in as fast as five minutes
On the Subway Line
Same-day appointments
Has a wheelchair-accessible office
Services That You Can Get from a Notary Public
See the list below to find out what a notary public can do for you.
Certification of Copies of Documents
A notary public can help you get your documents certified for legal uses. This allows one to certify that the document in your possession is a true copy and is dated by a professional.
Certified documents have various uses including opening a bank account or mortgaging property. Some banks might not usually ask for the certified documents, but most do, so getting your document certified makes it easier.
Notarizing/Witnessing a Signature
The notary can also act as a witness for signatures between two parties involved in an agreement. This is a fraud-deterrent act by validating the identity of the person signing a document.
The notary will have the signer appear personally and provide satisfactory proof of identity. Afterward, the signer must sign the document in the presence of the notary.
Notarizing a Document
A notary public can certify the authenticity of a document or signature. This carries a legal weight because the notary acts as a neutral third party.
Notarizing includes the process of vetting, certifying, and record-keeping. It also means ensuring that the person signing a document is properly identified, and the intended person signs the document of their own free will.
Commission of Oaths, Affidavits, Solemn Affirmations and Declarations
Affidavits also need to be verified via oaths or solemn affirmations. The notary public can provide such service for the people.
There are certain types of documents that require a statutory declaration instead of verifying the content. If a person lies under oath or affirmation, they could be charged with perjury.
FAQs About Notary Public in Toronto
---
Know an excellent notary public in Toronto that didn't make our list? Let us know so we can review them and add them to our list next time if they deserve it!
If you need more legal help in your way, you can take a look at our list of the best corporate lawyers in Toronto. We also have a wealth of other related reviews up on the site, so feel free to browse to find what you need.