A Guide to the 6 Best Asbestos Removal Services in Toronto
When left untreated, asbestos can be a lot more dangerous than common mold. Fortunately, you've come to the right place to get asbestos remediation.
Today's review will focus on the best asbestos removal services in Toronto. We'll look into each company's quality of work and the level of customer satisfaction they can deliver.
Of course, we won't forget vital details that you might be looking for – like pricing. In fact, read on to see the common prices for asbestos removal in Toronto!
The Cost of Asbestos Removal in Toronto
Small projects typically fall in the $900 to $1,800 range, while bigger projects can go from $3,000 to $12,000. Project size can be defined by the following factors:
Risk level
Scope of removal
Generated wastes
Materials needed
Project timeline
The cost of internal projects can also be computed based on the square feet of the area. For residential homes, the cost is usually $5 to $20 per square foot.
See the table below for the estimated cost of each service in asbestos removal:
Service
Estimated Cost Per Square Foot
Asbestos Floor Tile Removal
$5 – $15
Drywall or wall encapsulation
$2 – $6
Asbestos Ceiling Tile Removal
$5 – $15
$2 – $6 (for paint popcorn ceiling)
Asbestos Pipe Insulation
$2.50 – $10
Roof abatement
$20 – $120
Pipe Run Removal
$2 – $5
The Best Asbestos Removal Services in Toronto
Now that you have an idea of how much to shell out, let's get right into the reviews. Feel free to compare each option to find the one that provides the best value for you.
1. Inch by Inch Inspections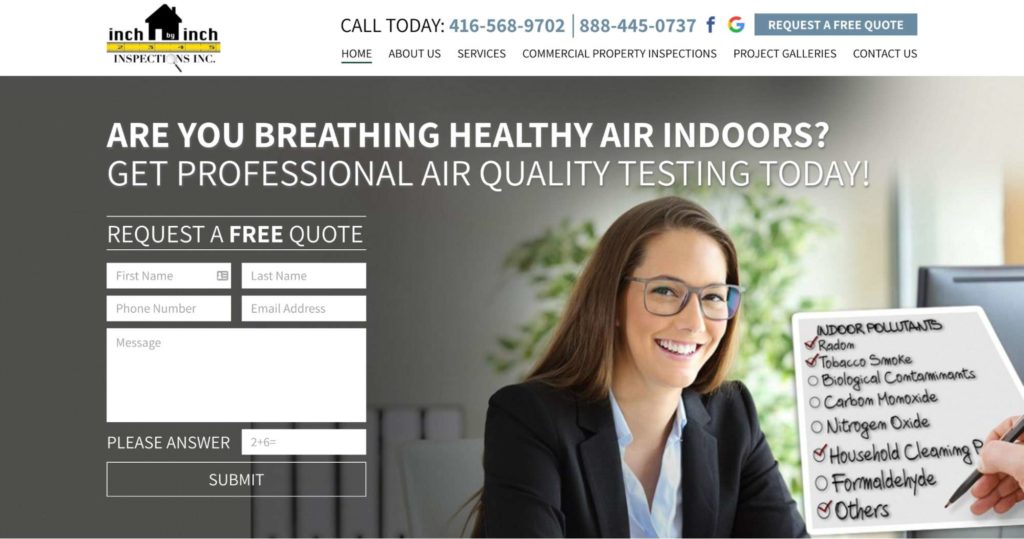 SERVICES
Home inspection, mold detection & removal, and asbestos, lead, and radon removal
WEBSITE
https://www.inchbyinchinspections.com/
ADDRESS
6-6150 Hwy 7, Suite 424, Vaughan, Ontario L4H 0R6
CONTACT DETAILS
416-568-9702
888-445-0737
OPERATING HOURS
Monday – Sunday: 8:00 AM – 11:00 PM
Inch by Inch Inspections offers a wide range of services from home inspection to asbestos testing and removal. Apart from their availability, they also stand out when it comes to great prices.
There are no surprises if you work with this company, which is one thing we love about them. They offer flat rates with no hidden charges and they don't give price hikes on holidays.
For asbestos removal, they'll perform visual inspections and lab testing of samples. Then, they'll give you a detailed evaluation to see your options for prevention and correction.
We like this approach because it still puts you in command while getting expert suggestions. They'll also follow up via phone and email to always keep you in the loop.
Overall, this company is great for 7-days-a week availability, flat pricing, and great communication. If you like the same things, check this contractor out.
Available every day open for 15 hours
Flat rate pricing with no hidden charges
No price increase on holidays
Provides detailed evaluation so you sort your options
Great follow-ups via phone and email from start to finish
Has 13 certifications and qualifications for various services
Customer Reviews
Absolutely amazing
We found Inch By Inch on HomeStar and decided to give Tony a try because the company's reviews are outstanding. We're so glad we did! Tony, the owner, and Joe are absolutely amazing. Tony explained the process for asbestos sampling, containment and air testing. He is extremely knowledgeable and has a calming effect on you. We have a 1 year old baby so obviously we were very concerned about the asbestos in our 1970 home. Tony answers your calls and emails promptly and doesn't rush you off the phone. He is extremely thorough. I would recommend Inch By Inch to everyone! I wish we used this company for our home inspection. Do not hesitate to call Tony for asbestos or mould sampling, as well as follow up air quality testing; you will be in safe and dependable hands. I consider Tony and Joe friends now. Calling Inch By Inch was the best decision I made. – Tonia
Thorough and professional work
​​Tony and Joe were very thorough and professional and what their work, explained everything to my wife and I and made the whole process, beginning to end a pleasure. They continuously helped us through and answered our questions while impartial their knowledge on every aspect of the work.great people to deal with, always available. – Stephen Thomas
2. A1 Eco Mould & Asbestos Removal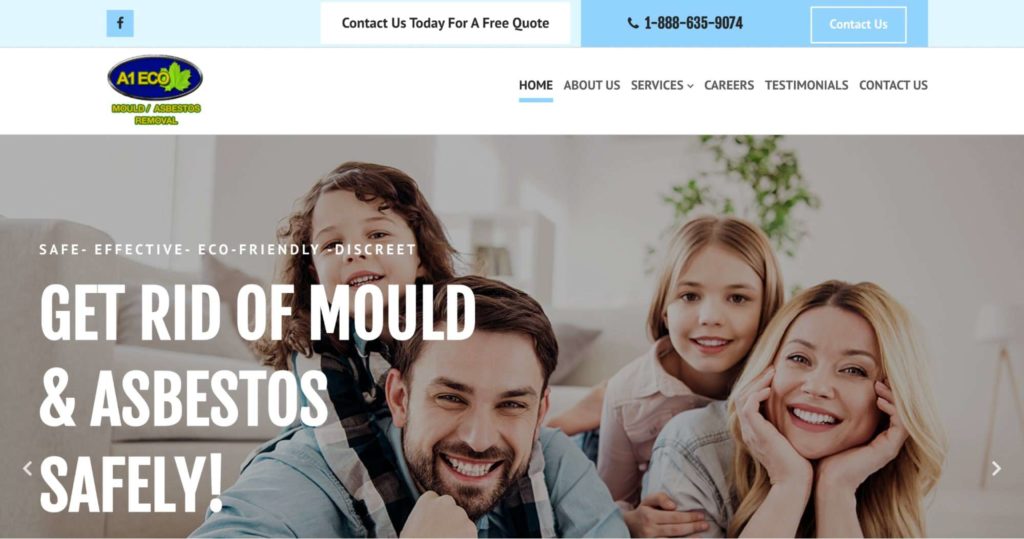 | | |
| --- | --- |
| SERVICES | Asbestos removal,mold remediation, air quality testing, lab sampling |
| WEBSITE | https://www.a1eco.ca/ |
| ADDRESS | UPH2-885 Progress Ave, Scarborough, ON, M1H 3G3 |
| CONTACT DETAILS | 1-888-635-9074 |
| OPERATING HOURS | Open 24/7 |
A1 Eco wins a spot on our list by providing eco-friendly solutions to commercial and residential clients. Coupled with 40 years of experience, you can never go wrong here if you seek excellence.
The first thing we should point out is how fast you can get a quote for the services. It's almost as fast as their response times and the actual removal of asbestos.
Apart from the services, we also like how convenient their payment options are. You can send them a check or pay via email transfer, which only takes a couple of minutes.
Speaking of convenience, they'll do all the hard work for you, from sealing off the place to asbestos removal. All you have to do is sit and wait while they communicate the process with you no matter where you are.
Finally, they're also pretty discreet – which is always a good thing if you don't want to announce your asbestos problems. They also service 11 areas in Toronto from West End Brampton to Ajax.
Open 24/7
Eco-friendly solutions
40 years of experience
Prompt quote request
Get services on the same day or the next day
Convenient cashless payment options
Total communication from start to finish
Discrete services
Customer Reviews
Competent and hardworking team
We had the pleasure of working with Warren to remove the confirmed asbestos in our popcorn ceiling throughout our 1600 sq ft unit. Warren gave what I believe was a fair quote and assessment of the job and got it done. Testing of the air quality after the popcorn ceiling was removed showed nearly no traces of asbestos and it's a testament to Warren's competent and hard working team. – Rosanna
Fast work from start to finish
My contractor recommended Warren when we found asbestos at the start of a commercial renovation. He was able to complete tests within 2 days, schedule work for the following week and complete the job in 2 days ensuring it didn't hold up my construction timeline. The cost came in considerably less than what my contractor anticipated which was a huge relief. Warren and his team were responsive, friendly and great to work with from start to finish. Would highly recommend! – Kim
3. Canada Restoration Services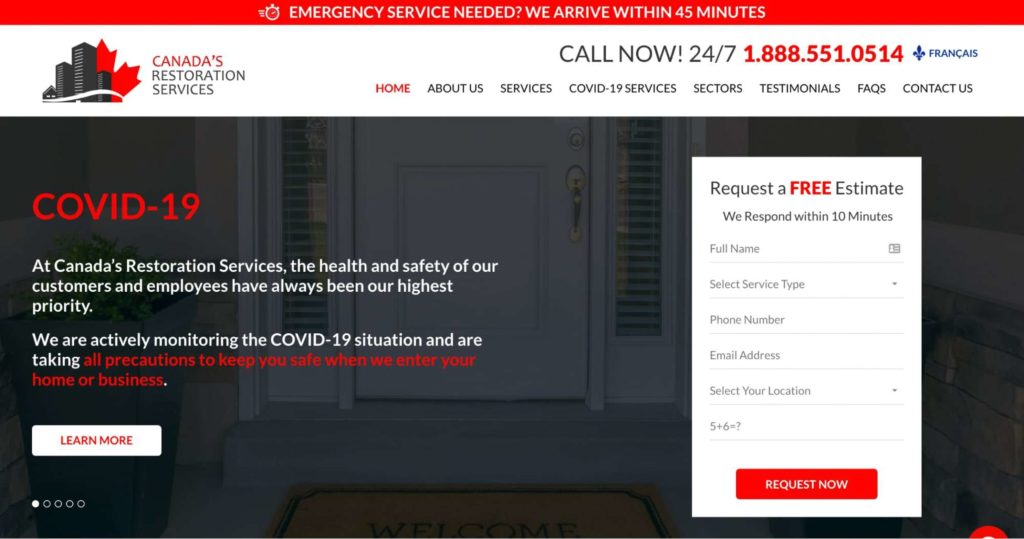 Apart from being open 24/7, there are many compelling reasons to use Canada Restoration. These include great financing options as well as thorough asbestos removal.
For starters, they offer emergency services wherein they can arrive onsite within 45 minutes. Their non-emergency services are also worth noting as you can get a return call within 10 minutes.
Another thing we liked, in particular, is that they work with major insurance companies. So you don't need to do any leg work as they can bill your insurance directly.
If you receive a quote and find that it's beyond your budget, you can use their financing options.
They currently offer two options: a no-interest, no-downpayment 12-to-24-month payable financing option, and low-interest financing option payable up to 15 years.
On top of these, they always strive to keep you informed from the present situation and the project timeline. If you use them for asbestos removal services, you can enjoy local pricing that won't break the bank.
Open 24/7
Offers emergency services (onsite within 45 minutes)
Bills your insurance directly
Flexible financing options
Keeps you informed from start to finish
Local pricing
Completed more than 10,000 jobs in the country
The quote doesn't include a price breakdown
Can be hard to bok at times
Customer Reviews
Fast and flawless service
The asbestos removal from the old oil furnace of our house in Brossard turned out to be a smooth experience once we contacted CRS. Everything went flawless and within the very short period of time we needed things done: the communication, the estimation (thank you Jean-Michel) and, finally, the work itself performed by very professional technicians. I asked for their names just because they deserve to be mentioned here, Prateek and Cameron. – Gabriela
Supportive and helpful team
We were doing renovations in our home when we found asbestos and mold. We reached out to Canadian Restoration Services regarding the matter and within a day we had a project manager contact us. Our project manager Aris and his team were very supportive and helpful, they would always answer our calls/ reply back to our messages. They did everything they could to help us and really went above and beyond the scope of work. – Kevin
4. Greenstream Environmental Inc.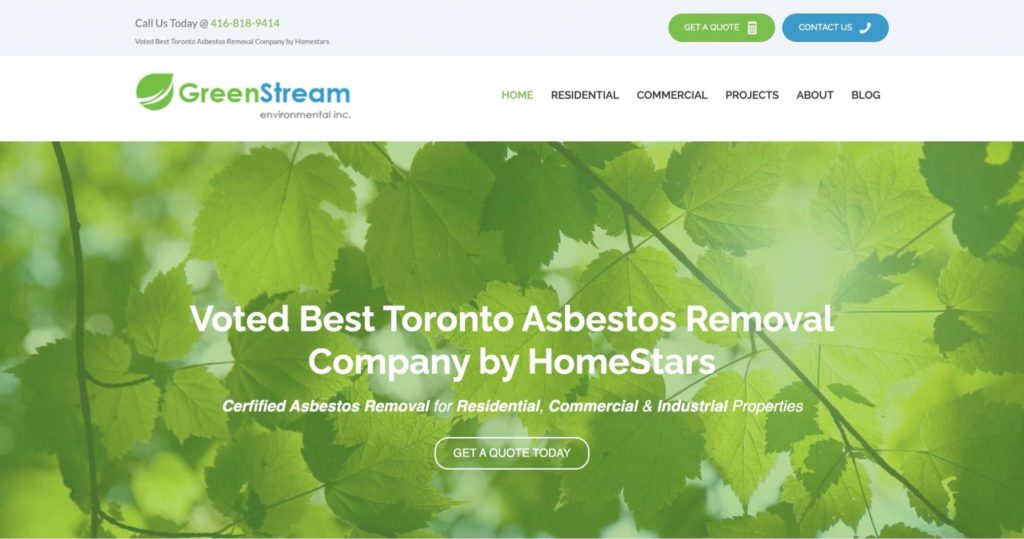 | | |
| --- | --- |
| SERVICES | Mold removal, asbestos removal |
| WEBSITE | https://www.greenstreamenvironmental.ca/ |
| ADDRESS | 216 Rivermede Rd Unit 10, Vaughan, ON L4K 3M7, Canada |
| CONTACT DETAILS | +1 416-818-9414 |
| OPERATING HOURS | Tuesday – Sunday: 9:00 AM – 5:00 PM |
Greenstream's perfect 5-star rating on Google Reviews is just one of the many things we can point to when talking about their excellent services. Let's get into the details of what they can offer.
For starters, they use a third-party company to do asbestos testing for them. This avoids any conflict of interest and ensures non-biased results.
We're also a fan of their 24/7/365 emergency services so you won't have to worry about running out of slots. It's also extremely easy to get a free written quote at competitive prices.
Another thing we loved is how they're also on schedule with every project, as many past clients confirmed. The best part is, their services are discreet so you won't have to worry much about your privacy.
With over 50 years of combined experience, you can expect great services from qualified and certified technicians. Everything from testing to cleaning up is a seamless experience.
Third-party asbestos testing
24/7/365 emergency services
Competitive prices according to past clients
Always on-schedule
Discreet services
50 years of combined experience
Closed on Mondays for non-emergency services
Customer Reviews
On-time services with great communication
I contacted GreenStream and Thais came out to see what needed to be done and provide a quote. She explained the process to me. We agreed on a start date and her team came on time and set up what was required and began working to remove asbestos from the walls and ceilings in the basement, as well as the vinyl floor tiles. They were all very professional and pleasant. Thais communicated with me everyday to let me know how they were progressing. She is very professional and a pleasure to deal with. There was minimal disruption and they did a fantastic job cleaning up. I would highly recommend GreenStream. – Sherri
Great damage protection
Crew of 5 arrived to close off room containing attic access door. The preparation was time consuming & well done. Each day crew was prompt, house was protected from any damage & asbestos particles. The complete job was completed sooner than anticipated & once tarps were removed the room was spotless. For homeowners with pets, the crew gave attention to the dog & made sure the cat could not escape. Bonus points. – Judi Kyle
5. IBX Services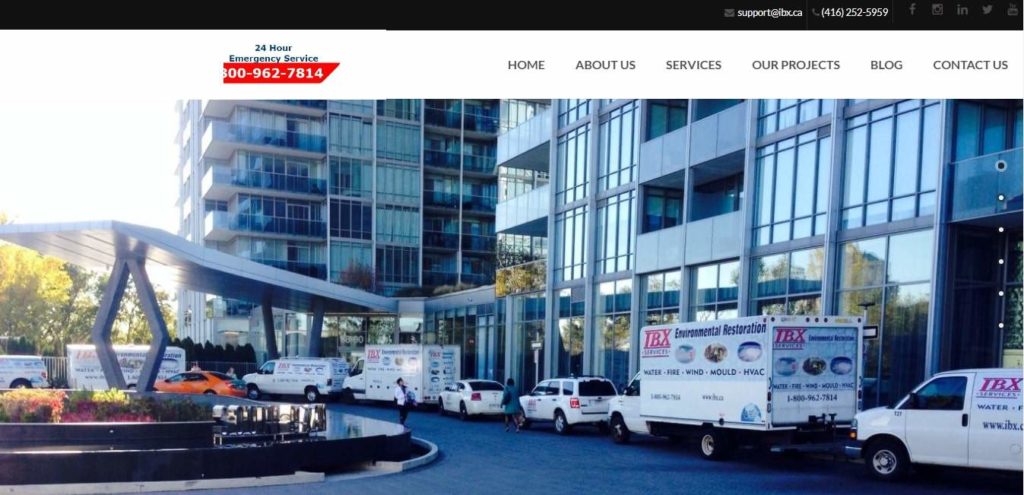 IBX Services is a firm that provides emergency restoration and catastrophe response services 24 hours a day, 7 days a week. They have subsequently achieved several recognitions such as the Top Choice Award for Business Excellence for years by bringing their 20 years of knowledge in the business to work.
We believe their crew is highly qualified and certified for the work since they not only have a passion for perfection, but they are also appropriately licensed and insured to provide clients with a safe and secure experience.
They are able to react to clients in as little as 30 minutes during the week and use only the best equipment and goods for each project to guarantee that everything they offer meets industry standards.
Another thing we admire is their wonderful team of diverse specialists, with whom clients can consult for credible information and practical solutions to make their homes and environments better and safer.
They also ensure that they have the appropriate certification to examine the damage and situation so that they can reassure consumers that their services have addressed all of their worries and eliminated any immediate hazards to the home.
Open 24/7
Experts readily available
Licensed staff
Standard equipment used
Rates and packages unavailable
Customer Reviews
Here are some reviews from their clients:
"They came over to our place and did an excellent job right after we had a slab leak and water damage to our walls! The technician was very honest and explained the whole process since the beginning. Was also a pleasure to deal with them on the phone, making sure our Insurance Company was properly billed for their services!! I will definitely recommend them and will use them again if another issue like this happens again." – Samy G
"Great company to work with. The team was very responsive any time I called them. Their workers were friendly and respectful. They were there when they said they would be there and always on time. I ran into problems with my insurance company. The Project Manager was extremely patient and understanding while waiting to get paid as I worked to resolve the issues. Great guy…great company." – Louis N
6. Wright Restorations and Contracting Inc.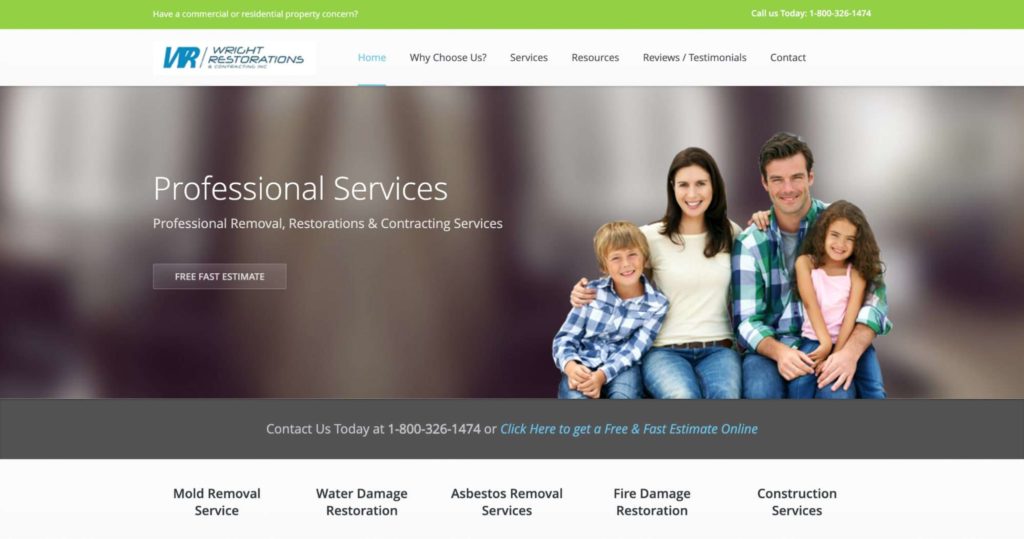 | | |
| --- | --- |
| SERVICES | Air quality testing, asbestos removal, restoration services, smoke & fire damage, mold removal, water damage |
| WEBSITE | https://wrightrestorations.ca/\ |
| ADDRESS | 57 Galaxy Blvd #6 Toronto, ON. M9W-4Y5 |
| CONTACT DETAILS | 1-800-326-1474 |
| OPERATING HOURS | Open 24/7 |
Wright Restorations caters to either small or big projects for any type of property. Having spent 10 years in the business, it offers many great benefits to clients.
One of the first things we liked is the company's 24/7 availability for emergency services. With this service, they'll arrive in as fast as 45 minutes at your doorstep, hastening the removal process.
Apart from their prompt services, their eco-friendly products are also noteworthy. These non-toxic products ensure that you and your family are safe from any chemical hazards.
If you're wondering about the evaluation, they offer free visual inspections to clients. They also have a 100% guarantee through a third party which gives you peace of mind on quality assurance.
Available 24/7 for emergency services
Arrival onsite within 45 minutes
Uses eco-friendly products
Free visual inspections
100% guarantee through a third party
Customer Reviews
Flawless same-day service
We purchased an older home and through testing, found the popcorn ceiling contained asbestos. I contacted Relative Environmental and they were very friendly. They sent someone over within the day to provide the quote for scraping of the ceiling. They were very professional and easy to deal with. We booked them to come in and do the work and they showed up, on time, ready to get the job done! Again, really nice guys. They did the job flawlessly and completed it on time. They cleaned up all their mess and we were extremely happy with the results! We'd recommend to anyone looking for this service. – Donna
Reasonable prices
Our contractor discovered questionable wrap in our ceiling during a renovation. As it turns out it was asbestos based. We contacted Relative Environmental Services amongst others. We chose Relative based on positive referral from a neighbor. Happy to say the price was reasonable, and job came off without a hitch. Highly recommend this company. – Robert P.
Factors to Consider Before Choosing an Asbestos Removal Service
Asbestos has tiny particles that can cause lung cancer and other lung diseases. Thus, it is recommended that you choose an asbestos removal service that is professional and trained – this is dangerous stuff!
Here are some other factors to consider before choosing an asbestos removal service:
Removal Methods
One thing you need to know is how the removal company will take care of the problem. Are they wearing the right equipment for the job? Do they prioritize safety for both their clients and employees?
A good asbestos removal company has its methods and knows how to make sure that everyone around them is safe while they are performing the job. In addition, they must also use products that don't pose any health threats.
Insurance and Licenses
Since asbestos has health risks that people need to be aware of, having the right qualifications allows their clients to know that they have enough knowledge about the removal.
Always choose a company that has a proper license and has skilled professionals. This ensures that you will get the optimum insurance coverage if accidents were to occur.
Disposal of Waste
You need to ask how the company goes about disposing of the asbestos after the job. A good and reputable asbestos removal company will always follow government-issued waste management.
As mentioned before, asbestos has health risks if not treated properly. If the removal company just goes about throwing the asbestos somewhere, there will be higher risk factors for people around there.
Customer Reviews
In order to fully ensure that the company you were hiring is good, you can also ask people who have already hired them. Ask them about the service and how well they performed the job.
Another way to verify their legitimacy is going to Google Reviews. You can't really verify if everyone is telling the truth, but the more people say it, the more reliable it is.
FAQs About Asbestos Removal in Toronto
---
Using the best asbestos removal in Toronto helps you and your family get protected from its health risks. In case you end up discovering mold buildup in your property too, see our list of the best mold removal services in Toronto to find the right solution!