Top 11 Companies for the Best Mold Removal in Toronto
Spotted mold build-up on your walls, windows, and even kitchen sinks? You're in the right place to finally end your mold problems!
We cherry-picked companies for the best mold removal in Toronto according to various factors. These are customer satisfaction, quality of work, certifications, and insurance.
The Cost of Mold Removal in Toronto
The cost of mold removal services varies, depending on the severity of the problem. Another factor to consider is the areas and surfaces that need treatment (attic, drywall, etc.).
On average, pricing can start at $500, but it can balloon to $4,000 depending on your case. The costs go higher with complicated areas like crawlspaces, which can range from $15,000 to $30,000.
Before you start panicking at these figures, note that the size of your home is also a factor. Obviously, the bigger the area that needs treatment, the higher the cost.
For example, the minimum cost per square foot for attic mold removal is $3.50 to $4 . Apart from the surface area, the cost will also go up depending on the level of mold infestation, labor fees, and equipment used.
The Best Mold Removal Services in Toronto
Knowing how expensive mold removal can be, it's only wise to choose a contractor that gives you value for your money. We already did the leg work for you, so all that's left is to choose one that meets your needs.
1. Restoration Mate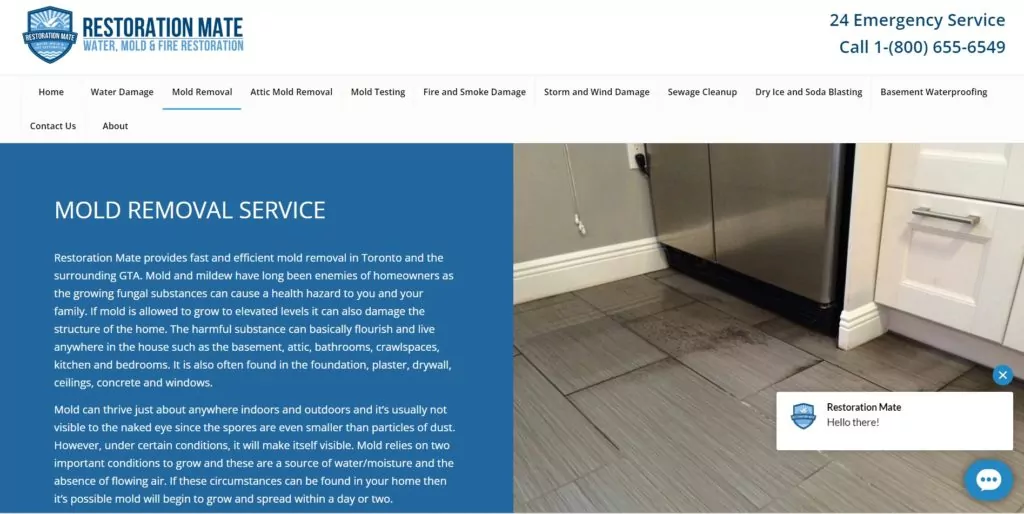 SERVICES
Mold removal, indoor air quality testing, mold inspection, asbestos removal, fire damage, dry ice blasting
WEBSITE
https://restorationmate.ca/mold-removal/
ADDRESS
80 Dynamic Drive, Unit 2, Toronto, ON M1V 2V1
CONTACT DETAILS
Email: [email protected]
Phone: 647-277-1178
OPERATING HOURS
Monday – Sunday: 9:00 AM – 7:00 PM
Restoration Mate provides fast and efficient mold removal in Toronto and the surrounding GTA. The reviews people have left them definitely speak for themselves, and we can attest to their impeccable service ourselves.
We recommend them for how thorough they check each home's attic, bathrooms, crawlspaces, kitchen, and bedrooms. They even have a 125-point quality assurance checklist, which shows just how serious they take their jobs.
The fact that they also have a 24-hour fast response is also a plus.
We can recommend them for any emergency situations where you need immediate action to be taken. Restoration Mate has someone on their end to ask you regarding your concerns, regardless of what time it is.
Seeing as they've been in business for more than 15 years, it's no surprise that there aren't many cons when choosing to work with them.
However, it is important to note that they currently have no physical offices in Toronto.
24-hour fast response
IICRC Certified Firm
15+ years of experience
Reasonable prices
Offers free estimates
Customer Reviews
Here's what past clients have said about this contractor:
I hired Justin and his crew to help me build a custom wall in my condo, paint and replace doors. They did a beautiful job. They were clean, efficient and friendly and completed the job ahead of schedule. I would definitely recommend this company for any work and would use them again.
When I found water damage in my new home, I called Restoration Mate and Justin was at my house inspecting in a few hours. He had one of his crews come and start working on repairs within a few days. Him and his crew were very professional and communicated with me throughout the whole process. The price was the best (by far) and the process was incredibly smooth. I would highly recommend this company!
2. Inch by Inch Inspections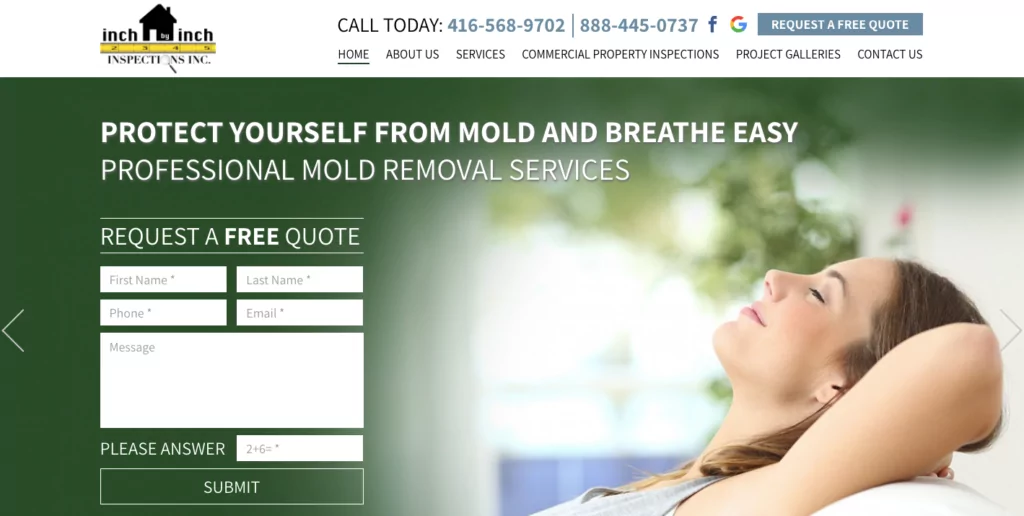 SERVICE
Air Quality Testing and Inspection, Air Quality and Odor Elimination with Ozone, Asbestos Testing & Inspections, Mold Inspection, Removal & Remediation, Infrared Thermal Imaging, New Home Warranty Inspection, Pre-Purchase Home Inspection, Radon Testing & Inspections, Grow Operation Detections & Inspections, Thermal Energy Audits, Water Quality, Well Inspections & Testing, Designated Substance Surveys and Reports, Odour Removal, Electrical Thermal Scanning Services, Abestos Removal Services and Commercial Property Inspections
WEBSITE
https://www.inchbyinchinspections.com/
ADDRESS
6-6150 Hwy 7, Suite 424 Vaughan, Ontario L4H 0R6
CONTACT DETAILS
Phone: 416-568-9702 and 888-445-0737
Email:

[email protected]

OPERATING HOURS
Monday to Sunday: 8 AM – 11 PM
We cannot deny that Toronto and the Greater Toronto Area has neighbourhoods that has older homes compared to other cities.
Due to the age of these houses, mold development are very rampant especially on walls whenever there is lack of air circulation and increased humidity.
Being certified internationally by IICRC (Institute of Inspection, Cleaning & Restoration Certification), InterNACHI (International Association of Certified Home Inspectors), and CMI (Certified Master Inspectors) to name a few, Inch by Inch Inspections has been the go-to mold removal company of locals in Toronto.
As they are in the industry for more than 15 years, this company are equipped with highly skilled and experienced professionals that has vast knowledge on molds and on how to get rid of them.
They will be doing an In-Depth Exterior Inspection and Indoor Visual Inspection in order to fully assess how severe the mold is. After which, they will be conducting the removal and restoration of the affected part/s of your house or building thoroughly and completely to your satisfaction. Once done, they will be doing further air quality tests will be performed to confirm removal of the mold.
We believe that as it has been proven and tested with time, this company's services are worth every penny to ensure your house or building to be thoroughly cleaned and disinfected by harmful indoor pollutants.
Years of experience in the industry
Provides free quotation
Provides a wide range of restoration services
Caters to residential and commercial clients
Customer Reviews
Let's take a look at what their clients have to say:
Honest, Reliable, Knowledgeable. Tony Is The Best!!!
"I noticed some unusual water marks in my ceiling in the living room. I contacted Tony to see if he would be able to help figure out the root of the issue. Was super easy to schedule a appointment with him.
He did a thermal around the area of concern and did a thermal around the entire main floor and second floor to eliminate any other potential concerns. He pinpointed the issue and recommended how to have it rectified and fixed. He told me about a few other things that he noticed that I should do while he was doing the thermal without even expecting it. I didn't even ask for it but he was extremely courteous, friendly, professional and had a solution to everything. Thank you Tony!!!" – via Homestars
"A great company to work with. Super dedicated and knowledgeable, Joe is an excellent consultant and very helpful, Maggie does what it takes to get results asap. Thanks for a great experience!" – via Google
3. The Mold Guy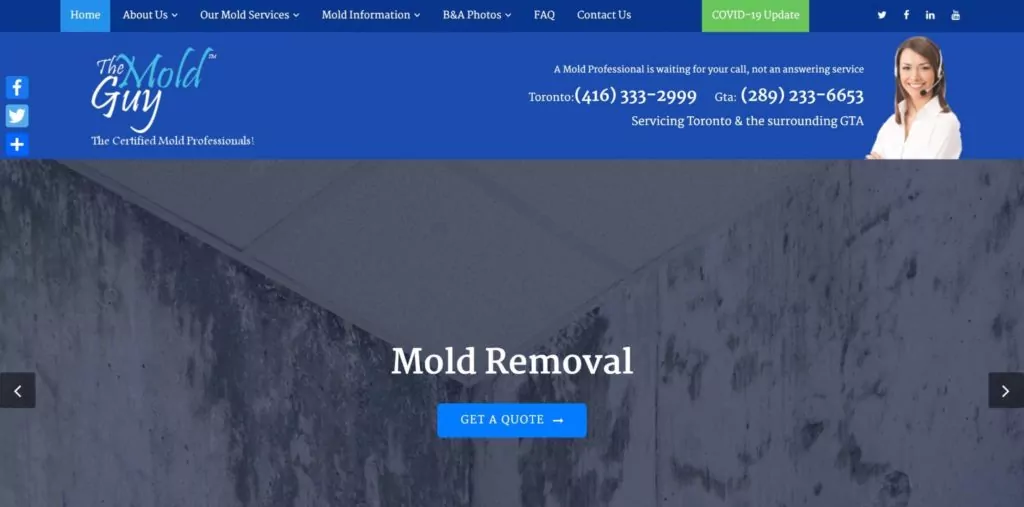 | | |
| --- | --- |
| SERVICES | Mold removal, indoor air quality testing, thermal imaging, mold inspections, asbestos testing |
| WEBSITE | https://www.moldguy.ca/ |
| ADDRESS | 437 Roncesvalles Ave. Suite 420, Toronto, ON M6R 3B9 |
| CONTACT DETAILS | (416) 333-2999 |
| OPERATING HOURS | Monday – Sunday: 9:00 AM – 7:00 PM |
Here's what we like best about The Mold Guy – they take your mold infestation problems seriously. And a lot of past clients can attest to this, especially with how prompt they are with these issues.
For starters, we're a big fan of just how seamless connecting with them is. If you request a quote now, you'll get a representative within minutes, and they'll be right at your doorstep within the next few hours if you decide to proceed.
It also satisfies our standards with clean, effective mold removal in various areas. Actually, they don't just eliminate the mold from your home: they leave the site spotless too after cleaning their "mess".
If you want to know how fast they work, they can get the job done in as short as half an hour. In fact, one client who had mold removal in a 700 square feet attic shared that the job was done within an hour – a remarkable speed for such a big space!
Apart from speedy mold removal, it also earned our stars with its long list of certifications and ongoing education. By the way, it's also an IICRC certified firm, which means that it met the highest level of standards in professional cleaning.
Finally, this contractor has insurance so there's little risk in case they damage your home. Plus, they're pretty discreet guys too since they'll arrive at your home in unmarked vehicles.
As they've had 12 years in business, it's little surprise we only found a few bumps here and there, particularly with estimates and pricing issues. But it's really just a small speck of dust compared to the great things they offer.
Prompt and professional
Spotless site cleaning after service
Fast mold removal time
IICRC certified firm
Insured
Unmarked vehicles
Occasional discrepancies with costs and estimates
Customer Reviews
Here's what past clients have said about this contractor:
There was a mold concern on my property and I was looking for someone to help address my concern. I called around and this was the first company to take the time to walk me through the entire process from start to finish. The follow up call after the lab results was detailed and thorough. Information, thoroughness, and kindness is what I hope for in terms of expertise in areas I know nothing about. The Mold Guy gave it all and some. – Mike Lam
The inspector that came to assess the issue was very thorough and helpful in explaining to me what the issue was and how it would be addressed if I chose to move forward with removal. He also took the time to check for any areas of my house that were possible causes. The team that came to remove the mold were very professional and took the time to walk me through everything had been done once they were finished. They also offered some helpful suggestions on how to proceed following their work and left the area very clean once they were finished. I would certainly recommend this business. – Jennifer Aquino
4. IBX Services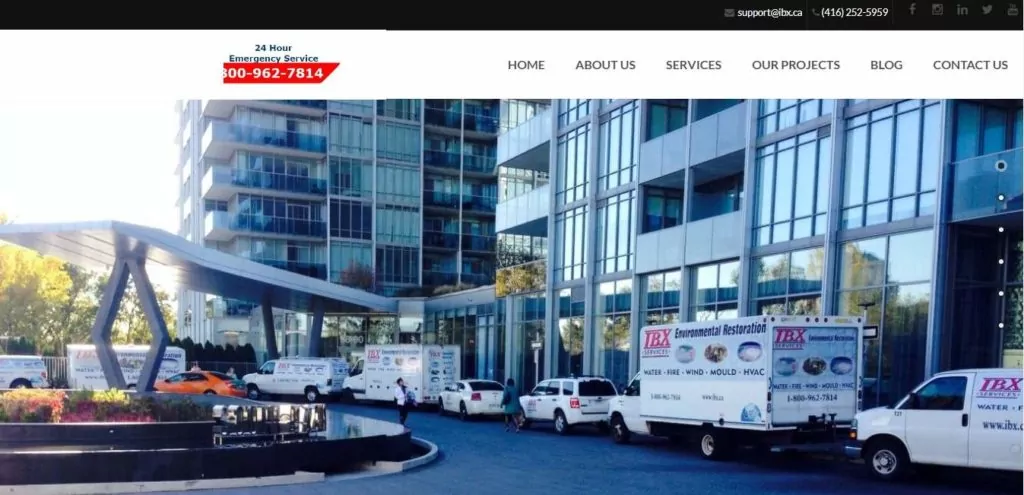 IBX Services is a company that offers swift and efficient 24-hour restoration and disaster response services. Bringing their 20 years of experience in the industry at work, they have since then earned various recognitions such as the Top Choice Award for Business Excellence for years already.
We find their team of staff to be highly appropriate and certified for the job since not only do they have the drive for excellence but also adequately licensed and insured to give clients a safe and secure experience with them.
Able to respond to clients within as much as 30 minutes all week, they make sure to employ only the best equipment and products for every job to ensure that all things that they deliver are up to industry standards.
Another thing we find exemplary is their remarkable team of multidisciplinary professionals wherein clients can consult when it comes to reliable information and practical solutions to a better and safer home and environment.
Furthermore, they also make sure to acquire the right certification to assess the damage and situation so that they can assure clients that their services have resolved all of their concerns and have eradicated any immediate risks for the household.
Open 24/7
Experts readily available
Licensed staff
Standard equipment used
Rates and packages unavailable
Customer Reviews
Here are some reviews from their clients:
"They came over to our place and did an excellent job right after we had a slab leak and water damage to our walls! The technician was very honest and explained the whole process since the beginning. Was also a pleasure to deal with them on the phone, making sure our Insurance Company was properly billed for their services!! I will definitely recommend them and will use them again if another issue like this happens again." – Samy G
"Great company to work with. The team was very responsive any time I called them. Their workers were friendly and respectful. They were there when they said they would be there and always on time. I ran into problems with my insurance company. The Project Manager was extremely patient and understanding while waiting to get paid as I worked to resolve the issues. Great guy…great company." – Louis N
5. Templar Mould/Asbestos Analysis and Removal
| | |
| --- | --- |
| SERVICES | Mold removal, mold inspection and analysis, dry ice blasting; asbestos inspection, analysis, and removal; vermiculite analysis and removal |
| WEBSITE | http://www.mouldasbestosremoval.com/ |
| ADDRESS | 8500 Leslie Street, Suite 101 Markham ON L3T 7M8 |
| CONTACT DETAILS | 416-209-4857 |
| OPERATING HOURS | Monday – Friday: 9:00 AM – 5:00 PM |
We have a soft spot for businesses that value honesty and integrity, and Templar landed just right at it. To be fair, honesty is difficult to assess, but we've heard enough client testimonies to build our opinions.
Many previous clients praised the contractor for its fairness and honesty of service. One client even commended the team who after inspection of his home, found no reason for mold removal, hence preventing him from spending thousands on unnecessary treatment.
Second is its promptness and professionalism. Request a consultation today and they'll be right at your door tomorrow, with guaranteed service within the week.
The third reason is strong communication with clients. They'll keep you onboard during the mold removal process to make sure you understand what's being done.
Finally, you can sleep well at night knowing you're in the hands of an IICRC certified firm. Plus, they've been in the business since 2007, which is a pretty solid experience in our judgment.
This contractor also has liability coverage so you're in check in case they damage your project. Its team of technicians is also covered by workers compensation in case of injury.
With a perfect 5-star rating on Google Reviews, customer satisfaction is no question. But we would definitely love it more if it has more hours during weekends.
Honest team of professionals
Prompt mold removal services
Communicates with clients during the process
IICRC certified firm
Liability coverage
Workers compensation
Customer Reviews
Take a look at what past clients have said about this firm:
Robert was super responsive to my call to remediate the mould that had formed in our master bedroom after a leaky roof. David, who came to do the work, was very friendly and thorough. I appreciate that they stand by their workmanship and ensured my satisfaction as a client. I would highly recommend Templar to anyone. – Stephanie Sanderson
Robert was a pleasure to deal with. He took samples from several areas of the house that needed testing for asbestos and had the results in the next day. The asbestos abatement and mould removal was done quickly and efficiently and both the sample testing and abatement/removal are at a very reasonable price. Would highly recommend. – Marco Muscatello
6.   Canada's Restoration Services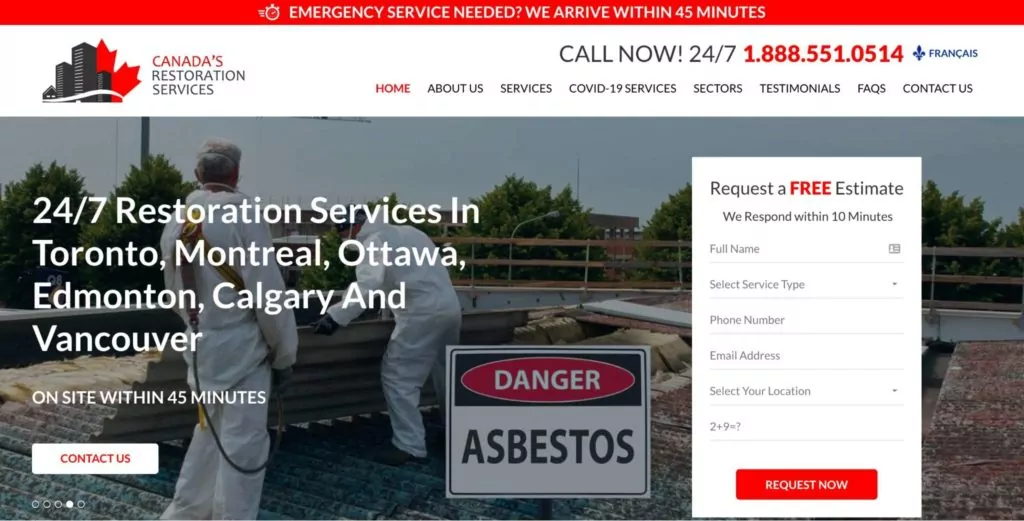 Canada's Restoration services make our cut for a lot of fantastic reasons. We'll list each for you so you can get an idea:
First, it's open 24 hours, which makes it perfect for emergency services. In fact, if you ring them up, they'll be at your home within 45 minutes.
Second, they offer free inspections, which strip off a significant amount from the total costs of services. Booking a free inspection is also a breeze via phone call or email.
Third, they offer three-step in-house financing which is a big help when you're tight on budget. You can go for a zero-interest, 12 to 24 months payment or pay $21 bi-weekly for up to 15 years.
Finally, its customer service is notable for punctuality and professionalism. Plus, they won't force any other services onto your plate, which is a great thing to note.
This contractor also has a big team of 50 professionals, so you're confident that they can accommodate your needs at a given time. It also has liability insurance, workers compensation, and is IICRC certified.
The only downside is that it seems to suffer from supervision issues, as some clients pointed out. One client complained about errors that had to be addressed by extra visits, and another talked about the lack of communication and follow-ups.
Still, these are a few hiccups that wouldn't necessarily hurt over 10 years of proven service. And its 4.7 rating on Google Reviews definitely affirms this.
Open 24/7
Offers emergency services
Free inspections
In house financing options
A big team of 50 professionals
Insured
Has workers compensation
IICRC certified
Issues with supervision reported by some customers
Occasional problems with communication
Customer Reviews
Here are some testimonies from past clients:
I am extremely impressed with the service that I received from Canada's Restoration Services. I called them to do a mould inspection on my crawl space, after getting the run-around from another few companies. Jorge conducted an inspection and sent me a quote right away. He was very kind and empathetic about my situation – which was very refreshing. When the mould remediation took place, Jorge's crew took the utmost care in keeping my house clean. They were respectful, polite, and very careful with their work. I also received two follow up calls from Jorge to make sure that everything was completed in a satisfactory manner, and to see if I had any questions about anything. I could not be happier and would recommend CRS to anyone who asks me!! – Melissa Saxon
Great, professional, honest work. Was given a quote for mold remediation, but once the work had commenced it was found to be more extensive. The team honored their quote and got the job done. Highly recommend this team. – Patrick Denis
7.   Green Stream Environmental Inc.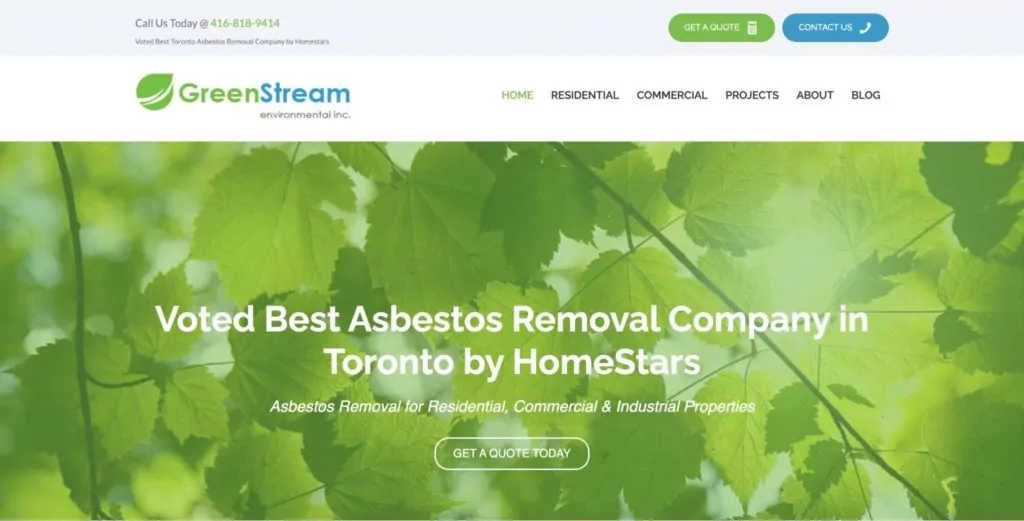 SERVICES
Residential mold removal, residential asbestos removal, commercial mold removal, commercial asbestos removal
WEBSITE
https://www.greenstreamenvironmental.ca/
ADDRESS
216 Rivermede Rd. Unit 10 Vaughan ON L4K
CONTACT DETAILS
(416) 818-9414
OPERATING HOURS
Monday – Sunday: 9:00 AM – 5:00 PM
24/7/365 (emergency services
Green Stream earns our favor by having a remarkable service from start to finish. Everything from getting a quote and the actual mold removal is just worthy of so much praise.
What we liked in particular is their promptness as these guys are always on time without fail. They work pretty fast too as many past clients shared that they finished the job on time.
Speaking of finishing the job, they'll leave your home in tip-top shape after thorough mold removal. And just in case there are unexpected surprises that require more rigorous service, they'll honor their quote and won't charge you extra anymore.
They operate on set hours every day but they also have 24/7/365 emergency services. So, if you're stuck in an emergency scenario you can hit them up.
Coordination and communication are also notable as they'll keep in touch with you throughout the whole process. Its prices are also reasonable too as it falls within the average in Toronto.
We also love that they still connect with clients even after rendering the service. One client even noted that they came to her house to personally answer her questions and inspect the work they've done.
By the way, if you're curious about the methods and products they use, they're all eco-friendly. They're not called Green Stream Environmental for nothing!
Last but not least, we are in love with the fact that they have female workers on board. It's just a nice break from a very male-dominated business.
This firm is IICRC certified so top-tier services are guaranteed. They also have workers compensation and liability insurance for your peace of mind.
Responsive and on-tome
Honors their quote
24/7/365 emergency services
Excellent customer service
Eco-friendly products and methods
Has women workers on board
Insured
Workers compensation
IICRC certified
Customer Reviews
Take a look at what past customers have said about this company:
The home inspector hired by the buyers of my house discovered some mold in the attic. It is a relatively small job but the folks at the GreenStream took it seriously. Their quote was very reasonable and their service was excellent. They came on time, did a through work to clean the mold, showed me the pictures before and after, and provided document for the work. I was very glad that I had found this company and will have no hesitation to recommend their services. – Samuel Zeng
Highly recommend this company! Not only was the quote 30K lower for a larger scope then the competitors, during the work, the scope increased but they kept the original quote, stayed on time, on budget, and left the site CLEAN!! Manny was a pleasure to deal with and I would be happy to speak to anyone who needs any further information. – Beatrice Payne Huggins
8.   The Restorators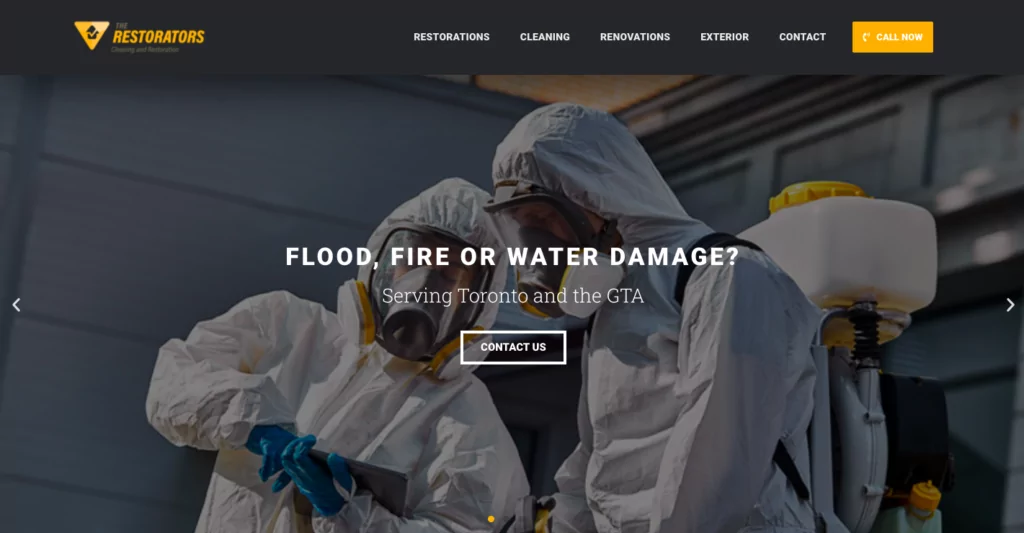 SERVICES
Water Damage, Fire Damage, Wind & Hail Damage, Asbestos Abatement, Odor Removal, Carpet Cleaning, Power Washing, Window Cleaning, Mobile Auto Detailing, Upholstery Cleaning, Trauma Cleanup, Renovations, Contracting Services, Remodeling, Basement Finishing, Hardwood Flooring and Tiles, Handyman , Gutters, Eavestrough, Soffits, Fascia, Siding, Leaf Guards
WEBSITE
http://therestorators.com/
ADDRESS
1 Yonge St, Unit 1801, Toronto, Ont, M5E 1W7
CONTACT DETAILS
Phone: 416.835.3885
Toll-Free: 1.800.HELP.914
Email: [email protected]
OPERATING HOURS
Open 24/7
The Restorators provide 24-hour restoration services to the residents of the Greater Toronto Area. They were first established in 1993 and specialize in fixing up structures that have been damaged by the elements.
Whether it's due to the harsh weather or unfortunate circumstances, it's not unusual to experience some form of damage to your home or your place of work. So whether it's from water, fire, hail and you need an emergency board-up or roof repair, The Restorators are an option worth considering.
They have some of the most skilled installers and technicians in the area that only use the highest quality materials to renovate and restore. If you need urgent services or are just looking to do a major overhaul of your home, this company has got it covered.
Provides range of restoration services
24/7 emergency services
Customer Reviews
Let's take a look at what their clients have to say:

"I called for water damage at my home in Toronto. They arrived within the hour and were able to locate the problem with a thermal camera. They were able fix it they then quickly removed all the water. They worked with my insurance company and restored my home. I'm so happy that I made the call! They also included painting in other areas which was not in the scope." – Moyra Freeman

"I found them locally and called for a estimate, my eavestrough had water pouring out from a couple of areas, John came by the next day, he pointed out the sloping issues and i also had blocked pipes! The price was fair and he was very kind, his guys were on time and did a superb job, couldn't be happier!" – Sandra Kromstein
9.   GTA Mold Removal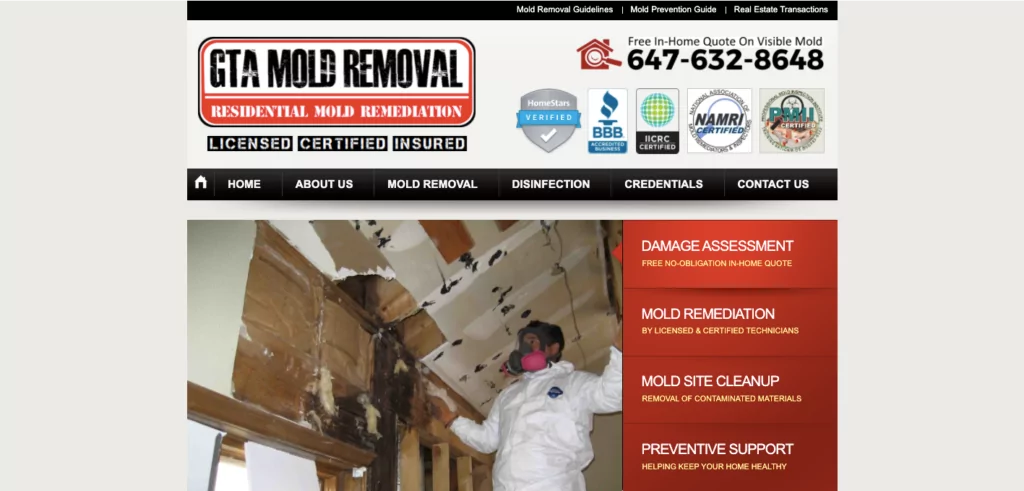 SERVICES
Mold Removal, Thermal Imaging, Mold Damage Assessments, Cold Fogging Disinfection, Mold Waste Disposal
WEBSITE
https://www.gtamoldremoval.com/
ADDRESS
3160 Dundas Street West Toronto, ON M6P 2A1
CONTACT DETAILS
Tel: 647-632-8648
Toll-Free: 1-855-259-MOLD
Email:

[email protected]

OPERATING HOURS
24/7 (By appointment only)
Tons of health issues may arise if molds can be found in your home. That is why it is really important to be able to remove it while it isn't spreading in your entire house.
Certified by Professional Mold Inspection Institute (PMII), the National Association of Mold Remediators and Inspectors (NAMRI), the Mold Inspection Consulting and Remediation Organization (MICRO) as well as the Institute of Inspection, Cleaning and Restoration Certification (IICRC), GTA Mold Removal has been of service of locals in Toronto to solve all of their mold worries.
As they are also licensed, certified, insured, and have a perfect A+ rating with the Better Business Bureau, their goal is to provide you peace of mind by ensuring that you and your family are protected from the negative effects of mold exposure.
Compared to other firms, this mold treatment firm that specializes in residential mold removal and is owned and operated by a family. It is impressing as their objective is to provide homeowners and tenants with healthier indoor environments while upholding the greatest levels of safety, honesty, competency, openness, and customer service.
They recognize the dangers of dealing with a dangerous chemical like mold, and they would never jeopardize the safety and well-being of their clients or employees.
Licensed, certified, insured
Free mold damage assessments
Free quotes
Use eco-friendly products
BBB accredited A+
Accepts cash, cheques and eTransfers
Rates not available online
Customer Reviews
Let's take a look at what their clients have to say:
"If you are looking for a mold removal company that is experienced, prompt, and professional, GTA Mold Removal is the one! They were attentive to all my concerns, organized, and the job was completed on time. Thank you Maria and Andrew for your great service!" – Iga
"The house I purchased had a cold cellar that was mold infested. I knew not to panic because I was referred to GTA Mold Removal Toronto from a friend who had the same issue with their cold cellar. I was very pleased with the quality of work that was completed. Not only were they professional but there were no "surprise" costs after we had the initial site consultation like other mold companies do.. I will always recommend for mold removal 10/10! Thank you" – Francesco
10.   CPR24 Restoration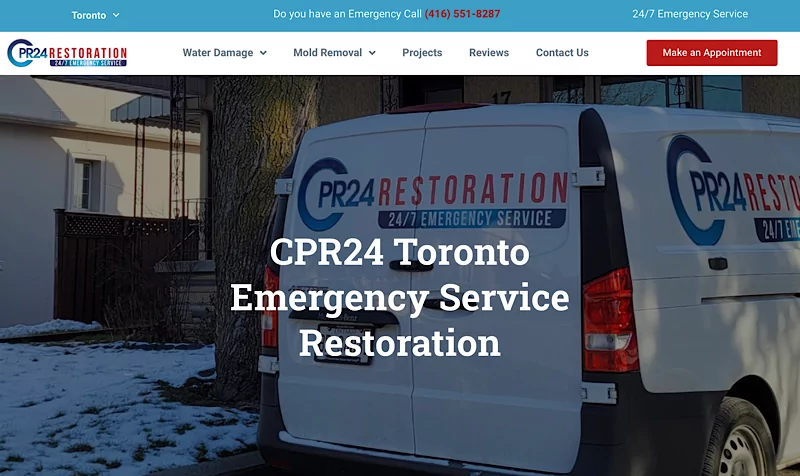 SERVICES
Mold Removal: Attic mold removal, Cold room/cold storage mold removal, Basement mold removal, Crawlspace mold removal, Washroom/bathroom mold removal, Bedroom mold removal, Kitchen mold removal, Drywall mold removal, Ceiling mold removal, Mold removal cost, Black toxic mold removal
Water Damage: Flood clean up, Water damage restoration, Flood damage, Flooded basement, Sewer backup cleanup, Emergency water damage, Leak detection, Commercial water damage, Water damage burst pipes

24/7 Emergency services
WEBSITE
https://cpr24restoration.ca
ADDRESS
1520 Lodestar Rd #17, North York, ON M3J 3C1, Canada
CONTACT DETAILS
Email:

[email protected]


Phone: (416) 551-8287
OPERATING HOURS
Open 24 hours
For over 10 years, CPR24 Restoration has been professionally removing mold from both residential and commercial establishments. They have worked with diverse clients including insurance companies, realtors, engineers, and other contractors in the span of their career.
In mold removal, they first conduct a visual and physical inspection of the affected area, which makes them determine the time when the job can be finished. Usually, they can remove mold in one or two days but it depends on the gravity of the problem.
In the case of corporate offices, CPR24 Restoration can work with their consulting firms to meet their requirements. We like that they are flexible to the different standards of their clients.
Aside from mold removal services, they are also experts in water damage restoration services. Some of these include flood clean up, leak detection, and water damage burst pipes.
Additionally, the company is always available for 24/7 emergency services. They recognize that unpredicted circumstances can occur at any time which is why they have made themselves available for these kinds of situations.
Over 10 years of experience
Specializes in mold removal and water damage restoration
Open 24/7
Can work with consulting firms to meet requirements
Typically works in 1 or 2 days
No rates available on website
Customer Reviews
So far, CPR24 has not received any bad review on Google. Let's check out what their previous clients have commented:
"My father had a burst pipe in his basement we called many companies no one answered then we call CPR24 Restoration they answered right away thank you CPR24 Restoration for an amazing job you did" – Nardi Mane
"The best company for Mold Removal highly recommended" – Mitcho Samiu
11.   Icon Restoration Services Inc.
SERVICES
Construction, Fire & Smoke Damage, Asbestos Removal, Mold & Remediation, Water Cleanup & Restoration
WEBSITE
https://iconrestoration.com/
ADDRESS
245 Marlee Ave, North York, ON M6B 4B8, Canada
CONTACT DETAILS
Phone: +1 416-901-4266
Email:

[email protected]

OPERATING HOURS
24/7
If you are looking for a company that has it all when it comes to restoring your properties specifically mold removal and remediation, Icon Restoration Services Inc. got it all. For over 20 years, they have been a full-service restoration company that will be with you every step of the way.
As a glimpse of how they work, their expert employees first assess the disaster damage, then clean up the mess that's left behind, and finally restore and repair your property to its original beauty as quickly as possible.
There is no need to call in additional contractors, technicians, or professionals. They manage all aspects of the cleanup and restoration process and they work alongside your insurance company or broker to navigate the path to put things right.
Icon Restoration Services Inc. specializes in property damage restoration caused by water, fire, mold, asbestos, and other environmental or physical agents. They also serve institutional, commercial, industrial, and residential customers, in which they make every effort to respond, restore, and rescue properties as quickly as possible.
You won't worry about their employees as they are licensed, trained, and experienced in taking immediate action to prevent further damage. Their restoration specialists are capable of dealing with a wide range of disaster restoration scenarios.
At Icon Restoration, they strive to provide a safe environment and improved air quality for you, your family, and your coworkers.
Customer Reviews
Here's what their previous clients have to say about Icon Restoration Services Inc.:
"We have used Icon Restoration on many occasions and to find their costs in line with other vendors. They are always there for my team to provide excellent workmanship to clients." – Brenda Cameron
"i had a mold in my living room . I called Icon Restoration SERVICES, they arrived in less then an hour , inspected the mold area , gave me a good estimate , and did a amazing job !!! , left my living room cleaner then it was . Thank you very much . I will sure recommend you. Thank you Icon Restoration" – Chris
Factors to Consider When Choosing a Mold Removal Contractor
Now that you have an idea of what the best mold removal companies in Toronto can offer, it's time to make the right choice for you. Remember, each case is unique, so you have to assess which company can solve your problems.
With that said, here are some factors to consider when choosing a mold removal contractor:
Prompt and responsive technicians.
Apart from its unpleasant look and smell, mold is also a threat to one's physical health. With chances of experiencing shortness of breath and irritation, it's only vital to get fast services to your home.
Pick a contractor that can accommodate you with its flexible working hours and emergency services. Fast service includes the turnaround time to get a quote, receive mold inspection, and the actual mold removal process.
Safe and spotless mold removal.
Removing mold can be messy since workers have to chip through wood and other surfaces to eliminate the problem. It's only right to choose a contractor that's guaranteed to clean up the site after extensive mold removal.
Of course, safety is a top priority too. So look into how they plan on keeping your pets or children (if you have any) out of the mold removal site, and how they will prevent further contamination.
Insured with liability coverage and workers compensation.
Never work with a company that doesn't have insurance. Even with a proven record of excellent service, it's never a smart choice.
Having liability coverage means that they are insured in case they damage your home, meaning they have the means to pay you for the damage. They must also have workers compensation meaning that their employees are covered in case of an injury while performing the job.
Excellent client communication and service.
Some contractors will make you feel like you're talking to a blank wall. And you won't want that if you want to know what's currently happening during the process.
Get a contractor that goes above and beyond with keeping you updated. Keeping before and after pictures won't suffice, they have to get you on board with important stages too, and most especially, in case they find more severe build-up on site.
FAQs About Mold Removal in Toronto
---
Don't let the musty, earthy smell of mold envelop your home and put your family in danger. These top mold removal companies can help you combat hazardous health threats and keep your home clean and mold-free!
If you need any more help with keeping your home in its best shape, flip through our list of the best window and door replacements in Toronto as well, by the way. We have fantastic choices fit for all types of homes!