Top 5 Companies for the Best Mold Removal in Toronto
Spotted mold build-up on your walls, windows, and even kitchen sinks? You're in the right place to finally end your mold problems!
We cherry-picked companies for the best mold removal in Toronto according to various factors. These are customer satisfaction, quality of work, certifications, and insurance.
The Cost of Mold Removal in Toronto
The cost of mold removal services varies, depending on the severity of the problem. Another factor to consider is the areas and surfaces that need treatment (attic, drywall, etc.).
On average, pricing can start at $500, but it can balloon to $4,000 depending on your case. The costs go higher with complicated areas like crawlspaces, which can range from $15,000 to $30,000.
Before you start panicking at these figures, note that the size of your home is also a factor. Obviously, the bigger the area that needs treatment, the higher the cost.
For example, the minimum cost per square foot for attic mold removal is $3.50 to $4 . Apart from the surface area, the cost will also go up depending on the level of mold infestation, labor fees, and equipment used.
The Best Mold Removal Services in Toronto
Knowing how expensive mold removal can be, it's only wise to choose a contractor that gives you value for your money. We already did the leg work for you, so all that's left is to choose one that meets your needs.
1. The Mold Guy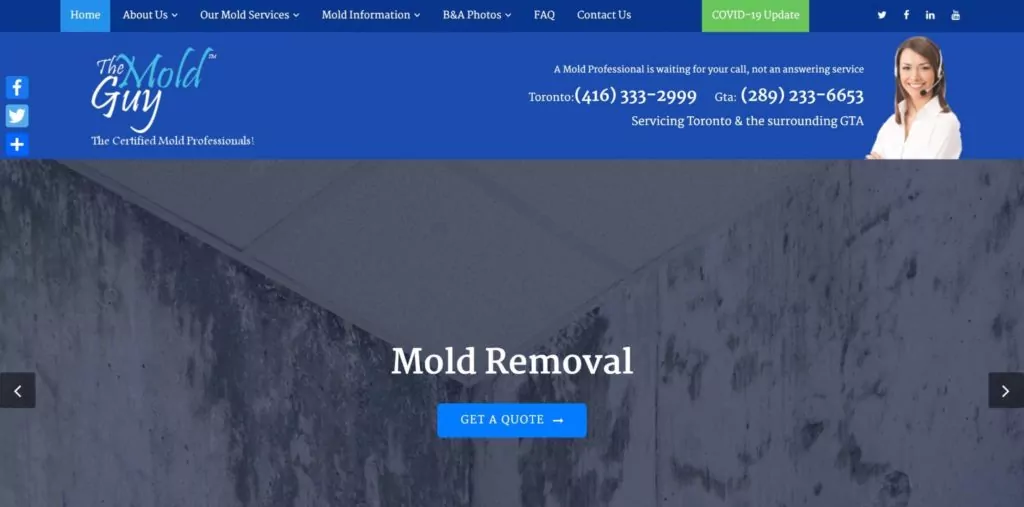 | | |
| --- | --- |
| SERVICES | Mold removal, indoor air quality testing, thermal imaging, mold inspections, asbestos testing |
| WEBSITE | https://www.moldguy.ca/ |
| ADDRESS | 437 Roncesvalles Ave. Suite 420, Toronto, ON M6R 3B9 |
| CONTACT DETAILS | (416) 333-2999 |
| OPERATING HOURS | Monday – Sunday: 9:00 AM – 7:00 PM |
Here's what we like best about The Mold Guy – they take your mold infestation problems seriously. And a lot of past clients can attest to this, especially with how prompt they are with these issues.
For starters, we're a big fan of just how seamless connecting with them is. If you request a quote now, you'll get a representative within minutes, and they'll be right at your doorstep within the next few hours if you decide to proceed.
It also satisfies our standards with clean, effective mold removal in various areas. Actually, they don't just eliminate the mold from your home: they leave the site spotless too after cleaning their "mess".
If you want to know how fast they work, they can get the job done in as short as half an hour. In fact, one client who had mold removal in a 700 square feet attic shared that the job was done within an hour – a remarkable speed for such a big space!
Apart from speedy mold removal, it also earned our stars with its long list of certifications and ongoing education. By the way, it's also an IICRC certified firm, which means that it met the highest level of standards in professional cleaning.
Finally, this contractor has insurance so there's little risk in case they damage your home. Plus, they're pretty discreet guys too since they'll arrive at your home in unmarked vehicles.
As they've had 12 years in business, it's little surprise we only found a few bumps here and there, particularly with estimates and pricing issues. But it's really just a small speck of dust compared to the great things they offer.
Prompt and professional
Spotless site cleaning after service
Fast mold removal time
IICRC certified firm
Insured
Unmarked vehicles
Occasional discrepancies with costs and estimates
Customer Reviews
Here's what past clients have said about this contractor:
There was a mold concern on my property and I was looking for someone to help address my concern. I called around and this was the first company to take the time to walk me through the entire process from start to finish. The follow up call after the lab results was detailed and thorough. Information, thoroughness, and kindness is what I hope for in terms of expertise in areas I know nothing about. The Mold Guy gave it all and some. – Mike Lam
The inspector that came to assess the issue was very thorough and helpful in explaining to me what the issue was and how it would be addressed if I chose to move forward with removal. He also took the time to check for any areas of my house that were possible causes. The team that came to remove the mold were very professional and took the time to walk me through everything had been done once they were finished. They also offered some helpful suggestions on how to proceed following their work and left the area very clean once they were finished. I would certainly recommend this business. – Jennifer Aquino
2. Templar Mould/Asbestos Analysis and Removal
| | |
| --- | --- |
| SERVICES | Mold removal, mold inspection and analysis, dry ice blasting; asbestos inspection, analysis, and removal; vermiculite analysis and removal |
| WEBSITE | http://www.mouldasbestosremoval.com/ |
| ADDRESS | 8500 Leslie Street, Suite 101 Markham ON L3T 7M8 |
| CONTACT DETAILS | 416-209-4857 |
| OPERATING HOURS | Monday – Friday: 9:00 AM – 5:00 PM |
We have a soft spot for businesses that value honesty and integrity, and Templar landed just right at it. To be fair, honesty is difficult to assess, but we've heard enough client testimonies to build our opinions.
Many previous clients praised the contractor for its fairness and honesty of service. One client even commended the team who after inspection of his home, found no reason for mold removal, hence preventing him from spending thousands on unnecessary treatment.
Second is its promptness and professionalism. Request a consultation today and they'll be right at your door tomorrow, with guaranteed service within the week.
The third reason is strong communication with clients. They'll keep you onboard during the mold removal process to make sure you understand what's being done.
Finally, you can sleep well at night knowing you're in the hands of an IICRC certified firm. Plus, they've been in the business since 2007, which is a pretty solid experience in our judgment.
This contractor also has liability coverage so you're in check in case they damage your project. Its team of technicians is also covered by workers compensation in case of injury.
With a perfect 5-star rating on Google Reviews, customer satisfaction is no question. But we would definitely love it more if it has more hours during weekends.
Honest team of professionals
Prompt mold removal services
Communicates with clients during the process
IICRC certified firm
Liability coverage
Workers compensation
Customer Reviews
Take a look at what past clients have said about this firm:
Robert was super responsive to my call to remediate the mould that had formed in our master bedroom after a leaky roof. David, who came to do the work, was very friendly and thorough. I appreciate that they stand by their workmanship and ensured my satisfaction as a client. I would highly recommend Templar to anyone. – Stephanie Sanderson
Robert was a pleasure to deal with. He took samples from several areas of the house that needed testing for asbestos and had the results in the next day. The asbestos abatement and mould removal was done quickly and efficiently and both the sample testing and abatement/removal are at a very reasonable price. Would highly recommend. – Marco Muscatello
3. A1 Eco Mould & Asbestos Removal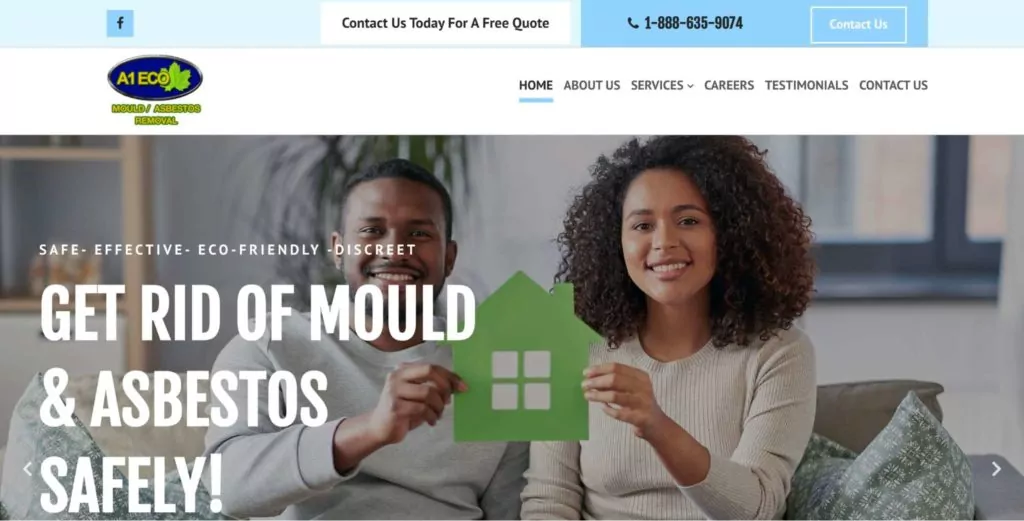 SERVICES
Mold remediation, asbestos removal, air quality testing, lab sampling
WEBSITE
https://www.a1eco.ca/
ADDRESS
UPH2-885 Progress Ave. Toronto ON M1H-3G3
CONTACT DETAILS
1-888-635-9074


[email protected]

OPERATING HOURS
Monday – Friday 8:00 AM – 8:00 PM
Saturday 8:00 AM – 5:00 PM
Sunday 10:00 AM – 4:00 PM
If we could get a dollar for every time we heard "excellent service" with A1 Eco, we would be raking in millions now! Well, after all, that 99% customer satisfaction with HomeStars doesn't lie.
What makes A1 Eco an excellent contractor for mold removal is its overall customer service. They're responsive with questions, upfront with the costs, and they'll keep you updated with the entire process even if you're not present (they send pictures!).
In addition to these, they would make you feel like a King because you won't have to lift a finger to do anything. The only time you might have to is when using email transfer to send payments – which is really convenient, by the way.
Speaking of convenience, if you request an onsite visit today, they can come the next day and proceed with the mold removal then and there.
And if that's not enough, one client even shared that a technician drove through a storm to address her problem – quite unsafe but says a lot about going above and beyond for its services.
The part that we liked the best is that they use eco-friendly products for mold remediation. So if you're conscious about chemicals, working with them is a smart choice.
All of its technicians are certified plus they have the coverage of workers compensation.
With them getting literally perfect scores in HomeStars, Google Reviews, RateABiz, and Yellow Pages, it's easy to see why they're popular. However, the company's team is relatively small with only five technicians – which can be a problem during its peak seasons as they can't accommodate everyone.
Excellent customer service
Constant updating of the mold removal process
Easy and convenient payment options
Prompt, fast, and professional
Workers compensation
Eco-friendly products
Customer Reviews
See what past clients have said about this contractor:
I was very impressed with A1 Eco Mould & Asbestos Removal. Everything in our basement had to be removed. A1 Eco did everything for us – we did not have to do a thing. A1 Eco removed the air in the house as there was a high count of Mould spores in the air and then cleaned and sprayed everything. An air quality test was also done at the end to ensure that all Mould and spores were removed entirely. – H. Fulchini
A1 brought a professional approach to all aspects of the project. The required work was fully explained in terms of what was required, how the set up would be prepared, safety precautions and clean-up. The team effectively executed all requirements and the work was completed on-time. The area was thoroughly cleaned up too. Our research indicated that A1 were very competitive in terms of pricing. We absolutely recommend A1 for projects of this nature. – Shane
4. Canada's Restoration Services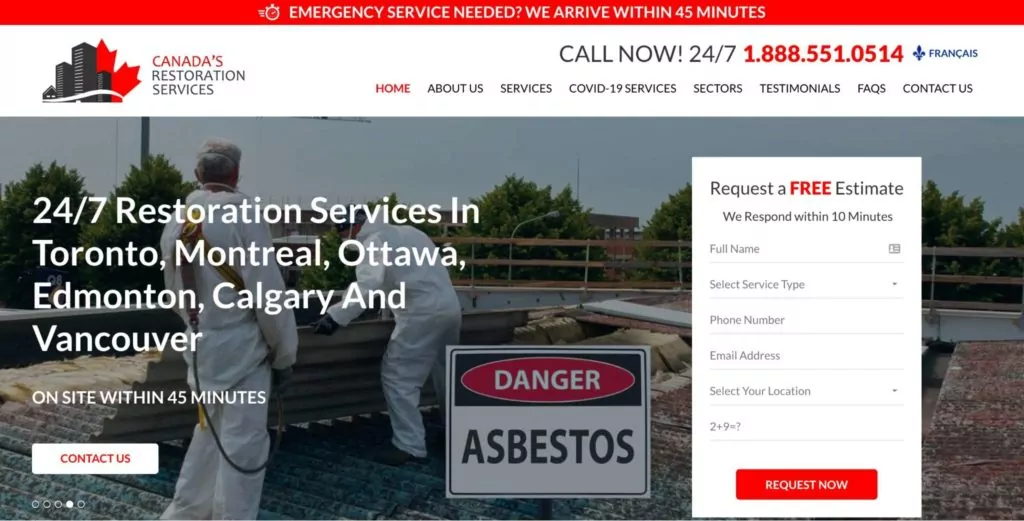 Canada's Restoration services make our cut for a lot of fantastic reasons. We'll list each for you so you can get an idea:
First, it's open 24 hours, which makes it perfect for emergency services. In fact, if you ring them up, they'll be at your home within 45 minutes.
Second, they offer free inspections, which strip off a significant amount from the total costs of services. Booking a free inspection is also a breeze via phone call or email.
Third, they offer three-step in-house financing which is a big help when you're tight on budget. You can go for a zero-interest, 12 to 24 months payment or pay $21 bi-weekly for up to 15 years.
Finally, its customer service is notable for punctuality and professionalism. Plus, they won't force any other services onto your plate, which is a great thing to note.
This contractor also has a big team of 50 professionals, so you're confident that they can accommodate your needs at a given time. It also has liability insurance, workers compensation, and is IICRC certified.
The only downside is that it seems to suffer from supervision issues, as some clients pointed out. One client complained about errors that had to be addressed by extra visits, and another talked about the lack of communication and follow-ups.
Still, these are a few hiccups that wouldn't necessarily hurt over 10 years of proven service. And its 4.7 rating on Google Reviews definitely affirms this.
Open 24/7
Offers emergency services
Free inspections
In house financing options
A big team of 50 professionals
Insured
Has workers compensation
IICRC certified
Issues with supervision reported by some customers
Occasional problems with communication
Customer Reviews
Here are some testimonies from past clients:
I am extremely impressed with the service that I received from Canada's Restoration Services. I called them to do a mould inspection on my crawl space, after getting the run-around from another few companies. Jorge conducted an inspection and sent me a quote right away. He was very kind and empathetic about my situation – which was very refreshing. When the mould remediation took place, Jorge's crew took the utmost care in keeping my house clean. They were respectful, polite, and very careful with their work. I also received two follow up calls from Jorge to make sure that everything was completed in a satisfactory manner, and to see if I had any questions about anything. I could not be happier and would recommend CRS to anyone who asks me!! – Melissa Saxon
Great, professional, honest work. Was given a quote for mold remediation, but once the work had commenced it was found to be more extensive. The team honored their quote and got the job done. Highly recommend this team. – Patrick Denis
5. Green Stream Environmental Inc.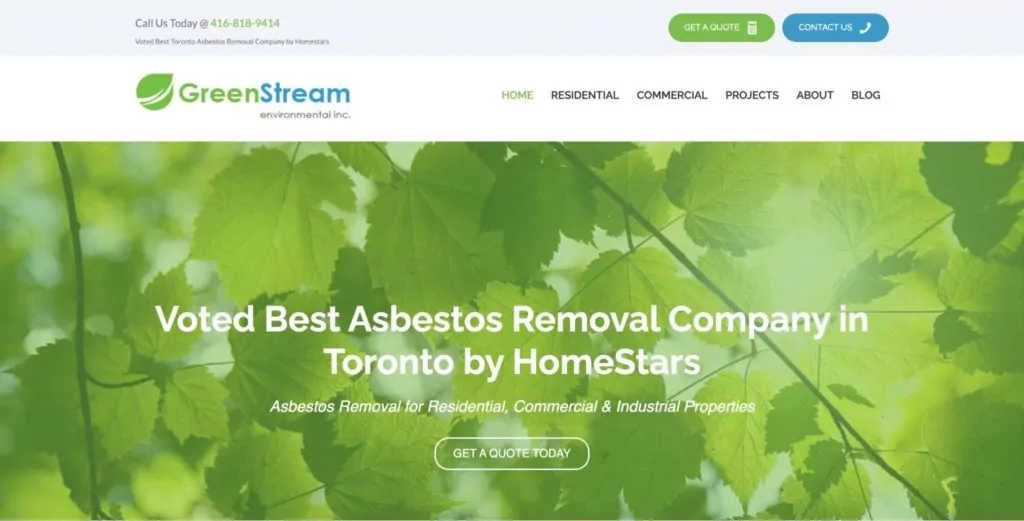 SERVICES
Residential mold removal, residential asbestos removal, commercial mold removal, commercial asbestos removal
WEBSITE
https://www.greenstreamenvironmental.ca/
ADDRESS
216 Rivermede Rd. Unit 10 Vaughan ON L4K
CONTACT DETAILS
(416) 818-9414
OPERATING HOURS
Monday – Sunday: 9:00 AM – 5:00 PM
24/7/365 (emergency services
Green Stream earns our favor by having a remarkable service from start to finish. Everything from getting a quote and the actual mold removal is just worthy of so much praise.
What we liked in particular is their promptness as these guys are always on time without fail. They work pretty fast too as many past clients shared that they finished the job on time.
Speaking of finishing the job, they'll leave your home in tip-top shape after thorough mold removal. And just in case there are unexpected surprises that require more rigorous service, they'll honor their quote and won't charge you extra anymore.
They operate on set hours every day but they also have 24/7/365 emergency services. So, if you're stuck in an emergency scenario you can hit them up.
Coordination and communication are also notable as they'll keep in touch with you throughout the whole process. Its prices are also reasonable too as it falls within the average in Toronto.
We also love that they still connect with clients even after rendering the service. One client even noted that they came to her house to personally answer her questions and inspect the work they've done.
By the way, if you're curious about the methods and products they use, they're all eco-friendly. They're not called Green Stream Environmental for nothing!
Last but not least, we are in love with the fact that they have female workers on board. It's just a nice break from a very male-dominated business.
This firm is IICRC certified so top-tier services are guaranteed. They also have workers compensation and liability insurance for your peace of mind.
Responsive and on-tome
Honors their quote
24/7/365 emergency services
Excellent customer service
Eco-friendly products and methods
Has women workers on board
Insured
Workers compensation
IICRC certified
Customer Reviews
Take a look at what past customers have said about this company:
The home inspector hired by the buyers of my house discovered some mold in the attic. It is a relatively small job but the folks at the GreenStream took it seriously. Their quote was very reasonable and their service was excellent. They came on time, did a through work to clean the mold, showed me the pictures before and after, and provided document for the work. I was very glad that I had found this company and will have no hesitation to recommend their services. – Samuel Zeng
Highly recommend this company! Not only was the quote 30K lower for a larger scope then the competitors, during the work, the scope increased but they kept the original quote, stayed on time, on budget, and left the site CLEAN!! Manny was a pleasure to deal with and I would be happy to speak to anyone who needs any further information. – Beatrice Payne Huggins
Factors to Consider When Choosing a Mold Removal Contractor
Now that you have an idea of what the best mold removal companies in Toronto can offer, it's time to make the right choice for you. Remember, each case is unique, so you have to assess which company can solve your problems.
With that said, here are some factors to consider when choosing a mold removal contractor:
Prompt and responsive technicians.
Apart from its unpleasant look and smell, mold is also a threat to one's physical health. With chances of experiencing shortness of breath and irritation, it's only vital to get fast services to your home.
Pick a contractor that can accommodate you with its flexible working hours and emergency services. Fast service includes the turnaround time to get a quote, receive mold inspection, and the actual mold removal process.
Safe and spotless mold removal.
Removing mold can be messy since workers have to chip through wood and other surfaces to eliminate the problem. It's only right to choose a contractor that's guaranteed to clean up the site after extensive mold removal.
Of course, safety is a top priority too. So look into how they plan on keeping your pets or children (if you have any) out of the mold removal site, and how they will prevent further contamination.
Insured with liability coverage and workers compensation.
Never work with a company that doesn't have insurance. Even with a proven record of excellent service, it's never a smart choice.
Having liability coverage means that they are insured in case they damage your home, meaning they have the means to pay you for the damage. They must also have workers compensation meaning that their employees are covered in case of an injury while performing the job.
Excellent client communication and service.
Some contractors will make you feel like you're talking to a blank wall. And you won't want that if you want to know what's currently happening during the process.
Get a contractor that goes above and beyond with keeping you updated. Keeping before and after pictures won't suffice, they have to get you on board with important stages too, and most especially, in case they find more severe build-up on site.
FAQs About Mold Removal in Toronto
---
Don't let the musty, earthy smell of mold envelop your home and put your family in danger. These top mold removal companies can help you combat hazardous health threats and keep your home clean and mold-free!
If you need any more help with keeping your home in its best shape, flip through our list of the best window and door replacements in Toronto as well, by the way. We have fantastic choices fit for all types of homes!