Top 6 Mold Inspection Services in Toronto
Mold is hazardous to your health as it is present in the air you breathe. For those sensitive to mold, touching or inhaling it can cause allergies and even shortness of breath.
Thus, it is vital to do a mold inspection and make a plan to solve the problem permanently.
We have found the top mold inspection services in Toronto. Read on further to know more about these companies and how they can help you with your mold issues at home.
The Best Mold Inspection Services in Toronto
Mold Inspection has to be done by well-experienced professionals. We have set criteria for choosing the companies that offer this service.
How much does mold inspection cost in Toronto?
A mold inspection costs $300 to $400 for a small to medium-sized house. The cost increases depending on the size of the inspection site.
However, some mold inspection companies in Toronto offer this service for free. They usually give clients an overview of the work needed and a cost estimate.
Below are the basic prices for mold inspection and services to solve mold issues.
| Service | Fee |
| --- | --- |
| Mold Inspection | $300 – $400 |
| Mold Removal | $500 or $10 per square foot |
| Mold Remediation | $500 or $10 square foot |
1. Inch by Inch Inspections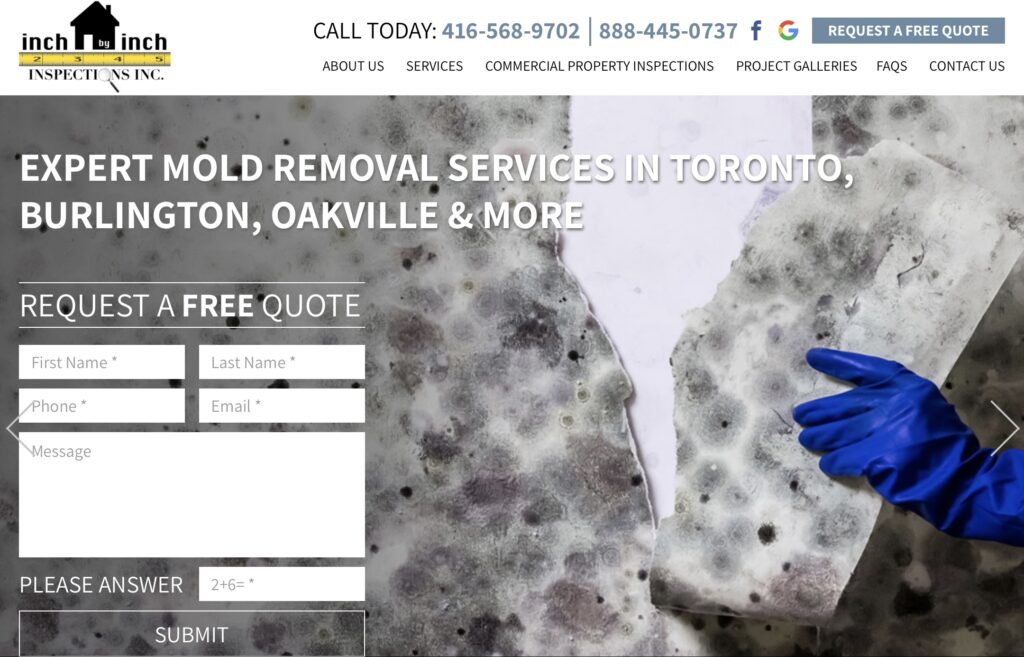 Services
Air Quality and Odor Elimination with Ozone
Air Quality Testing and Inspection
Asbestos Removal Services
Asbestos Testing & Inspections
Designated Substance Surveys and Reports
Electrical Thermal Scanning Services
Grow Operation Detections & Inspections
Infrared Thermal Imaging
Mold Inspection, Removal & Remediation
New Home Warranty Inspection
Odour Removal
Pre-Purchase Home Inspection
Radon Testing & Inspections
Thermal Energy Audits
Water Quality, Well Inspections & Testing
Website
https://www.inchbyinchinspections.com/
Address
Vaughan, Ontario, Canada
Contact details
416-568-9702
Operating hours
Monday to Sat: 8 am to 11 pm
Sunday: 9 am to 10 pm
| | |
| --- | --- |
| Availability | ★★★★☆ |
| Staff | ★★★★★ |
| Services | ★★★★★ |
| Price | ★★★★☆ |
When it comes to mold inspections, there's no room for error. Our experience with Inch by Inch Inspections left us impressed on all fronts.
Inch by Inch Inspections brings professionalism to the forefront. Their thoroughness in detecting mold is unparalleled.
We were astounded by their attention to detail; no nook or cranny escaped scrutiny. From crawl spaces to attics, they covered it all.
Convenience reigns supreme in today's world, and Inch by Inch Inspections embraces this philosophy.
Scheduling an appointment was a breeze, and their punctuality was commendable. In an industry known for delays, they delivered on time, every time.
In a realm where trust is paramount, Inch by Inch Inspections boasts an impeccable reputation.
Their name is synonymous with reliability. It's no wonder they are the go-to choice in our community.
Quality often comes at a price, but not at Inch by Inch Inspections.
Their rates are competitive without compromising on the excellence of their service. Our pockets remained intact, and our peace of mind, intact as well.
However, they can get busy during peak days. We suggest booking them ahead of time.
Expertise
Timeliness
Stellar reputation
Competitive pricing
Customer Reviews
"Inch by Inch Inspections exceeded my expectations. Their attention to detail in detecting mold was impressive. They left no stone unturned in ensuring my home was mold-free. Prompt, professional, and highly recommended!"
"I can't thank Inch by Inch Inspections enough. Their reputation is well-deserved. From the moment I contacted them, I felt at ease. They were thorough, efficient, and their pricing was fair. A top-notch service I'd recommend to anyone."
2. The Mold Guy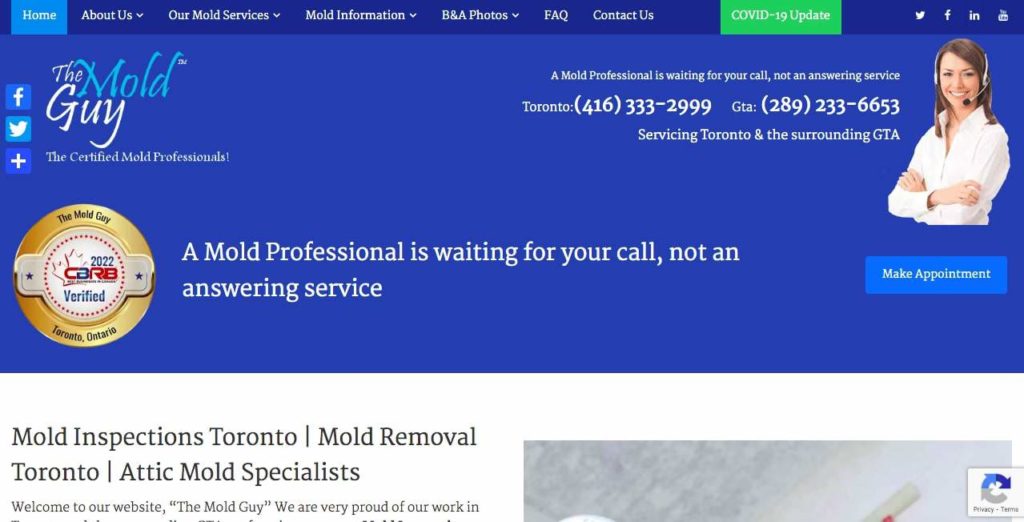 Test
Info
Services

Mold Inspection

Indoor Air Quality Testing

Mold Removal

Asbestos Testing

Website
Address

437 Roncesvalles Ave #420, Toronto, ON M6R 3B9

Contact details

416-333-2999

Operating hours

Monday – Sunday: 9 am – 7 pm
| | |
| --- | --- |
| Availability | ★★★★☆ |
| Staff | ★★★★★ |
| Services | ★★★★★ |
| Price | ★★★★☆ |
The Mold Guy, an IICRC certified firm, is committed to providing excellent service in Toronto and GTA. It is known to have reliable, ethical, and honest mold inspection and mold removal services.
Its certified inspectors and remediators are equipped with practical experience and pursue continued education.
The company is Baeumler approved, which is an indication that the inspectors are efficient, knowledgeable, and thorough in their assessment of the area. They also gave us a well-informed explanation of the mold problem and how they plan to resolve it.
To get its services, you may request a mold consultation through its website. Its friendly staff will quickly call back to interview the client for mold-related concerns.
There were instances, though, when it took a while before an email request gets a reply. However, once the problem is determined, its crew will conduct mold removal right away to ensure no re-infestation in the future.
To do a mold inspection, we had to pay $375. But being Homestar verified, you are assured you are getting professional service that goes beyond the scope of work.
To ensure that the mold problem is solved, the crew will even clean all exposed and surrounding areas.
As mold removal can be dangerous, the staff comes wearing P100 filtered masks, suits, and gloves for protection. Also, they took with them all the moldy materials to keep our house safe.
Certified and verified crew
Quick call back response
Reliable inspections
Thorough work
Delay in email replies
Charges mold inspection fee
Customer Reviews
Invaluable advice
I highly recommend The Mold Guy! Ross came over to look at our damaged basement and not only gave a very thorough diagnosis, his advice was invaluable for us to get our job done right and save money. They were very quick to respond and come over with an excellent price point. I hope to never need The Mold Guy again, but if I do, they'll be my first call. – Rob
Top level of professionalism
Having an entire condo taken over by mold, the mold guys were very efficient in demolishing the infested dry walls, the entire flooring, and the bathroom in its entirety. Their nature of work was very flexible yet detail oriented. Kay was a tremendous help through it all. She was attentive to calls and emails and was VERY impressionable, punctual and topped the level of professionalism that supersedes doing business over the phone; her communication to the team of guys was on point. Jamie and the entire really scrubbed the walls, the ducting, and the bathroom of all mold infestation, primed the affected areas to ensure no future reinfestation and through all the tough work, they were patient attend to other request. thanks a million to the entire team at THE MOLD GUY. – Ronj
3. Ultimate Mold Crew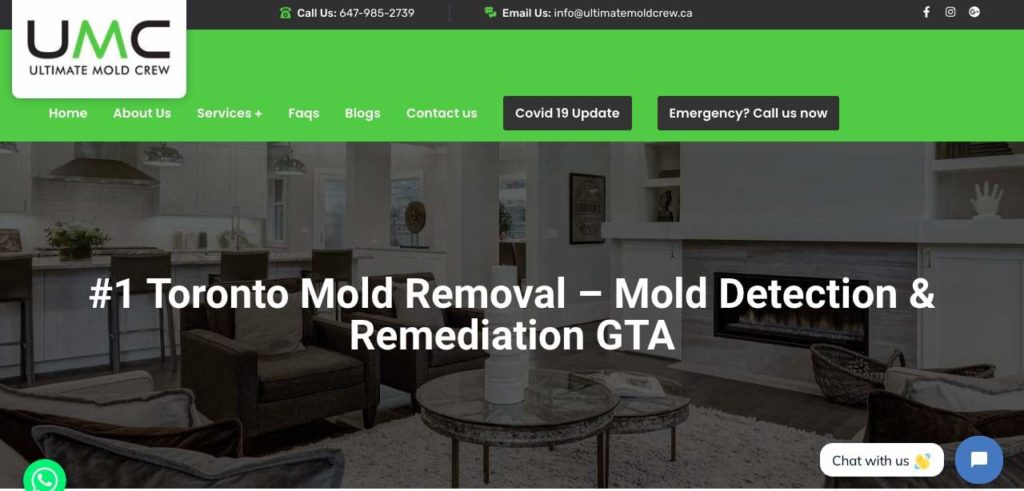 Test
Info
Services

Water damage-related cleanup & repair

Flood restoration

Mold inspection and remediation

Water damage-related mold removal

Attic mold removal

Website
Address

11 Shallmar Blvd Unit 308, Toronto, ON M5N 1J6, Canada

Contact details
647-985-2739
Operating hours

Monday - Friday 8 am - 8 pm

Saturday: 9 am - 5 pm

Sunday: 10 am - 2 pm
| | |
| --- | --- |
| Availability | ★★★★☆ |
| Staff | ★★★★★ |
| Services | ★★★★★ |
| Price | ★★★★★ |
Ultimate Mold Crew, a top-rated mold removal company in Toronto, offers mold inspection for free. On top of this, it provides a complete mold solution by doing remediation work.
You may book an appointment for a free mold consultation on its website. In addition, service starts with the home inspection and getting mold samples to determine the best way to overcome the problem.
As a reliable mold removal company, the crew gave assurance that the work will be done professionally and follow standard practices.
They are qualified and trained for controls, safety measures, and methods of mold prevention.
We appreciate the crew's professionalism throughout the whole process as they went above and beyond expectations. In addition, they do thermal imaging, one of the most effective technology in mold inspection that helps detect the quality of air in your home.
The company's inspection process is very thorough, starting with checking the sources of mold inside and outside of your house. In addition, the kind and helpful crew are experienced to remove black mold and other species.
This company has a limited number of operating hours but is quick in not just setting appointments and inspections but also doing mold removal. The crew is also meticulous and thorough with the cleaning job.
With its 10 years of experience, the company gives a lot of suggestions regarding the process. Its solutions have put our minds at ease and we were able to decide which option to go for.
Top-rated service
Professional and trained crew
Uses effective technology
Free mold consultation
Limited operating hours
Fairly new in the industry
Customer Reviews
Amazing team
Just an overall amazing team . I called in because I had noticed a musty smell & some mold growing on our basement wall. Antonio came in inspected (free of cost ) and then came up with a plan.The next day the crew came in and completed the job . The team made us feel very comfortable and assured us that we would be safe throughout the process. They truly made us feel comfortable…Very professional! Very informative ! . I would definitely recommend this company ..thank you again ! – Cecilia
Service beyond expectation
I had a small mold issue so I called The Ultimate Mold Crew Inc. to come by. They were right on time, very respectful, knowledgeable, quick, easy to talk to, and went above and beyond what was expected of them. During the inspection, they even gave me advice on a few other things with my house that were unrelated to my problem. 100 percent definitely recommend! – Miles
4. CleanFirst Restoration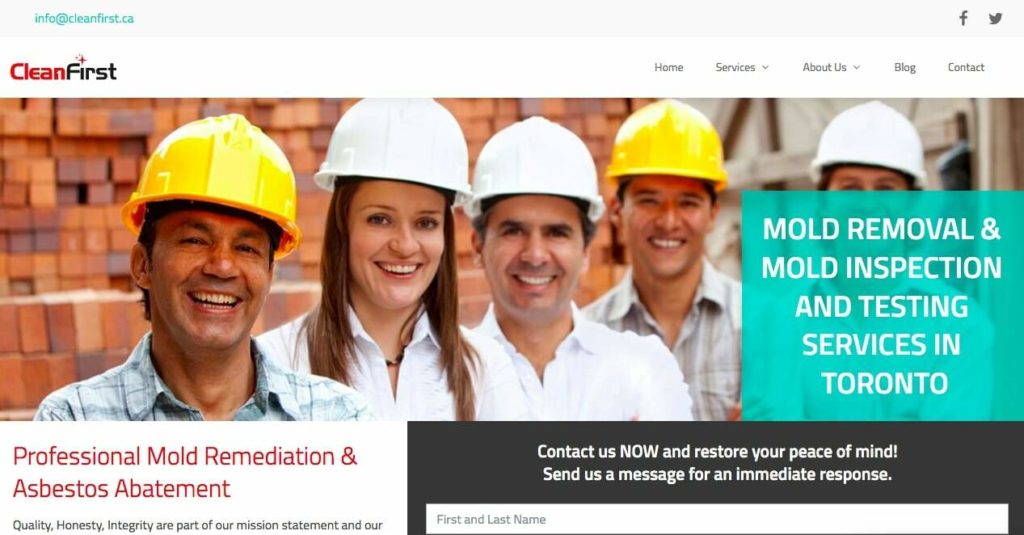 Test
Info
Services

Carpet cleaning

Flood cleanup

Flood restoration

Flooring

Mold cleaning

Mold damage restoration

Mold inspection

Mold remediation

Website
Address
18 King St E Suite 1400, Toronto, ON M5C 1C4, Canada
Contact details

800-520-7443

Operating hours

Monday – Friday: 9 am – 6 pm

Saturday: 9 am – 3 pm

Sunday: Closed
| | |
| --- | --- |
| Availability | ★★★★☆ |
| Staff | ★★★★★ |
| Services | ★★★★★ |
| Price | ★★★★★ |
CleanFirst Restoration values quality, honesty, and integrity, thus able to offer exceptional mold inspection and other services. It opened its doors in 1989 to serve Toronto and surrounding areas with competitive prices and quality work.
What we appreciate about this company is its commitment to giving the best customer service. The certified staff it sends to do the free mold inspection can determine the possible moisture issues right away and provide knowledgeable solutions.
Its expertise is in basement mold inspection, which it has been doing for the past 33 years. We have witnessed how its inspectors use different tools to determine the problem, like air quality testing, moisture readings, and thermal imaging.
The company guarantees satisfaction because it has the experience and knowledge to provide professional work and give clients peace of mind. It is also not money minded as it genuinely cares and is extremely helpful in helping solve mold issues.
Aside from its mold inspection service offered for free, we found its mold removal pricing to be the best value with no hidden costs. CleanFirst's pricing was better compared to quotes from other mold removal companies.
Furthermore, the crew arrive early and got the job quickly, even if it was scheduled on short notice. This flexibility makes up for the company's limited operating hours on Saturdays and no work on Sundays.
The crew also gave knowledgeable and excellent recommendations on ways to ensure the mold issue will not happen again. They also cleaned the infected area well, worked efficiently, and were pleasant to deal with.
Competitive price
Quality work
Free mold inspection
Best value price
Flexible in schedule
Limited operating hours on Saturdays
Closed on Sundays
Customer Reviews
Thorough inspection
Contacted Luis from Cleanfirst Restoration for attic mold inspection for a unit in our townhouse complex, he is not only great at his profession, is also extremely knowledgeable, and genuinely a very caring, kind and a helpful person, and not money minded at all. He came on time, spent time doing a thorough inspection and giving feedback. And also chatted about other hazards, which we were not aware of. I highly recommend them, excellent value overall! Thanks Luis. – Shewana
Prompt and polite
I was extremely pleased with the work completed by Luis and his team. I am a return customer and I continue to be amazed at the quality of their work, the care, the promptness and value. My first project was mold removal due to water damage. My most recent project with CleanFirst was asbestos abatement. The team came in right on time, explained what they are going to do, did exactly what they promised. They were so careful, polite and clean. Their rates are also great. They make a difference. Be sure to give them a ring. You won't be disappointed.
Thanks a million, – Ovunc
5. GTA Mold Removal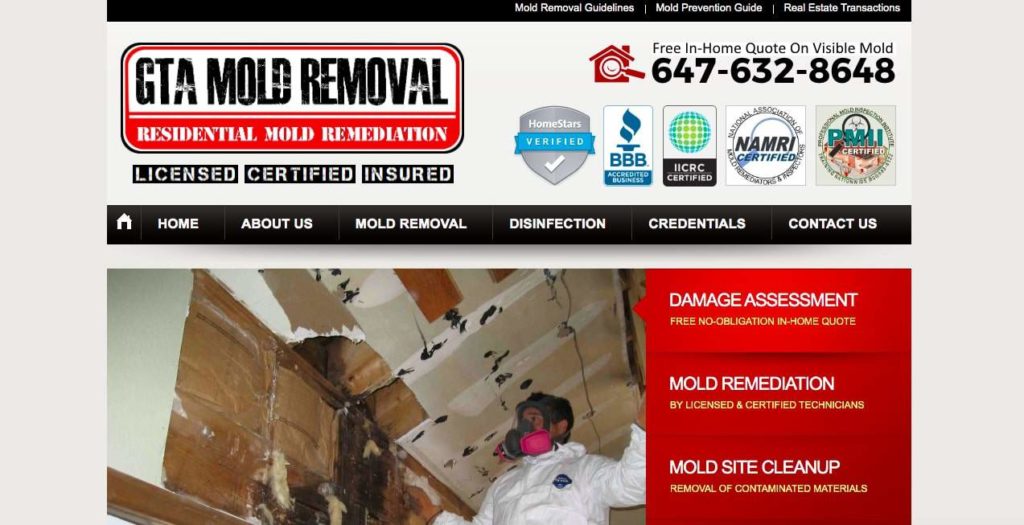 Test
Info
Services

Carpet cleaning

Flood restoration

Mold inspection

Mold remediation

Water damage-related cleanup & repair

Water damage-mold removal

Website
Address
3160 Dundas St W, Toronto, ON M6P 2A1
Contact details

647-632-8648

Operating hours

Monday – Sunday: Open 24 hours
| | |
| --- | --- |
| Availability | ★★★★★ |
| Staff | ★★★★☆ |
| Services | ★★★★☆ |
| Price | ★★★★★ |
GTA Mold Removal offers professional services to create a healthier indoor environment to homeowners. It maintains the highest standards of safety as it is in strict compliance with the Ontario Health and Safety Act.
The safety and well-being of the crew and clients are never compromised as it uses non-toxic and eco-friendly formulas to effectively treat any form of mold infestations.
Added to this, the crew wears protective covers and follows strict remediation and safety guidelines.
Its staff is licensed, insured, and certified, so they know the risks involved in mold inspections and removal. The company is also BBB Accredited, ensuring that they use the latest mold remediation technology to improve efficiency and accuracy.
As a trusted family-owned and operated business, it continues to offer a free in-home assessment. We appreciate this, plus the competence and transparency of the crew.
However, a quotation takes some time and the company did not give us a call when it became available. We also found the price to be a bit more expensive than other mold removal companies.
On the other hand, the crew is very professional in its dealings with clients, which made the company win the annual Homestars' Best of Awards. They conduct a thorough inspection and there are no hidden costs in their service quotation.
Thorough inspection
Free in-home assessment
Strict compliance to safety
Licensed, certified, and insured crew
Family-owned business
Delay in service quotation
Customer Reviews
Reasonable priced
This guys will do it all for you, to restore in house damage. We had a roof leak during the winter into one of the bedroom closet. We fixed the roof, and assumed that the closet wall is dry. Recently we saw weird water damage stain and possibly mold growth. GTA Mold came in the same day we called for free inspection. They explained the whole process and provide detailed scope of work with reasonable price. We also hired them to re built the closet. Great service. – Moshe
Professional company
If you are looking for a mold removal company that is experienced, prompt, and professional, GTA Mold Removal is the one! They were attentive to all my concerns, organized, and the job was completed on time. Thank you Maria and Andrew for your great service! – Iga
6. MoldCare
Test
Info
Services

Fire damage cleanup & repair

Mold inspection

Mold remediation

RoofingSewage cleanup

Water damage-related cleanup & repair

Water damage-related mold removal

Website
Address
1 Yonge St Suite 1801, Toronto, ON M5E 1W7
Contact details

888-665-3227

Operating hours

Monday - Thursday: 8 am - 6 pm

Friday: 8:30 am - 6 pm

Saturday: 9 am - 4 pm

Sunday: Closed
| | |
| --- | --- |
| Availability | ★★★★☆ |
| Staff | ★★★★★ |
| Services | ★★★★★ |
| Price | ★★★★★ |
MoldCare offers a full range of services, including mold testing removal and remediation. It also gives free phone consultations or you may arrange an appointment on its website.
This company does a very thorough mold inspection, starting by checking the exterior and interior of the house. Also, the mold experts use state-of-the-art technology to find molds that are not visible to the human eye.
To locate the presence of mold, a thermal imaging camera is used by its certified home and commercial mold inspectors. They then use a thermal hygrometer to take readings and check the level of moisture in the area.
What we appreciate is that the company provides not only a mold inspection report but also recommends a course of action with the estimated cost. So upfront, we knew how much we needed to budget.
Also, if its staff sees that the mold problem does not require a professional company to work on it, the crew will inform you that it can be resolved easily.
They will give honest and expert advice on how to take proper and effective care of your house by yourself. We were impressed with the knowledge of the crew and their quick response to doing a mold inspection.
However, its operating hours on Fridays and Saturdays are shortened, and it does not accept appointments on Sundays.
Full range of services
Thorough mold inspection
Uses state-of-the-art technology
Provides mold inspection report
Give expert advice
Limited operating house on Fridays and Saturdays
Closed on Sundays
Customer Reviews
Exceptional response
Steve from Mold Care is exceptional to deal with. His response time, to a very time sensitive issue for my client, was exceptional. After only speaking with him for a short time on the phone, I knew we would be in the very best of hands. Steve genuinely cares about his clients and his expertise is top notch. I will happily and highly recommended Steve and the team from Mold Care from now on. – Amber
Thorough inspection
I was referred to Steve for a mold inspection and I was a bit confused out of all the mold inspectors in the KW region I was given his number. After calling Steve and working with him I can see why anyone would recommend him. He's very professional, quick at responding, and very thorough in his inspections. No wonder his business has 5/5 rating and I would highly recommend his services for new home buyers as well as homeowners concerned for health and safety. – Andy
FAQs on Mold
---
It is great to live in a house knowing that your family's health is not compromised by mold growth. So, to have peace of mind, get the services of the best mold inspection companies in Toronto.
Since mold grows on wet surfaces, avoid moisture build-up by checking out the best waterproofing companies in Toronto. In cases where immediate help is needed with water leakage, contact the best emergency plumbers.