The 8 Best Waterproofing Companies in Toronto
Is your basement suffering from a leak? In that case, you need to hire the best waterproofing companies in Toronto as soon as possible to prevent further damage to your house's foundation.
There may be hundreds of waterproofing companies all over the Greater Toronto Area, but worry not because we made a compilation of the ones worth hiring for your convenience.
Before we get to it, we'll look at the average cost of waterproofing services in the area to help you know how much money you need to shell out to repair home leaks.
The Cost of Waterproofing Services in Toronto
Generally, the cost of basement waterproofing is influenced by multiple factors such as waterproofing method, foundation depth, waterproofing materials, foundation reinforcement, and labor and installation.
The average cost of exterior waterproofing ranges from $50 to $400 per linear ft., while interior waterproofing is around $70 to $300 per linear ft. The former is pricier because it requires a fair amount of digging to reach the foundation and repair the cracks.
These two are the most common solutions offered by most waterproofing companies in the area, but there are other specialised waterproofing solutions that generally cost more money.
Here's a more detailed look into the average rate of other basement waterproofing services in Toronto:
| | |
| --- | --- |
| WATERPROOFING SERVICE | AVERAGE COST |
| Basement lowering and underpinning | $300 – $500 per square ft. |
| Benching | $300 – $400 per square ft. |
| Sump pump installation | $500 – $4,000 |
| Window well installation | $70 – $350 |
| Cracked foundation repair | $1,600 – $3,200 |
| Mold removal | $1,000 – $5,000 |
| Exterior waterproofing of a new house | $3 – $10 per square ft. |
| Crawl space encapsulation | $8 – 12 per square ft. |
| Internal crack repair | $50 – $750 depending on the size of the crack |
| Spot repair | $1,600 – $3,200 |
| Backwater valve installation | $1,600 – $4,000 |
The Best Waterproofing Companies in Toronto
Let's now go over which wateproofing companies in Toronto we deem worth every homeowner's attention.
Continue reading below to see which one can best handle the leak situation inside your home.
1. Aquatech Waterproofing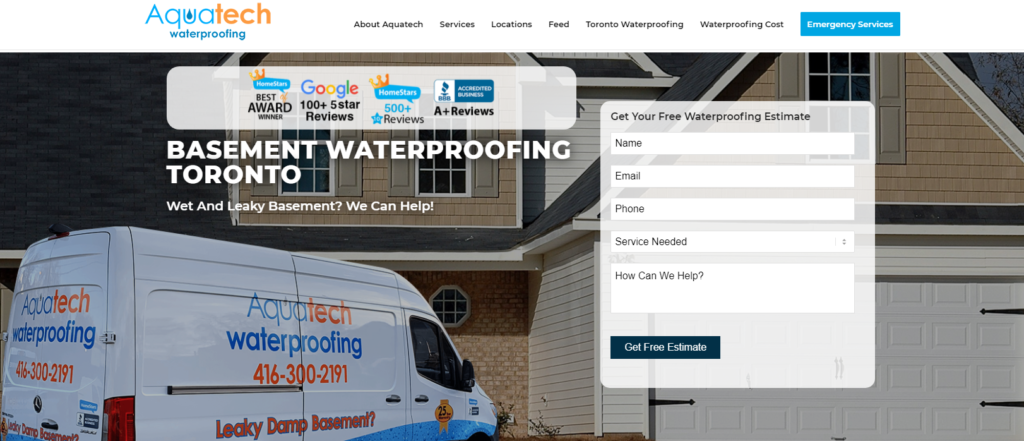 | | |
| --- | --- |
| SERVICES | Interior waterproofing, exterior waterproofing, basement waterproofing, sump pump installation, foundation repair, French drain installation, window well installation, weeping tile installation, battery backup installation, cleaning sewer drain, and drain pipe snaking |
| WEBSITE | https://aquatechwaterproofing.ca |
| ADDRESS | 20 Hyde Ave, York, ON M6M 1J3, Canada |
| CONTACT DETAILS | 416-300-2191 |
| OPERATING HOURS | Open 24 hours |
If you want a full-range waterproofing company with budget-friendly rates, then Aquatech Waterproofing could be the one you're looking for.
Aquatech is based in Toronto but services residential spaces in nearby areas like Ajax, Aurora, Brampton, Burlington, Kind City, Etobicoke, North York, and Mississauga, among others. If there's no reliable waterproofer in your area, then consider hiring this one!
It's made up of licensed and insured waterproofers and technicians, so whether you have cracked floors or a flooded yard, Aquatech can take care of that for you. It operates 24 hours a day, allowing customers to call even during midnight.
It's common for an in-demand contractor to have slow response to customer queries, but that doesn't apply to Aquatech. It even has a 24/7 live chat that customers can use to ask questions any time of the day.
Its waterproofing solutions include interior and exterior waterproofing, foundation repair, basement leak repair, and even water backflow prevention. Basically, it can put an end to all sorts of structural issues caused by water buildup and excessive moisture.
Aquatech also operates multiple trucks that are always ready to drive to your address as soon as you book an appointment. That sort of convenience is just another reason we can recommend them.
Wide service areas
25-year warranty
Quick response to queries
Budget-friendly waterproofing solutions
Additional rate for emergency services
Customer Reviews
Curious what customers think about Aquatech? Check out these comments:
"I am very happy with the waterproof work performed by Aqua Tech. My basement leaked after a sudden temperature increase and heavy rain this winter. Andrew was able to come in shortly upon the request, and provided a practical and effective solution. He is very knowledgeable about the foundation, and soil conditions for my house based on his previous work on my street, and very confident with the quality of his work (it comes with a 25-years warranty). The crews were courteous and thorough during the work, and did a nice clean up afterwards. All in all, I would highly recommend Aqua Tech for waterproofing." -Lichi Shi
"Exceptional work and true to the contract including giving us a warranty document for the work. Very good price and bonus we can even pay with credit card. We called a few other companies who were willing to overcharge us over double the price of Aquatech. Amazing team of 3 guys who finish all the waterproofing work in 2 days. They dug the exterior middle side of the basement wall then the two corners of the house. After the work was completed they cleaned up everything nice. Thank you so much Andrew and team." -Sandra King
2. Direct Waterproofing
SERVICES
Interior waterproofing, exterior waterproofing, emergency waterproofing, emergency waterproofing, backwater valve installation, foundation repair, basement lowering, and weeping tile installation
WEBSITE
https://directwaterproofing.ca/
ADDRESS
4 Faversham Crescent, Etobicoke, ON M9C 3X4, Canada
CONTACT DETAILS
416-454-7575


[email protected]

OPERATING HOURS
Monday to Friday: 8:00 AM – 6:00 PM
Direct Waterproofing has been helping households all over Toronto and Ontario deal with basement leaks for more than two decades now. It earned a spot on our list mainly for its competitive pricing and extensive warranty coverage.
Its 25 years of experience in waterproofing basements proves that it's mastered the art of protecting the foundation of any type of residential property. If expertise is what you're after, you definitely won't feel disappointed with this one.
Aside from typical leak solutions like exterior and interior waterproofing, Direct Waterproofing does foundation repairs, backwater valve installation, sump pump installation, and basement lowering, among others. Its technicians can repair minor plumbing problems as well.
Its office hours extend until only 6:00 PM, but its operations and customer service hotline continue until midnight. It's the perfect choice if you need emergency waterproofing services.
Another thing we like about Direct Waterproofing is the quality of its waterproofing materials. You won't see them using substandard materials when waterproofing your basement and improving the foundation of your home.
When it comes to warranty, all its basement waterproofing services come with 25 years of warranty. That's a pretty great deal if you ask us.
25 years of warranty
All-around waterproofing company
24 hour services
Certified and licensed technicians
Rates aren't posted on its website
Customer Reviews
Direct Waterproofing has a perfect 5 out of 5 rating on Google Reviews. Here's what its customers had to say:
"Just leaving a thank you note here. And why wouldn't I? They helped me out in an emergency when the pipe got busted. I was given immediate instructions to shut the water and wait for their guy to arrive. He repaired the pipes and made sure the exact reason it happened was taken care of. Niiiice" -John Gleason
"Had been having issues with sewage backflow since I purchased my house (didn't know about it at the time). I was referred to DIRECT by one of my relatives. Communication was top notch! I knew absolutely nothing about backwater valve installation, but they replied to my million questions and gave amazing service. Highly recommend them." -Amber Schulist
3. Royal Work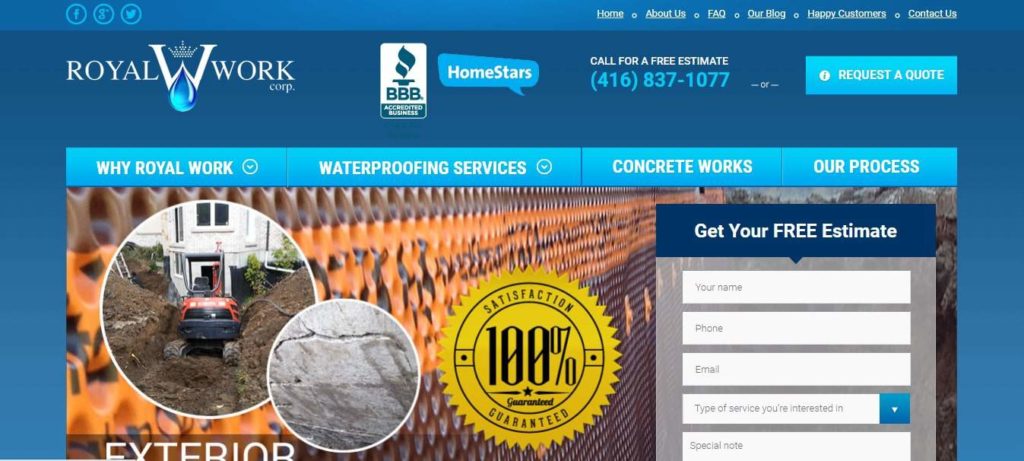 | | |
| --- | --- |
| SERVICES | Interior waterproofing, exterior waterproofing, basement waterproofing, backwater valve installation, drain cleaning and repair, foundation repair, French drain cleaning, and sump pump installation |
| WEBSITE | https://royalwork.ca/ |
| ADDRESS | 230 Queens Quay W, Toronto, ON M5J 2Y7, Canada |
| CONTACT DETAILS | 416-837-1077 |
| OPERATING HOURS | Monday to Sunday: 7:00 AM – 10:00 PM |
Royal Work is a BBB- and HomeStars-accredited waterproofing company that services almost every corner of Toronto and a few neighboring areas. It has a 4.9 rating on Google Reviews, so it's probably little surprise it made our list.
There's more to it than a pile of positive customer feedback, though. It's composed of 15 licensed and experienced waterproofers who can protect and improve the structural integrity of your property.
In case the foundation of your home is already damaged, the folks over at Royal Work still have you covered. Its technicians can resolve foundation cracks, mildew problems, weakened concrete, and interior cracks, among others.

Its waterproofing solutions, on the other hand, can address a long list of basement problems, including wall cracks, hydrostatic pressure, floor cracks, and even leaking sump pump pits.
Another thing that Royal Work has been repeatedly praised for is its transparent and competitive pricing. All customers will be given an honest costing for the job, with no hidden charges and last-minute fees.
Royal Work rewards new and loyal customers with frequent discounts and rebates, all of which are posted on its website. If you want to save some money, make sure to check its website regularly for promos!
Frequent discounts and rebates
Competitive and transparent pricing
25-year warranty
Open for emergency services
Customer Reviews
Take a look at these comments shared on Google Reviews:
"Hired Royal Work Corp to do the drains in our commercial unit, 100% would highly recommend this company. The warehouse had thick concrete that other companies gave expensive quotes to remove, royal was amongst the lower prices. Finish concrete had to be perfect and flush with the old floor, they managed to pour it perfectly. No bevels or low points, perfectly smooth as to not be a tripping hazard. Thank you Anatoly and team!" -Ryszard Musialski
"We hired Royal Work Waterproofing for an internal basement waterproofing job on our house. Was completed to our satisfaction within 10 hours. Quote was competitive and Anatoly made sure we had the city rebate paperwork completed on the same day. Highly recommended to our friends and neighbours." -Mario Gibson
4. Canada Waterproofers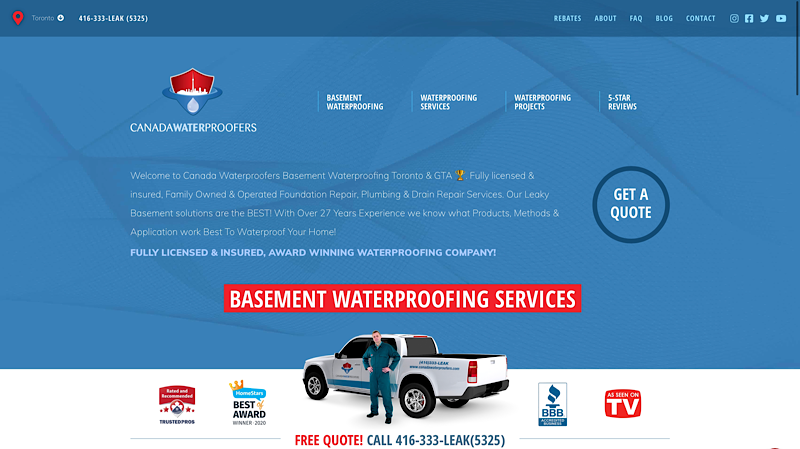 SERVICES
Basement Waterproofing Services, Interior Waterproofing Services, Exterior Waterproofing Services, Backwater Valve & Sump Pump Services, Drain Repair & Plumbing Services, Sewer Backup & Snaking Services, Concrete Floor Install & Foundation Repair Services, Underpinning Services & Basement Lowering, Foundation Repair Services, French Drain Installation, Waterproofing Contractors, Wet Basement Repair
WEBSITE
https://canadawaterproofers.com
ADDRESS
3410 Semenyk court, unit 9, Mississauga, Ontario L5C 4P8
CONTACT DETAILS

[email protected]


+1-416-333-5325
OPERATING HOURS
Monday to Saturday: 7:00 am – 9:00 pm
Sunday: 10:00 am – 5:00 pm
For over 25 years, Canada Waterproofers has been servicing the local community for its waterproofing and drain needs which they are known for. They are a fully-licensed and fully-insured company with complete WSIB coverage.
Their team consists of professional technicians who are licensed plumbers and waterproofers. They also use the latest technology in delivering their services so they work efficiently.
Aside from plumbing services, they offer waterproofing which generally takes 1-7 days to finish. We like that they take their time in doing projects and have a fully-transferable 25-year warranty.
Before paying for a service they also have a free non-obligation quote for their customers. If they are already on-site, they can also do a free estimate on their services.
Canada Waterproofers is an accredited business of BBB and was recognized as the Winner of the Best of Award by HomeStars in 2020. Aside from their recognitions, they are positively reviewed on Google, CTV, and CHCH.
Over 25 years of experience
Fully-transferable 25-year warranty
Team of specialized technicians
Free non-obligation quote
Award-winning, licensed, insured, and WSIB-covered
VISA, MasterCard, and Interac payments available
Customer Reviews
Here are some Google Reviews from their clients:

"Honestly the best company and service! Had a crack in my basement, I called them and they arrived really fast and fixed it 100% professional job. I would recommend them to everyone!" – Rahul Joseph
"had some crack in my basement , Andrew came to my house and gave me all details needed to address my basement leaking problem , his staff came to my house in Hamilton last Saturday and did their job" – Muaweya Saifan
5. RCC Waterproofing Toronto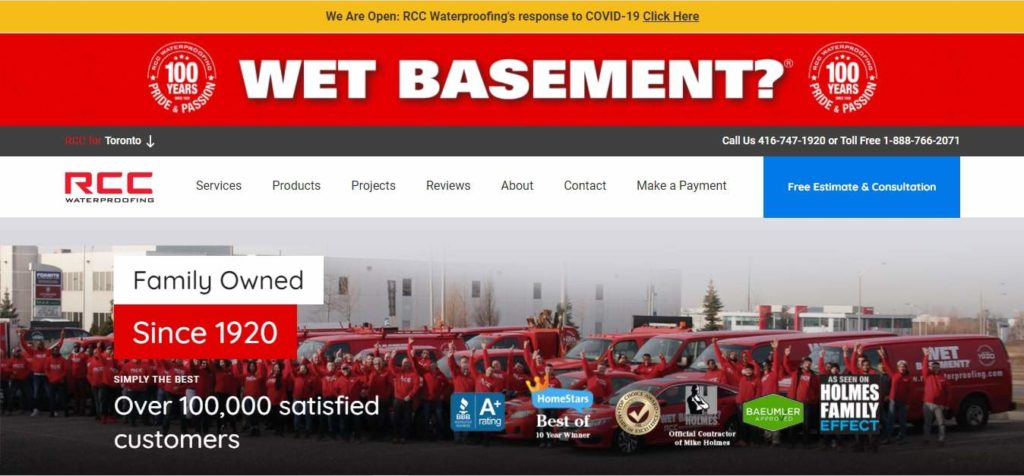 SERVICES
Interior waterproofing, exterior waterproofing, waterproofing foundation cracks, waterproofing newer homes, basement lowering, foundation structural repair, and sump pump installation
WEBSITE
https://rccwaterproofing.com/
ADDRESS
4101 Steeles Avenue West, Suite 201 Toronto, Ontario M3N 1V7
CONTACT DETAILS
416-747-1920


[email protected]

OPERATING HOURS
Monday to Friday: 9:00 AM – 5:00 PM
You've probably heard of RCC Waterproofing as it's one of the most well-known waterproofing companies in Toronto, with long-term customers from GTA and surrounding areas.
It's a three-generation waterproofing company that goes all the way back to 1920, making it among the oldest foundation experts in the area. In fact, it's worked on some of Toronto's finest residential areas, which says a lot about the quality of its services.
RCC's waterproofing staff is made up of technicians, foremen, and consultants, all of whom have years of experience under their names. You know a waterproofing company can get any job done when there are more than 40 people in its team.
One noticeable trait about RCC is that it goes beyond the regular waterproofing services. Does your home have serious structural issues? The folks over at RCC can deal with that!
Apart from waterproofing the basement to improve the integrity of your home, RCC can take preventative measures to stop leaks and structural issues from occurring in the first place. This is something that new homeowners should consider upon settling in.
Lastly, RCC offers free estimates to every customer, regardless of whether they're pushing through with its services or not. Not a lot of homeowners can refuse the quality of its waterproofing services, though.
More than a hundred years of experience
Large staff of waterproofing experts
Free inspection
Multiple payment options
Customer Reviews
Phil Bagley shared this comment on Google Reviews:
"The RCC team did a great job. Moe and his team were very professional and courteous. They worked hard and fast. It was very impressive. Thanks go to Rita as well as she kept up on my concerns and addressed them quickly. The basement is dry! Many thanks to RCC!"
Another customer named Fred Kwan sang praise about his experience with RCC:
"I was planning to finish the basement for my kids and have an office as well. However, I found several leaks in my basement foundation. I contacted RCC as they were the most reputable. Rick , our sales person, showed up timely and very knowledgeable. He was trustworthy and gave us confidence in the repair to be done. The crew and Sam showed up on time and were very tidy. Kat at RCC made the invoicing and scheduling very easy. Upon completion, no more leaks even after several rain storms this spring. We are now in-process of finishing our basement and couldn't be more happy with RCC."
6. Dryshield Water Solutions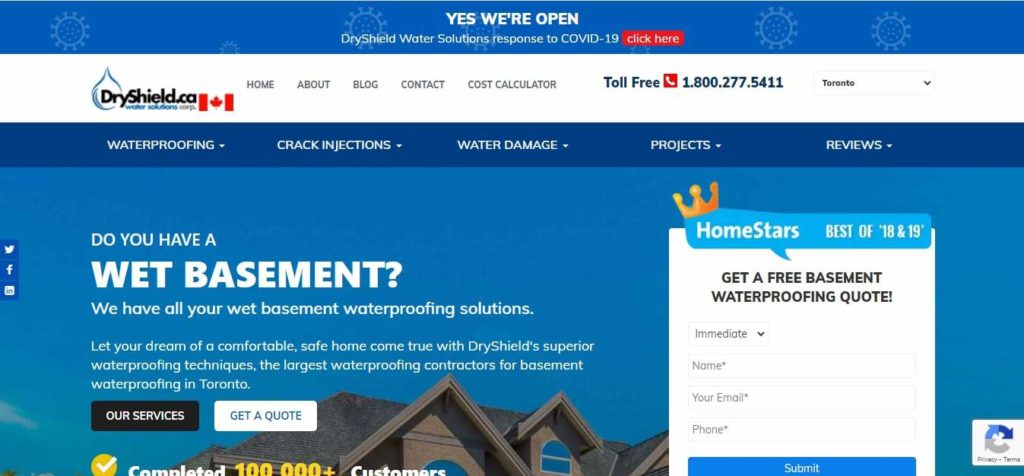 | | |
| --- | --- |
| SERVICES | Interior waterproofing, exterior waterproofing, basement waterproofing, basement leak repair, wet basement repair, sump pump installation, window well installation, waterproof foundation, basement crack repair, and water damage solutions |
| WEBSITE | https://www.dryshield.ca/ |
| ADDRESS | 60 Millwick drive, Toronto, ON M9L 1Y3 |
| CONTACT DETAILS | 416-361-3323 |
| OPERATING HOURS | Open 24 hours |
Dryshield Water Solutions is a waterproofing contractor that can take on any type of waterproofing task, from repairing floor cracks down to basement underpinning. It landed a spot on our list based on the following reasons:
For one, Toronto residents aren't the only ones who can benefit from its top-notch waterproofing solutions. Those who live in Ajax, Bracebridge, Calledon, Hamilton, Orangeville, Oshawa, Pickering, and more can hire its technicians.
Second, Dryshield operates 24 hours a day, from Monday to Sunday, making it possible for homeowners with emergencies to ask for help any time of the day. No need to wait for the next business day as you do with other waterproofing companies.
Dryshield is a licensed company with fully insured technicians, so homeowners don't need to worry about anything in case an accident happens inside their property.
Another thing we love about Dryshield is that it has safety protocols in place to protect its staff and customers from COVID-19. These days, that's something that every homeowner should look for in any type of contractor.
All waterproofing services provided by Dryshield are covered by 25 years of warranty, which prevents homeowners from spending more money if their basement starts collecting moisture again.
We can't fault Dryshield for not having budget-friendly rates considering that it's an all-around waterproofing company with 25 years under its name. Most customers tend to look past the cost, though, given that it's a contractor that can definitely do the job.
25 years of experience
All services are covered by warranty
Open commercial and residential spaces
Operates 24 hours a day
Not the cheapest waterproofing company out there
Customer Reviews
Dryshield deserves a spot on our list for the best waterproofing companies in Toronto for these rave reviews alone:
"I never write reviews but Dryshield and Jonathan McMahon definitely deserve some recognition! I recently had Jonathan and his team come in to get some waterproofing done in my basement. From start to finish, Jonathan and his crew were transparent, professional, trustworthy and very accommodating. If you're looking for a reputable company to get the job done right the first time, I highly recommend it! Thanks again to the Dryshield team!" -Kassidy Seguin
"So impressed with the waterproofing job that was done along with the window well work. Copton and his crew did a great job. Very efficient, on time and so polite! Plus Jake was absolutely awesome to deal with! Provided lots of info about what the company does along with videos so I could be educated on what kind of work was going to be done. Couldn't be happier with everything that was don" -Christie Siu Butt
7. Act Fast Waterproofing

SERVICES
Basement Lowering / Underpinning
Control Mold
Crack Injection Sealing
Demolition and Excavation
External Waterproofing
Internal Waterproofing
Masonry Services
Sump Well & Pump
Window Well
WEBSITE
https://www.actfastwaterproofing.ca
ADDRESS
Toronto, ON
CONTACT DETAILS
Phone: 647-993-3466
Email:

[email protected]

OPERATING HOURS
Contact for more information
Finding the right waterproofing company is sometimes too big of a task. Fortunately, the next company on our list promises one thing that others haven't so far.
Act Fast Waterproofing is a waterproofing company that addresses issues regarding basements and crawlspace. Collectively, the Act Fast Waterproofing team has over 15 years of experience in the field, the time of which allowed them to earn the necessary skills, expertise, and techniques they need to offer waterproofing services that will dry up spaces permanently.
That's right, permanently.
See, Act Fast Waterproofing most efficient, cost-effective, and reliable waterproofing systems available anywhere to dry up the basement or crawlspace once and for all. The company has spent a lot of time conducting research regarding products and techniques; in the end, it allowed them to choose the necessary equipment to deliver on their special promise.
Aside from the longevity of the waterproofing services, Act Fast Waterproofing also offers one of the most solid waterproofing warranties, which can be passed on to future homeowners.
Lastly, Act Fast Waterproofing is commendable for having a team of experts, all of whom underwent proper training to ensure that they are capable of delivering what is expected of them. Alongside their skills and expertise, these professionals are also prompt, polite, and courteous to every client they meet.
25 years of experience in the field
Transferrable warranty
Team of waterproofing experts
No information regarding rates online
8. AAA Waterproofing & Underpinning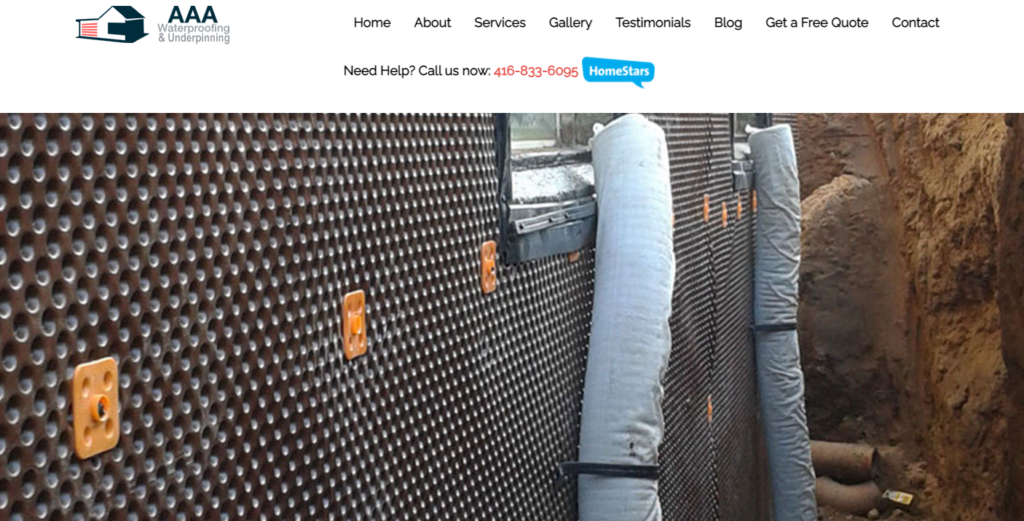 SERVICES
Waterproofing, Underpinning, and Lowering
WEBSITE
https://aaawaterproofing.ca
ADDRESS
1750 The Queensway
unit 1339 Etobicoke, ON M9C 5H5
CONTACT DETAILS
P: 416-833-6095
E: [email protected]
OPERATING HOURS
Contact for more information
AAA Waterproofing & Underpinning is one of the longest-running waterproofing companies in Toronto, having served the area for over two decades now.
The company is known to provide quality waterproofing that ensures no leakage in the areas they work on. AAA Waterproofing & Underpinning makes use of quality materials and has keen attention to detail, resulting in such.
Another thing worth noting about AAA Waterproofing & Underpinning is its team, which consists of trained professionals who are not only skilled at their jobs, but are also professional and polite. They endeavour to satisfy customers every time, so they go out of their way to ensure that each and every project ends with resounding successes.
Those who are interested to learn more about AAA Waterproofing & Underpinning's business will be happy to know that the company offers free, no-obligation estimates.
Accepts all major cards
Offers free quotations
Quality waterproofing and underpinning services
No information regarding rates online
Tips for Finding the Best Waterproofing Company
Here's a brief guide that homeowners can follow when finding a waterproofing company to deal with the leaks and cracks inside their home and basement:
1. Find out how long have they been in the business
The number of years a contractor has been in operation is a great measure of the quality of its services. After all, a company with poor quality of service wouldn't be able to survive for years because no customer will dare to go near it.
Luckily, most of the waterproofing companies on our list have been around for more than 20 years. If a company was able to survive that long, that means that it knows how to get the job done right and to not disappoint homeowners.
2. Seek out reliable online reviews
Another way to get a gauge of a waterproofing contractor's capacity is by checking out online reviews. However, you should know which ones to trust and which ones to take with a grain of salt.
Online reviews are a double-edged sword that show the best and worst of a company. It's also worth noting that a dissatisfied customer is more likely to leave a review than a satisfied one.
With this mind, you should only pay attention to online reviews shared by verified customers. A verified user usually has a profile picture, a check beside their name, and has posted comments about other companies.
3. Ask how they can meet all your needs
Personally, we suggest going with a waterproofing company that can go beyond fixing the walls and cracks of your walls and floors. That way, if your basement needs more than just waterproofing, you won't need to hire another contractor to take care of the other problem.
Basement waterproofing is connected to foundational repairs, mold testing and removal, sump pump installation, and backwater valve installation, so make sure that your chosen contractor can at least do most of these.
4. Check their warranty policy
As a homeowner, you want some sort of protection in case a waterproofing task turns out to be faulty since it's a serious investment that costs a lot of money.
Even the most trusted waterproofing company offers a warranty together with its product and services. Warranty is one of the most effective ways to protect the interests of customers and establish relationships with them.
We recommend opting for a contractor with a warranty policy that lasts between 15 to 25 years.
FAQs about Waterproofing
---
With that, we conclude our list of the best waterproofing companies in Toronto. We hope that our list helps you decide which waterproofer to hire to put an end to frequent flooding in your basement.
If you know of other waterproofers with quality services, don't hesitate to share their names with us. If we found them worthy, you'll definitely see their names here soon.
If you're dealing with electrical issues as well, we recommend checking out our list of the best electricians in Toronto. Any of these electricians can deal with a variety of electrical issues, from busted circuits down to faulty electric wires.