The Top 6 Piano Lessons In Toronto
Whether you're looking to fine-tune your talent or develop a new one, taking piano lessons is a good choice. Fortunately, we have just what you need to mold yourself into the next Mozart!
In today's review, we'll look at the best piano lessons in Toronto. We'll talk about costs, sessions, and what you can expect as a piano student.
The Cost of Piano Lessons in Toronto
Let's discuss the common fees for piano lessons first so you know what to expect.
It's common for tutors to charge per hour. And as a rule of thumb, the more experienced the tutor is, the higher the fees.
You can find piano lessons around $30 to $60 per hour.
Although it's quite rare, some high-end tutorial services will charge $100 per hour. This is regardless of whether the tutoring happens online or in person.
If the student is a child, the price usually starts at $25 per hour. Note that tutors usually offer discounts depending on the time you want to spend with them.
The Best Piano Lessons Centers in Toronto
The longer you take piano lessons, the more serious an investment it becomes. It's only right to select the best place that will ensure optimum results at an accelerated pace.
Read each review below to find out which piano lesson service is best for you:
1. Neighbour Note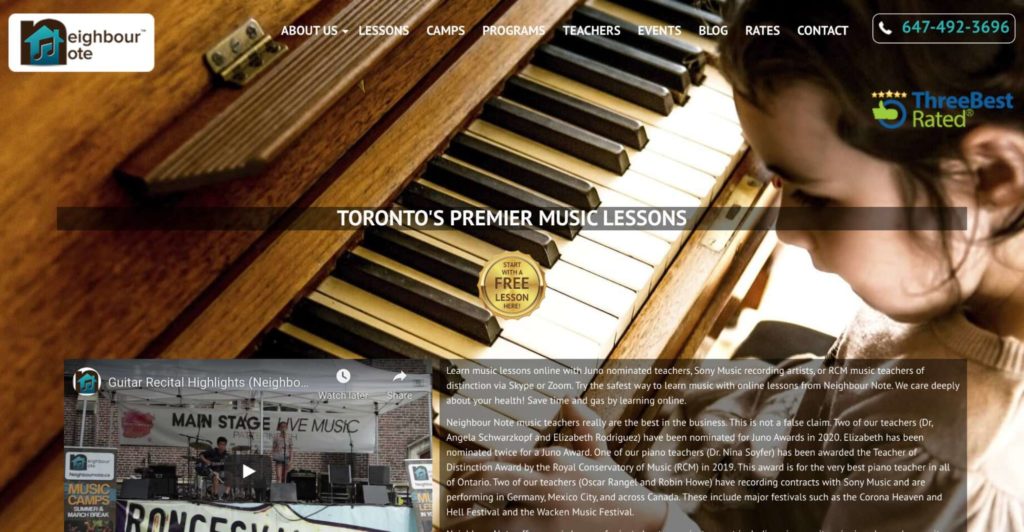 | | |
| --- | --- |
| SERVICES | Guitar lessons, piano lessons, violin lessons, drum lessons, singing lessons, drum lessons, saxophone lessons, trumpet lessons, etc. |
| WEBSITE | https://www.neighbournote.ca/reviews/ |
| ADDRESS | 407 Annette St, Toronto, ON M6P 1R7, Canada |
| CONTACT DETAILS | +1 647-492-3696 |
| OPERATING HOURS | Monday – Friday: 9:00 AM – 9:00 PM |
Neighbour Note made it to our list by offering fair and transparent pricing and being available 7 days a week. They also have a great (and big) team of piano teachers who can cater to your needs.
For lessons, we like that you have an option for in-home lessons or studio lessons. The latter is a more affordable option, though, so if you don't mind driving out for a lesson, then it's a better choice.
But if you prefer the convenience of your home, you can also register for online piano lessons. You don't have to worry about the time and date because they'll work around your availability.
As we said, we chose them for their fair pricing, especially as they also offer discounts for kid students. To give you an idea, they offer a three-sibling discount for three 30-minute lessons for $99.
Registration is also super-easy online and you can pay via e-Transfer and Interac.
Many piano teachers are available
Open 7 days a week
Options for in-home, studio, or online lessons
Discounts available per number of family members taking lessons
Easy online registration
Pay via e-Transfer or Interac
Best for kids and adults over 18
Offers free first 30-minute lesson
Can be difficult to book at times
Rates are slightly higher vs. competitors
Customer Reviews
Keeps lessons engaging
My son started virtual lessons with John a few months ago and we couldn't be happier. We were concerned about how the virtual lessons would keep him engaged but John is really wonderful and keeps the lessons light and fun with jokes and funny anecdotes. My son has learned so much during the last couple of months and looks forward to his lessons each and every week!!! Highly recommend! – Holly Stoddart
Makes students motivated to learn
Amazing approach to teaching kids to love music and not give up and at the same time allowing kids to try different instruments and find the one they love to play. My son loved that he started to play Star wars opening theme as soon as he started to learn first notes on piano. Teacher knows how to get kids motivated to practice and move forward. Can't wait for the band to start too. Warmly recommend. – Branka Mrljes
2. Piano Teachers Connect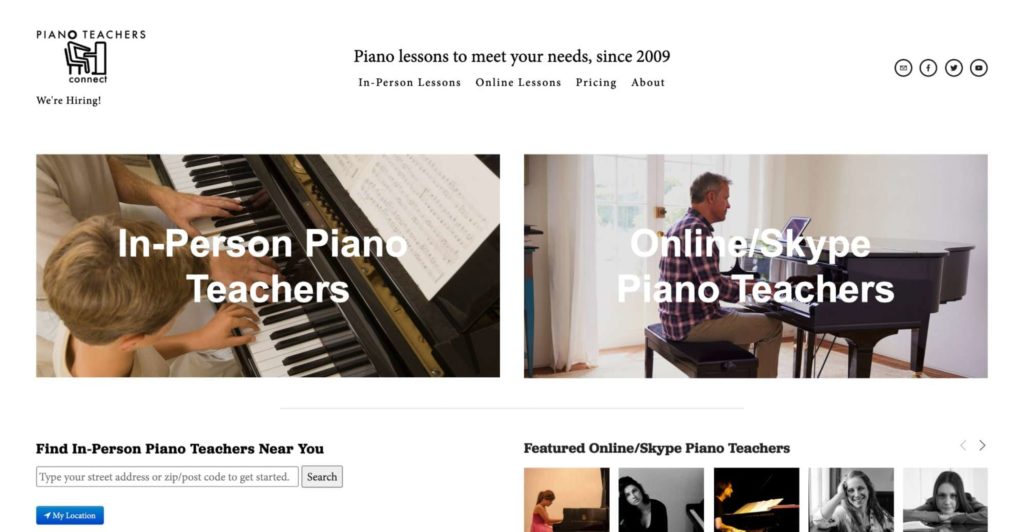 | | |
| --- | --- |
| SERVICES | In-person piano lessons, online piano lessons |
| WEBSITE | https://pianoteachersconnect.com/ |
| ADDRESS | 208 Gerrard St E Unit 9, Toronto, ON M5A 2E6, Canada |
| CONTACT DETAILS | +1 647-694-4961 |
| OPERATING HOURS | Monday – Friday: 9:00 AM – 10:00 PM |
Piano Teachers Connect made the cut by specializing in piano lessons. The best part is, you can get a piano teacher based on your postal code.
They may not have a studio, but we favor their in-person and online piano lessons. For one, we like their local pricing for an hour of piano lessons.
An in-person lesson will cost you $60 per hour, while the online lesson via Skype only costs $30. On top of this, you also get a trial lesson to get a feel of the piano teacher's approach to learning.
Speaking of piano teachers, they'll spend three minutes with you to get to know you. This will help them match you with a teacher who can meet your goals.
By the way, most of their piano teachers also speak a second language, so they're pretty nice for bilingual students. Some teachers also have experience with special needs students, so that's another good thing to note.
Available 7 days a week
Local pricing for in-person and online piano lessons
Get a piano teacher based on your postal code
Matches you with the right piano teacher based on your needs
Online piano lessons via Skype is accessible worldwide
Get a trial piano lesson
Bilingual piano students and some with experience with special needs students
Customer Reviews
Provides helpful feedback
This is my first month of taking lessons here, and I'm loving it! I've received helpful feedback from Sayyod with the way I'm positioning my hands on the keyboard, making smooth transitions while playing scales, and following the dynamics indicated on the score. He's also been great with explaining things like chord inversions that I haven't gotten from beginner piano books. I recommend these lessons for anyone looking to learn to play the piano! – Chitra Seshadri
Progress in a short time
I have been lucky enough to find a teacher to suit my ability. Brad listens carefully to what I play and directs me gently but persuasively, yet he is flexible in his approach. I never thought I could make so much progress in such a short time. Thank you to Piano Teachers connect for getting it right first time! At age 61, I feel like at last I am playing Jazz piano, don't need to read black dots any more, and am even creating my own arrangements with the techniques I have learned. What a great service! – Karen Stephens
3. Perfect Pitch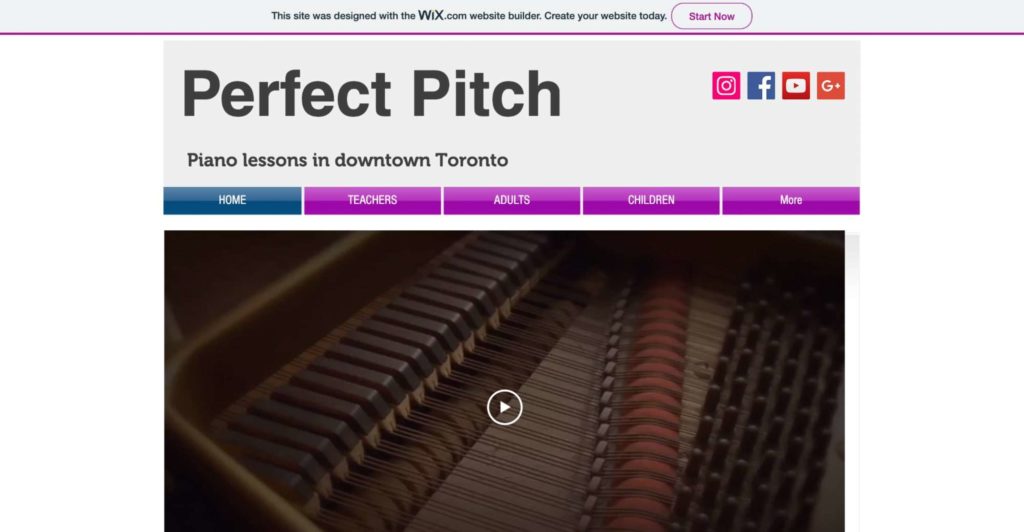 SERVICES
Piano lessons
WEBSITE
https://kquach.wixsite.com/pianodowntowntoronto
ADDRESS
Richmond and Bathurst, Toronto, ON M5V 2R2, Canada
CONTACT DETAILS
+1 416-846-0986
OPERATING HOURS
Monday – Friday: 12:00 NN – 12:00PM
Saturday: 9:00 AM – 9:00 PM
Perfect Pitch strums the right chords in our standards with its small-group piano lessons. Let's get to know more about this setup, which is perfect for kids and adults.
Compared to private lessons, small-group lessons are more affordable at $40 per hour.
The group sizes are small with an average size of three students per group which makes it great for receiving individual attention. Further, with longer classes students have the opportunity to work on many different areas such as improvisation, technical patterns, music theory, aural and rhythmic exercises.
One of the benefits of learning in a small group is that students play together and this encourages students to develop a better aural and rhythmic awareness. Many adult students start piano as a hobby and this social environment keeps things engaging so that students feel they are part of a community of piano learners.
The small-group classes are available for adults and kids. The one for kids is divided into age groups and spends fewer hours per week on lessons – perfect for your child, niece, or nephew.
If you want to join the adult group lessons, you won't have to worry about being a complete beginner. The teachers can guide you along the way regardless of your skill level.
Note that they only have three piano teachers, and spaces fill up quickly as there is always a waitlist. Even so, this is still a better option for you if you want to save and learn while you meet new people.
Best for group learning
Small-group lessons are cheaper
Good set up for kids of various ages
Offers a free trial class
Offers online piano classes via FaceTime, Whatsapp, and Google Hangouts
Offers outdoor piano classes on the patio (weather permitting)
Customer Reviews
Gives insightful and instructive feedback
Susan is a wonderful piano teacher. She's extremely patient and considerate, especially with nervous beginners! She tailors the classes to both the musical interests and the ability of her students, adeptly mixing in theory along with practical learning. New pieces are selected to keep you making consistent progress without being overwhelmed, and always with an eye on your goals and preferences. She provides insightful and instructive feedback as you learn, which I have found indispensable. The group classes also really help keep you motivated as you improve alongside your peers. If you've ever had the desire to play piano but felt uncertain as a beginner, I'd highly recommend starting lessons with Susan. – Alasdair Martin
Exponentially grows your piano skills
Teaches lessons in an orderly fashion that exponentially grows your piano playing capabilities. The lessons that she provides are concise and easy to take home and practice. Her personality is also very well tempered to make her a good teacher, as she avoids harsh unnecessary criticism and renforces success with praise, helping you feel more confident in learning. – Peter Salama
4. Toronto Arts Academy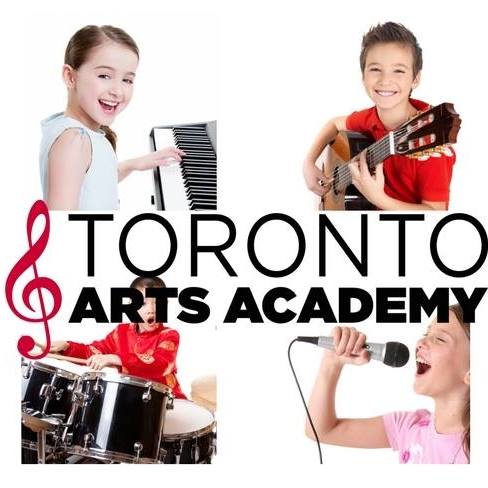 SERVICES
Piano
Voice
Guitar
Drum
Online Music Lessons
WEBSITE
https://torontoartsacademy.com/
ADDRESS
538 Eglinton Avenue West Toronto, ON, Canada M5N 1B4
CONTACT DETAILS
+1 647-748-2787 /

[email protected]

OPERATING HOURS
Monday: 11:00 AM – 9:00 PM
Tuesday: 11:00 AM – 9:00 PM
Wednesday: 11:00 AM – 9:00 PM
Thursday: 11:00 AM – 9:00 PM
Friday: 12:30 PM – 8:00 PM
Saturday: 9:30 AM – 5:00 PM
Sunday: 9:30 AM – 5:00 PM
Toronto Arts Academy is a musical institution that offers a wide range of lessons to better improve the musical interests and passion of individuals at any age and skill level they may be upon signing up with them. With a diverse network of professionals, all of their lessons are geared toward the individualized pace of their students.
We like that they are able to help clients partner with the best music teacher for them may their lessons be online or in-person to better give the student a more undivided and personalized level of attention and instruction all throughout.
Since they are able to accommodate individuals of all ages, they can also provide flexible scheduling for adults, teens, and children who are only available at specific times a week.
Aside from this, their piano lessons can also be highly specialized for clients looking to learn specific playing styles or music genres such as pop, rock, and classical piano lessons.
Overall, equipped with 3 offices along with the right instruments and resources needed for each lesson and reliable and highly knowledgeable musical professionals, we highly recommend them for clients in the area who wish to expand their expertise in music.
Worldwide Online and In-home lessons
Offers classes for different instruments
Many teachers are available (we have over 60 teachers)
Has several locations
Open 7 days a week
Best for both kids, teens, and adults
Bilingual teachers and some with experience with special needs students
Free Group Classes Included with Private Lessons
Small Group Class Sizes
Faculty can guide you through the Royal Conservatory of Music exams
Prices are not available in their website
Customer Reviews
Here are some reviews from their clients:
"Friendly, fun, knowledgeable and always ready-to-help staff! We live the new drums rooms!"
"Everyone is very friendly, helpful, and enthusiastic. Coach Adrian is a terrific teacher and cool mentor."
5. Canada Music Academy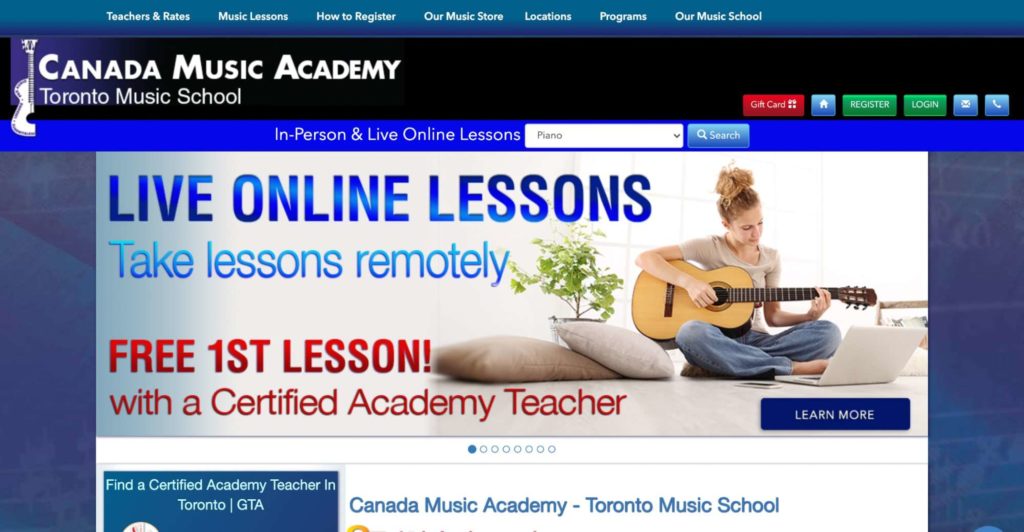 SERVICES
Guitar and bass, piano and keyboard, voice, brass string, and woodwind, drum and percussions, songwriting, recording, DJ
WEBSITE
https://canadamusicacademy.ca/Toronto_Music_School/
ADDRESS
800 Bathurst St #402A, Toronto, ON M5R 3M8, Canada
CONTACT DETAILS
+1 416-207-0884
OPERATING HOURS
Monday – Friday: 9:00 AM – 9:00 PM
Saturday: 9:00 AM- 8:00 PM
Sunday: 9:00 AM – 5:00 PM
Canada Music Academy offers a full range of services, from playing instruments and voice lessons. For 25 years, the group has helped many students ace the Royal Conservatory of Music exams and hone their skills.
For piano lessons, you can register for either in-person or online piano lessons. As we said, the latter is more convenient, but we do recommend trying in-person lessons if you need more guidance with hand positioning and posture.
Anyway, one of the things we like most about them is that you can filter your search based on the teacher closest to you. Just put your postal code on their website and they'll match you with teachers near the area.
As per the fees, most piano teachers charge within Toronto's average. But do expect some teachers to charge more than $75 per hour.
Once you book, you'll get a first free lesson to dip your toes in lessons. By the way, the online lessons are available in up to 40 languages – perfect if you prefer to learn in a language other than English.
25 years of experienced
Faculty can guide you through the Royal Conservatory of Music exams
Easily find a piano teacher closest to your location
Free first lesson
Online piano lessons available in 40 languages
Available all week
Has several locations
Popular, so a fair number of piano teachers are often fully booked
Customer Reviews
Incredible improvement
This is my daughters second year with Annabelle. She had taken lessons previously with other companies. My daughter has participated in one particular competition for many years. Last year, after one year with Annabelle, one of the people who have been with the competition in a technical capacity for as long as my daughter has been competing, stopped my daughter to express how incredible the improvement has been over the prior year.That's not to say the prior instruction was not good, but that sometimes, you plateau with one person and need to move on to be able to learn more. Annabelle's instruction has been fantastic, and my daughter learns more and more every lesson. – Lorraine Johnson
Wonderful music educators
I'm a three-time JUNO Award nominated artist and I've been working as a part-time music instructor with the academy since 2009. They're very professional and have a wonderful roster of music educators for all levels of students. Highly recommend booking all lessons through them. – Kurt Sampson
6. Stelth Ng | Private Piano & Violin Teacher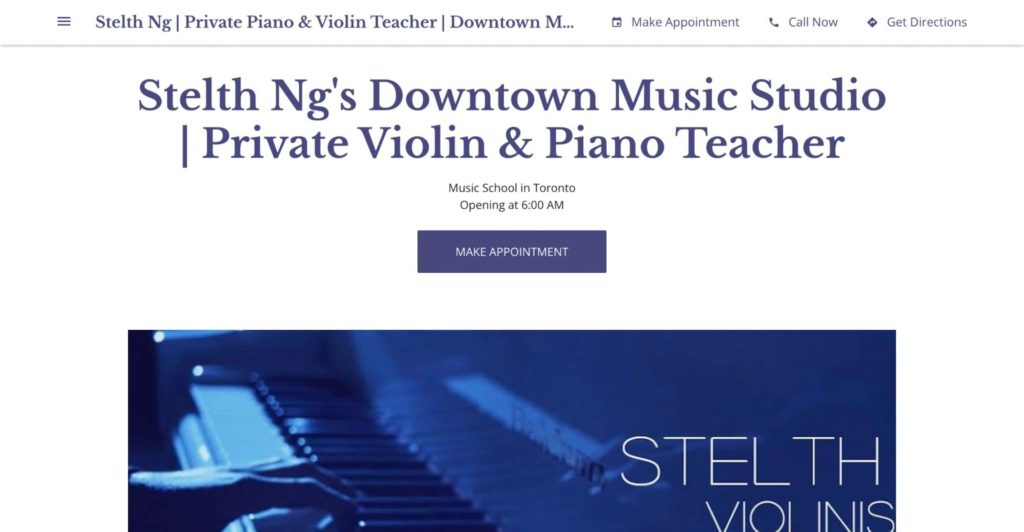 | | |
| --- | --- |
| SERVICES | Private piano and violin lessons |
| WEBSITE | https://stelthngmusicstudio.business.site/ |
| ADDRESS | 777 Bay St., Toronto, ON M5G 2R3, Canada |
| CONTACT DETAILS | +1 437-345-5591 |
| OPERATING HOURS | Monday – Sunday: 6:00 AM – 11:00 PM |
If one-on-one learning is what you're looking for, Stelth Ng is the best choice. With him, you can get a studio or online private piano lessons from a man who has 10 years of tutoring experience.
All their services are straightforward. You can simply make an appointment online and book the lessons you want.
But the real highlight here is really the teacher who has received nothing but praise from parents and students.
His sense of humor makes practicing more chill while keeping the learners engaged. One client even noted that he has a special gift of making lessons both easy and entertaining.
Overall, this is the best choice if you really want hands-on, private piano lessons. He works best with kids but he's also an exceptional teacher to adults.
Best for one-on-one private lessons
Online piano lessons available
Teacher with 10 years of private tutoring experience
Engaging and entertaining lessons
Best for both kids, teens, and adults
Available 7 days a week
Customer Reviews
Fosters a supportive learning environment
Stelth has been a great teacher to learn from. I have had three piano instructors throughout my life and only with Stelth have I felt that I have actually understood what I needed to work on, and how to improve. Stelth constantly encourages and provides constructive feedback to foster a supportive learning environment and has been crucial to my success. As a piano student in their mid-20s, Stelth has been particularly patient with me as I try to balance my work schedule with my practice schedule to find what works for me. If you are new to piano, or thinking of returning to the instrument, you will have some difficulty finding a teacher better than Stelth to help you out! – Vithushon Thayalan
Makes sure you're having fun
I still remember when I first went to Stelth, I was nervous about playing music. I wasn't sure if Piano is for me or if I can ever play anything. Stelth is very patient, breaks down learning material into conquerable chunks and coaches you to ace it. He almost always went over the class time and made sure I was having fun along my musical path. I am glad I found Stelth when I was searching for piano teachers! If you are on the fence about beginning your musical journey and/or choosing Stelth for helping you in this path, I would encourage you to take a leap. I certainly did and looking back that's one of the best decisions I made. – SriHarsha Bolisetti
Factors to Consider Before Hiring a Piano Teacher
Choosing the right piano teacher might be hard for people who are just starting and who have absolutely no idea who would be the best teachers for them.
There are many piano teachers who are willing to teach you for the right price; however, it doesn't guarantee that they will be able to teach you in a way that you'll be able to learn.
Here are some factors that you need to consider before choosing a piano teacher:
Musical Style
Before choosing a piano teacher, you first need to make sure that you have a clear goal.
Do you want to learn jazz music? Classical music? Or are you more into pop and modern songs?
Have a clear view of what you were hoping to be able to play by the end of the lessons. This also narrows down the people you can choose from and also allows you to prepare everything you need to in order to learn.
Learning Method
Not everyone has the same learning style, and it can be trickier the younger the student is. Children often have a short attention span so they need piano teachers who cater to those needs.
It's best to find a teacher who can match your learning style while still presenting challenges along the way. You can get a teacher who prefers short bursts of speed learning or one who likes to take things at a slower pace.
Specialty
As mentioned before, teachers have their own specialty in piano music. If you are hoping to learn classical music, then you want to get a teacher who could teach just that.
This also allows you to focus only on learning a single type of sound, making it easy to master it faster. Make a list of what you want to learn from the teacher, and ask them if they are able to teach the things in your list.
Student View
The last thing you might consider is what other students think of the teacher you're planning to hire. Although it isn't as important as the rest, knowing what others think about the way the teacher teaches is also a plus.
If you really want to get the best teacher for your needs, then you can ask a music friend about whom they think is a good piano teacher. They know you too, after all, so that insight may help them recommend someone suitable.
FAQs About Piano Lessons in Toronto
---
Enjoyed today's review? We have plenty more lists that you can check out to fill your needs, from home maintenance to health!
Once you get somewhere with the best piano lessons in Toronto, send yourself some flowers to celebrate the milestone. See our list of the best flower delivery in Toronto for shops that can help with this simple celebration!