Top 6 Companies for the Best Wedding Videography in Toronto
Don't want to miss the bride's smile as she walks down the aisle or the groom's tears as he says "I do"? We'll help you find the right professionals to give you a token of your special day!
In this review, we selected the companies for the best wedding videography in Toronto. Read on so you can explore your options and choose another one to say "Yes" to:
The Cost of Wedding Videography in Toronto
The cost mostly depends on these factors: number of videographers, coverage, location, and package.
The cheapest package you can get usually sells for $1,400 to $1,600. With packages like this, you'll likely get a half-day of coverage, one or two cameras, and editing.
For complete full-day coverage with top-notch equipment, it's common to see costs go from $2,000 to $3,500.
Still, depending on your videographer, you may actually spend up to $5,000. But at that cost, the services are already overkill for standard weddings as they're more fitting for bigger, grander ones.
The Best Wedding Videographers in Toronto
Now that we've gone over the possible costs, let's move on to the companies that made our list. Here are our criteria for choosing our top selection:
1. Aperture Lane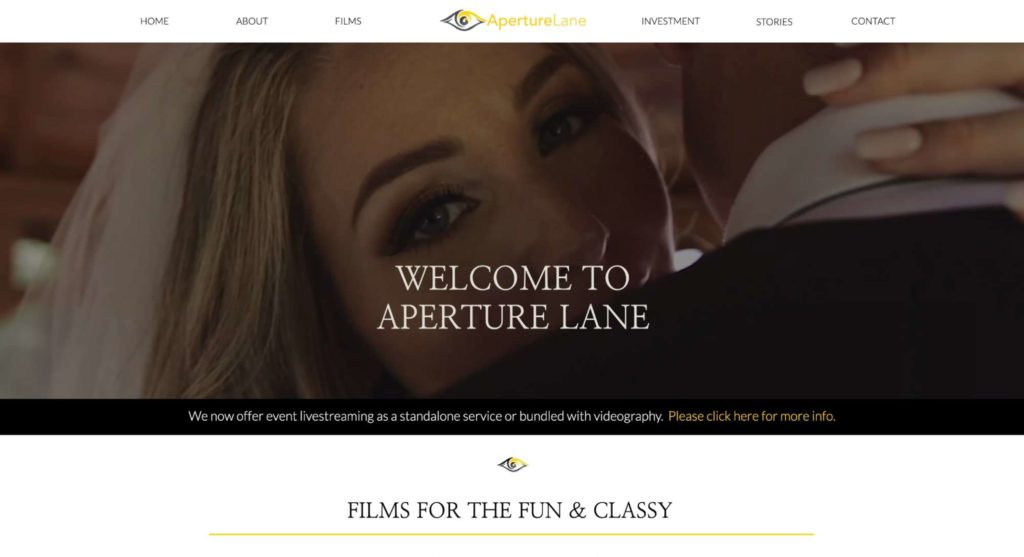 SERVICES
Wedding videography, wedding photography, virtual weddings
WEBSITE
https://aperturelane.com/
CONTACT DETAILS
+1 416-427-4470
OPERATING HOURS
Monday, Tuesday & Thursday: 11:00 AM – 7:00 PM
Wednesday & Friday: 11:00 AM – 6:00 PM
Aperture Lane is right up our avenue for classy wedding videos sprinkled with fun. Here's why we think you'll love working with this team:
For starters, they just know how to capture authentic moments of the couple, families, and guests. It's because they have a non-obtrusive workflow and you'll barely feel their presence.
They also value the power of words, placing snippets of speeches and messages into the video. Of course, they also capture fun moments where they engage with the clients to get organic reactions.
What's most interesting to us is the final product, which is a roller coaster on its own. One second you're crying tears of joy and the next you're laughing at jokes.
One of our favorite services from this team is the one they offer for virtual weddings. These live streams can be a standalone service or bundled with videography.
They currently offer three livestream packages each, starting at $800 as a standalone. But if you're eager to get a live stream for your wedding, we recommend bundling it up with videography as you'll get discounts.
Note that for their primary videography service, you get two to three persons to shoot. Only one person walks around with a camera but you do get multiple camera angles.
Apart from this, you can also hire them for destination weddings and wedding photography. At an additional cost, you can also get an aerial videographer for overhead drone shots.
Videography services can be bundled with wedding photography and livestream
Optional aerial videography
Diverse portfolio celebrating various cultures in weddings
Offers destination wedding
No penalties for rescheduling the wedding due to COVID
Non-obtrusive filming
Has a limit of 20 weddings per year
No other packages available
Customer Reviews
Thoughtful approach to get amazing shots
My husband and I are super fortunate to have Aperture Lane help capture our most important events in our lives. We appreciate the thoughtfulness and care that Ryan and his team have done to assist us in our engagement shoot, wedding day and along with professional headshots for work. Thank you again for giving us our amazing photos/videos of our special day. It is because of your work, we are able to relive these happiest moments of our lives. – Stephanie Lee
Captures your personality with a camera
Ryan has a special talent of putting you at ease in front of the camera and capturing your personality and natural beauty. He listens attentively to what you want and guides you every step of the way. He is professional, approachable, creative, funny and trustworthy. I had so much fun doing both professional and personal photoshoots with his team, and am very satisfied with the quality of his work. – Dan Tao
2. Ondi Studio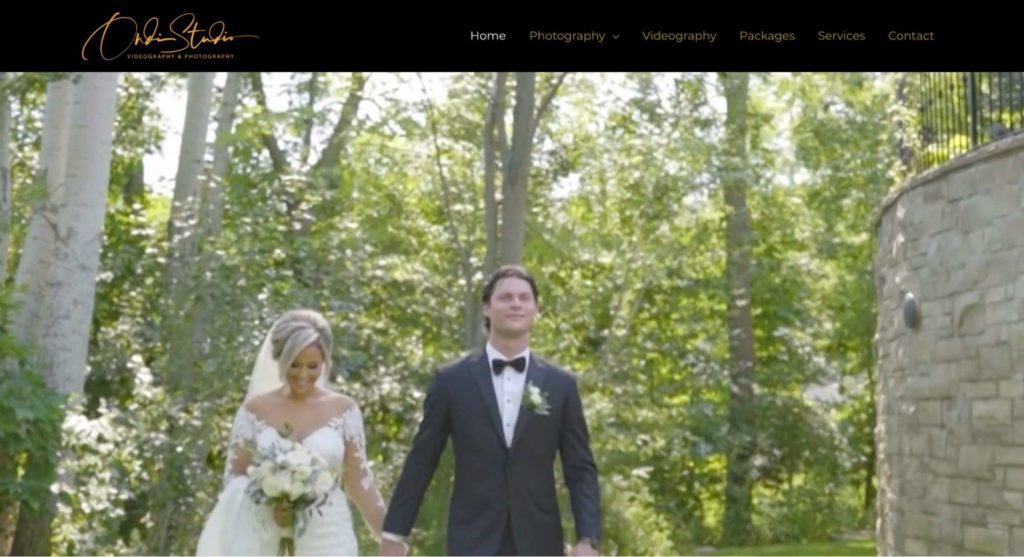 SERVICES
Wedding videography, wedding photography, live video streaming, photo albums, flying camera, destination weddings, music videos, photo booth service
WEBSITE
https://ondistudio.com/
ADDRESS
38 Glenbrook Ave, North York, ON M6B 2L8, Canada
CONTACT DETAILS
+1 647-466-7933


[email protected]

OPERATING HOURS
Monday – Saturday: 11:00 AM – 8:00 PM
Ondi Studio combines both contemporary and classic shooting styles in videography. Let's get into why they made our cut:
The first thing we liked is that they can shoot in color or black and white. This gives clients a choice on what theme they can aim for.
As per the shooting approach, they use a cinematic style. In essence, it basically means shooting the most important parts with inserts of clips of the guests, the location, and other interesting shots.
But what truly takes the cake for us are the wedding packages they offer. They have different sets for wedding photography, another for videography, and another for both.
The most affordable wedding videography package is the Silver at only $1,480. With this, you already get 8-hour coverage, 1 videographer, an edited film, Blu-ray, and USB.
If the coverage isn't enough for you, the Bronze package gives you 12 hours of shooting. The rest of the inclusions are the same as the Silver package but this one costs $1,790.
In case you're interested, their most expensive package is the VIP for $3,680. This package gives you full-day coverage, 2 videographers, a drone, blu-ray, and USB.
Apart from the coverage, what makes the VIP cost more is the same-day edit. But if you don't mind waiting for a while, we think you'll be fine with any of the lower tiers (if you don't mind not having that drone, that is).
As mentioned, they also offer combined photography and video that starts at $3,380. By the way, you can still customize these packages to your liking – at certain prices, of course.
Comprehensive wedding videography packages
Average pricing
Live video stream and drone videography available
Customizable packages
Offers add-on services on each package
Final media includes Blu-ray disc, USB, and online gallery
Flexible payment options
Experience in various wedding themes (Indian, Arabic wedding, etc.)
Customer Reviews
Top-quality service for a reasonable price
100% recommended! The entire team at ONDI studios was extremely professional and we could not be happier with how they captured our special day. They listened to us, applied all of our requests, and we ended up with the best wedding videos we could have asked for. Thank you ONDI Studios for your amazing hard work and for delivering top quality for such a reasonable price. We will be recommending to our family and friends for sure. Thanks again – Anthony Iannace
Amazing appreciation for cultural experiences
This was one of the best experience I have ever had with any business. George did my sisters wedding and 2 weeks later he did ours. Amazing communication, great appreciation for other cultural experiences. He killed the edit. He told me before the wedding he wanted to recommend another colleague who works for him to shoot my wedding I had no idea what to expect but he knew exactly what he was doing. Joel did such a great job with the venue he had. Excellent. All the reviews I read are exactly accurate. It doesn't matter what you pay you will be happy and content. This is the most important day of your life go with George. – Mohamed Mohamed
3. Tara Weddings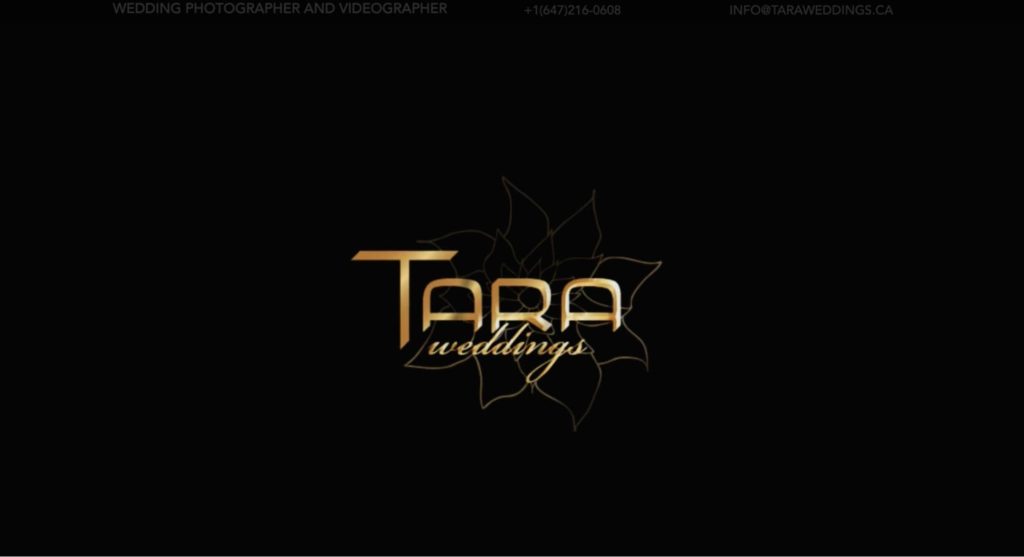 SERVICES
Wedding videography, wedding photography, destination weddings
WEBSITE
https://taraweddings.ca/
ADDRESS
2144A Queen St E, Toronto, ON M4E 1E3, Canada
CONTACT DETAILS
+1 647-216-0608


[email protected]

OPERATING HOURS
Monday – Sunday: 8:00 AM – 8:00 PM
Tara Weddings landed a spot on our list with their top-notch video quality and equipment. Here are more reasons why we think you'll love working with them.
The first thing we liked is their relatively fast turnaround time. Normally, it can take up to six months to get an edited film – it will only take them one to three months to complete.
We're also big fans of the clear and crisp sound captured with their high-quality equipment. For instance, they use target good lavalier microphones that grooms can wear to record their voices.
As per the packages, clients can get videography, photography, or a combination of both. To be honest, some packages are still within the average – but they're still more expensive than the competition.
Fortunately, there are a lot of things that make up for that. For starters, they are the only videographers in Toronto whose video quality can go up to 8K resolution.
Of course, this resolution is useless without experts and tools. So naturally, they also have everything to support it, from stabilizers to sliders and other high-tech equipment.
By the way, videography packages range from $2,800 to $6,400. Combined photography and videography starts at $4,400 and goes up to a whopping $9,600.
But if we could only pick one service from them, we'd hire them for destination weddings. All destination packages come with an aerial shot and they'll bring backup cameras too, just in case.
Up to 8k resolution on video
High-quality sound and video equipment
A la carte wedding videography packages
Fast turnaround time
Can cater to a variety of editing styles
Offers add-ons for the wedding or guests on each package
Destination wedding comes with aerial drones
Certain packages are expensive
Limited availability
Customer Reviews
Captures real and natural moments
Working with Paul and his team was a highly enjoyable experience. From the beginning, your friendliness and calm manner gave us all the confidence we needed. We are happy with the results of your work. You found a way to capture special moments and strong emotions of the day on camera. The pictures that you took take me back to the moment – they are so good, they are real and natural. We are pleased working with you, and we will not hesitate to recommend you to others. Thank you! – Damineh Dehnadfar
A phenomenal experience
Passionate, professional and on point. Absolutely phenomenal experience with Tara Weddings! Everything went smooth from the first call to final delivery. It was a pleasure communicating our ideas and having them expanded on by the team and ultimately getting the greatest gift any groom and bride could have – a once in a lifetime's day's memory secured in a golden ribbon! Don't hesitate to hire these pros. – John Morello
4. Norris Films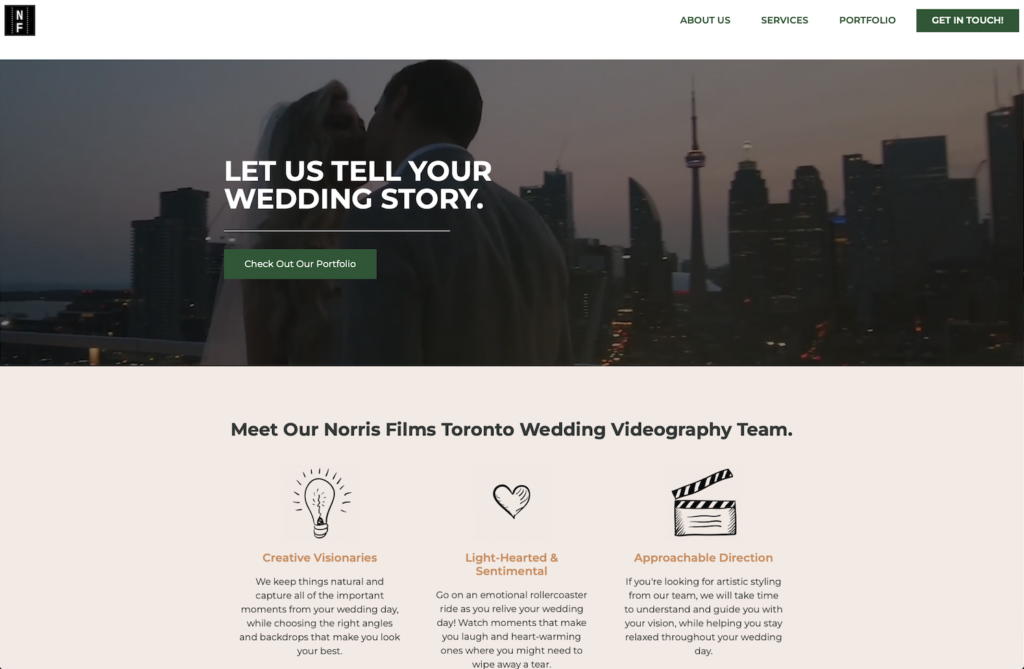 Norris Films is the type of company you'll go to if you want simple and straightforward services. Let's list a few reasons why they made the cut:
First of all, we like the that Norris Films offers a generous 10-hours worth of coverage as a base. This amount should generally fit most wedding ceremonies including the reception.
Though it's quite expensive for a basic starting service at $3,500, we liked it for its additional options. You'll have the option to only get what you like on your wedding day.
Another thing worth noting is their seamless process from coordination to post-production. Many past clients spoke of how smooth the communication was with them and how their needs were met.
But our favorite thing about them is that you get options per service. For example, as a final media, you can get digital downloads, USB, raw footage, or a private webpage.
For post-production output, you have three options. The simplest one is the Highlights Film that runs for four to 6 minutes and gives you one song choice.
The Short Film option gives you 12 to 18 minutes of footage and three song choices. Finally, there's a Feature Film that runs for about one hour.
If you don't want to miss any moment of your wedding day, go for the Feature Film one. But if you don't want it to be too extensive, the Short Film will do as it already packs the highlights of the event.
Basic videography packages with additional services

Option to get one more videographer
Different post-production options
Various final media options
Aerial videography available
Customer Reviews
Professionalism beyond expectations
Norris and his team shot our wedding day in August 2016. I could not say enough amazing things about Norris! The quality and professionalism is beyond expectations. From our very first meeting at a coffee shop , to the day of our wedding , and beyond! Norris has been so kind to us , and has remained a forever friend through the years! He is a true master at what he does , and every wedding he captures turns into pure magic on the screen! – Kirsten Weiss
Final product that blows you away
Having seen some of Norris' previous work, I was confident that our Love Story Video would be good but seriously. I was absolutely blown away by the video when I saw it for the first time on our wedding day. Everyone in the hotel room was in tears by the end of the video, even people we didn't really know like our hair & makeup artists. He really listened to our ideas and was very knowledgeable about what worked and what doesn't on video. Thank you so much Norris, we will treasure these videos forever!! – Ludmila Tan
5. Origins Weddings
SERVICES
Wedding photography, wedding videography, photo booth, events, commercial, corporate
WEBSITE
https://originweddings.ca/
ADDRESS
1 King St W, 48 Floor Toronto, Ontario. M5H 1A1
CONTACT DETAILS
+1 416-256-3044


[email protected]

OPERATING HOURS
Monday – Sunday: 9:00 AM – 5:00 PM
Origin Weddings is the perfect place to go if you want high customizability. Here are more reasons why we like their services:
For starters, you don't have to choose from among pre-built packages. They'll plan the entire process around you from the budget to style and other preferences.
On top of that, they also have one of the fastest turnaround times we've encountered. It only takes them six to eight weeks to deliver the finished video to you.
One of our favorite services from them is cloud backup security. They'll keep your files on the cloud system for two years, so in case you lose or damage your files, you have a backup.
Like other companies on our list, they also offer live video streaming, but we like theirs more for a couple of things.
One, they save your video stream so you can watch it on replay. And two, you can tailor the package depending on the number of cameras
We only wish that they had at least an estimate for the services they offer. But requesting a quote is fairly easy anyway so it won't be too much of a bother.
Services tailor-fit to your budget and style
Turnaround time of six to eight weeks
Cloud backup security for two years
Recorded and saved video streaming
Customizable packages for the live video stream
Serves other events than weddings
Costs are only available upon request
Lack of backup equipment
Customer Reviews
Impressive final product
Origin is my top referral for my friends weddings. They take an immense amount of care and attention in their work. They are the perfect choice for a wedding photo and video and captured exactly what I was looking for. I have fallen in love with all their wedding videos and I'm always so impressed with their final product. Origin is always quick to respond for quotes and questions and provide exceptional customer service. Highly recommend them !! – Rachael W.
Fun and stress-free process
We hired The Origin Weddings Team for our Wedding this past August. They were absolutely amazing in all aspects. They were always very fast to respond to emails, as well as super helpful with the planning process. When we sat down with them to talk over our preferences, they were very thorough when trying to figure out what type of style we wanted our highlight film to be and they did an amazing job of portraying that! The thought of being filmed all day had me very nervous, but the Origin Weddings Team made it very fun and stress free! We had lots of fun with the team and are so happy we booked with them! Thank you again Origin Weddings! – Brittany Croutch
6. Jonathan Productions Inc.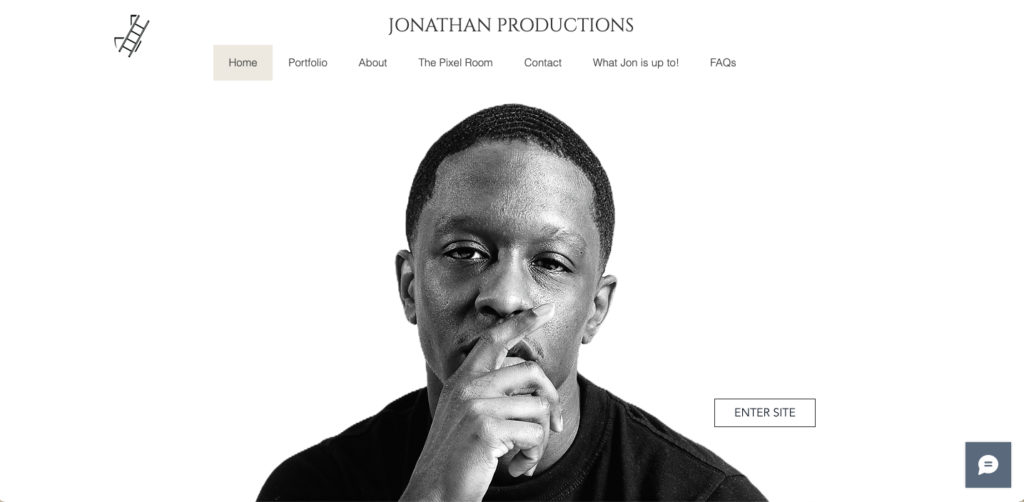 | | |
| --- | --- |
| SERVICES | Weddings & events, real estate (visual tours), corporate (commercials, marketing, advertising) |
| WEBSITE | https://www.jonathanproductions.ca/ |
| ADDRESS | 45 Bramalea Road, Suite #109 Brampton, ON, Canada |
| CONTACT DETAILS | [email protected] |
| OPERATING HOURS | Contact for more information |
Jonathan Productions is a highly experienced and multi-awarded photography company. They offer photography and videography services for real estate, corporate and, weddings and events.
Of course, they make sure to back up your footage and they do so thrice! What's great is that they also provide couples with a complimentary custom Jonathan Productions Inc. hard drive containing all edited films and raw footage.
We like that they also ensure that they give a copy of all the edited films within 3 months, and even have that in the contract.
Natalie and Jonathan are not only amazing and very talented at what they do, we've also found them to be some of the most personable wedding videographers out there. They've made sure that everything runs smoothly and that everyone is at ease on the day of.
The wedding films that they capture and edit are always beyond expectations and unique!
The only con we can find is that they no longer offer wedding photography because they want to focus on videography since it's what they're more passionate about. We completely understand this move.
All in all, we can't recommend them enough.
Experienced and multi-awarded
Complimentary custom hard drive with all edited films and raw footage
Unique editing
Does not offer wedding photography
Customer Reviews
"The most amazing people I've ever met!!! Natalie and Jonathan are the kindest and sweetest humans ever! Theres no better Videographers out there! They make you feel like you've been friends for years and make you feel beyond comfortable. Our video footage is above and beyond any expectations that we had. SO happy to have found such an amazing team! Highly recommend these amazing people! 🙂" — Amanda Bove
"Hands down the absolute best vendor and people you will ever meet. Jonathan, Natalie and their team were a joy to work with. From the moment we met them we knew we wanted them to be part of our special day. From the engagement shoot way back in 2019 to our wedding day, they made the process easy and enjoyable, offering great suggestions and helping someone who is very camera shy to shine. They also offered tremendous support over a difficult time when we had to postpone due to Covid and great flexibility with all the changes.
Not only incredibly talented, they have a wonderful sense of humor and friendly demenour that made our big day run smoothly and put everyone at ease. Everyone had nothing but wonderful things to say about the team! I cannot wait to see everything come together and I have no doubt they captured all the special moments of that day. Thank you so much for being part of our wedding!" — Melissa Di Grazia
FAQs About Wedding Videography in Toronto
---
Here's our list of the best wedding videographers in Toronto. As you move into the next stage of your married life, let our reviews be a part of your big decisions too: