The 5 Best Family Restaurants in Toronto
It goes without saying that food is one of the best ways to bring people together. In fact, many restaurants intentionally advertise their places as family-friendly destinations, with group deals and dishes portioned generously for plenty of people to enjoy.
If you're scouting for a great place to take the family out to eat, this article is for you. Our top picks would make sure your whole clan is happy, fed, and entertained.
Top Family Restaurants in Toronto
We used the following guidelines in selecting and evaluating the top family restaurants in Toronto.
How much does it cost to eat at family restaurants in Toronto?
The cost of eating at a family restaurant can vary widely depending on the location, the menu, and the size and type of establishment.
The restaurants in this review, their most popular sharing platters, the number of people each would serve, and their costs are shown in the table below.
Restaurant
Popular Sharing Plate
Serving
Price
Pizzeria Libretto
Marinara Pizza (12 inches)
4
$15.00
Barque Smokehouse
Meat Platter

- ½ pound of smoked brisket

- full rack of ribs

- 4 chicken thighs

- ½ pound of chopped BBQ pork

- 2 sausages

4
$160.00
The Old Spaghetti Factory
Lasagna entrée set

- soup or salad

- garlic bread

- ice cream

- hot tea or coffee

2
$24.00
The Lakeview Restaurant
Ossington Massive

- 3 eggs cooked any style

- pancake medallions

- sausage

- bacon

- fries

- field greens

- potato bread

- dark rye

2-3
$22.50
Lazy Daisy's Cafe
Tall stack of cinnamon bun pancakes (4 pieces)
3-4
$18.65
1. Pizzeria Libretto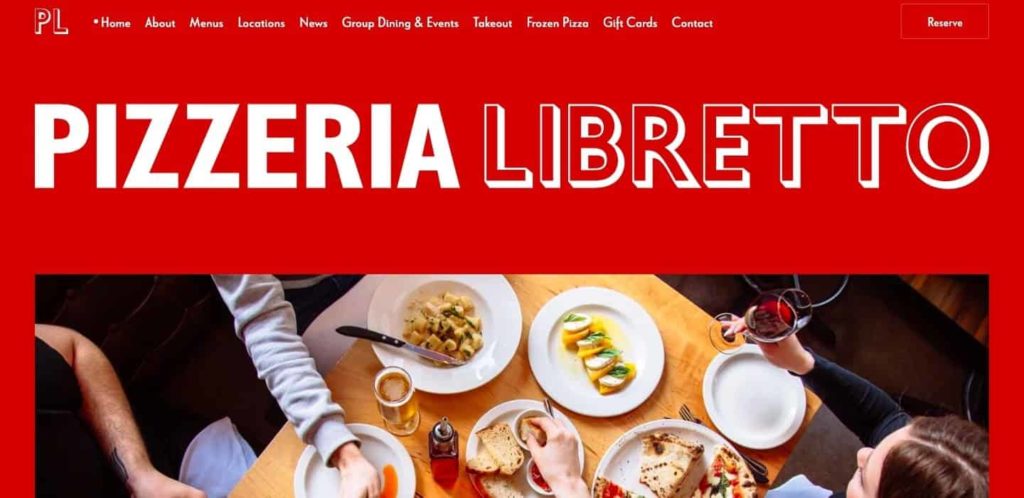 Test
Info
MENU
Neapolitan Pizzas, Focaccia Bread, Gnocchi, Risotto Balls, Meatballs, Salads, Tomato & Fennel Burrata, Calamari, Ceviche, Salmon Carpaccio, Marinated Zucchini, Mushroom Crostini, Desserts, Sodas, Cocktails, Beers, Wines
PRICING
$5.00 to $29.00
WEBSITE
https://www.pizzerialibretto.com/
ADDRESS

155 University Avenue, Toronto, ON




View all branches here

CONTACT DETAILS

416-551-0433




View contact details of each branch here

OPERATING HOURS
Tue–Sat: 12:00 NN–10:00 PM
| | |
| --- | --- |
| MENU VARIETY | ★★★★☆ (4/5) |
| QUALITY | ★★★★★ (5/5) |
| VALUE | ★★★★★ (5/5) |
| AMENITIES | ★★★★★ (5/5) |
| CUSTOMER SERVICE | ★★★★★ (5/5) |
Pizzeria Libretto is the first Neapolitan pizza restaurant in the city, and we think it's an excellent option if you and your little ones are craving for good pizza and Italian cuisine.
While the restaurant doesn't have a separate kids' menu, its dishes come in huge portions, making them ideal for sharing.
Additionally, there is a group menu that is designed for 12 or more persons. This family-style dining enables the restaurant to operate more effectively and provide better service for huge gatherings.
We also like that there are multiple vegetarian and vegan alternatives, like gnocchi, risotto balls, and various salads.
Unfortunately, the menu choices vary depending on the restaurant's location, so you should double-check the branch you're going to order from or else your cravings might not get satisfied.
At any rate, the dishes at Pizzeria Libretto are reasonably priced. Moreover, its staff are quick and accommodating.
The restaurant's kid-friendly ambiance is impressive. There are crayons and activity sheets, high chairs, changing stations in men's and women's washrooms, and a sink step ladder.
When you visit Pizzeria Libretto on University Avenue, your family can stroll along parks and discover some of Toronto's historic sites as well.
We advise you to book a reservation because the restaurant is frequently busy and long queues are to be expected.
Takeout and delivery are available across all branches. Online orders can be made through the Pizzeria Libretto's exclusive app.
Meals are ideal for sharing
Family-style dining
Reasonably priced dishes
Huge portions
Crayons and activity sheets available
High chairs
Changing stations
Sink step ladder
Quick and accommodating staff
Takeout and delivery
Menu items differ per branch
Frequently busy and long lines are common
Customer Reviews
Their staff were so wonderful and kind
"I went there frequently while I was [at] TIFF. Their gluten-free pizzas are great and their staff were so wonderful and kind despite being slammed every time I was there (TIFF and also that downtown location made it so). I am incredibly appreciative of the staff and the quality of food." —Hannah Rittner, Google Reviews
BEST PIZZA EVER
"The pizzas and calamari we ordered were amazing!! Customer service was also perfect! I'll definitely go back again with my friends💛. BEST PIZZA EVER!!" —Diner, OpenTable Reviews
2. Barque Smokehouse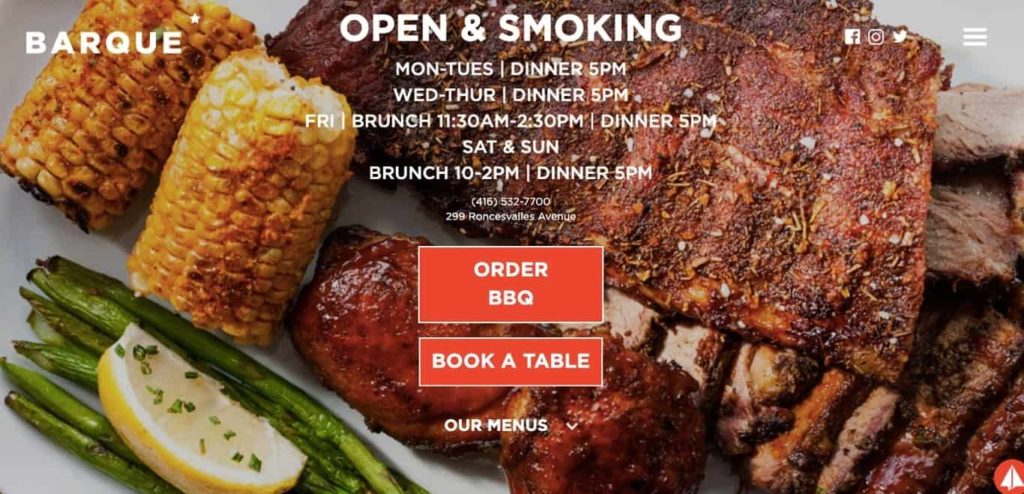 Test
Info
MENU
Chicken Wings and Tenders, Duck Tacos, Okra Chips, Pork Rinds, Salad, Sausages, Chopped BBQ Pork, Competition-Style BBQ Chicken, Beef Brisket, Ribs, Meat Kebab, Branzino, Fries, Pickled Platter, Pickle Slaw, Cassoulet, Grilled Vegetables, Mac and Cheese, Cornbread Pudding
PRICING
$9.00 to $66.00
WEBSITE
https://www.barque.ca/
ADDRESS
299 Roncesvalles Avenue, Toronto, ON
CONTACT DETAILS
416-532-7700
OPERATING HOURS
Mon–Tue: 5:00 PM–9:30 PM

Wed–Thu: 5:00 PM–10:00 PM

Fri: 11:30 AM–2:30 PM, 5:00 PM–10:00 PM

Sat: 10:00 AM–2:00 PM, 5:00 PM–10:00 PM

Sun: 10:00 AM–2:00 PM, 5:00 PM–9:30 PM
| | |
| --- | --- |
| MENU VARIETY | ★★★★★ (5/5) |
| QUALITY | ★★★★★ (5/5) |
| VALUE | ★★★★☆ (4/5) |
| AMENITIES | ★★★★★ (5/5) |
| CUSTOMER SERVICE | ★★★★☆ (4/5) |
For all of your barbecue needs, there is no better place than Barque Smokehouse. Open since 2011, it has become a household name in the Roncesvalles district.
Barque Smokehouse is known for its tender, expertly charred barbeque dishes. The restaurant offers a variety of starters, mains, and sides that everyone in the family would love.
There are chicken wings, chopped pork barbeque, baby back ribs, smoked brisket, and lots of veggie and vegan choices.
There is a kids' sampler for only $14.00, too, which includes a main dish, side, and drink.
In addition, there are family nights every Sunday that feature more group menus and festive meals.
You'd be happy to know that the servings of the food are generous and the prices are decent.
It's a little sad that brunch hours are only available during weekends. Moreover, the restaurant has apparently been having issues with handling table reservations.
We've talked to a few customers whose reservations weren't honored or who, despite making a reservation in advance, were made to wait for a lengthy time.
Still and all, Barque Smokehouse has an excellent kid-friendly environment. Children are provided colouring books and what's more, Play-Doh sets, and high chairs and booster seats are at your disposal.
Further, the restaurant has a delightful patio, just like a true barbeque spot. Whether indoors or outdoors, Barque Smokehouse is open for dining seven days a week.
Takeaway, delivery, and catering services are also offered.
Kids' sampler available
Family-themed nights every Sunday
Decent prices
Generous servings
Colouring books and Play-Doh sets
High chairs and booster seats
Al fresco dining is available
Open seven days a week
Takeaway, delivery, and catering
Reservation issues
Brunch times are only during weekends
Customer Reviews
I would recommend anything on their menu
"Barque is a neighborhood classic. Serving up good food with good service and a good time, I would recommend anything on their menu given the tastes that come along with it. Not to mention, they also pay fair wages to their serving staff which we all love to support. Will definitely be back!" —Manan Patel, Google Reviews
Wonderful, energetic, and knowledgeable staff
"This was our first visit to the Barque Smokehouse. From the moment we arrived to the moment we left, we were treated to the wonderful, energetic, and knowledgeable staff. As soon as we sat down complimentary seasoned popcorn and sparkling water were dropped off at our table. We had the 2-person sampler with turkey, brisket, and chopped pork, with wings as our appetizer and pickle coleslaw and fries as our sides. The food was fantastic and they easily accommodated our end of meal take away order for our son. This was an all-around tremendous experience and we look forward to returning soon to try out all the different menu items!" —Goalie27, TripAdvisor
3. The Old Spaghetti Factory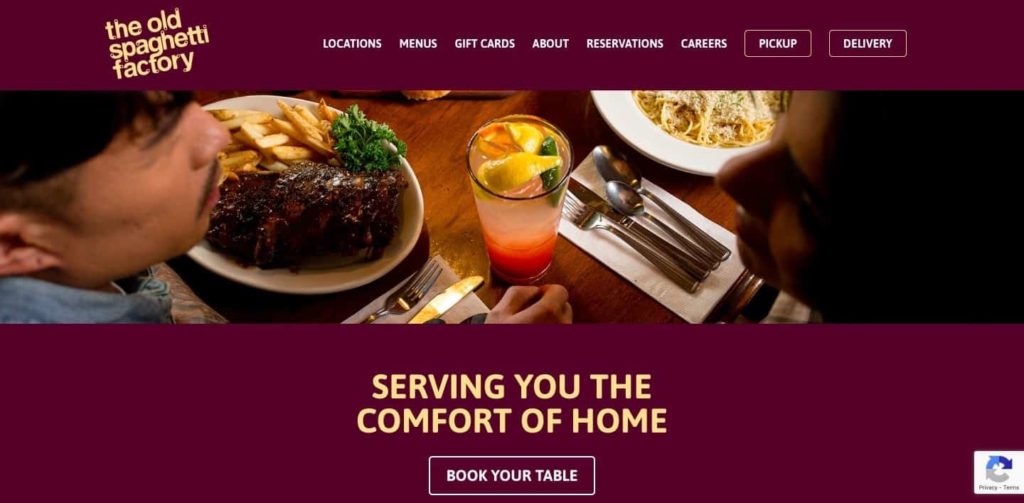 | Test | Info |
| --- | --- |
| MENU | Pastas, Lasagna, Manicotti, Chicken Parmigiana, Grilled Chicken, Ribs, Steak, Garlic Cheese Toast, Bruschetta, Risotto Balls, Breaded Shrimps, Provolone Sticks, Chicken Dippers, Meatballs, Salads, Ice Cream, Kids' Menu, Hot Tea, Coffee |
| PRICING | $5.00 to $33.00 |
| WEBSITE | https://oldspaghettifactory.ca/ |
| ADDRESS | 54 The Esplanade, Toronto, ON |
| CONTACT DETAILS | 416-864-9761 |
| OPERATING HOURS | Mon–Sun: 12:00 NN–10:00 PM |
| | |
| --- | --- |
| MENU VARIETY | ★★★★★ (5/5) |
| QUALITY | ★★★★☆ (4/5) |
| VALUE | ★★★★★ (5/5) |
| AMENITIES | ★★★★☆ (4/5) |
| CUSTOMER SERVICE | ★★★☆☆ (3/5) |
This list of the best family restaurants would not be complete without the international classic, The Old Spaghetti Factory.
What we like the most about this restaurant is the "It's All Included" entrées, which come with a soup or salad, garlic bread, hot tea or brewed coffee, and ice cream. That is undoubtedly a hearty meal, and it's even better that it's priced reasonably!
You would also be happy about the menu items that are made for kids.
However, The Old Spaghetti Factory needs to work on the consistency of its food quality. There have been times that food would arrive overcooked or under-seasoned.
Customer service likewise has to be strengthened. The waiting time for orders are reportedly quite long and the staff need to be trained more in accommodating large groups.
Nonetheless, the atmosphere at the restaurant is kid-friendly galore. More than the high chairs and colouring sheets for children, the décor is utterly amazing.
It seems like a different world when you step into The Old Spaghetti Factory. An antique carousel, street car, and elevator booth are among the dining areas.
The restaurant just needs to remember to clean up the tables promptly and thoroughly to maintain a safe and welcoming environment.
The Old Spaghetti Factory is open for lunch and dinner every day of the week. You can order takeout and delivery as well.
Entrée sets, complete with a starter, side, drink, and dessert
Kids' menu
Reasonable prices
Big servings
High chairs
Colouring sheets
Antique décor
Dining areas include a carousel, street car, and elevator booth
Long opening hours
Takeout and delivery
Inconsistency in food quality at times
Food takes long to arrive
Difficulties in accommodating large groups
Tables are not cleaned right away
Customer Reviews
The service is amazing, everyone is so kind and cheerful
"My husband and I have been coming to this restaurant since we were dating. And it never disappoints us. The service is amazing, everyone is so kind and cheerful. The food is delicious! We especially love their bread so yummy! I absolutely recommend this restaurant. You will definitely go home with a full stomach." —Maria S., Google Reviews
True value for money
"I haven't been to the Old Spaghetti Factory since I was a child. We were in Toronto to attend the Ex, staying nearby and decided we would take our 8-year-old here for his first experience. We were seated quickly without having a reservation. This is true value for money—soup or salad, main, and a dessert all included. We also got garlic bread at the start which they replenished when our son ate the first one! It has very unique decor so lots to look at. The food was very good and we thoroughly enjoyed it. Great place for families!" —Oshawagal, TripAdvisor
4. The Lakeview Restaurant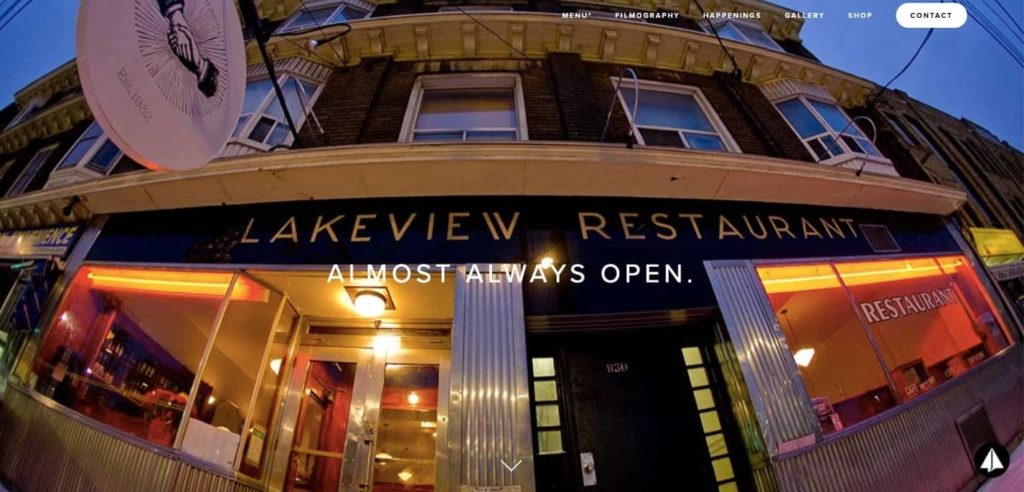 | Test | Info |
| --- | --- |
| MENU | Pancake, Waffle, Bacon, Sausage, Eggs (any style), Sandwiches (Chicken, Fish, Tuna), Burgers (Beef, Vegan), Fries, Tater Tots, Fish and Chips, Onion Rings, Fried Pickles, Chicken Strips, Poutine, Salads, Desserts, Kids' Menu, Milkshakes, Floats, Soda, Juices, Hot Tea, Coffee, Beers, Wines |
| PRICING | $3.25 to $28.00 |
| WEBSITE | http://www.thelakeviewrestaurant.ca/ |
| ADDRESS | 1132 Dundas Street West, Toronto, ON |
| CONTACT DETAILS | 416-850-8886 |
| OPERATING HOURS | Always open |
| | |
| --- | --- |
| MENU VARIETY | ★★★★★ (5/5) |
| QUALITY | ★★★★★ (5/5) |
| VALUE | ★★★★★ (5/5) |
| AMENITIES | ★★★★★ (5/5) |
| CUSTOMER SERVICE | ★★★☆☆ (3/5) |
If you have watched the movies Hairspray (starring John Travolta), The Shape of Water (Sally Hawkins), or The Boondock Saints (Willem Dafoe), then you have already caught a glimpse of this next restaurant.
First opening its doors in 1932, The Lakeview has established itself a Toronto institution. An internationally-famous restaurant, it has been featured in many movies and TV shows over the years.
The Lakeview is known for its affordable, flavourful, and hefty brunch meals that include pancakes, waffles, bacon, sausages, and eggs cooked in various styles.
In addition, the menu offers five different burger varieties and nine sandwich options!
You can also order a kids' meal for only $5.50, which is composed of a sandwich or burger, accompanied with fries. Furthermore, superhero-themed activity sheets can be enjoyed by the young ones.
The restaurant is a stroller-friendly space and high chairs can be requested. There is a patio for outdoor dining, too.
The lengthy wait times for food at The Lakeview are quite upsetting though.
We would want to see the reservation system improve as well, since we've been made aware of some customers who experienced issues with their appointments.
It's a good thing then that The Lakeview is open 24/7, and curbside pickup and delivery services are provided.
Classic brunch meals
Kids' menu
Affordable dishes
Hefty servings
High chairs
Superhero-themed activity sheets
Spacious and stroller-friendly
Patio for outdoor dining
24/7 service
Curbside pickup and delivery
Reservation issues
Lengthy wait times for food
Customer Reviews
Very attentive and polite servers
"Always a great place for breakfast whether you are a grown up or a child. They have never disappointed us. Very attentive and polite servers; they will acknowledge you and welcome you even if there are a lot of tables to take care of. Love their Lakeview (crabcake) Benedict. If you are into history, the décor in this restaurant is retro, which explains why movie scenes (such as in Hairspray) have been shot here." —Asma Q., Google Reviews
I've taken friends, dates, and my family—great every time
"I have been eating here for over a decade. The food is always delicious, the kitchen is quick, the staff are incredibly friendly, and the atmosphere is wonderful. Highly recommend for a night out or a family in the afternoon! I've taken friends, dates, and my family—great every time! They have vegan and gluten-free options available, breakfast foods all night, and the best poutine in the city." —Jake Robinson, Google Reviews
5. Lazy Daisy's Cafe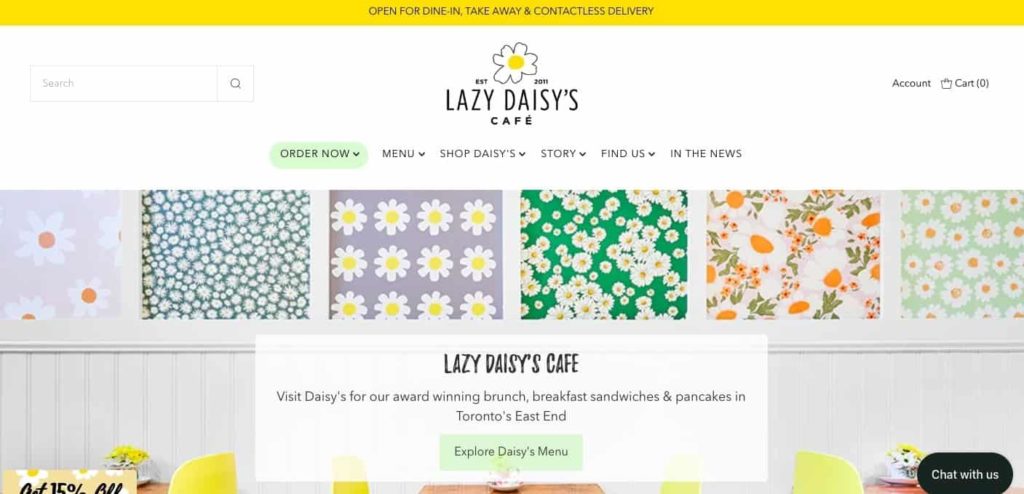 | Test | Info |
| --- | --- |
| MENU | Pancakes, Sandwiches (Chicken, Chorizo, Cheese, Bacon, Mushroom, Veggie, Vegan), Fries, Mac and Cheese, Salad, Biscuits, Muffins, Nanaimo Bar, Butter tarts, Cookies, Kids' Menu, Smoothies, Juices, Iced Tea, Hot Tea, Hot Chocolate, Coffee, Cocktails, Wines |
| PRICING | $5.95 to $18.65 |
| WEBSITE | https://lazydaisyscafe.ca/ |
| ADDRESS | 1515 Gerrard Street, Toronto, ON |
| CONTACT DETAILS | 647-341-4070 |
| OPERATING HOURS | Mon–Sun: 8:00 AM–3:00 PM |
| | |
| --- | --- |
| MENU VARIETY | ★★★★★ (5/5) |
| QUALITY | ★★★★★ (5/5) |
| VALUE | ★★★★★ (5/5) |
| AMENITIES | ★★★★☆ (4/5) |
| CUSTOMER SERVICE | ★★★☆☆ (3/5) |
Another popular brunch spot for families is Lazy Daisy's Cafe. This cute restaurant is tucked in Gerrard Street's Little India neighbourhood, and is the perfect place for you and your family to leave stress behind.
The interiors are welcoming and comforting, with big daisy flowers and bright, colourful wallpaper used for decoration. You can also choose to dine al fresco at the refreshing patio.
The cafe has a great selection of breakfast classics, sandwiches, biscuits, and other baked treats. There is also a kids' menu that includes mini versions of the usual dishes.
You'd be delighted to learn that the food is portioned generously and affordably priced, with the most expensive dish not costing more than $20.00.
We're impressed with Lazy Daisy's Cafe's use of farm-fresh and locally-sourced ingredients, naturally grown, hormone- and drug-free meats, and handcrafted pastries without nitrates or preservatives.
On top of that, the cafe actively supports causes such as Mealshare and The Canada Ukraine Foundation.
However, orders placed online or for pickup have been in a tight spot. A number of customers have noted that there were technical issues with the app and picking up orders were time-consuming.
Sadly, the staff at the restaurant also appear to be slow in taking orders.
Nonetheless, the manager and other head personnel seem to be proactive in responding to criticism.
Furthermore, the restaurant works hard to maintain a family-friendly atmosphere. There are baskets of books and toys as well as a train table to entertain kids.
Just like its menu offerings, Lazy Daisy Cafe is open only during breakfast and lunch hours. You can opt for the curbside pickup and delivery services or try purchasing goods from the cafe's online shop.
Great selection of mains and sides
Kids' menu
Farm-fresh and local ingredients
Naturally grown meats
Handcrafted pastries
Affordable pricing
Generous portions
Train table, books, and toys
Welcoming and colourful interiors
Patio for al fresco dining 
Online shop
Curbside pickup and delivery
Technical issues with orders via app
Pickup orders are time-consuming
Staff are quite slow in taking dine-in orders
No dinner hours
Customer Reviews
Delicious, flakey homemade biscuits
"The food is so delicious and I crave it every weekend. My faves… the breakfast burrito and Son of a Rise. All the sandwiches are prepared fresh on these delicious, flakey homemade biscuits. Oh my God they are good. The coffee is incredible. It recently had a renovation and the space is so beautiful! Love Daisy's." —D. Speers, Google Reviews
The friendly service topped it off
"Nothing Lazy about Daisy here! The buttermilk biscuits taste like pillows of flakiness and the friendly service topped it off. Tried the Rise and Shine and it was AMAZING! Homemade buttermilk biscuit, free-run egg, aged white cheddar with Mennonite smoked bacon. Went back the next week and had the Veggie Rise and a mimosa; it was just as delicious." — Eggz on the Beach, TripAdvisor
FAQs About Family Restaurants in Toronto
---
Did our top picks sharpen the whole family's appetite? If yes, then this is your sign to have a family bonding over food!
If you can't get enough of group dining, check out our review on the best buffets in Toronto.