The 6 Options for the Best Basement Renovation in Toronto
Planning on remodelling your basement for additional living and storage space? Well, today must be your lucky day because we're sharing our picks for the top Toronto contractors that can help with that.
We've put together a list of trusted contractors that offer the best basement renovation in Toronto. This is based on the quality of their services and what previous customers think about their workmanship.
Before we get right to it, we'll go over the average cost of basement renovation in the area. We've even answered a few questions related to renovating your basement, so make sure to read until the end of this article.
The Cost of Basement Renovation in Toronto
How much you're going to spend on bathroom renovation depends on a list of factors, including the size of the basement, condition of the space, materials and labour required, and the complexity of the interiors.
According to our research, a renovation contractor usually charges anywhere from $55 to $80 per square feet. If you have an 800-square feet basement, expect to shell out around $40,000 to $70,000 for its remodelling.
Here's a more detailed look into the prices of basement renovations in Toronto:
| | |
| --- | --- |
| BASEMENT ELEMENT | AVERAGE COST |
| Turnkey (without bathroom) | $32,000 to $63,000 |
| Bathroom | $12,000 to $30,000 |
| Walls and joint sealing | $3 per sq.ft. + $1,700 for joints |
| Ceiling | $3.75 to $6.25 per sq.ft. |
| Floording | $2.50 to $3.75 per sq.ft. |
| Insulation | $4.40 to $16 per sq.ft. |
| Painting | $1,000 to $3,600 |
| Plumbing | $58 to $260 per hour |
| Electrical works | $50 to $100 per hour |
The Options for the Best Basement Renovation in Toronto
Now that you have an idea of how much you need to spend to renovate your basement, it's time to look at the contractors we think are worth hiring!
Check them out below to see which one can turn your dream basement into a reality.
1. Harmony Basements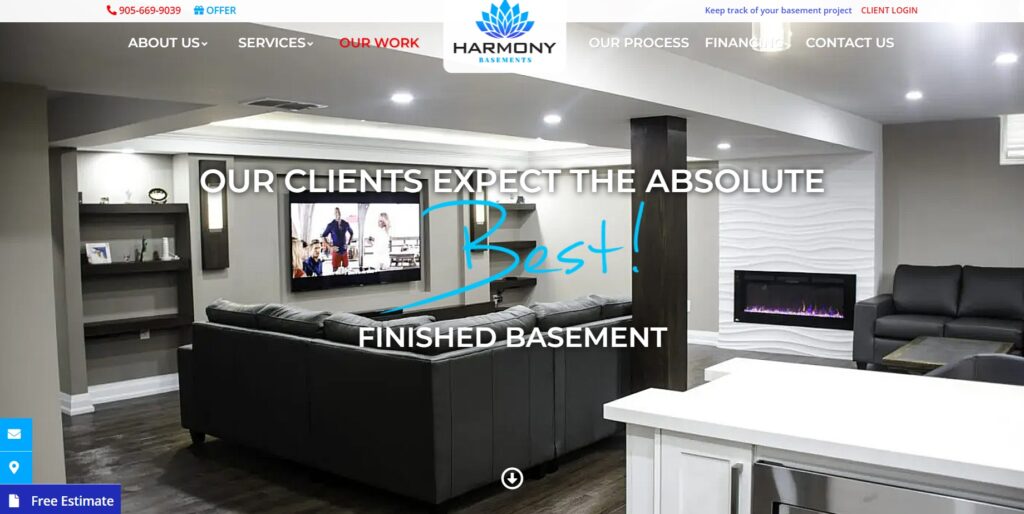 SERVICES
BASEMENT RENOVATIONS
BASEMENT FINISHING
BASEMENT SUITE
PERSONAL USE
BUILDING PERMITS
BASEMENT DESIGN
STRUCTURAL ENGINEERING
BASEMENT WATERPROOFING
LANEWAY AND GARDEN SUITES
KITCHEN AND BATH RENOVATION
WEBSITE
https://harmonybasements.ca
ADDRESS
156 Chrislea Rd #4, Woodbridge, ON L4L 8V1, Canada
CONTACT DETAILS

[email protected]


Toll Free: 1-800-373-7039
Office: 905-669-9039
OPERATING HOURS
SHOWROOM & DESIGN CENTRE
Monday – Friday: 9:00 am to 5:00 pm
Saturday & Sunday: By Appointment Only

IN-HOME SALES & DESIGN CONSULTATION
Monday – Friday: 8:00 am to 9:00 pm
Saturday & Sunday: 9:00 am to 7:00 pm
Harmony Basements is a firm that has provided its clients with reliable and professional basement finishing and remodeling services across GTA and Toronto for over 20 years in the industry.
We like that they readily employ a team of experienced personnel in the field to ensure that clients won't only have customized services but also be guided and educated accordingly to make sound, practical, and informed decisions.
Aside from this, they also specialize in providing client-centered solutions that fit the needs and desired space functionality of the client in all stages from preliminary procedures to post-construction.
Note though that packages and consultation rates aren't readily available on their website so interested clients may need to inquire further for more information on this.
Nonetheless, with their professionalism and an excellent array of designing services offered smooth and efficient project management, and comprehensive process, we highly recommend interested clients to check them out.
Reputable and excellent workmanship offered
Accommodating and supportive customer service
Diversely connected to various organizations in the industry
Consultation rates aren't readily available online
Customer Reviews
Here are some reviews from their clients:
"Thank you Harmony Basements for the outstanding job with our basement. From the get-go, the team were total professionals. They showed up on time and got straight to work, always keeping me in the loop and making sure I was happy with the progress. They took the time to listen to my ideas and concerns, and either incorporated my ideas or suggested better ones in the final design. We are happy with the end result and I'd definitely recommend your services to anyone looking to renovate their home."
"We moved into a new house during the pandemic that had an unfinished basement. It was a difficult time but Harmony Basements managed to turn it into a wonderful legal basement apartment as quickly as possible. Every part of it is done perfectly. From the lovely flooring, the gorgeous stone wall and fireplace, to the beautiful kitchen and bathroom with glass shower and tiling. All was done with safety in mind even down to the foundation check and we passed inspection with flying colours. I am now enjoying living in my very own private apartment !"
2. Capable Group
SERVICES
Basement Ideas: Basement apartment, basement game room, basement home gym, basement home theater, basement family room, basement bathroom, basement bedrooms, basement bar, basement sauna, basement fireplaces, basement kitchen, and basement office.
Other Services: Kitchen remodeling, bathroom renovation, and full home renovation.
WEBSITE
https://capablegroupinc.ca/
ADDRESS
830 Rowntree Dairy Rd Unit 23, Woodbridge, ON L4L 5V3
CONTACT DETAILS
(905) 889-0025
[email protected]
OPERATING HOURS
Monday – Sunday, 9:00 AM – 8 PM
Striving to make every finished basement remodel stress-free, Capable Group operates around a fully transparent costing model. This usually comes at a cost of $35-$40 per square foot and includes a 3D rendering of your basement, all labor & materials, and full clean-up on completion.
Knowing how financially beneficial basement renovations can be, they have made an intricate basement renovation process that increased their efficiency while keeping the durability and aesthetics of their work.
It first comes to the planning and conception where constant customer communication is highly advised. Afterward, once the project is approved they will proceed with designing the basement to your specifications and to building code regulations. Once the design is approved the last step is to make them to fruition with their highly experienced and professional crew.
With more than 15 years of experience and the drive to continually hone their craft, we genuinely believe that Capable Group is one of the top basement renovation companies in Toronto.
Among the top 5 home renovation based on mortgage insurer Genworth Canada
15 years of experience
Available 7 days a week
Focuses on basement renovation services
Customer Reviews
Kind and professional crew
"Capable Group is a top-notch organization that renovates basements. In my basement, they did a wonderful job. The crew was kind and professional, and they worked hard to do the task as soon as possible. The outcomes were excellent, and I would without a doubt suggest this business to anyone searching for high-caliber basement restoration work." – Livia Moser
The crew completed the project on schedule and within the given budget
"I was fortunate to find Capable Group, and I am ecstatic with the outcomes. The crew completed the project on schedule and within the given budget thanks to their professionalism and civility throughout the entire process." – Roy Williams
3.   CSG Renovation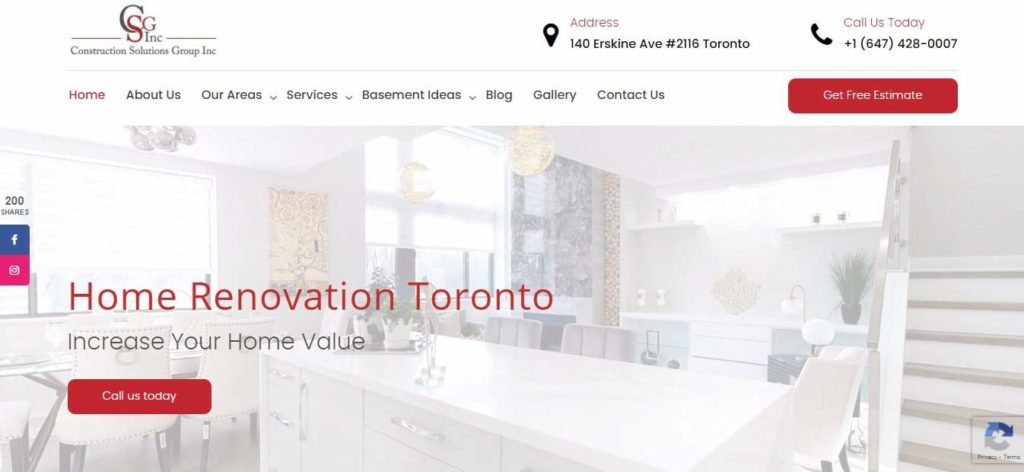 SERVICES
Basement renovation, commercial renovation, condo renovation, kitchen renovation, and pop ceiling removal
WEBSITE
https://csgrenovation.ca/
ADDRESS
140 Erskine Ave #2116 Toronto, ON M4P 1Z2, Canada
CONTACT DETAILS
647-428-0007
OPERATING HOURS
Monday to Friday: 9:00 AM – 8:00 PM
Saturday to Sunday: 9:00 AM – 4:00 PM
Established 10 years ago, CSG Renovation has become an in-demand name in residential and commercial renovations in the Greater Toronto Area. It comes as no surprise considering the consistent quality of its renovations.
It's worth noting that CSG is a full-range renovation contractor that goes beyond remodelling basements. It has a fully licensed and insured team that can do kitchen renovations, bathroom renovations, roof repairs, plumbing services, and electrical works.
Whether you want to turn your basement into a new workstation or a home theatre, CSG will know exactly what to do. In fact, it's even successfully remodelled basements into home gyms, laundry rooms, and even wine cellars.
Aside from home renovations, CSG sells a wide collection of renovation materials such as double-paned windows, waterproof walls, and bathroom fixtures. We think that hiring it as your contractor is like hitting two birds with one stone.
There are various financing options open to all customers as well, which is great news for those who don't have enough cash on hand. We're not sure about the interest rates, though.
10 years of experience
Different payment options
Free consultation
Full-range renovation contractor
Customer Reviews
CSG Renovation has earned a perfect 5 out 5 rating on Google Reviews. Here's what past customers had to say:
"After seeing the quality of their work at a friend's home, where Zeev and his crew finished a basement, we decided to hire them for our basement renovation. We are extremely happy with the quality of their work. Everything Zeev promised he would do, he did. The job was completed on time, four weeks to the day, from start to finish. All of his tradespeople were respectful and courteous and very professional. Zeev is a problem solver and was able to help us incorporate an existing electric fireplace into our completed space. He worked with us in choosing finishing touches and his recommendations were informative and helpful. If you are looking for a contractor for your home renovation we would definitely recommend CSG Renovations. They offer quality, affordability and reliability." -David Torquia
"I needed a modern bathroom for our master suite. CSG surprised me with a custom design, incorporating all our ideas into their plan. The new toilet and bathtub that they installed are so easy to use and quite efficient. Everything is modern and well laid-out. They worked within the agreed time and were flexible enough to go with our schedule. I appreciate their creative choice of materials and attention to detail. Thanks for the good work." -Andrew Pounds
4.   Alfa Design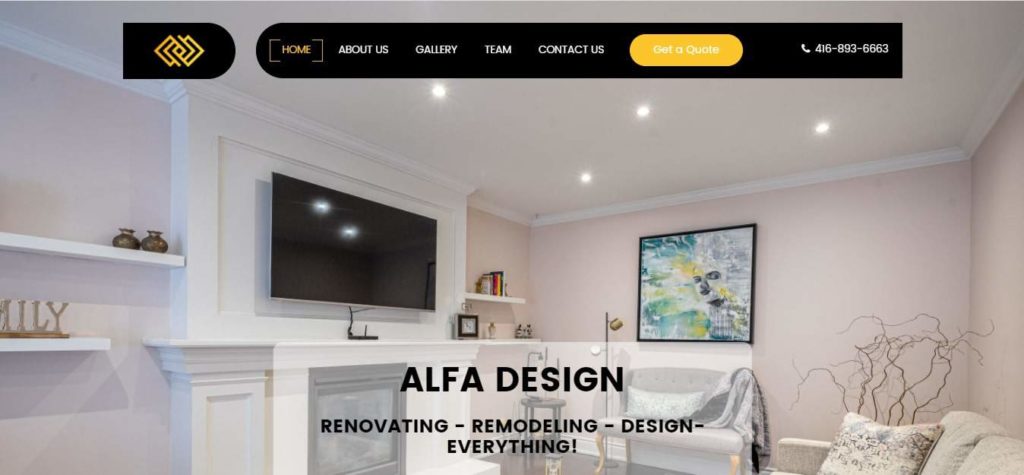 SERVICES
Basement renovation, kitchen remodelling, design and decoration, and bathroom renovation
WEBSITE
https://alfa-design.ca/
ADDRESS
1675 Yonge St, Toronto, ON M4T 2C1, Canada
CONTACT DETAILS
416-893-6663


[email protected]

OPERATING HOURS
Monday to Friday: 9:00 AM – 7:00 PM
Saturday: 9:00 AM – 5:00 PM
If your main goal is to increase the value of your property, then you should definitely check out Alfa Design. It's a renovation contractor that's helped multiple Toronto residents add thousands of dollars to the price of their residential spaces.
The thing about Alfa Design is it's not as popular as the other contractors in our list, but it's not to be underestimated. Despite its small team, it managed to work on renovation and remodelling projects of different scales, big and small.
Speaking of its team, Alfa Design takes pride in its skilled and experienced remodeling experts who know their way around 3D modelling and computer-aided design software.
We're particularly impressed with its attention to detail and eye for design, which is a trait that every homeowner looks for in a renovation contractor. Its designers know which wallpapers and furniture will go well with the interiors of your basement.
The only qualm we have with Alfa Design is we're not sure how long its warranties last. If they don't last years, then that may end up becoming a huge inconvenience for you.
Reliable customer service
Accessible location
Works fast
Boutique renovation contractor
Customer Reviews
Check out these reviews for Alfa Design:
"Simply the best!! Ali and Mehdi are very kind and knowledgeable people. They helped us remodel our basement and we couldn't be happier! Nice and honest people, it was a pleasure to work with them! I strongly recommend them to anyone who would like to improve the value of their home." -Anis Heirani
"I am very satisfied with Alfa Design. I had a terrible experience with my 2 previous contractors and I was running out of time because I needed to move to my condo ASAP. Without Mahdí and Ali's work, I would be lost. They worked very fast and with very high-quality standards. Every time there was a problem, they stepped in to suggest solutions. They are really committed to delivering something that will make you happy. Most contractors don't do it. They do." -Marcelo Gagliano
5.   Penguin Basements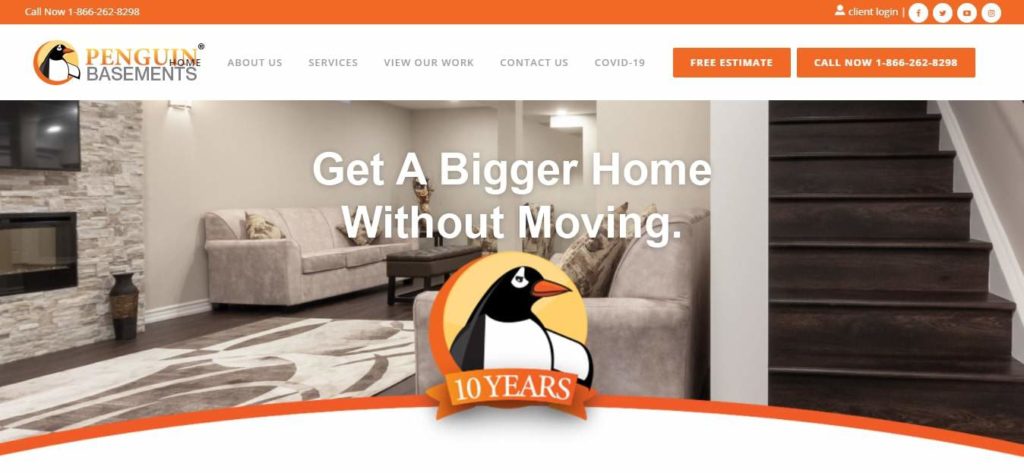 SERVICES
Basement renovation, basement finishing, basement walkouts, bathroom renovation, and kitchen renovation
WEBSITE
https://www.basementscanada.com/
ADDRESS
906 Magnetic Dr, North York, ON M3J 2C4, Canada
CONTACT DETAILS
866-262-8298


[email protected]

OPERATING HOURS
Monday to Friday: 8:00 AM – 7:00 PM
Saturday: 9:00 AM – 3:00 PM
Penguin Basements has been renovating and finishing basements in Toronto for more than a decade now. It's a recognized member of Renomark™, which proves a lot about the quality of its renovation services.
Aside from the guarantee of high-quality renovation, being a member of Renomark™ means there's a minimum two-year warranty and a minimum liability of $2 million on all renovations.
Renovation accidents are something that every homeowner is afraid of, but with Penguin Basement, there are safety standards in place to make sure that every worker is safe. There's also workplace liability insurance to legally protect customers from damages.
The thing we like most about Penguin Basement is that it can turn your old, decaying basement into a place of entertainment or productivity. Basically, it treats every basement like a blank canvas and it will paint whatever the imagination of a homeowner is.
Unlike with other contractors, its sales team doesn't exist solely to sweet talk all potential customers. Every single sales representative is trained in building codes, design, and estimation.
In most cases, its sales team can provide homeowners with a quotation on the spot, with no hidden charges or surprise fees later on.
Finally, Penguin Basement offers financing options to make it easier for homeowners to pay for their renovation. Top of this off, the interest rate is as low as it can get.
Different financing options
Low interest rate
Transparent pricing
Fully insured and bonded
Covered by two-year warranty
Customer Reviews
Dennis Foot posted this feedback on Facebook:
"We recently used Penguin Basements to finish our basement in Newmarket, Ontario. We had seen their sign around town, and figured we should inquire about their service and finishing system. We did inquire with some other companies as well, but found Penguins' presentation made the most sense for us. We are pleased to say that everything — from the first response of our inquiry, to the finished product — has been very seamless and actually quite enjoyable."
Another customer named Todd shared his experience on HomeStars:
"I always had concerns about which company to use to finish my basement. Penguin Basements put me at ease, from the salesperson Dan who brought a floorplan that I would never have considered, to Vince, the project manager, who kept me well informed and made sure the project was done to the highest of standards. There were no real surprises along the way, and they made sure we were happy every step. Fantastic Job."
6.   FinishedBasement.CA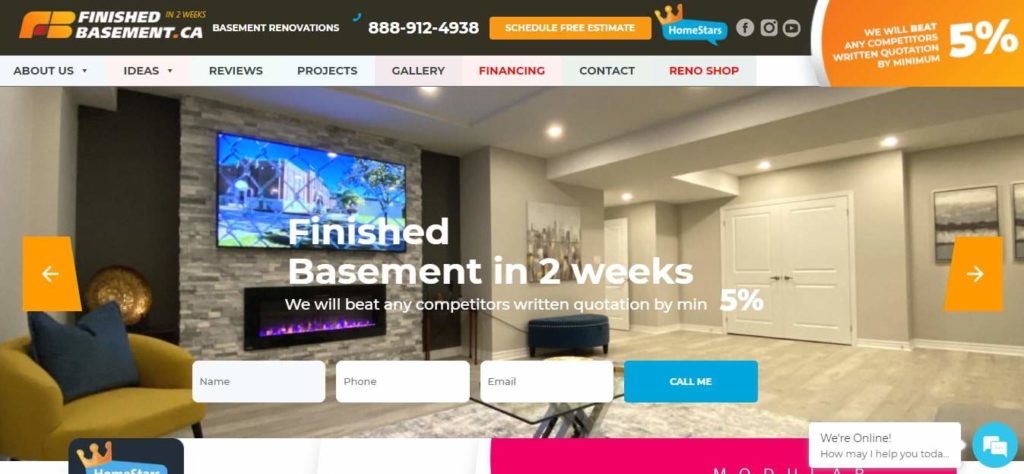 | | |
| --- | --- |
| SERVICES | Basement renovation and basement finishing |
| WEBSITE | https://www.finishedbasement.ca/ |
| ADDRESS | 290 Traders Blvd E #9, Mississauga, ON L4Z 1W7, Canada |
| CONTACT DETAILS | 905-501-9574 |
| OPERATING HOURS | Monday to Friday: 8:00 AM – 6:00 PM |
With more than 23 years in the business, FinishedBasement.CA has renovated more than 2,800 basements in Toronto and other surrounding areas. It earned a spot here based on three main reasons.
First, it can approximately finish basement renovations in no more than two weeks… so if you're looking for a contractor that can turn your basement into a whole new space quickly, then these guys are the ones to call.
Second, FinishedBasement.CA may be a prominent name in Toronto, but that doesn't mean its rates will hurt your pockets. In fact, it can provide different renovation solutions depending on the budget of a customer, as long as it's reasonable, of course.
Third, Toronto residents aren't the only ones who can benefit from its superb renovation services. It's open to every homeowner living in the GTA, from Ajax down to Woodbridge.
In terms of experience, FinishedBasement.CA doesn't fall short. Its crew is made up of 15 specialists of various trades with more than 150 years of combined experience, which is an impressive feat if you ask us.
Moreover, there's no need to worry if you don't have enough funds to pay for the renovation right now. FinishedBasement.CA offers monthly payment options with a minimal interest rate.
Low interest rates
Monthly payment option
Competitive rates
Equipped with high-end renovation tools
Can finish renovations in less than two weeks
Has received complaints about customer service
Customer Reviews
Take a look at these comments about FinishedBasement:
"These guys are the real deal. Very professional, respectful and certainly customer-first oriented. Exceptional quality work delivered with an on-time and as promised completion date. We are so very happy with our experience with this amazing crew. Our highest recommendations for this one." -Johnny Sequoia
"You can trust them, they worked for two weeks to finish my basement, and They worked inside the home when we were not home almost every day. Meticulous work style: Their work and skill are awe-inspiring. Immaculate job, they clean up everything once work is done every day. No unwanted surprises. We were looking to finish the basement, but we can not afford to stay home while construction is ongoing and having small kids, we wanted the timeline for the project very short." -U MODI
FAQs about Basement Renovation
---
And with that, we conclude our list of contractors with the best basement renovation in Toronto. If you've worked with any of them in the past, we want to hear your experience with them!
If you believed we missed out on other excellent basement renovation companies in Toronto, don't hesitate to share their names with us. Who knows, you might see their names here in the future.
By the way, if you're having problems with your house's electrical system, you might need to ask for help from the best electricians in Toronto. Check out our list to know how to get in touch with them!