Where to See Christmas Lights in Toronto
How do you know when to usher in the festive season? In Toronto, the bustling city lights up as soon as the Christmas bells start ringing.
Trust us, there are more dazzling light displays in this city than you can count on both hands. Here are iconic landmarks and hidden gems where you can enjoy festive lights!
Where to See Christmas Lights in Toronto
1. The Christmas Market at the Distillery District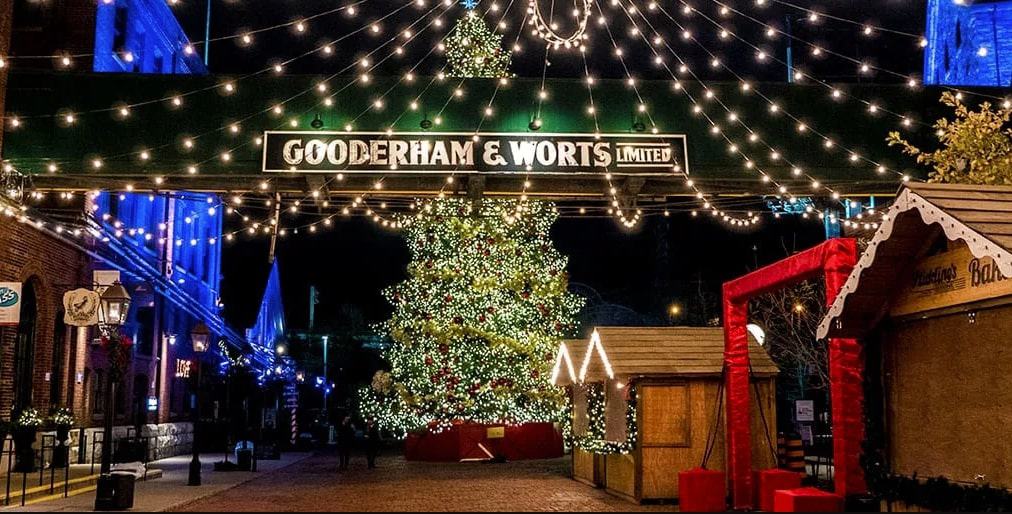 Website: https://www.thedistillerydistrict.com/
Address: 55 Mill St, Toronto, ON M5A 3C4, Canada
Hours:
Monday – Friday 12:00 – 9:00 PM
Saturday – Sunday 11:00 AM – 9:00 PM
Entrance fees:
12:00 – 4:00 PM: Free
4:00 – 9:00 PM: $11 + tax
9:00 PM – 12:00 AM: $20 + tax

The Toronto Christmas Market is a highly-anticipated holiday event held from late November to December that features a huge glistening Christmas tree, twinkling overhead lights and over 150 illuminated stalls.
The vendors here sell handcrafted ornaments, gifts, and delicious local food and drinks. This is a perfect seasonal spot where you'll get to enjoy live music, carol singing, workshops, cooking demos, and more.
Pro tip:
Not all the vendors at the event accept cards, so make sure to bring some cash with you.
2. Casa Loma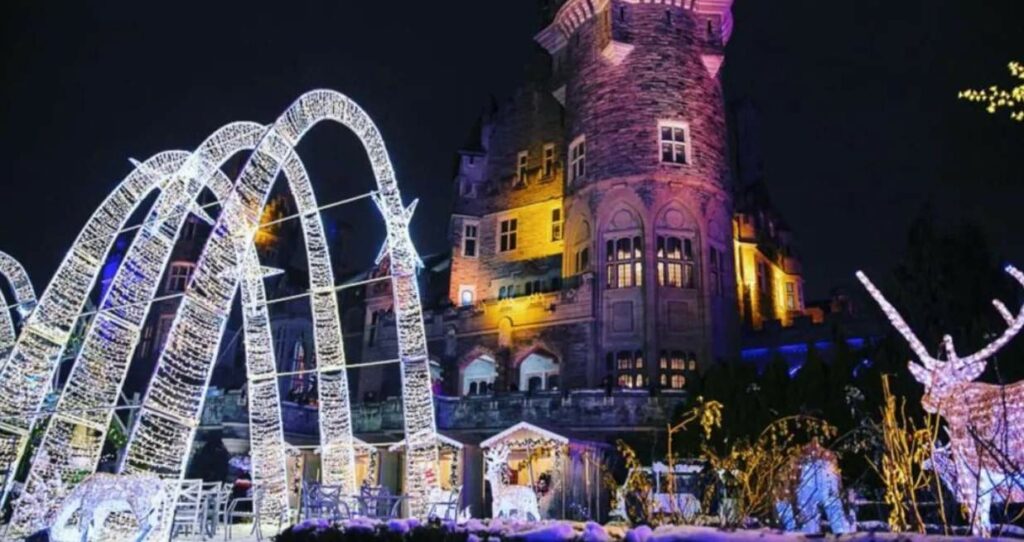 Website: https://casaloma.ca/project/holiday-lights-tour-2/
Address: 1 Austin Terrace, Toronto, ON M5R 1X8, Canada
Hours:
Monday – Friday 5:00 – 10:00 PM
Saturday – Sunday 4:00 – 9:00 PM
Entrance fees:
$26.95 for adults
$22.95 for seniors and students
$19.95 for children ages 5-12. Children under 5 are free.
The annual Holiday Lights Tour held by Casa Loma takes place from late November to early January. During this time, the historic castles come alive with 500,000 exterior lights.
This event allows you to step inside selected rooms and experience the grandeur of the castle up close. Each room is adorned with festive decorations, including Christmas trees, garlands, and seasonal embellishments you can adore.
You'll also get to enjoy special performances, live entertainment, and delicious food under the glistening festive lights.
Pro tip:
After you marvel at the lights, finish off your evening with a delicious meal from the nearby famous restaurant, Blue Bloods.
3. Nathan Phillips Square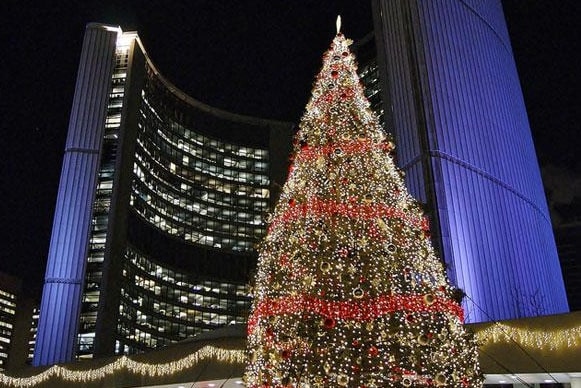 Address: 100 Queen St W, Toronto, Ontario, M5H 2N2
Hours: Monday – Sunday 5:00 – 11:00 PM
Entrance fee: Free
The yuletide magic at Nathan Phillips Square begins at the annual Cavalcade of Lights event, which kicks off the holiday season usually on the first Saturday in December.
At the event, the lights are switched on in a grand ceremony that includes live performances, music, and entertainment. The lights continue to shine brightly until the end of January, so you have plenty of time to enjoy the magical atmosphere.
Pro tip:
If you're looking for something to do after appreciating the light displays, you can enjoy the square's outdoor skating rink.
4. Ontario Place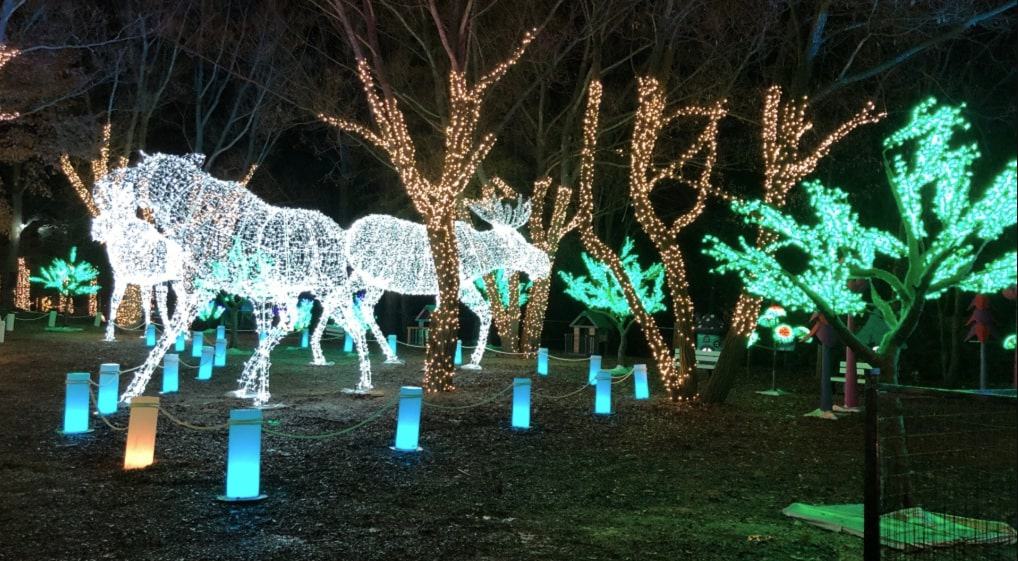 Website: https://ontarioplace.com/en/
Address: 955 Lake Shore Blvd W, Toronto, Ontario
Hours:
Monday – Sunday 5:00 – 11:00 PM
Entrance fee: Free

Every Christmas season, Ontario Place holds a light show called Lumière: The Art of Light (formerly Winter Light Exhibition), which features an array of illuminated artworks created by talented local artists.
The theme of the exhibit changes each year, offering a fresh and exciting experience for visitors. You'll be amazed by the interactive installations, dazzling sculptures, and stunning projections, all brought to life with synchronised music.
Pro tip:
There's a community bonfire every Friday and Saturdays, where you can gather around the warmth of the fire with fellow visitors.
5. Bloor-Yorkville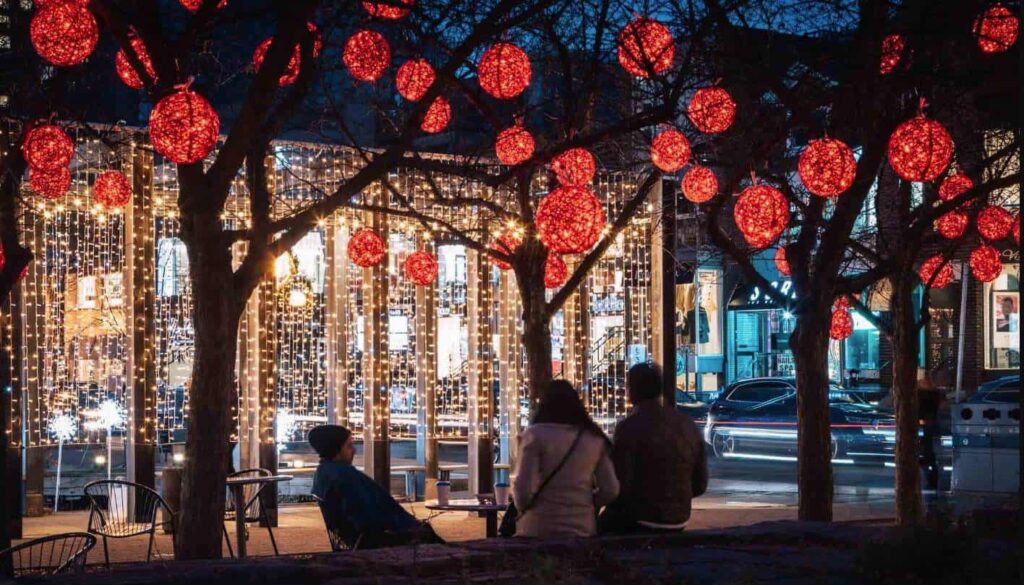 Website: https://www.bloor-yorkville.com/holiday_magic/holiday_lights.php
Address: Village of Yorkville Park, 115 Cumberland Street, Toronto, ON
Hours
Monday – Sunday 5:00 – 7:00 PM
Entrance fee: Free
Bloor-Yorkville is an affluent neighbourhood in Toronto that takes the festive season seriously. The neighbourhood kicks off the festivities with a grand tree-lighting ceremony often led by famous personalities and featuring live music and impressive light shows.
Many shops and boutiques in Bloor-Yorkville also embrace the holiday spirit by showcasing stunning and artistic displays in their storefront windows, often following a unique theme.
Pro tip:
On selected weekends, you can watch carollers in Victorian-era costumes.
6. Glow Gardens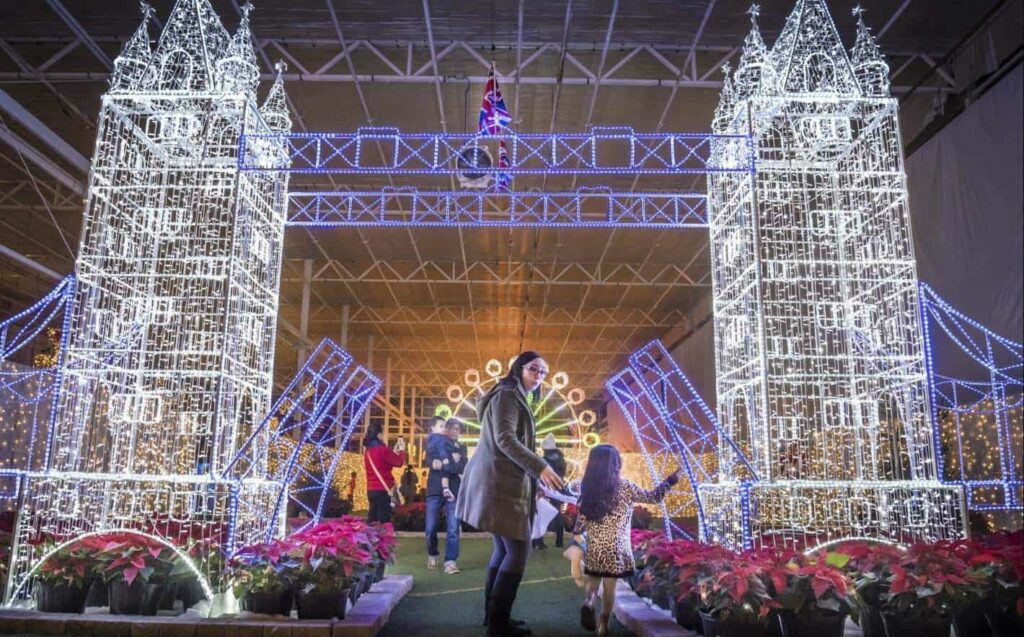 Website: https://www.glowgardens.com/toronto-christmas/
Address: 1020 Martin Grove Rd, Etobicoke, ON M9W 4W1, Canada
Hours
Monday – Sunday 12:00 – 9:00 PM
Entrance fees:
Weekdays: $18 for adults, $10.80 for seniors and children
Weekends: $19.20 for adults, $12 for seniors and children
Glow Gardens is a popular indoor Christmas festival and market held annually at the Toronto Congress Centre that features over half a million twinkling lights and interactive light sculptures.
Some of the most popular attractions are the Tunnel of lights, the Christmas tree forest, and the light maze.
Pro tip:
If you're feeling energetic, you can engage in interactive games at the festival too.
7. Northern Lights Toronto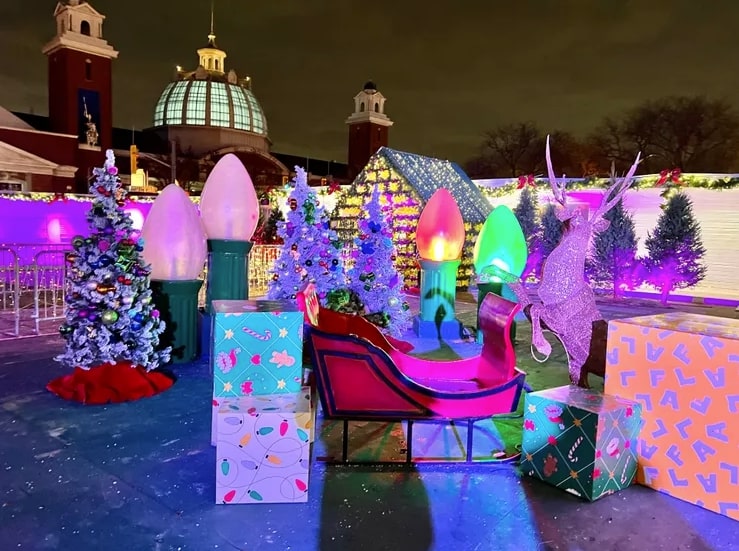 Website: https://www.northlightsto.ca/
Address: 100 Princes' Blvd, Toronto, ON M6K 3C3
Hours:
Monday – Friday 4:00 – 10:00 PM
Saturday – Sunday 11:00 AM – 10:00 PM
Entrance fees:
$29.99 for adults
$24.99 for children
Northern Lights is designed to provide visitors with an immersive outdoor holiday experience through custom-built lighting installations, whimsical creatures, and giant toys and ornaments that are sure to bring the kid in you alive.
The attraction features four themed holiday worlds and going through the whole exhibit feels like being part of a magical fairytale. There are a lot of photo ops, so don't forget to bring your camera!
Pro tip:
There's a fire pit in the lounge area where you can sip on a steaming cup of hot chocolate or indulge in a glass of fine wine.
8. The Friday Harbour Christmas Market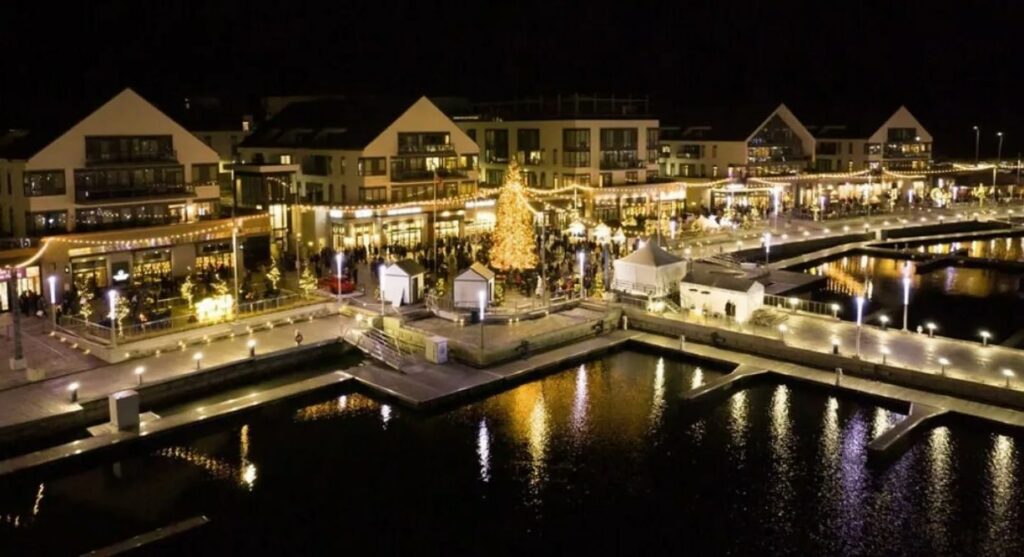 Website: https://www.fridayharbour.com/
Address: Friday Harbour Resort, 3999 Friday Dr, Innisfil
Hours:
Friday 4:00 – 8:00 PM
Saturday – Sunday 12:00 – 6:00 PM
Entrance fee: Free
Hosted by the Friday Harbour Resort, this European-style market brings together a diverse array of local vendors housed in charming decorated cabins selling festive treats, gifts, and crafts.
One of the highlights of the market is a magnificent 40-foot Christmas tree adorned with twinkling lights and festive decorations. You can also look forward to live music performances and acting entertainment.
Pro tip:
If you're up for some winter fun, lace up your skates and hit the ice!
9. Holiday Nights of Lights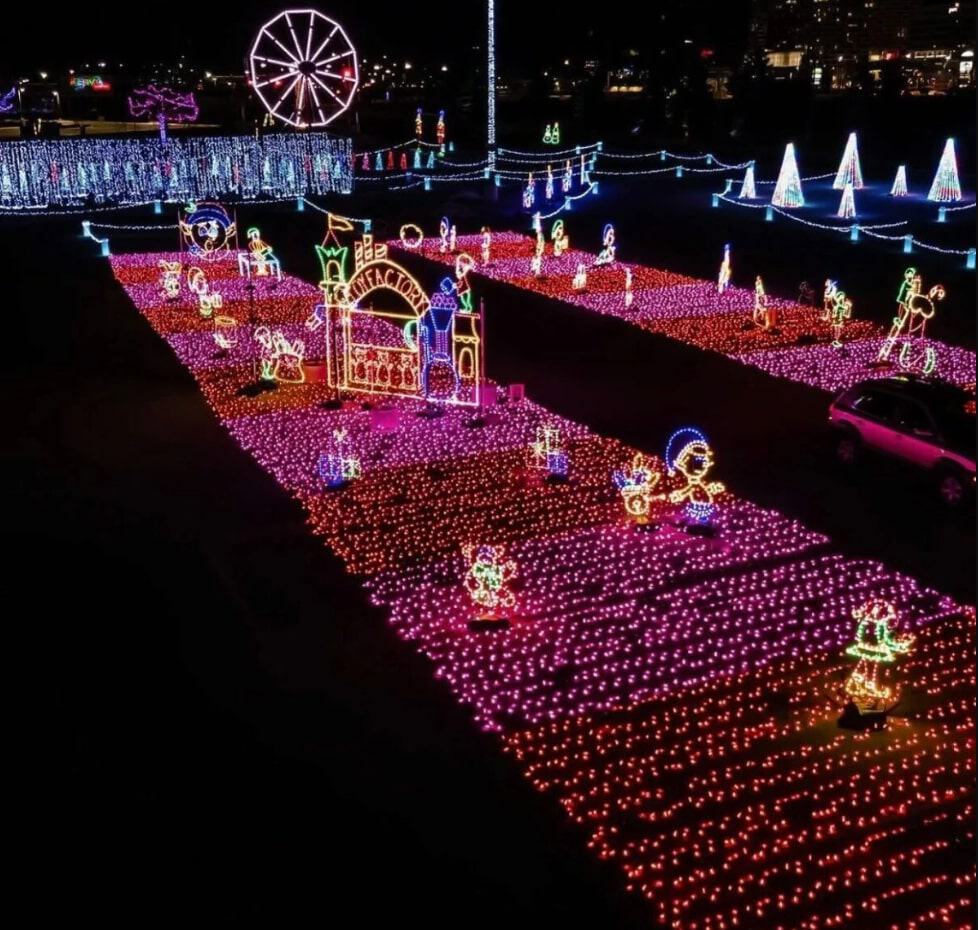 Website: https://www.nightsoflights.ca/index.html
Address: 80 Interchange Way, Vaughan, ON
Hours: Thursday – Sunday 5:00 – 11:00 PM
Entrance fees:
Adult Pass (13+) – $19.99
Child Pass (2-12yrs) – $14.99 Children 1 and under free
The Holiday Nights of Lights is a unique drive-through light display featuring over 1.5 million LED lights synchronised to popular holiday tunes. The lights dance to the rhythm of the tunes, adding an extra touch of enchantment to the event.
While you're there, why not pay a visit to Santa himself or channel your inner lumberjack and try your hand at some axe throwing? It's all part of the fun and adds an extra dose of holiday cheer.
Pro tip:
There's a Christmas market at the end of the lights show so don't forget to bring your wallets!
10. Hudson's Bay Holiday Windows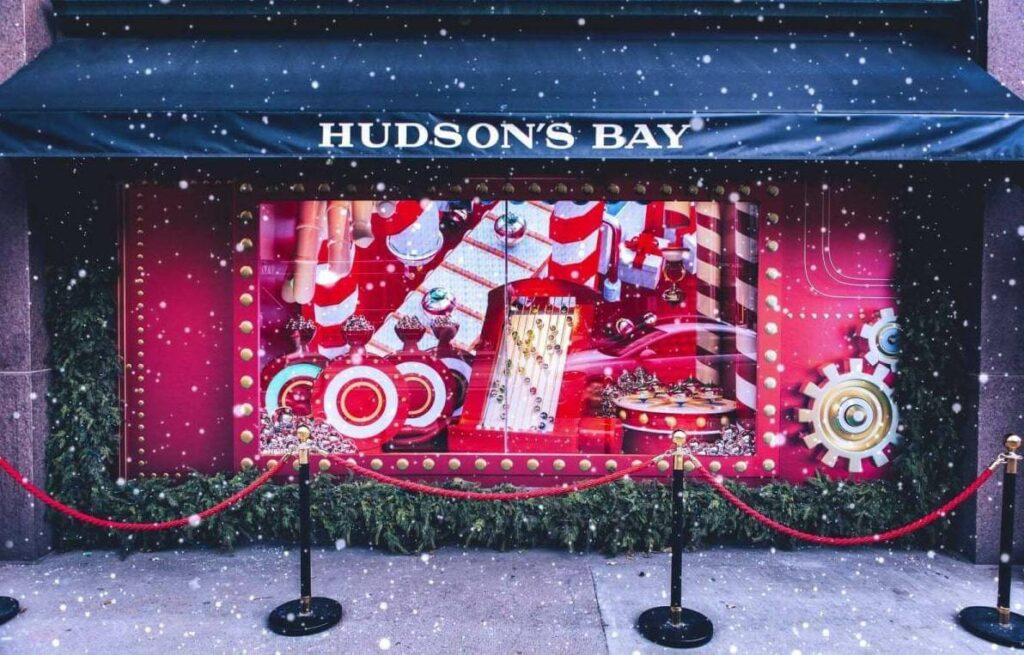 Address: 176 Yonge Street, Toronto, ON
Entrance fee: Free
If you're a local, you know that Hudson's Bay has been a go-to spot for holiday magic for over 150 years. Every year, people flock to see the incredible displays they have in store.
The unveiling of the Hudson's Bay Holiday Windows is always a big deal – it's the official signal that the holiday season has arrived in Toronto. There's usually a special event or ceremony to kick off the festivities, adding to the excitement in the air.
Pro tip:
The Hudson's Bay Holiday Windows are turned on at 5 PM, but the windows can get crowded quickly. If you want to get a good spot, go early.