A Guide to the Top 5 Osteopaths in Toronto
Do you feel as though you've tried just about everything to manage your aches and pains? If you've only been disappointed by the results so far, then seeing an osteopath in Toronto might be a good idea.
In this list, we've picked out the best osteopathy clinics and practitioners in the city for your perusal. We've also included plenty of information about this versatile therapy and how it's provided, including the average cost, frequently asked questions, and more.
How much does osteopathic treatment cost in Toronto?
Our research suggests that the rates for osteopathy in Toronto can vary from establishment to establishment. Certain factors such as the type and length of the treatment or service can also have an effect on the price.
Check out the table below to see how much you should expect to spend on osteopathy in Toronto:
| | |
| --- | --- |
| Initial Assessment & Treatment (45-60 minutes) | $136 to $145 |
| Follow-Up Treatment (30 minutes) | $75 to $85 |
| Follow-Up Treatment (45 minutes) | $105 to $136 |
| Follow-Up Treatment (60 minutes) | $135 to $170 |
The Best Osteopathic Practitioners in Toronto
Now that you have a basic idea of how much it costs to see an osteopath in Toronto, let's move on to our list! Take a look at our picks and discover which service provider is right for you.
1.   Aches Away Toronto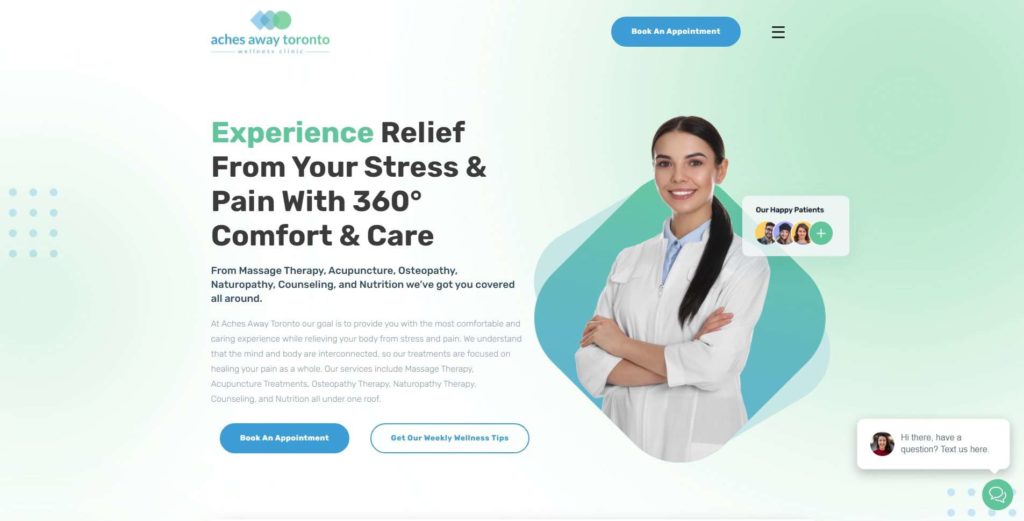 SERVICES
Osteopathy, Naturopathy, Acupuncture, Counselling, Nutrition
WEBSITE
https://achesawaytoronto.ca
ADDRESS
2 Carlton St., Suite 707, Toronto, ON, M5B1J3
CONTACT DETAILS
416-567-1679,

[email protected]

OPERATING HOURS
Monday to Friday, 8:00 A.M. to 8:30 P.M.
Saturday to Sunday, 10:00 A.M. to 7:30 P.M.
Aches Away Toronto is a wellness clinic located in downtown Toronto that specializes in osteopathy and massage therapy. With their extensive suite of osteopathic treatments, they can attend to a wide variety of patients suffering from acute and chronic pain.
Some of the more complex conditions that their osteopaths can attend to include Crohn's disease, fibromyalgia, and even childhood asthma. The clinic can also serve athletes and gym-goers looking to overcome a slump and improve their performance.
We love that the focus at Aches Away Toronto isn't just on physical pain and its management, though. With services like nutritional therapy and mental health counseling, the clinic offers a well-rounded experience to nourish patients from the inside out.
For those short on time but are in immediate need of relief, Aches Away Toronto also offers after-hours access by appointment. Keep in mind, however, that the clinic does not accept walk-in clients.
Well-rounded list of services
Centrally located in downtown Toronto
After-hours access available
Customer Reviews
Here are some of Aches Away Toronto's customer reviews, courtesy of their official website and Google Reviews:
"Yesterday I had various aches and restrictions on movement. Today, my movement is freer, my breathing easier. I could not ask for more.
I discovered Aches Away through their website. Being a former massage therapist, I was very impressed with their information intake & automated booking. The office is convenient, clean, and well lit. [My therapist] had clearly studied my intake chart, and checked in with me frequently about her technique and pressure. I could not ask for better. Yesterday I had various aches and restrictions on movement. Today, my movement is freer, my breathing easier. I could not ask for more." -Robin S.
"I've been getting regular treatments at Aches Away Toronto for many years. I don't typically write reviews but I can't resist the urge to share with everyone what a fantastic clinic this is. I've come here for massage therapy, osteopathy, chiropractic, naturopathy as well as acupuncture, and all the practitioners are professional, highly experienced, well trained, approachable and very helpful. I cannot rate my experience at Aches Away highly enough. Thank you so much and continue all the amazing work you're providing for you patients." -Catherine Taman
2.   the[clinic]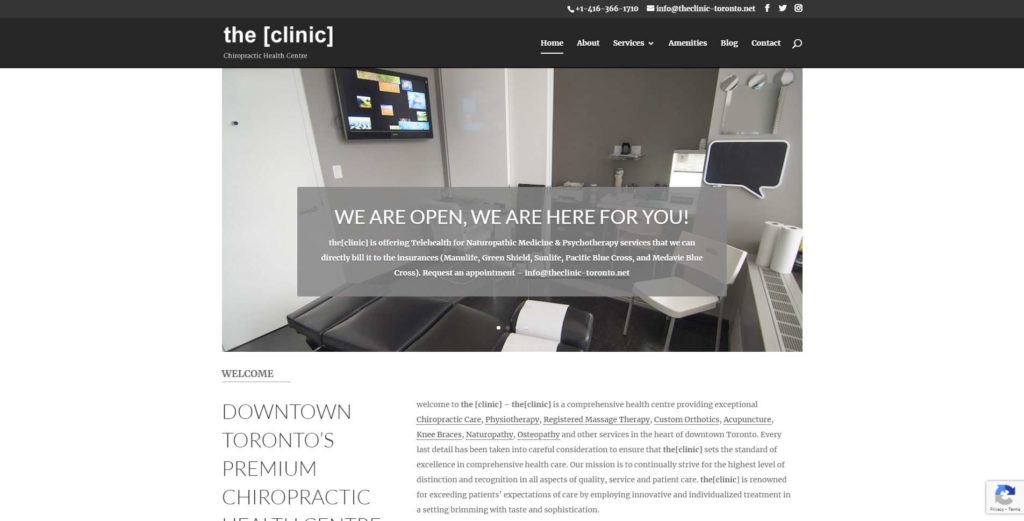 SERVICES
Osteopathy, Acupuncture & TCM, Chiropractic Care, Chiropody, Integrative Medicine, Massage Therapy, Naturopathy, Orthotics, Psychotherapy etc.
WEBSITE
https://theclinicchiropractor-toronto.com
ADDRESS
The Simpson Tower, 401 Bay Street, Suite 1210, Toronto, ON, M5H 2Y4
CONTACT DETAILS
+1-416-366-1710,

[email protected]

OPERATING HOURS
Monday to Friday, 8am to 7pm
Saturdays: 10am to 3pm
Though known primarily as a chiropractic health center, the[clinic] also lists osteopathy as one of their flagship offerings. They additionally provide a variety of wellness services not found in other clinics, such as orthotics, chiropody, and car accident rehabilitation, and many others.
It's an establishment that stands out from the rest by positioning itself as a clinic with a luxurious spa-like ambience. Patients who come to the[clinic] can expect first-class service performed at a gorgeous location especially designed to make them feel comfortable.
They'll also have access to amenities that other clinics just don't have. These include wireless Internet for those who wish to work or browse the web while waiting, complimentary snacks and refreshments, as well as a fully-stocked coffee, espresso, and tea bar.
Their osteopaths are experts in a wide variety of osteopathic disciplines too, by the way. In addition to manual osteopathy, they also perform visceral osteopathy, cranial osteopathy, and even osteopathy during pregnancy.
We especially love that an initial consultation with one of the[clinic]'s experts can be conducted over the phone. This allows patients to be diagnosed and obtain the care they need while maintaining proper social distancing and staying safe.
Varied catalogue of services
Initial consultation can be conducted over the phone
On-site amenities (complimentary coffee, snacks; free wireless internet)
Customer Reviews
Check out what patients are saying about the[clinic], courtesy of their official website:
"Dr. Djeddi and her team have made my experience at the clinic amazing. The knowledge that she and her team have is undeniable. I would recommend this clinic to anyone who appreciates and wants a better understanding of the holistic approach. Dr. Djeddi always has me walking out feeling a thousand times better than when I first walked in, she definitely has the "magic touch"." -Amber James
"I have visited this Dr 3 times with neck and back pain. My condition has dramatically improved after these visits. I live outside of Canada and was taken immediately as a walk in. I recommend Dr. Djeddi to anyone who has disk slippage and nerve entrapment. She provides modern treatment which helps you to live an active life during a short period of time." -Svetlana
3.   Rebalance Sports Medicine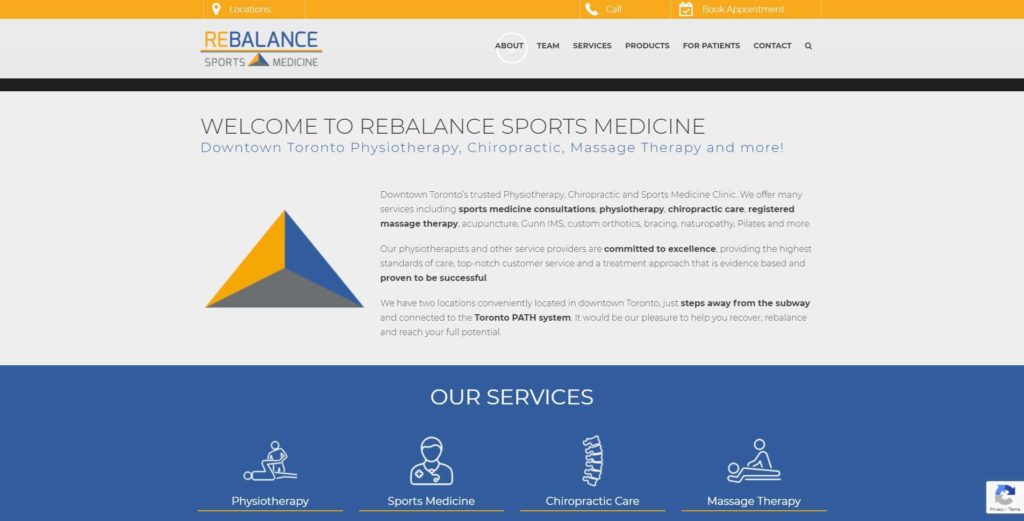 SERVICES
Osteopathy, ACL Pre & Post Op Care, Active Release Techniques®, BodyWorks, Chiropractic Care, Concussion Treatment, Custom Knee Bracing, Ergonomics, Fascial Stretch, Massage Therapy, Sports Medicine, etc.
WEBSITE
https://rebalancetoronto.com/
ADDRESS
University & King: 155 University Avenue Suite 303, Toronto, ON M5H 3B7

Yonge & Adelaide: 110 Yonge Street Suite 905 Toronto, ON M5C 1T4
CONTACT DETAILS
University & King: (416) 306-1111,

[email protected]



Yonge & Adelaide: (416) 777-9999,

[email protected]

OPERATING HOURS
Monday to Friday, 7:00 A.M. to 6:00 P.M.
Rebalance Sports Medicine's approach to osteopathy primarily focuses on treating acute and chronic pain, as well as stiffness and inflammation. Their osteopaths can also help patients correct any issues they might have with regards to their posture and mobility.
They have two locations in downtown Toronto: one on University & King and the other at Yonge & Adelaide. The clinic also offers physiotherapy, chiropractic care, and registered massage therapy, among many other wellness services.
We've found them to have possibly the widest selection when it comes to health and wellness services. Rebalance also sells specialized rehabilitation products such as custom knee braces, self-massage tools, and orthotic shoe inserts.
This means that at Rebalance Sports Medicine, patients don't have to go far. They can obtain the care they need as well as any equipment that can help assist with their recovery, all under one roof.
Don't let the "sports" in their name fool you—Rebalance's versatile offerings make it clear that they are ready and able to cater to anyone in need of relief, and that's what got them on our list.
Comprehensive suite of services
Custom and off-the-shelf rehabilitation and recovery products available for sale
Virtual appointments available
Customer Reviews
Here are a couple of Rebalance Sports Medicine's client testimonials, taken from their website:
"Bonnie Winship is an outstanding physiotherapist. A skillful professional who cares deeply about her patients and chooses the best approach for them out of the many approaches she knows. I highly recommend her." -Ali Ashtari
"I hurt my shoulder, and was having difficulty sleeping at night due to the pain. My physiotherapist, Amber, saw me the following day and effectively eased the pain in my shoulder and suggest exercises to continue its improvement. She is wonderful and did a great job – thanks Amber!" -Aleks Jovanovic
4.   Beachealth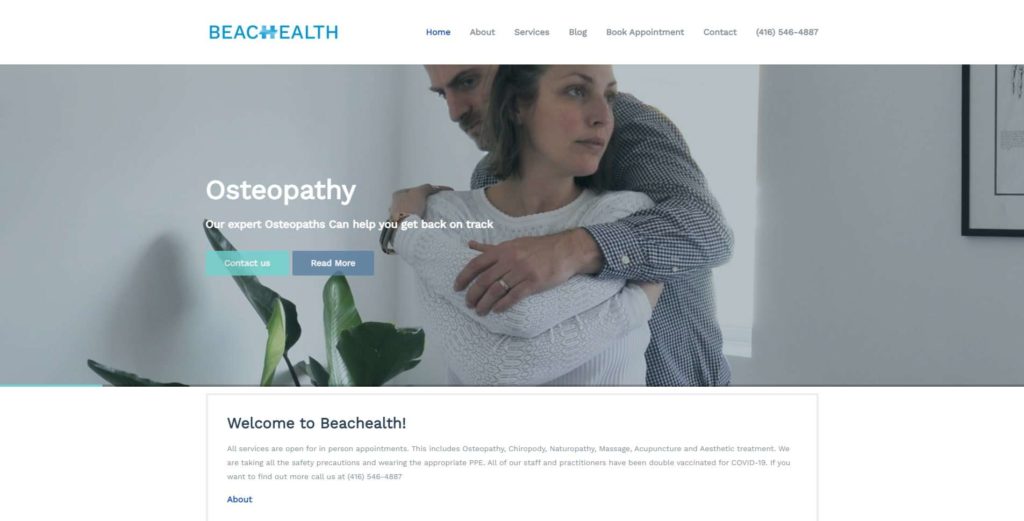 SERVICES
Osteopathy, Massage Therapy, Chiropody, Naturopathy, Shockwave Therapy, Aesthetics, etc.
WEBSITE
https://beachealth.com/
ADDRESS
350 Beech Avenue, Toronto, ON M4E 3T8
CONTACT DETAILS
(416) 546-4887,

[email protected]

OPERATING HOURS
Monday, 10:00 A.M. to 7:00 P.M.
Tuesday, 9:00 A.M. to 7:00 P.M.
Wednesday & Thursday, 8:00 A.M. to 7:00 P.M.
Friday, 8:00 A.M. to 5:00 P.M.
Saturday, 9:00 A.M. to 6:00 P.M.
Located in the Beaches neighborhood on the eastern end of the city, Beachealth may not have as long a list of services as some of the other establishments that we've included in this article. However, the advantage of keeping their offerings tight does allow them to excel in each one with an agile and dedicated team.
Unlike the other clinics that are listed here, Beachealth specializes in osteopathy, considering it one of their primary services instead of an auxiliary one. The establishment's osteopathic manual practitioners each have different specializations and interests, allowing them to accommodate specific requests and concerns.
For example, those suffering from running-related injuries can see Daniel Stasiuk, one of their qualified osteopaths with a special interest in running injuries. Meanwhile, patients looking for a holistic approach can consult with Jared Cox—he combines osteopathy, nutrition, and exercise to help his clients manage their pain.
Getting in touch with your chosen osteopath at Beachealth is easy too. Descriptive profiles of each member of their staff is available on their website, and you can simply email them directly to discuss your concerns.
Finally, Beachealth is also the only selection on our list that offers aesthetics services such as IPL (Intense Pulsed Light), MP2 Radio Frequency, and more. Keep their hours of operation in mind before calling, though—the clinic's open hours are different every day.
Aesthetic services available
Well-rounded team of expert osteopaths
Inconsistent open hours
Limited selection of services
Customer Reviews
Discover what clients are saying about Beachealth on Google Reviews:
"Actually struggled to walk for a week. Shuffled in, saw the osteopath. Walked out. Haven't felt a thing since. Amazing." -Katrina Farquhar
"The staff are wonderful at Beachealth. I first came to Beachhealth for my feet and Lada was great made me feel very comfortable. My second visit was with Daniel the Osteopath. He was great as well. He did a quick history then started my treatment. I have Osteoarthritis in both knees and Fibromyalgia. I am unable to take any medication for pain, so I thought this would be a good alternative. Yes it hurt a bit but only because certain parts of my body don't get used so much. However Daniel made sure he didn't hurt me too much. After the treatment I felt really good. Thank You. I have booked return treatments with Lada and Daniel." -Jill Mench-Kumar
5.   Soma & Soul Wellness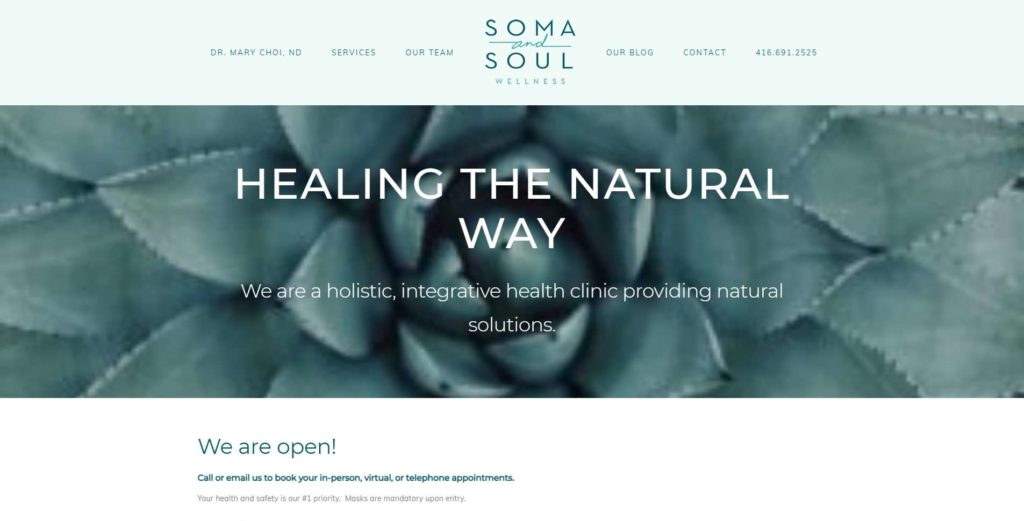 SERVICES
Osteopathy, Acupuncture, IV Lounge, Massage Therapy, Meditation & Mindfulness, Naturopathy, Reflexology, Weight Loss, etc.
WEBSITE
https://somaandsoul.ca
ADDRESS
1089 Kingston Road, Unit 4B, Toronto, ON M1N 4E4
CONTACT DETAILS
416.691.2525,

[email protected]

OPERATING HOURS
Monday to Wednesday, 9:00 A.M. to 5:00 P.M.
Thursday, 10:00 A.M. to 2:00 P.M.
Friday to Saturday, 9:00 A.M. to 5:00 P.M.
Soma and Soul Wellness' focus is on natural ways of healing the body, mind, and spirit, and it shows in their offerings. Their office is located in the Upper Beach neighborhood of Toronto.
At this integrative health clinic, patients can take advantage of a variety of osteopathic therapies. Their offerings include cranial osteopathy (which can help with issues such as vertigo and tinnitus) and prenatal and postnatal osteopathy (which can ease the aches and pains associated with pregnancy and birth).
Patients seeking other natural wellness services should also find themselves well-accommodated here. Their other offerings include naturopathic medicine, acupuncture, and weight loss/nutrition counselling, and more.
Soma and Soul Wellness is also the only wellness center on this list that offers IV (intravenous) vitamin therapy at their very own IV lounge. The entire process is supervised by the center's owner and clinic director, Dr. Mary Choi, ND.
On the whole, we love the clinic's commitment to being a one-stop shop for all things health and wellness. In addition to the therapeutic services they offer, you can bring the goodness home with you by picking up a few essentials from their supplement counter.
Soma and Soul Wellness makes it easier for patients to receive treatment too by accepting and conducting appointments in person, over the phone, and virtually.
However, the clinic is not open on Sundays and there is only one osteopath on the team, which can make it difficult to snag an appointment even with this flexible system.
Focus on all-natural solutions
Diverse selection of services
In-person, phone, and virtual appointments available
Not open on Sundays
Only 1 osteopath on the staff; wait times can be long
Customer Reviews
Here's what people are saying about Soma and Soul Wellness, courtesy of Facebook reviews:
"I can't thank Dr Mary Choi enough for her help, after many visits with western medical doctors who were unable to help me with issues related to my stomach (nobody could see anything wrong), a friend suggested that I see Mary, who took time understanding when and how my stomach issues started. After discussing my health history she put me on a protocol to help get rid of what she thought was a parasite/bacterial issue and within a day, the protocol cleansed worked and after a few short weeks of the cleanse and going off gluten and dairy, I was back to great health and energy. I've been seeing Mary ever since and follow a supplement plan that she put together to help with immunity, and other health related issues. Her knowledge, understanding, kind and helpful disposition, she is the first person I think of whenever myself or a member of my family has any health issue come up. I highly recommend her along with Jesseny the Osteopath who also did an amazing job during my post concussion recovery. Super thankful to have their knowledge and support when in need!" -Michelle Gibson
"Mary is everything you could ever want in a doctor.
Super knowledgeable, caring, insightful, open and dedicated.
I can't recommend her highly enough. Give her all the chance you can, she'll change your life. #30daychallenge #naturalhealth #healing #wellness" – Sean Killackey
FAQs About Osteopathy in Toronto
---
Seeking an osteopath in Toronto can be hugely advantageous if you are suffering from certain conditions. However, keep in mind that it is primarily a complementary form of therapy and still best when employed with conventional treatments.
Looking for other wellness options in the city of Toronto? Check out our list on the best physiotherapists in Toronto or the best psychotherapists in Toronto now!