The 8 Best Photo Booth Rentals in Toronto
Choosing the right photo booth rental can be quite a hassle. You may end up with a not-so-responsive service provider, or one that provides relatively few options for customization.
To help you out, we have listed down the best photo booth rentals in Toronto. See the shops that made the cut and what we thought of them here!
The Cost of the Best Photo Booth Rentals in Toronto
Photo booth rentals in Toronto start from $350 to $900 on average. The price depends on the rental time, the number of prints you want to have available for your guests, the custom backdrop, the props, etc.
It is advisable to have a budget of around $350 to $600 on average. However, this does not include possible add-ons which vary from one photo booth rental to another.
Check out the table below to see the average prices for some of the most common additional features in photo booth rentals:
| Add-Ons | Average Cost |
| --- | --- |
| Unlimited prints | $60 per hour |
| Personalized photo strips | $30 - $50 |
| Custom backdrop | $150 - $350 |
| Prop box | $50 |
| Send prints to social media | $50 |
| Social media kiosk | $150 - $200 |
| Photo guest album | $75 |
| GIF features | $60 - $200 |
| Green screen effect | $200 |
| Alternate print template | $75 |
| Memory book | $150 |
The Top 5 Photo Booth Rentals in Toronto
There were so many options that we had to employ a set of criteria to narrow it down to just the top ones. Here's a list of the factors we considered when looking for the best options:
1. Toronto Photo Booth Company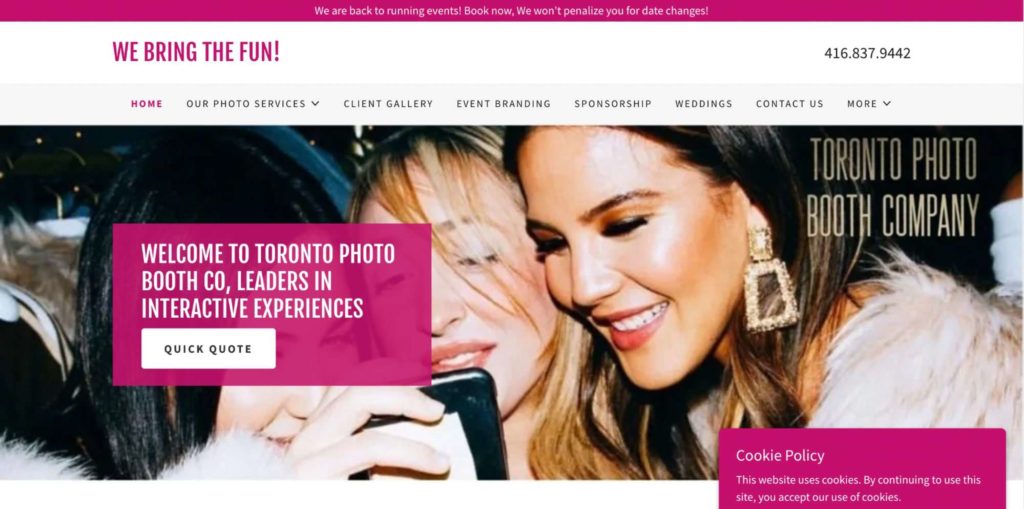 Test
Info
SERVICES
VW photo booth; corporate events; weddings; 360 spin booth; event branding; virtual photo booth solutions; roaming photographer; digital drop off booth; social booth; digital kiosk
WEBSITE
https://torontophotoboothcompany.com/
CONTACT DETAILS
+1 705-999-8789
OPERATING HOURS
Monday - Wednesday: 9:00 AM - 7:00 PM

Thursday - Sunday 9:AM - 12:00 AM
Open since 2016, Toronto Photo Booth Company offers interactive experiences. Clients can enjoy GIF booths, experiential photo marketing, and unlimited prints in Toronto and GTA.
Their services even include a VW Photo Booth where guests can climb inside a Photo Bus and take pictures inside.
They also have our favorite 60 Spin Booth where event attendees stand on a 360 platform with a boom arm that moves around. This creates an amazing slow-motion video that makes for a remarkable shot.
And if you have a virtual event, they also offer photo booth services for that. The best part is, this Virtual Photo Booth is fully customizable so you can tailor-fit each one to your needs.
What we like the most about them is how they deliver on their promises. Many past customers cite their excellent service, on-time execution, and amazing suite features (props, backdrop, templates, etc.).
However, a previous customer complained about the quality of communication that they have before the event. The owner did respond, though – we checked.
Anyway, Toronto Booth Company is available for corporate events, weddings, event brandings, and virtual events. So if you have any one of these coming up, we reckon that they're a great choice.
Reasonable price
Variety of options
Customizable virtual photo booth
Great set of features
Offers a 60 spin booth
Always on-time execution
Occasionally poor communication before the event
Limited weekend hours
Customer Reviews
Fun for all ages
We used them for our wedding. I really wanted the white bus because it's so elegant looking, and we got it… it was a total hit, I honestly cannot say enough. It was hands down, the best part of our wedding. Our guests loved it; it truly was fun for all ages and it gives people a little keepsake to bring home. I'm still trying to figure out how we can throw another party and hire them again. You will not regret using toronto photo booth company for your event, whatever it may be. It's unique, fun, reasonably priced and we received everything we were promised. Amazing. – Amanda Banks
Tried and tested
I have worked with Toronto Photo Booth Company several times, and they have been nothing but professional. They deliver on their promises and their staff go out of their way to make you feel right about every decision. You won't regret working with them! – Christopher Lim
2. LOL Photo Booth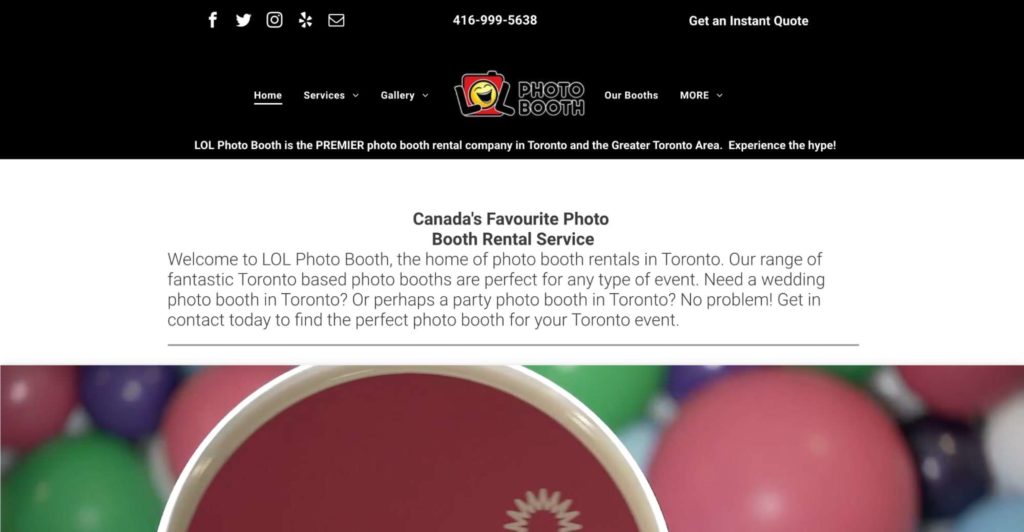 | Test | Info |
| --- | --- |
| SERVICES | Photo booth rental; green screen; gif/boomerang gif; animated green screen gif; hashtag printing; photo mosaic wall; glam booth; face morphing |
| WEBSITE | https://www.lolphotoboothgta.com/ |
| CONTACT DETAILS | +1 416-999-5638 |
| OPERATING HOURS | Monday - Sunday: 9:00 AM - 9:00 PM |
Initially a family-run business, LOL Photo Booth is a complete group of passionate specialists who are ready to take on any photo booth rental request in Toronto and the GTA.
They offer their services for weddings, brand activations, galas, holidays, corporate events, and birthdays. They have worked with many prominent names such as Ryerson University, University of Toronto, RBC, Universal Event Space, Windsor Arms Hotel, and more.
Their interactiveness, attention to detail, and amount of props and photo options are some of their most noteworthy qualities. Many customers also praise their overall professionalism, which, in combination with their fun service, certainly adds to their appeal.
What really sets them apart, though, is their set of high-tech photo booths that take the experience to the next level.
LOL Photo Booth has the latest devices at their disposal, giving them the widest range of capabilities in making the most out of an event. These tools include the INFINITE, which is considered the most cutting-edge photo booth in the industry.
There's also the LUM, a sleek, modern, and stylish photo kiosk, and the HALO Social Kiosk, a compact booth with a myriad of sharing capabilities.
In addition to these, you can also get the FIREFLY, a glowing booth designed to make an impression on the guests, and the iRing Social Kiosk, a small yet impactfully entertaining booth, perfect for small events.
Offers fun and high-tech photobooths
Great props to choose from
Has experience with working with big names
Cutting-edge booths are great for small to big events
Experience helping brands use photo booths for brand activation
Selected services can be expensive depending on the event's scale
Customer Reviews
Definitely worth it
LOL Photo Booth is amazing! 🙂 Toan is very responsive and addresses my questions very quickly. There are so many customizable photo templates to choose from and Toan suggested backdrops to help us come up with the best template for the photo booth. Our guests had lots of fun with the props provided and it was definitely worth it to have a LOL Photo Booth at our wedding reception. In addition to the printed photos, we were also provided an online gallery the next day to share with our guests which is wonderful! Thank you and we look forward to working with them in the future for events! – Natalie To
Highly recommended
We had arranged for their photobooth services for our wedding and we cannot recommend them enough! They have a wide range of customizable photo templates to choose from, their responses were always prompt and professional, set-up of equipment was on time. Our guests had a lot of fun with the props that they provided and we highly recommend this company. – Joyce Tang
3. RAD Photo Booth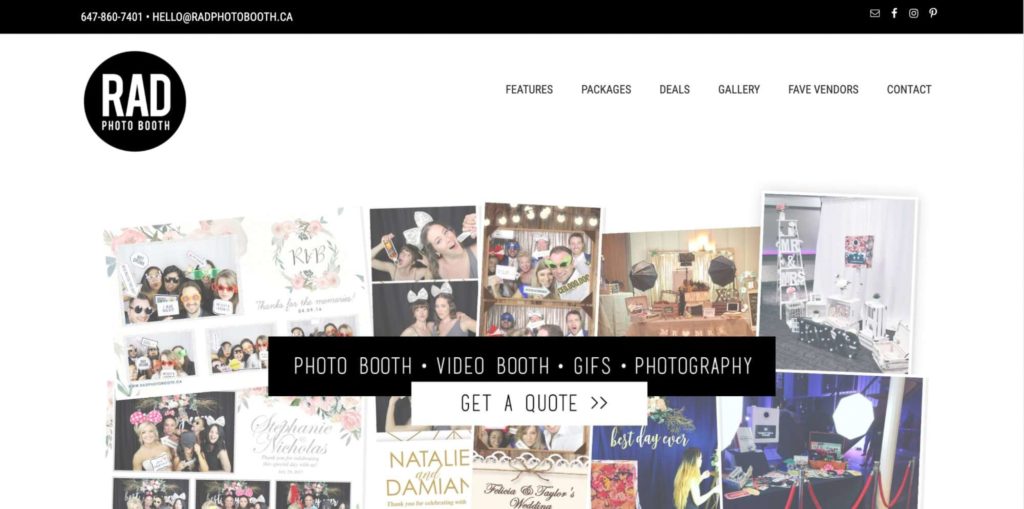 Test
Info
SERVICES
Open concept or enclosed styled booth; photo + video booth; setup & teardown; professional equipment; customized photo prints in color or b&w; instant prints; live view + touch screen; social media sharing; online gallery; lighting; 2x6 / 4x6 / 5x7 prints; savvy on-site attendant; video booth feature; backdrop; premium setup of your choice
WEBSITE
https://www.radphotobooth.ca/
ADDRESS
1230 Sheppard Ave W, Unit 5, North York, ON M3K1Z9
CONTACT DETAILS
+1 647-860-7401
OPERATING HOURS
Monday - Friday: 11:00 AM - 4:00 PM

Saturday: 11: AM - 3:00 PM
RAD Photo Booth is a photo booth rental service that focuses on the fun factor that it brings to the experience at hand. They provide speedy prints, personalized templates, fantastic props, pretty backdrops, and amazing add-ons.
RAD Photo Booth offers two photo booth rental packages. Either package can be upgraded with more add-ons.
The classic one includes a photo booth and all the basic essentials you can expect with one. This includes custom photo printout, unlimited photo session, social media sharing, online gallery, choice of backdrop, and props.
The VIP package (photography + photo booth) offers photography (retouched photos, online gallery) in addition to the previously mentioned features of the other package.
What we really like is how consistent its customer service seems to be – the company has 5/5 reviews vouching for a great experience. Many customers cite punctuality, respectfulness, cooperation, convenience, and professionalism as some of their most praiseworthy aspects.
If you're particularly concerned about getting a last-minute service, RAD Photo Booth can help you with that too. Plus, you can get a $25 discount on your first order, which is pretty cool in our opinion.
Comprehensive packages for clients
Great set of add-ons to choose from
Offers personalized templates for photos
Provides speedy prints to clients
Offers various deals depending on the services you get
$25 off your first order
No travel fees for venues within 35 km of their location
Additional charges may apply for events with over 200 guests
May ask for additional charges during holidays
Customer Reviews
Excellent service
This was a great experience and RAD was very cooperative and convenient. We had a last minute booking and RAD was professional, supportive and understanding to our needs and timeline. Set-up was quick and easy, providing a lot of versatility to this part of our event. The customers enjoyed the interaction and the RAD employees were very good in their overseeing and participation.
Thank you RAD for excellent service, we look forward to using your service again. – Chris Longstaff
Makes events extra special
RAD photo booth was amazing to work with! We actually won a free photo booth from them but that was no excuse for them not to give their best! We got the upgrade to get their newest backdrop and it was a showstopper. It looked amazing and even the prints looked fantastic. Pauline was patient and nice to deal with in terms of our booking and any questions we had. Her sister, who was there at our wedding, was also so helpful and courteous. Our guests had a wonderful time. Thanks again RAD photo booth for making our wedding extra special. We will continue to recommend you to all of our friends and family! -L.A. and Jeremy – Loise Lambino
4. PictureX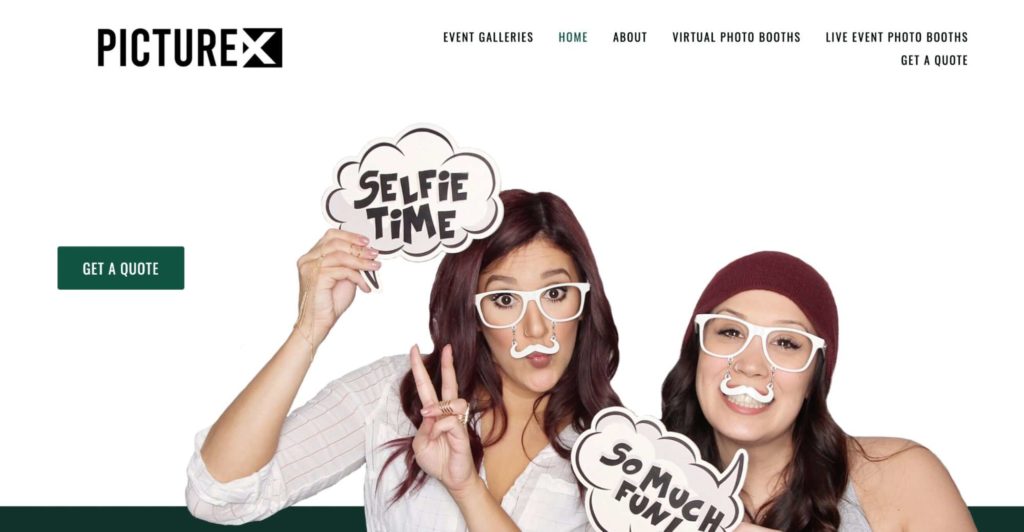 | Test | Info |
| --- | --- |
| SERVICES | Virtual photo booths; live event photo booths; wedding photo booths; brand activations; roaming event photography |
| WEBSITE | https://www.picturex.ca/ |
| ADDRESS | 180 Niagara St, Toronto, ON M5V 1C9, Canada |
| CONTACT DETAILS | +1 647-709-5190 |
PictureX specializes in high-end photo booths and clean and modern setups, unique options, customer service, and all-around quality. They offer virtual photo booths, live event photo booths, wedding photo booths, brand activations, and roaming event photography.
One of the things that we like the most about their services is the photo quality. They use DSLR cameras, strobe lighting, and printers designed specifically for event photography,
In conjunction with this, they have a tone of other equipment, myriad print designs, and (very importantly) a lot of staff knowledge.
Another thing that we really appreciate from them is their custom options. They have a variety of backdrops and props available in-house to use. Their printing packages also have options for additional custom upgrades and custom-designed print strips.
Many people praise their excellent product quality, phenomenal service, and great value. They deliver their digital album quickly as well, and the guests love the setup and the priceless mementos left.
Clean modern setup
Uses various photography tools and techniques that produce high-quality photos
Various print designs to choose from
A wide selection of in-house props and backdrops
Printing packages have options for custom upgrades
Custom-design print strips for printing packages
Fast delivery of digital albums
Offers virtual photo booth
Customer Reviews
Goes above and beyond for clients
We hired PictureX for our wedding and could not have been happier. She was extremely professional and outgoing with all of our guests and went above and beyond for us to make sure everything was perfect. Our guests absolutely loved it, and the pictures we have as mementos are priceless. We would highly recommend PictureX to anyone, and we have multiple times. – Dj Swiss
Excellent service and flawless execution
Flawless execution! PictureX was a pleasure and complete delight to work with. Professional, great communication, timely and thoughtful, Picture X made Toronto's 181st Anniversary Celebration a true party! The set up was so organized – they even had custom designs and props to fit the theme, along with providing high quality digital images. Thank you for capturing the enigmatic energy of the guests! We had so much fun! I HIGHLY recommend this company for your Photobooth rental needs. A++++ – Micayla Doria
5. Rent a PhotoBooth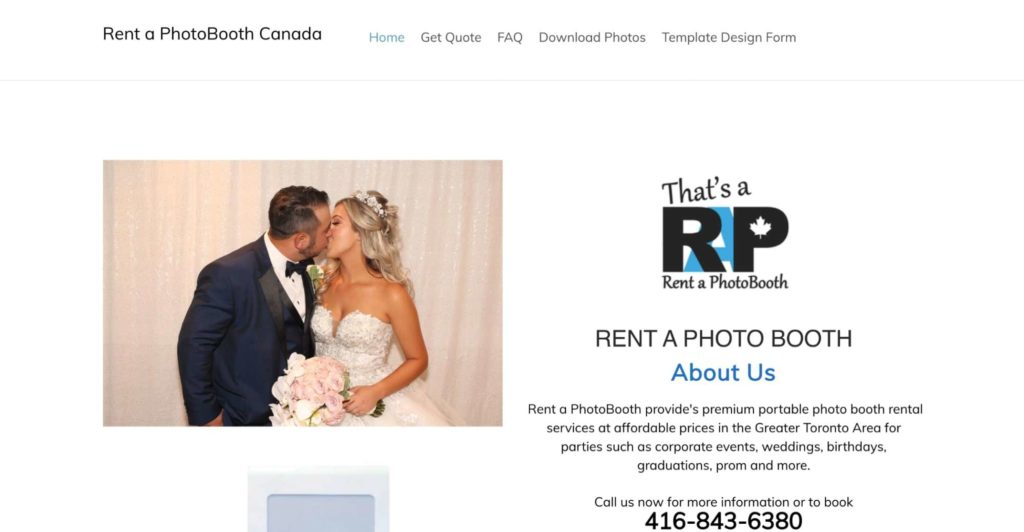 Test
Info
SERVICES
Instant printing; see yourself on screen; photo text messages; fun party props; color or b&w photos; green screen backgrounds; open concept; private enclosure; professional package
WEBSITE
http://www.rentaphotobooth.ca/
CONTACT DETAILS
+1 416-843-6380
OPERATING HOURS
Monday - Friday: 9:00 AM - 11:00 PM

Saturday - Sunday: 11:00 AM- 11:00 PM
Rent a PhotoBooth offers premium portable photo booth rental services for all sorts of events. They can cater to weddings, birthdays, company parties, bar/bat mitzvahs, corporate events, graduations, and many more.
Their affordable photo booth services include instant printing, see yourself on screen, photo text messages, fun party props, color or B&W photos, green screen backgrounds, open concept, and private enclosure.
What we would highly recommend from them is their Professional Package. It is composed of modern white professional DSLR, instant unlimited prints, photo booth technician, shimmer or fabric backdrop, custom print template design, online gallery and download, party props bin, and setup/delivery/removal.
We also really like how easy they are to work with. They arrive on time, communicate properly and deliver an amazing service.
Many people can vouch for their professionalism and how much fun their excellent work can bring. And all of these come with reasonable costs.
They provide their services in Toronto, Vaughan, Markham, Richmond Hill, Woodbridge, Maple, Aurora, Newmarket, Bradford, Caledon, Brampton, Mississauga, Hamilton, Milton, Barrie, Thornhill, and the Greater Toronto Area.
Green screen backgrounds are available
Options for an open concept or private enclosure booths
Uses a professional DSLR for photos
Instant unlimited prints on certain packages
Wide selection of props to choose from
Great communication and fast response time
Optional add-ons available
Limited photo booth packages
Customer Reviews
Lovely to work with
We used Rent a Photobooth Canada for our company holiday party this year. They arrived on time, had a wonderful set up, were able to custom our prints to include a fun design and our company logo and had a bucket of fun props which everyone really enjoyed. The pictures are high quality and we were sent a link with all of the photo's after the party, in addition to the print outs. I would highly recommend Rent a Photobooth Canada for any private or corporate events! Super easy & lovely to work with. Will use again. – Caitlin Grabinsky
Outstanding, entertaining, and engaging
The photo booth was a fun way to entertain and engage the guests. Our guests truly enjoyed the photo booth experience and were impressed by Stefano's flexibility and service. Stefano was patient and relaxed during our busy, high-spirited evening. His service was outstanding. He came early to set up in the restaurant where the wedding celebration banquet was held. The booth was a fun-filled corner, visited by everyone. We all had a memorable evening with much laughter, generated at the photo booth. – MeiLian Lam
6. Picturegram Photobooth
It is in the photos where we can capture life changing memories. Good thing we came across Picturegram Photobooth.
This photobooth is owned by two energetic people that enjoy life and are passionate about making memories with each other and their friends. Everywhere they travel, their lives are always an adventure.
As a result, they would like to share this kind of experience and assist you in creating your memories for they feel that there are many wonderful experiences that may be preserved with just one snap in a lifetime.
Unlimited high quality 2×6 or 4×6 prints
An online link to all photos and gifs will be emailed and accessible for 90 days
Uses a professional SLR camera and additional lighting for high-quality images
Customizable frame and you can choose between regular photos, collages or animated gifs
Has a variety of backdrops and props including a green screen with any digital image
Customer Reviews
"WOW! Picturegram was over the top service and amazing quality photos. Our guests LOVED the booth and we loved working with Jenn and Wendell. They provided amazing props for both adults and children, custom backdrop and beautiful and clear images. Picturegram was the highlight of my father 80th birthday celebration. We highly recommend Picturegram if you are looking for a professional photo booth and provide your family and guest beautiful memories. Have full confidence when booking them!" – Christopher
"You need them for your event!!!!! We had the photobooth at our engagement party. This was honestly such a highlight 🙂 They were soooo professional, had the cutest backdrop, lovely props and were just so nice and friendly . I highly recommend you hire them for your event. Everyone raved about the Photo Booth and it was just so fun!! Thank you so much and thanks for being so patient during the event and the month leading up to it! I would 100000% do this again, can't wait for my next event with you guys :)!!" – Sofia M.
7. The Selfie Spot
| Test | Info |
| --- | --- |
| SERVICES | Virtual photo booth, social booth rental |
| WEBSITE | https://www.theselfiespot.com/ |
| CONTACT DETAILS | +1 905 275 7000 |
| OPERATING HOURS | Contact them for more information |
Ever since its foundation in 2014, The Selfie Spot continues to bring life to parties and events with its photo booth services.
In fact, they're so good at what they do that some of their previous clients include the University of Toronto, Via Rail Canada, Royal Bank of Canada, and Bacardi. Pretty impressive, right?
We've also heard that working with them is like a walk in the park. From the initial consultation and official booking to the service execution and photo distribution, their services are just simply superb and convenient for you as a client.
However, the rental rates for their social booth can be a bit expensive, so you may want to prepare a decent budget for it. But for all that it's worth, their portable photo booth machines are easy enough to use and don't require any attendants.
Aside from still photos, their booths also offer animated GIFs, branded photo designs, social media sharing, and digital props, among many others. That's a lot, so you should definitely check them out!
Trusted by famous companies
Excellent customer service
Photo booths come with many features
Social booth rental rates are a bit pricey
Customer Reviews
Quality of photos are excellent
"We booked The Selfie Spot for our company holiday party and it was a big hit! Sabrina was great to work with and responds swiftly! We love the idea of being able to customize the photos with our company logo. Our attendant Conroy was super fun, very helpful and very friendly! The quality of photos are excellent! We loved the entire experience!!" – Catherine Sabares
Courteous, friendly, and professional
"The Selfie Spot team delivered an excellent service. They were professional, quick to respond to questions, very accommodating with my requests/changes. The gallery of my photos was ready online less than 48 hours after my event. Aaron, who was the attendant of the booth at my event was courteous, friendly, and professional. A great experience overall!" – Rita Assaad
8. GTA Selfies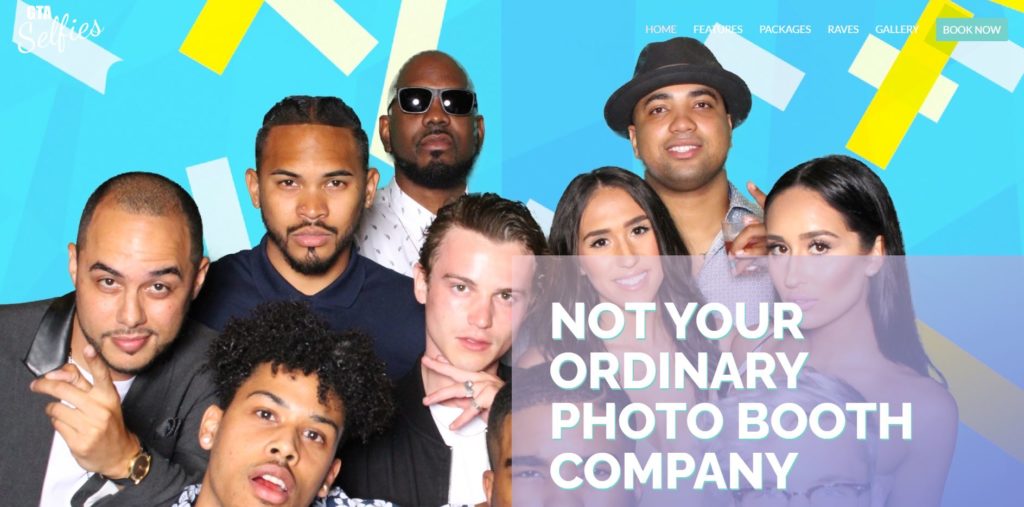 | Test | Info |
| --- | --- |
| SERVICES | Virtual photo booth, DSLR/selfie kiosk, drop off selfie social kiosk |
| WEBSITE | https://gtaselfies.com |
| CONTACT DETAILS | +1 647 408 3021 |
| OPERATING HOURS | Open 24 hours |
Established in 2016, GTA Selfies is one of the go-to photo booth companies for those who want to capture memorable experiences around the Greater Toronto Area.
Be it smaller gatherings or bigger events like the NBA All Star, GTA Selfies has a wealth of experience in the industry. To give you an idea, some of their previous clients include IBM, Uber, Air Charter Service and Elevation Church.
We also appreciate the fact that they give discounted rates for educational institutions and non-profit organizations. It just goes to show that they're not all about profit, they're just there to capture the moment.
Their rental terms are also quite flexible. This is on top of the great variety of features of their photo booth machines, which include custom overlays, selfies to social media, and green screen.
The only thing they lack is a physical address, which means that you'll have to ask them directly if you want to see the equipment for yourself before availing their services.
However, given the overwhelmingly positive feedback for them, we can assure you that they can provide state-of-the-art equipment for your event.
Special rates for schools and non-profits
Flexible rental terms
Roaming photo booth available
Customer Reviews
Quality of the photos and the service were exceptional
"GTA Selfies is amazing! the quality of the photos and the service were exceptional. Angella was so easy to converse with. They made the whole process seamless and as a bride, I really appreciate the ease of everything. From the design of the frames, to the props, and the backdrop, I loved it all! Thank you GTA Selfies!" – Catherine Chung
Super patient and cooperative
"Angella and Clayton did a great job for our Wedding Receiption! We decided to have this photo booth instead of thank you cards and our guests loved this idea. They were super patient and cooperative with 170 guests. Working with GTA Selfies was one of our best moves for our Wedding. ☺" – Sana Mirshahi
FAQs About Photo Booth Rentals in Toronto
---
Birthday parties, weddings, or corporate events? Fill up the pieces to a memorable event with our list of reviews here: