The 8 Best Car Detailing Shops in Toronto
Whether it's to preserve your car's appearance or restore its former beauty, a great car detailing service is a must! Most of us just don't have the skills or tools to do this sort of work ourselves, after all.
In this review, we'll look at the best car detailing shops in Toronto and the services they offer. Read on to explore your options and give your wheels a fresh makeover.
The Cost of Car Detailing Services in Toronto
The cost of car detailing in Toronto depends on two major factors. The first one is the type of car you own.
Naturally, smaller cars like coups cost less than 7-seater SUVs. For smaller vehicles, the prices range from $110 to $130.
Auto detailing for bigger cars starts at $160 and can go up to $220. Medium-sized vehicles would of course fall between the price ranges of a small and big car ($130 -$160).
The next factor that affects the cost is the interior and exterior package you get. Services per package vary per shop but higher-tier ones usually start at $200 for small cars.
You may also encounter car detailing packages that include paint correction. For these packages, it's common to see prices starting at $300 all the way up to $750.
Top Car Detailing Shops in Toronto
As you can see, car detailing services can cost a lot of money, but they're a good investment too if you care about your ride. To make sure you find the best service providers in the city, we did all the digging required to give you the best options.
We selected the shops based on the following criteria:
With that in mind, here are the options we found best.
Car detailing packages, including costs and timeframe (lower is better for us without compromising work quality)
Customer satisfaction, which we assessed by speaking to clients and collecting customer ratings
Availability and communication, as it's always great to be able to reach out whenever, wherever
1. Panda Hub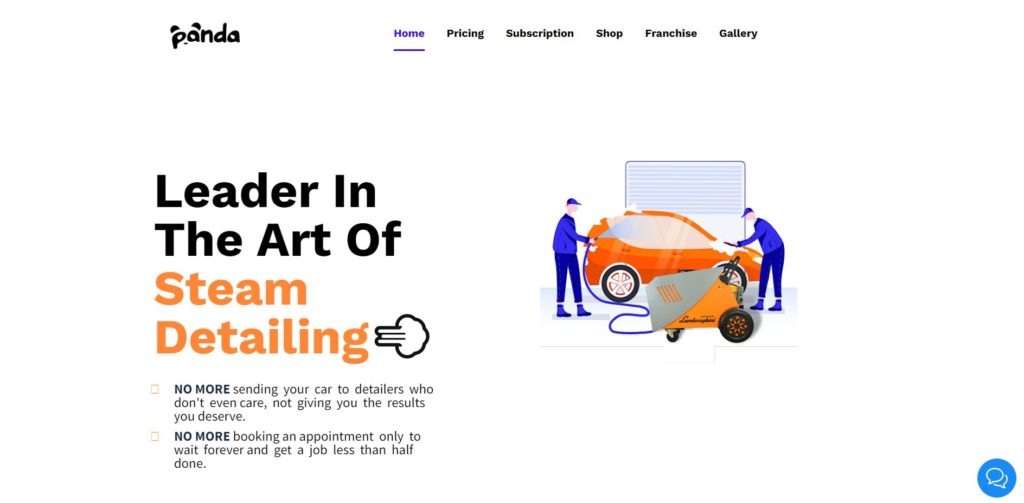 SERVICES
Full interior vacuuming, interior window cleaning, exterior steam wash, salt stain removal, wheel iron decontamination, leather seat treatment and conditioning
WEBSITE
https://pandahub.ca
ADDRESS
1 Eva Rd, Etobicoke, ON M9C 4Z5, Canada
CONTACT DETAILS
+1 855 257 2632


[email protected]

OPERATING HOURS
Open 24 hours
Offering a great quality of service for very competitive rates, there are many reasons why Panda Hub is one of the best car detailing services in Toronto.
The first thing that we loved about them is their great customer service. Over the years, they have served more than 5,000 satisfied clients, and a quick glance at their reviews proves that you're getting the best value for your money with the superb service they provide.
You can also choose from three different packages depending on your needs, but we highly recommend availing their subscription packages. You can avail their Panda Care+ package for $249 per month, and you'll never have to worry about anything after that because it covers everything that needs detailing.
However, due to their popularity as a premier car detailing service provider, they do get a lot of customers. This translates to a slightly more expensive rates due to high demand.
Nonetheless, Panda Hub ensures that those cancelled appointments were rescheduled as soon as possible and in consideration of the client's convenience.
You'd also be delighted to know that their services are mobile and they use only the best equipment in detailing your car. Their eco-friendly commitment is also admirable and we highly recommend them if you're looking for great service while keeping Mother Earth in mind.
Monthly subscription packages available
Fast and thorough detailing service
Eco-friendly products and methods
Open 24 hours
Rates slightly more expensive than average
Customer Reviews
Didn't cut corners
"Great service. He came right on time and did an excellent job on my Mercedes S63 AMG. Didn't cut corners or waste time. Highly recommend and will 100% use their service again." – Minhal Jaffer
True professional work
"Came over on a cold Sunday. Took my salt caked interior with boot marks on the doors and shined it so that my 11 year old Red Leather interior looked like I just Picked up the car from the dealer. Didn't use anything from my home. Not even water. Absolutely A+++ will be putting them on a repeating schedule to keep my car clean. Interior was beautified in less than 3 hours. True professional work!!" – Peter Marczak
2. Cleaning Art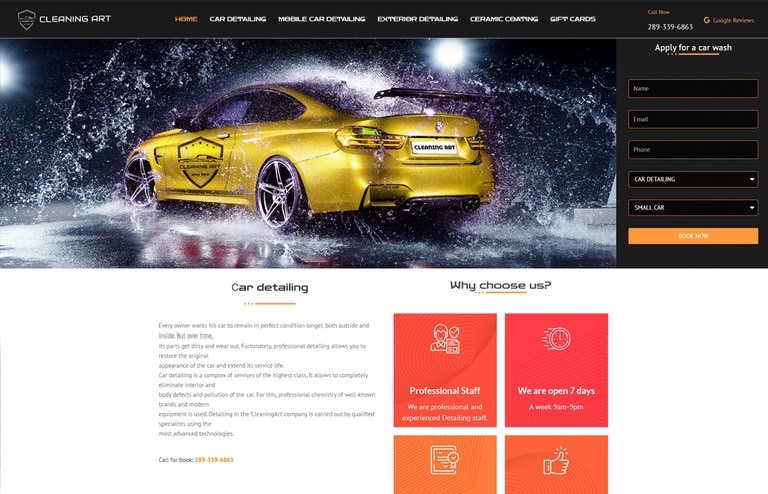 SERVICES
Car Detailing, Mobile Car Detailing, Exterior Detailing, Ceramic Coating, and Gift Cards
WEBSITE
https://cleaningart.ca/
ADDRESS
1A-111 Tigi Court, Room 201 Concord, ON L4K 5E4
CONTACT DETAILS
289-339-6863
[email protected]
OPERATING HOURS
24 hours to 9 am – 7:30 pm (7 days)
We just had the pleasure of experiencing Cleaning Art's top-notch car detailing services, and let us tell you, our ride has never looked so fly.
From the moment we scheduled our appointment, we knew we were in for a treat. Cleaning Art's convenient online booking system made it as easy as drifting through an open highway at sunset.
No more wasting time on hold or playing phone tag — just a few clicks and we were on our way to car-cleaning nirvana!
Cleaning Art has definitely earned its stripes in the car detailing game. Their army of satisfied customers can't stop singing their praises, and now we know why.
We felt like we were joining an exclusive club of car enthusiasts who've had the pleasure of witnessing the magic touch of Cleaning Art's skilled team.
When it comes to cost, Cleaning Art manages to strike that perfect balance between premium quality and a price that won't send you running for the hills. We appreciated that we didn't have to sell our beloved car to afford their services.
It's like they understand that we want to pamper our rides without breaking the bank — they're true champions of the budget-conscious petrolheads.
But let's get down to the real deal — the results. Oh boy, did Cleaning Art deliver!
Our car went in looking like it had just survived an off-road rally, and it came out looking like it belonged on a magazine cover. The attention to detail was mind-boggling — every nook, cranny, and tire was given the royal treatment.
However, their calendars can get filled up very quickly with requests. We advise booking an appointment with them ahead of time.
Convenient online booking System
Stellar reputation in the industry
Affordable pricing
Exceptional attention to detail
Customer Reviews
"Cleaning Art transformed my dirty car into a shining beauty! Their attention to detail is unmatched, and the convenience of their online booking system made the whole process a breeze. Highly recommended!
"I'm blown away by the quality of Cleaning Art's car detailing service. They took care of every nook and cranny, leaving my car looking better than ever. Plus, their affordable pricing makes it a no-brainer. Can't recommend them enough!"
3. Auto Detailing Pro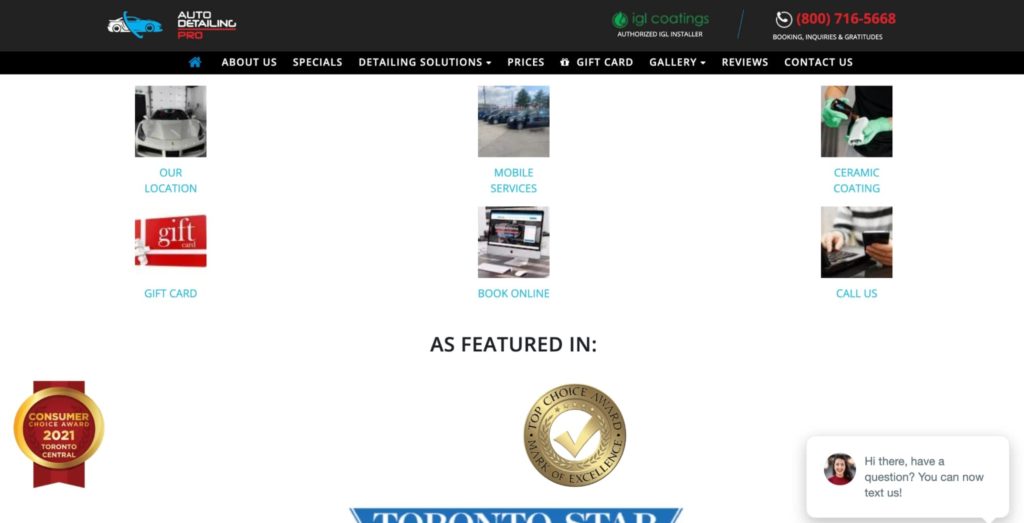 SERVICES
Luxury car detailing, headlight restoration, new car paint protection, mobile car detailing, interior car detailing, engine detailing, disinfecting services, aircraft detailing
WEBSITE
https://autodetailingpro.ca/
ADDRESS
525 Wilson Ave apt 904, North York, ON M3H 0A7, Canada
CONTACT DETAILS
+1 800-716-5668


[email protected]

OPERATING HOURS
Monday – Sunday: 7:00 AM – 9:00 PM
This auto detailing shop offers fully mobile auto detailing services best for busy clients. No need to drive your car to their shop: they'll come to you and detail your ride right in your driveway,
Speaking of rides, we like how they detail almost any car you can imagine including RVs, trucks, and motorboats. Plus, they cater to both household and commercial entries which is a plus for flexibility.
Now, as per the packages, the shop offers four primary ones. All of them are within average prices and also take about one to five hours depending on the package.
If your car is brand new, your best go is their New Car Package which costs $320. They also do have a "Plus" package for new cars which costs $456 and gives you Ozone Killer Treatment, wax, and headlight restoration.
To be fair, we think you'll fare well even with the cheaper option as you can get the other services later on. Although the Ozone Killer Treatment alone costs $250, what this does is remove viruses, bacteria, and odor which your new car may not even have yet.
For general car maintenance, their Showroom Package is your best bet in our opinion. It only costs $180 and already combines basic interior and exterior detailing.
For reference, the Interior and Exterior Package cost $125 and $220 respectively. But the major cleaning services involved in either package are already packed in the Showroom Package.
With one major exception though, if the lack of high-Speed polish and paint sealant is a deal-breaker for you, go for the exterior package instead.
Regardless of the package you get, you can opt to add additional services such as pet hair removal and scratch removal. And if you don't like any of the packages we mentioned, you can simply request a custom quote for standalone or custom services.
Fully mobile car detailing services
Caters to a wide variety of cars including luxury cars and other vehicles
Prices fall within the city average
Comprehensive packages with options for additional services
Offers custom quotes for standalone or combines cleaning services
Open daily
100% satisfaction guarantee
Can be difficult to contact at times
Mobile services can inconvenience neighbors
Customer Reviews
Fantastic value for an exceptional job
I had this company's Showroom Plus package and I cannot day enough good things about them! The two guys cleaning my vehicle were very professional and informative about what they were doing. They paid attention to every detail of my vehicle and I have never seen such a good job! I would HIGHLY recommend using this company. They give you an awesome value and do an exceptional job. – Thulasiram Kumaran
Satisfactory cleaning from start to finish
Auto Detailing is very responsive and great to deal with. Two people came to my house to clean my car. I got the showroom ready package with engine detailing and pet hair removal and I was very happy with the results. It took them 3 hours to complete everything from start to finish and before they left Alvin even ran me through all the things they cleaned. I will be using them again, they are super professional and I highly recommend them. For the price and what you get it's definitely worth it, especially when they come to you. – Peony Gerochi
4. ALPHASHINE | Car Detailing & Aesthetics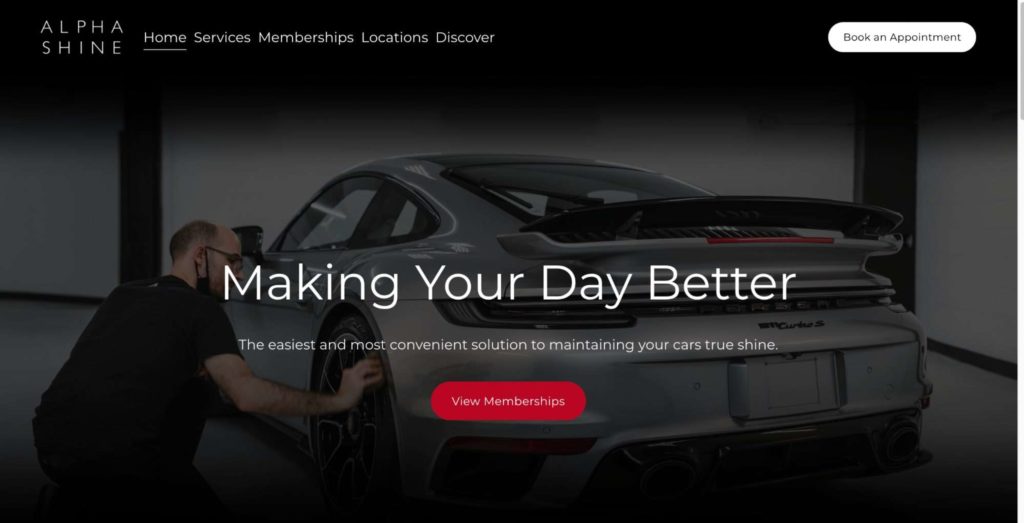 SERVICES
Detailing, paint correction, ceramic coating, paint protection
WEBSITE
https://www.alphashine.ca/
ADDRESS
401 Dundas St E, Toronto, ON M5A 2A7, Canada
CONTACT DETAILS
+1 647-249-2960


[email protected]

OPERATING HOURS
Monday – Friday: 8:00 AM – 8:00 PM
Saturday: 9:00 AM – 6:00 PM8
ALPHASHINE made it to our list because it showed us two major things. One, extremely affordable rates, and two, amazing perks through memberships.
The first thing we liked are the affordable rates that fall within Toronto's average. Express wash services start at $75 here, which is much lower than most competitors.
As per their individual services, a full interior detail starts at $120, while an exterior one starts at $175. Of course, they also have packages that offer more detailed cleaning.
To be honest, their range of packages isn't the best as they only offer two at the moment. But it's simple enough that it makes bookings easy, which is always a plus in our book.
By the way, they offer an Omega Package that costs $200. But if an extra $70 won't hurt your budget, we do recommend going for the Delta Package instead.
Both packages offer full interior detail, but only the Delta one has full exterior services. In addition to basic washing, this package has grime and stain removal, wheel & caliper exfoliation, and is finished off with Carnauba wax.
And if you happen to be satisfied with their services, you can sign up for their membership for exclusive perks. If you decide to patronize them and get their services monthly, then you may find value in these memberships.
For example, their Gamma membership costs $120 per month but you get 2 express washes. Express washes cost $75 each normally, so you'll save $30 per month.
But if you want a membership that buys an entire experience, go for the Alpha. For $225 per month, you get 2 express washes and 1 interior detail plus other perks.
Under this membership, you have concierge access for easy pick-up and drop off of your vehicle. You can also earn monthly points and use them on other services.
There are other perks too such as access to an exclusive lounge and 24/7 mobile app access. The memberships offer really great value in our opinion.
Prices fall within the average in Toronto
Easy and conveniently online appointment booking
Straightforward individual services and packages
Membership programs to save money and unlock perks
Open on Saturdays
A limited number of packages
Certain services can take longer to finish
Customer Reviews
Car detailing done to perfection
This is the first time I have ever had a car detailed and this team was AMAZING. My friends car interior needed a deep clean and they did just that! They took their time didn't rushed and made sure it was done to perfection and their amazing standard! Not only that it was super easy to book and did it the day prior! – Farzin Ghayour
Brings back cars to showroom condition
After a weekend of off-roading the northern trails, I was left with a muddy bumper to bumper car. However, it did not stay in that shape for long thanks to the boys at AlphaShine, who did a phenomenal job cleaning the car and bringing it back to the showroom condition in no time. They paid extra attention to detail and cleaned off the mud from hard to reach places in a timely manner. Definitely worth the value, as it saved me a lot of time and delivered the service that rarely one can find in the downtown area. I strongly recommend their services. – Aryan Alipour Khomami
5. RS AUTO SPA | Ceramic Coating & Best Car Detailing Toronto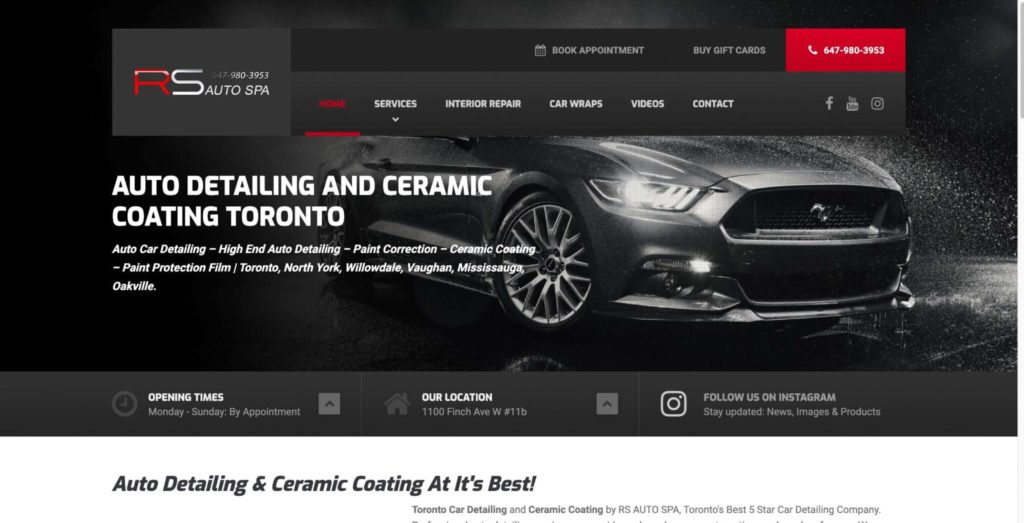 SERVICES
Auto detailing packages, paint correction, ceramic coating, graphene coating, paint protection film, engine bay detailing, headlight restoration
WEBSITE
https://www.rsautospa.ca/
ADDRESS
1100 Finch Ave W #11b, Toronto, Ontario M3J 2E2
CONTACT DETAILS
647-980-3953


[email protected]

OPERATING HOURS
Monday – Sunday: 8:00 AM – 7:00 PM
RS AUTO SPA is worth checking out for two things. First, for having intensive auto detailing packages, and two for having an amazing range of detailing tools and products.
Let's talk about its three auto detailing packages first.
Initially, the costs almost threw us off as they're on the more expensive side. But upon looking closer, we think you're getting an amazing deal out of your money.
Their Ultimate RS Detailing Treatment gives you bang for your buck, in our opinion. Apart from in-depth cleaning and vacuuming, you also get tire coating that lasts for months and a WetCoat Paint Sealant that prevents oxidation and fading.
This package comes with a lot more specialized services – so many of them that we can't mention all of them in one go. But we reckon that all of these are worth paying $450 for.
If you want a more hardcore car detailing, go for their Luxury RS Detailing Treatment. Though it's quite expensive at $80, you do get extensive care and protection for your tires, leather, paintwork, wheels, plastic, and glass.
We also like the set of services they offer in their New Car Prep Protection Package. They don't only do tough cleaning and protection, they also decontaminate paint deposits, apply fabric protectors, and more.
The best thing about these packages is that you get a free pick-up and delivery service. What's even better is that you can get your vehicle picked up, detailed, and delivered all on the same day.
Apart from the primary packages, you also get the option for additional services. Do check them out if you find it necessary, but we think we're already content with what the packages offer.
Comprehensive packages for auto detailing
Free pick up and delivery for all auto detailing packages
Same-day pickup, detailing, and delivery service
Additional services available 
Uses high-quality detailing products and tools
Gift cards available
Open daily
Some packages cost more than the city average
Customer Reviews
Cares about every single detail
This has absolutely been the best detailing service experience I've ever had. They cared about every single detail both interior/exterior and just made my car all new again using very high quality materials. Roman is very friendly, and I appreciate his patience with explaining all the details. – Koosha Tahmasebipour
Satisfactory results
Simply put, Roman and his partner did a great job. Went for the "ultimate RS detail package" and I'm very happy with the result.I'd say you can expect a very courteous, efficient and accommodating staff that do a thorough job. Trust the reviews. I'll be back here again. – Alex Van Seters
6. Cleen Mobile Car Detailing Toronto
| | |
| --- | --- |
| SERVICES | Mobile car detailing service |
| WEBSITE | https://www.cleendetailing.com/ |
| CONTACT DETAILS | +1 647-846-8780 |
| OPERATING HOURS | Monday – Saturday: 7:00 AM – 7:00 PM |
Cleen Detailing won a spot on our list by providing excellent mobile detailing services. Of course, we're not alone in this notion as they also have a perfect 5-star rating on Google Reviews.
To be fair, it's not the only mobile auto detailing service on our list. But they solely focus on this service – they even specialize in detailing in driveways with the least inconvenience possible.
This company is also our favorite in terms of convenience as everything is seamless. You can view their real-time availability, book them instantly, and wait for updates via SMS.
Now, as for the packages, they currently offer three major detailing services, each with optional add-ons. Let's talk about each one for a bit.
The Standard Detail does what you think it does – standard detailing, so nothing too fancy. The same goes for its Maintenance Detail, which can be done bi-weekly, or monthly.
Just note that this maintenance service is for clients who've gotten other packages in the past. Well, after all, this package is only meant for maintenance.
What we'd recommend to you instead is their Premium Detail. Apart from the usual vacuuming and polishing, you also get a bunch of bonuses on this one.
These include free tire dressing, air freshener and gift bag, and Cleen Canopy™ rain or shine service. Honestly, the bonuses aren't too exciting but we'll take it over nothing!
We only wish that the rates were displayed immediately. On the bright side, requesting the rates is super easy as you only need to give your name, postal code, and phone number to request.
Mobile auto detailing services rain or shine
Booking, rescheduling, and payment are all online
Real-time viewing of availability best for instant booking
Receive updates via SMS
Comprehensive packages for new and existing customers
Get bonus perks on each detail package
Uses a 57-step detail process 
Rates are only available upon request
Customer Reviews
Services that exceed expectations
Aislinn from Cleen in Toronto did an amazing job! This was my first mobile car detailing experience and it surpassed all my expectations. Aislinn was very friendly, professional and punctual. After she was done, the car looked shiny and brand new! I would definitely recommend this company and use this service again in the near future. – Jasmine Josue
Thorough and timely auto detailing services
I purchased the full detailing package, including steam cleaning, baby seat cleaning, etc. The car was a mess due to 3 young kids and wear and tear over 6 months. The detailer showed up exactly at the beginning of the arrival window, did the job in the expected timeframe, and was very thorough. He even did a post-cleaning tour afterwards to explain what he did for me, and helped me put the car seats back! – Steve Willer
7. AAA Auto Spa Car Detailing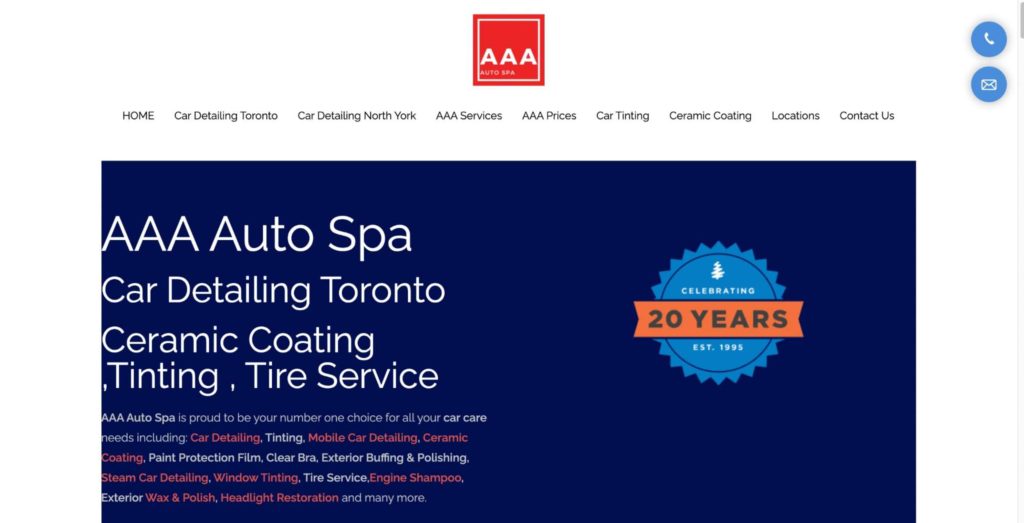 SERVICES
Car detailing. ceramic coating, mobile car detailing, window tinting, new vehicle detail, headlight restoration, ceramic glass protection, engine detailing, paint correction, luxury car detailing, wax and polish, scratch removal, paint protection film, ceramic upholstery protection, studio car detailing
WEBSITE
https://www.aaaautospa.com/
CONTACT DETAILS
+1 647-848-3223
OPERATING HOURS
Monday – Friday: 8:00 AM – 8:30 PM
Saturday – Sunday: 8:00 AM – 6:00 PM
AAA Auto Spa Car Detailing has been in the car detailing service for over 20 years. This plus other remarkable features landed them on our list.
One of the most notable services of this company is its steam car detailing service. They use organic materials in their steam as well as the OPTIMA and FORTADOR steam machines.
By the way, steaming means that they'll get rid of viruses, bacteria, and odor in your car without using chemicals. So, if you're eco-conscious, this is a nice option.
Let's take a look at their detailing packages. Their Express Detailing offers the basic detailing job and cleaning using steam machines.
Dashboard, windows, console, cup holders, door panels, and air vents would undergo steaming. All these basic services start at $99 which falls within the city's average prices.
All the other car detailing packages would have everything included in the Express Detailing. On top of that, you also get an application of premium dressing and protectant.
The second package they offer is the Showroom Detailing, which is an upgrade of the Express Detailing. It includes full interior steam, basic exterior hand wash, and basic tire and rim at a price of $150.
The Gold Detailing isn't much different from the showroom detailing. The only differences are that the basic exterior hand wash has turned into a pro, as well as the tire and rim steaming.
This package also added a professional premium carnauba hand wax, which adds a nice polished finish. The price for this detailing costs $200 – still pretty average.
They also have a package that adds a tint or 1 stage polish over the showroom detailing. The added tint cost more than the polish, costing $300, while the 1 stage polish costs $250.
Their most expensive detailing costs $1,000, but it goes into every nook and cranny of the car. It provides a leather treatment and protection, pro deodorizing, salt/stain removal, trunk vacuum, and steam.
This package can be the most professional version of the Gold Detailing. It adds engine shampooing, scratch removal, and finally three stages of pro machine polish – that is, if you're willing to pay that much for car detailing.
20 years of experience
High-tech steam machines
In-depth auto cleaning/detailing services
Most packages are within Toronto's average prices
In-depth cleaning can be pricey
Customer Reviews
Professional and amazing detailing
These guys are amazing!!! Professional, courteous and do an awesome detailing job!!! They were on time, did a meticulous job and the price was very good! My husband really enjoyed the fact that this is done in your driveway, thus giving us the time to enjoy our vacation day doing other fun things. Will definitely use their services again!! -Patricia Beattie
Good quality in an affordable price
The service is great and the price is better than competition in GTA. I used their car detailing in Toronto location that we have and they did a great interior detailing for us for an affordble price. the seats look new and clean as they removed all stain and stuff from my dog. Steam cleaning is a great option they offer and the exterior wax made my car look brand new. Thanks you AAA Auto Spa, Will come back again. -COMMISSION REALTOR
8. Clean And Shine Mobile Car Detailing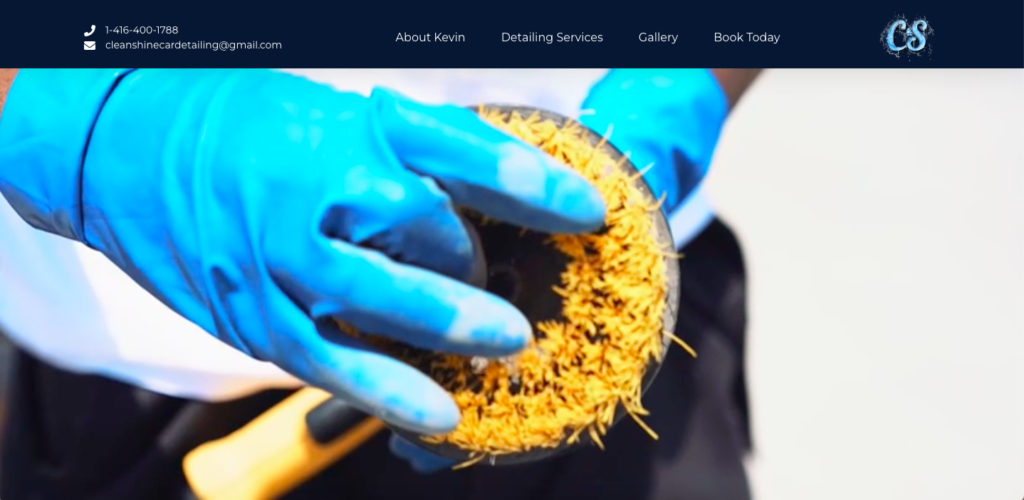 We've found another car detailing shop that you can try: Clean And Shine Mobile Car Detailing
Clean and Shine promises a luxury car detailing experience for you. We're sold by the fact that they do not skimp on quality—from the cleaning soaps, upholstery shampoos, to the finishing polishes they use.
We're a fan of the simple process they have to avail their services. You can book through email, call or text. Once the booking is confirmed, they go to you and take care of the rest.
They do pretty much everything and we love it. They clean the windshield, engine, rim and tires, headlights, dashboards, seats, interior, and exterior.
We've seen their work, and we're thoroughly impressed. This is why they've landed a spot in our list of best detailing shops in Toronto!
Wide range of detailing services
Makes use of high quality products
COVID-19 friendly
Rates unavailable on website
Operating hours unavailable on website
Customer Reviews
"I had Kevin provide me with a great finish on my car! It needed to get a good spring cleaning, in and out! Kevin's professionalism shows in his care of what he wants the final product to look like. As they say, a new breathe of life started my ride for the summer! Thanks Kevin for providing excellent service!!"
"Kevin did a fantastic job detailing my car! He came on time & was prepared. Would highly recommend him to anyone who cares about their vehicle."
FAQs About Car Detailing in Toronto
---
Done checking the car detailing services in Toronto? Let's help you with your other home needs next!
Check out our other reviews about home maintenance in Toronto: